I found the perfect pattern to make a beautiful DIY Minnie Mouse Costume for little girls!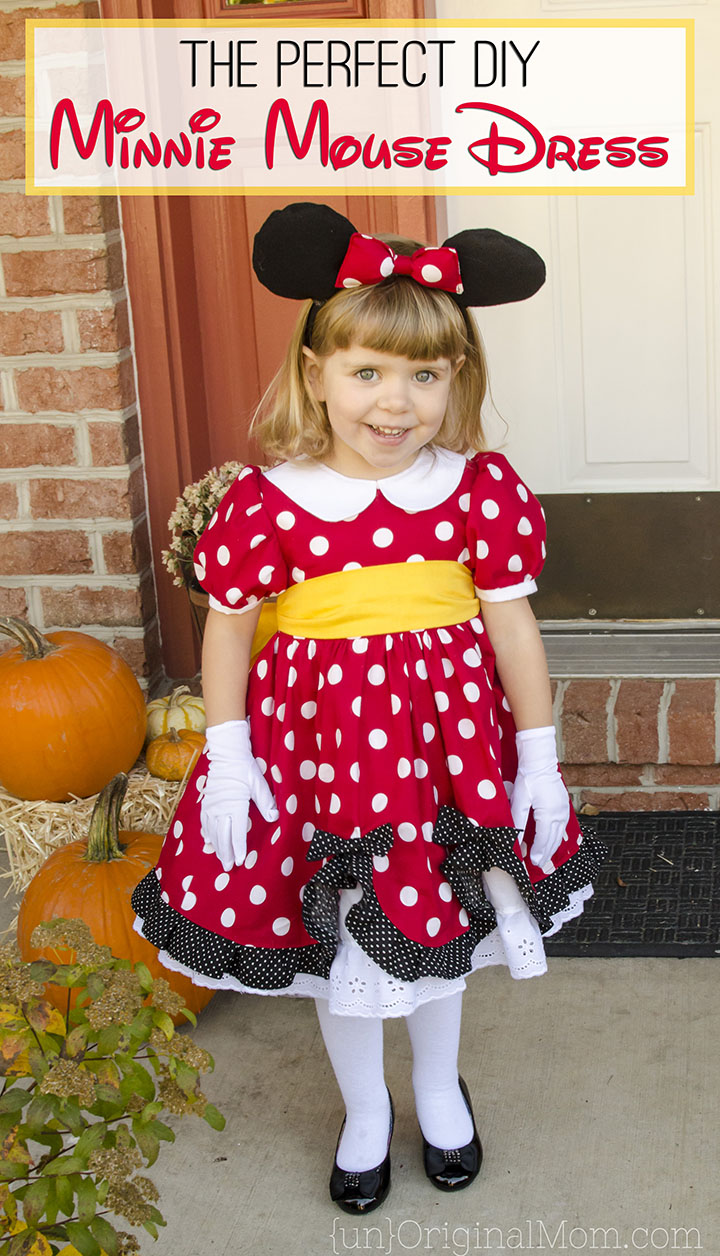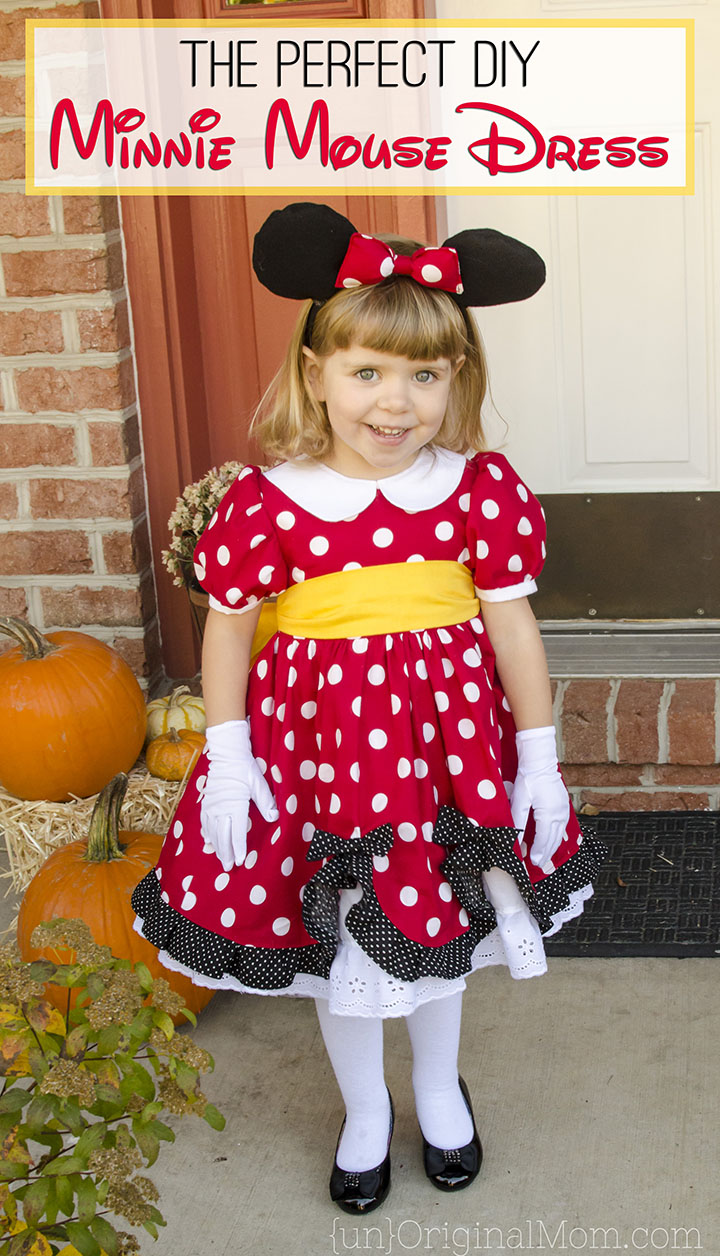 This post contains affiliate links – click here to read my full disclosure.
Growing up, my Mom always made Halloween costumes for my two sisters and I.  They were never anything terribly fancy, but we loved having unique costumes and knowing we wouldn't be dressed like anyone else!  I blame her for spoiling me against store bought costumes :-)  Last year, my mother-in-law helped me (a LOT) with my daughter's toddler tinkerbell costume.  I sewed a few pieces of it, but she did the hard parts.  Following a store bought pattern was really overwhelming to me and I've always been slightly afraid of sewing!  So this year, to help conquer my fear, I decided I wanted to try to tackle something all by myself…and when Addy told me she wanted to be Minnie Mouse, I set about finding a simple pattern to attempt alone!
I came across this post by That's Sew Kari, detailing modifications she made to the Princess Dress from Candy Castle Patterns to make the perfect DIY Minnie Mouse Costume for her little girl.  It seemed maybe a teensy ambitious for a beginner like me, but I decided to give it a try anyway!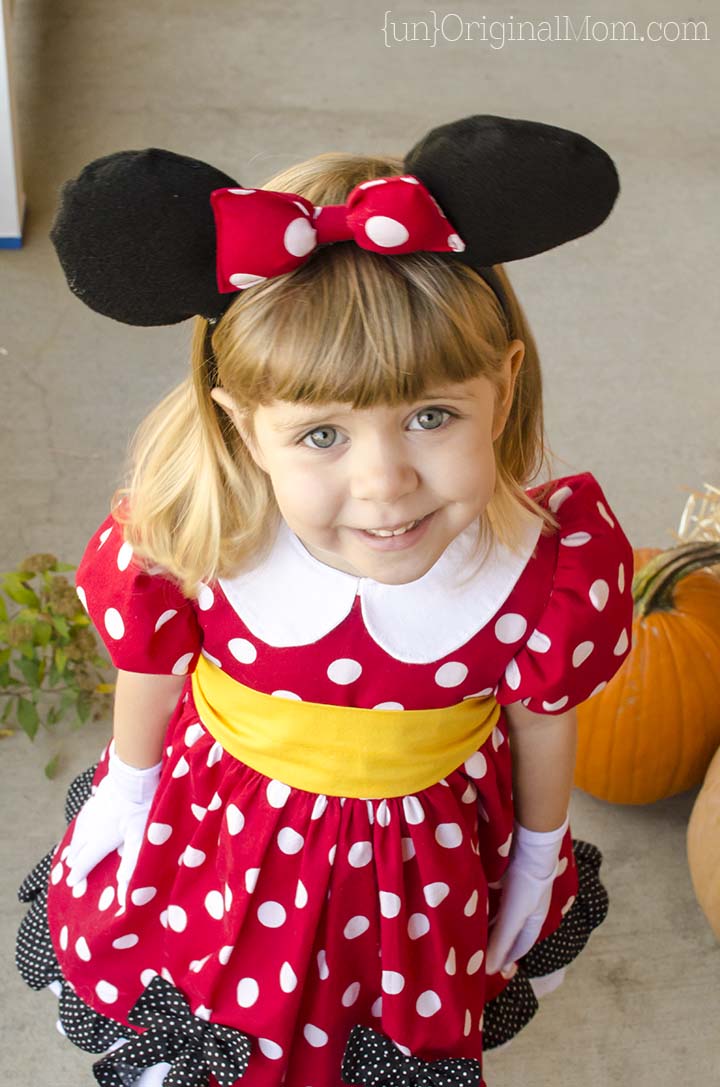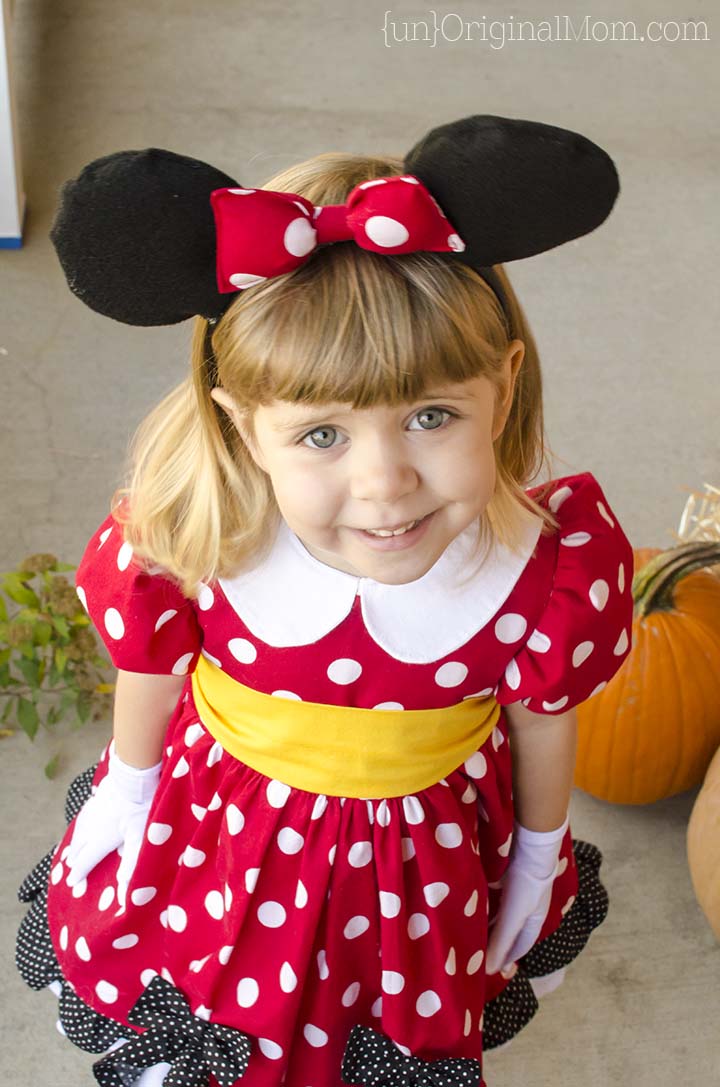 I cannot say enough good things about the Princess Dress pattern.  It is over 60 pages long – full of detailed step-by-step instructions and photographs!  If you know how to operate your sewing machine, you can follow this pattern.  Seriously.  I have never sewed a dress before IN MY LIFE, and not only was I able to follow the pattern, the dress turned out pretty darn well, if I do say so myself!!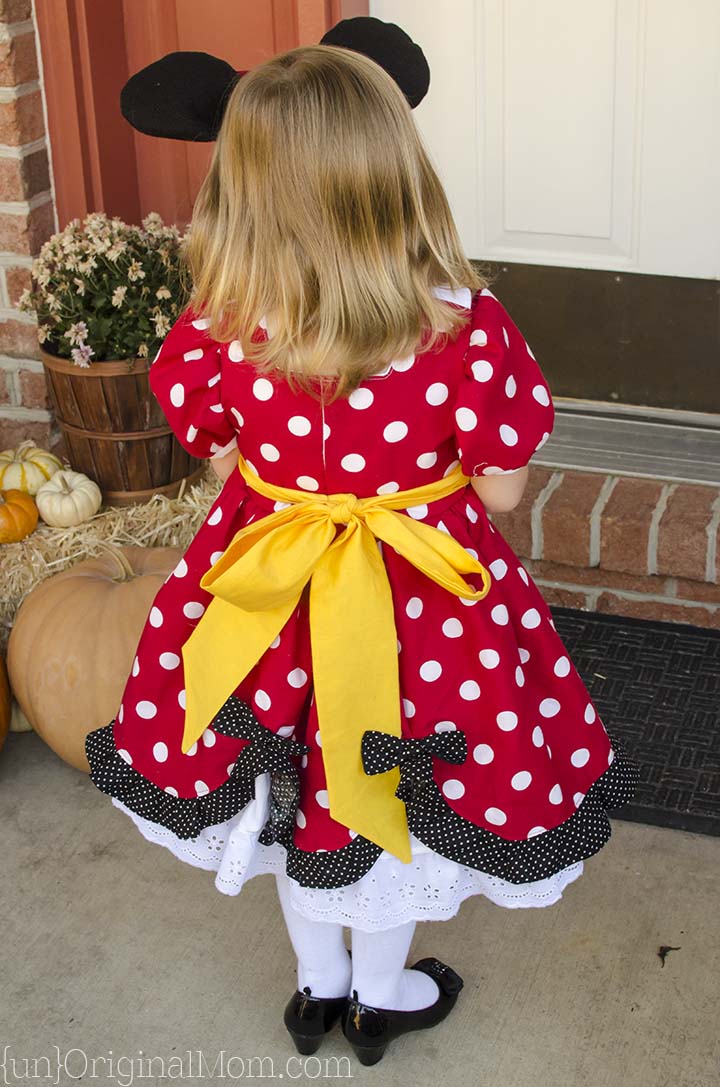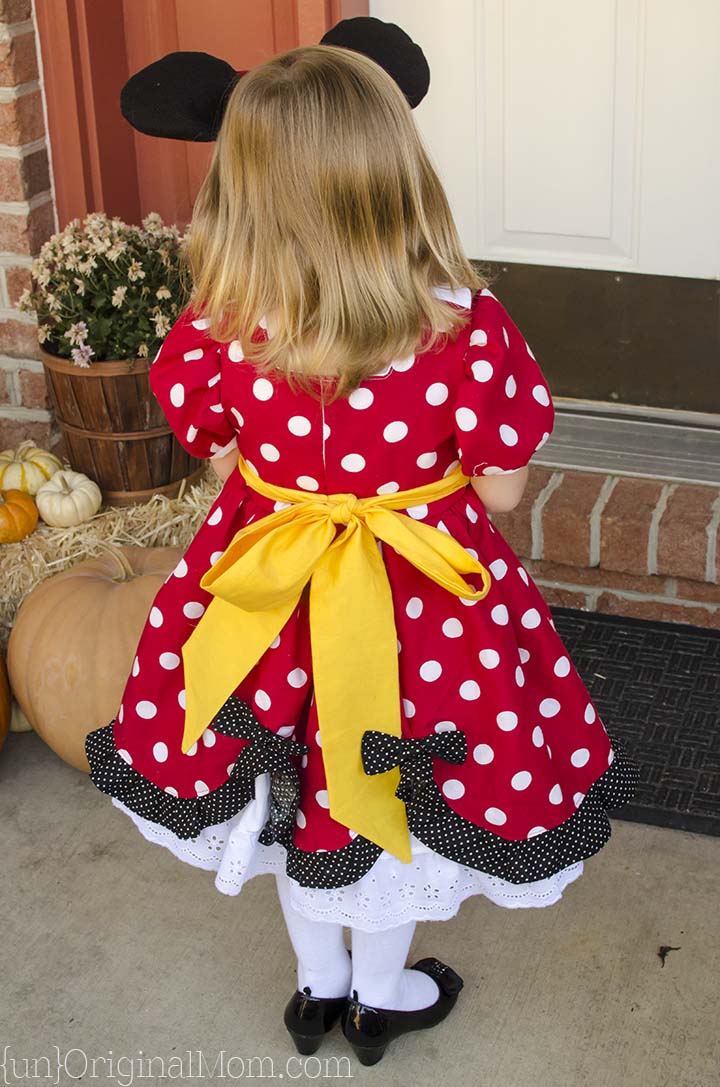 I decided to go "classic" Minnie Mouse with the red and white polka dots, rather than the updated pink Minnie dress.  The black and white polka dot trim along with a yellow sash were perfect for the look!  It was easy to follow Kari's modifications to create the peter pan collar (though I left out the mouse head cut-out on the back of the dress that she included – it seemed a bit too ambitious for my purposes!).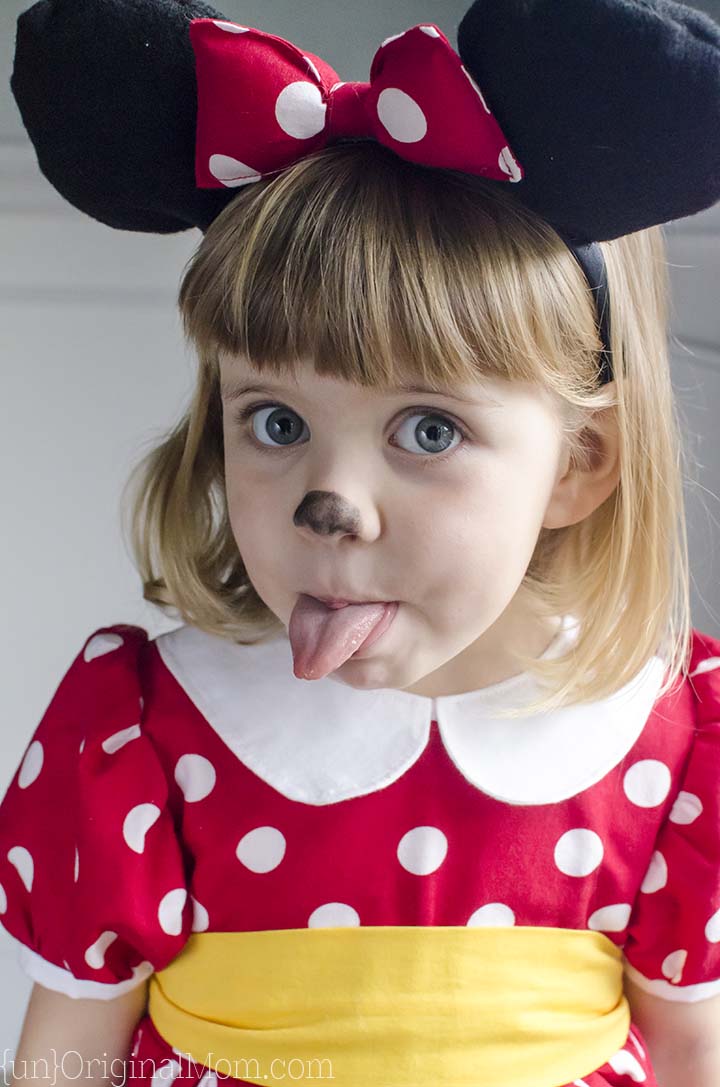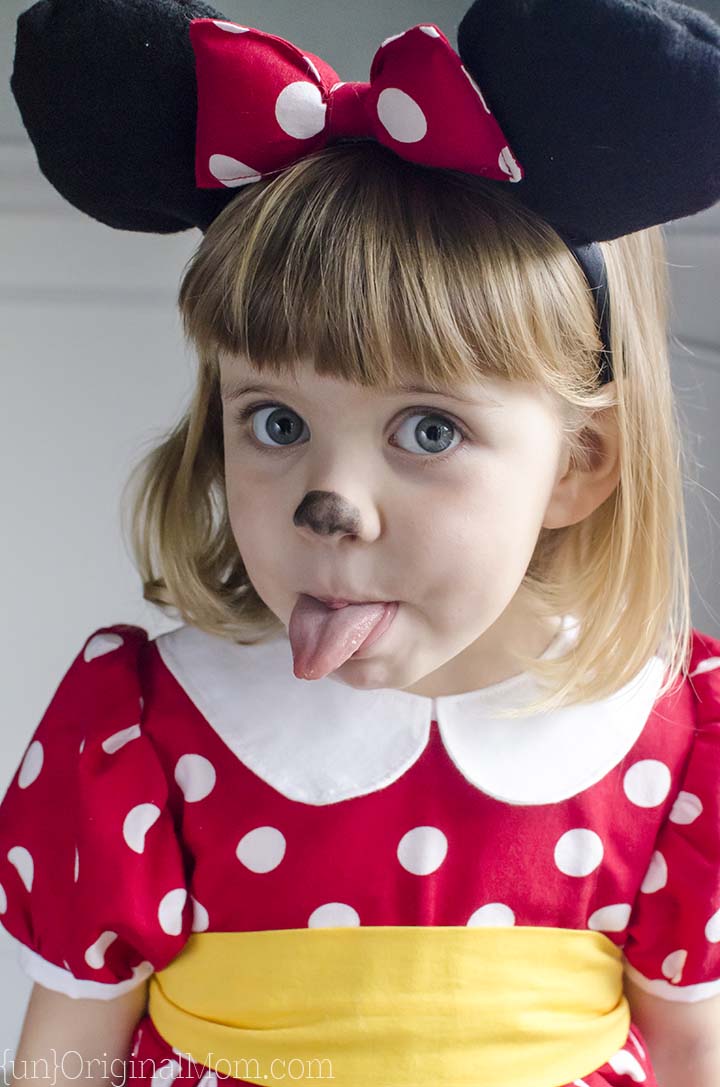 I did shorten the dress by about two inches, so if you decide to make one be aware that the skirt is pretty long (it would have come to mid-calf on my daughter).  The dress needed a little extra poof, so I followed Kari's recommendation and made a simple crinoline using this pattern.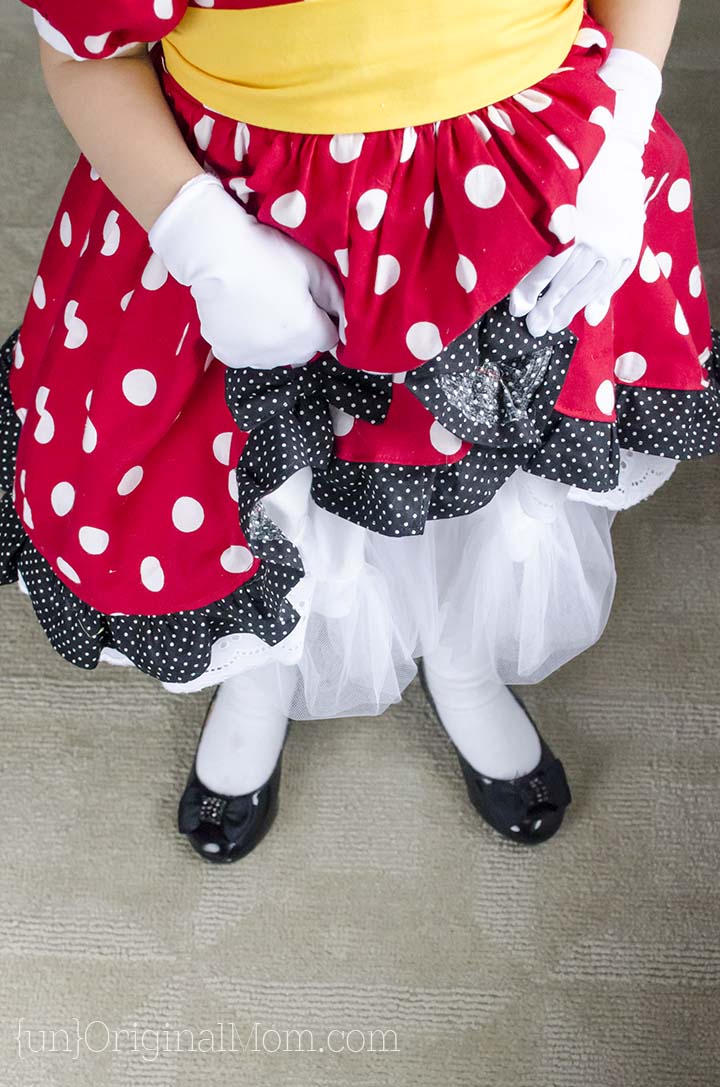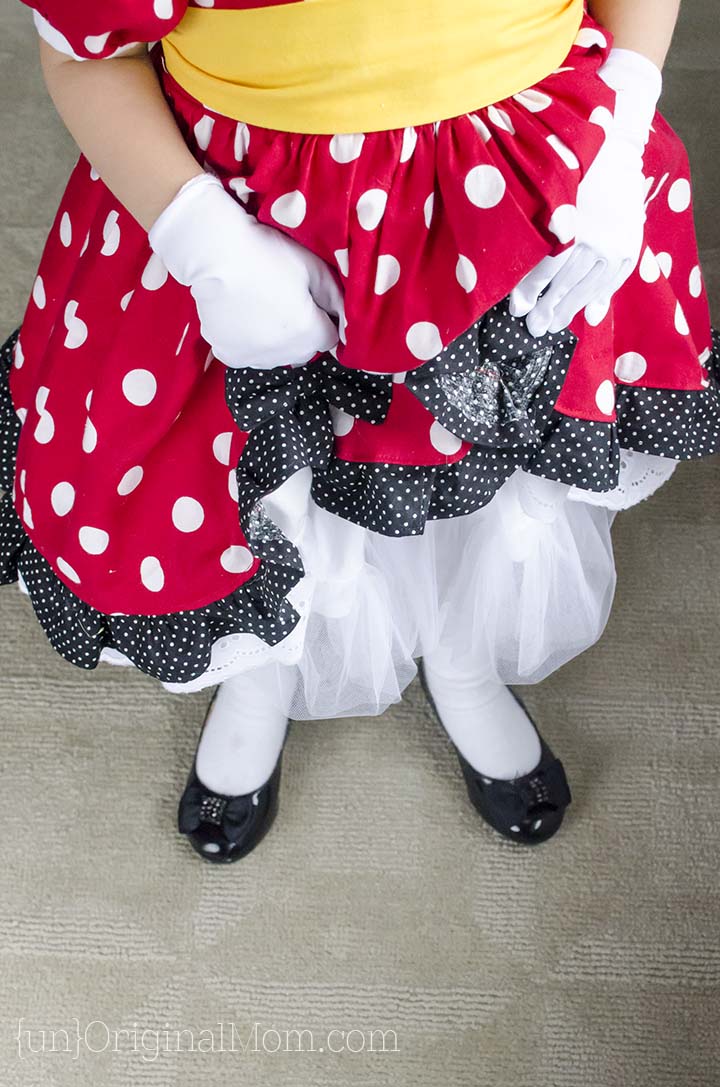 Of course, she needed a trick-or-treat bag!  I followed this simple tote bag pattern, and used my Silhouette to cut out a mouse head from extra fabric.  Then I added a glitter heat transfer vinyl offset border around the fabric, because who doesn't love a little extra sparkle?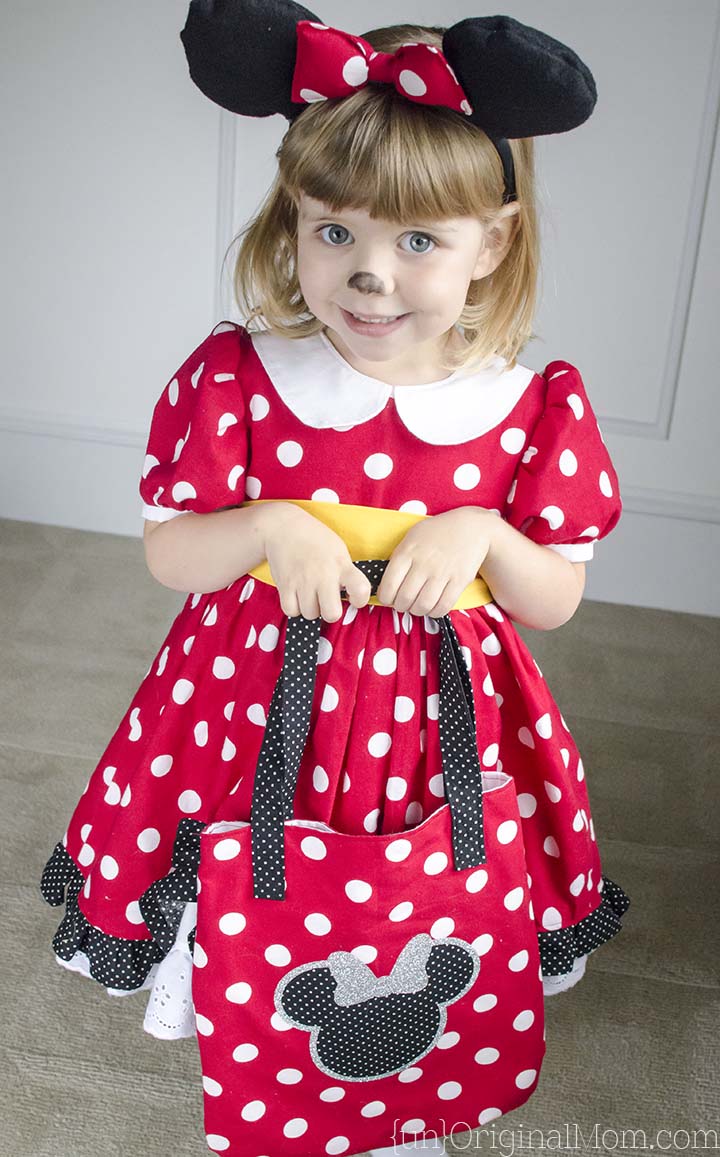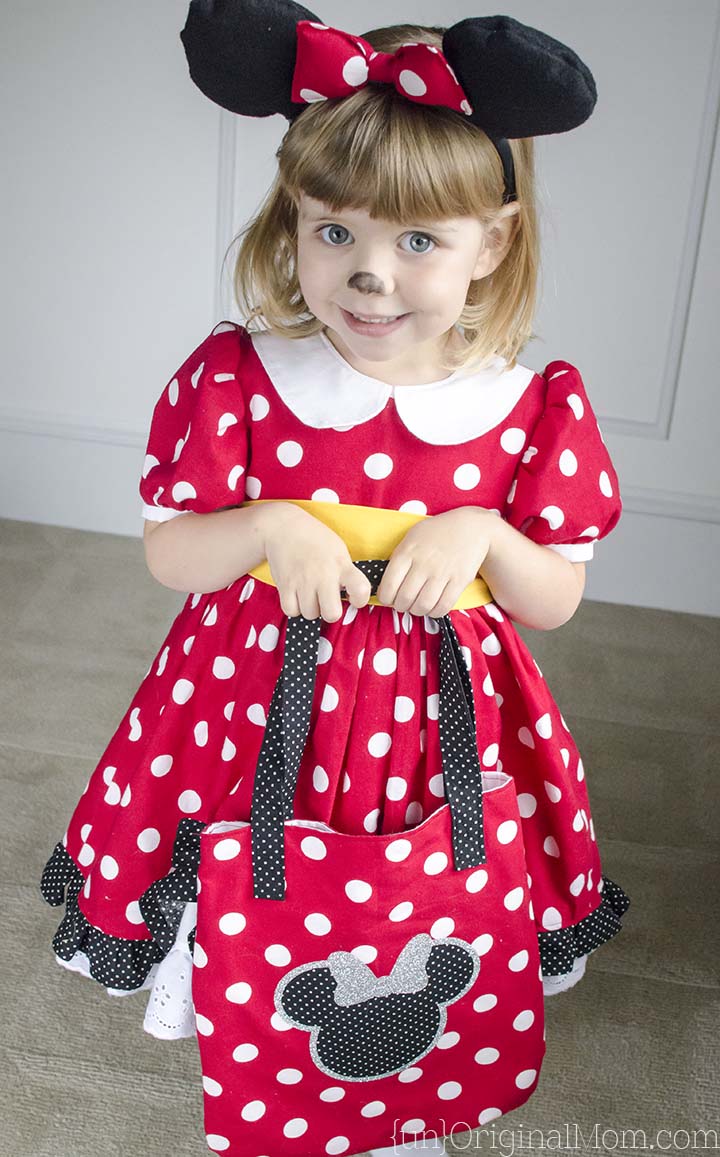 The Princess Dress pattern comes with 4 different sleeve options, and I've seen photos of people customizing it to look like Cinderella, Snow White, Sofia the First, and others!  Perfect for Halloween, or maybe even a trip to Disney.  I have a feeling I'll be using this pattern many more times as my little princess gets bigger :-)
UPDATE: Take a walk down memory lane with me to browse through all of my daughter's DIY Halloween Costumes!
Age 1 – Little Black Cat
Age 2 – Toddler Tinkerbell
Age 3 – The Perfect Minnie Mouse Dress
Age 4 – Little Mermaid + Flounder Costumes
Age 5 – Elena of Avalor
Age 6 – Unicorn Hoodie + Rainbow Tutu
MORE CRAFTY DISNEY IDEAS!
This post contains affiliate links – click here to read my full disclosure.
MORE DIY DISNEY COSTUMES
Check out these fun DIY Disney costumes from some of my blogger friends!
Officer Judy Hops Costume – Houseful of Handmade
DIY Ducktales Costumes – Suburban Wife City Life
Angry Birds Star Wars R2D2 Costume – Twin Dragonfly Designs
Disney Maui Costume – See Lindsay
Woody & Jessie Costumes – Sew Simple Home
No-sew Minnie Mouse Costume – Sugar Bee Crafts
Darth Maul & Yoda Costumes – The Scrap Shoppe Blog
Moana's Necklace – Simple Practical Beautiful
Mickey & Minnie Mouse Costumes – Design Dazzle
Ariel Costume – Polka Dot Chair


Get your copy of my FREE meal planning binder!
Sign up to get a free copy of my meal planning system - an 11 page printable meal planning binder, complete with a pantry inventory, shopping list, and more to help get on top of your menu each week!