Use your Silhouette to make your own custom tee for a trip to Disney…or put this design on a shirt or bag to wear at home and add a little Disney magic to your day. Either way, you'll love this My Happy Place Disney shirt!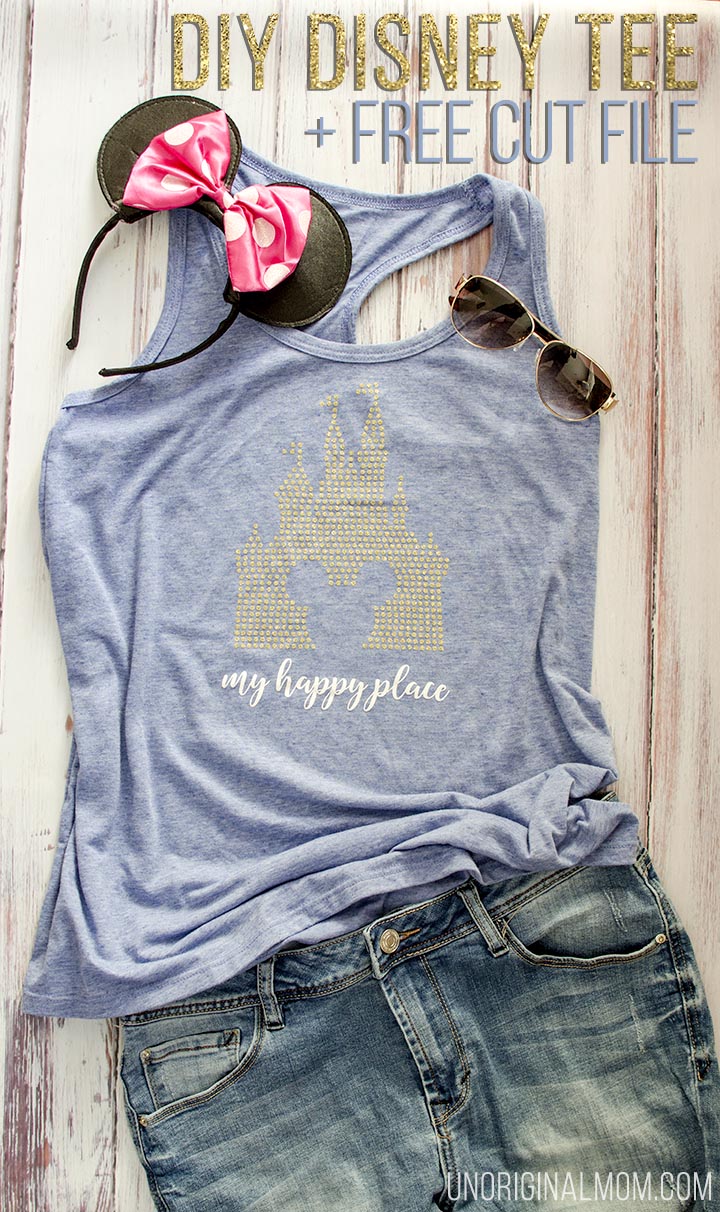 This post contains affiliate links – read more about what that means here.
If you read my stroller review post last week, you know that our little family of four took a trip to Disney World this past October. It was an amazing trip, and we made lots of priceless memories. I also made lots of shirts ;-)
I made three shirts for my daughter…and then finally decided that I deserved my own custom Disney shirt too, gosh darn it. But where to begin? Pinterest and Etsy are full of a gazillion different ideas for Disney shirts, and while I love that I can make my own version just about any of them with my Silhouette, I was paralyzed by too many options for a while…eventually I decided that I wanted a tank top with a simple Cinderella's castle on it.
It couldn't be just any Cinderella's Castle design, though…it needed some kind of "wow" factor. #lifeofacraftblogger (I should probably mention that this was the DAY BEFORE we were leaving. I had tons of packing and cleaning to get done, but I thought I could "quickly whip up a shirt" for myself. In the almost 32 years I've known myself, I probably should have known better than that. Oops.) I decided to accomplish the "wow" factor with glitter heat transfer vinyl, but with not just any design – I wanted to make it look like rhinestones.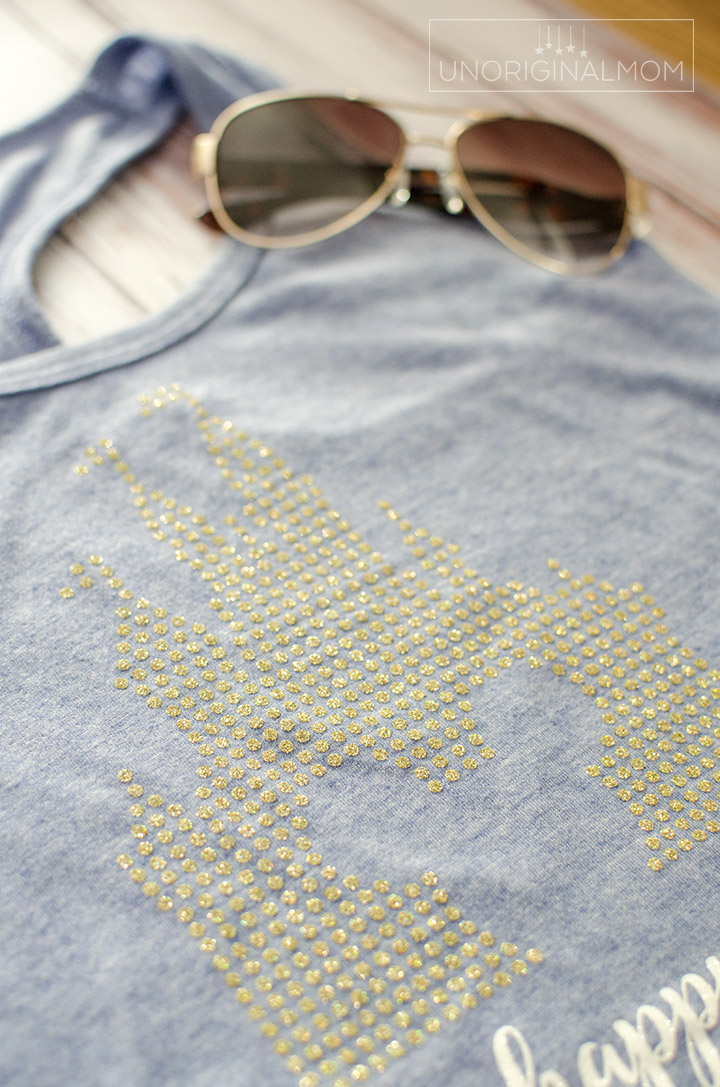 Great idea in theory, but in reality it ended up being anything BUT a quick and easy shirt. I used the Rhinestone design feature in Silhouette Studio Designer's Edition to fill in Cinderella's castle and then painstakingly moved and aligned and spaced all the little dots until they were exactly the way I wanted them. Then I tried cutting it and realized the circles were just way too small…so I started over and did it AGAIN with larger circles. This time it cut perfectly.  (My perfectionism is your gain, because I've added this cut file to my Silhouette library…that way no one else needs to spend an hour designing Cinderella's castle in rhinestones the way I did! You can sign up for access via the form at the bottom of this post.)
I used gold glitter heat transfer vinyl from Expressions Vinyl (I believe this is the "gold confetti" color) to cut out Cinderella's castle. Isn't it fabulous? The tank top was on clearance at Walmart, but you can find a similar one here.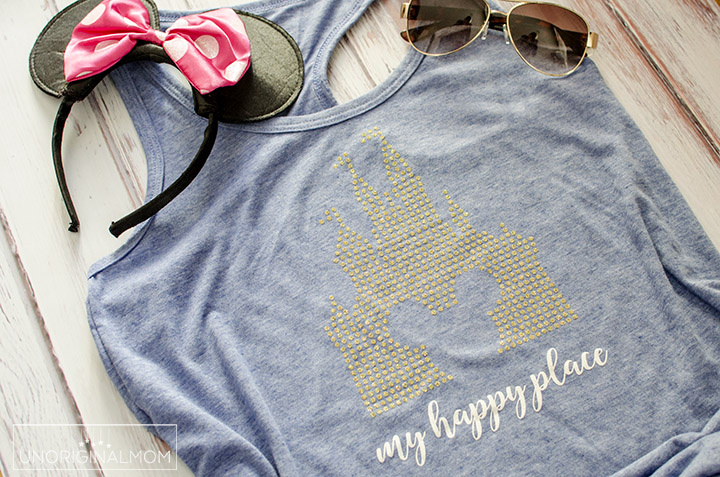 But I thought my design was missing something. It just need a little bit more. That's when I decided to add the script "my happy place" at the bottom using white glitter heat transfer vinyl. Mwah! Perfect!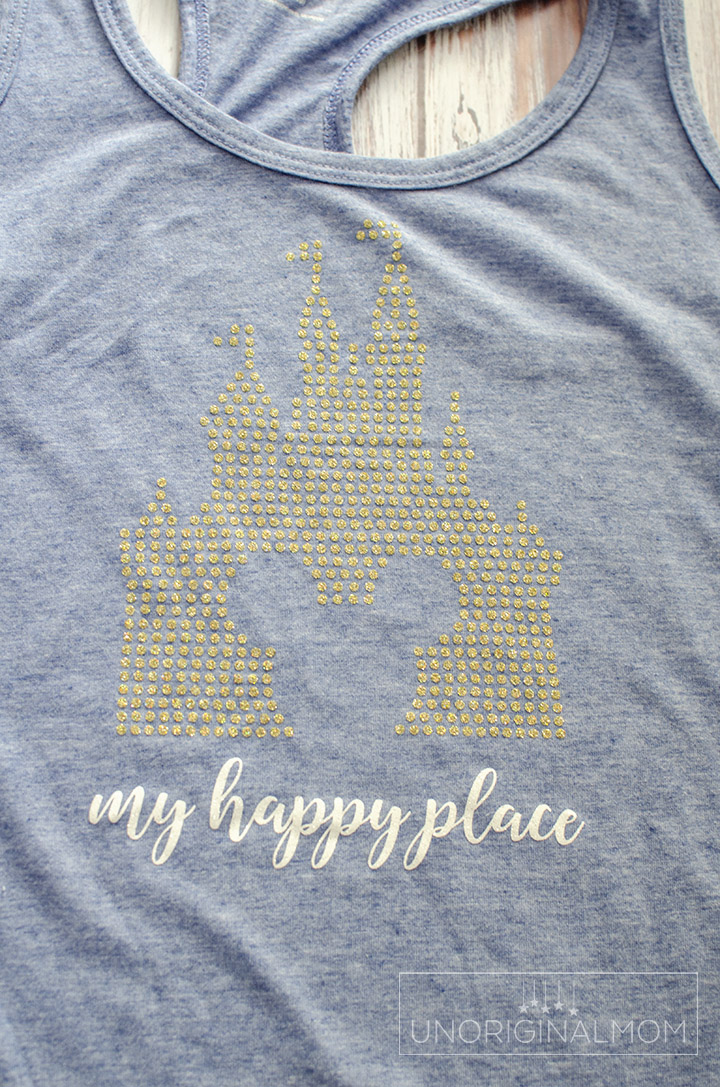 I was really amazed at the sheer number of people walking around Disney with custom HTV t-shirts, probably either made themselves or purchased on Etsy. I saw a lot of the same designs over and over again, but I didn't see a single one with anything like mine :-)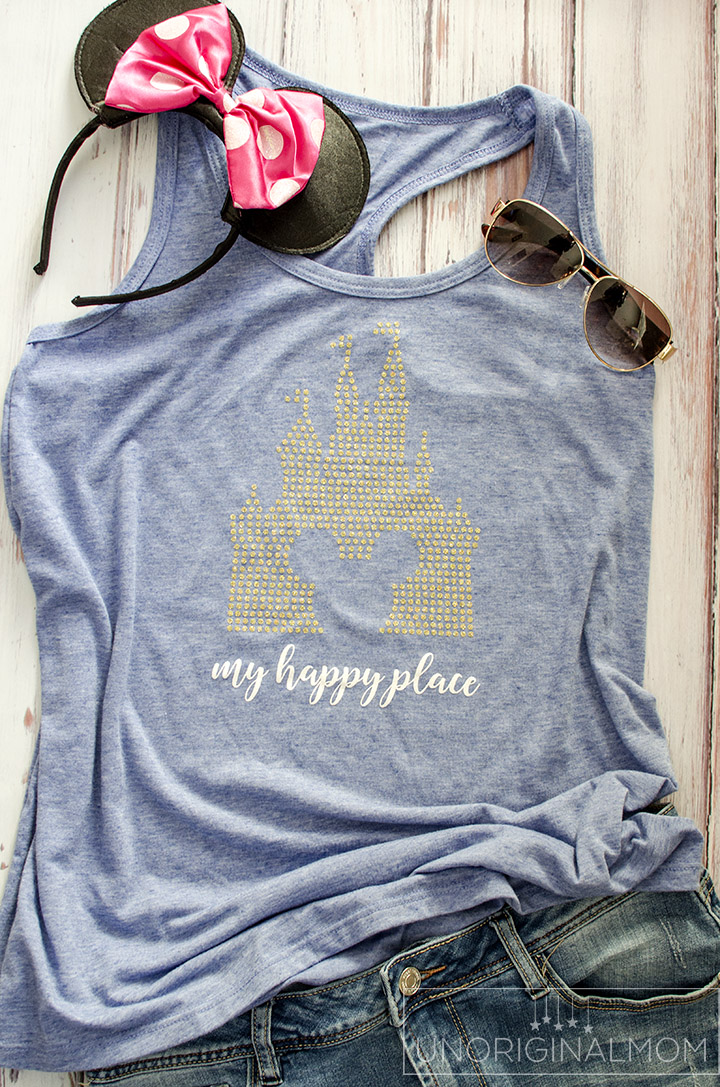 You can snag the Silhouette Studio cut file for this My Happy Place Disney Shirt design for FREE in my Silhouette Library. (Sign up for instant access below my signature at the bottom of this post.) And if you make a shirt with this design, I want to see it! Pretty pretty please snap a picture of you wearing it at Disney and send it to me, or post it on Instagram and tag me!
MORE CRAFTY DISNEY IDEAS!



Subscribe to unOriginal Mom via email and get instant access to my library of FREE Silhouette Studio & SVG cut files - exclusively for email subscribers. Plus there's a new file added every month!