Taking a trip to Disney? Grab this free printable Frozen stroller sign to help identify your stroller amidst the masses!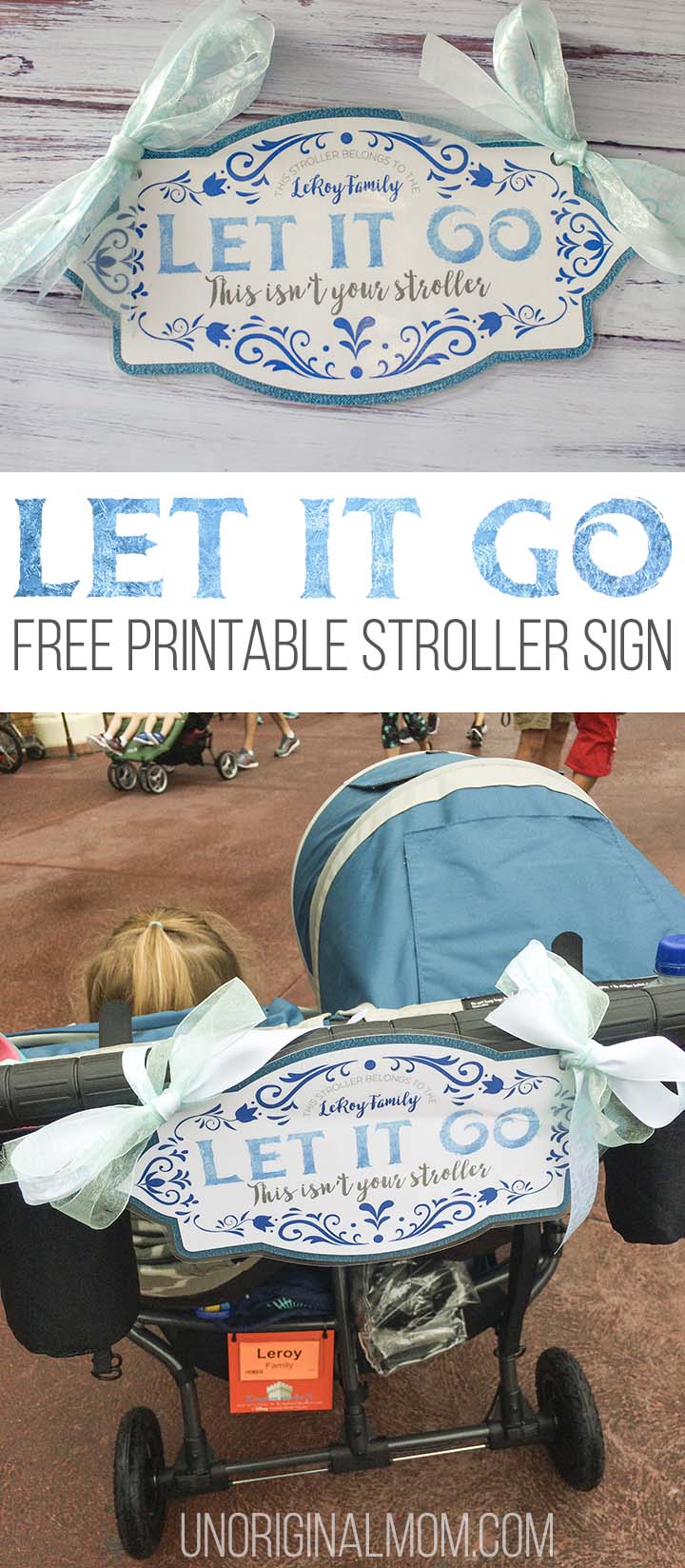 We took a trip to Disney World this past October with our 5 year old and our 2.5 year old and had an absolute blast. We aren't all-out-crazy Disney fanatics but we do love Disney – plus our daughter is obsessed with all-things-Disney-princesses and our son absolutely adores Mickey Mouse and all the classic Disney characters. I realize some people think it's crazy to spend so much money on a trip like this while the kids are still young enough that they may have no long term memories of it…but my argument to that is, I'LL remember it. It was absolutely magical to watch my kids meet their favorite characters and experience Disney World, not to mention the value of the extended quality time together with just our little family of four. Plus, kids under 3 are free, so we decided to take advantage of that before our little man ages out of that stage.
We ended up doing four park days (two at Magic Kingdom, one at Epcot, and one at Hollywood Studios) and stayed on site in a Family Suite at the Art of Animation Resort. I could do an entire post on the process of planning the trip – deciding what parks to do on which days, where to stay, which FastPasses to sign up for, putting together an itinerary for each park, packing, etc. There is SO much that goes into a Disney trip, you almost need a degree to plan it! But right now I'm just going to focus on one specific thing that really could have been the make-or-break item for our trip – a stroller.
I received a complimentary stroller rental from Kingdom Strollers for our trip in exchange for an honest review. My favorable opinion of their service is completely my own! This post contains affiliate links. Click here to find out what that means.
A stroller doesn't really seem like that big of a deal, right? Wrong. I was tempted to just bring along an umbrella stroller for our 2 year old and have the 5 year old walk, but I ultimately decided it would be smarter to use a double stroller. We have a Sit N Stand stroller that we could have brought along (we drove to Florida in our minivan and had plenty of space), but it's really bulky and long and difficult to maneuver. So I looked into renting a double stroller.
There are several different stroller rental services in Orlando, but the name that kept coming up in reviews and was also very highly recommended by the moms in my local Disney Facebook group was Kingdom Strollers. They're a Disney approved stroller provider, which means if you're staying on property they can drop off/pick up your stroller directly to your resort. They have several different single and double stroller options to choose from, and their prices are very reasonable – so I was sold! It was a breeze to make our reservation online and we picked it up at the bell stand of our resort when we arrived.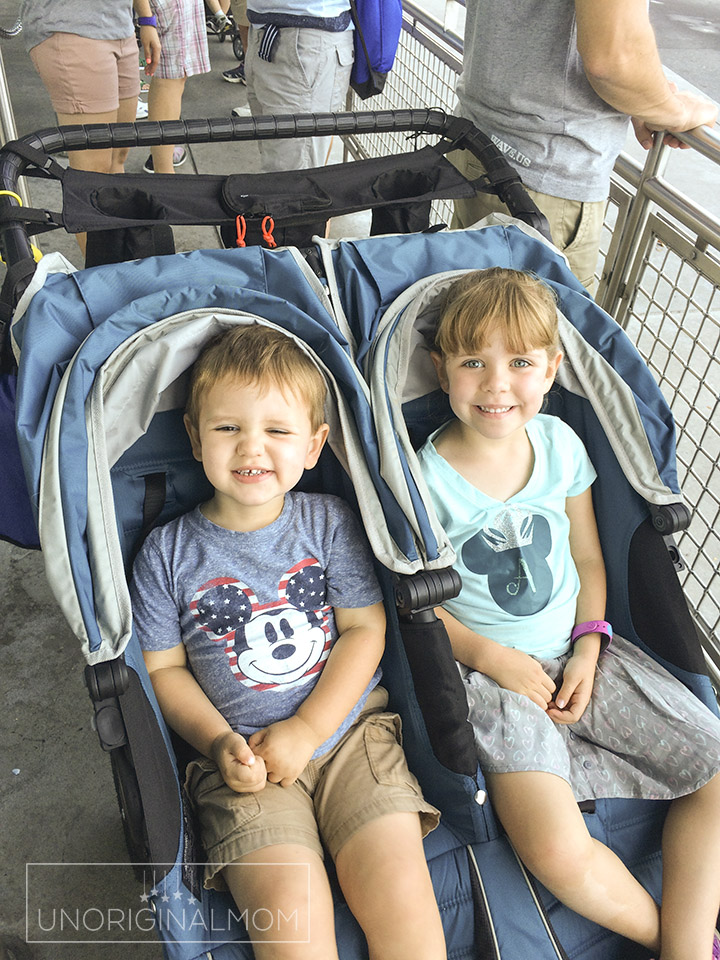 We opted for a Mini GT Double to make sure it was big enough for our very tall 2.5 year old and average height 5 year old – it fit them perfectly! They had plenty of space and were very comfortable. (I was a little bit jealous that it didn't come in my size!) It was so much faster to get around the park with both of them in the stroller, plus we didn't have to search for lots of bench space to stop for snacks.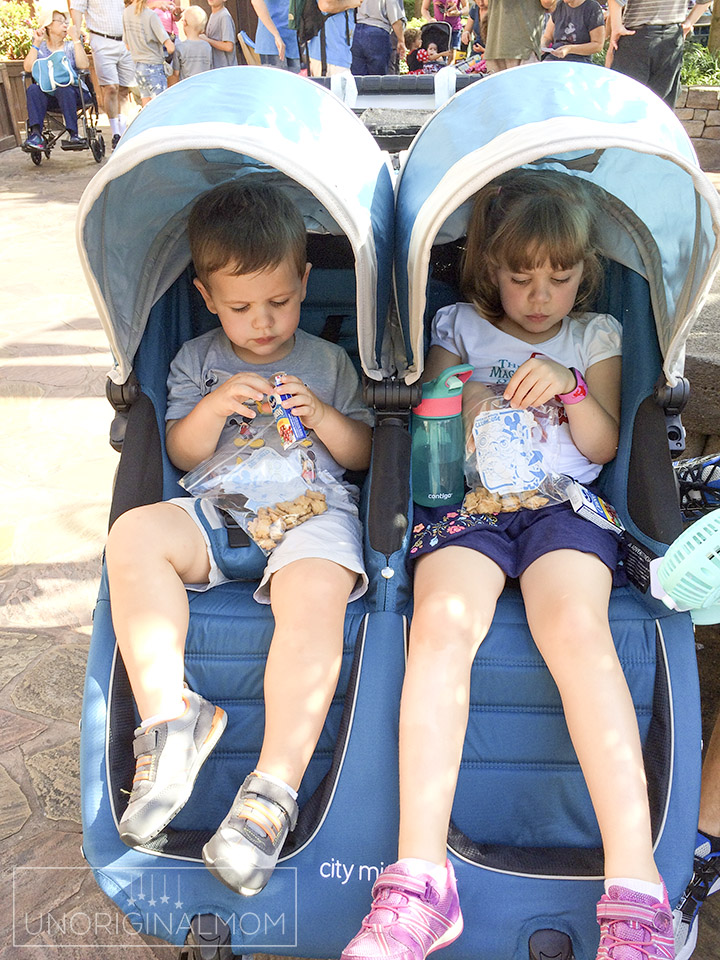 I was really amazed at the quality of the stroller – it looked brand new! And it was SO easy to steer and maneuver in the crowds – I could literally push it was one finger. I'm not kidding – one finger! I was so grateful for the cup holder that Kingdom Strollers added on the handle – it was really handy for holding water bottles, park maps, portable phone chargers, my son's magic band when he decided he didn't want to wear it, and so many other random odds and ends.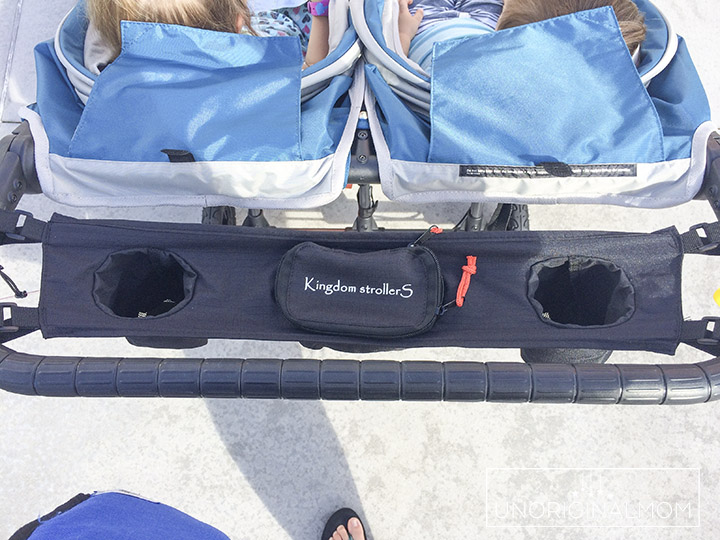 Another super convenient thing about having a stroller is the storage space. There's not a ton of space under the seats, but plenty for a small cooler and another bag. I only carried a small over-the-shoulder purse with me and the rest of our stuff went under the stroller, so I didn't have to carry a big bulky backpack through the park. Major plus!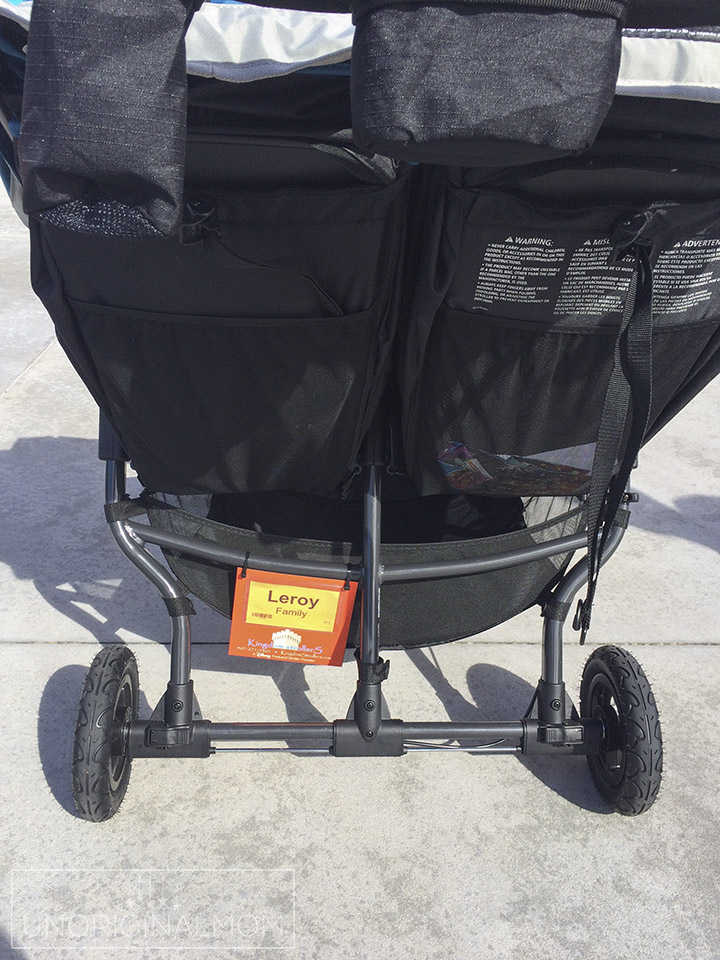 One thing I kept seeing recommended was to have a sign or some colored ribbons to tie to your stroller so you could easily identify it in the stroller parking areas. Of course, I had to put a creative spin on it…so I made a fun stroller sign that played off the oh-so-popular lyric from Frozen! (scroll down to the bottom of this post to grab your free printable Frozen stroller sign for Disney!)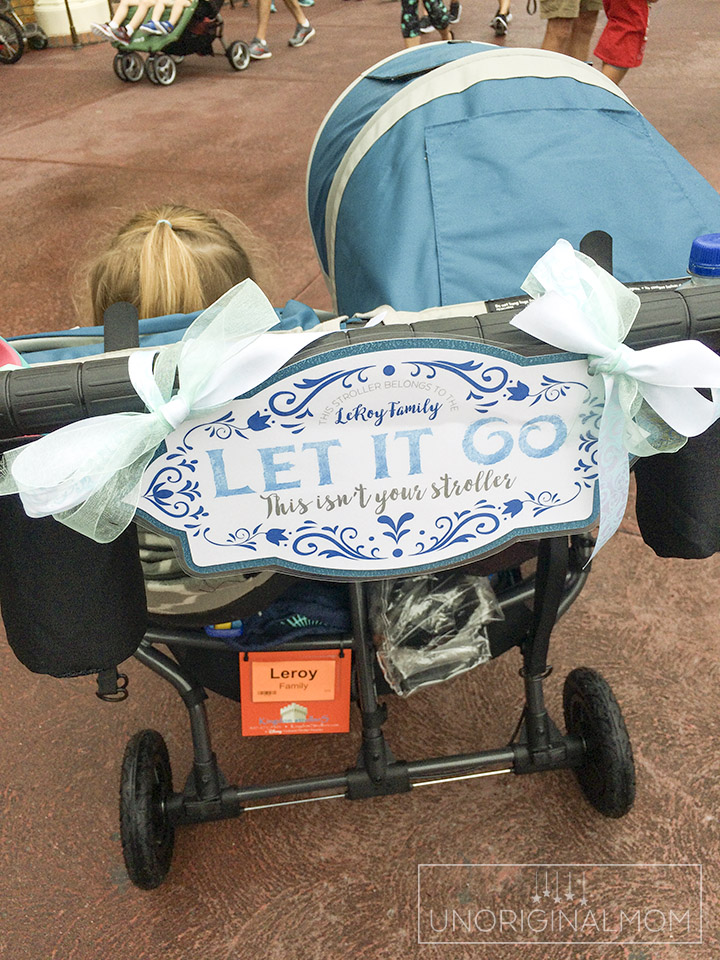 Frequently we would come out of a ride to get our stroller and see some people stopped to point at the sign, getting a good giggle out of it. I thought it was pretty clever, if I do say so myself ;-)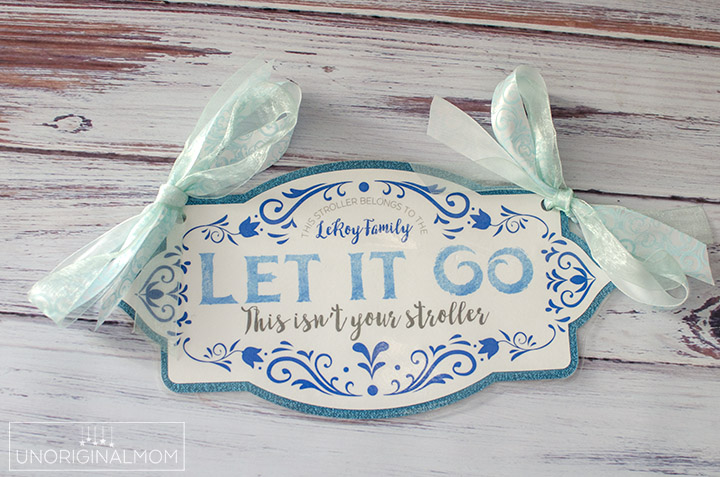 (I actually used my Silhouette Cameo to cut it out and then ran it through my laminator to make it a bit more durable. If you're a Silhouette user, you can find the free Silhouette Studio cut file version of this sign in my Silhouette library! If you'd like to personalize it with your name, the font I used was "Fabulous Script." Otherwise the printable PDF version is below.)
We were always careful to park in designated stroller parking, but sometimes we would come out of a ride and our stroller had been moved to the opposite side of where we parked it by a cast member rearranging strollers to maximize space.  I'm really glad we added the sign and ribbons to help our stroller stand out a little bit – it made finding it in the crowd so much easier!
I got some cheap-o little LED "fairy lights" on Amazon to dress up our stroller for after-dark – we got lots of comments on our lit up stroller, too! Not to mention it made it much easier to find in the dark, and the extra light was helpful when I was digging around to get something out of the bottom of the stroller.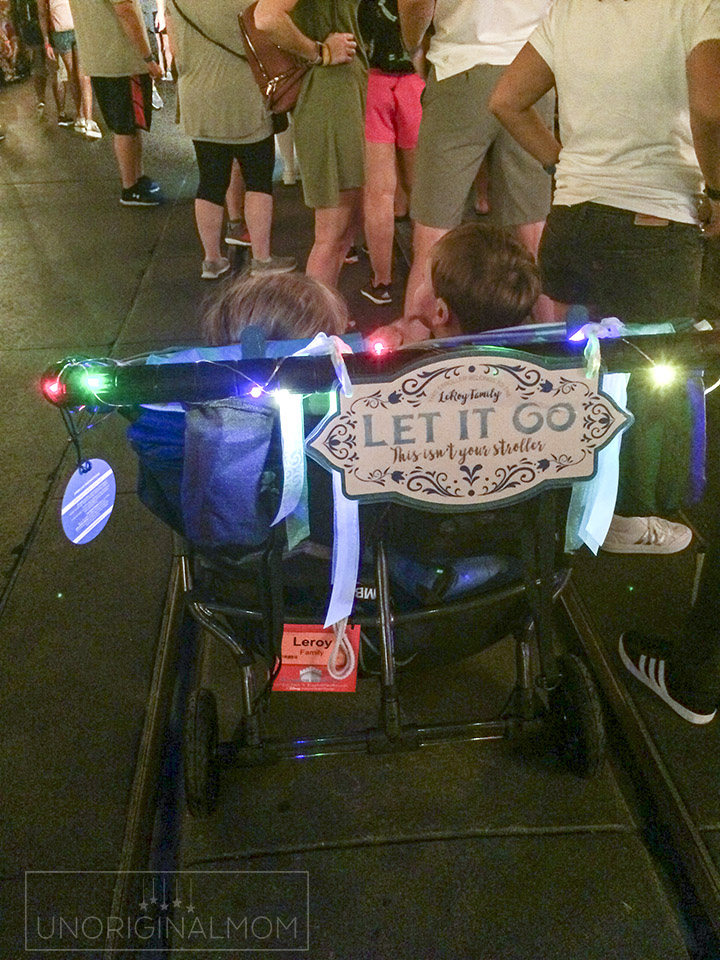 A few other handy items to have on board your stroller:
hand sanitizer that clips onto the handle – made it really easy to clean hands before snacks and meals
small cooler – it's super handy to have a small, soft-sided cooler that fits under the stroller to hold cold water bottles, snacks, or a packed lunch
small drawstring backpack or other small bag – you have to take everything out of the stroller to get through security, plus you have to collapse it every time you get on the bus, so I had all our items we needed for the day in a backpack like this one. As soon as we got inside, I put it under the stroller. I kept a very small over-the-shoulder purse with my all the time that held my wallet and phone, and we left everything else with the stroller when we went on rides (nothing valuable).
first aid kit – you can get first aid items for free at the first aid station, including some basic medications if you need them, but that can be a long walk for a band-aid if you're on the opposite side of the park.
stroller fan – we went in October, so I almost didn't get a fan to bring with us…but at the last minute I ordered this battery operated one from Amazon. I am SO glad we did as the first day we were there was in the 90s! Surprisingly, the kids didn't really want it but we clipped it to the handle to aim towards the adult pushing the stroller, which was much appreciated.
rain cover or cheap shower curtain – sudden downpours in central Orlando are inevitable! If it looks like rain when you're parking your stroller to go on a ride or in a restaurant, it's best to cover it up so you don't come back to a soaked stroller. Our stroller from Kingdom Strollers came with a rain cover, which we used a few times, but if you don't have a rain cover you could always cover it with a shower curtain when you park it.
And don't forget that small strand of battery operated lights for lighting up your stroller at night! So fun!
Another big plus to having a comfortable double stroller for our kiddos – they were able to catch a little nap after an exhausting afternoon. (I promise, there was absolutely nothing at all posed about this photo!)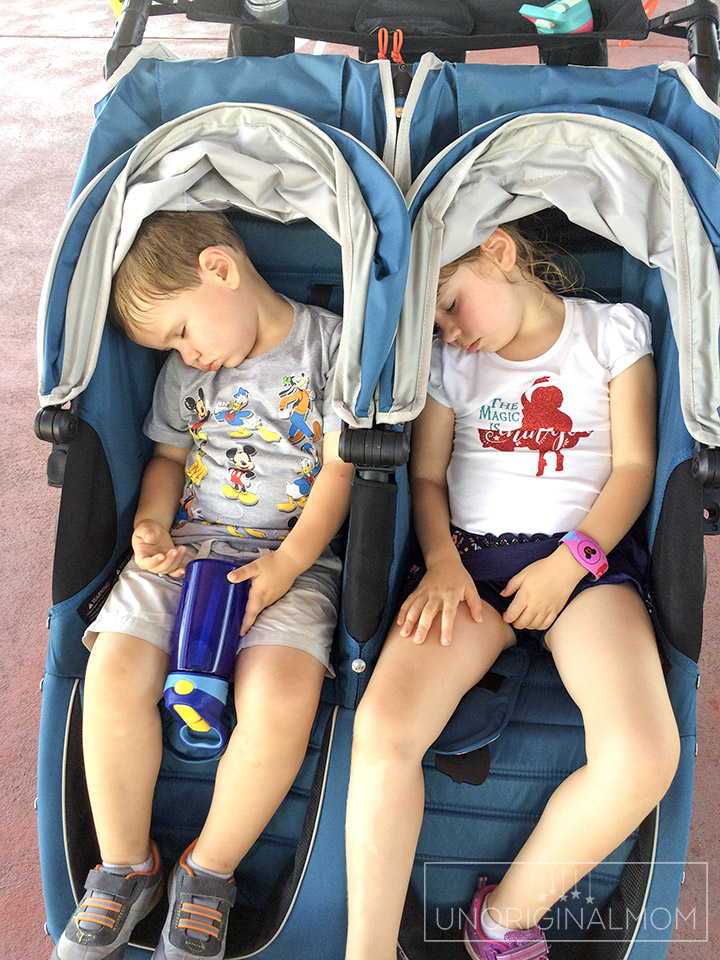 Want to print your own Frozen stroller sign for a trip to Disney? You can download your free printable Frozen stroller sign PDF here. (This printable is for personal use only, please.)
To make your sign like mine, print it, cut it out, laminate it, and get some Frozen-themed ribbon to tie it onto your stroller. You'll have the "coolest" stroller in Disney! ;-)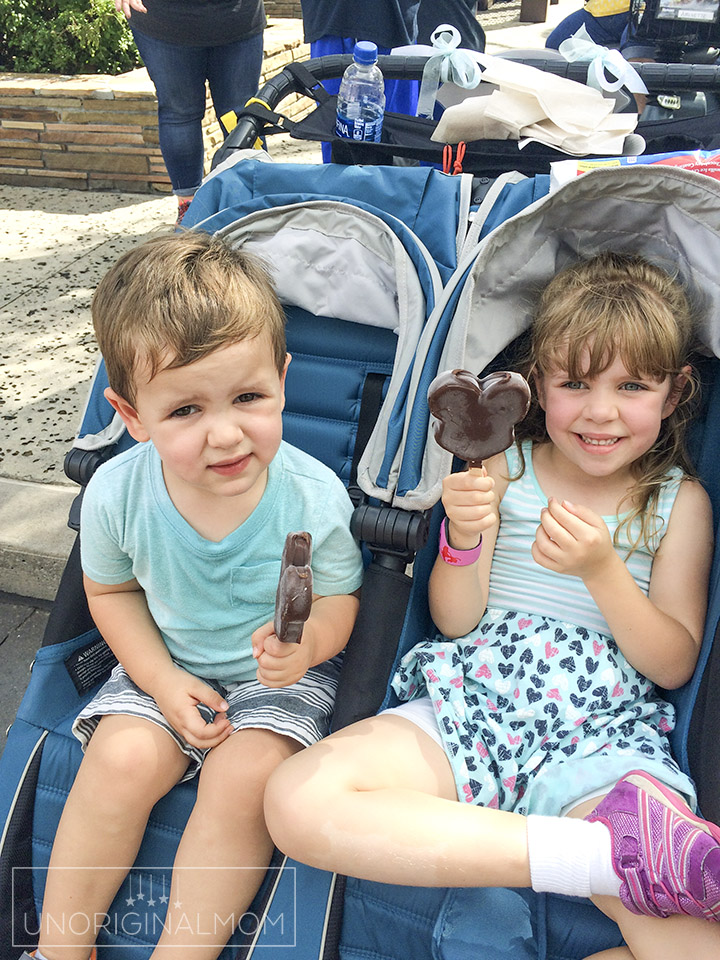 MORE CRAFTY DISNEY IDEAS!



Subscribe to unOriginal Mom via email and get instant access to my library of FREE Silhouette Studio & SVG cut files - exclusively for email subscribers. Plus there's a new file added every month!