Does anyone else struggle with their decor this time of year? I always feel a mix of relief and sadness when the Christmas decorations get put away…I'm glad to have the space back and the clutter gone, but then my house looks so empty! And with the winter weather outside, I want my home to be nice and warm and cozy. That's why this is my favorite time of year to burn candles…and also to decorate with them! As soon as you light a candle, the space feels warmer, cozier, and more intimate. But that's not all they're good for – candles can be great additions to your winter decor as well.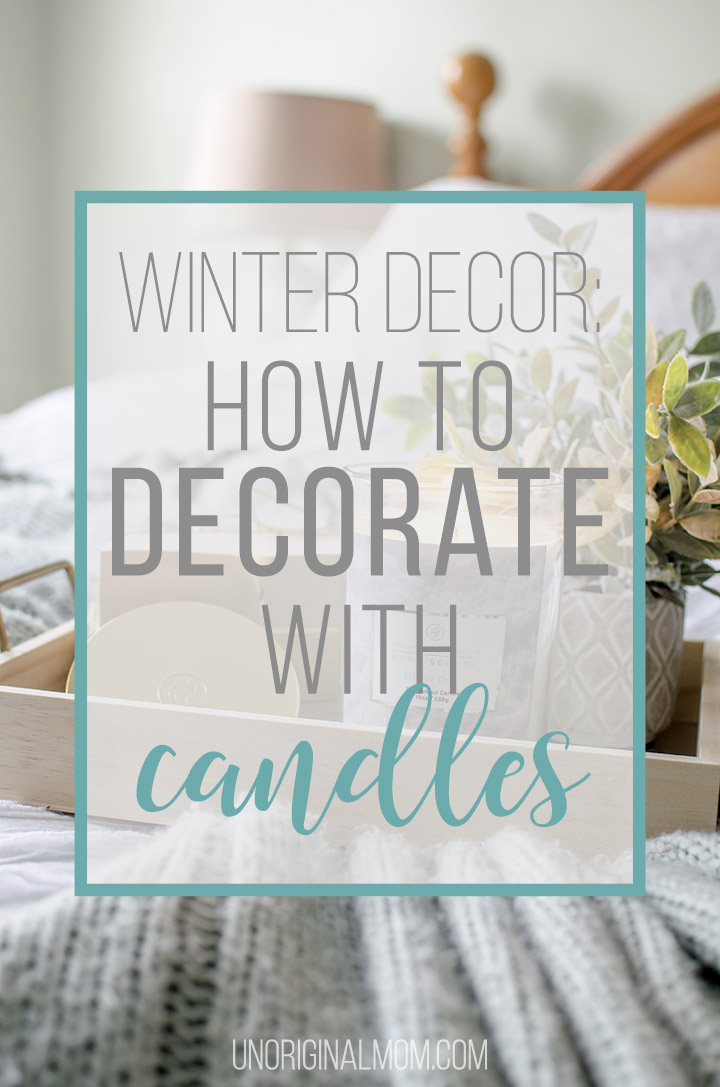 This post is brought to you by Chesapeake Bay Candles. As always, my thoughts and opinions – and love of beautiful candles – is 100% my own.
If you're looking to cozy up your home this winter, here are three quick steps to help you decorate with candles: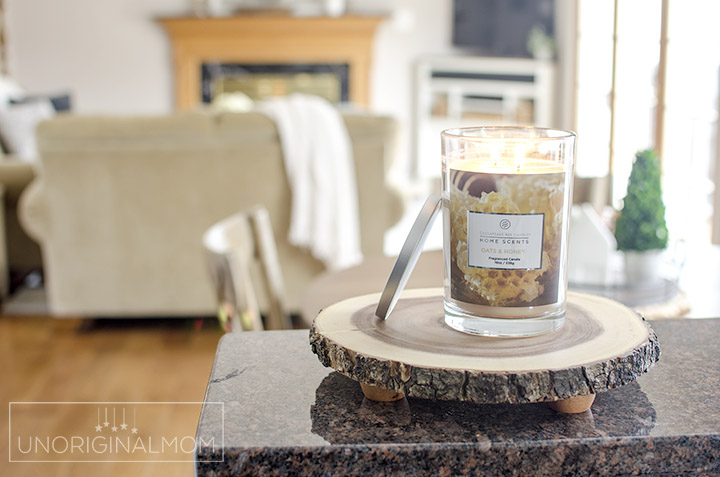 1. Use a tray.
Putting your candle on top of a small tray makes it look like it's there on purpose, not just randomly placed on a counter or shelf.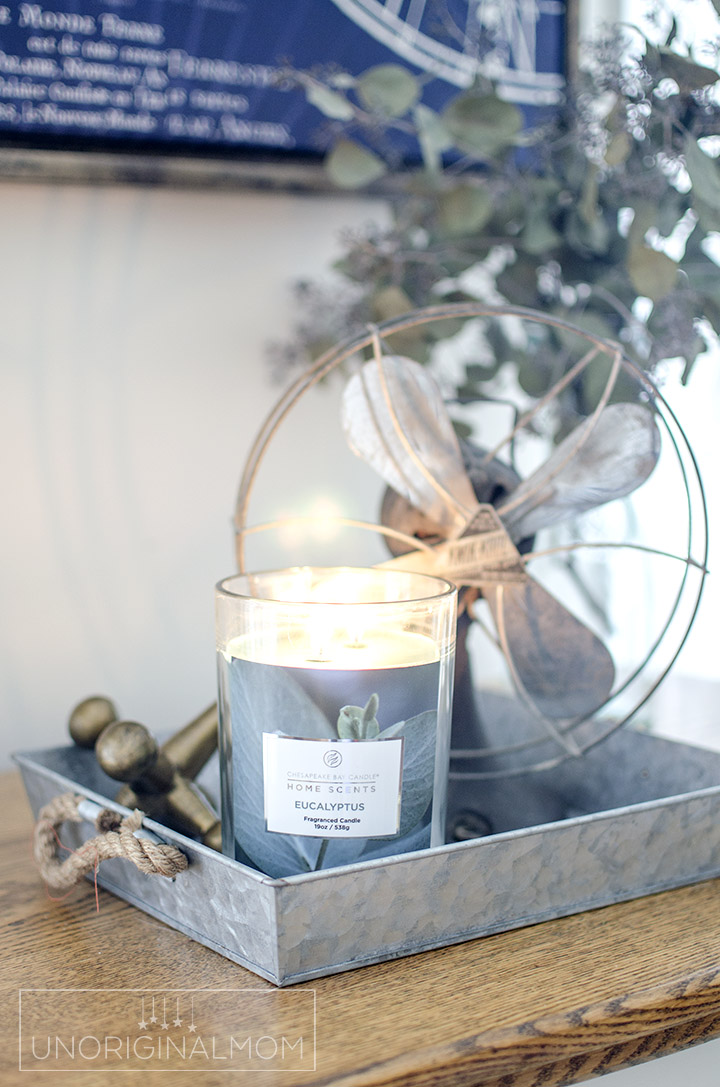 2. Group your candle with 2 other pieces of decor.
Odd numbers are almost always the way to go when you're styling decor in your home. So an easy way to make that candle not look so lonely by itself is to add two more pieces of decor along with it! If they're smaller items or you're pulling together a larger vignette, try adding 4 more items so you have a total of 5 things on your tray.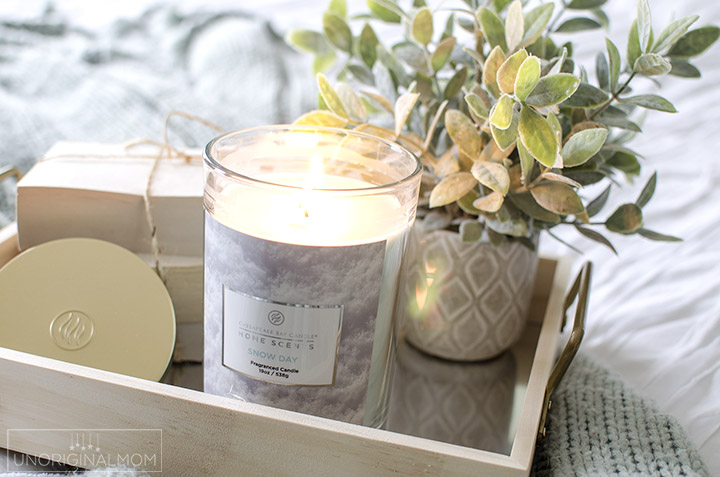 3. Use greenery or flowers.
Just because it's winter time doesn't mean you can't use flowers! Adding a small vase of fresh or faux flowers, or even just a little pot with some faux greenery instantly brings life to your display.
(Hopefully it goes without saying that you should make sure no decor items are close enough to catch fire, and never burn a candle unattended. But you knew that ;-) )
I was thrilled to receive some samples from Chesapeake Bay's Home Scents collection to use in my home. The Home Scents line is a classic everyday assortment of fragrance favorites. You can find the perfect fragrance for any season and any room in your home in the Home Scents Collection here.
Here are all the scents I received. Nothing was overpowering or too sweet smelling, which I like. Each one filled up my home with subtle and refreshing scents – plus they burn evenly and slowly, so I'll be able to continue enjoying them for a long time!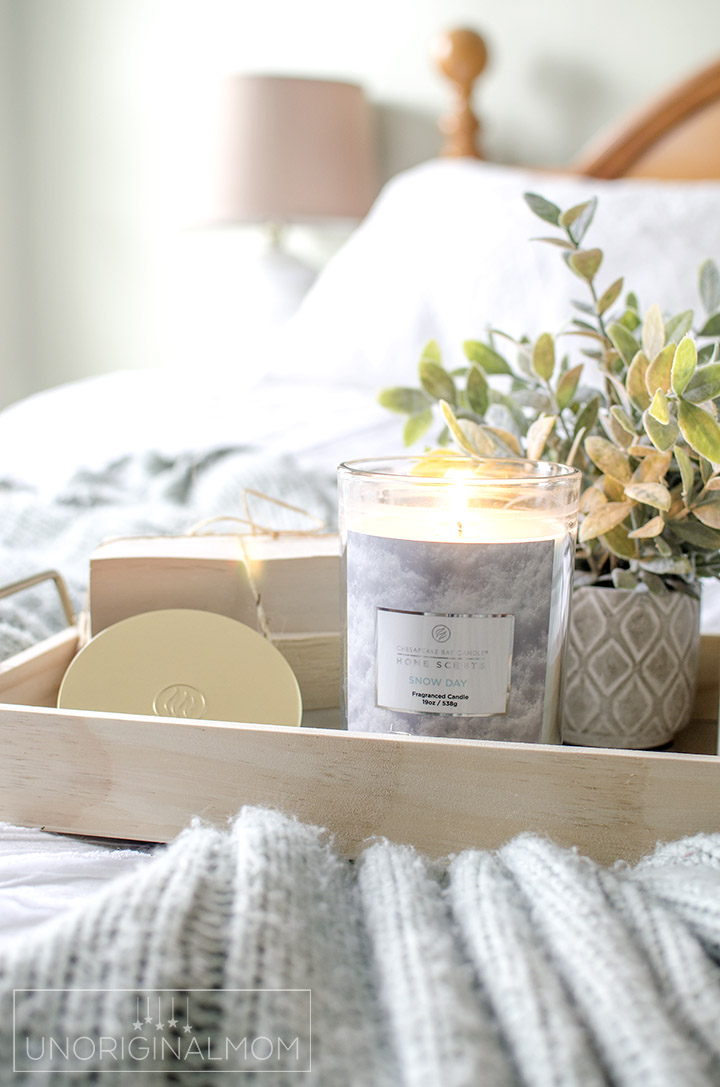 Snow Day – "Fresh fallen snow sparkles with aromatic pine, frosted mint and cool vanilla with a hint of citrus to compliment this complex accord." I think this one is my favorite – it's the perfect scent for winter! Clean and simple.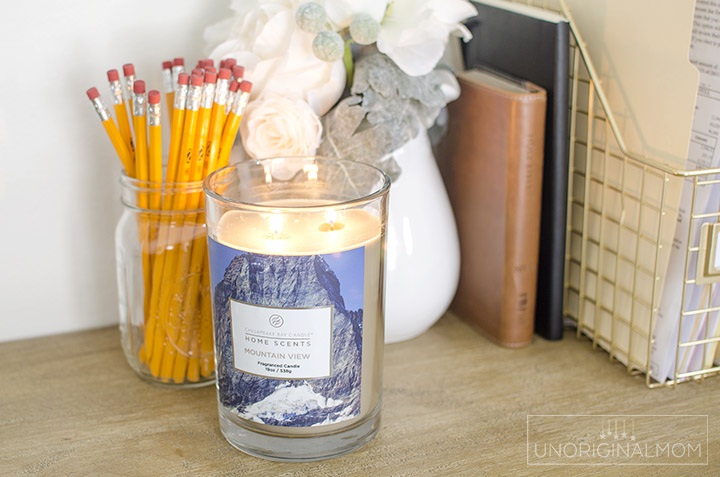 Mountain View – "Experience Mountain View with woodland mahogany and sun-warmed cedar combined with warm amber, crushed vetiver, and cinnamon bark in this modern and elegant scent." This one was more earthy and warm. It makes me think of a mountain cabin.
Eucalyptus (pictured above) – "Dew-kissed green leaves, crisp bamboo and eucalyptus are combined with blooming jasmine and cyclamen releasing a fresh and invigorating fragrance." I love the smell of fresh eucalyptus but it typically doesn't last very long. I use lots of faux eucalyptus in my decor and so this candle was perfect! I could smell my eucalyptus…even though it's not real ;-)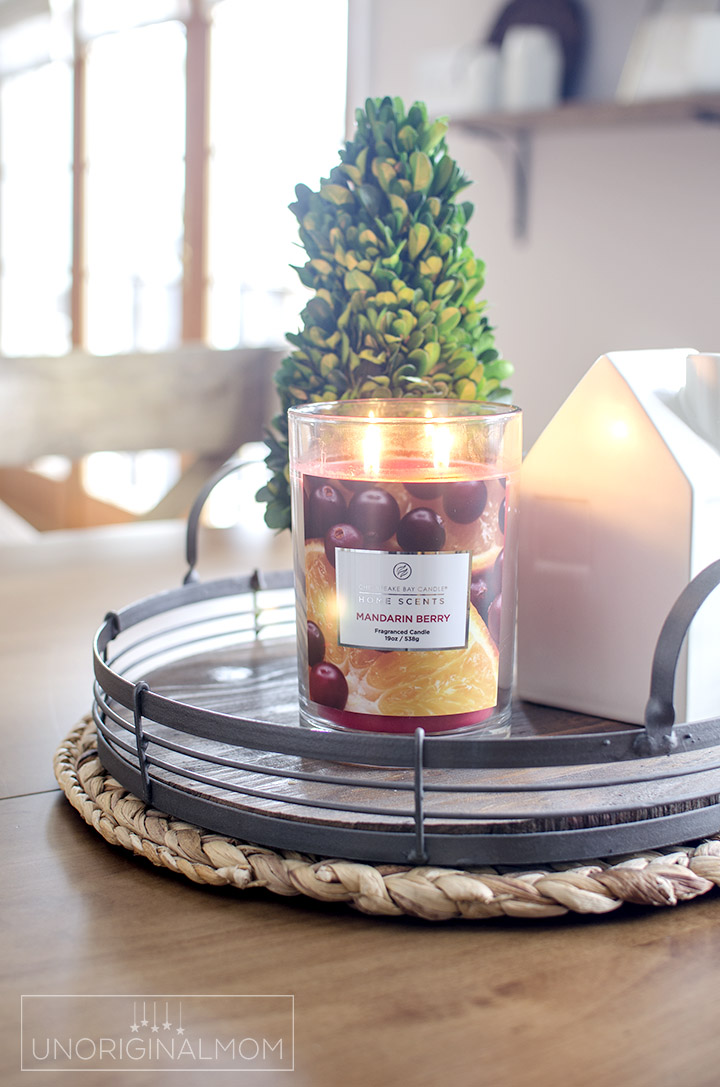 Mandarin Berry – "Try Mandarin Berry for an invigorating essence of freshly peeled mandarin tossed with brilliant red currant and touches of soft musk." This candle was the sweetest one of the six I sampled but it wasn't overly sweet for me. I love the mix of citrus and berry.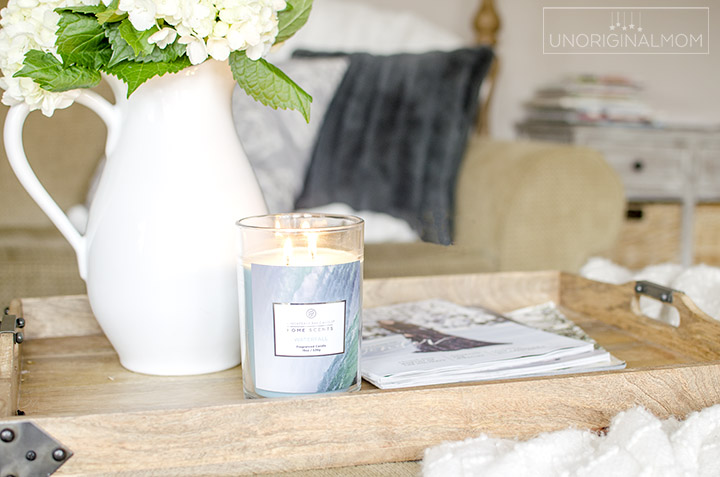 Waterfall – "Waterfall is a crisp scent of a morning breeze splashed with hints of cool citrus and fresh water lily amid soft cotton undertones." This candle just smells so fresh and clean! I do a lot of my cleaning with just microfiber clothes and water, which works really well but makes me wish for a clean-smelling house. So I turned to this candle instead – that way my house not only *is* clean, it smells clean, too :-)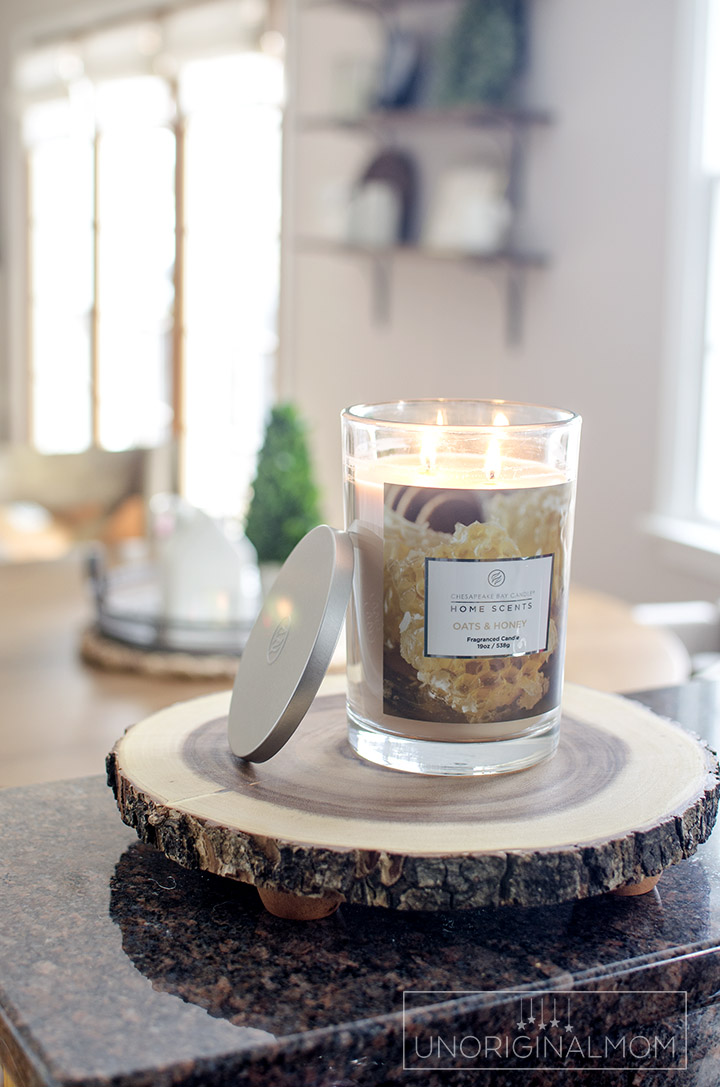 Oats & Honey – "A milky mixture of delicious honeycomb and blooming white florals combine effortlessly with almond extract, vanilla creme and exotic rice flower." This is another candle that's on the sweeter side without being too sweet. I love the warmth of the honey smell mixed with the florals.
I am so happy with all of these Chesapeake Bay candles! They have definitely helped to "cozy up" my home for the winter.
What's your favorite kind of candle scent? Sweeter and floral, simple and fresh, or more earthy and warm? I love being able to choose one depending on my mood.


Get your copy of my FREE meal planning binder!
Sign up to get a free copy of my meal planning system - an 11 page printable meal planning binder, complete with a pantry inventory, shopping list, and more to help get on top of your menu each week!