This is a sponsored post written by me on behalf of FrogTape®. All opinions are 100% mine.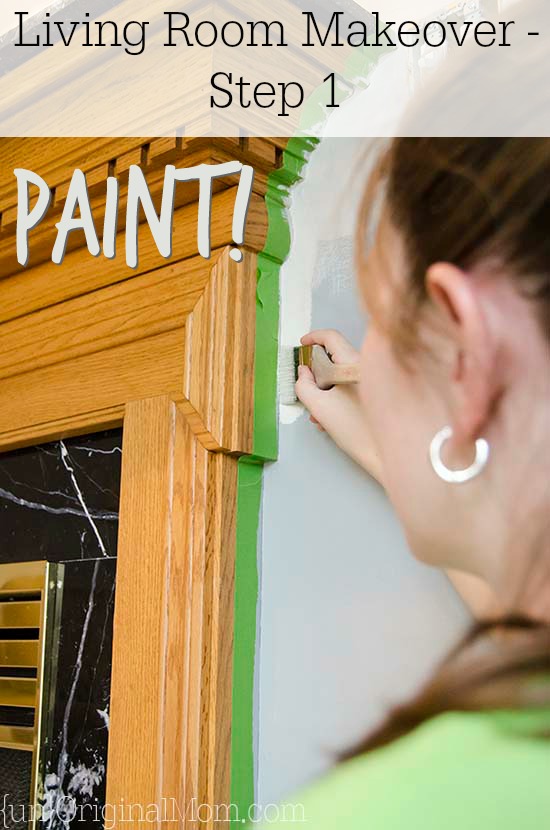 It's hard to believe we've been in this house for a year and a half already – wow!  We really love it here and it has been perfect for our growing family…but there is a bit of a recurring problem throughout our home.  You see, the previous owners loved accent walls.  I mean, they REALLY loved accent walls. Fire engine red, mustard yellow, chocolate brown, dark blue…nice, bright, bold accent walls.  And all high gloss, too – definitely not our preference.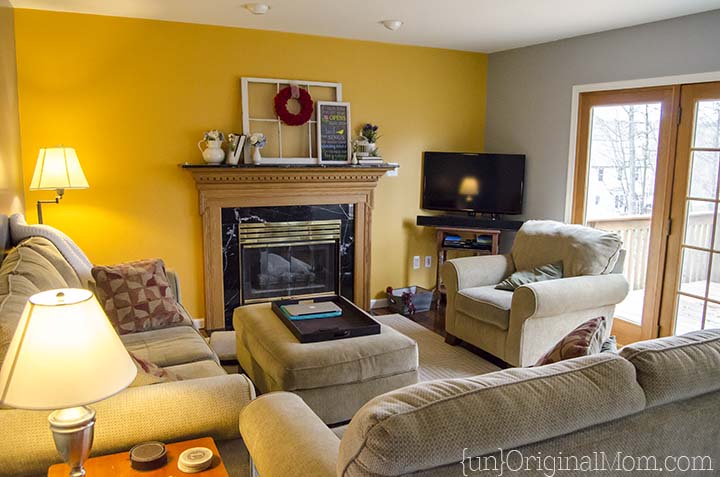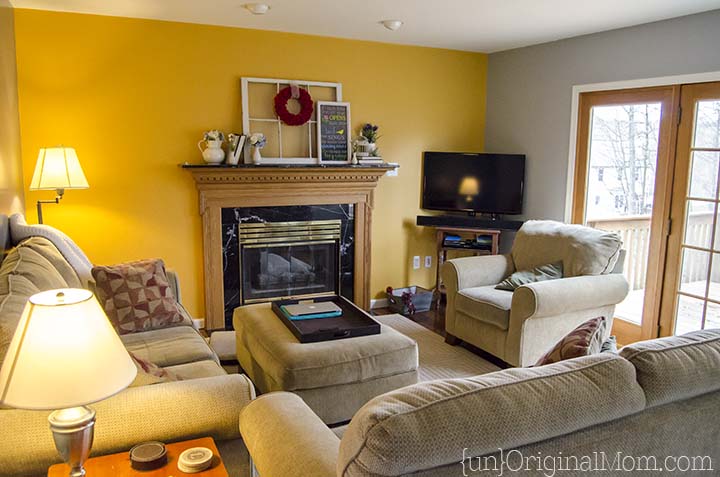 From this vantage point in our dining area, you can see the lovely mustard yellow on the fireplace wall, light blue on the exterior wall to the right, and (hard to see in the photo above, but check out the next one) dark blue behind the couch on the right.  What you can't see in the photo below are the two different shades of beige in the foyer that leads into the living room.  While sitting in the living room, you could see literally 5 different colors of paint.  For my tastes, that's 3 or 4 too many!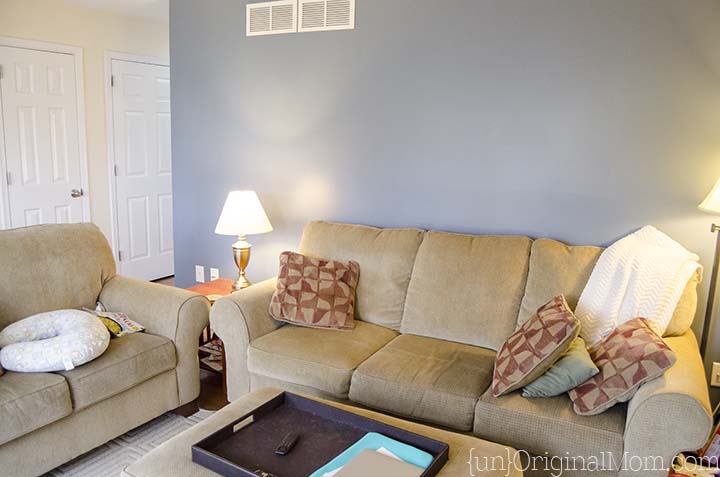 (notice the tan colored wall in the foyer entry – the wall opposite that one, not visible in this photo, is yet ANOTHER shade of beige!)
So after a year and a half of living with a multi-colored living room, we finally got around to painting!  It's the first step of our living room makeover, which (knowing our speed) will probably be revealed to you in about 6 or 8 months.  But getting paint on the walls is a MAJOR accomplishment in my book (especially with a 2.5 year old and a 3 month old), so I'll consider that a win!
Knowing that we were going to have lots of trim to work around – french doors, windows, closet doors, and the fireplace mantle – I wanted to make sure to use a good, quality painter's tape that would keep our lines nice and clean and stand up to a coat of primer and two coats of paint.  We tried FrogTape® brand painter's tape (Multi-Surface) for the first time with this project – and loved our results!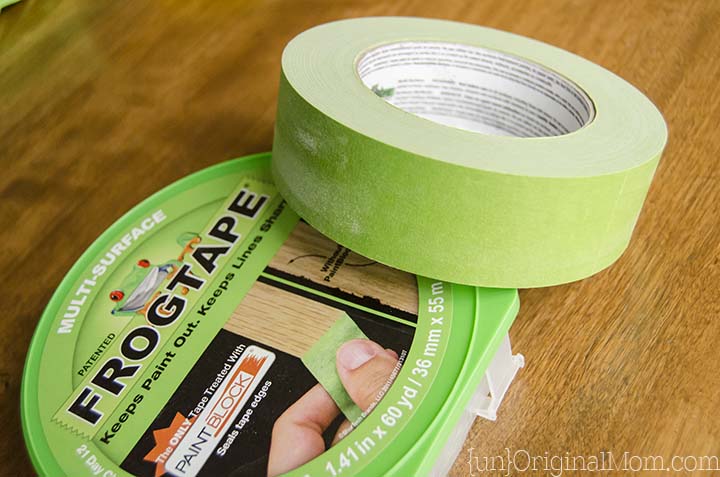 The trickiest trim spot of this paint job was around the fireplace mantel.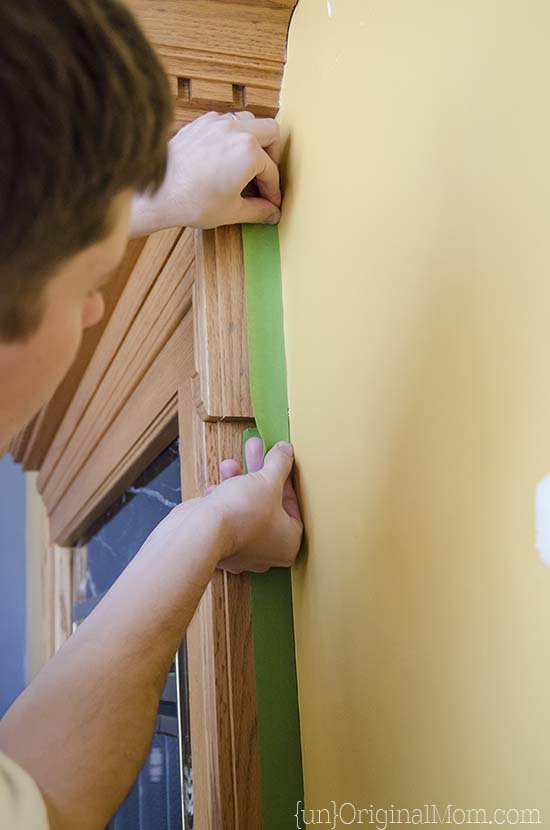 Primer's done, now time for the real color…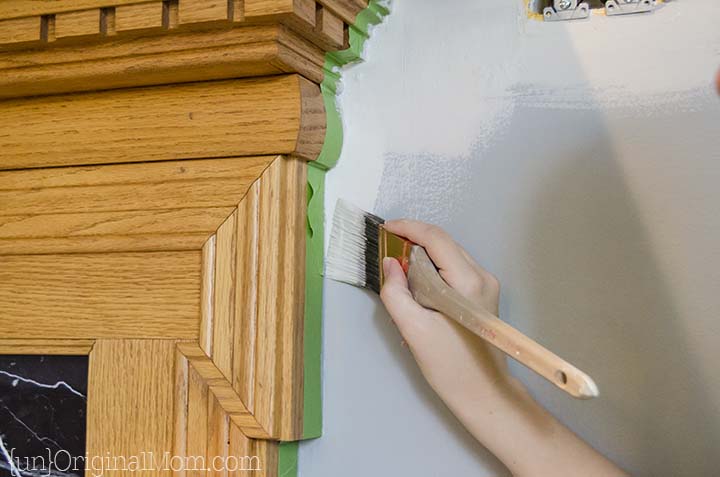 And the removal – such clean lines!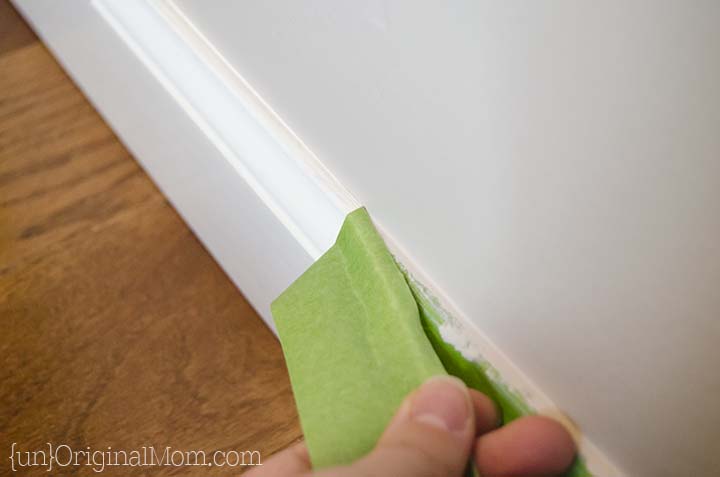 The tape came off cleanly and didn't allow paint bleed in a single spot in the whole room, thanks to it's patented PaintBlock® Technology, which it prevents paint from bleeding no matter what surface you're using it on.   We ended up with such clean, professional results!  FrogTape also makes a low adhesion Delicate Surface tape for use on freshly painted surfaces, faux finishes, primed wallboard, wallpaper, etc.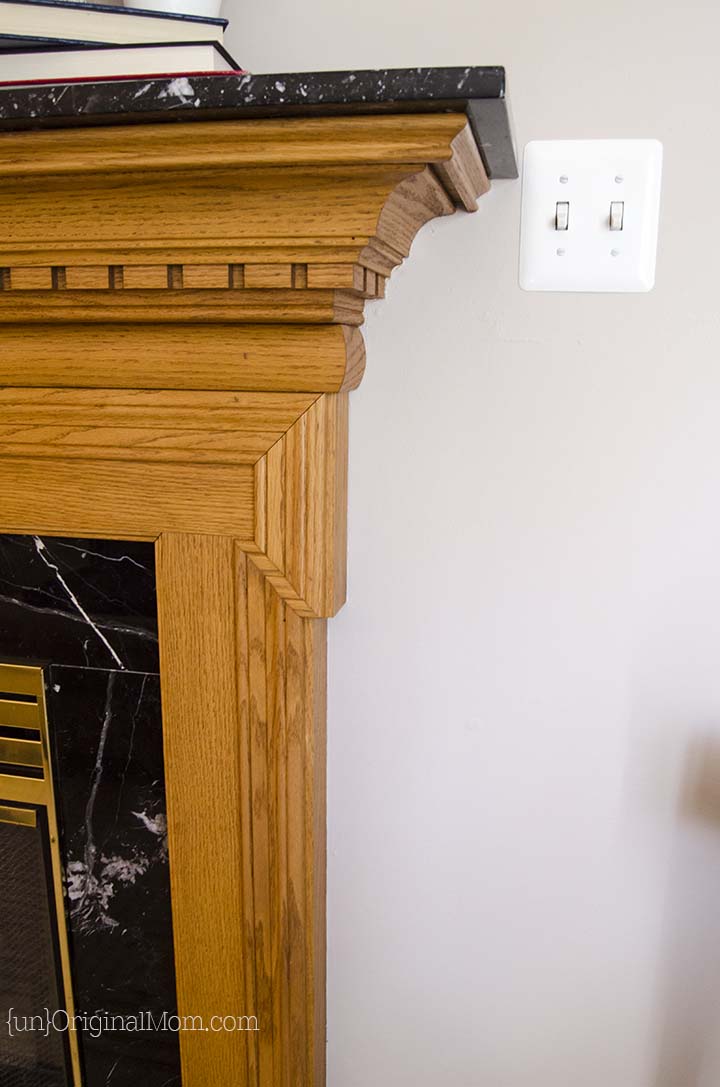 I hesitate to call this an "after" photo – it is more of an "in progress" photo.  The paint makes a HUGE difference in the space, though, and I am so happy with it!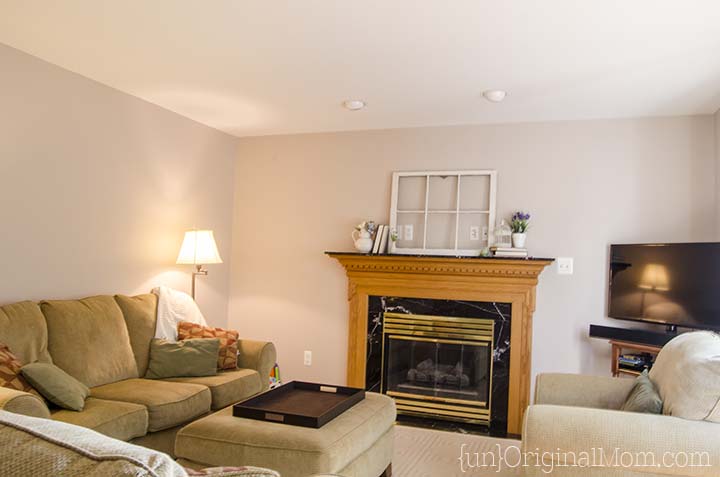 The color is Big Bend Beige by Benjamin Moore.  (It's really more of a shade of gray than brown, despite the name!)
Here's a peek at the plan (or maybe I should call it a wish list, before my husband rolls his eyes at me) for the rest of the room.  Though the wood for the TV stand is bought and partially cut, plus we have a piece of furniture for toy storage on order – so we'll soon be able to cross two more things off of our list!  I know it will never be a "magazine worthy" space, and I am no interior designer, but I'm going for something that is a combination of practical, comfortable, personal, functional, and pretty…so we'll have to just wait and see what we end up with when it all comes together!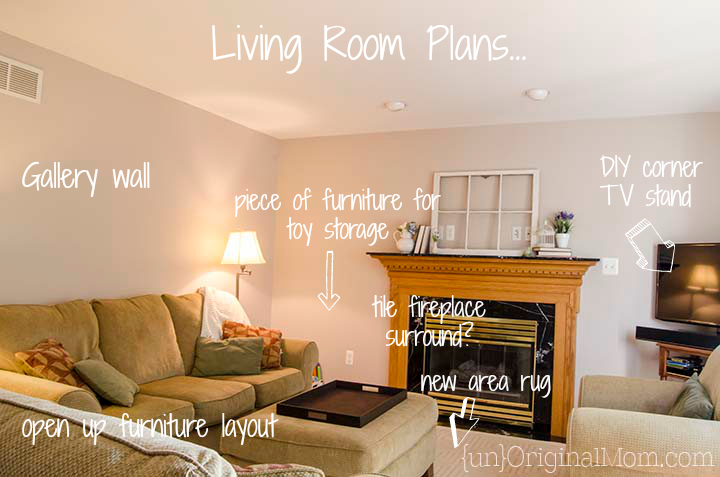 Do you have a room re-do in your future?  You need to check out the Earn Your Stripes Room Makeover Contest!  Use FrogTape in your room makeover and submit your photos to the FrogTape contest site for your chance to win $5,000!  Visit the site for official details and rules.
Find more FrogTape® painting inspiration by visiting and following them on Twitter, Instagram, Facebook, and Pinterest!   And one more time…because who doesn't love a good "before" and "after" photo comparison?  (HGTV addicts all nod their heads in agreement!)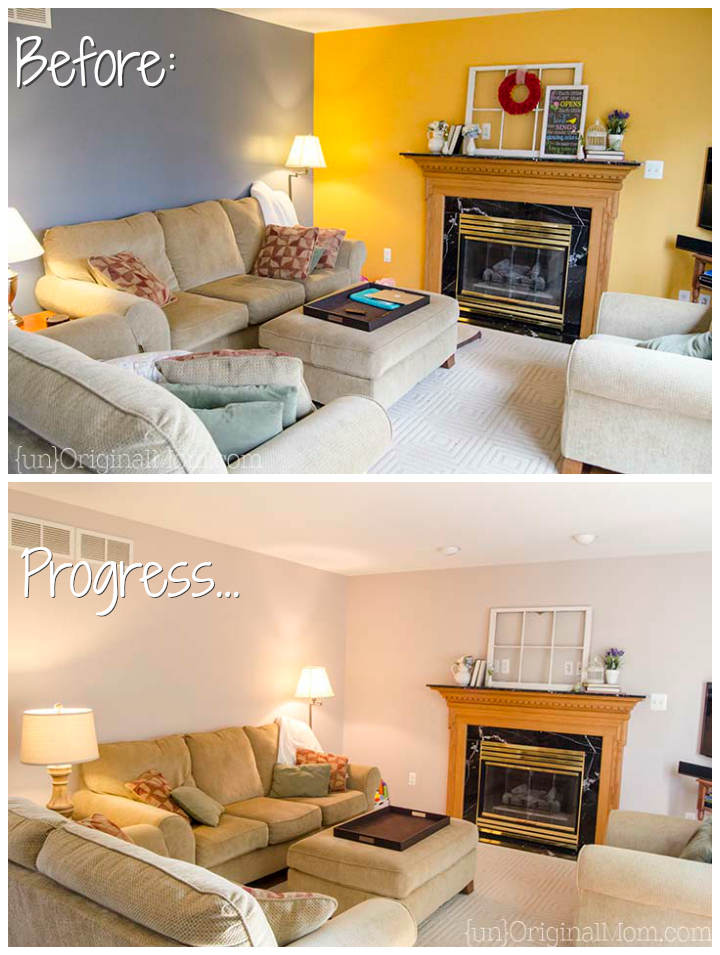 Do you have any major painting projects or room makeovers coming up?  Tell me about them…or better yet, send me those before and after shots!


Get your copy of my FREE meal planning binder!
Sign up to get a free copy of my meal planning system - an 11 page printable meal planning binder, complete with a pantry inventory, shopping list, and more to help get on top of your menu each week!