Here's how I tackled under the sink organization in our kitchen sink cabinet – it's practical, functional, and pretty, too! An easy run down on how to organize under the kitchen sink.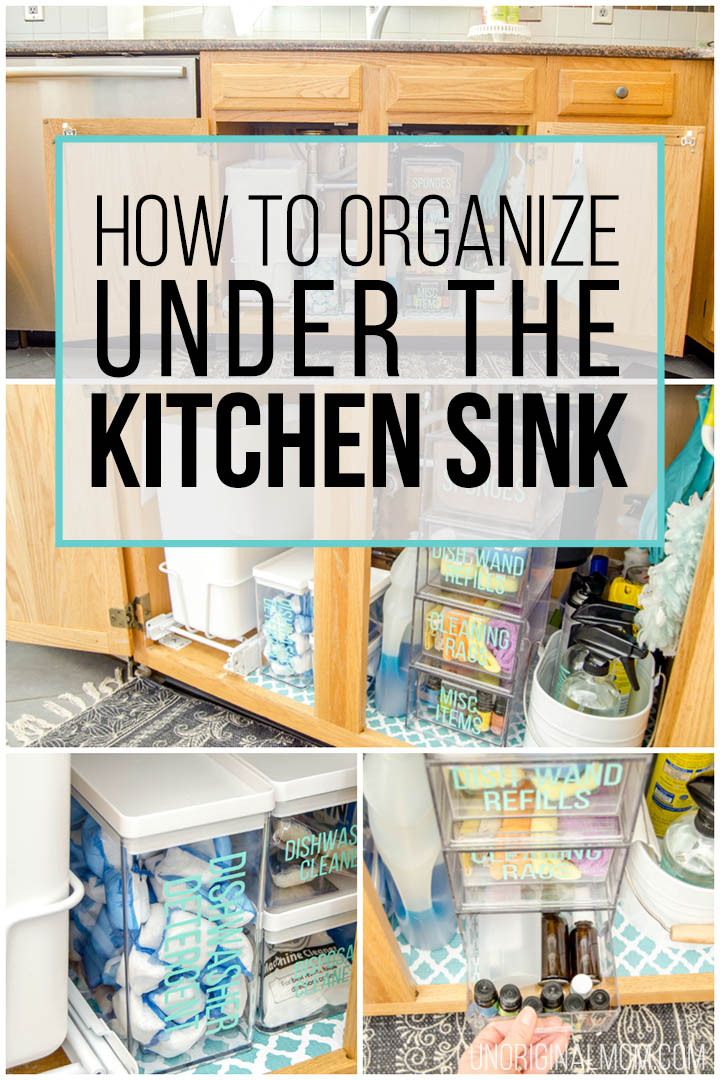 I've said it before…I am NOT a naturally organized person. It's something I have to work at purposefully. I can clean out spaces over and over, but inevitably they'll just go back to being a mess…unless I work to put together some kind of organizational system that fits the needs of that space. It is more work up front, and usually a little bit more expensive (bins and baskets and drawers, oh my!), but long term it's totally worth it.
For example, our multi-purpose laundry closet used to totally stress me out. It's right off of our kitchen/living room so it was a constant catch-all for clutter that needed to be quickly stashed away. I cleaned it out several times but it always got back to being a disaster zone, and I hated opening up that closet because the mess just made me feel discouraged. Then, last January, I resolved to clean it up once and for all – not just clean out the clutter, but actually put organization systems in place with a defined (and labeled) place for everything. I'm happy to say that not only did I get it cleaned and organized, but one year later it still looks exactly the same!! (You can see that full before-and-after here!)
So, one of my goals this year is to tackle some more spaces in our home and get them organized. Thinking about organizing our entire home is extremely overwhelming, but doing it one small space at a time is a little less daunting.
First on my list was our cabinet under the kitchen sink. Such a frustrating space with all that gosh-darn plumbing underneath, taking up space! We also have our trash can under the sink, so that takes away even more space. My husband bought a new pull-out trash can, and so when he was getting ready to take out the old one and install the new one, I knew it was time to give our under the sink cabinet an organization overhaul. Because…well…just look at how it was before.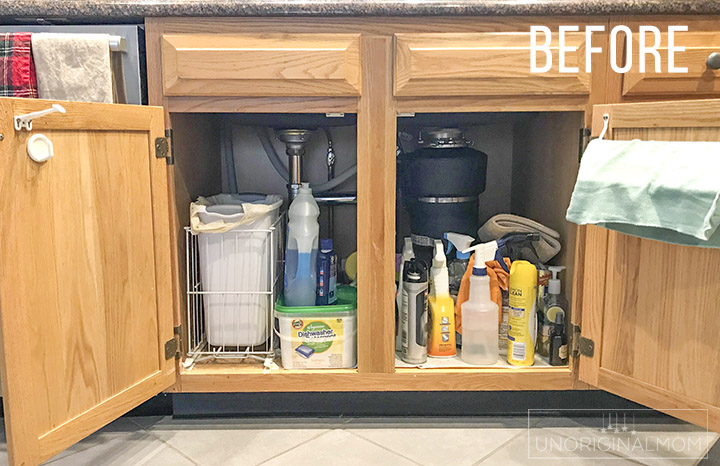 Yikes! Not as bad as it could be, certainly, but lots of room for improvement. (And what you can't see in this photo is two really dirty and gross bins full of all kinds of random odds and ends, ew.)  The first thing I did was scour Pinterest for inspiration, of course. I rounded up my 10 favorite under the sink organization ideas here. Then I planned out our space, bought a few drawers and containers, and got organizing!
This post contains affiliate links. Click here to read what that means.
Of course, the first step was pulling everything out from under the sink and cleaning it out. Yuck. To make the cabinet easier to clean and to give it a pop of color, after I cleaned it out I added some Contact Paper Shelf Liner before I started putting things back in.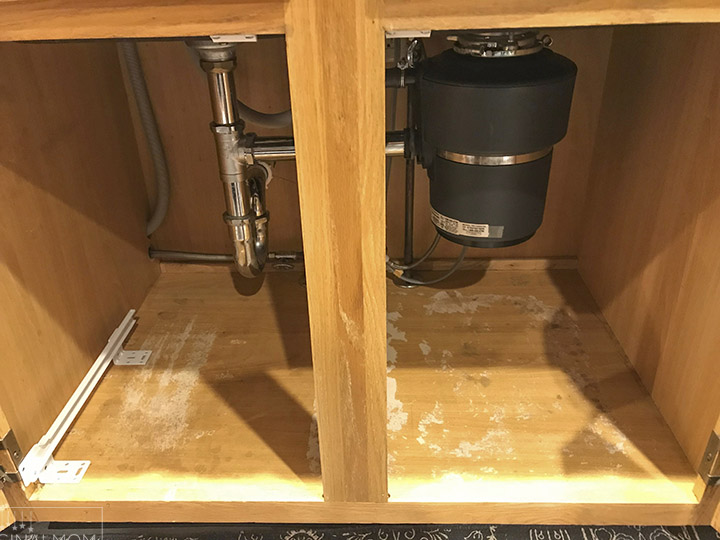 Ready to see the "after" of our under the sink organization project? Here it is!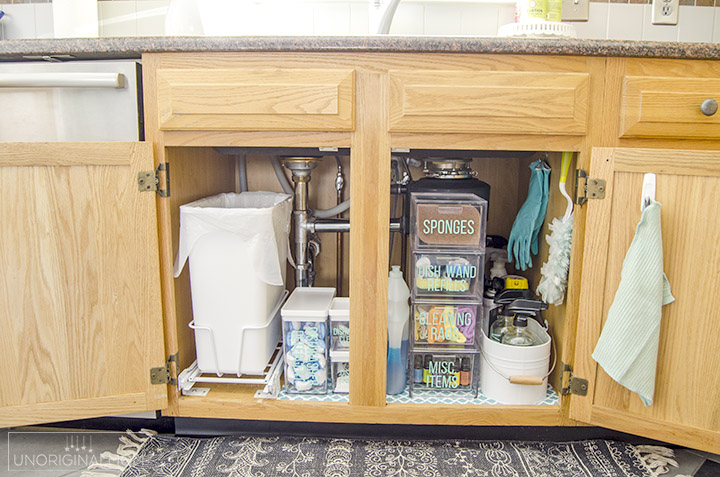 You can see I used some small command hooks on the side of the cabinet to hold our Swiffer duster and rubber gloves. It's nice to have them up and out of the way, but easy to grab when needed.
We don't actually use many different cleaning products regularly…we've switched to using Norwex clothes for almost all the surfaces in our home! I love that it's chemical free, but even more so I love that it works even better than spray cleaner and paper towels. Previously we had a little under-cabinet towel bar, but it was going to get in the way of my drawers and bins so I took that down and added a command hook to hang our Norwex Kitchen cloth.
As far as cleaner bottles go, I put our most-used bottles in my Grove cleaning caddy. It's easy to pull out whenever I need it. I actually have two glass bottles (these are the ones I have) that I use the most – one with plain water that I use with my Norwex cloths and one that has a vinegar and water solution. They got quick vinyl labels to tell them apart.
Speaking of this cleaning caddy – isn't it fabulous?? For a super limited time (now through January 14) you can get this caddy – plus a trio of Mrs. Meyer's hand soap, dish soap, and lotion – plus some walnut scrubber sponges for FREE with a $20 purchase from Grove Collaborative!! (That's $30 worth of free stuff!) Click here to grab your goodies. (If you are already a regular Grove customer, click here to add free walnut scrubbing sponges to your next order!)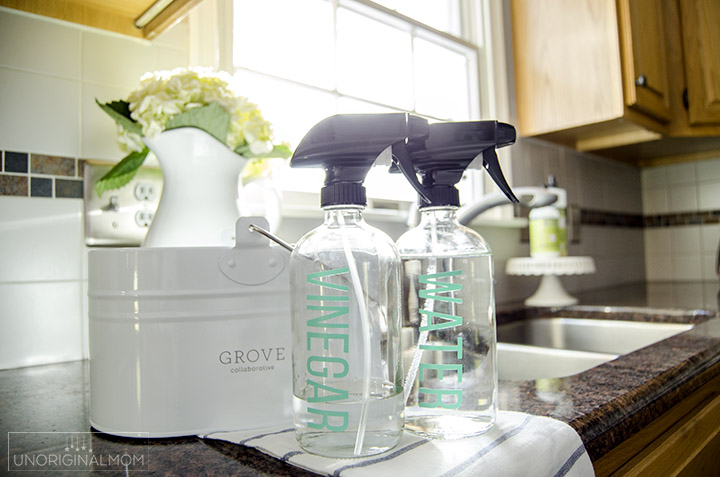 Behind the cleaning caddy is another bin with more odds and ends of cleaning supplies that we use less often.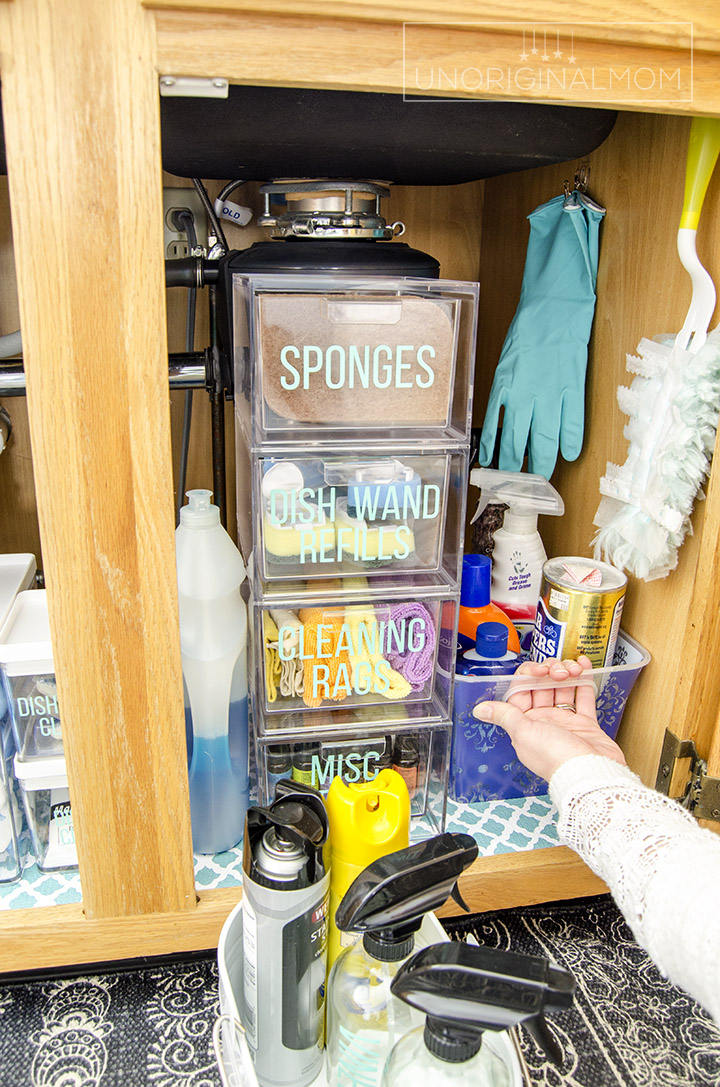 Next to the caddy is my favorite part of the cabinet – these pretty acrylic drawers! I stole the idea 100% from Abby over at Just a Girl and Her Blog. She used them in her under the sink organization post a while back and I loved them (make sure you go see her great organizing ideas!). They're such a great use of space in front of the garbage disposal, and a perfect way to keep smaller things organized and separated. Of course, I used my Silhouette to cut vinyl labels for these drawers, too.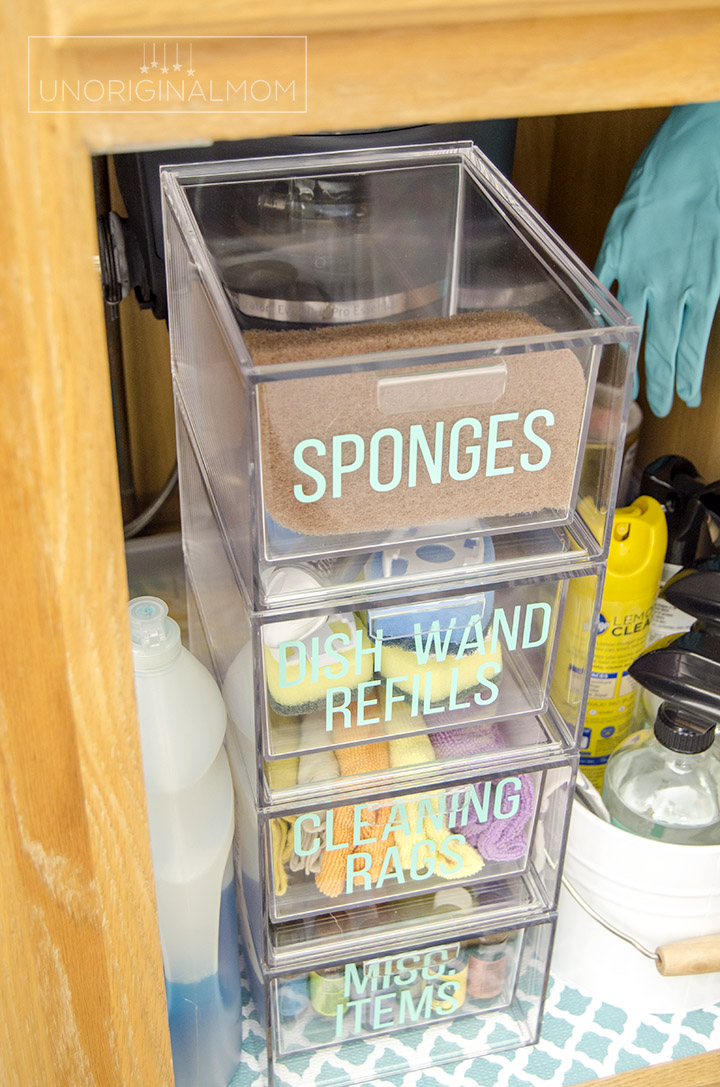 I have a drawer for sponges, one for our dish wand sponge refills and one for cleaning rags (most of my cleaning rags live in the laundry closet but these are the ones that I use with our stainless steel cleaner or our furniture polish).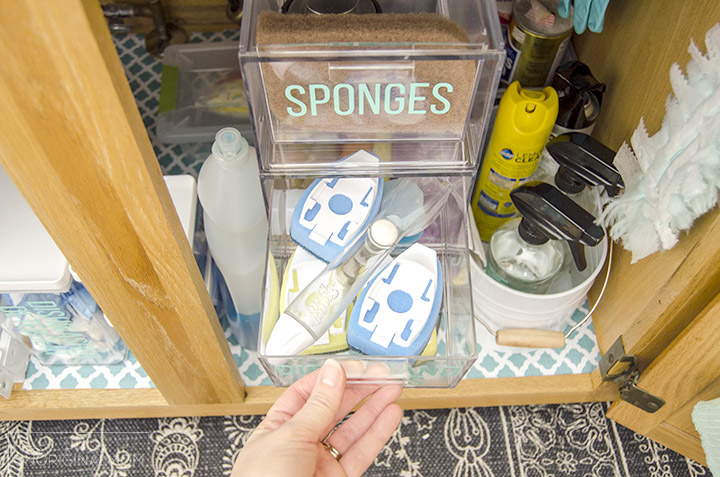 The bottom drawer I originally labeled as "miscellaneous" until I realized it was a perfect fit for my bottles of essential oils! I am not a big oil user, but I do like to diffuse them for fragrance and have about a half dozen bottles plus a few spritzer bottles. This works really well for them!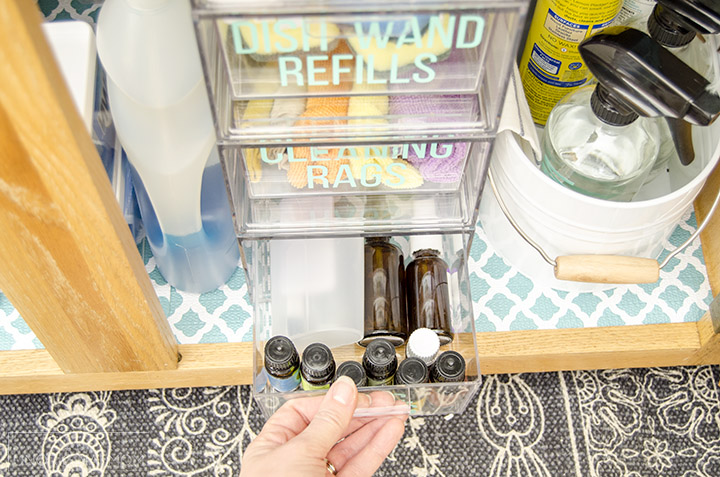 On the other side of the cabinet, I used some food storage containers from Target to store our dishwasher detergent packets, our garbage disposal cleaner, and our dishwasher cleaner.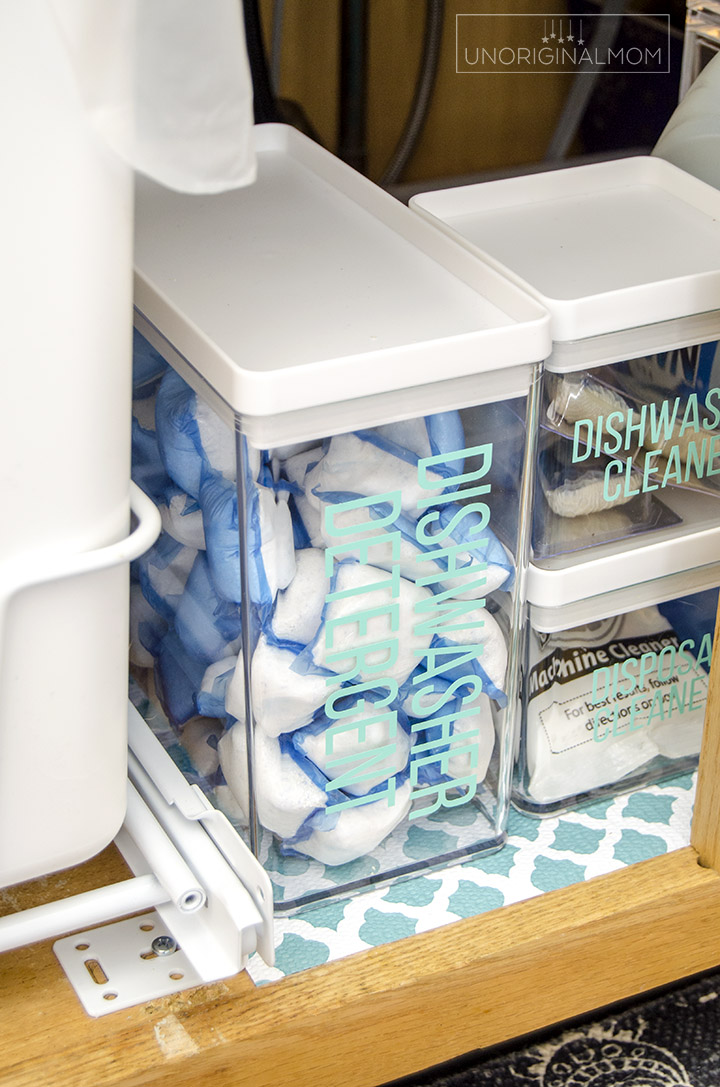 I don't know if you can really see it back there, but I found a lidded bin that fit underneath the garbage disposal to store some rarely used items – an extra stopper for the sink, a second pair of rubber gloves, and a few other small random items. Since it has a lid on it I can easily reach in and tilt it to get it out if I need access to any of those things.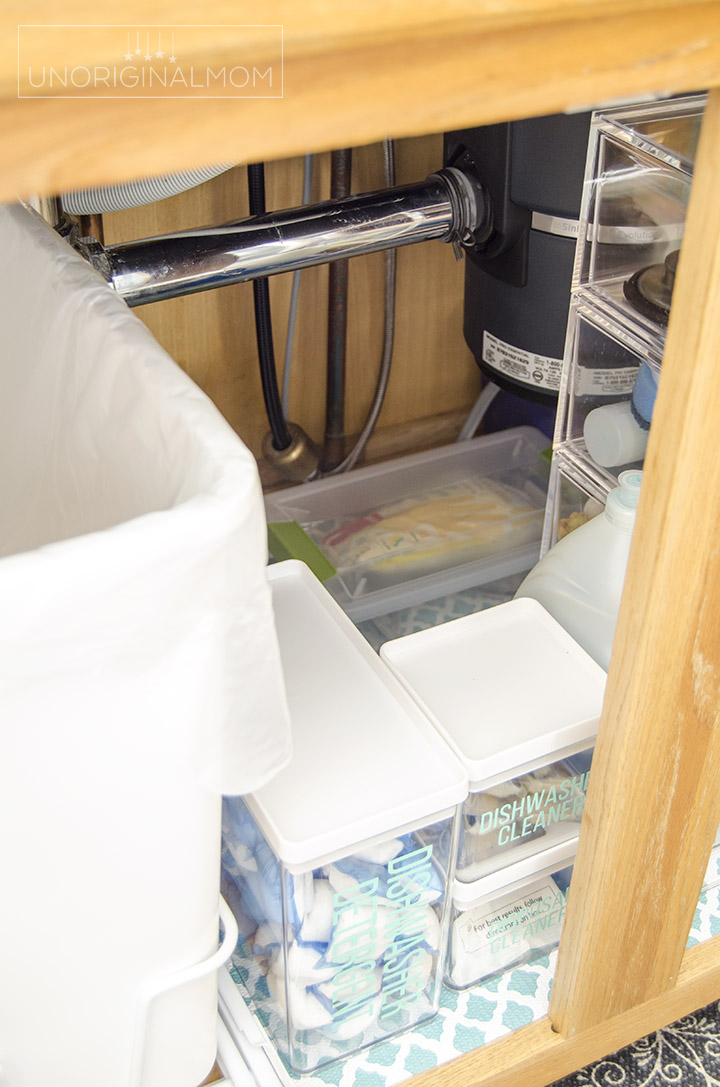 Finally, our new trash can is taller and slides out much easier than our last one. I really like having an under the sink trash can, as it's small enough that it needs to be emptied regularly (so it doesn't have a chance to get smelly) and it is locked away from curious pets and children. (And you can see we keep our box of trash bags behind the trash can, since we only need to be able to get it when the trash can is pulled out and empty anyway.)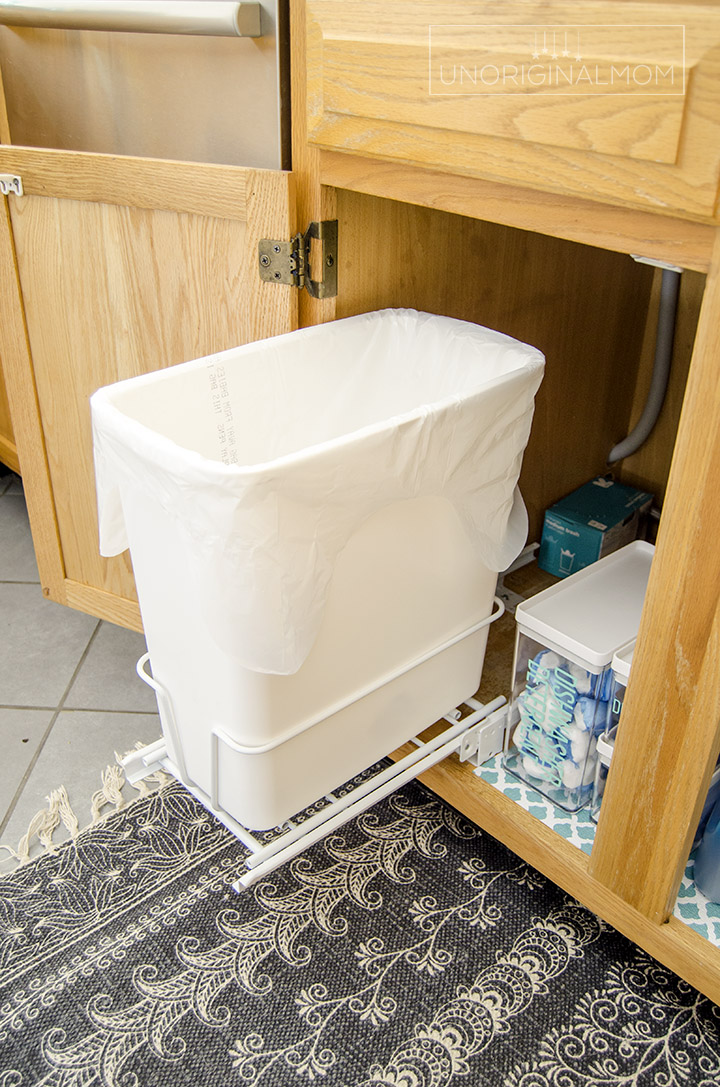 One more time…isn't it pretty???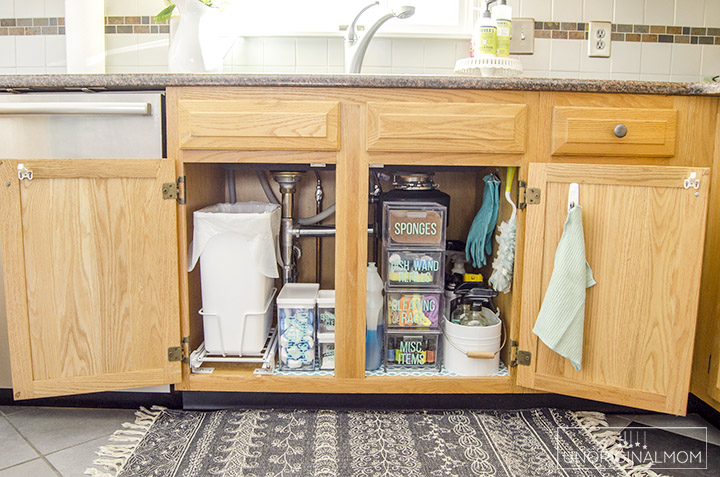 It's been organized like this for a few weeks now and is functioning really well. I can quickly grab what I need, but best of all it's really easy to put things *away* into their place, so things don't get thrown in randomly.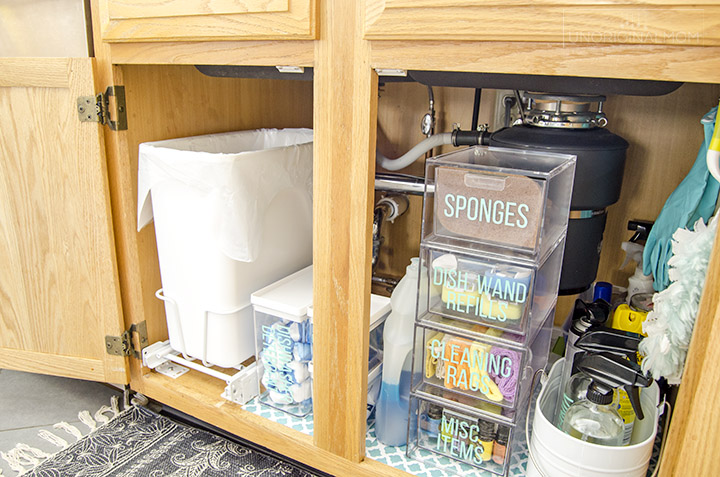 It feels so good to have one more space organized and checked off the list. I have a few more I'd like to tackle this month, so stay tuned for more real-life organization ideas!




Get your copy of my FREE meal planning binder!
Sign up to get a free copy of my meal planning system - an 11 page printable meal planning binder, complete with a pantry inventory, shopping list, and more to help get on top of your menu each week!