So, who's done with their Christmas shopping? (Ha, ha, funny joke.)  Every year I resolve to finish the bulk of my Christmas shopping and crafting by Thanksgiving, and every year I'm still running out on December 23rd to finish up my list.  This year, I'm trying to hand make at least one small gift for everyone – but that's in addition to other gifts and not necessarily in place of them.  (Interested in hand making some or all of your gifts too?  You should check out my FREE eCourse to help you get inspired and organized!)  In any case, I've already been doing a lot of Christmas shopping on Amazon (LOVE Amazon Prime!!) and I've already got about a third of my shopping done.
For others out there getting a head start on your Christmas shopping via Amazon, I thought I'd put together a little "gift guide" series-of-sorts with gift ideas for young children – starting today with 10 stocking stuffer ideas for babies, and continuing every Sunday for the next few weeks!
I just love Christmas stockings – even though we all know that quality is more important than quantity, there's just something fun about unwrapping so many little gifts all at one time!  I've really enjoyed shopping for stocking stuffers for my husband and kids, too.  So, here's my list of stocking stuffer ideas for babies.  Babies are hard to buy for, as they really don't *need* anything – but these are all very inexpensive ideas for quality toys that will actually get used.
This post contains affiliate links – click here to read my full disclosure.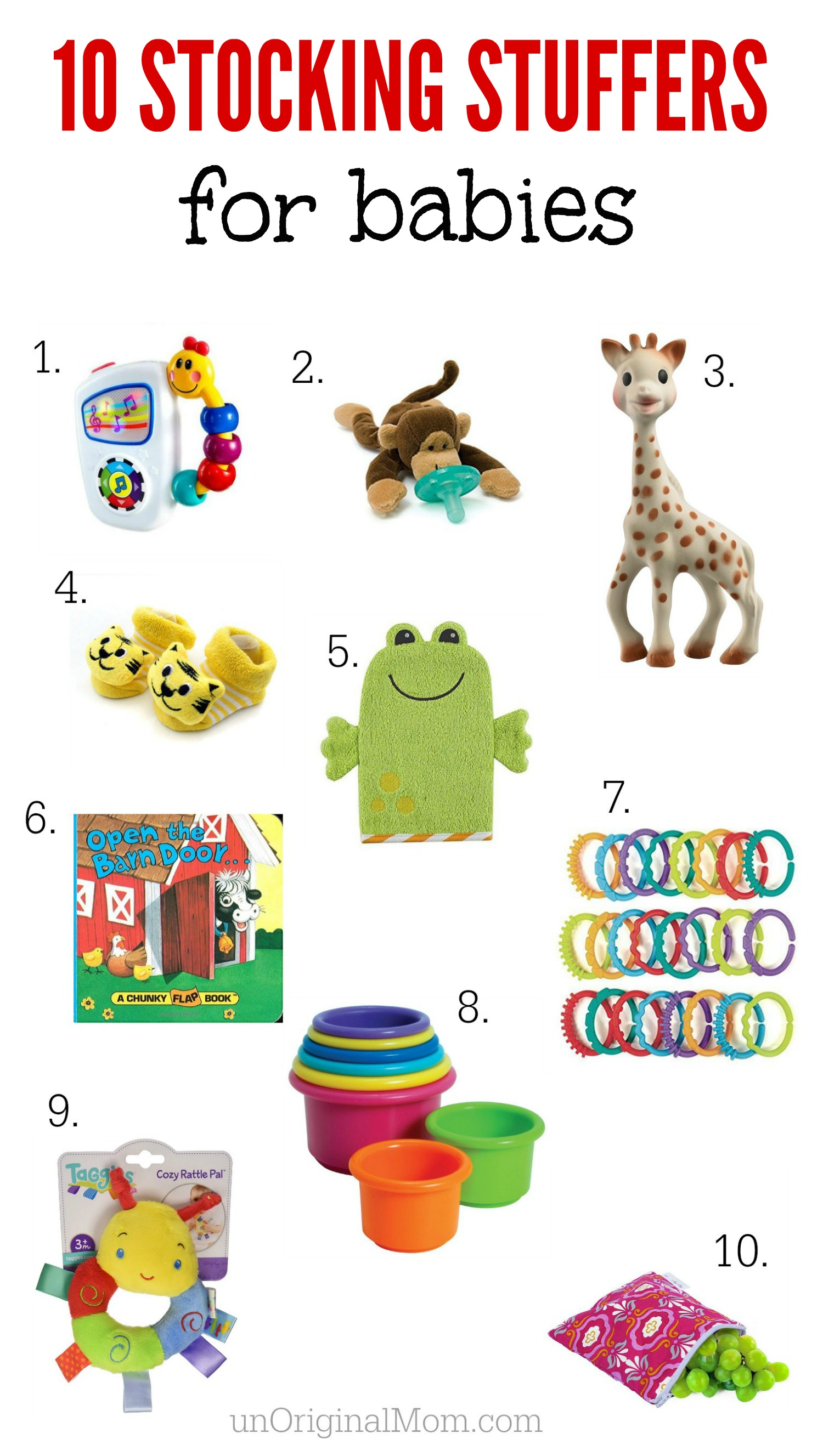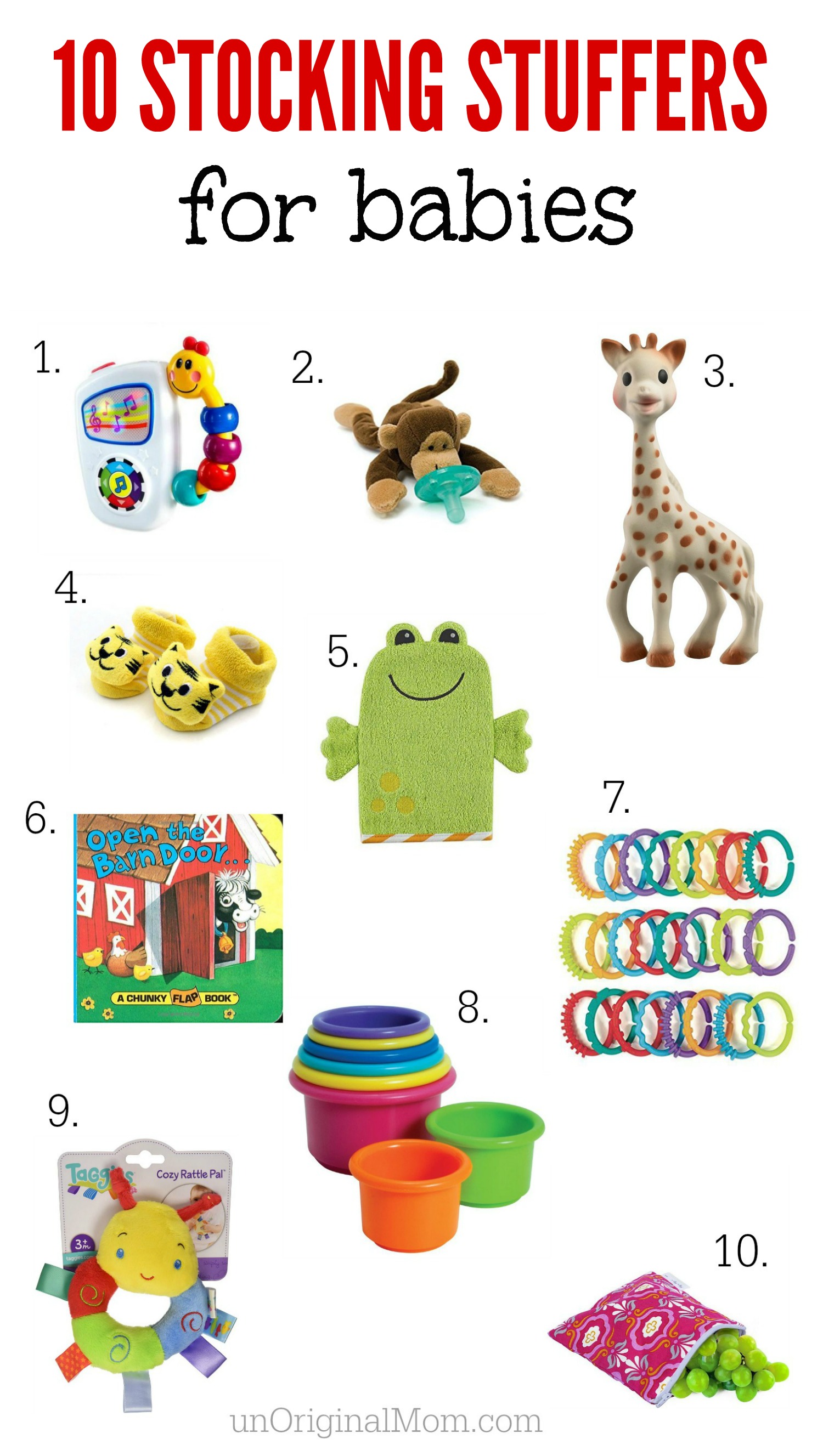 1. Baby Einstein Take-Along Tunes.  This was a favorite of my daughter's and now my 9 month old son loves it.  It's one of our few electronic toys that I really like.
2. Wubbanub.  Oh, how I love the Wubbanubs!  My daughter is now 3 and she still sleeps with her "puppy" – though we did "surgery" and removed the pacifier over a year ago, I love that she was able to keep the little stuffed animal.  My son has a giraffe and he can easily grab it and put it back in his own mouth now.  And they're so stinkin' cute!
3. Sophie the Giraffe.  This is a bit pricey for a stocking stuffer, but it's a really great teething toy – such soft rubber, and it's fun for babies to squeak and look at.  This is another toy that has been a favorite of both of my babies.
4. Fun socks.  Just because they're cute!
5. A bath mitt.  It's so much easier to use on a squirmy baby than a regular washcloth.
6. A small board book.  This one is just 3.5″ tall, and you can't beat the price!
7. Links. These are toys in themselves! Of course, you can use them to attach other toys to a carseat or stroller or high chair, but my kids have loved to just grab, gnaw on, and play with the rings themselves.
8. Stacking Cups. Can't go wrong with this classic.
9. Taggy toy rattles.  Great for teething babies to suck on.
10. Snack pouches or refillable babyfood pouches. Gotta throw in a few practical gifts for the stocking, too!
**Amazon Prime FREE TRIAL – if you're doing a lot of online shopping this Christmas, now would be the PERFECT time to sign up for a 30 day free trial of Amazon Prime!! We love our subscription and use it all the time. **
Other gift guides:
10 Stocking Stuffers for Toddlers
10 Stocking Stuffers for Preschoolers
10 Gift ideas for Dads
Do you have any other ideas for good stocking stuffers for babies? Leave a comment!
This post contains affiliate links – click here to read my full disclosure.


Get your copy of my FREE meal planning binder!
Sign up to get a free copy of my meal planning system - an 11 page printable meal planning binder, complete with a pantry inventory, shopping list, and more to help get on top of your menu each week!