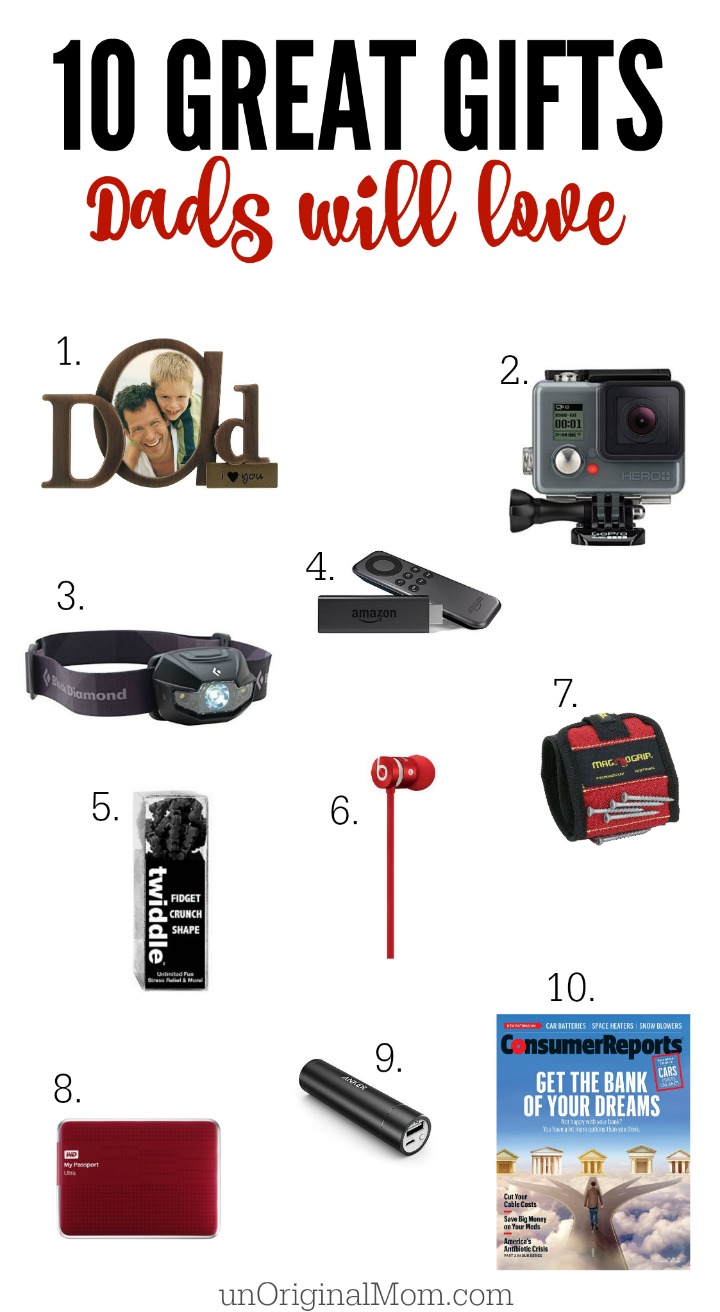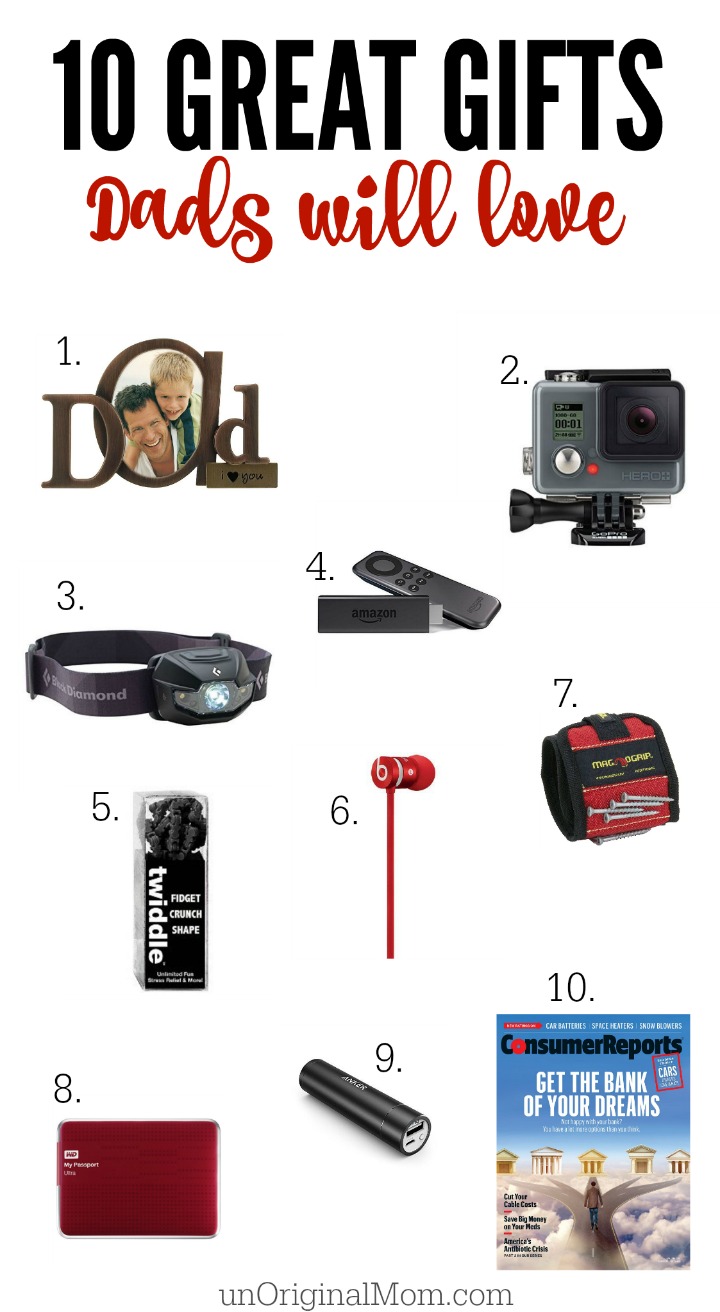 Who is always the hardest person to buy gifts for? Let's say it all together…DAD! Gosh they are hard. Not only is it like pulling teeth to get gift ideas from them, but whenever they DO have something that they actually need, they go out and buy it for themselves! The nerve! So what are we supposed to do? Just keep on giving them Lowe's gift cards every birthday and Christmas from now into eternity? (Honestly, I don't think they'd mind that. At least my husband wouldn't.) But when it comes to buying actual gifts to wrap and put under the Christmas tree, it's always my husband and my father that are the hardest.  (Yes, YOU, Dad!)
So, while I'm not a gift-giving expert on "great gifts for dad," I do have a list of ideas that might help get you started.  This is a list of affordable, quality gifts for all kinds of dads that I'm hopeful will help you to find a great gift for your husband or father this year!
This post contains affiliate links – click here to read my full disclosure.
1. Dad Photo Frame. I know, this gift idea gets beaten to death for dads. But I don't think you'd find a Dad that wouldn't be thrilled to get a (tasteful) Dad photo frame complete with an up-to-date photo of his kiddos. If you're looking to be more creative, go buy a large wooden letter "D" and a letter "A" from the craft store and hold a mini photo shoot with your kid(s). Take pictures of them holding the letters, print them, and put them in a 3-print-wide desktop photo frame like this one.
2. GoPro. If you're looking for a bigger gift, here's an amazing one that Dad will LOVE – his very own GoPro video camera. These cameras record in amazing quality and I know he'd love to find this "toy" under the tree.
3. A headlamp.  I bought this for my husband for his birthday and he uses it all. the. time. He wears it to take the dog out, when he's working on the car, when he's working in his shop, when he was getting Christmas boxes out of the attic…this little thing has been quite possibly the most used gift I've ever gotten him. It may not be very glamorous, but it's super functional!
4. Amazon Fire TV Stick. We have two of these at our house and LOVE them. It plugs into an HDMI port on your TV and acts as your "base" for running all different kinds of apps – Netflix, Amazon Prime streaming video, Sling, Watch ESPN, Pandora, and tons more. It has essentially the same basic functionality as a Roku or Apple TV at a much lower price point.
5. Desk Puzzles and Toys.  For dads that have office jobs, little desk puzzles/toys or even brain teaser puzzles are good stocking stuffers.
6. Ear buds. Time to upgrade the cheap-o ear buds that came with his ipod? Get him a nice pair of ear bud headphones.
7. Magnetic Wristband. What a clever idea! No more "where did I put that screw down?" I can see this being useful for the super-handyman and the not-so-handyman alike.
8. External Hard Drive. Is your husband/dad the default tech support in his house? He'll appreciate having some extra file storage space for file back-ups or family photos, videos, and important documents.
9. Compact Portable Charger. These little things are not only really cool looking, they're functional, too. With as much as everyone relies on their smart phones these days, this is a great gift idea for anyone. (And small enough to fit in a stocking if you need some more stocking stuffer ideas!)
10. Magazine Subscription.  The gift that keeps on giving!  Find something that your husband/dad is interested in and look for a magazine to get for him. I bought my husband a subscription to Consumer Reports last Christmas and he's enjoyed getting a magazine each month. (For the wood working dads out there, he also has a subscription to Family Handyman that he really likes!)
BONUS IDEA: Give him a subscription to Amazon Prime! There's so much more to a membership besides just free shipping (we LOVE Amazon streaming and use it to watch some of our favorite shows!) – I guarantee he'd love it.
Get a jump start on your Christmas shopping with this amazing collection of gift ideas from some of my bloggy friends! Browse around the links below for some amazing gift-giving-inspiration…or some ideas to put on your own Christmas wish list ;-)
Unique Gift Ideas for Kids from Cutesy Crafts
Gift Ideas for the Crafter on your List! from Tori Grant Designs
10 of the Best Gift Ideas for a Seamstress from A Vision to Remember
15 Great Gifts for Travelers from Play. Party. Pin.
Gifts for the Beginning Sewist from Hey, Let's Make Stuff
Best Gifts for the Serious Crafter from illistyle
Gift Ideas for Crocheter and Knitters from Whistle and Ivy
Gift Guide for Crafters from Little Red Window
Gift Guide for PreTeen Boys from Keeping it Simple
And don't forget about my stocking stuffer posts for more great gift ideas:
10 Stocking Stuffers for Babies
10 Stocking Stuffers for Toddlers
10 Stocking Stuffers for Preschoolers
Don't you love Christmas shopping from your couch??
This post contains affiliate links – click here to read my full disclosure.


Get your copy of my FREE meal planning binder!
Sign up to get a free copy of my meal planning system - an 11 page printable meal planning binder, complete with a pantry inventory, shopping list, and more to help get on top of your menu each week!