It is always SO hard to find affordable, high quality toys for young children that will actually get used more than once or twice after the novelty wears off.  I could probably clear out half of our toy stash and my kids would never even notice!  Honestly, my husband and I barely ever buy toys for our kids since they get more than enough as birthday and Christmas gifts from grandparents and extended family – and they still have more than they need.  Luckily my parents and mother-in-law are great about checking with us before making any major toy purchases, and their toy-buying-habits align pretty well with our preferences, but we've still accumulated our fair share of plastic-y, electronic, noise-making toys!  I am certainly not against all plastic or electronic or noise-making toys, but as a whole they tend to be the ones that are more quickly discarded and/or broken.
So, to help you with your Christmas shopping ideas (and perhaps give you an easy list to pass on to your friends and family that will be buying gifts for your kids!), I've been putting together some helpful gift guides for the holiday season!  Last week was 10 Stocking Stuffers for Babies – a terrific list of developmentally appropriate toys and things for babies anywhere from newborn through about 18 months.  Today I've put together another stocking stuffer guide – 10 Stocking Stuffers for Toddlers.  There's a bit of overlap here, depending on where your child is developmentally, but there are some tried-and-true ideas on here that were favorites of mine when my daughter was in that toddler stage!  I don't know what the "official" age of a toddler is, but most items on this list would be great for kids anywhere in the 18-36 month range.  I hope you find it helpful!
This post contains affiliate links – click here to read my full disclosure.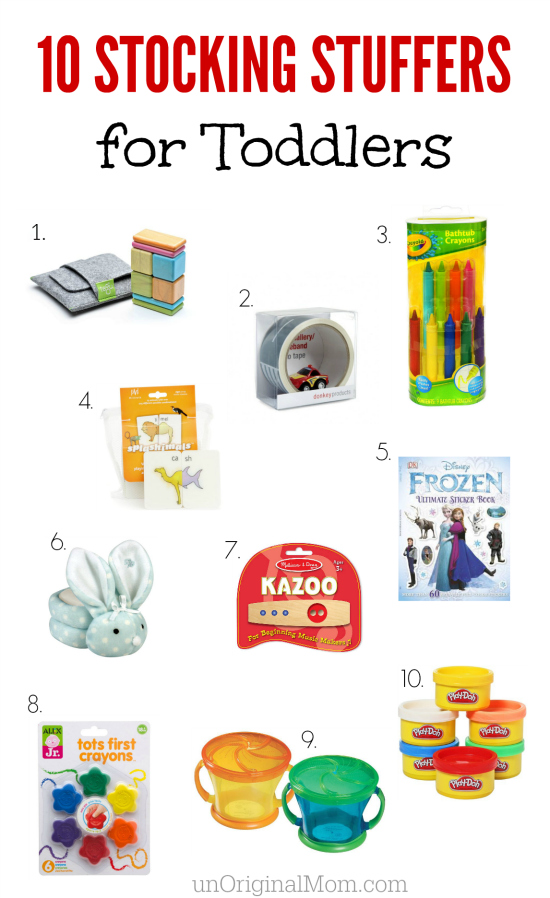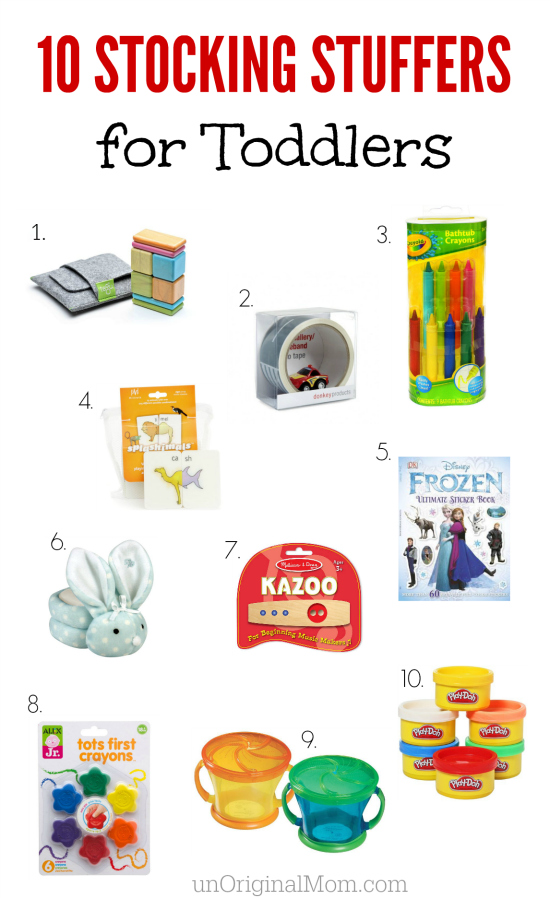 1. Magnetic Block Set.  These are really nice, high quality blocks – since they're magnetic, they're great for younger kids who can't really stack blocks on their own yet.  Plus they're perfect for tossing in the diaper bag to take with you on-the-go.
2. Create-a-Road Tape.  What a brilliant idea!  Make a road anywhere, anytime.
3. Bath Crayons.  Endless hours of creative entertainment in the bath tub!
4. "Splashimals" Bath Flashcards. These look so neat! Your toddler will love making silly animal combinations and sticking them to the tub wall. (I think they'd be fun to play with outside the tub, too!)
5. Sticker Books.  Find a sticker book full of your toddler's favorite character.
6. "Boo Bunny" or other boo-boo friend.  Something like this is always good to have on hand for a bumped head or bruised knee.
7. Kazoo or other small musical instruments.  Making music is some of the best creative play there is!  Small shaker eggs or a tambourine would be fun, too.
8. Tots first crayons.  These are such a great idea – crayons that your toddler can easily hold to scribble with!
9. Snack Catchers.  These are a toddler must-have.
10. Play Doh. Always a classic, but the mini size is perfect for a stocking!
**Amazon Prime FREE TRIAL – if you're doing a lot of online shopping this Christmas, now would be the PERFECT time to sign up for a 30 day free trial of Amazon Prime!!**
Other gift guides:
10 Stocking Stuffers for Babies
10 Stocking Stuffers for Preschoolers
10 Gift ideas for Dads
This post contains affiliate links – click here to read my full disclosure.


Get your copy of my FREE meal planning binder!
Sign up to get a free copy of my meal planning system - an 11 page printable meal planning binder, complete with a pantry inventory, shopping list, and more to help get on top of your menu each week!