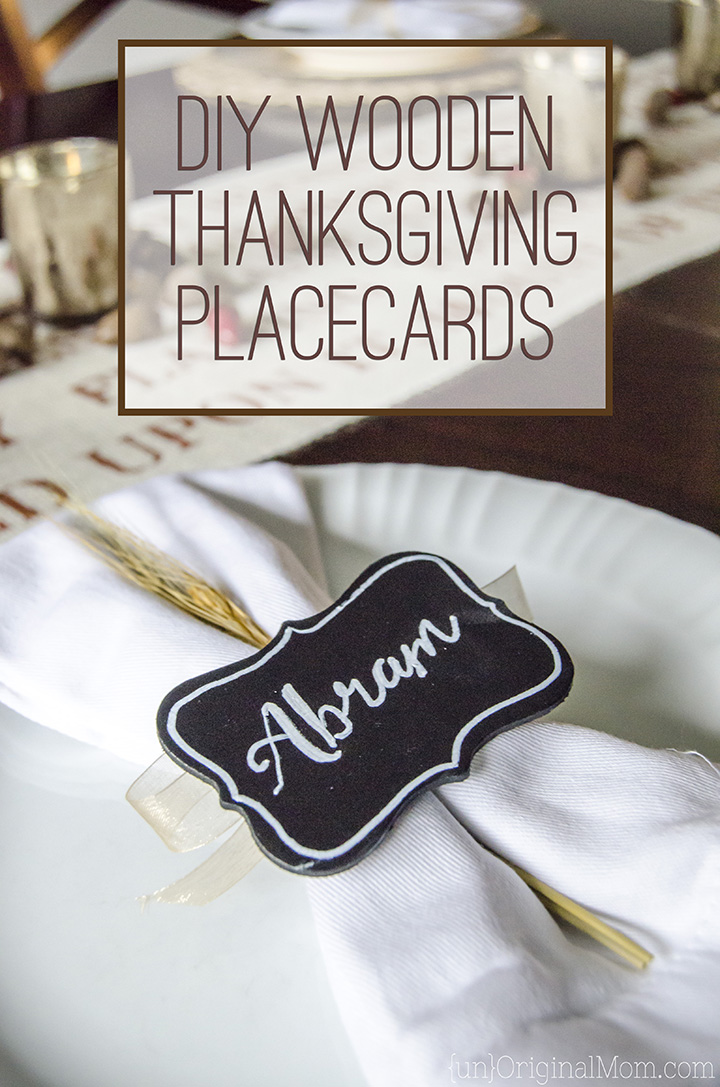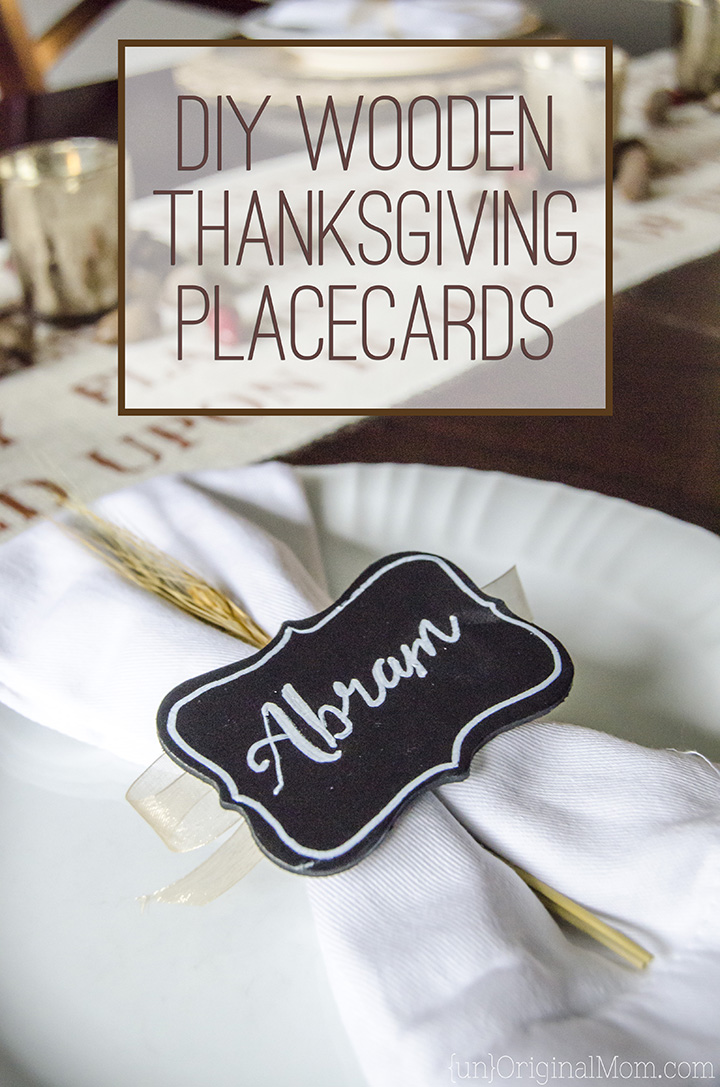 This post contains affiliate links – click here to read my full disclosure.
This post is long overdue…you see, Silhouette sent me a Curio several months ago (when I was in the midst of frantic preparations for my sister's wedding) and since then, I just haven't gotten a chance to really play with it much yet!  I'm still learning about it's capabilities – and holding out my complete and total judgement on it until some new supplies come out – but I am finally sharing my first Curio project with you today!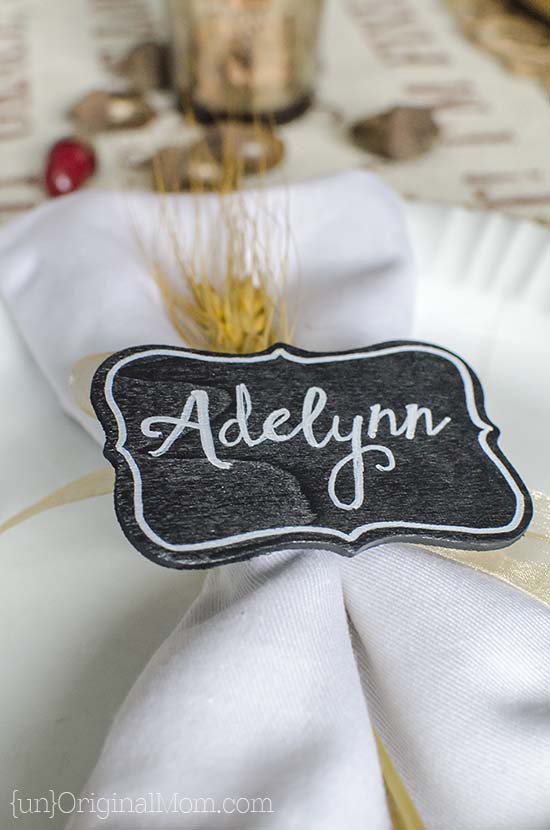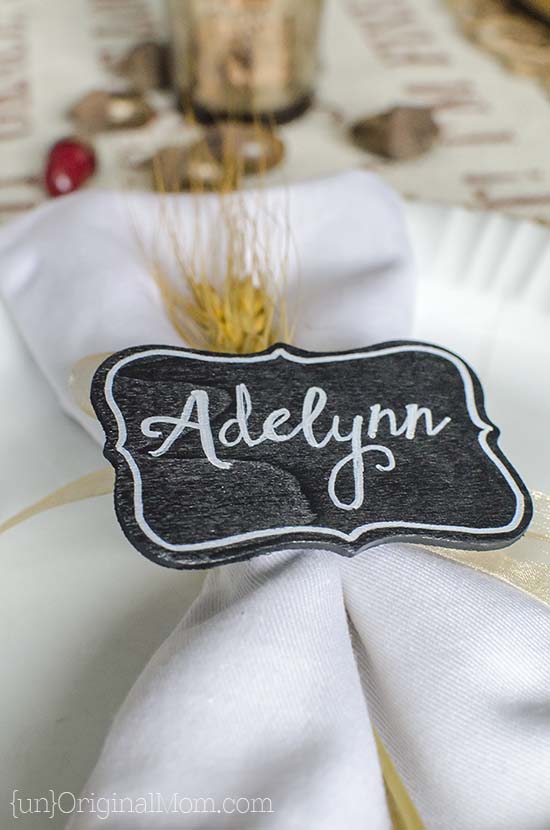 One of the things that sets the Curio most apart from the Cameo and Portrait is it's ability to handle thicker, rigid materials.  You see, instead of loading just a flexible mat into the machine, you place the mat onto a hard plastic platform.  This allows you to work with wood!  Yippee!  Now, the cut pressure and blade depth is still the same as the Cameo/Portrait, so you can't necessarily cut those thicker materials (though rumor has it there's a deep cut blade coming out at some point, so that may open up some new cutting possibilities!)…but you CAN sketch on them!  That's what I did for these DIY wooden place cards – I sketched directly onto wooden tags I'd purchased at the craft store to get a perfect hand lettered look without having to hand letter them myself!  Good news for the awful handwriting crew, like me :-)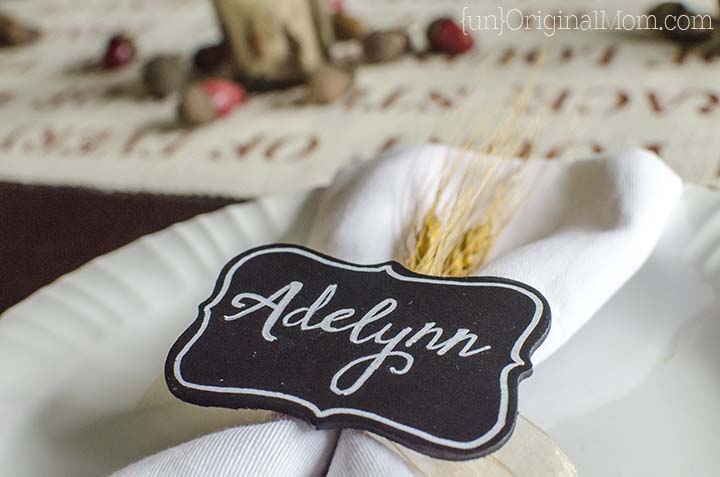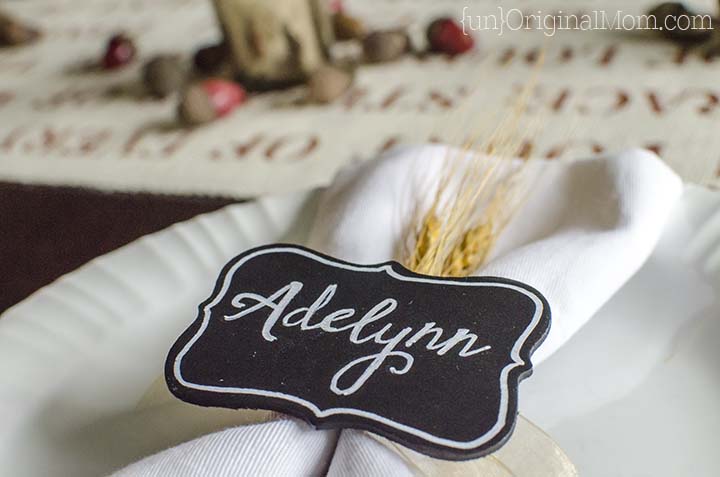 Here's the run down on how I created these wooden place cards with my Curio!  The inspiration came when I found these wooden tags at Michael's for about 30 cents a piece.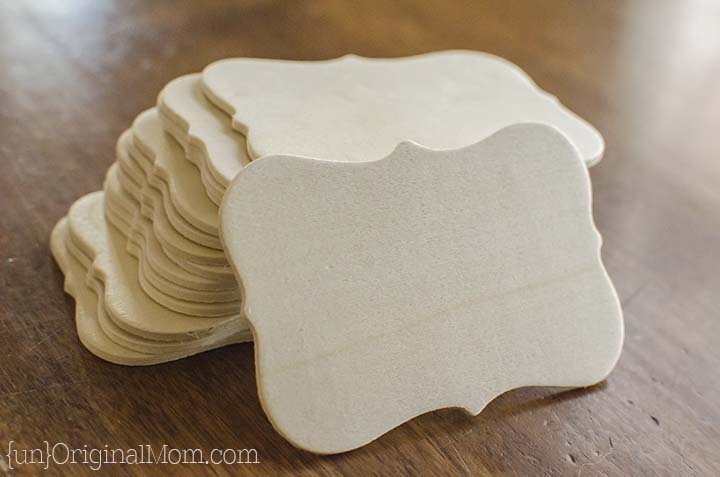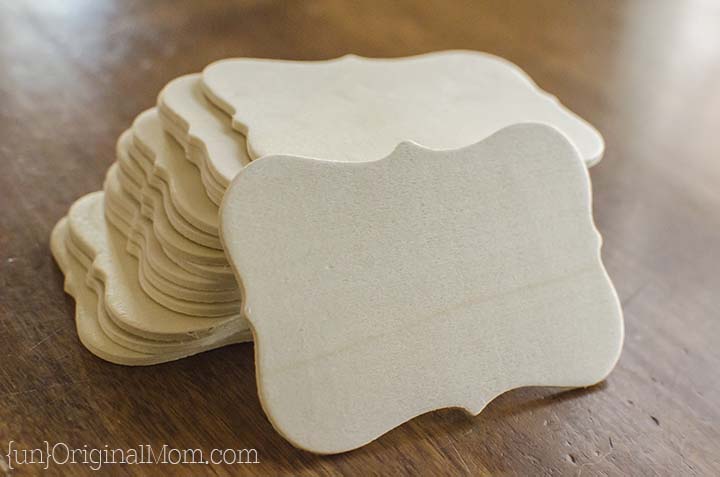 I decided I wanted to go with the classic-yet-trendy chalkboard look, so I used regular old acrylic paint to paint them black.  I could have used chalkboard paint, but I didn't really care to make these reusable so I went with the cheaper black paint. After two coats, I added a coat of this varnish to give it a tiny bit of shine, a smoother finish, and more depth to the color.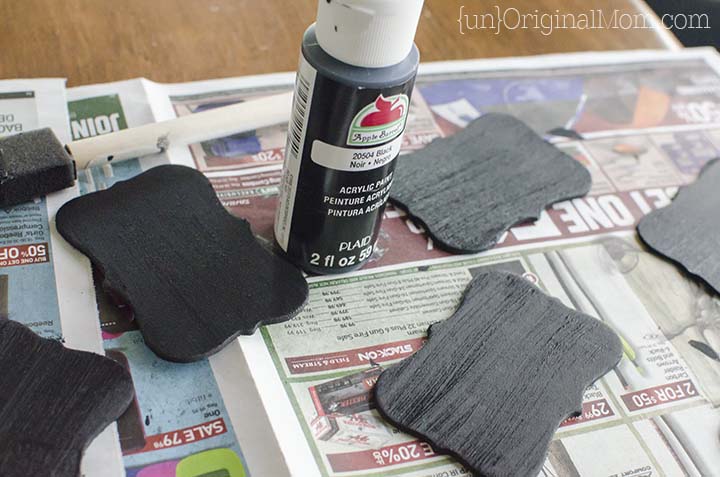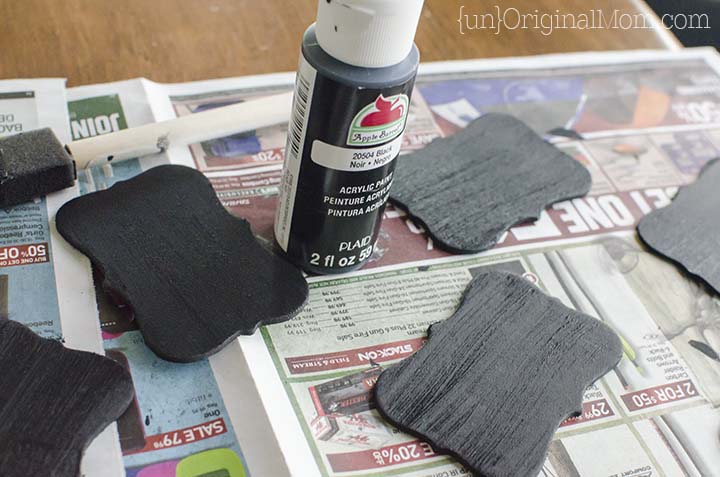 The next step was to sketch on the name with my Curio! I just used pencil so I could go back over it with a paint pen. Check out that thick wood tag on the mat!! (If you're wondering how the machine accommodates for different thicknesses of materials, there are removable foam mats of 1 and 2mm thickness that go underneath your sticky mat – so for a thicker material, you remove the mats, and for a thinner material like paper, you add mats.  The software helps you know which mats to add based on your material!)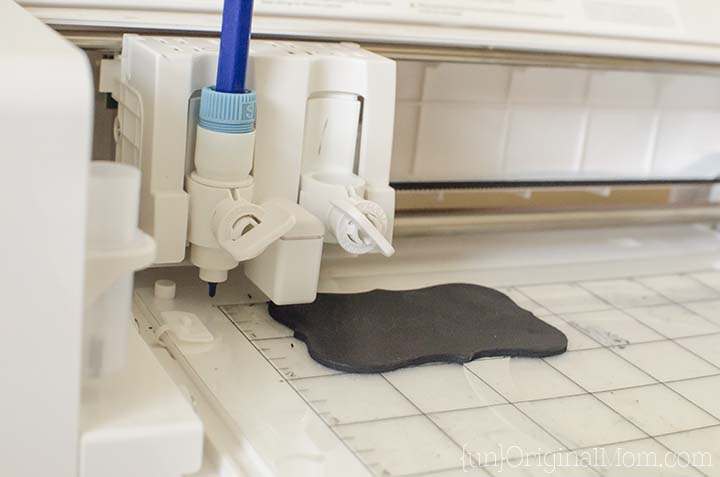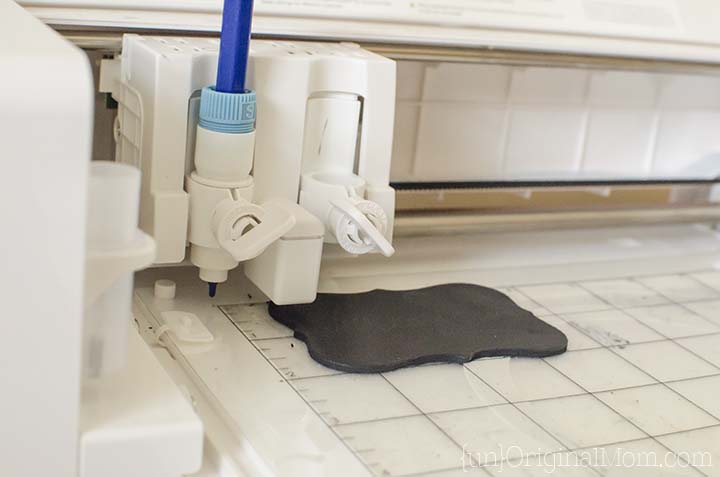 Because of the way the platform loads into the Curio the exact same way each time, you can line up things on your mat much more accurately than you can with your Cameo or Portrait.  There is still the print-and-cut capability for even more precise cuts on paper, but by placing the tags on the mat exactly where I wanted them I was able to line up the names with the tags and get them nice and centered!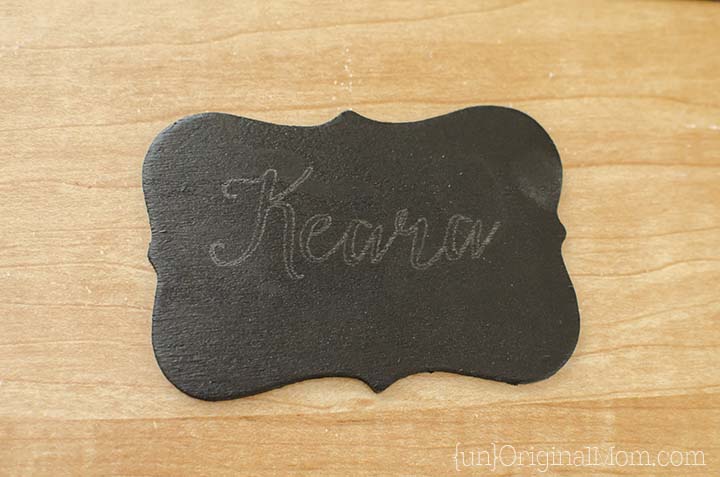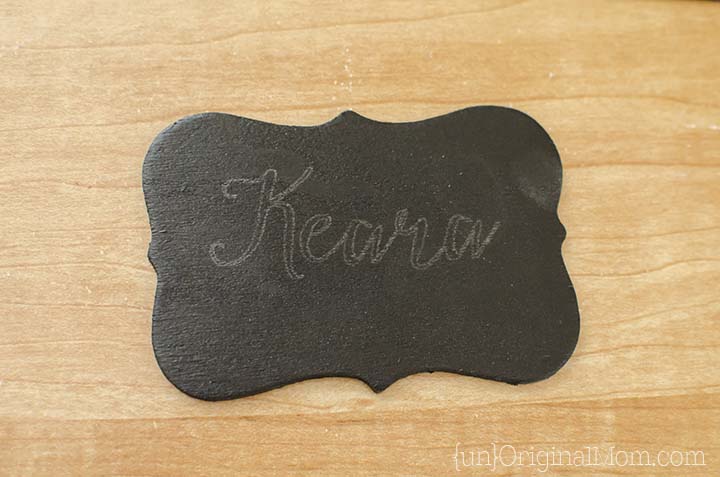 I used a plain white paint pen to trace over the letters.  I did try using the paint pen in the Curio to skip a step, but the tip was too thick to do lettering this small (the tags are about 2×3″). If I had a finer tipped paint pen it probably would have worked!  But it was easy to trace over the pencil outline to get that hand drawn look.  After I'd traced the name, I free handed a border around the edge of each tag.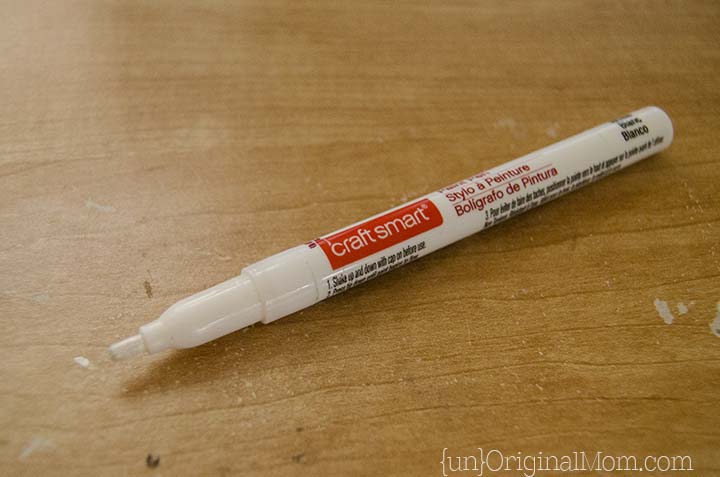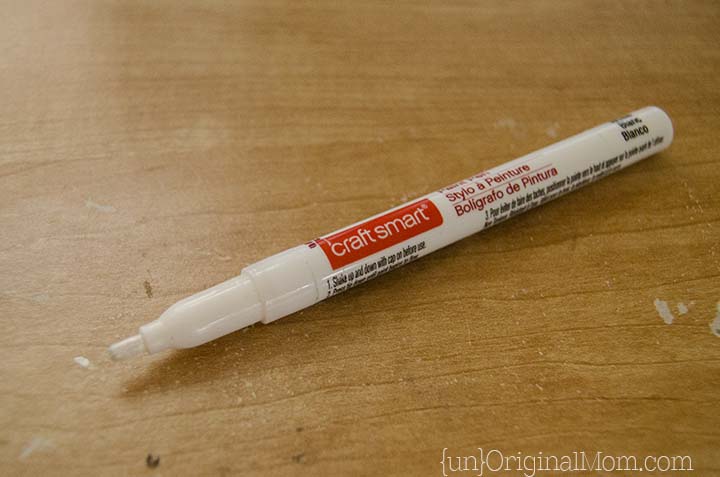 I debated about adding anything to these tags…gluing twine to the back to tie around a napkin, or maybe gluing them onto a pumpkin or something to put at each place.  But since these are pretty versatile as plain black-and-white (and we tend to have the same crowd at my Grandma's for family dinners throughout the year), I decided to just set them on top of the place setting.  That way I can reuse them for Christmas, Easter, or other big family dinners just by switching out the rest of the table decor!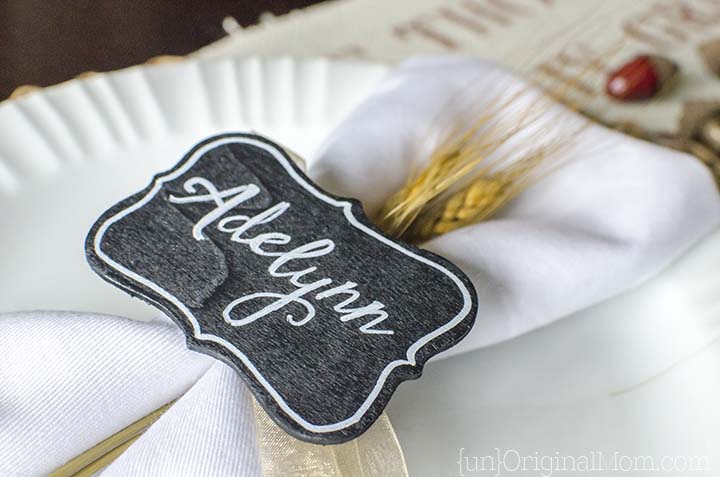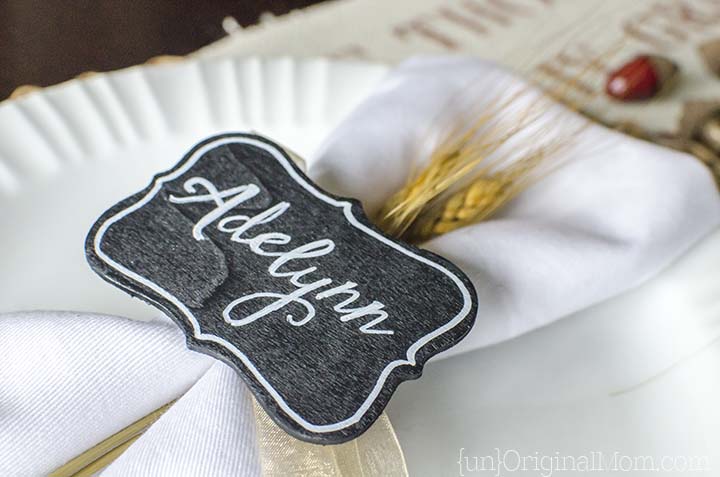 They turned out so beautifully!  And they look lovely with my Come Thou Fount freezer paper stenciled table runner.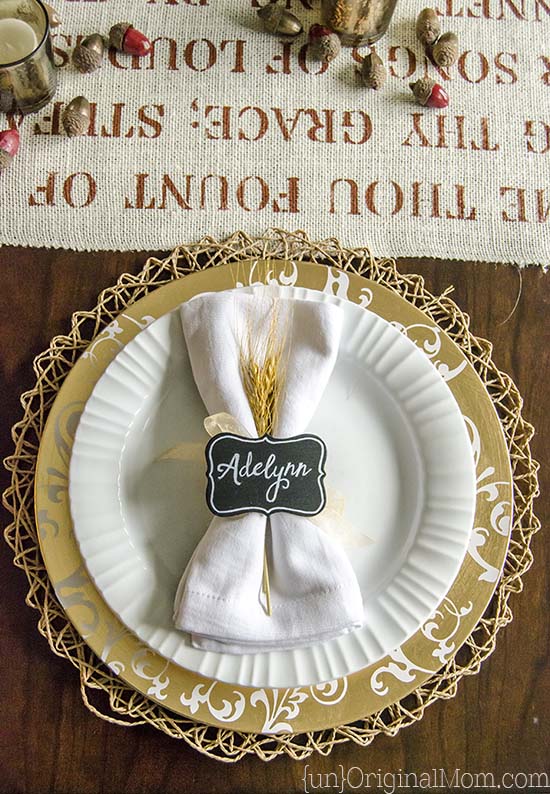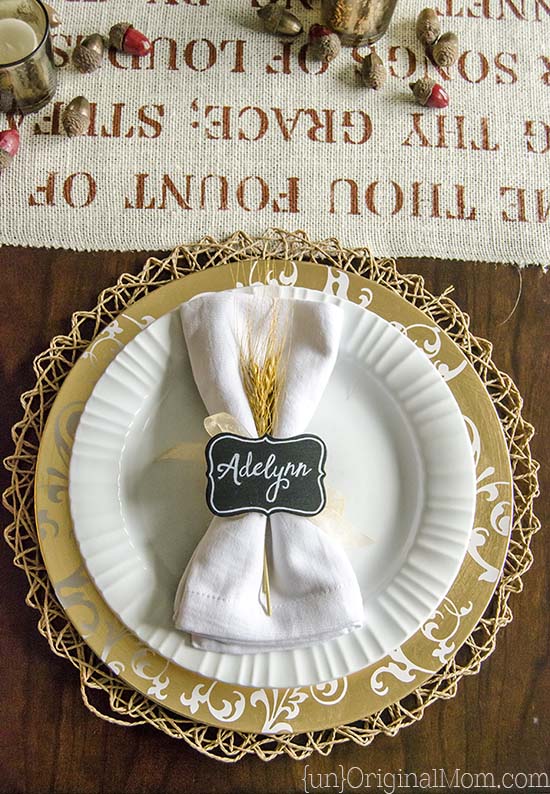 My wheels are turning with more ideas on how to use the sketch feature on my Curio…perhaps gift tags, thin wooden ornaments, or even small signs!  It's fun to be able to experiment with a new type of medium like this.
This post contains affiliate links – click here to read my full disclosure.



Subscribe to unOriginal Mom via email and get instant access to my library of FREE Silhouette Studio & SVG cut files - exclusively for email subscribers. Plus there's a new file added every month!