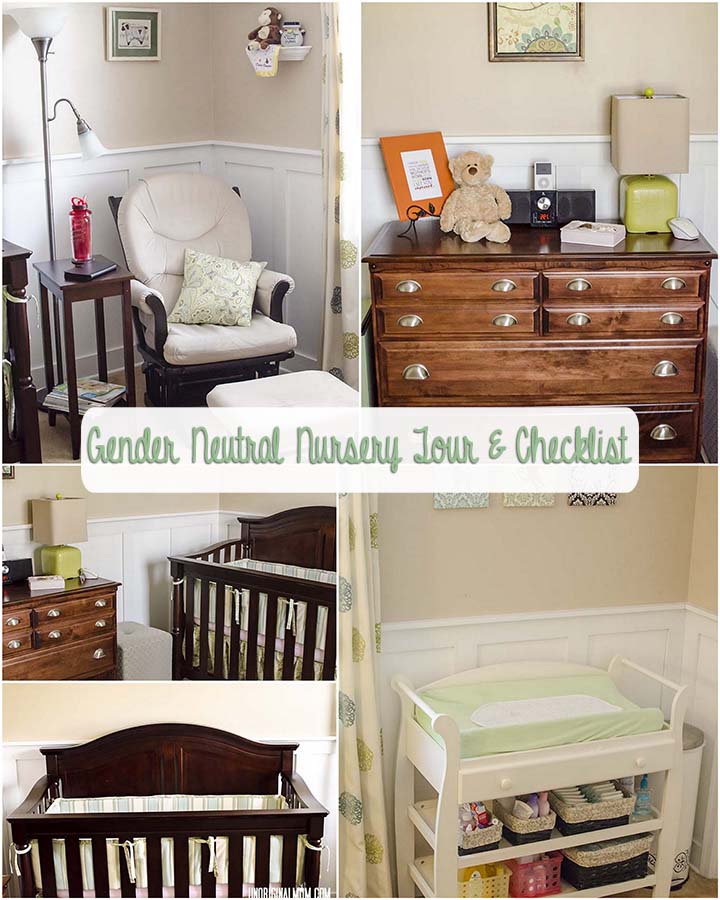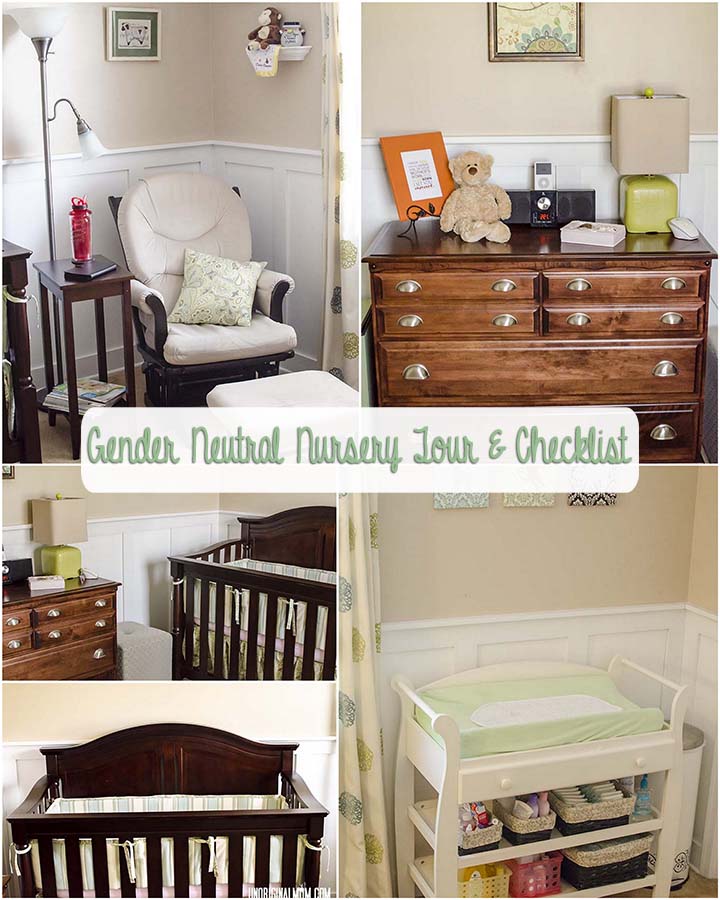 This is the second checklist of my Baby Checklist Series – our gender neutral nursery tour and a printable nursery checklist. If you missed the last one, check out 10 Baby Must-Haves.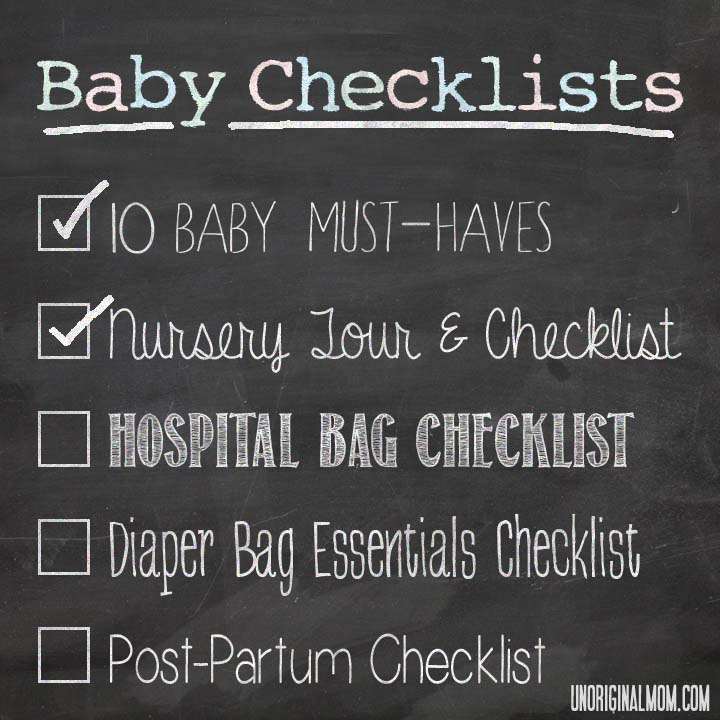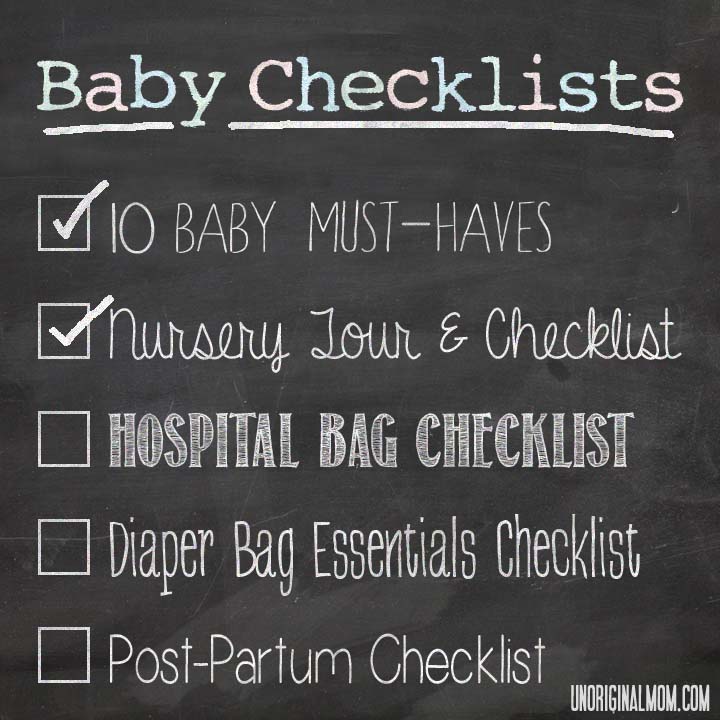 Perhaps the very best part about planning for a baby is designing and decorating the nursery!  There is something so special and exciting about planning the perfect room for your little one.  Although, what you don't really think about (at least at first!) is that the nursery is much more for the mama than it is for the baby!  Do you remember what your nursery looked like?  I don't!  If it was your room for your entire childhood, you probably do, but it was also likely redecorated several times as you grew, so you may not remember how it looked when you were very young.  If there's one specific piece of advice I can give you as you plan your nursery, it is this: make it into a room YOU love.  You're the one that will be changing thousands of diapers at the changing table, staring at the walls at 2am as you pace the floor with a fussy baby, folding and putting away baby's laundry each week, and standing in the doorway just staring into the crib as the baby sleeps.
The nursery is, by far, my favorite room in our house.   We didn't find out the gender of the baby ahead of time (read more about that decision here), so I knew I wanted something neutral but not too green or yellow.  I also didn't want a "theme," nor did I want to purchase a bedding set (since they are ridiculously expensive and you're not supposed to use crib bumpers or quilts or pillows in the crib for at least the first 6 months anyway), so I was basically starting from scratch.  I used a Pinterest board to keep track of my inspiration photos, showed my husband what I was envisioning, and he created this beautiful room for me the baby! ;-)
The most labor intensive part was the board and batten treatment on the walls, but it turned out beautifully.  It is the best part of the room, and I can't imagine what it would look like without it.  Isn't it gorgeous?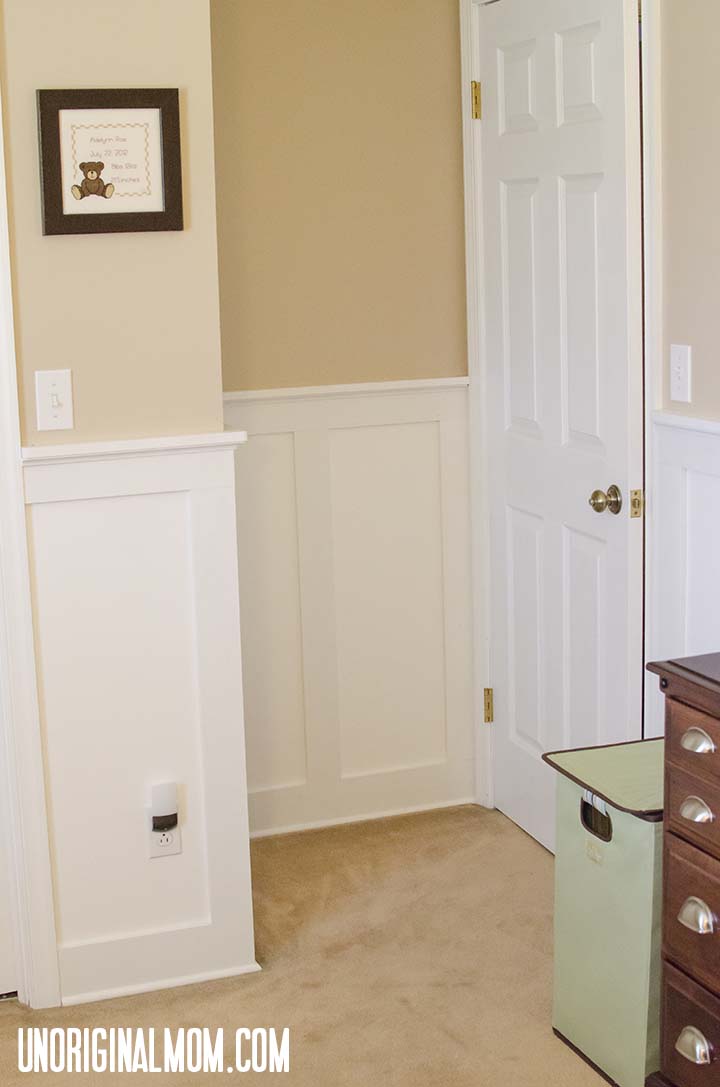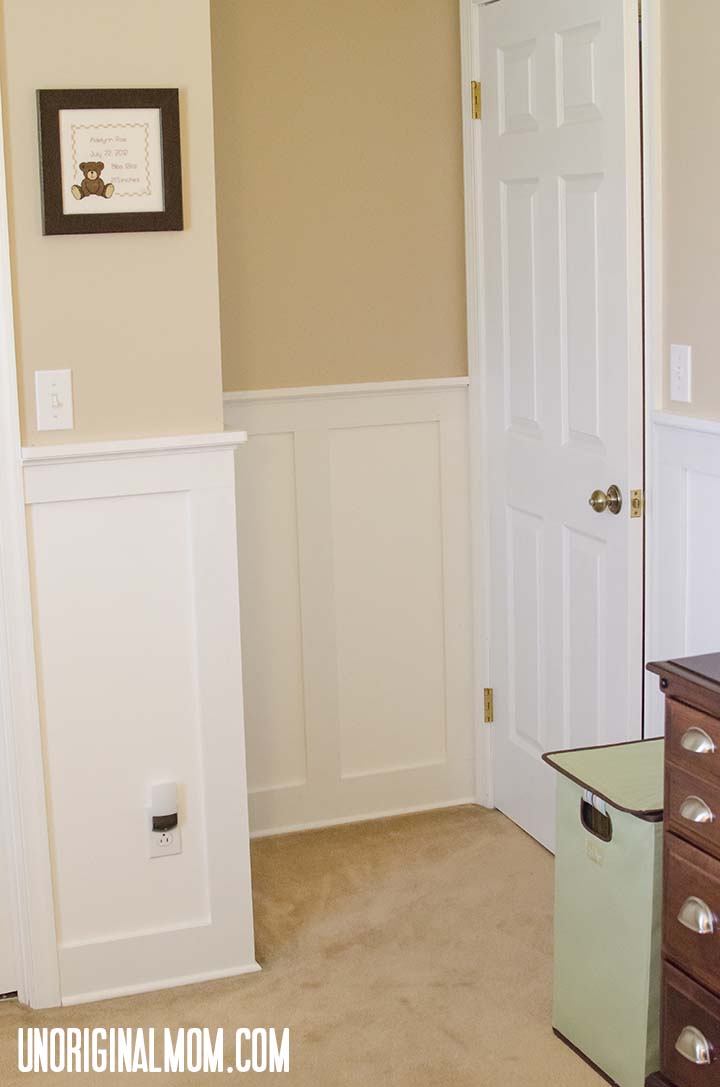 Now, for a tour of the nursery and a run-down of what I found to be the most helpful items in the room!
This post contains affiliate links – click here to read my full disclosure.
Dresser: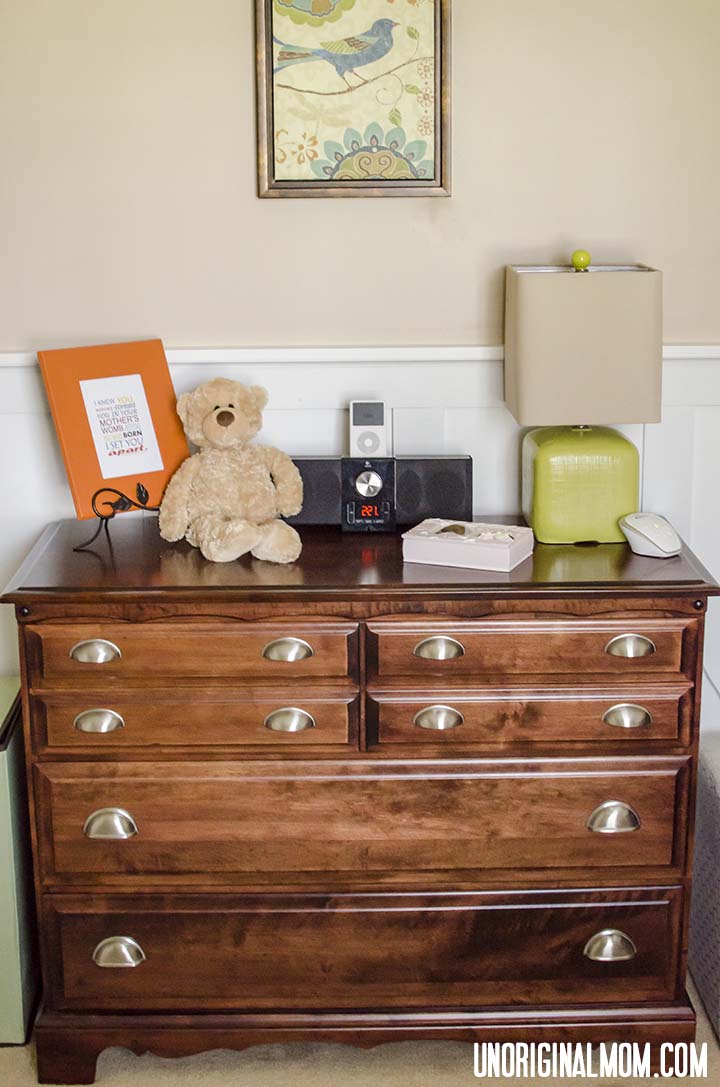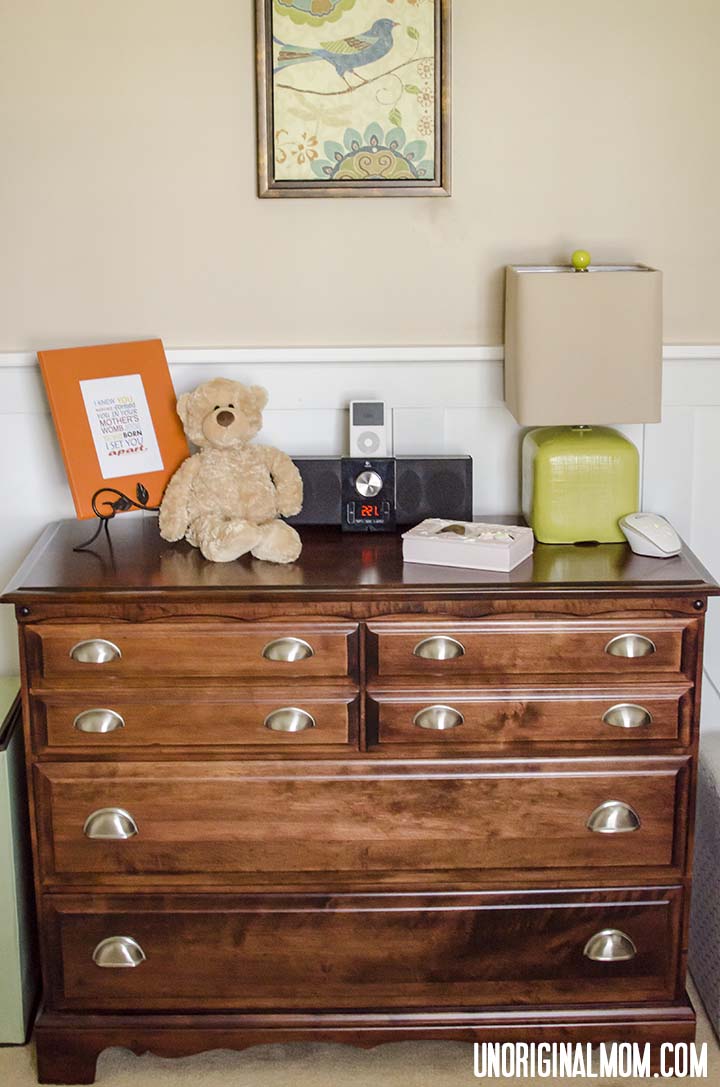 This was a $50 craigslist find that my husband stripped and refinished – it turned out great!
I think having a dresser in the nursery is pretty much a no-brainer, and you can figure out what you need to have inside of it.  But I want to draw your attention to what's on top of the dresser – my old ipod and speakers.  I bought a white noise track (we use the Canyon River track from the album Natural White Noise for Babies) and just set it on repeat at naptime and bedtime.  It really helped her sleep soundly at first (newborns are not used to complete silence) but also covered up ambient noises in the house so she wasn't startled awake.  We still use this daily!  They sell white noise machines, but I think they're a waste of money.  Use something you already have – even a radio set to static between stations would work.
You can read more about the framed scripture (and print your own for free!) here.
Crib: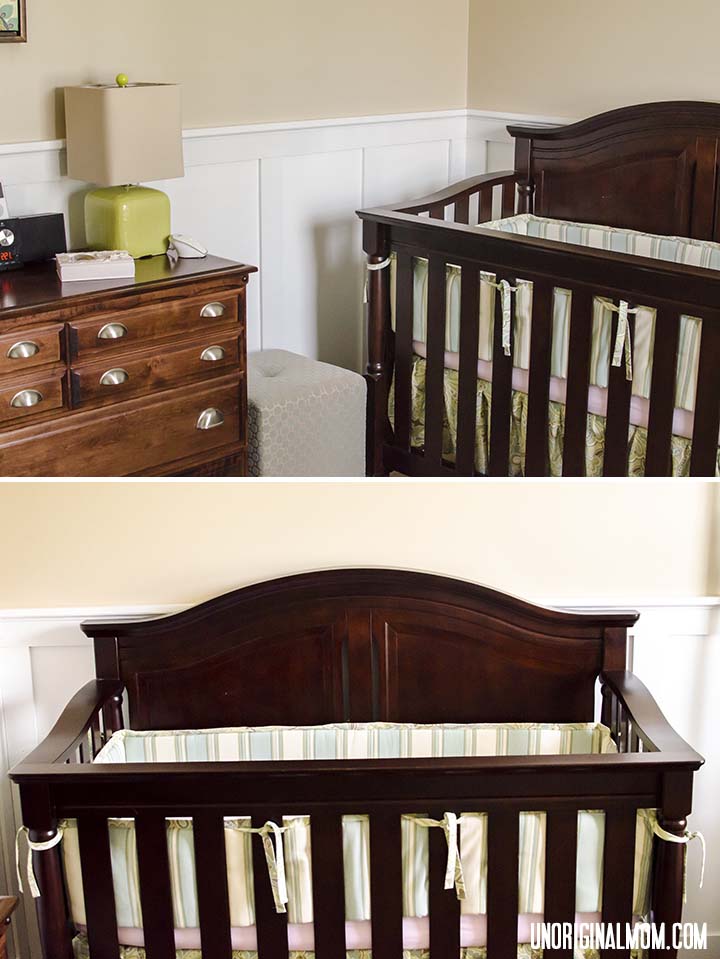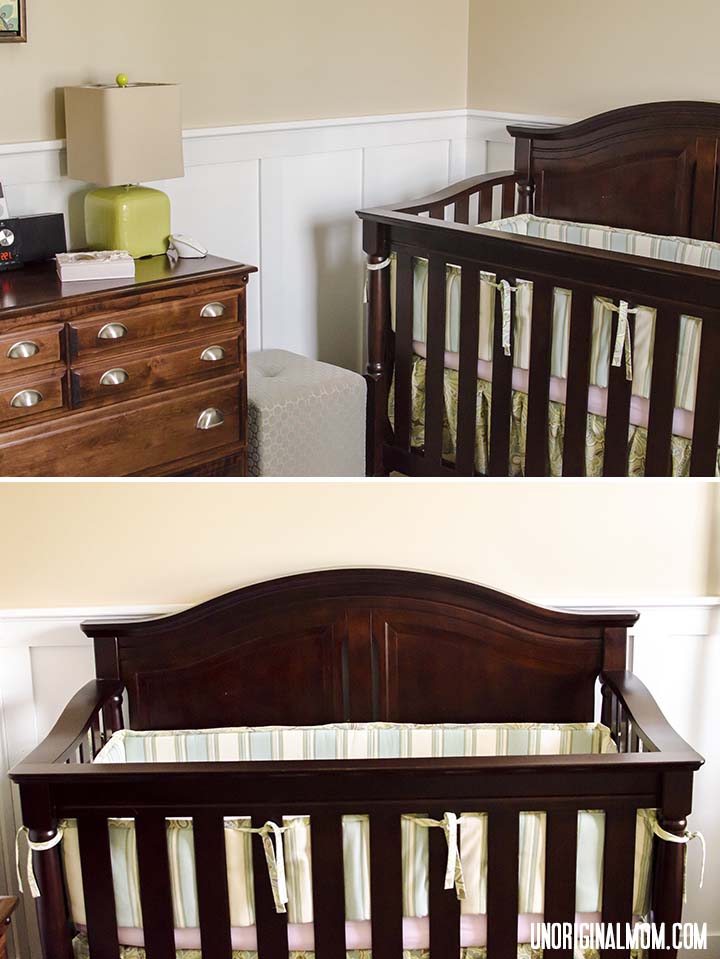 I absolutely LOVE our crib – the Bedford Monteray from JC Penney.  It was a gift from my husband's parents, and I am so glad we went with a more substantial, beautiful piece of furniture rather than buying a cheaper crib somewhere.  It will convert to a toddler bed, and later, it becomes a head and foot board for a full size bed.  We will definitely be getting lots of use out of this!
One of the smartest things we did in this room was to put a seat next to the crib.  We were originally looking for an ottoman with storage inside for larger blankets and things, but I found this super cute one at Home Goods and couldn't resist.  It is great for when I just need to sit and pat her on the pack or give her back her pacifier as she's falling asleep (not a normal habit, but occasionally necessary).  Plus when I'm sitting in the glider feeding the baby, it's a place that my husband can come in and sit down if he wants.
Glider: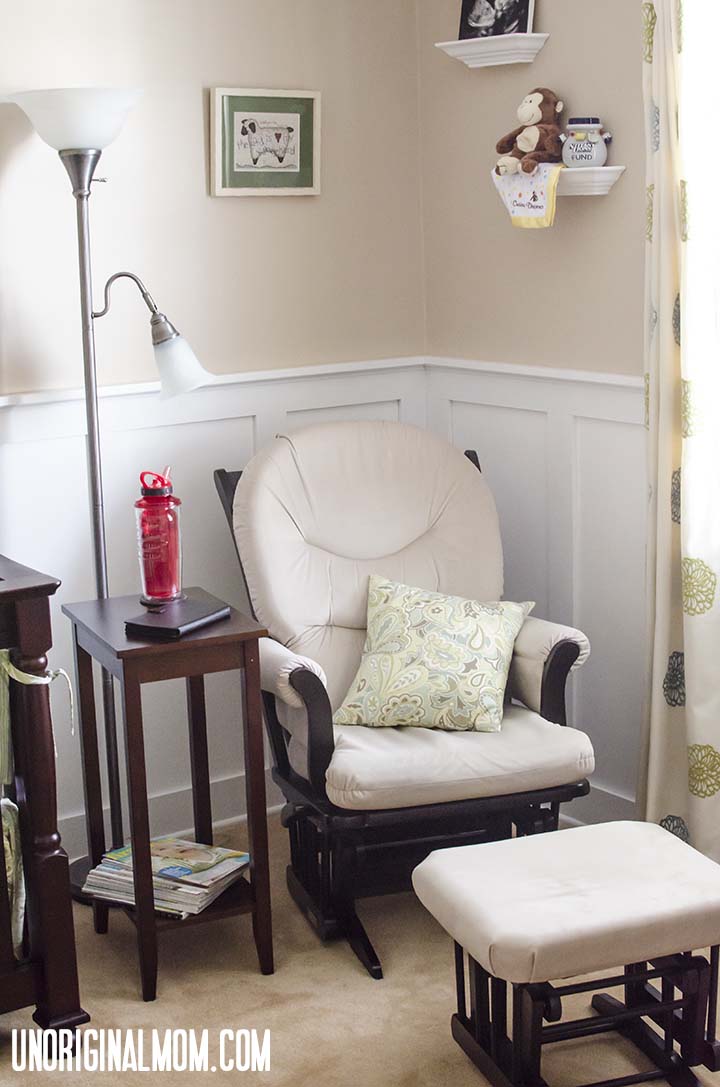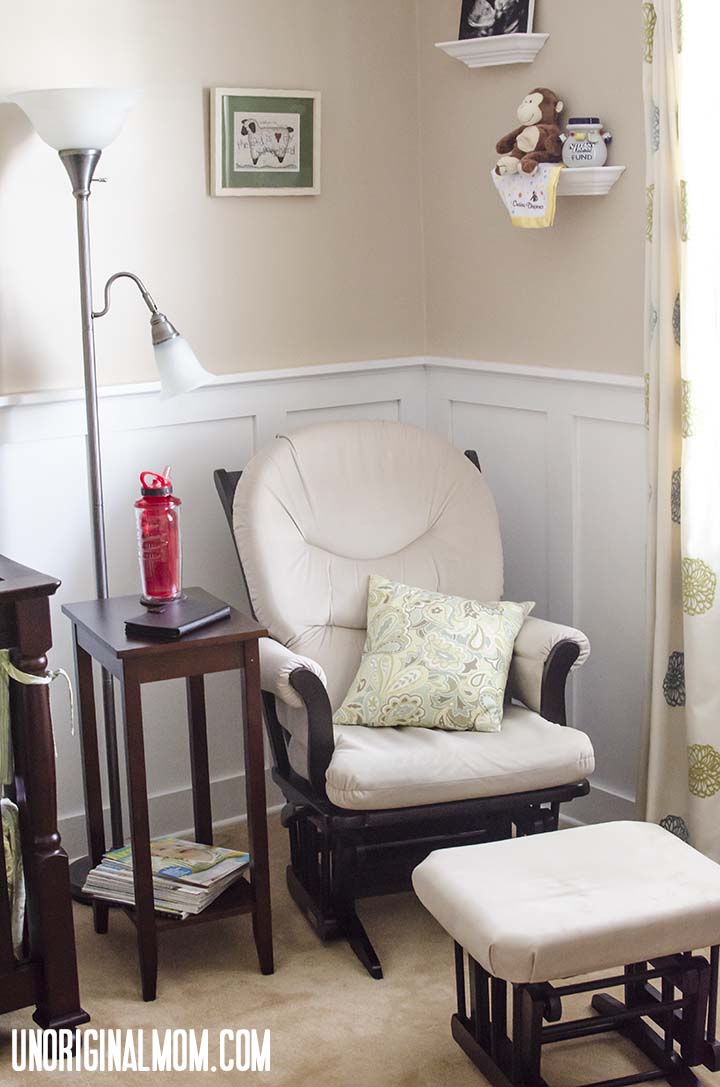 This was a gift from my parents, and is another one of my favorites in the room!  It is SO comfortable.  It is a Dutailer UltraMotion Glider (from everything I've read, the BEST brand of glider that's out there).  It also reclines, which was great for middle-of-the-night feedings.   A comfy place to sit and feed the baby is a MUST in a nursery!
I also want you to notice the end table next to the glider.  It is stocked with Mommy-reading-materials (my kindle and some magazines) as well as a water bottle.  If you are breastfeeding, you will be SO thirsty all the time – especially in the first month or so.  I always felt parched at each feeding session.  I'd recommend stationing a water bottle near every place in the house that you nurse the baby.
Changing Table: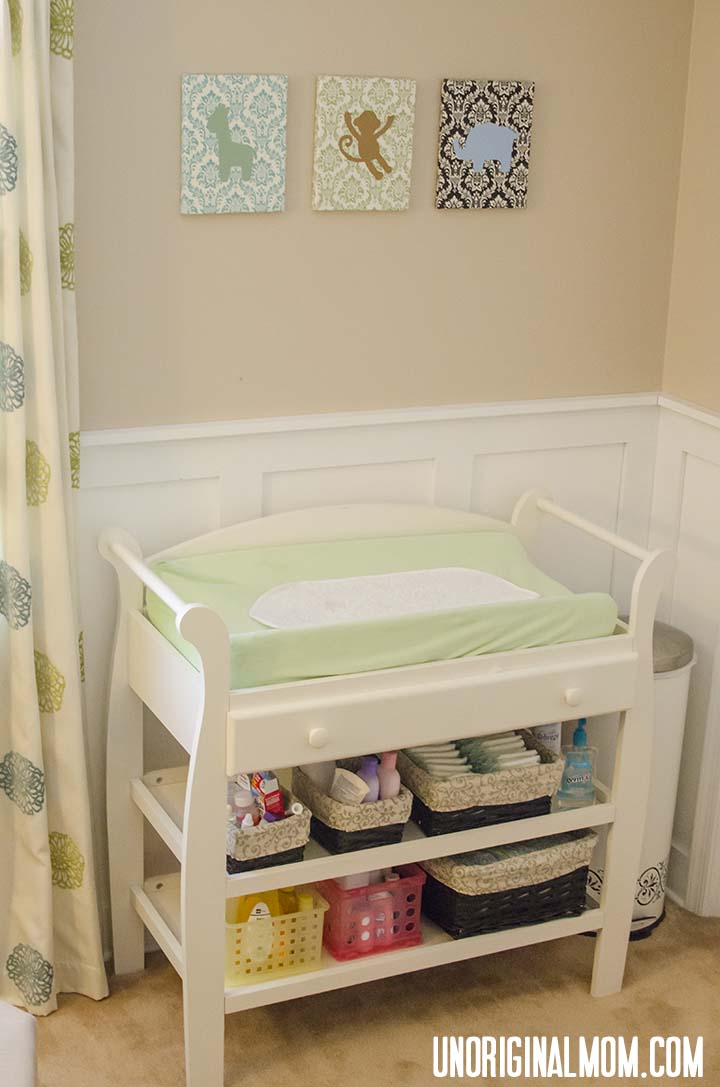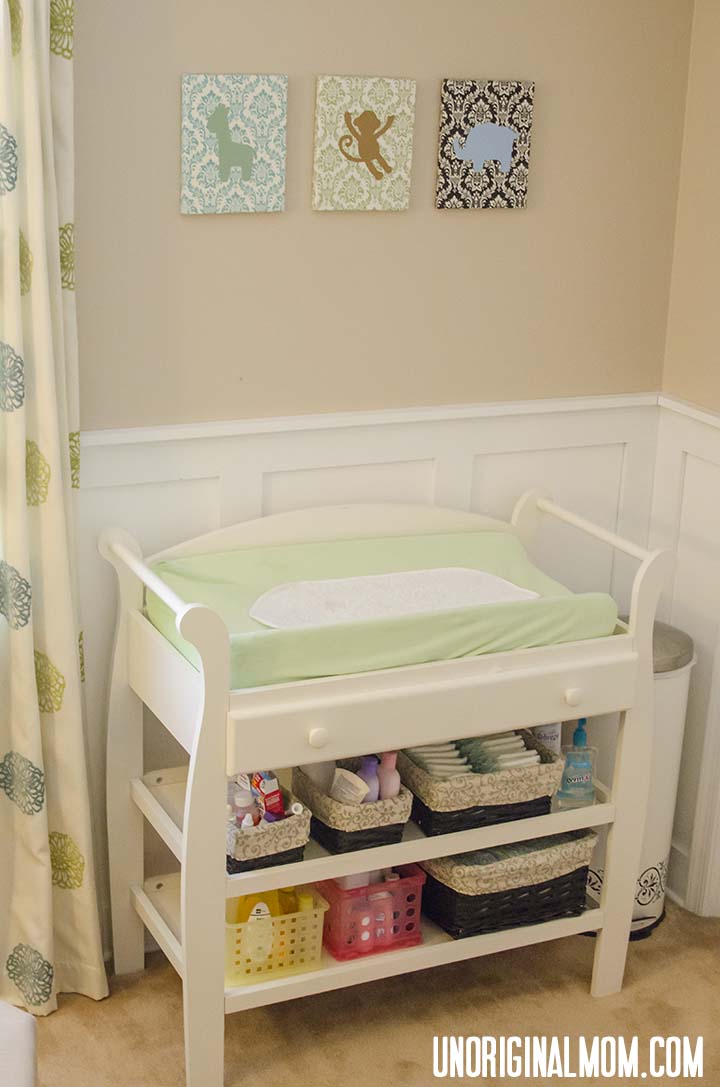 Lots of places I read said that a separate changing table isn't necessary – you can just put a changing pad on top of a dresser.  If space is an issue in your nursery, then that is a great solution…but if you have the space for it, I'd highly recommend getting a changing table!  It doesn't have to be a beautiful one that matches the rest of your furniture – this one was $25 on craigslist.  It's nice to have something that's the right height for changing a baby rather than bending over a dresser, but the best thing about it is having a place to store more stuff!  Not only diapers and wipes, but hand sanitizer, air freshener, diaper rash creams, medicine/vitamins, nail clippers, thermometers, extra bottles of baby wash and baby powder…just lots of little miscellaneous items that otherwise wouldn't have a home.
I found some baskets on sale at Michael's that are perfect for holding diapers and other items.  We have two different baskets for diapers because we use two types of diapers – the less expensive Target Up & Up brand diapers during the day when we're doing diaper changes every couple of hours, and Pampers Baby Dry at night when she goes about 11 hours without a diaper change.
Now, the great debate – special diaper pail or just a regular old trash can with a lid?  We decided that a special diaper trash can (like a Diaper Genie or Diaper Champ ) wasn't necessary – we'd use a regular trash can and just empty it whenever it starts to smell.  We found a nice one at Home Goods that looked a little nicer than a regular trash can.  I didn't regret that decision until recently…now that we're doing lots more solid foods, the poop is SMELLY!  I think the solution is going to be to take poopy diapers directly out to the trash can in the garage and just use the nursery trash can for wet diapers and other trash.  But I am beginning to see why a special diaper pail might have been a good idea…
(The prints above the changing table were super easy – find out how you can make your own HERE)
Closet: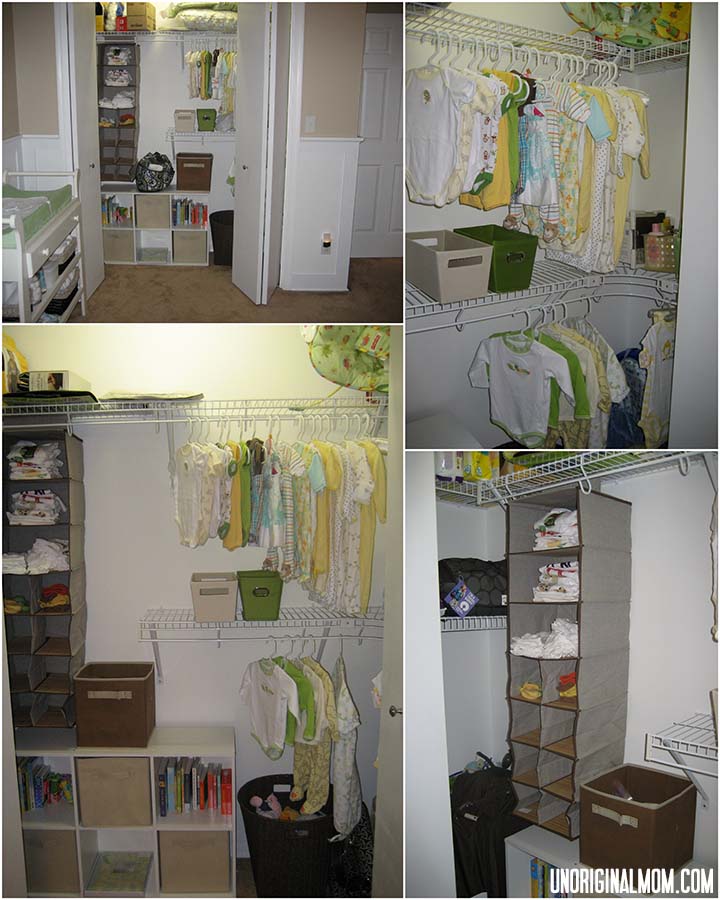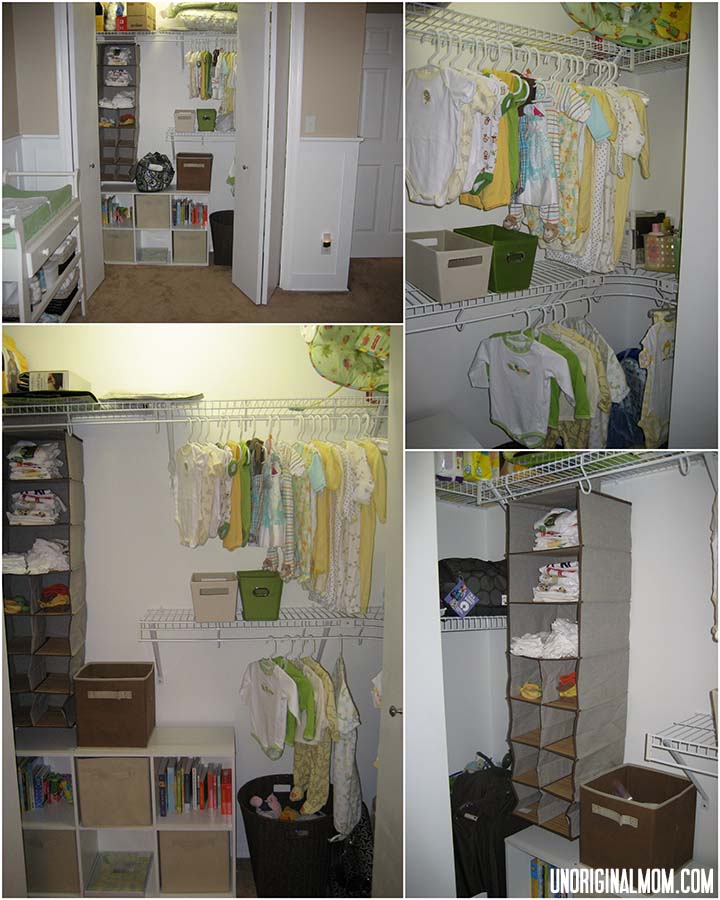 (These are pictures from before the baby was born – there is a LOT more stuff in it now, but I thought it might be helpful for you to see how I organized all the stuff we had before she was born!)
We are lucky to have a pretty big closet in this room, but regardless of the size of the closet you need a good organizational system in place BEFORE the baby is born.  Actually, before the baby shower is even better.  You will not believe the amount of stuff you will end up with!  Maximize your space as best you can.  I sketched out an idea of how I wanted the shelves/hanging racks and my husband bought and installed them.  There was enough space on the sides for some shelves as well, which is great for keeping larger items. The cube organizer was a great purchase – perfect for a bookcase and to corral smaller toys and things.
I have all of the baby clothes in the closet and none in the dresser – it helps me to see them all and keep them organized them by size. We use the hanging shelves for plain onesies, pants, and socks.
Your baby will grow faster than you can imagine – which means outgrowing clothes constantly!  I bought several inexpensive clear bins from Walmart and labeled them by size, so as my daughter outgrows clothes I can just toss them in the bin to save for the next baby!  I put the gender neutral items (like plain onesies) in their own bin regardless of size in case the next one is a boy, so I won't have to sort through the bins again to pull that stuff out.
Other Items:
Whew, that's a lot of information!  I hope at least some of it was helpful to you.  Here is a free printable Nursery Checklist to help you keep track of it all!
Check out the rest of the posts in my Baby Checklist Series – each post includes a printable checklist:
10 Baby Must Haves – the 10 baby items I found most useful that you might not have thought of or even heard about.
Nursery Tour & Checklist – you're here!
Hospital Bag Checklist – a list of necessities and helpful items to have in your hospital bag.  Don't forget a bag for daddy and baby!
Diaper Bag Essentials Checklist – what exactly do you need in a diaper bag, besides diapers?
Postpartum Checklist – the part you don't want to think about or talk about…but there are some things that will help make you much more comfortable in those first few weeks after giving birth.
Still trying to decide if you want to find out the gender of your baby before birth? We didn't find out with any of our kids and I wouldn't have it any other way. Here are 5 Reasons NOT to find out the gender of your baby.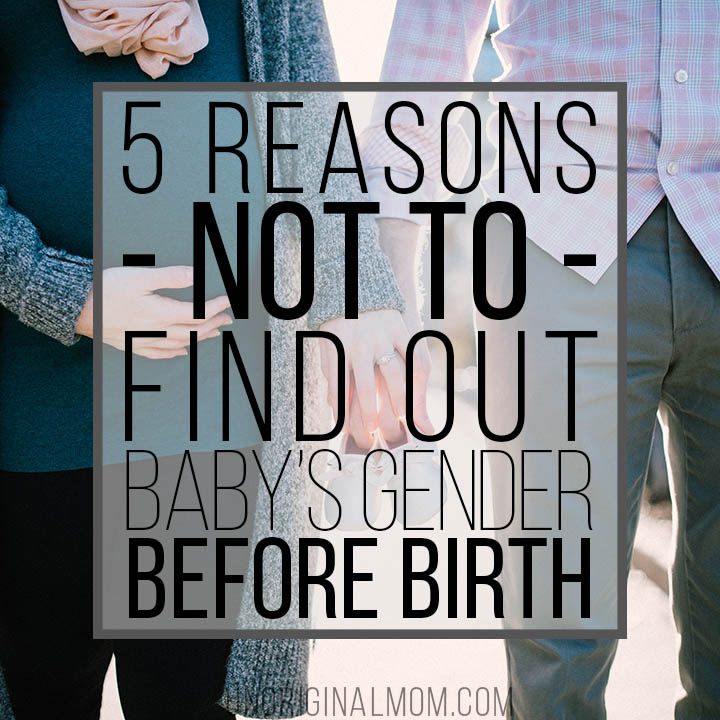 MORE BABY TIPS & IDEAS:


GRAB YOUR FREE BABY SHOWER PLANNING CHECKLIST!
The perfect party is all in the preparation. This complete baby shower planning checklist will help you with every step along the way!