This was a Pinterest find, from the blog That's My Letter.  You can find the tutorial as it was originally posted here.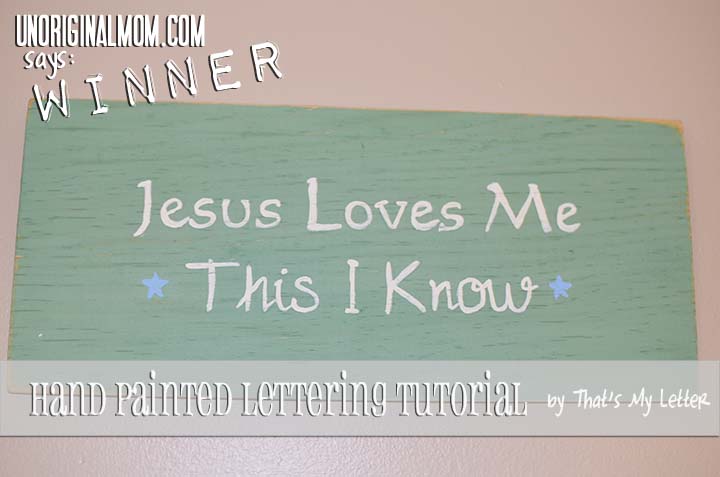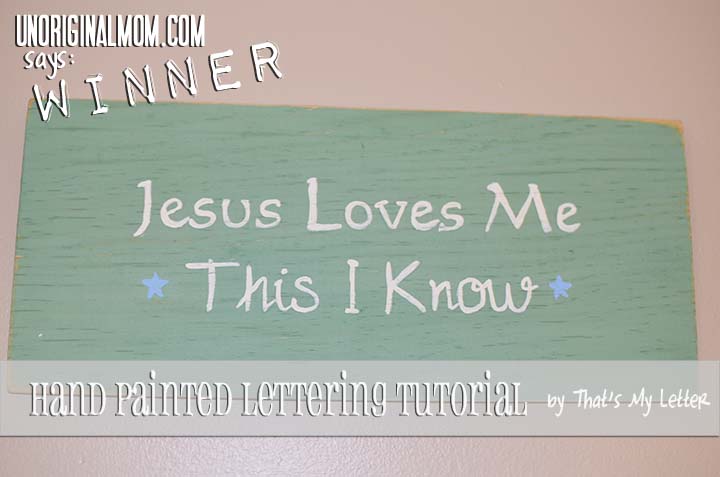 I actually first started using Pinterest when I was searching for inspiration on how to decorate my baby's nursery.  (In fact, maybe I will do a whole post on our nursery another time, because there are lots of great copycat projects in there!)
A Pinterest idea I had come across was this wood sign painting tutorial from That's My Letter – maybe you've seen it?
Essentially the idea is that you use a computer to print out the letters/design you want, tape it to a piece of wood, and trace over the outline of the letters on the paper with a ball point pen.  Then when you remove the paper, the indentation from the pen is left on the wood, and you can easily paint inside the lines.  Presto, perfect hand-painted lettering!  I was a little skeptical, but I gave it a try.
I bought a small wood sign, found free fonts that were similar to my inspiration sign, and went to work.  I found that I had to press REALLY hard (so hard that I had to take a few breaks because my hand hurt!), but it really did leave a clear indentation of the text in the wood!  And when I went to paint it, the indentations actually helped the paint stay in the lines (and I do NOT have a very steady hand, so if I can do it, you can too!)
I knew that I liked the lettering, color, and overall look of the inspiration photo, but since it was for the baby's room, I decided I just wanted the regular lyrics from the children's song, "Jesus loves me, this I know."  I also "distressed" it a little bit with some sandpaper to make it look a little older and worn.  It is a perfect addition to Adelynn's nursery!
And, since I used a 40% off coupon to buy the wood sign at Michael's, this project was under $5!  SCORE!
So, my review for That's My Letter's hand painted lettering tutorial – WINNER!


Get your copy of my FREE meal planning binder!
Sign up to get a free copy of my meal planning system - an 11 page printable meal planning binder, complete with a pantry inventory, shopping list, and more to help get on top of your menu each week!