This was a Pinterest find, from the blog Buns in My Oven.  You can find the recipe as it was originally posted here.
The verdict…WINNER!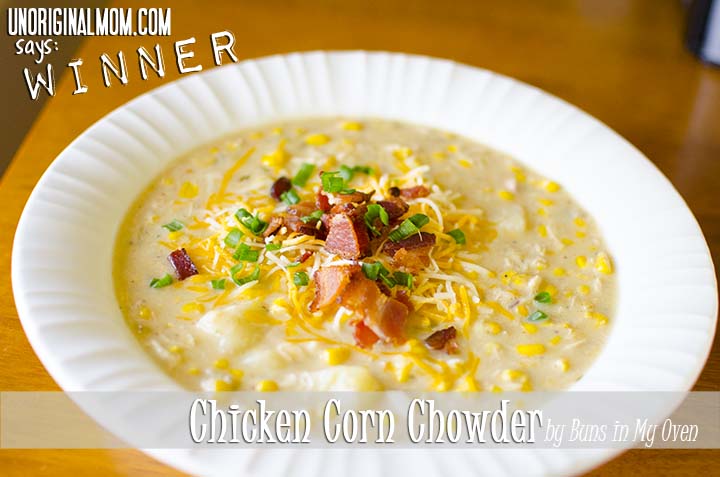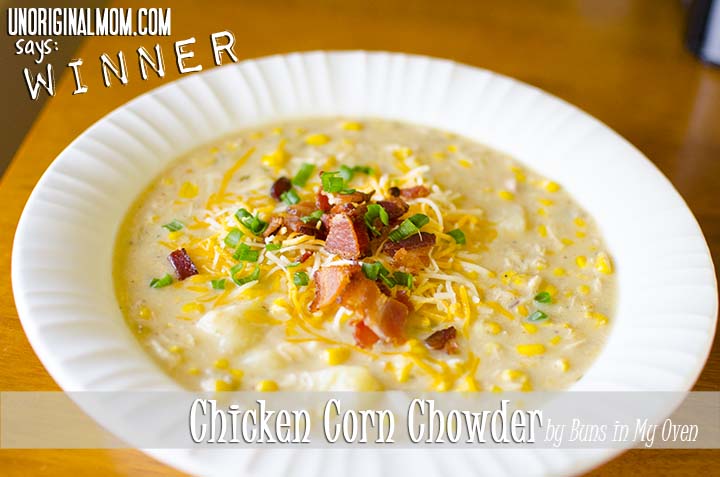 I've made this soup two different times now, and it is delicious!!  The first time I made it was for a potluck, and I had several people ask for the recipe (the ultimate potluck compliment!).  AND, it's really pretty easy!  I used a rotisserie chicken, as suggested, which made it even easier.  I made it in the middle of winter, so I used canned corn, but I'm sure it would be even yummier with fresh corn off the cob.  The green chili and cayenne powder give it a nice kick – not too spicy (and you can decide how much of a kick to give it by how much cayenne you put in), but enough to make it a little something different.  It's creamy and full of flavor.  Serve it up with a salad and some crusty bread, and you've got a great meal!
Chicken Corn Chowder
Prep time:
Cook time:
Total time:
Ingredients
1-30 ounce can corn, drained
1-15 ounce can cream corn (you can use 6 ears of fresh corn in place of all the canned corn)
6 slices bacon, chopped
1 bunch scallions
3 medium potatoes (I used Russet potatoes)
2 tablespoons all-purpose flour
3 cups milk
2 cups chicken stock
2 teaspoons Old Bay seasoning
1 teaspoon dried parsley flakes
½ teaspoon dried thyme
¼ teaspoon cayenne pepper
1 4 oz can chopped green chiles
2 cups roasted chicken, shredded (I used a Rotisserie chicken)
Salt and pepper, to taste
Grated cheddar, for garnish
Instructions
In a large stock pot, fry the bacon pieces until crisp. Remove from the pan, leaving the drippings, and set aside.
Peel and chop the potatoes into bite sized chunks. Slice the scallions very thin and separate the greens from the whites.
Place the potatoes and white scallion pieces into the stock pot and cook over medium heat until the scallions have softened, 2 or 3 minutes.
Sprinkle in the flour and cook, stirring constantly, for about 1 minute.
Pour in the milk, chicken stock, Old Bay, thyme, parsley, cayenne, salt, and pepper, stirring well. Bring to a boil over medium heat, stirring occasionally.
Reduce heat to low and simmer for 12-15 minutes or until the potatoes are tender. Add corn (If using fresh corn, cut from the cob with a sharp knife. Use the back of your knife to release the pulp from the cob.), chicken, and green chiles. Cook over low heat until heated through, about 5 minutes. Garnish individual bowls with scallion greens, bacon, and cheddar cheese.


Get your copy of my FREE meal planning binder!
Sign up to get a free copy of my meal planning system - an 11 page printable meal planning binder, complete with a pantry inventory, shopping list, and more to help get on top of your menu each week!