This post was sponsored by Playtex.  As always, all thoughts and opinions are completely my own!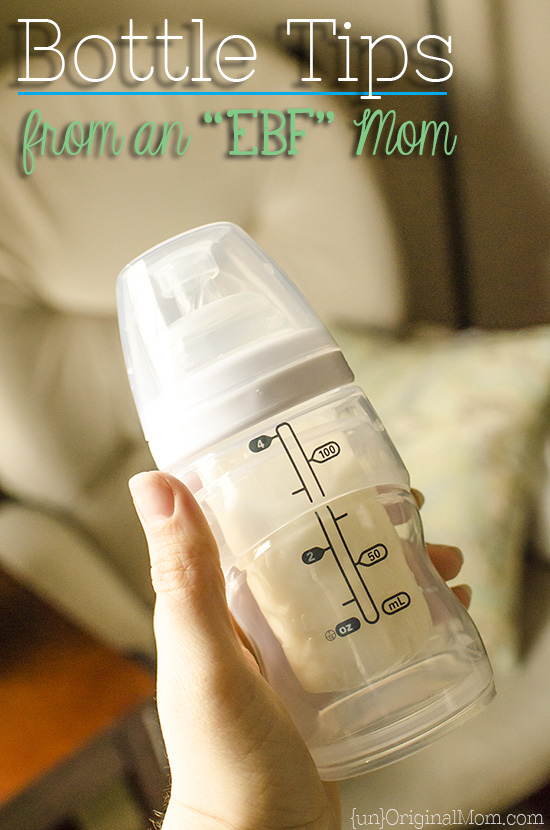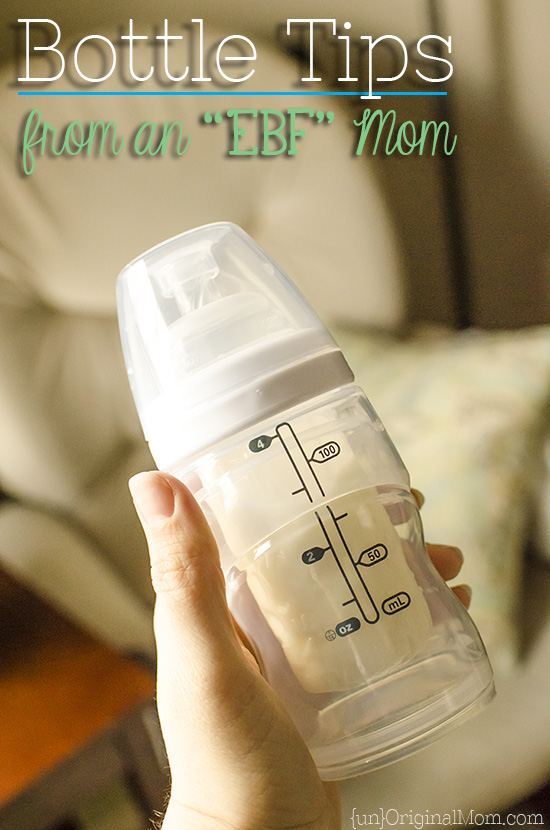 I'm an "EBF" mom, which means I exclusively breastfeed my babies.  I'm proud to say that I breast fed my daughter for a year and a half!  And I plan to do the same with my 2 month old son.
Now, you may think that since I rarely give my baby a bottle, it's a little odd that I'm writing a post all about bottles.  But actually, EBF babies can be the most difficult to bottle feed!  Babies that are used to the "real thing" can be really finicky about what types of nipples and bottles they'll actually eat from.  I am no bottle expert, by any means – but I've done a lot of reading, tried a lot of bottles, and had a lot of advice passed on to me!  Of course, every baby is different and you need to adapt to do what's best for your baby.  But here are some tips to consider when you are working on getting your little one to take a bottle.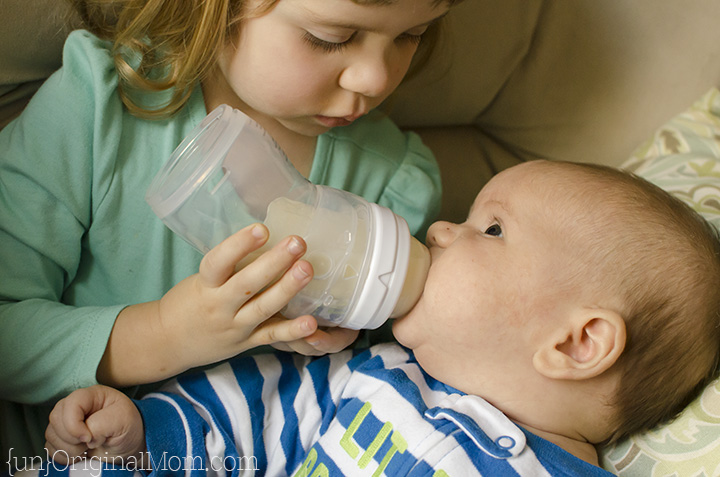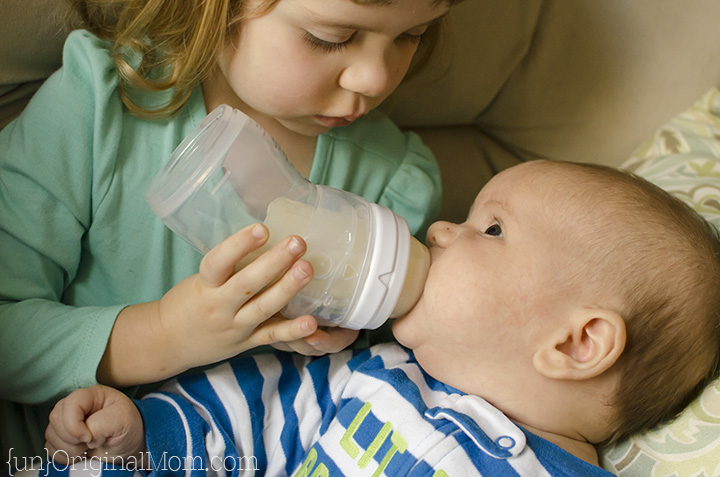 Introducing a bottle.  The experts say wait until breastfeeding is "well established" before introducing a bottle.  Once you feel like breastfeeding is going well and is comfortable for both you and your baby, it's time to pump a bottle, give it to your husband (or another adult caregiver) and leave.  That's right – go for a walk, go shopping, go sit on the front porch, but do your best to leave the house while somebody else gives the baby a bottle.  Having you in the same room with the baby may cause him/her to decide, "no way, I can smell mom, I know she's right there, I want the real thing, not this imposter bottle!"  And I say leave the house, because I know when I hear my baby crying it is SO hard not to go try to help him stop – so just trust your hubby and go far enough away that you won't be able to hear if baby is crying.  Once you've introduced a bottle – this is important – don't stop giving the baby a bottle!!  My daughter took a bottle with no trouble when she was a few weeks old, and then the next time we went to give one to her (a few weeks after that) she would have nothing to do with it.  From then on, she never really took a bottle well.  So don't forget to give baby a bottle every couple of days, or at least once a week.
Pumping a stash.  You definitely don't need a fancy electric pump to do this – I have both a double electric pump and a single manual pump and much prefer the manual one – it's just so much easier to get out, use, clean, and put away.  Anyway, it is a great idea to work some pumping into your routine to begin building a "stash" of pumped breast milk, even if you're not planning to ever be away from your baby for extended amounts of time.  It gives you the freedom to go out on short notice – on a date with your hubby, for a longer shopping trip, or maybe even a mani/pedi!  Or perhaps your husband will get up for an early morning feeding and let you get a precious full night's sleep.  Or you might want to have an occasional extra glass of wine with dinner.  Even in some kind of mild emergency situation (traffic, illness, injury) where you can't get back to the baby in time for his next feeding, it's good to know there's breast milk in the freezer that his caregiver can use if necessary.  And as baby gets older, you can use it to mix in with homemade baby food purees, or even donate your excess to a milk bank or mom in need!
Choosing the right bottle.  Here's where it can be REALLY overwhelming – there are so many different kinds of bottles out there!  You could literally spend hundreds of dollars on bottles and accessories.  While there are tons of different types of bottles out there, babies are very particular when it comes to the size and shape of the nipple they prefer.  We recently tried Playtex bottles and I really love the variety that they have available in their line, specifically in the Playtex Nipple Variety Pack.  In one affordable package, you get 4 different kinds of nipples to try with your baby and see what he/she likes best.  There's the NATURALATCH® Nipple (Most like Mother®), ANGLED shape (for upright feedint), BREASTLIKE shape (designed to mimic the breast) and FULLSIZED shape (for wider mouths).  And all four nipples are a perfect fit for both the Playtex® VentAire and Playtex® Nurser with Drop-ins® Liners bottles, which are designed to reduce colic – good news for my gassy little boy!  In fact, in a study of 350 moms who tried Playtex® bottles, 96% of Moms found a nipple that baby liked within the Playtex Nipple Variety Pack, and 97% of Moms would recommend The Playtex Nipple Variety Pack to other moms!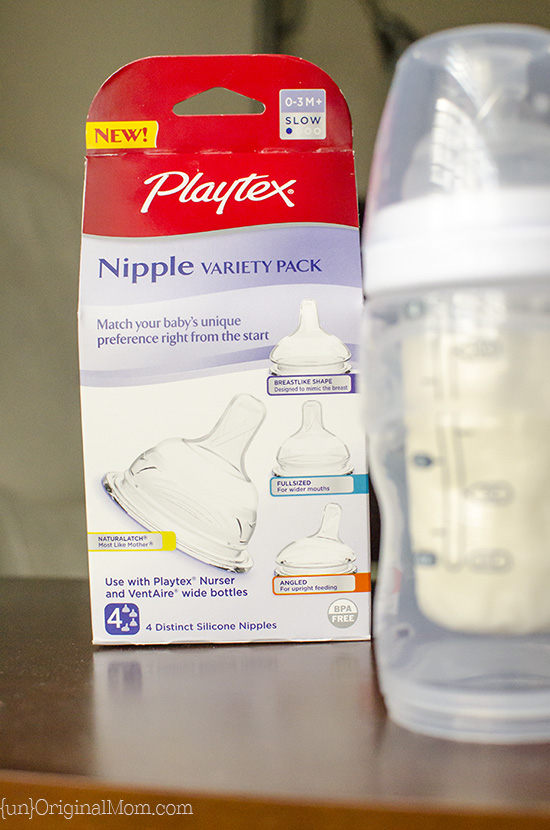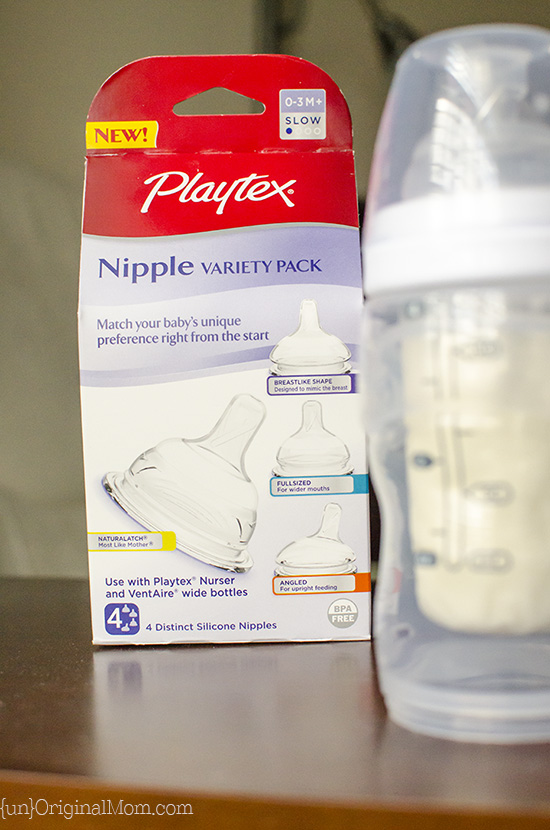 Want to give Playtex a try?  Here's your chance!  I'm giving away TWO Playtex® SureFeed™ Discovery Sets to ONE lucky winner! (One for the winner and one for her to give to a friend!)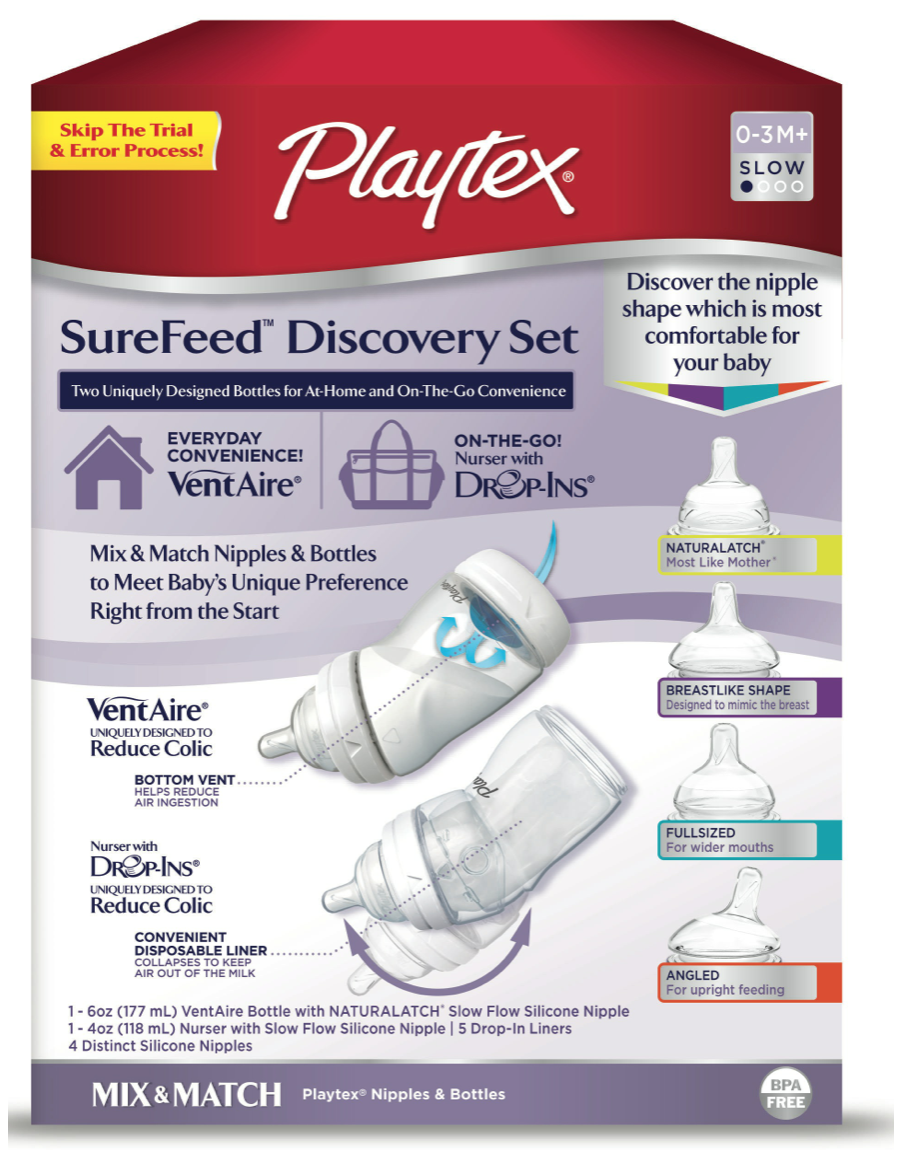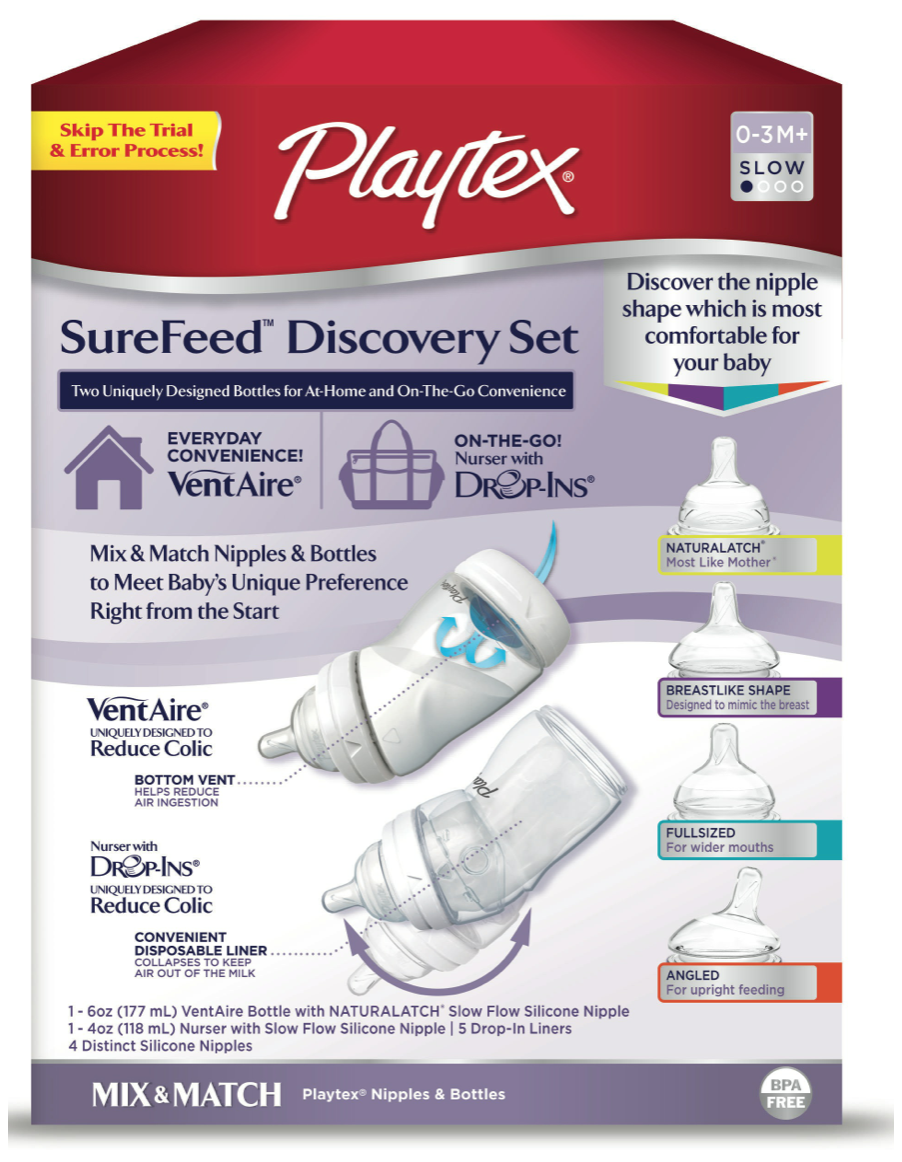 The Playtex® SureFeed™ Discovery Set is the perfect gift set for registry with all you need to get feeding right from the start, all in one box!
Gift Set Includes:
(1) Playtex® Nipple Variety Pack
(1) VentAire® Bottle
(1) Nurser with Drop-Ins® Liners Bottle
(5) Drop-Ins® Liners.
Don't forget to like Playtex on Facebook for more product information, coupons, giveaways, and more!
Do you have any other tips and tricks for bottle feeding from your own experiences?  Or if you're already a Playtex user, what nipple/bottle combination works for your little one?


Get your copy of my FREE meal planning binder!
Sign up to get a free copy of my meal planning system - an 11 page printable meal planning binder, complete with a pantry inventory, shopping list, and more to help get on top of your menu each week!