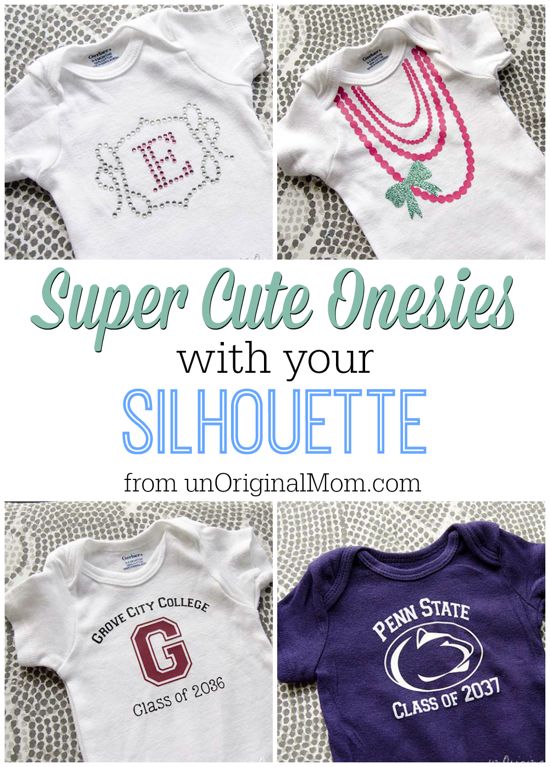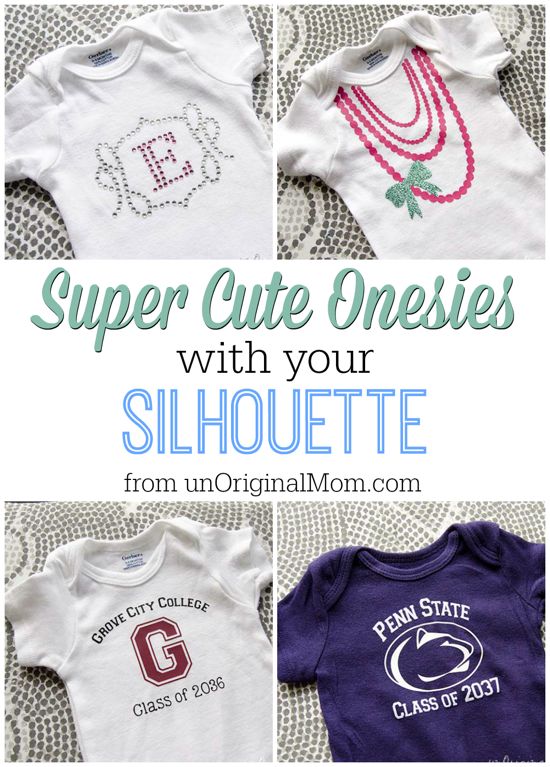 One of my very favorite things to make with my Silhouette is a onesie.  It's just automatically cute…and can only get cuter!  I've made several as gifts along the way (including this one for a friend and this one for my daughter's first birthday) but I decided I'd share a few more with you today…because they're just so darn cute!
This post contains affiliate links – click here to read my full disclosure.
Our dear friends Robbie and Kate are getting ready to welcome their first little girl into the world.  I thought that they'd have the baby – and these gifts – in hand before this post went live…but little baby Eleanor is a stubborn one and still staying put (for now)!  So happy early birthday, Miss Eleanor – you'll be getting these lovely onesies soon!
Both Robbie and Kate are Grove City College grads, so I couldn't resist the school spirit onesie, made with smooth heat transfer vinyl.  It was kind of scary to count up the years and figure out this little one's college graduation year – gosh, we will be so old by then!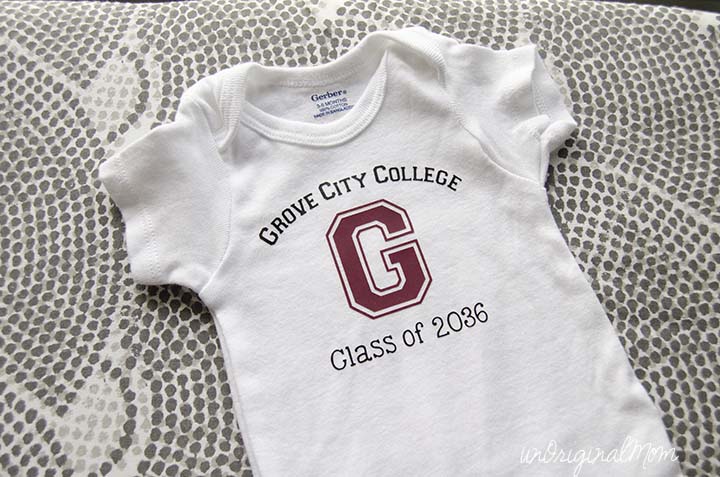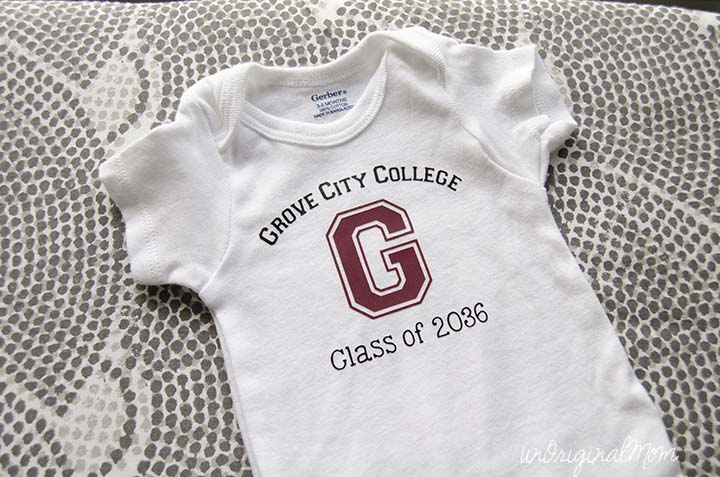 This Penn State onesie is for another friend having a baby this fall.  I stocked up on navy blue onesies when they were on clearance at Michaels, so Penn State friends, you can expect one of these from me for all of your future babies!  The PSU logo is regular white heat transfer vinyl, but the text is flocked white heat transfer vinyl.  I love the texture that it adds – it works so well on plain text like this!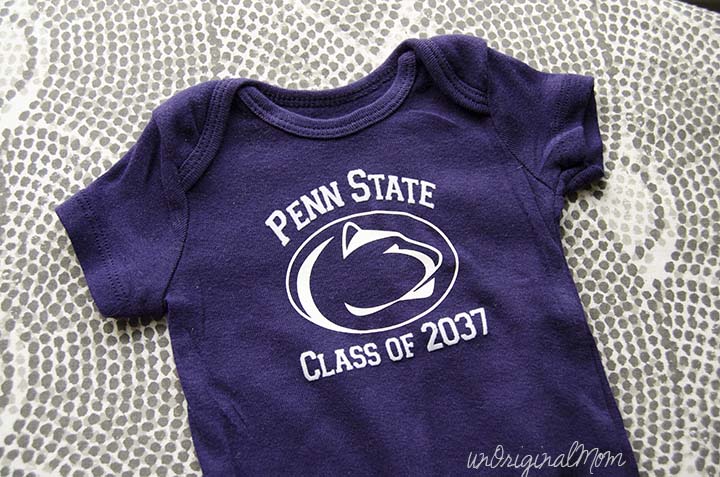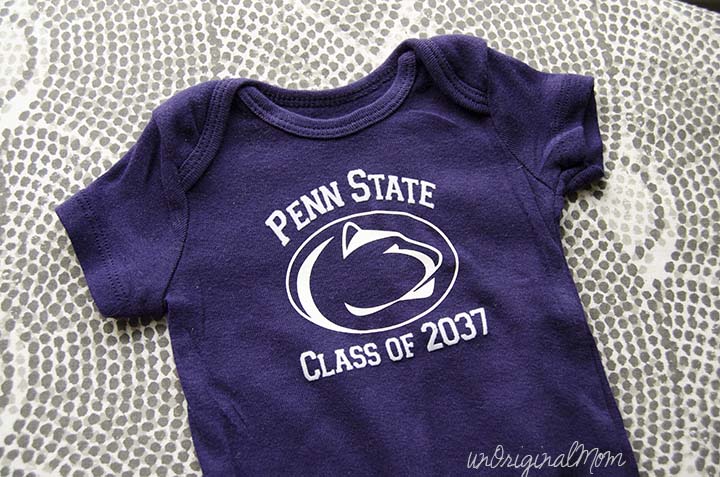 Since this is their first girl (they have a 13 month old boy), I had to make a few glamorous girly onesies.  This adorable necklace cut file is a freebie from Crafty Jac (which I discovered from this wonderful onesie round-up over at The Thinking Closest!).  I used pink heat transfer vinyl for the necklace, but glitzed it up a bit with glitter heat transfer vinyl for the bow.  Who doesn't love some sparkle?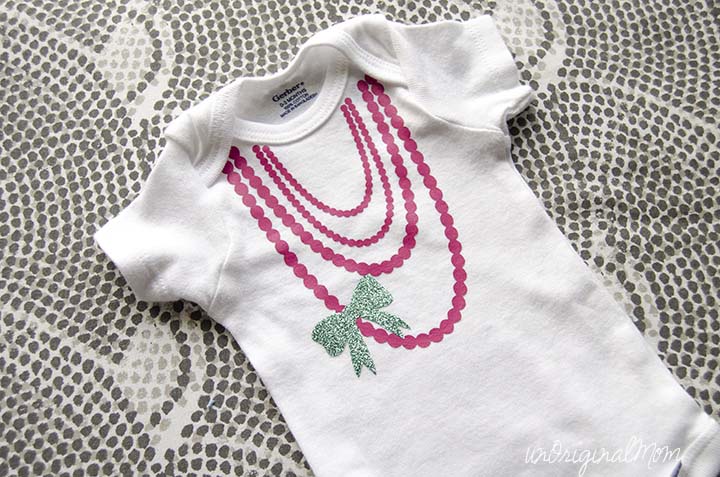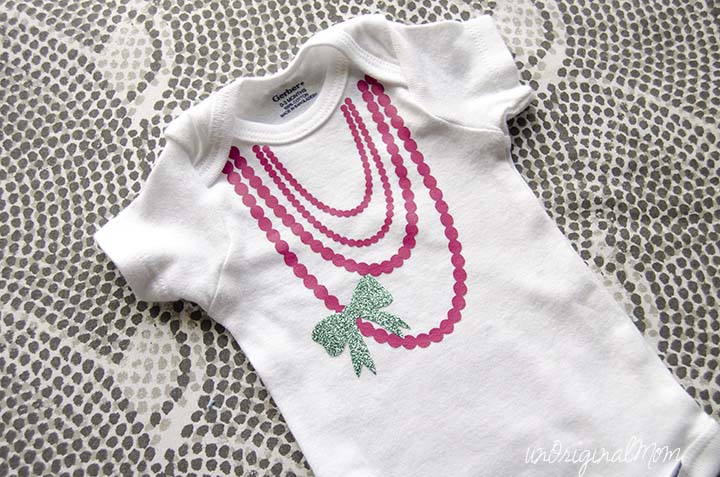 Speaking of sparkle…I got the Rhinestone Starter Kit in the mail last week!  I was so excited to try it out.  Let's just say, it's not for the faint of heart (or the impatient), but the result is worth the tedious process.  I used my Designer Edition software to make a rhinestone template out of a monogram (design #60060 from the Silhouette Store) and ironed it onto a onesie.  So girly and glamorous!  I just love how it turned out.  You can see a detailed step-by-step tutorial on how I made this rhinestone onesie here.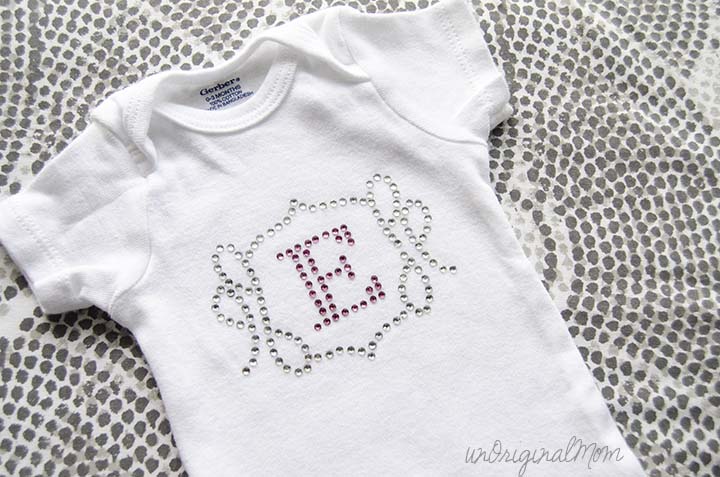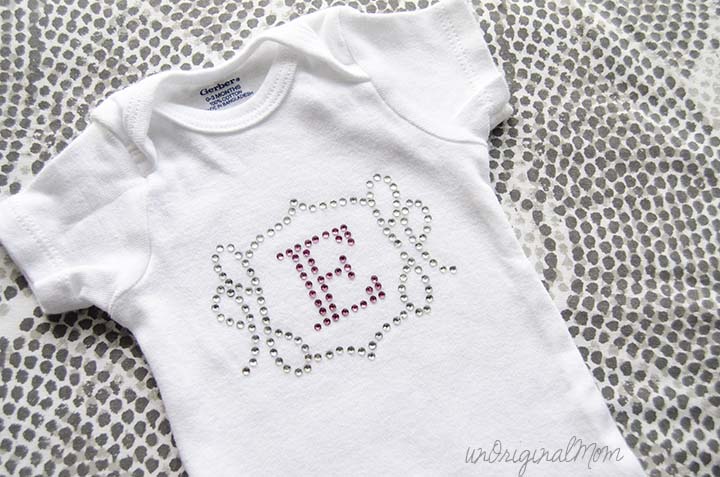 Whether or not you have babies in YOUR future, I bet you know someone that does…and homemade onesies make such great gifts!  In fact, you could make a couple of onesies along with a Baby Shower Folder and give the most personal, practical, and fun gifts that momma-to-be will get!
Silhouette Promotion
Are you a Silhouette lover?  Or perhaps you've had a Silhouette on your wish list for a while now?  Silhouette is running a great promotion from now until July 5th…machine bundles at a great price, and 30% off EVERYTHING!  That's right, 30% off any supplies you need at SilhouetteAmerica.com.  Time to stock up on blades, mats, specialty media, vinyl…anything on your list that you need to replenish or add to your stock!  Remember to use the code "UNORIGINAL" at checkout to get these great prices.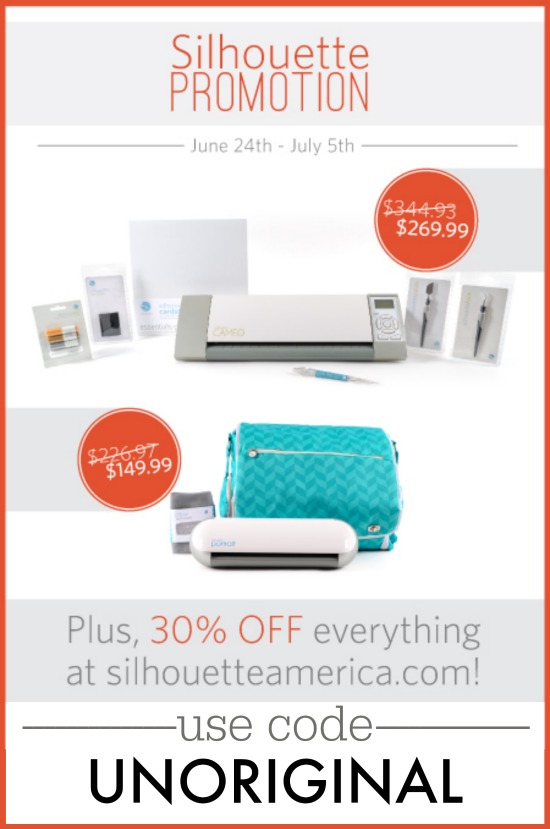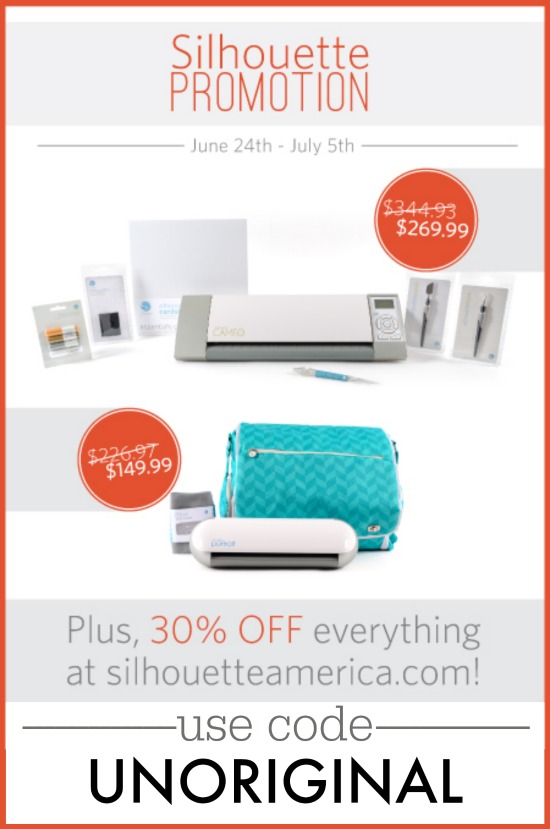 So whether you're making onesies, or anything else, now is the time to go stock up on those Silhouette goodies!  Hurry on over and fill up your cart – and don't forget the promo code "UNORIGINAL!"
I'm always looking for new inspiration…what's the cutest onesie you've ever seen – or made?  Leave a comment, I'd love to hear about it!
This post contains affiliate links – click here to read my full disclosure.


Get your copy of my FREE meal planning binder!
Sign up to get a free copy of my meal planning system - an 11 page printable meal planning binder, complete with a pantry inventory, shopping list, and more to help get on top of your menu each week!