My very dear blogging friend, Lauren Lanker of The Thinking Closet, is having a baby!!!
Lauren and I started blogging roughly around the same time (I think she had a just bit of a head start on me) but we connected via our mutual love of all-things-Silhouette soon into our blogging journeys. Since then, we've teamed up on countless Silhouette Challenge posts, some giveaways, and even an April Fool's project! Behind the scenes, though, we've grown to be good friends. We discovered that we are fellow music lovers, theatre geeks, and sisters in Christ.  Plus she is actually the only blogging friend I've met in real life!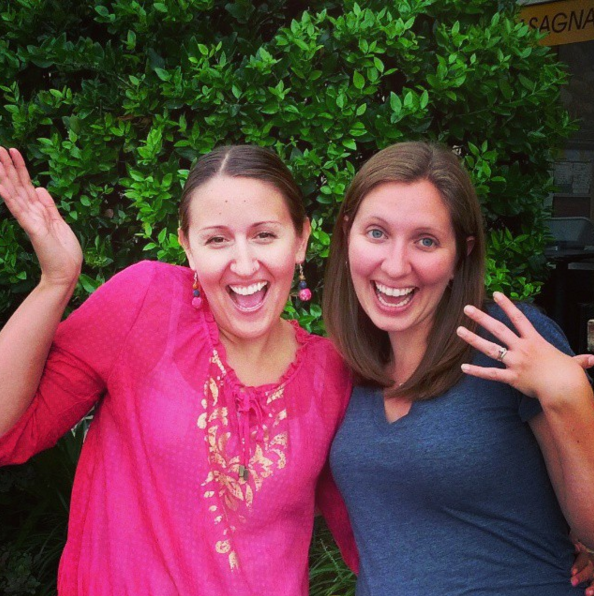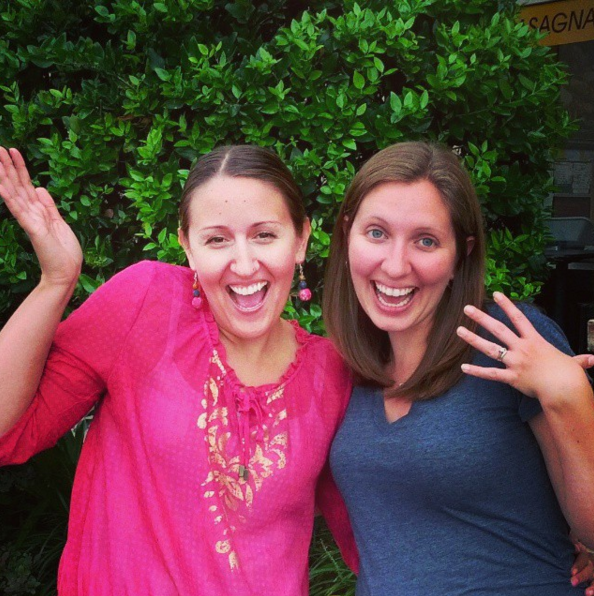 Needless to say, I am so excited for Lauren and her husband Mark as they enter into the amazing world of parenthood. Not surprisingly, there are LOTS of other bloggers out there that consider Lauren a dear friend…so some of us have gotten together today to throw a "virtual baby shower" for her and shower her with some bloggy love. And you're invited! At the end of this post, you'll find a plethora of adorable baby shower ideas – we've got food, games, decor, and gifts. But first, here's my contribution to our little shindig – a baby shower onesie making station!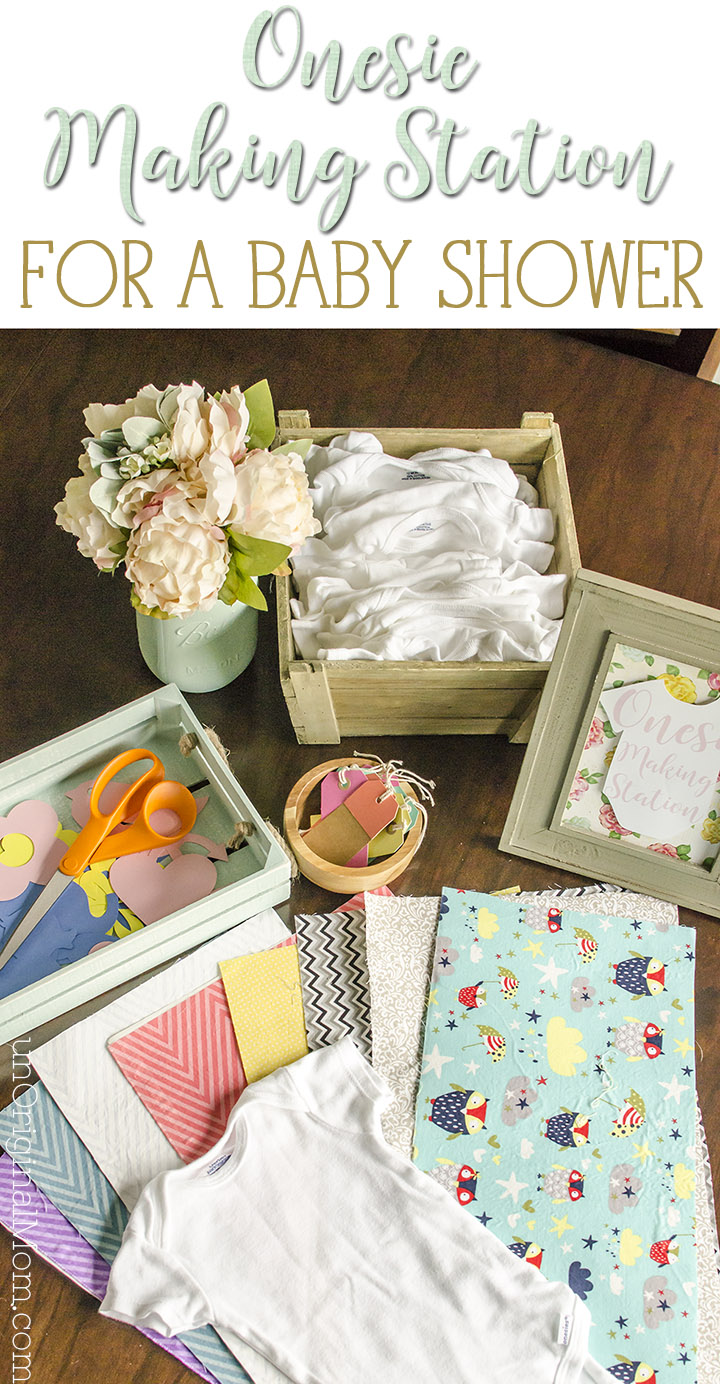 Lauren has been a "professional" onesie crafter for a long time now, and I have no doubt that her baby girl will have quite possibly the biggest and best collection of handmade onesies of any baby that ever lived! So in her honor, I thought we'd "make" her some onesies today. And if you have a baby shower in your future, this is a great baby shower activity that all your guests -and the mommy-to-be – will love.  I am a big fan of doing iron-on appliques for a onesie making station, rather than the messy (and, let's face it, tacky-looking) puff paint. No matter what the craft ability of your guests is, they'll be able to cut a shape out of fabric and iron it onto a onesie! Plus you don't have to worry about letting them dry.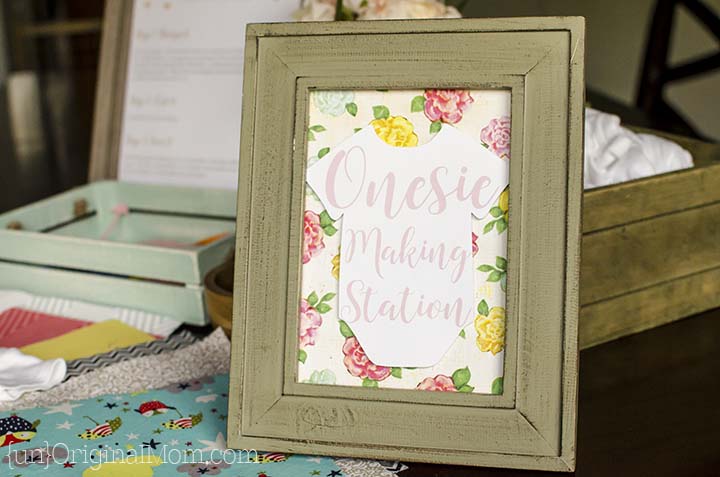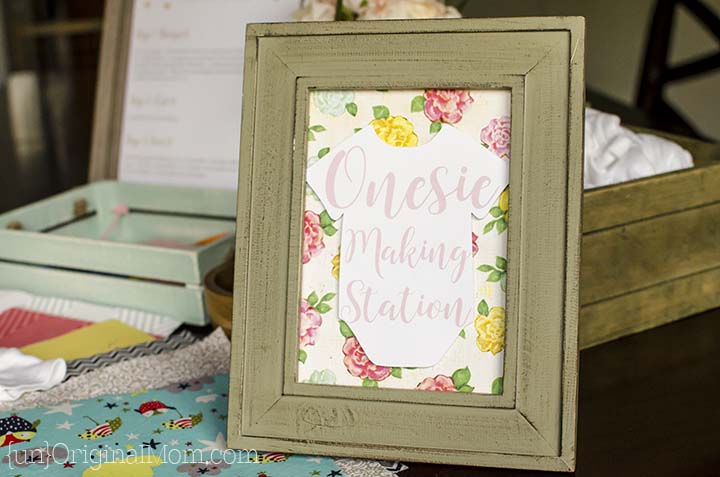 Here's what you need for your onesie making station:
Plain Onesies. You'll want to get them in a variety of sizes (and colors, if you can find them!) – babies wear onesies all the way up through about 18-24 months! Make sure you prewash them in a fragrance-free detergent.
Fun fabric. Head to your local fabric store and pick up some fabric quarters – you know, those pre-packaged quarter yard pieces of cotton quilting fabric. Get a variety of colors and patterns!
Heat n Bond Ultra or another kind of no-sew iron-on fabric adhesive.
Card stock templates and pencils for guests to trace their designs.
Fabric Scissors for guests to cut out their fabric shapes.
Iron, ironing board, and pressing cloth set up somewhere nearby for guests to iron on their fabric appliques to the onesies.
Onesie display. Hang a clothesline somewhere or just use a folding drying rack (like this one) so guests can display their onesies after they're done. So much cuteness!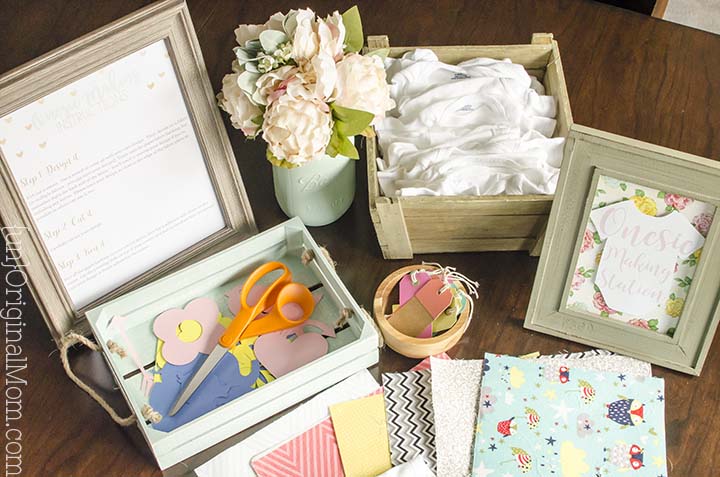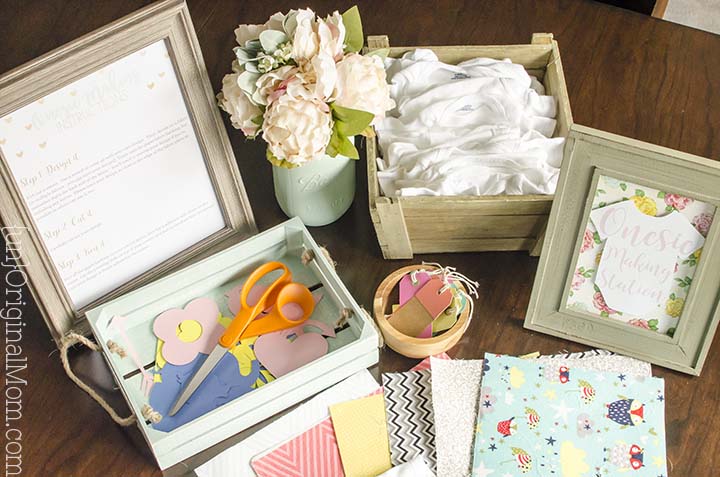 The only prep that you really need to do is iron on the Heat n Bond to your fabric quarters in advance. Follow the instructions on the package for adhering it to fabric, but you're only doing the first half of the process – DON'T remove the paper backing! That's what your guests will trace their designs onto and then cut out. They'll be the ones to peel off the paper, and then iron on the shapes to the onesies.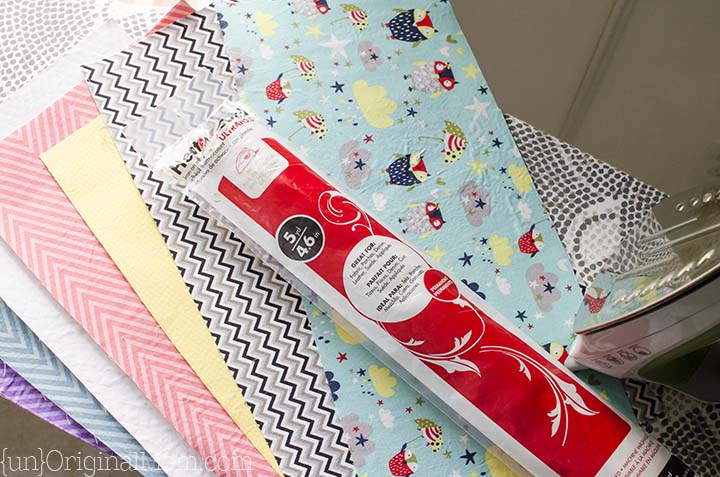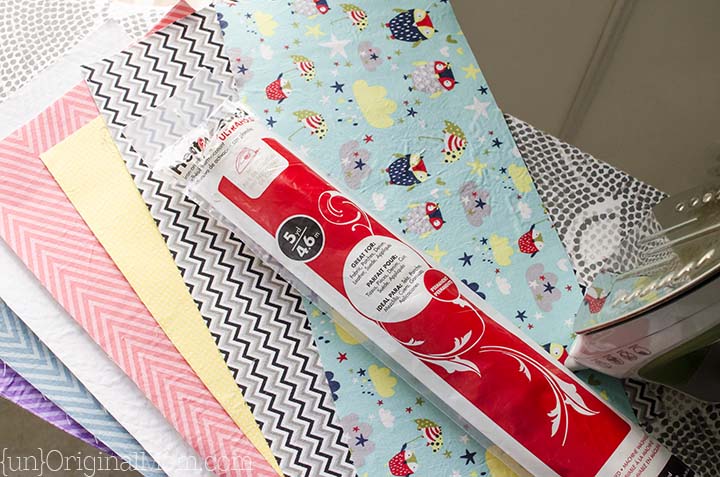 The other thing that you guests will appreciate is having some templates available to trace for fun designs. Use your Silhouette or just print a variety of shapes on card stock and cut them by hand. There are so many fun possibilities…animals, letters, stars, bows, ties, crowns, symbols…get creative! Bonus points if you can incorporate some of mommy and daddy's interests and hobbies into some of the shapes.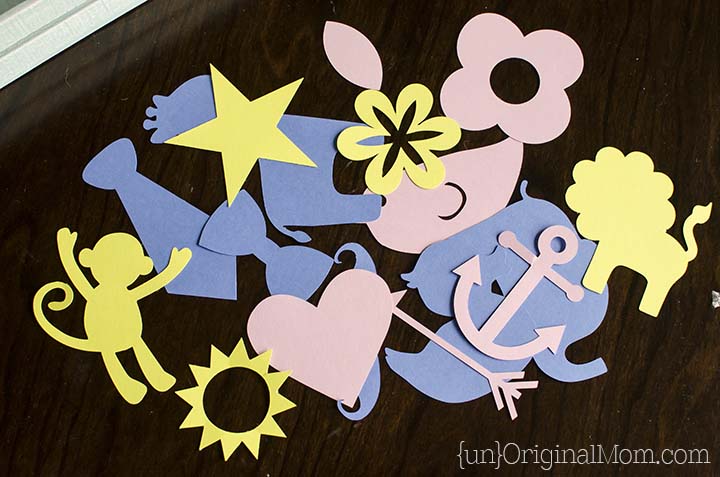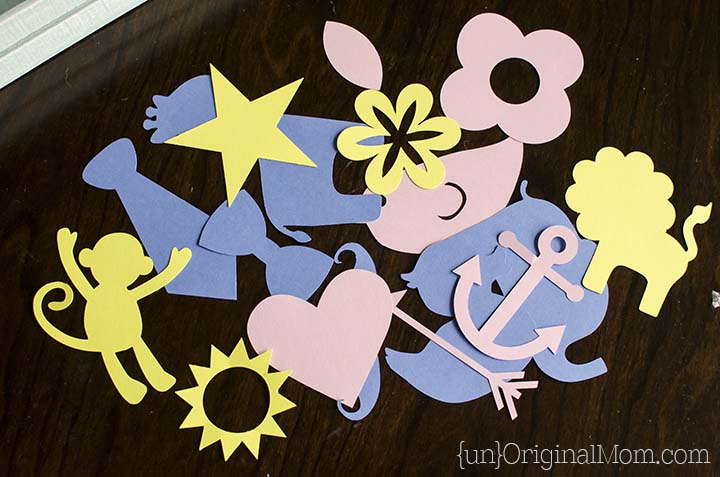 Here's the basic step-by-step instructions your guests should follow to make their onesies:
1. Select the fabric(s) and trace or freehand a design on the paper backing of the fabric. Be sure to reverse your image if necessary, since you're tracing on the back of the fabric. (You'll need to do this if you're using any text!)
2. Using fabric scissors, carefully cut out your design.
3. Peel the paper backing off the cut design.
4. Place the fabric onto the onesie where you'd like it to go.
5. Shiny side DOWN, iron on the fabric applique, using a pressing cloth on top of the onesie.
6. Admire your super cute creation!
It would be a good idea to print out the instructions and have them at your onesie making station for the guests to follow. (The "onesie making instructions" printable that you see in my photos is actually part of the Games & Activities Pack in my new eBook, The Baby Shower Book! If you're planning a baby shower, you need to check out this resource – it will save you SO much time in your planning and help stay organized throughout the whole process.)
And in case you are a more visual person, here's a handy pinnable graphic that shows you each step!


Of course, I just had to whip up a cute little sign for my onesie making station – it took me about 10 minutes to make with my Silhouette! I just did a print and cut with the onesie, used foam pop dots to stick it into a 5×7 piece of pretty scrapbook paper, and popped it into a frame. If you have a Silhouette want the cut file to make your own, you can download it here! (For personal use only.)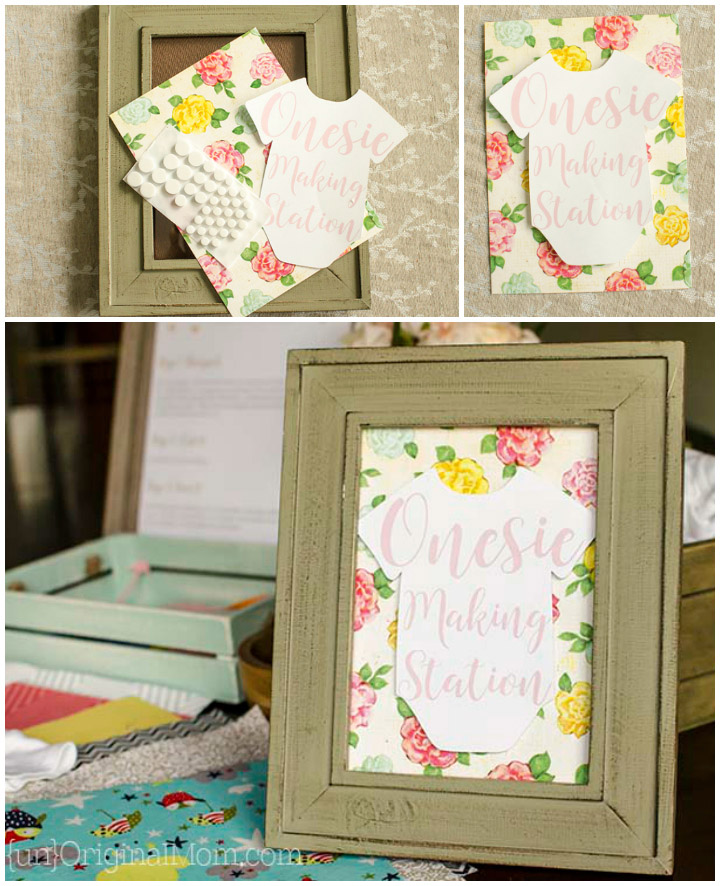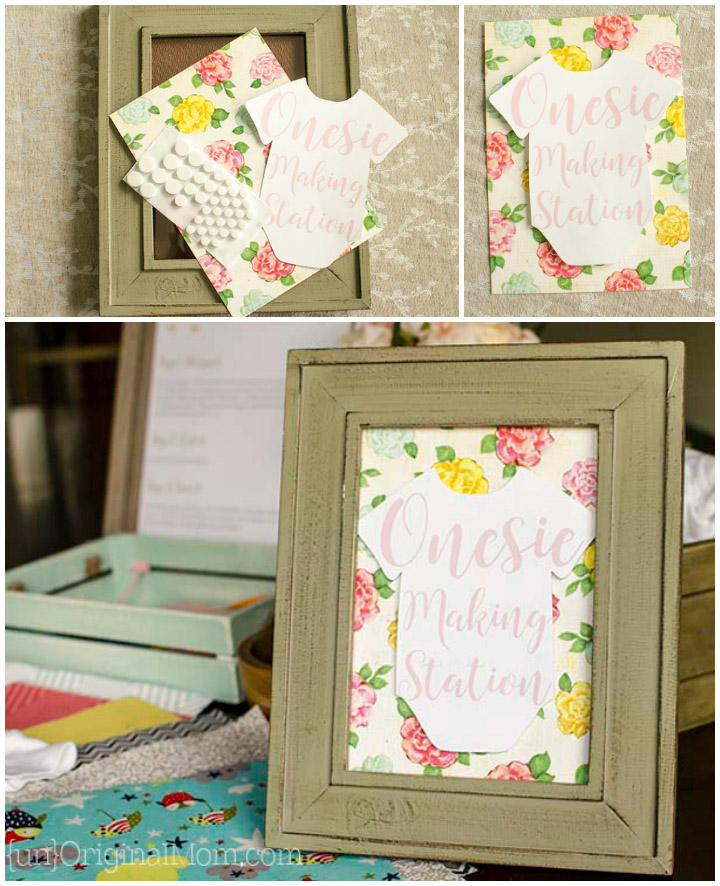 Now it's time for you to enjoy the rest of our little "virtual" baby shower!  Every blogger has contributed something different to our shower, and we have all the elements covered. So grab a cupcake (Chai, of course, Lauren's favorite!) and stay for a while!
1. Chai Latte Cupcakes with Cupcake Toppers by Two Purple Couches
2. Guacamole Shrimp Bites from Katie's Cucina
1. Customizable Baby Shower Invites by Tried & True
2. Baby Nursery Art by One Artsy Mama
3. "It's a Girl!" Printable Bunting Banner by Just a Girl and Her Blog
4. Baby Shower Decoration Ideas by Southern Couture
1. Onesie Making Station by unOriginal Mom
2. Free Printable Baby Shower Game – Alphabet Cards by Cutesy Crafts
3. Printable Baby Word Search by Simply Kelly Designs
4. Name That Rockin' Lullaby Baby Shower Game + Free Printable by Where the Smiles Have Been
1. Emergency Diaper Kit with Free Printable by From Wine to Whine
2. DIY No-Sew Baby Headband by Practically Functional
3. Personalized Onesie Tutorial by Ginger Snap Crafts
4. Personalized Onesie Dress by Create & Babble
5. Crochet Scalloped Earflap Hat and Flower by Repeat Crafter Me
6. Starfish Nursery "Love You" in Etched Glass Frame by Whatcha Workin' On?
7. Knit Bow Baby Headband by It Happens in a Blink
8. Super Sweet Month by Month Baby Stickers by Tori Grant Designs
9. Fearfully and Wonderfully Made Onesie by Sew Woodsy
Happy baby shower, dear Lauren! I am so excited for you, Mark, and the precious baby girl that God is knitting together inside of you. What a lucky and blessed girl she is!


GRAB YOUR FREE BABY SHOWER PLANNING CHECKLIST!
The perfect party is all in the preparation. This complete baby shower planning checklist will help you with every step along the way!