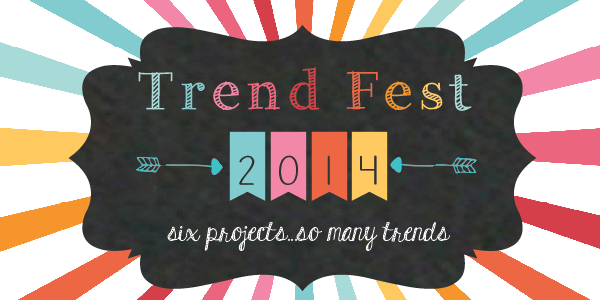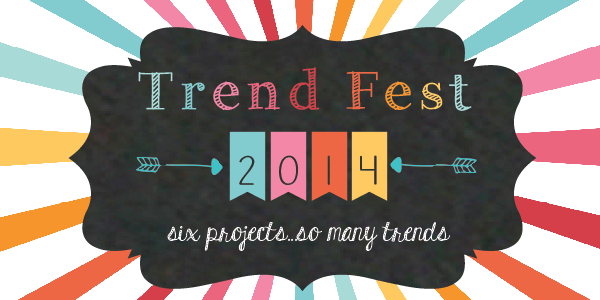 I am super excited to be joining with some bloggy buddies of mine to bring you an April Fool's Day Trendy Challenge!  We were chatting one day and thought it would be fun to see just how many craft trends we could fit into a single (legit) project…and of course, what better day to celebrate Trendfest 2014 than April Fool's Day!  And so, friends, I give you: a Chevron-Painted Pallet Mounted Hanging Mason Jar Vase with a Washi Tape Chalkboard and Flowers Wrapped in Burlap and Twine.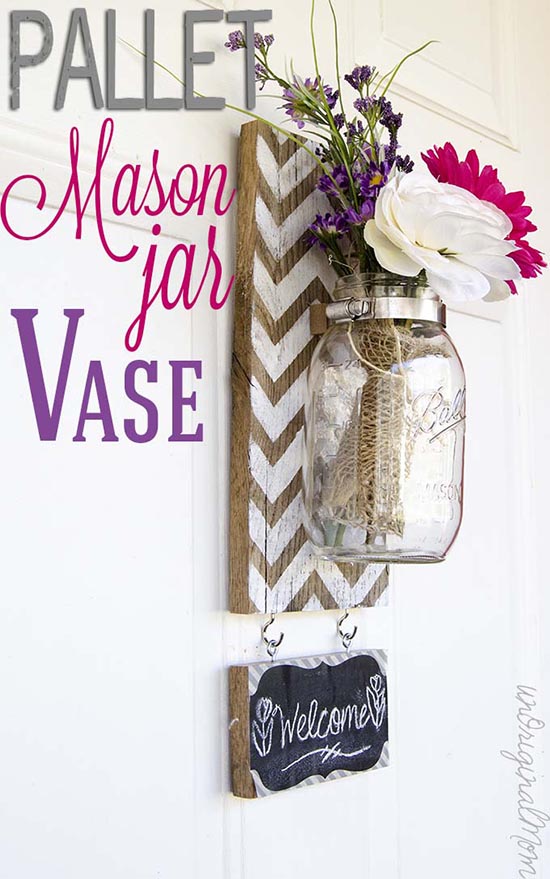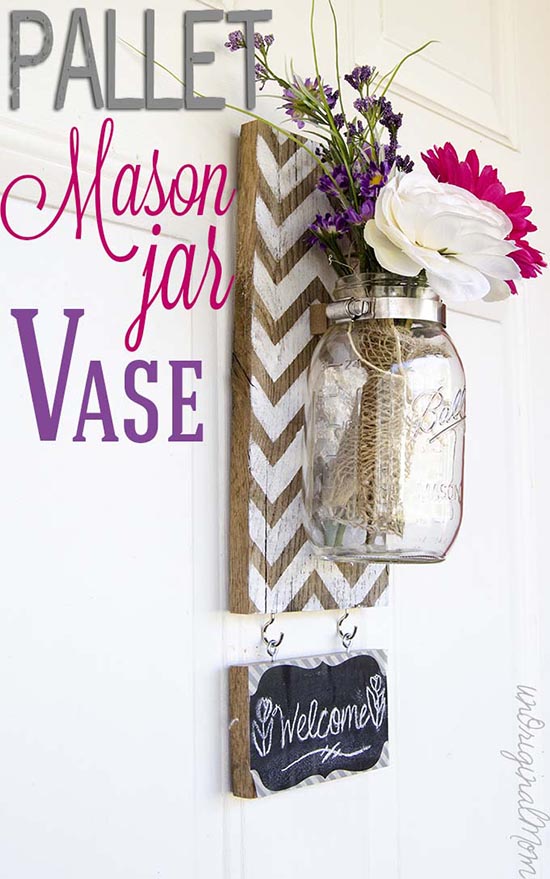 The original vision for this project was to hang it inside above our foyer table…but in needing to take photos with better light, I moved it to the front door.  I actually really like it as an alternative to a wreath  – it's different, cheerful and welcoming!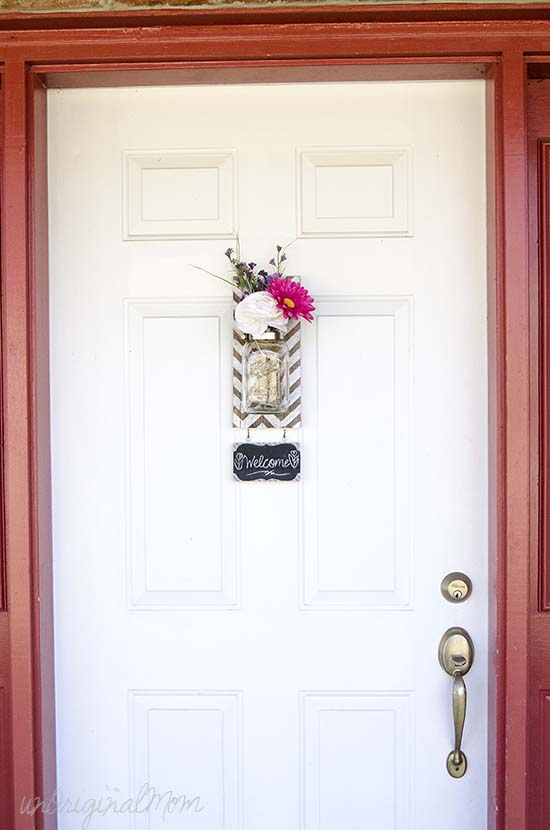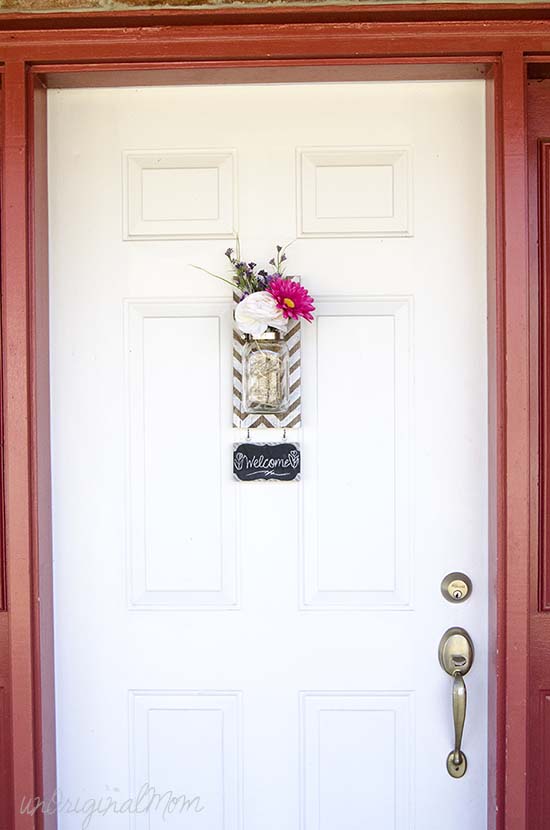 I've been wanting to try a pallet project for a while now, and this was just the motivation I needed to step into crafting with this trendy material!  We have a good friend who is a contractor and owns a building supply store who always has an abundance of pallets, so we were able to help ourselves to what we knew were clean and safe pallets.  (Of course, I brought along my handy hubby to help with the pallet harvesting!)  We used one of the widest boards on the pallet – about 5.5″ wide – and cut it to be 12″ long.  We also cut another 3″ long piece to be the hanging chalkboard.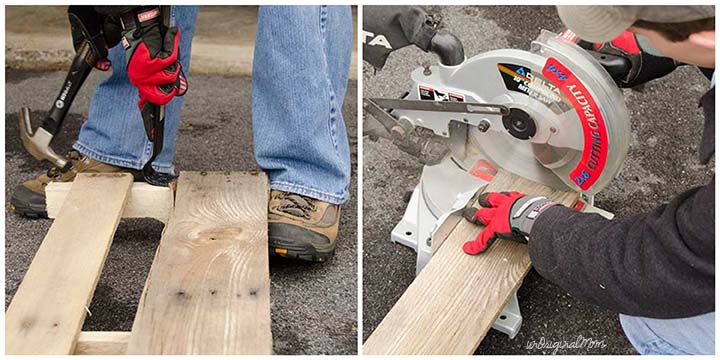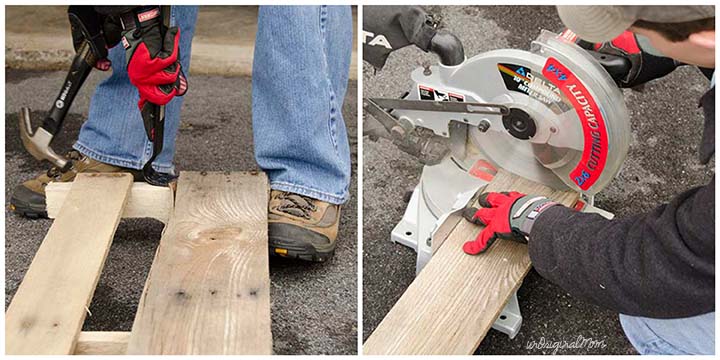 Then I cut a chevron contact paper stencil with my Silhouette.  Because really, is there any trendier print than chevron?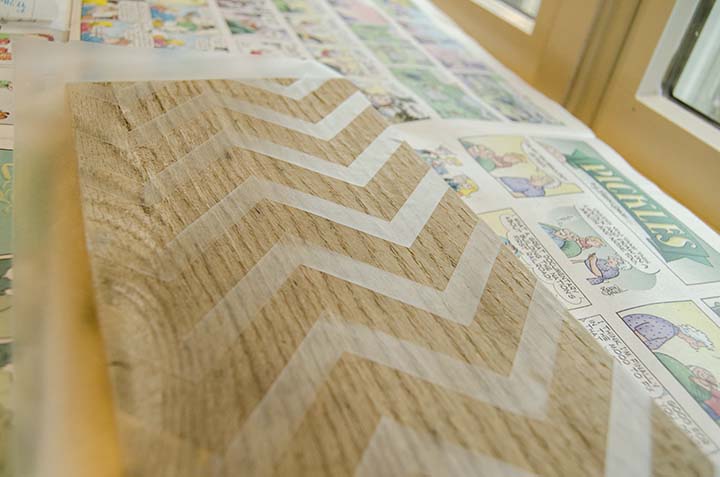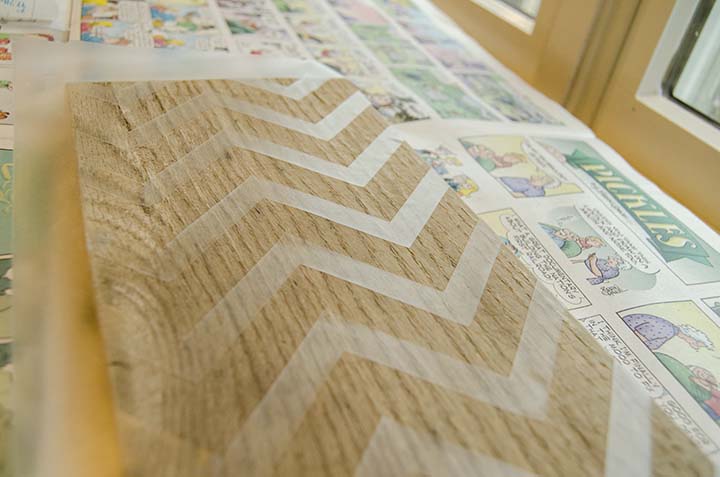 I put a little bit of water into some white acrylic paint (I wanted a bit of a white-washed look as opposed to stark white stripes) and painted it onto the wood.  The contact paper was a bit difficult to get to stick to the wood, but as long as I painted away from the edge of the stencil, it gave me clean lines.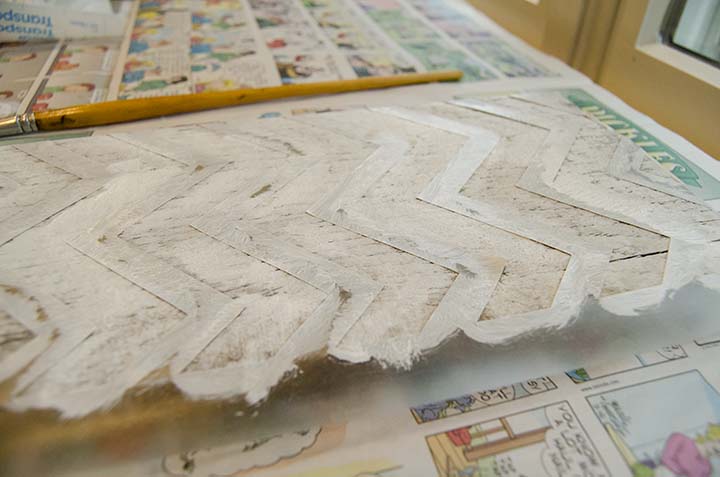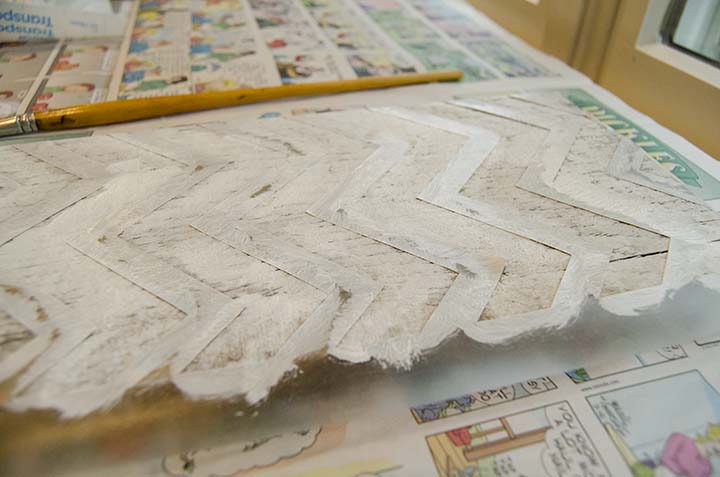 I found a hose clamp at Home Depot for $1.50 to use to hold the mason jar – you can find them in the plumbing department, and they look like this: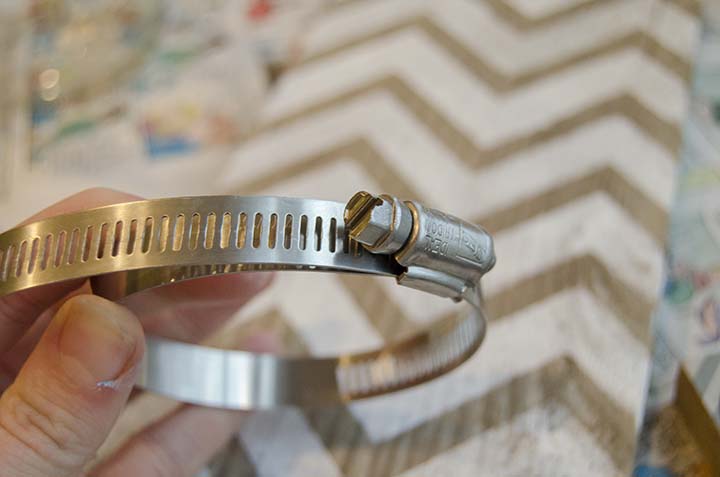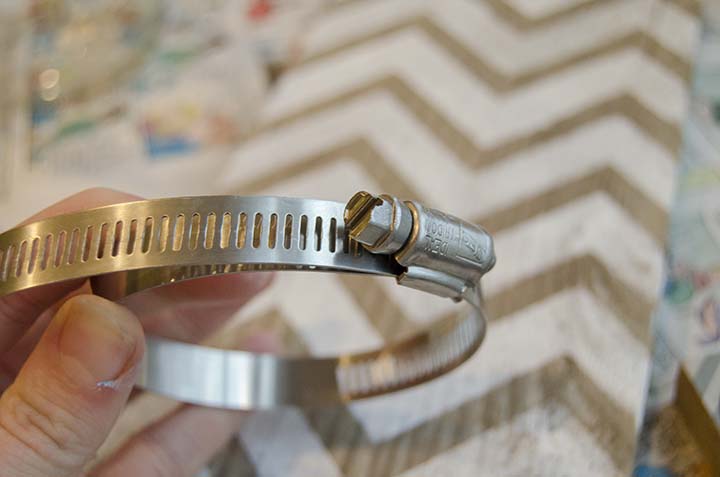 They come in several different sizes, but you can use a screwdriver to turn that little bolt thingy (yes, that's the technical term, I'm a hose clamp expert) and adjust the size, so err on the larger side.
The tricky part was how to attach the hose clamp to the wood, since the mouth of the jar was an inch and a half away from the pallet board.  My handy hubby, Matt, to the rescue again!  He cut a shim out of a small piece of MDF to fit behind the mouth of the jar – that way, the body of the jar would still sit flush against the wood.  He nailed the shim to the wood, then nailed the hose clamp to the shim.  Then we tightened the hose clamp around the mouth of the jar and snipped off the excess (careful, it makes a very sharp edge!).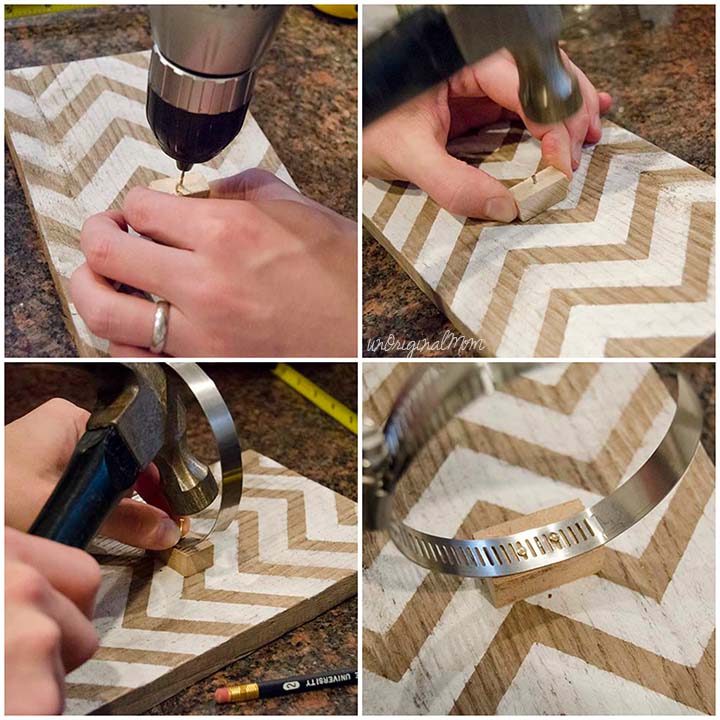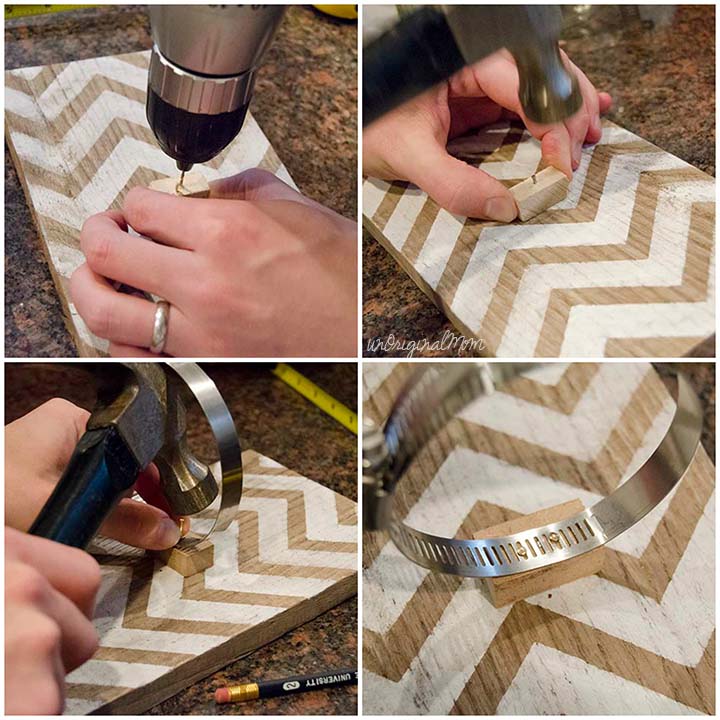 And here's how the hose clamp looks on the finished product: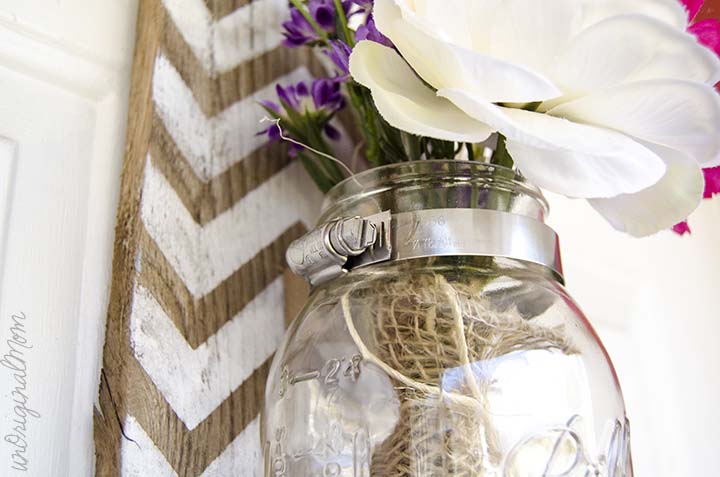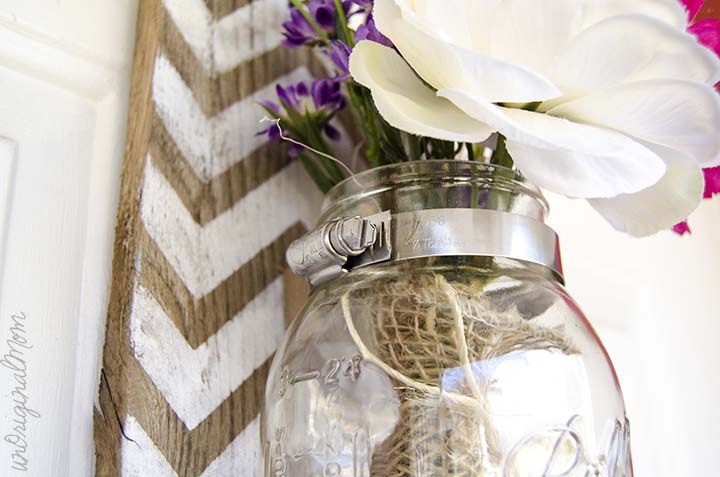 As an added touch, I made a little hanging chalkboard sign below the pallet board.  The background is washi tape (trendy!), and the chalkboard is actually chalkboard vinyl that I cut with my Silhouette.


We used a few screw hooks and eyes to hang it from the main piece.  I love that I can write little messages to change out with the season!  (And it's easy to just take down the chalkboard, write on it, and hang it back up!)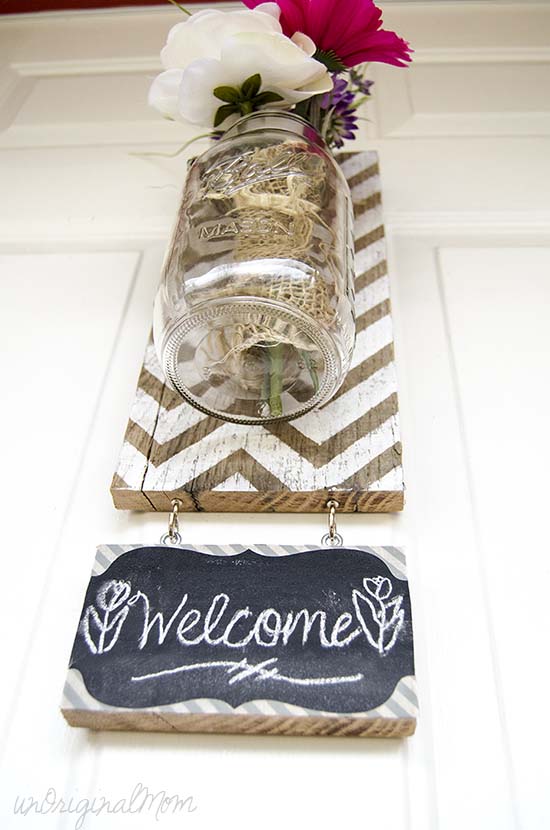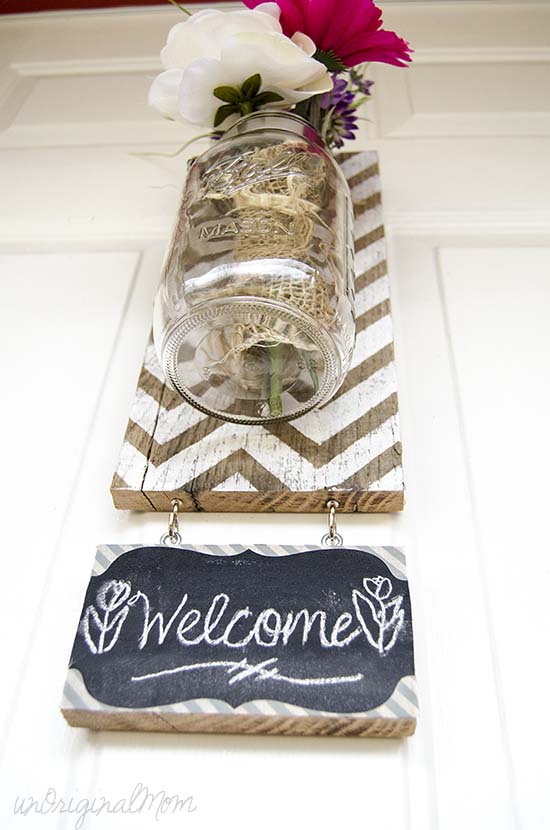 Though I would love to have fresh flowers in this vase all the time, A) it's still way too cold for flowers to be outside, B) filling the jar with water would probably make this too heavy to hang on the front door – though it might work if hung a bit more substantially inside, and C) I'd never remember to water them so they'd be dead in a few days anyway.  So fake flowers it is!  Wrapped in some trendy burlap and twine, of course.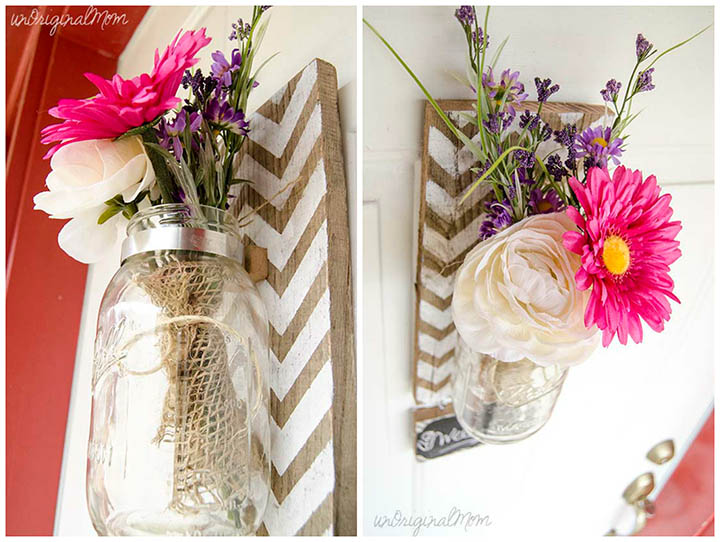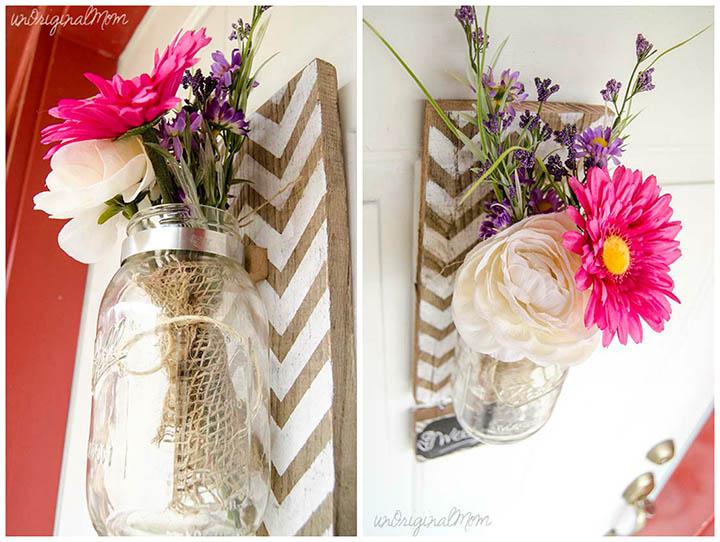 I'm not sure whether I'll leave this on the front door or bring it inside, but regardless of where it ends up, it is such a cheerful and fun wall decoration!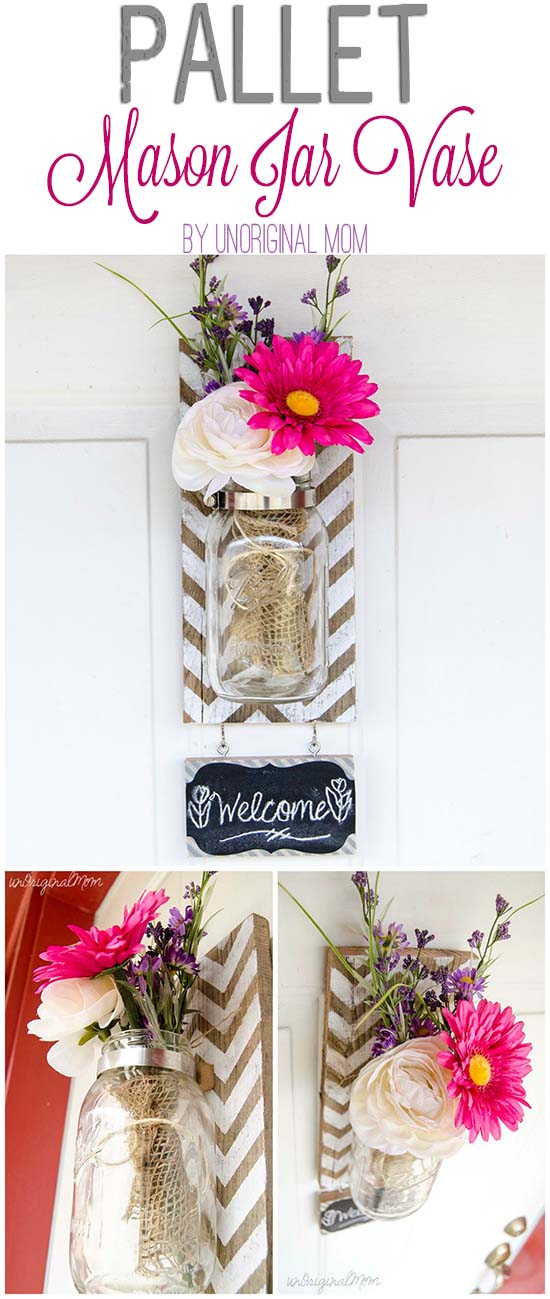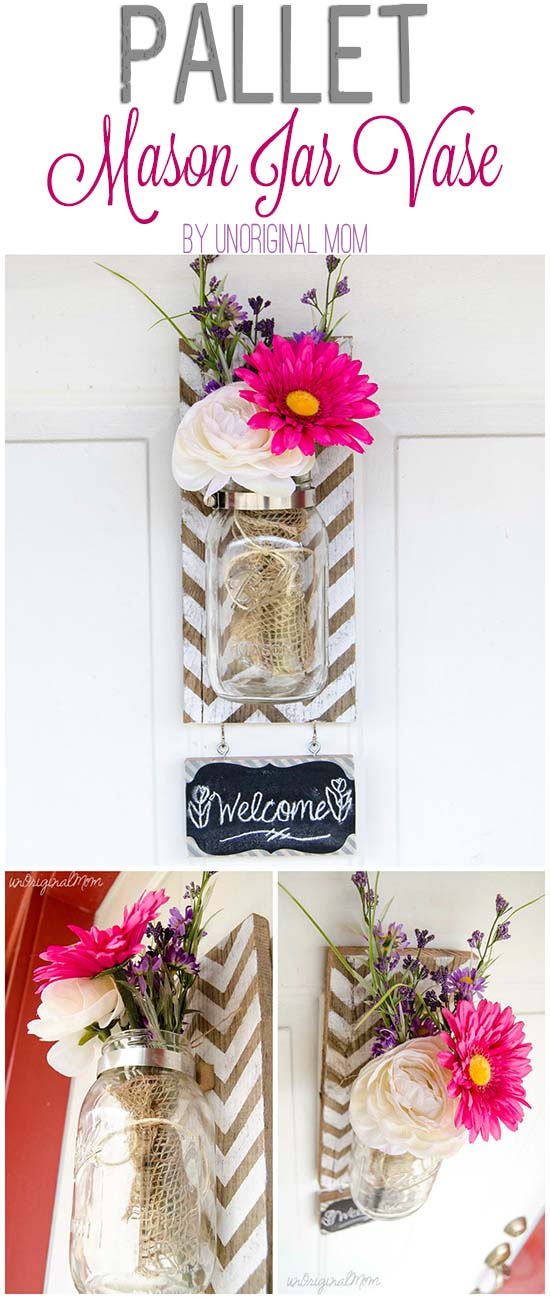 So, let's tally up all the trendiness that I was able to fit into this project…
pallet wood
mason jar
chevron
washi tape
chalkboard
burlap
twine
And I think *despite* being crammed full of trends, this project actually turned out nicely! (Although there's a reason that all those things are popular…because they are pretty great!)
So, in celebration of April Fool's Day Trendfest 2014, some of my bloggy-besties are also sharing some great projects today – Jessica from Cutesy Crafts, Lauren from The Thinking Closet, Kristy from Please Excuse My Craftermath, Deanna of From Wine to Whine, and Tori from Lil Mrs. Tori (who is the mastermind behind Trend Fest 2014…thanks Tori!).
And because we like kicking things up a notch (seriously, it's sometimes a problem, we just can't make things simple), you get to VOTE for the best trendy project…and one lucky voter (who lives in the US or Canada) will get 6 trendy pencils mailed to them, one from each participating blogger – no fooling!  How's that for a fun April Fool's Day prize?  Here are the oh-so-trendy washi tape covered pencils that I'll be contributing (because, let's be honest, you can slap some washi tape on anything and call it trendy!)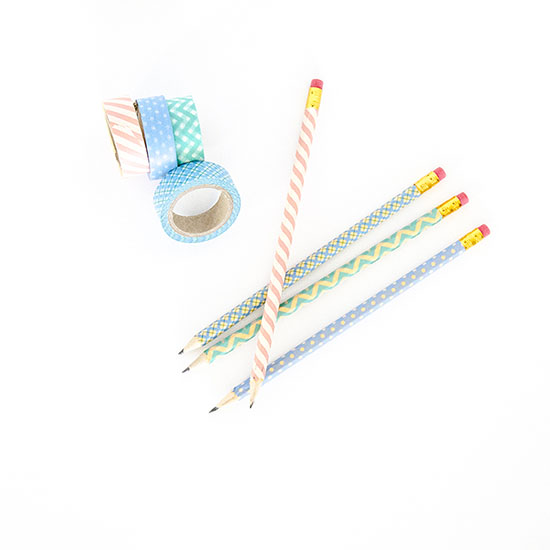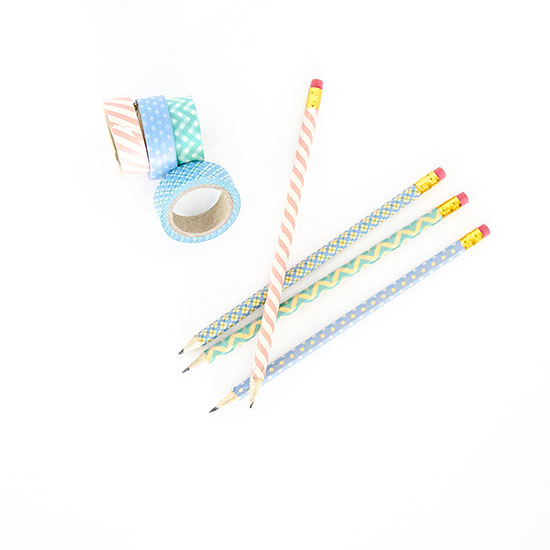 The blogger WINNER of our little Trend Fest 2014 competition will be dubbed "Queen Trendy" for the year.  UPDATE: Congrats to Lauren, Queen Trendy 2014! Whoop de doo.  (not that I'm bitter at all. jk.  maybe.)
I hope you've been inspired by one (or 10) of these fun craft trends!  Happy April, everybody!
Psst!  Right now I'm giving away a FREE 11 page printable meal planning guide as a gift for new email subscribers – sign up by clicking HERE and have the freebie delivered straight to your inbox!


Get your copy of my FREE meal planning binder!
Sign up to get a free copy of my meal planning system - an 11 page printable meal planning binder, complete with a pantry inventory, shopping list, and more to help get on top of your menu each week!