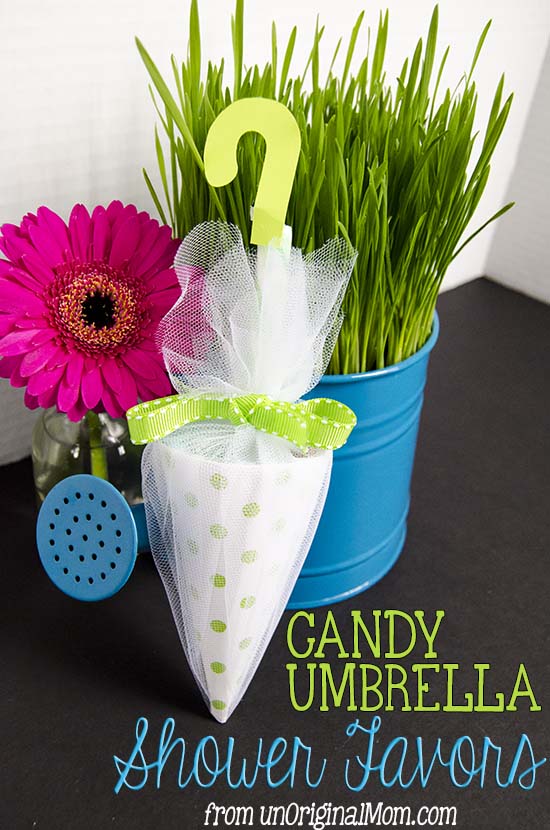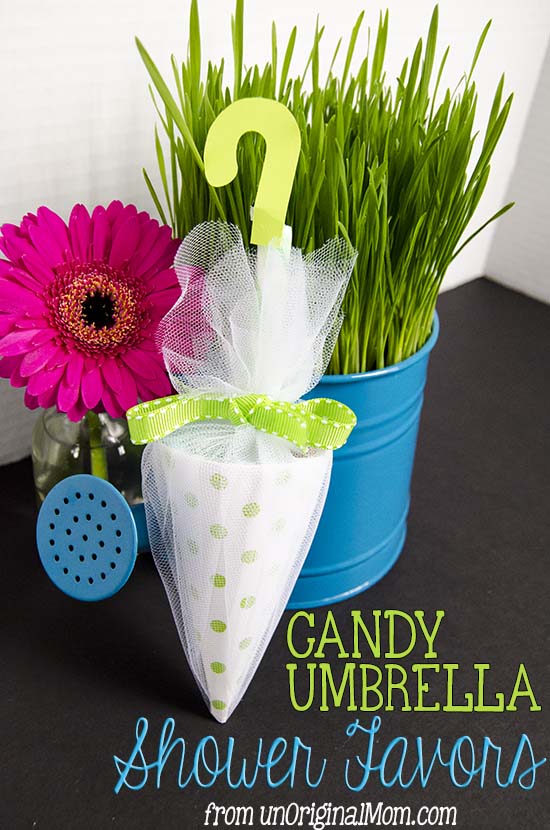 I recently threw an umbrella themed baby shower for our dear friend, Katie, who is expecting her first baby in May!  The inspiration for the theme was the phrase "Baby Showers bring May Flowers!"
Are you planning a baby shower?  Grab a FREE Baby Shower Planning Checklist to help you with each step along the way!


There will certainly be a few more posts about the details of the shower (you can see the umbrella baby shower invites that I made here), but I wanted to start with a tutorial on how to make the candy umbrella shower favors that I put together for the party.  I saw these cute umbrella favors originally on the Oriental Trading website and knew they'd be perfect!  Since Katie and her husband Jon don't know if they're having a boy or a girl (that's the way we did it, too!), I went with green umbrellas.  I ordered the lime green polka dot cones, some blue chocolate candies, and green candy sticks.  You'll also need some tulle cut into app. 15″ x 15″ squares.
UPDATE: Oriental Trading no longer carries the polka dot cones – but you could easily make your own by cutting card stock into 1/4 circles, like the shape below: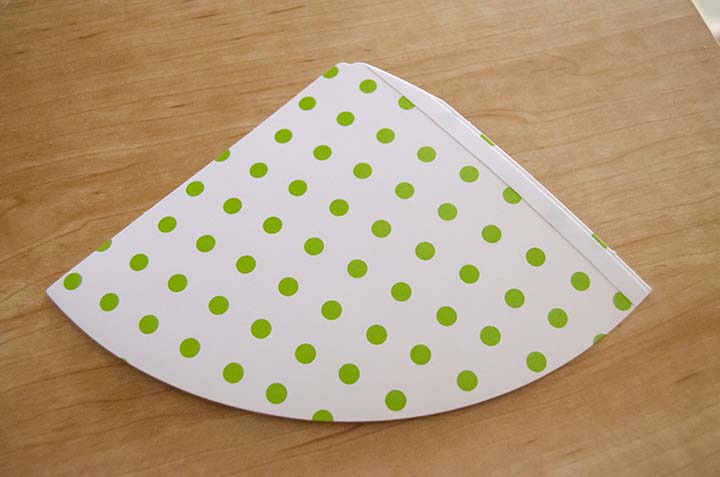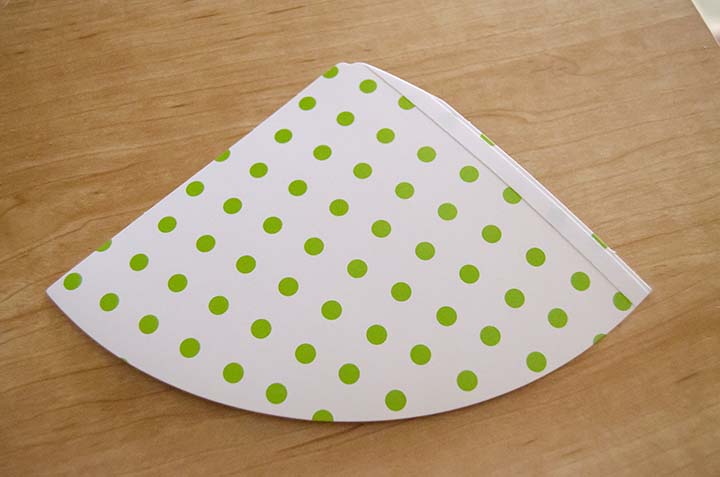 The assembly is pretty straight forward!  The polka dot cones come with a strip of adhesive, but it wasn't strong enough to stay together on it's own so I added a thin line of hot glue which did the trick.  I goofed and didn't order enough chocolate candy to fill the number of favors I needed (one package was enough for about 15 cones and I needed 25) so I supplemented with jelly beans, which added a fun pop of color!  I filled the bottom of the cone with candy, added a candy stick, then filled the cone to the top with candy.  Gather up a square of tulle around the cone and tie it around the base of the candy stick, then glue on a card stock handle to the end, and voila!  Super cute candy umbrella baby shower favor.
Here's a step-by-step photo graphic for you visual learners (and pinners!):

Of course, my Silhouette made those umbrella handles super easy.  If you're making your own, click here for a free Silhouette Studio cut file!  Otherwise, it would still be easy to cut some out by hand.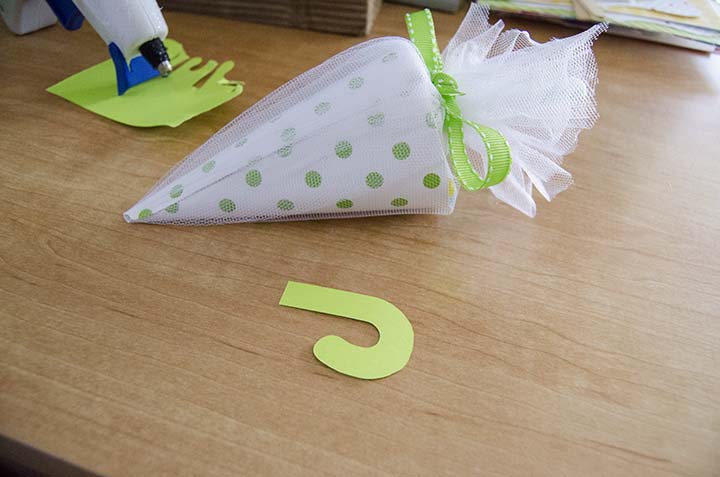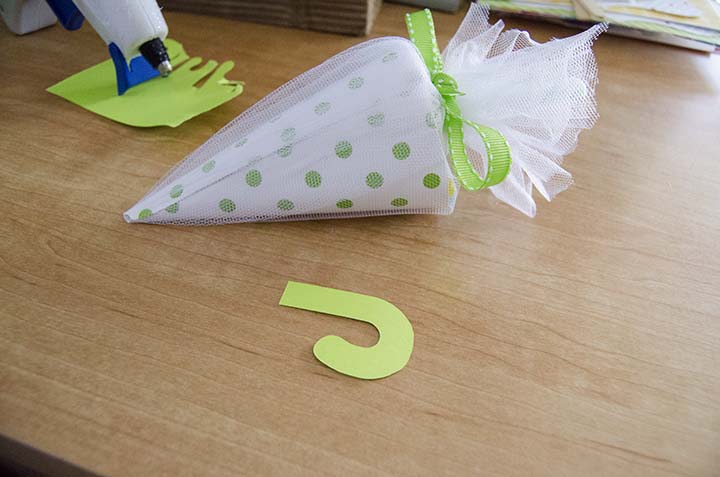 Here's how they looked all together: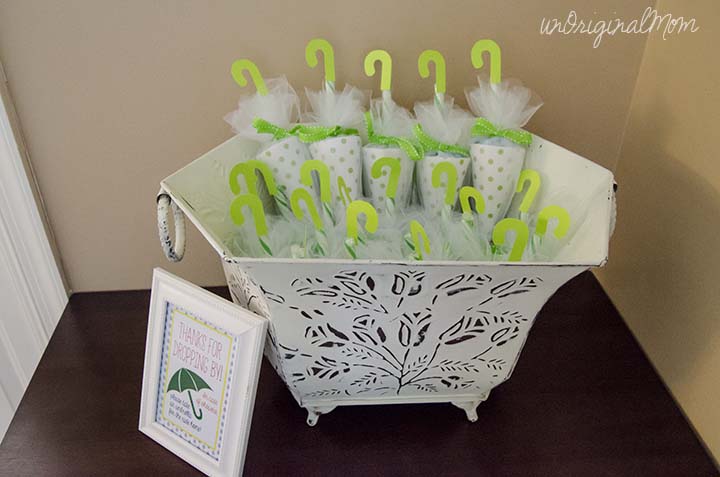 To display these at the shower, I made a fun little sign that coordinated with the invitations to invite the guests to take one home with them, along with my wheat grass centerpieces.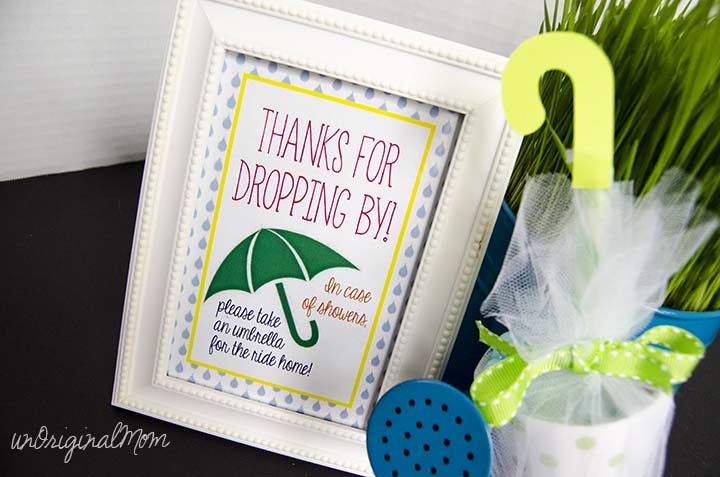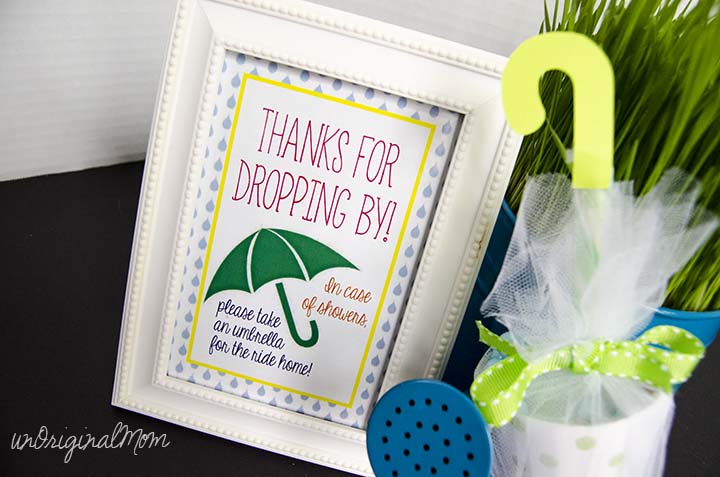 They were a big hit!  Because really, who doesn't love edible favors…especially cute ones?
ARE YOU PLANNING A BABY SHOWER?
Sure, you can find lots of ideas on Pinterest…but how great would it be to have everything you need in one place? The Baby Shower Book is a comprehensive and easy to read Baby Shower planning handbook, plus it includes a printable toolkit, organizing tips, and lots of crafty inspiration. You'll also find TWENTY printable baby shower games in a beautiful, trendy, gender neutral design! If you are planning a baby shower, you simply must check out The Baby Shower Book, your all-in-one guide to hosting the perfect baby shower!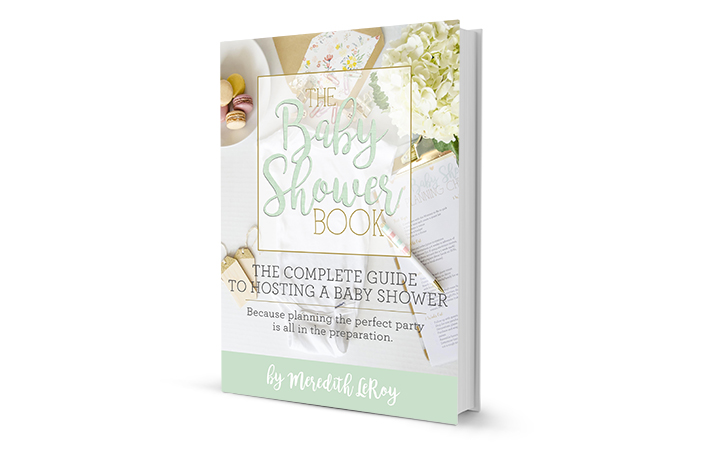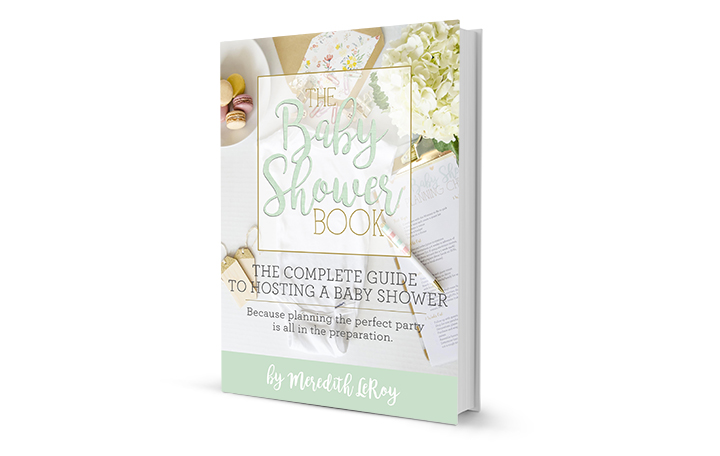 I hope you'll stop over to take a look at all the amazing printables that are included along with the eBook. I promise it will make your planning much smoother – and your end result simply wonderful!


GRAB YOUR FREE BABY SHOWER PLANNING CHECKLIST!
The perfect party is all in the preparation. This complete baby shower planning checklist will help you with every step along the way!