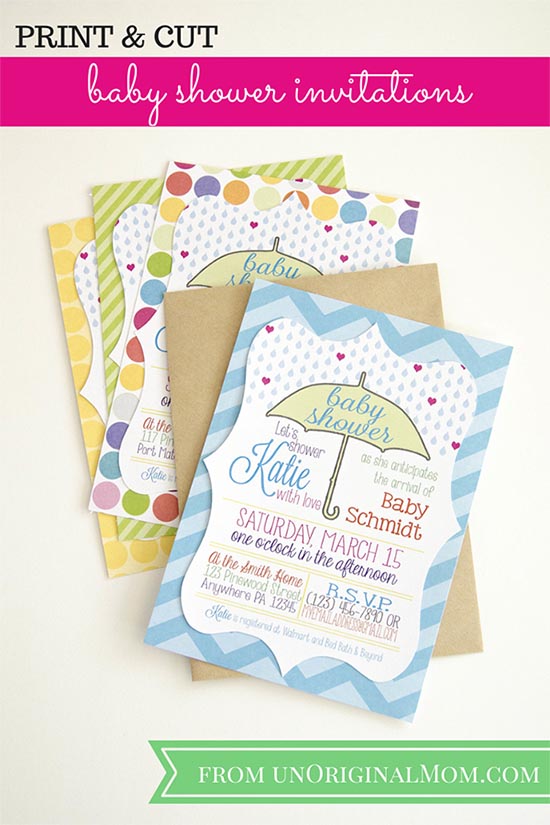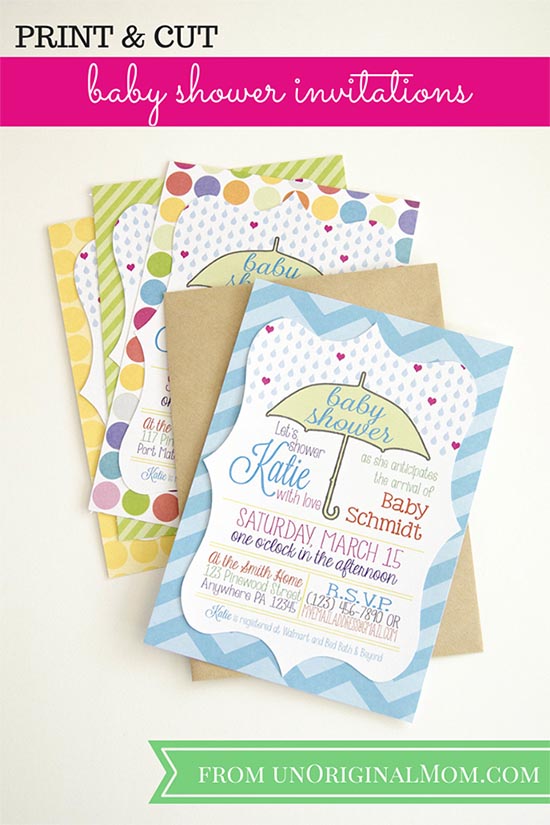 I'm hosting a baby shower for my dear friend Katie this weekend – this is the first of several posts that you'll see about it, I'm sure!  I decided from the get-go I wanted to DIY the invitations and use my Silhouette in some way without going completely overboard…but the problem is, I don't own a *functioning* color printer.  (There may or may not be one sitting in a closet that just needs new ink cartridges…but I haven't gotten around to that for the past 4 years.  Oops.  I should probably get on that.)  Anyway, I was able to design the baby shower invitations in Photoshop, load them into Silhouette Studio and create the cut files, print to a PDF, take the PDF to the UPS store and have them printed in color on white card stock, then bring them home and cut them out with my Silhouette, and mount them onto fun colorful card stock.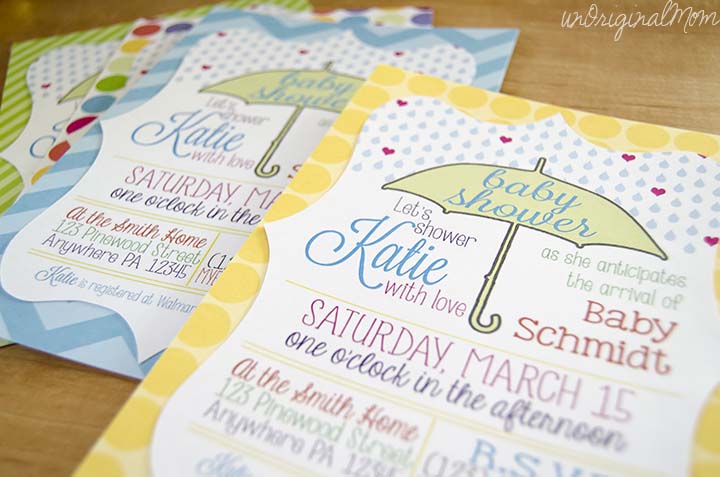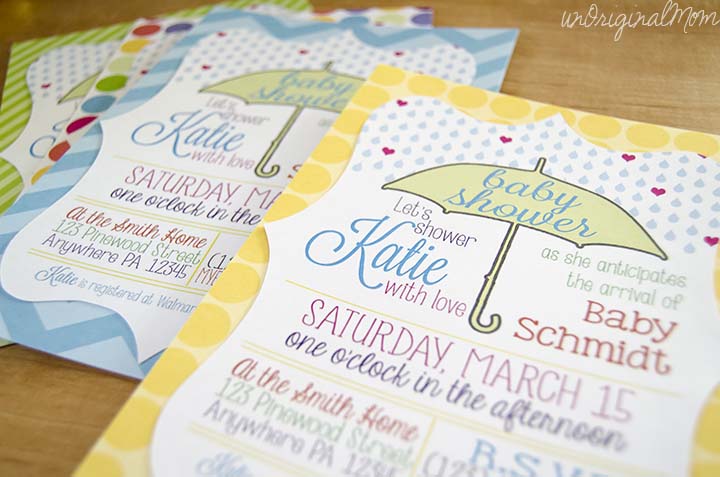 It sounds like a lot of steps…but truthfully, it wasn't that hard!  I'll even break it down into a quick tutorial for you.
The first step was to actually design the invitations.  Katie doesn't know whether she's having a boy or a girl (yay for "team green!"), so I knew it had to be gender neutral.  I decided on an "umbrella" theme with bright colors – since the baby is due in May I kept thinking of the phrase "baby showers bring May flowers!"  I used Pinterest and Google image searches to find inspiration and pulled together my favorite elements from several different invitations to design this one.  (If you are looking to make your own umbrella baby shower invitation but aren't design-software-savvy, here is a great site that will make one for you – for free!)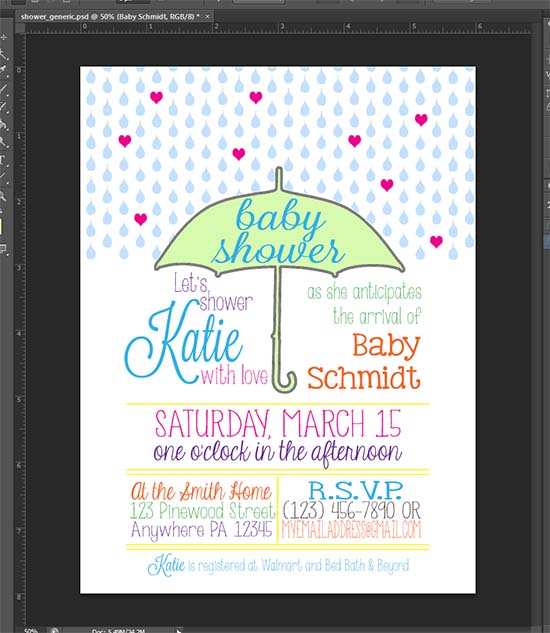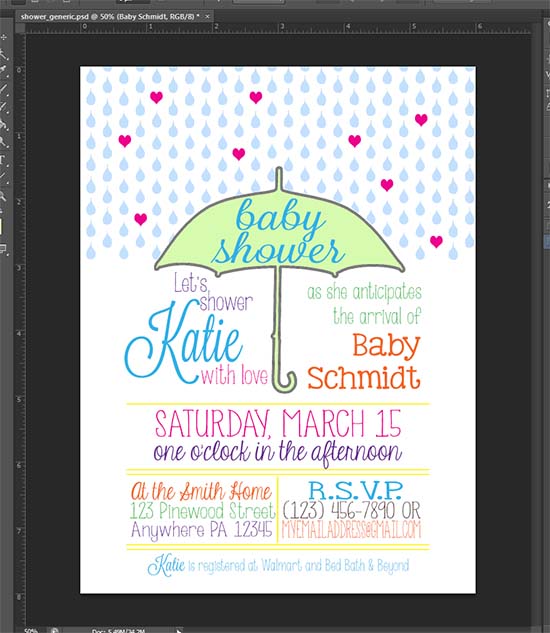 After I was happy with the design, I saved it as a PNG file and then opened it in Silhouette Studio.  Then I opened the cut file I wanted to use and positioned it over the invitation where I wanted it to cut.
I added the registration marks, since this is a print and cut design, and positioned two invites to print on one page.  (The edges overlap a bit, but since the red line is what will get cut, the parts outside of the red line will just be scrap.)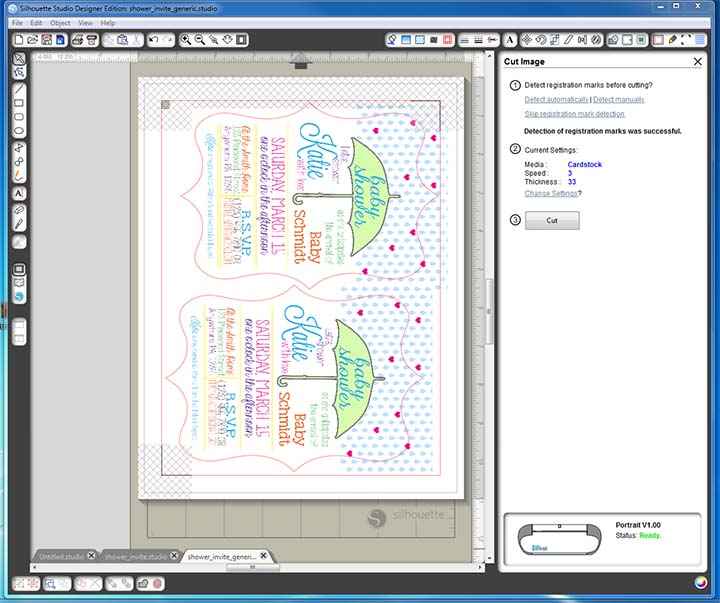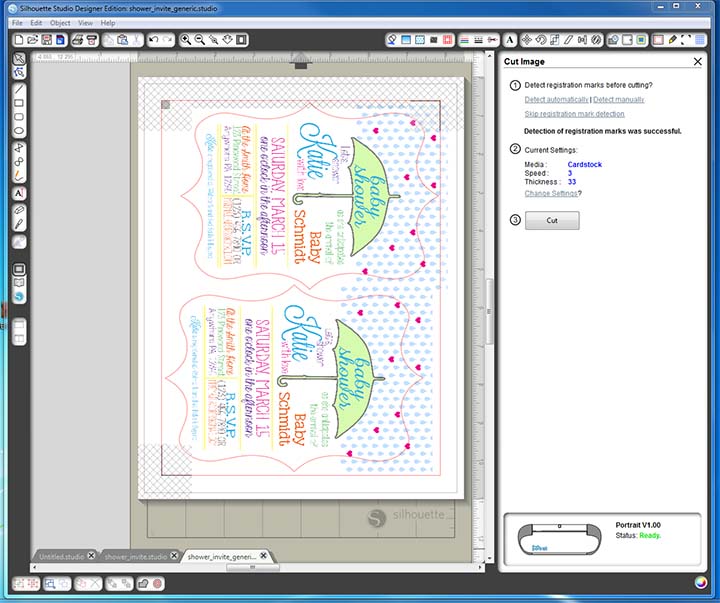 If I had a color printer, I would have been able to print directly from studio…but since I don't, I had to get the file into a format that would open at the print store.  To do that, I simply "printed" to a PDF.  If you have a PDF reader installed on your computer, you probably already have the option to do that – just hit print, but instead of selecting your normal printer, there should be a "PDF printer" option.  (If you don't have a PDF reader, BullZip is a good, free option – just install it, and then the next time you go to print from Studio the PDF printer should be there!)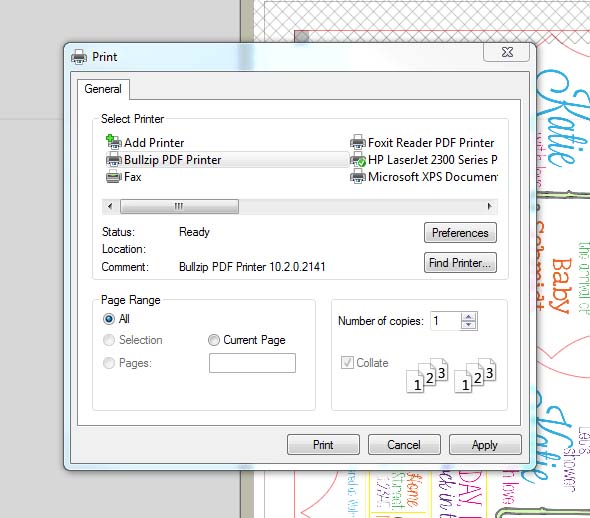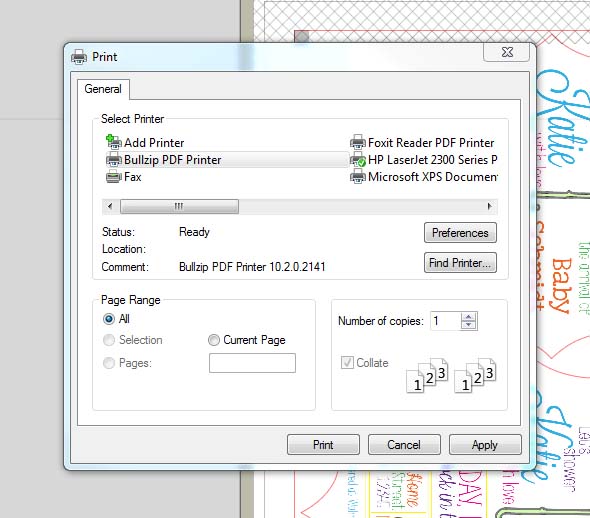 It will open the PDF file after you hit "print."  I saved the PDF onto a flash drive, took it to a nearby UPS store, and had them print 20 color copies on regular white card stock. Then I brought them home, loaded them onto my mat one at a time, and cut them using that Silhouette Studio file that I'd printed to PDF.  You've got to be sure not to make a single change to the original file once you've created the PDF file – otherwise your cuts will be off!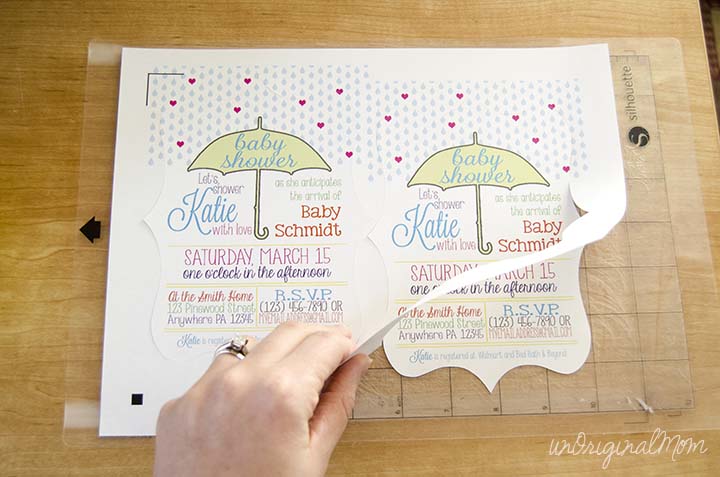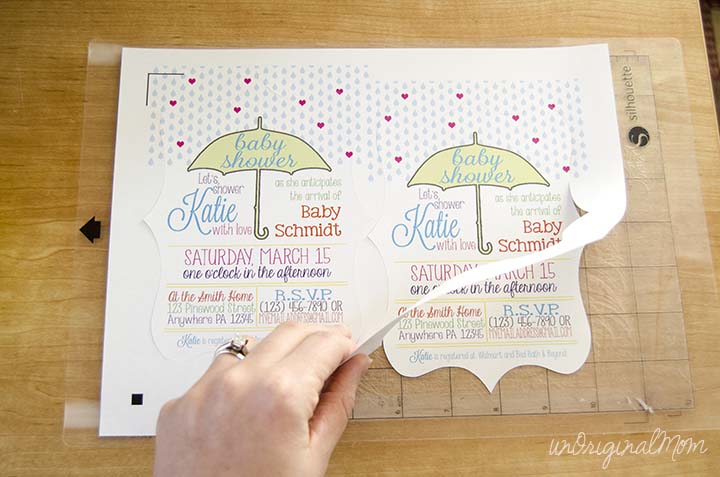 Then I mounted my invitation cut-outs to fun colored scrapbook paper that I cut to be 5×7.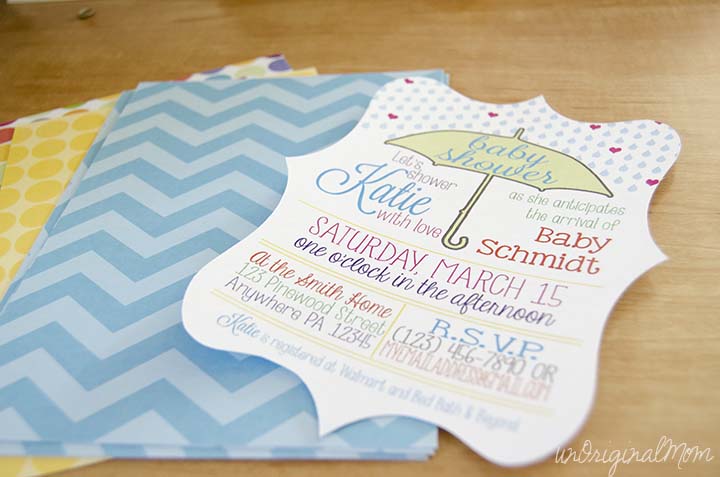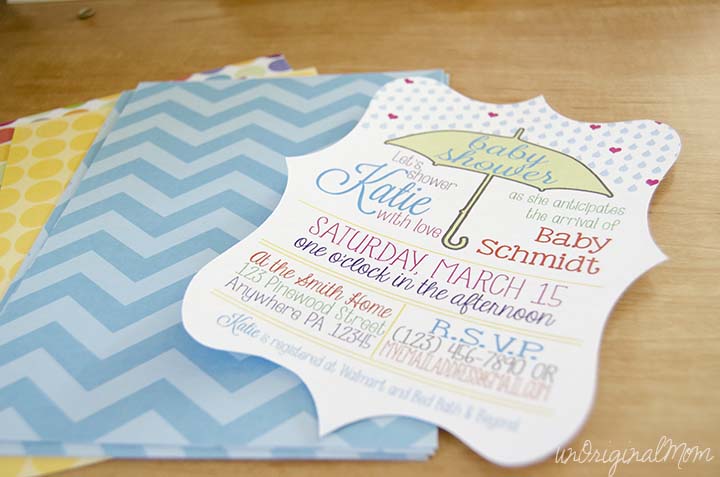 Want to see an easy way to get 4 different 5×7″ cards out of one piece of 12×12″ scrapbook paper?  It's simple if you have a paper trimmer.  Make a 7″ cut going down at 5″ across, then a 7″ cut going up at 7″ across.  Turn your paper 90 degrees clockwise, then make a 7″ cut going down at 5″ across, then a 7″ cut going up at 9″ across.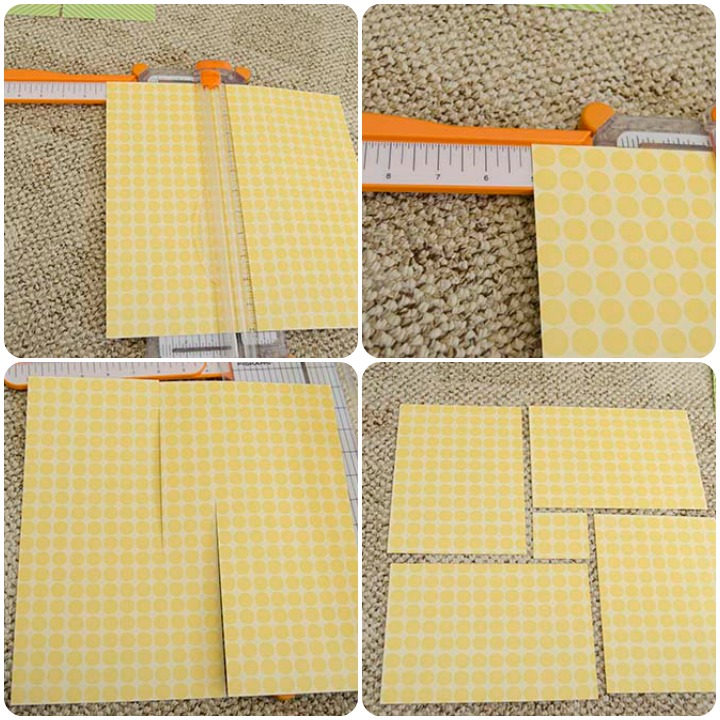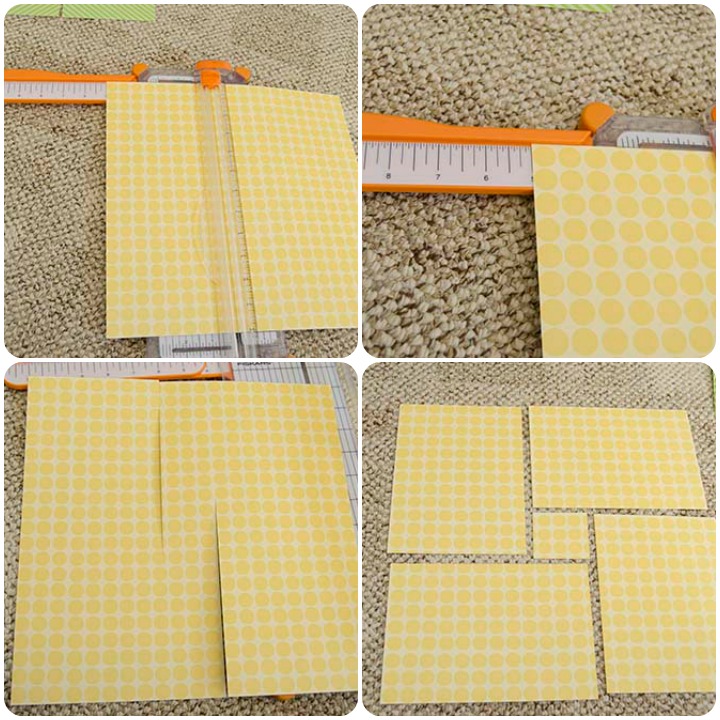 It sounds a little complicated to read the instructions, but once you see what you're doing – cutting 4 rectangles around the outside of the paper and leaving a little 2×2″ square in the middle of the paper – it makes total sense!
I also created one little extra insert for the invitations to ask guests to bring a book for baby instead of a card.  This was just a simple rounded rectangle with no backing, and I was able to get 6 to a page instead of just 2.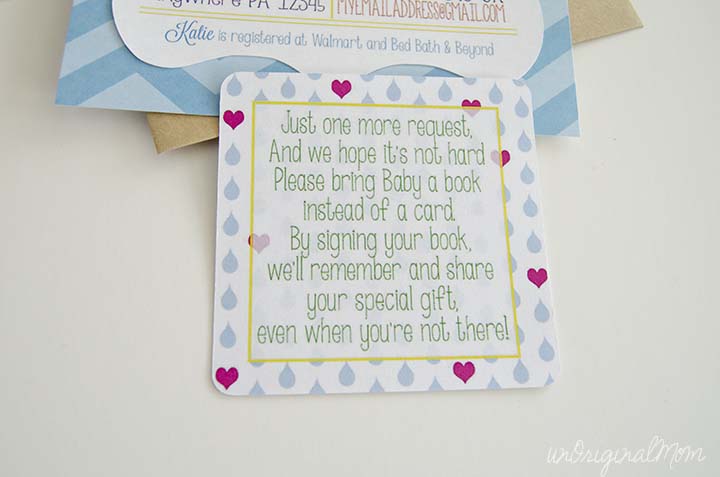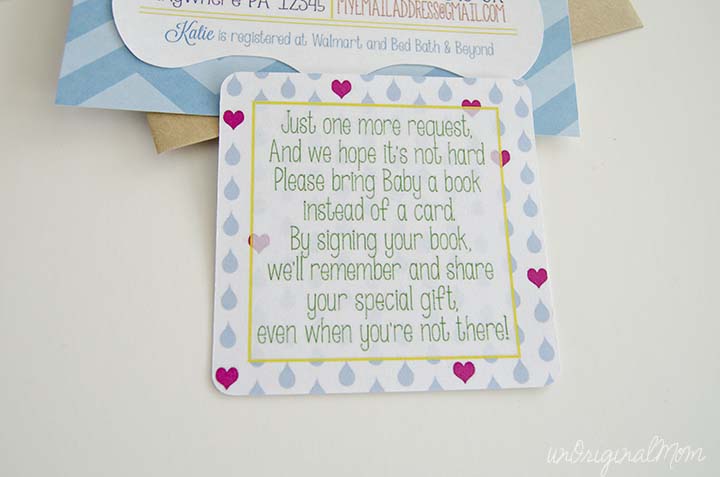 I slipped the invitation and insert inside store bought kraft paper envelopes, and off they went!  I was so happy with how they turned out!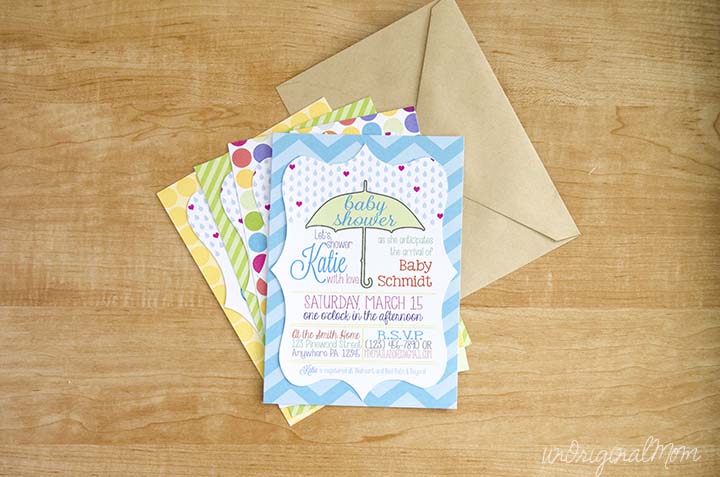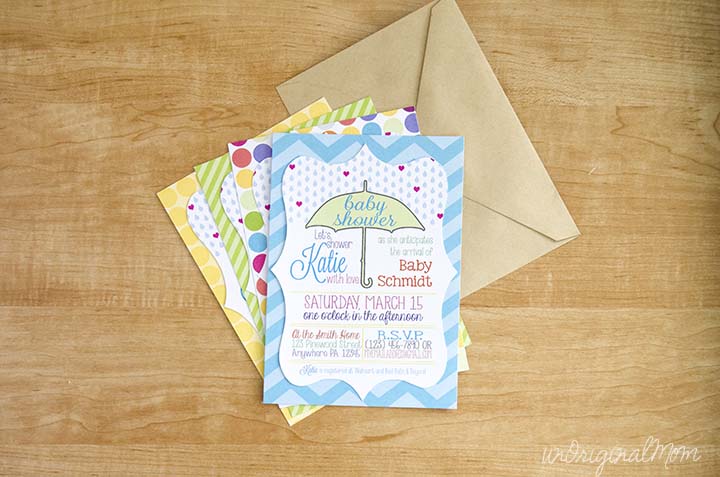 I'm really excited to share with you the other details of the shower starting next week – be sure to stop back so you don't miss them!  (You can follow on Pinterest, Facebook, Twitter, or sign up for emails!)
ARE YOU PLANNING A BABY SHOWER?
Sure, you can find lots of ideas on Pinterest…but how great would it be to have everything you need in one place? The Baby Shower Book is a comprehensive and easy to read Baby Shower planning handbook, plus it includes a printable toolkit, organizing tips, and lots of crafty inspiration. You'll also find TWENTY printable baby shower games! If you are planning a baby shower, you simply must check out The Baby Shower Book, your all-in-one guide to hosting the perfect baby shower!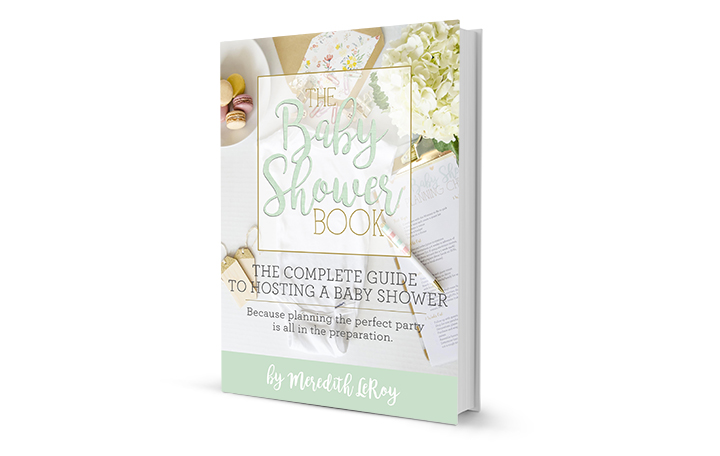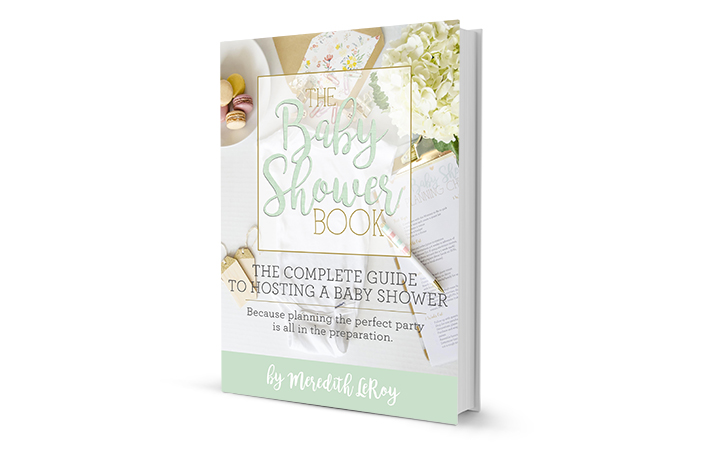 I hope you'll stop over to take a look at all the amazing printables that are included along with the eBook. I promise it will make your planning much smoother – and your end result simply wonderful!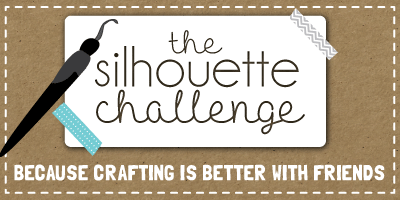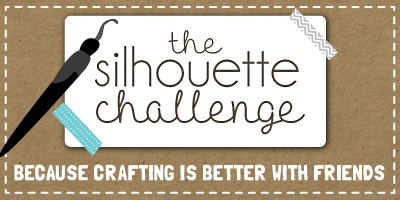 Want even MORE incredible Silhouette inspiration?  My Silhouette Challenge buddies are all sharing PAPER projects on their blogs today!  Use the nifty collage below to click on the photo of the post you'd like to visit…or scroll down for a list of blogs participating to skip straight to a specific blog.

1. McCall Manor // 2. The Turquoise Home // 3. Creative Savings // 4. Sandpaper and Glue // 5. The Thinking Closet // 6. Sowdering About in Seattle // 7. Persia Lou // 8. From Wine to Whine // 9. Dream a Little Bigger // 10. Please Excuse My Craftermath… // 11. Play. Party. Pin. // 12. Everyday Paper // 13. Practically Functional // 14. A Tossed Salad Life // 15. My Favorite Finds // 16. The House on Hillbrook // 17. Adventures in All Things Food // 18. A Glimpse Into Barb's Life // 19. TitiCrafty // 20. The Experimental Home // 21. feto soap blog // 22. Creative Ramblings // 23. The Stamp Doc // 24. Ginger Snap Crafts // 25. Simply Kelly Designs // 26. Whats Next Ma // 27. unOriginal Mom // 28. Bringing Creativity 2 Life // 29. Cutesy Crafts // 30. My Paper Craze // 31. Create & Babble // 32. Grey Luster Girl // 33. The Sensory Emporium // 34. Lil' Mrs. Tori // 35. Black and White Obsession // 36. Mama Sonshine // 37. Weekend Craft // 38. Creative Carnival // 39. Peace, Love and Joyce // 40. Tried & True // 41. The Frill of Life // 42. Dragonfly & Lily Pads // 43. Get Silvered // 44. Minted Strawberry
Don't have time to visit all these fabulous projects now?  That's okay – pin it now and come back later!


GRAB YOUR FREE BABY SHOWER PLANNING CHECKLIST!
The perfect party is all in the preparation. This complete baby shower planning checklist will help you with every step along the way!