I've already told you about some of my DIY nursery artwork (my Painted Fabric Canvases and Hand Lettered Wooden Sign), so I thought I'd share another project with you that you can print and use yourself!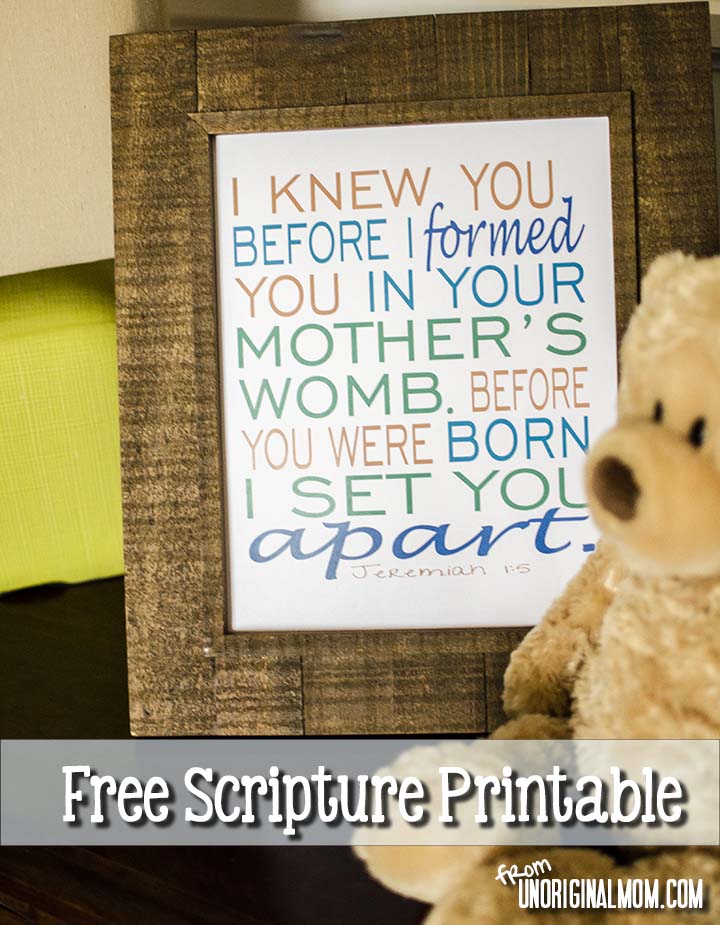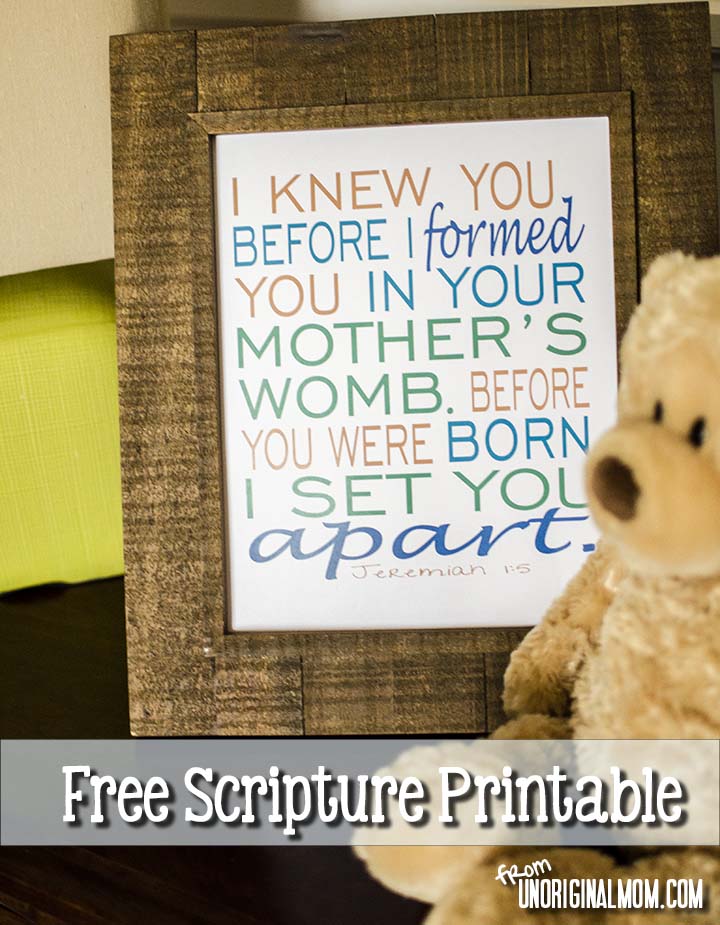 While searching for inspiration for our gender-neutral nursery, I came across this fantastic room on Project Nursery.  My very favorite part about it was the framed scripture art.
What a great reminder of God's incredible and individual love for us, and His perfect plan for our lives!  Jeremiah 1:5 (and Jeremiah 29:11) has always been one of my favorite verses, but I really loved this artwork, too.
Unfortunately, after much searching, I couldn't find the original source of the artwork.  But I really wanted it!  So I went to work trying to make my own version.  (Little did I know that my amazing Mother-in-Law saw this pin on my Pinterest Nursery Board and recreated it for me – orange frame and all – as a gift for my baby shower!  That's the one that's actually in our nursery, since I didn't end up finishing my version until later!)
As I was working on it, I wasn't sure if I wanted the bright colors that were in the inspiration photo or something a little more subdued that went with our nursery colors, so I made two versions.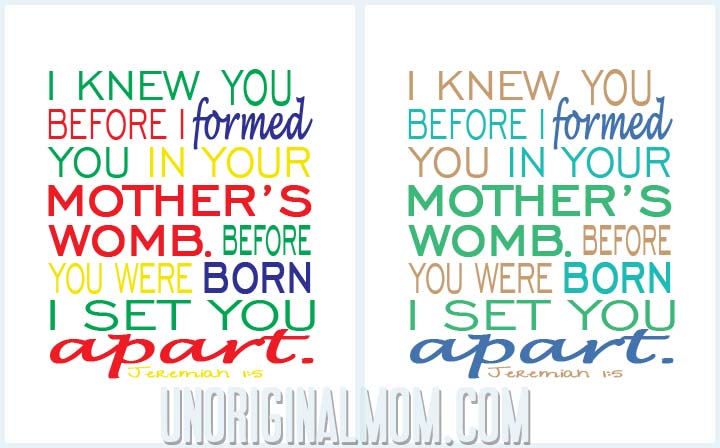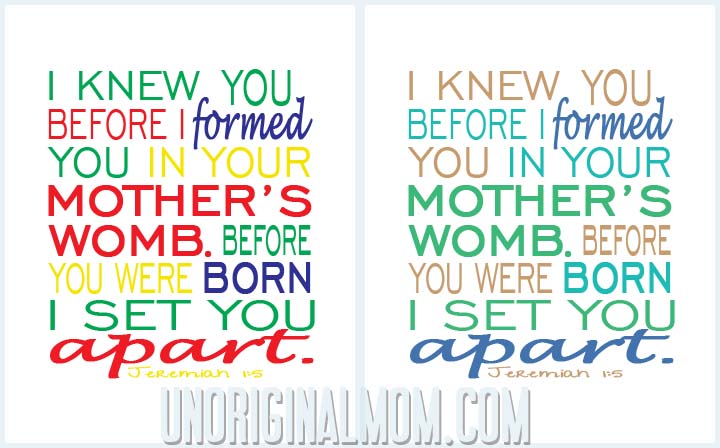 (Scroll down for the links to the free printables!)
I also made another scripture art for a good friend who had a baby two months before me.  One of her favorite passages is Jude 1:24-25, which she and her husband sing each night to their girls.  So I took part of that passage and made this: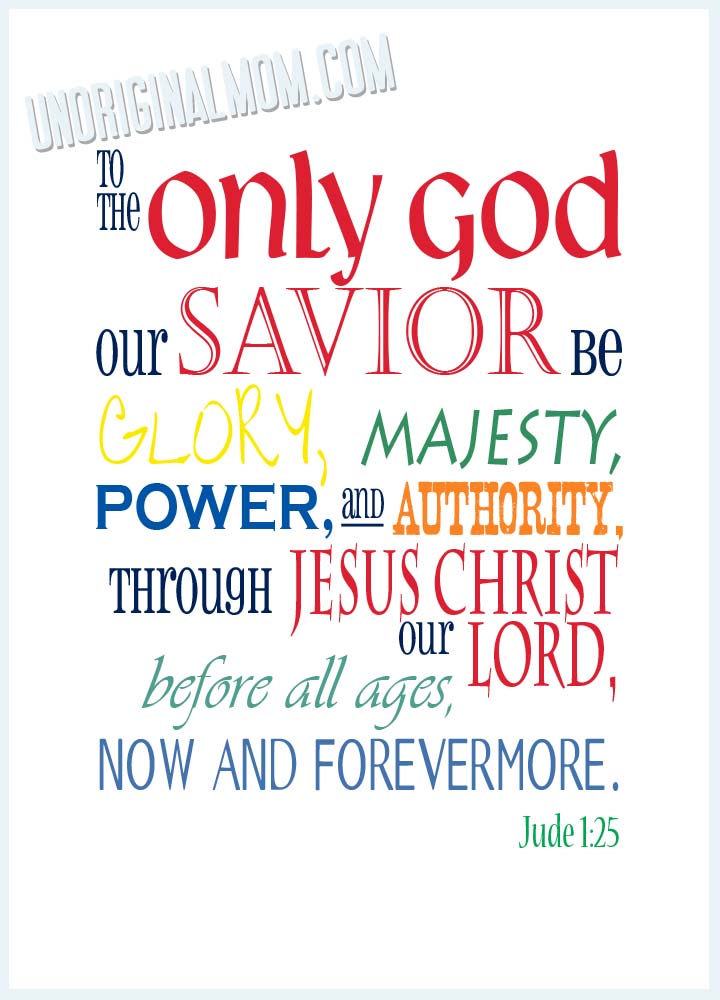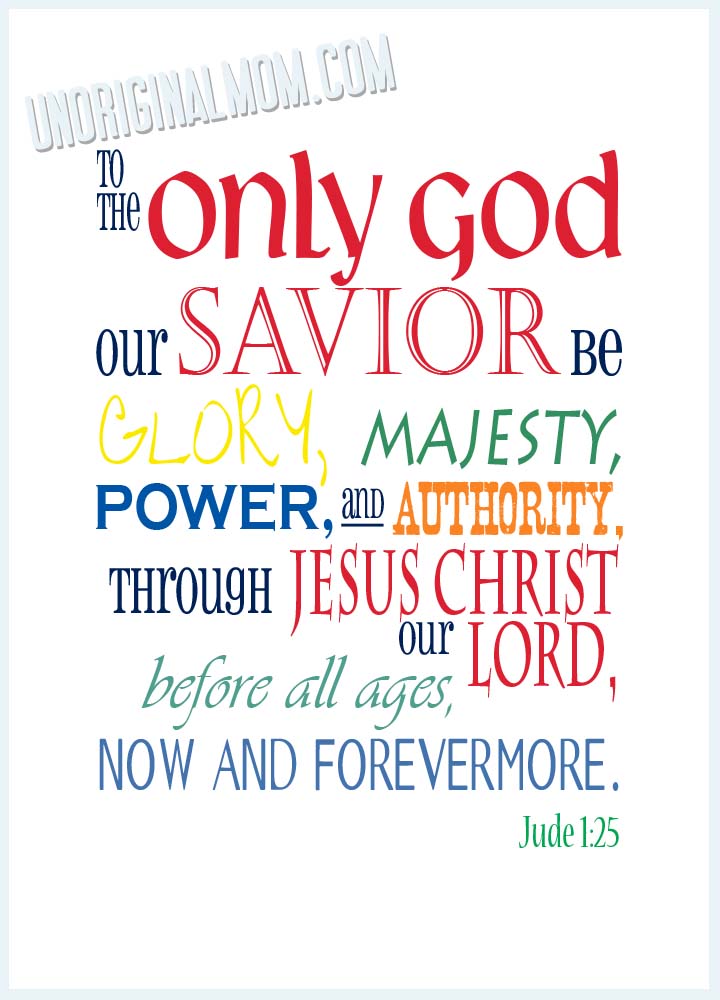 It is such an important and valuable reminder to me to have scripture in Adelynn's room on her dresser where I can see it every day.  And when she's old enough to read it, I hope it will be the same to her!
So, without further ado, here are the links to those FREE printables!  I hope they bless you and your family!
Some common courtesy reminders:
These printables are for personal use only

You may not modify, resell, redistribute, or claim the design as your own
If you post this on the internet, credit must be given to unOriginalMom and linked back to my blog.


Get your copy of my FREE meal planning binder!
Sign up to get a free copy of my meal planning system - an 11 page printable meal planning binder, complete with a pantry inventory, shopping list, and more to help get on top of your menu each week!