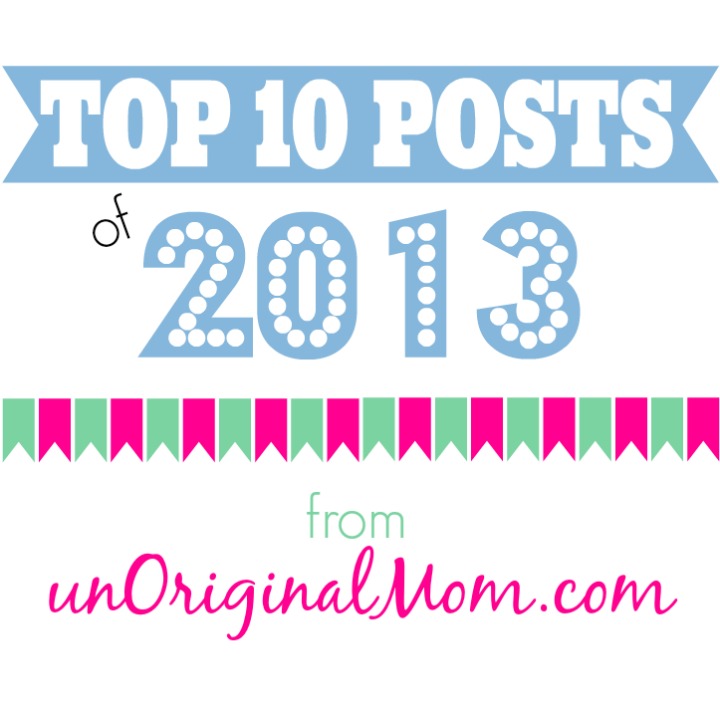 Can you believe 2013 is almost over? It has been quite a year for me…I'm approaching my 1 year "blogiversary" at the end of January, so this has been my first year of blogging!  It was so interesting to go back and look through the stats of the year and see how my little piece of the internet has grown!
In looking through those stats, I decided it would be fun to feature the "top ten" unOriginal Mom posts of the year – meaning, the posts that have gotten the most traffic in the 2013 calendar year.  It was actually pretty surprising to see the combination of posts that made it into the top ten (lots of baby posts!) and those that didn't.  In fact, tomorrow I'll be putting together a list of my favorite posts of the year – because most of them didn't make it on this list!
Without further ado, I give you (drum roll, please!!)…the Top 10 Most Popular Posts of 2013!
#10 – Christmas Photo Booth Props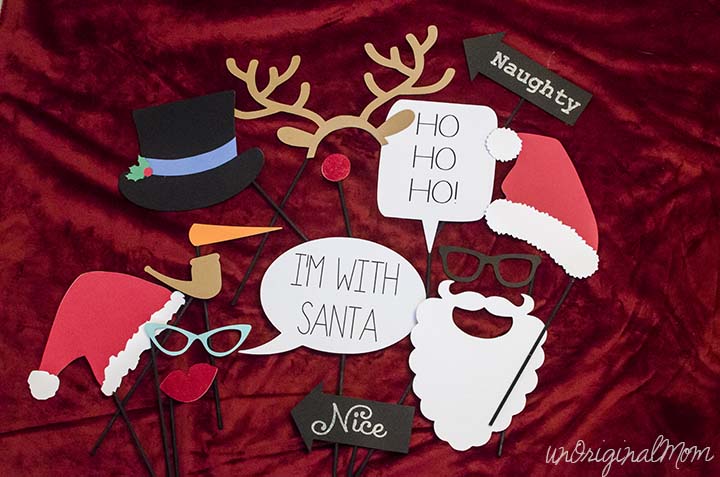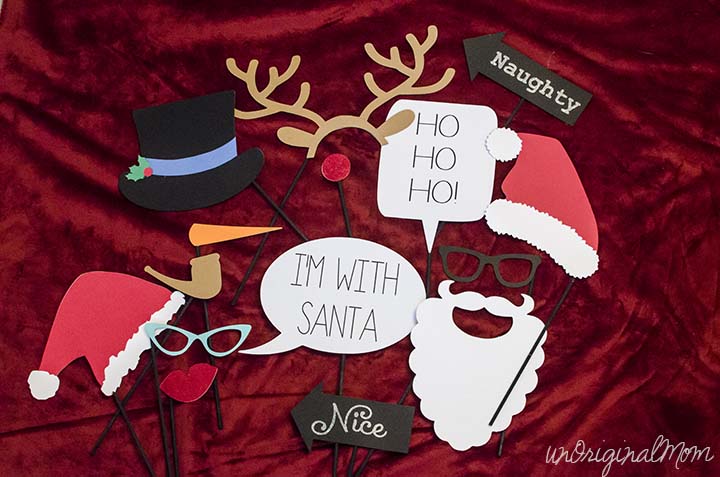 Given that this post only went live on December 9, the fact that it's in the top 10 most popular posts of 2013 is quite a feat! I included a free cut file so that readers can easily make their own for Christmas parties, family get-togethers, or just for fun!
#9 – Free Printable Children's Book Quotes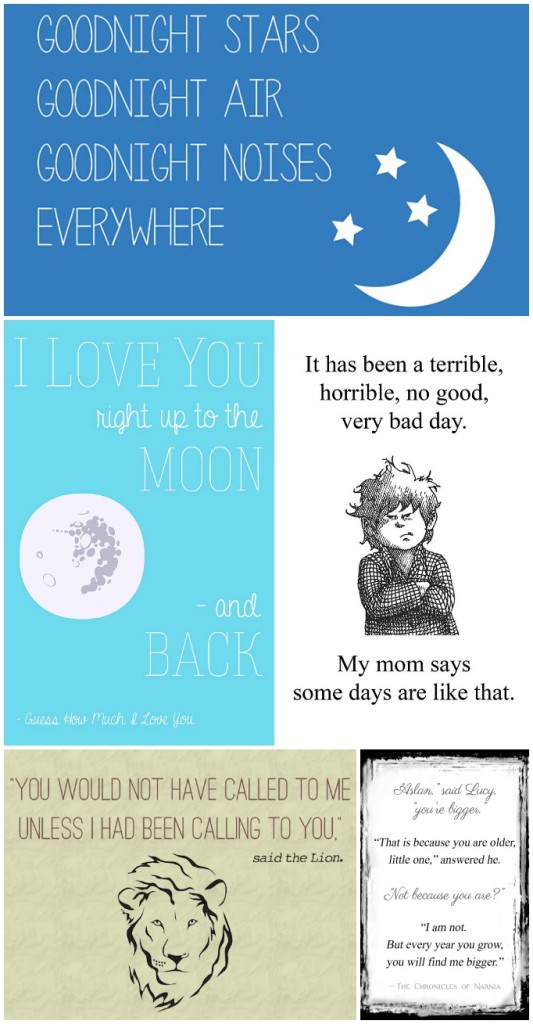 For a friend's book-themed baby shower, I created 5 different graphics of Children's Book Quotes (as well as compiled many more available for free elsewhere on the internet) and offered them to readers as free printables.  They are great for baby showers, but also just as fun and inspirational room decor!
#8 – Mod Podge & Food Coloring Colored Glass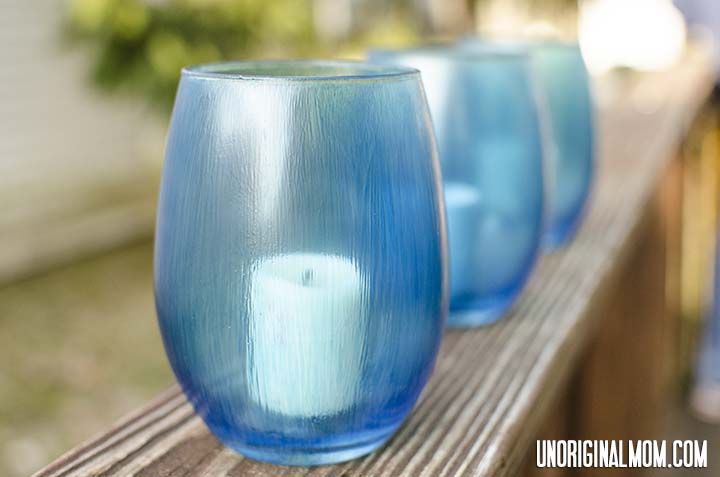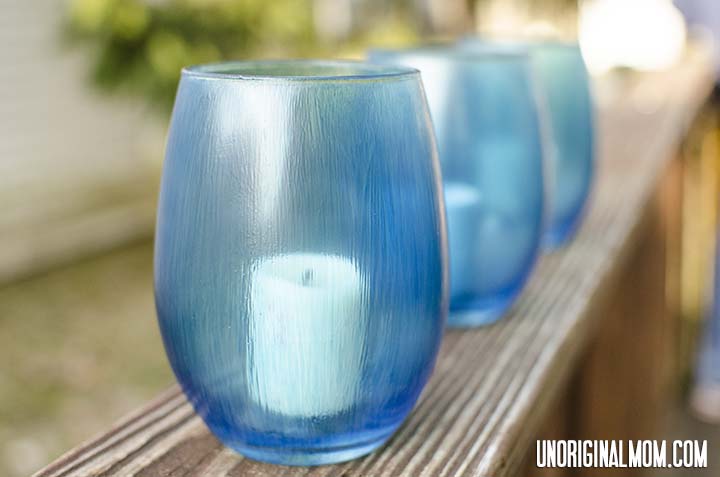 This is an idea that I saw floating around Pinterest and wanted to try myself.  After one epic FAIL (shared in the post!) I succeeded in making lovely votives using just Mod Podge and food coloring. Readers loved the step-by-step tutorial with photos.
#7 – 1st Birthday Board & Outfit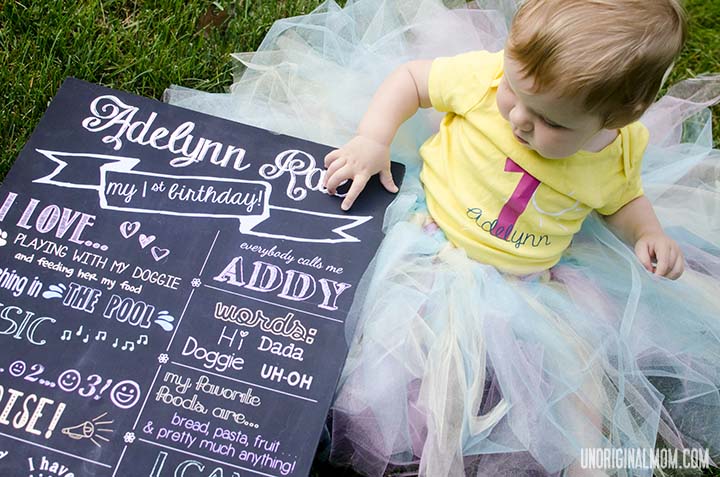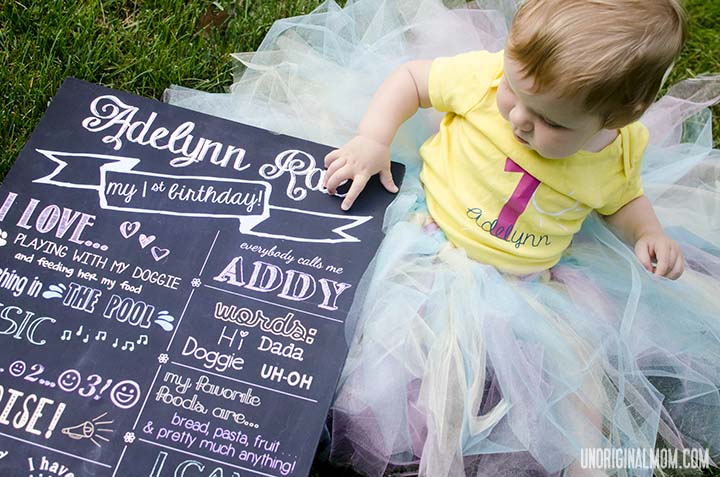 For my little girl's first birthday, I hosted a "You Are My Sunshine" party complete with banner, cupcake cones with sunshine toppers, photo display, and more! I also used Photoshop to make a chalkboard-style birthday board of her accomplishments and stats, which proved to be pretty popular – it's been pinned over 5,000 times!
#6 – DIY Hanging Christmas Card Holder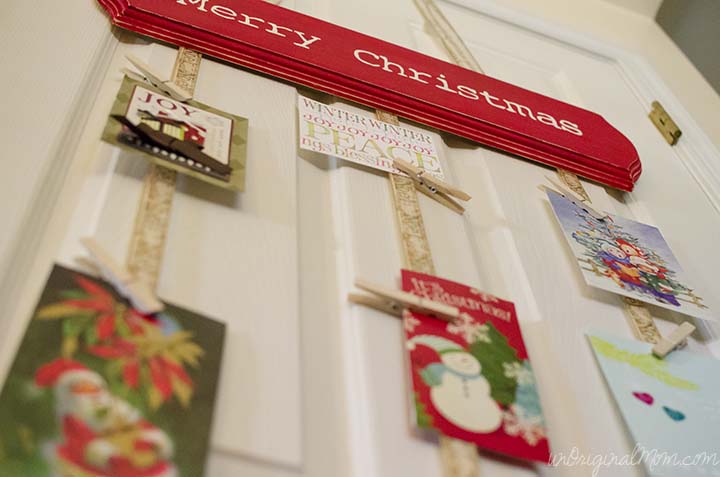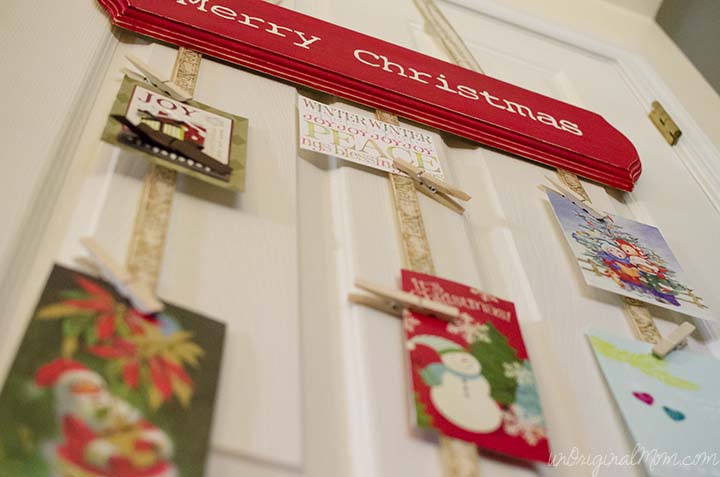 This is another post that didn't have much time in 2013 to accumulate pageviews, but proved to be quite popular! I actually created this Christmas Card Holder for Christmas LAST year, but brought it out early to take photos and put together a simple tutorial.
#5 – Free Printable Nursery Scripture Art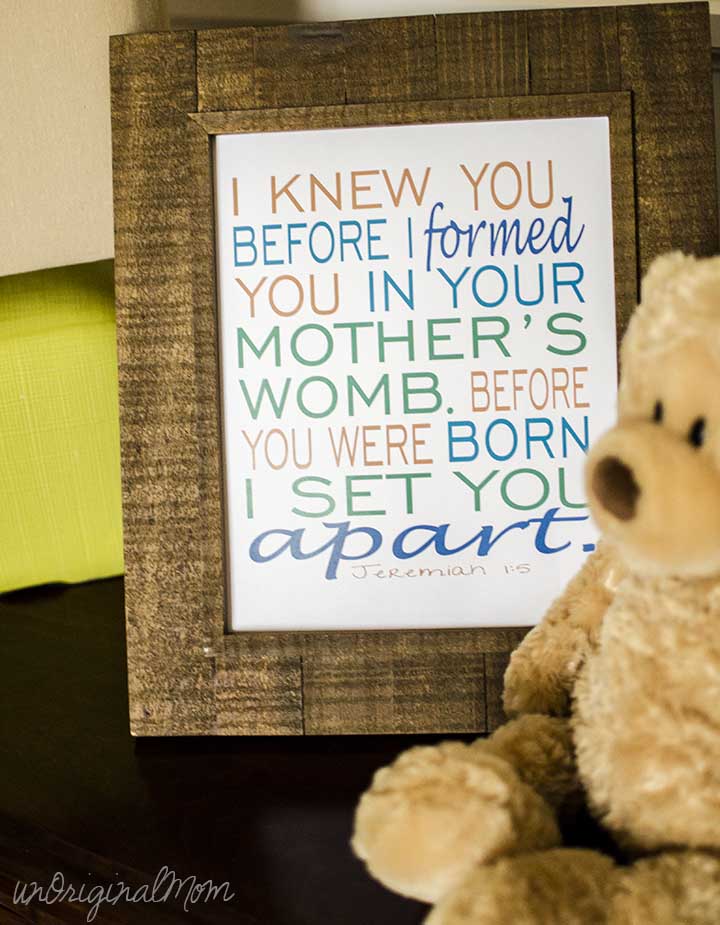 This is scripture art that I created for my little girl's nursery when I saw something similar and couldn't find the original source. It is simple, but such a powerful statement for children to see in their room every day!
#4 – Crock Pot Ranch Pork Chops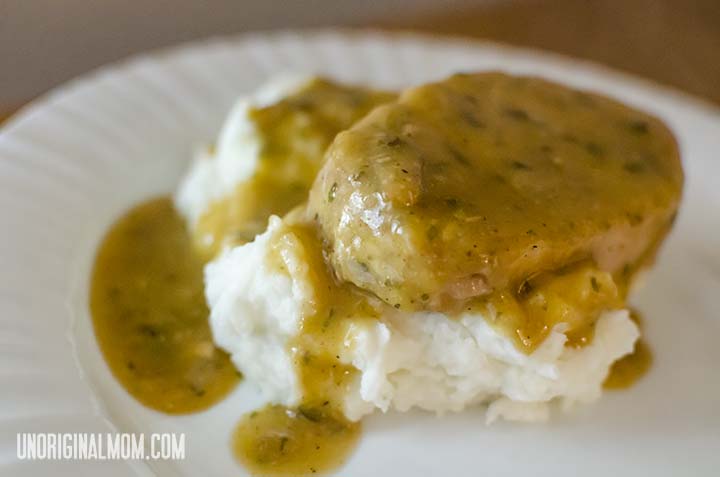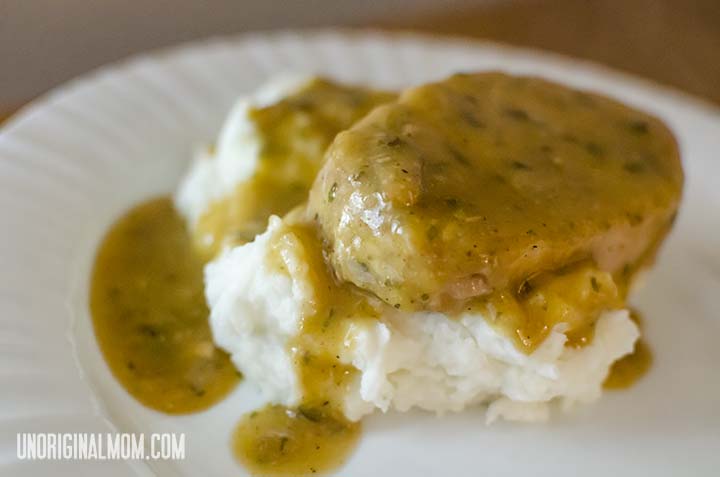 I never expected this post to amount to much (hence the not-so-great-photos) but shared it with my readers since it is one of our favorite crock pot dinners.  Nevertheless, it has been one of my most searched-for posts and was recently featured on the Once a Month Meals December Menu.
#3 – DIY Image Transfer to Wood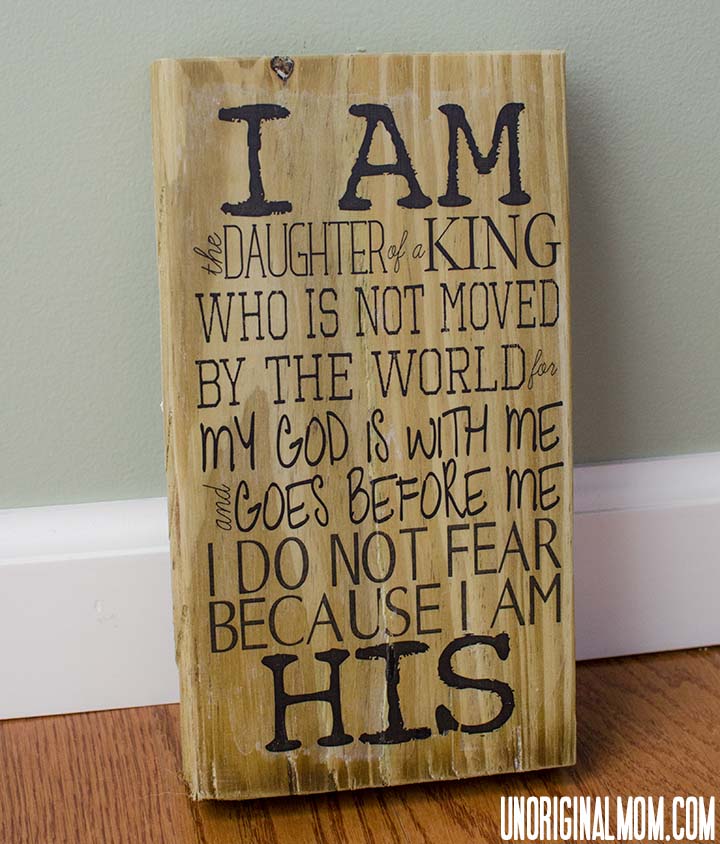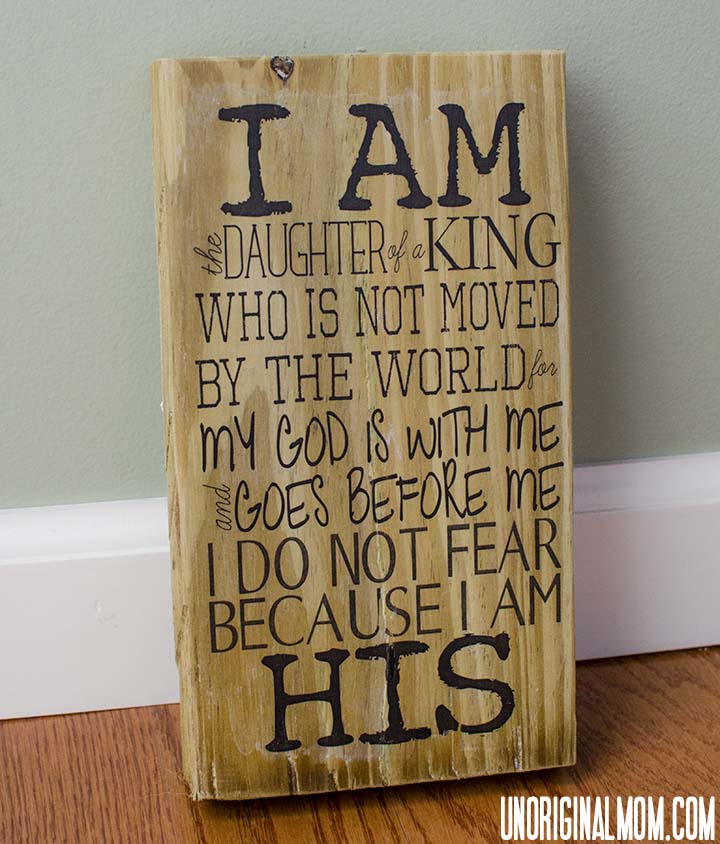 I was so happy with how this project turned out and was excited to share a Pinterest SUCCESS with my readers after I tried this method to transfer a printed image to wood! It has been on my list to try again…hopefully I'll get to it in 2014!
#2 – Baby Checklists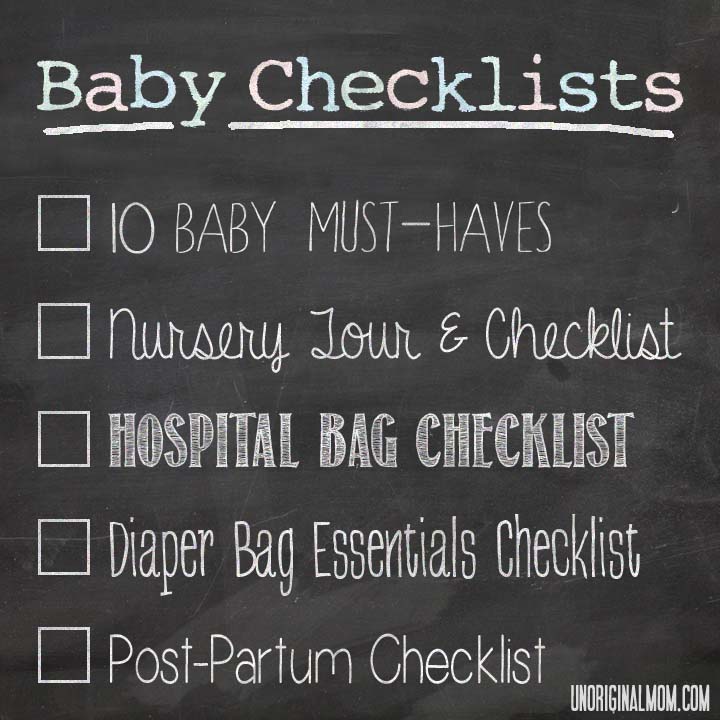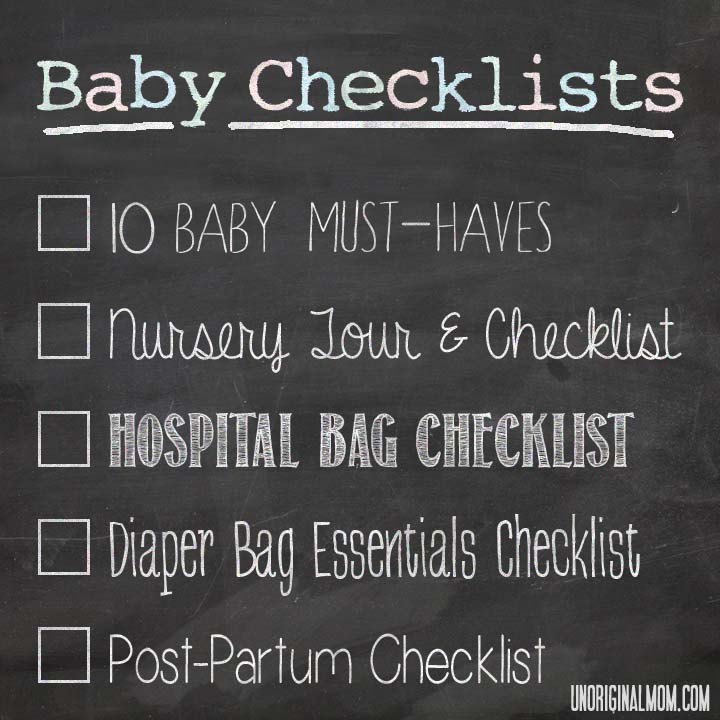 This post has been wildly popular on Pinterest among new moms and moms-to-be…in fact, 3 different individual posts in this series actually made the top 10! I poured out my new-mom brain into 5 different checklists that I wish I'd had before my little girl was born and created free printable PDFs along with very thorough annotated lists, including 10 Baby Must-Haves, Hospital Bag Checklist, Nursery Tour and Checklist, Diaper Bag Checklist, and Postpartum Checklist.  For the list-lovers like me, this has been very popular!
#1 – Best Baby Shower Gift Ever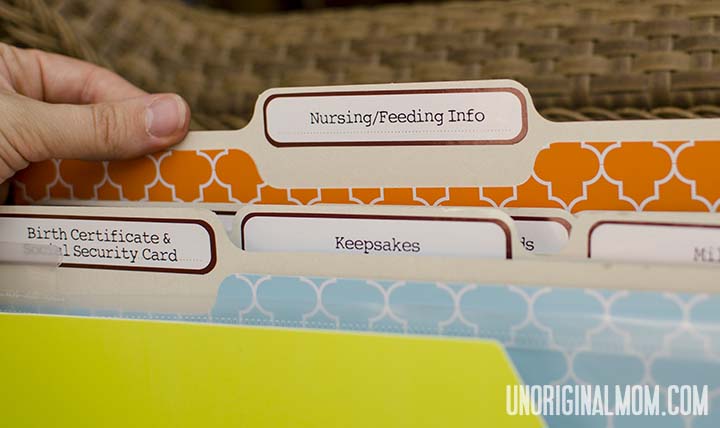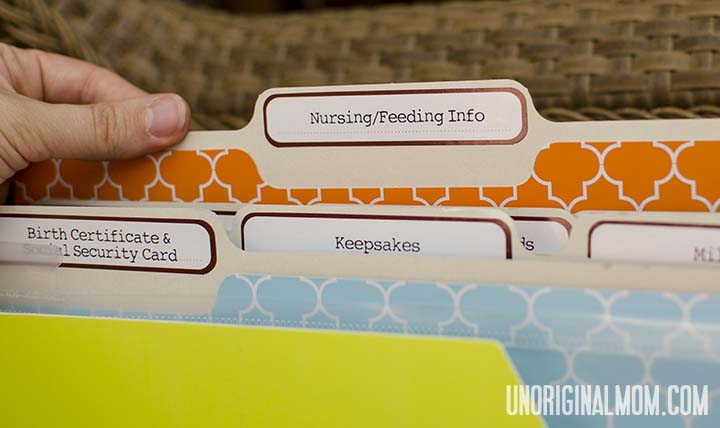 This post was by far and away my most popular post of 2013, with almost 25,000 pins so far! It is such a simple and inexpensive idea, and yet such a great gift for a new mom.  I've made it for 3 different baby showers, and will make it for every one I attend in the future!
While these posts definitely represent some of the best of unOriginal Mom, there are a few more posts that I'd like to highlight…so stop by tomorrow for MY favorite posts of 2013!


Get your copy of my FREE meal planning binder!
Sign up to get a free copy of my meal planning system - an 11 page printable meal planning binder, complete with a pantry inventory, shopping list, and more to help get on top of your menu each week!