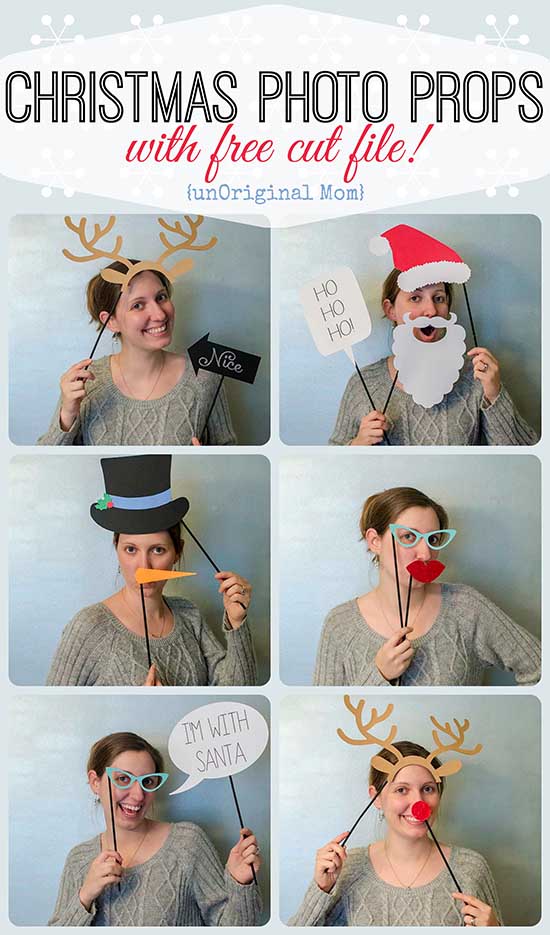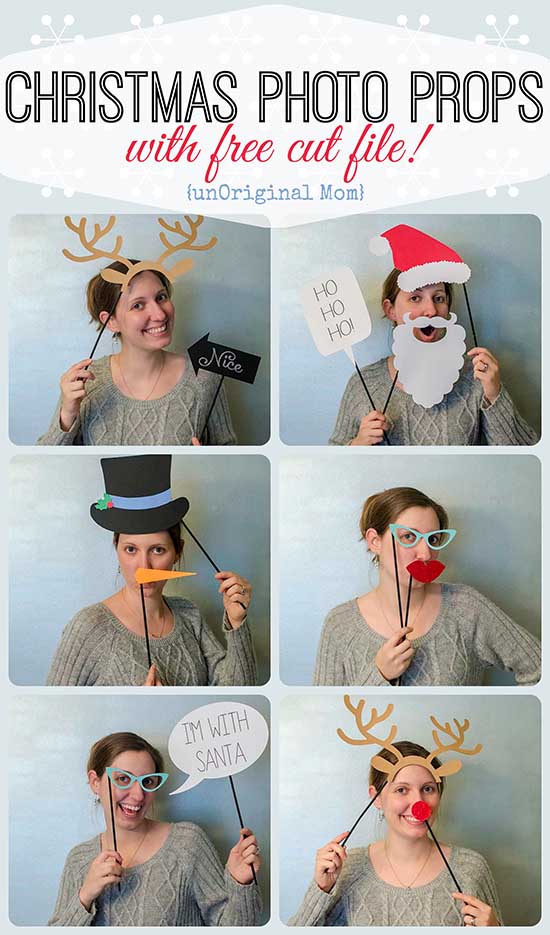 I saw this pin for a photo prop "I'm with Santa" speech bubble a few months ago and absolutely loved it!  It got me so excited to throw a Christmas party…and that was back in October!
When I saw Lauren's Halloween Party Photo Booth Props over at The Thinking Closet, I knew I could pull off some Christmas Photo Booth Props with my Silhouette Portrait digital cutting machine.  So I set to work making that "I'm with Santa" speech bubble and a few other fun props…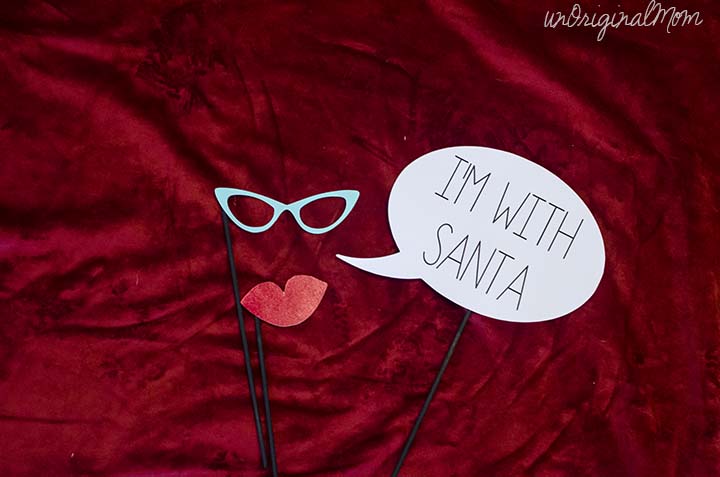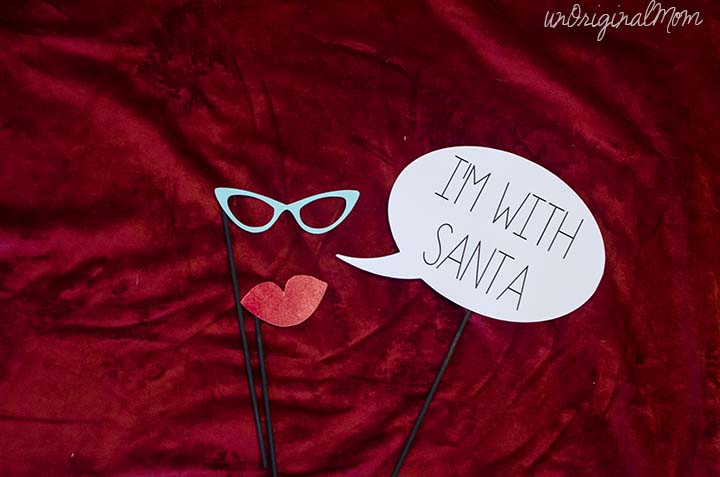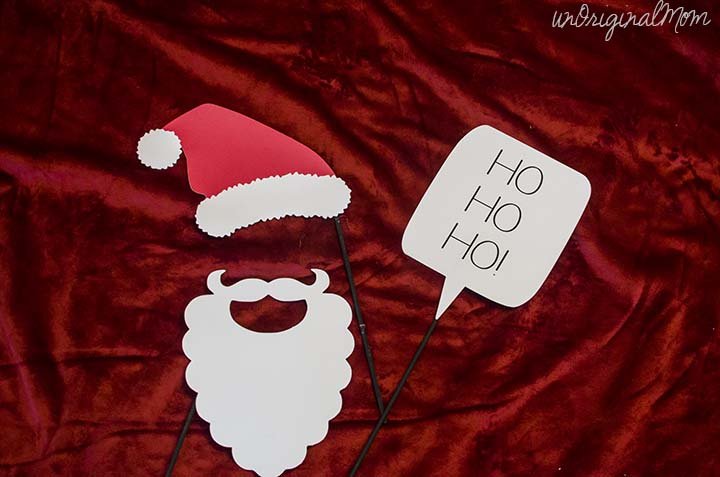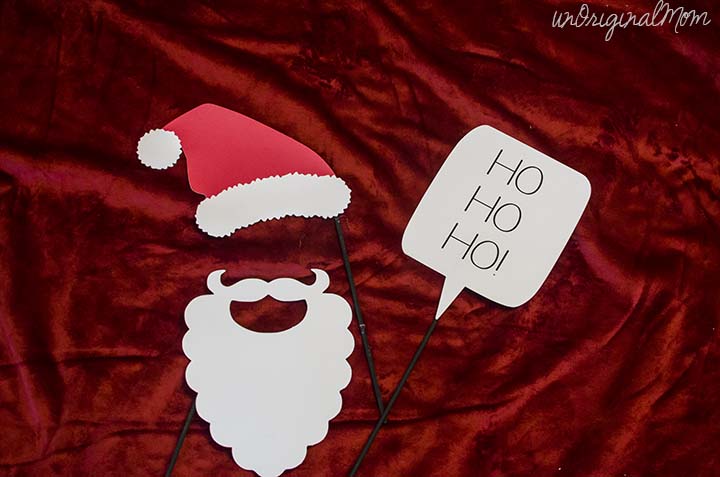 and then got a little carried away with some more…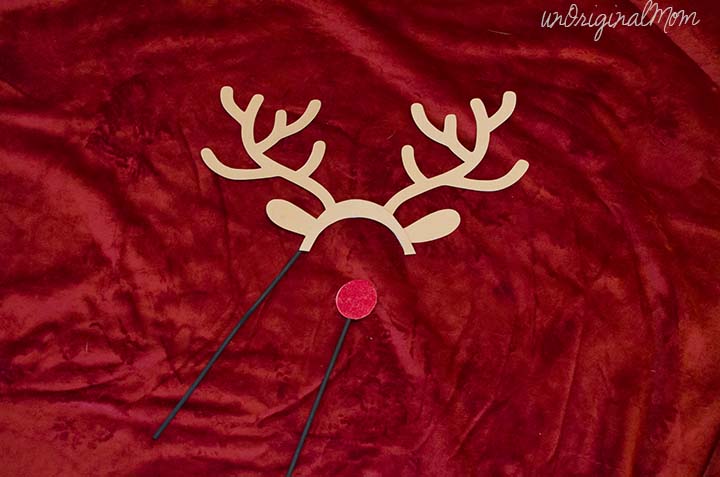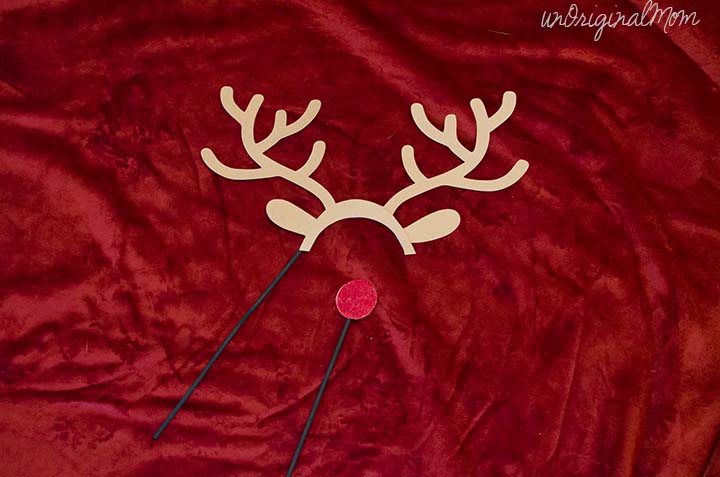 …and even more!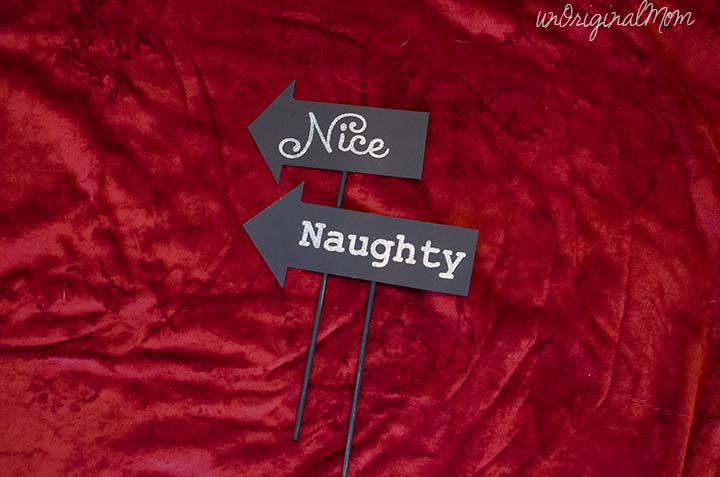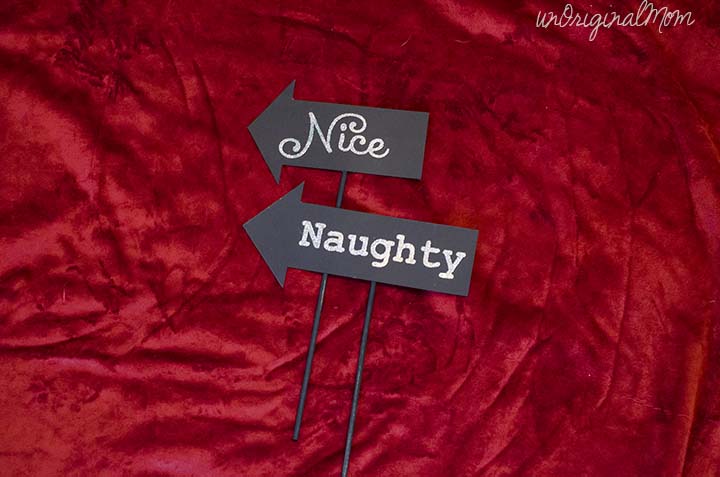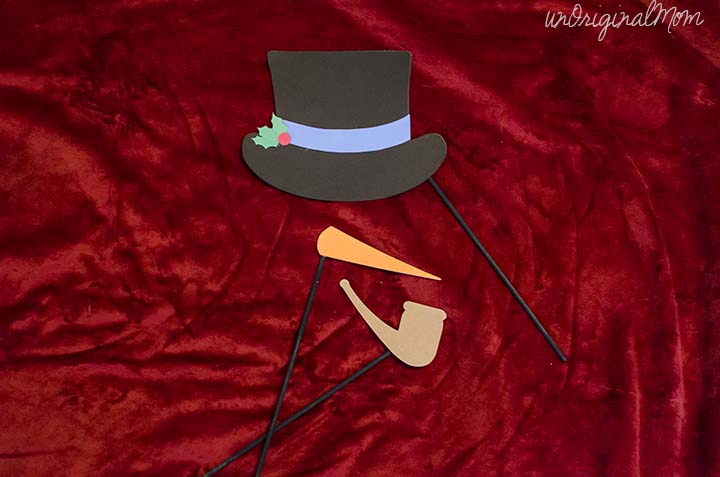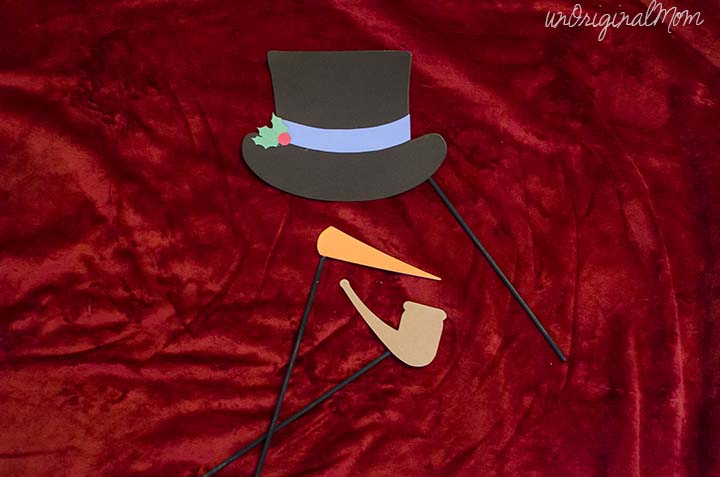 It was really very easy – I just cut the shapes out of chipboard with my Silhouette, then did the same with colored card stock, and glued them together.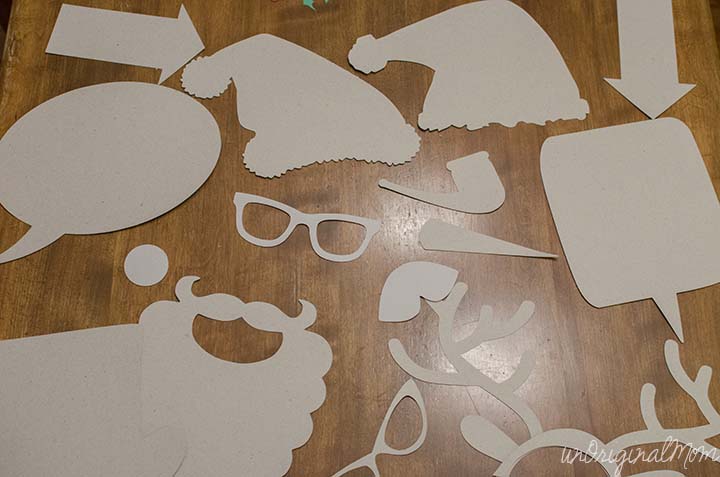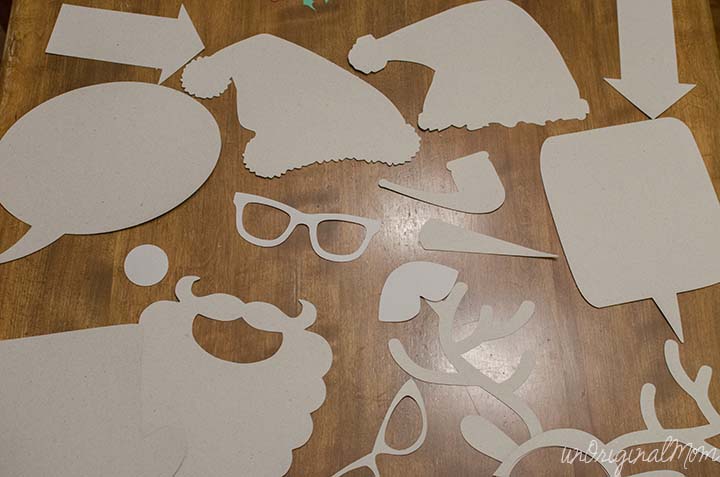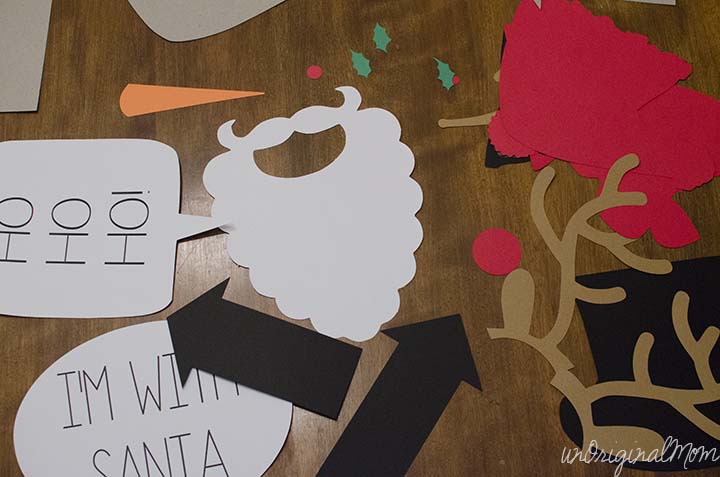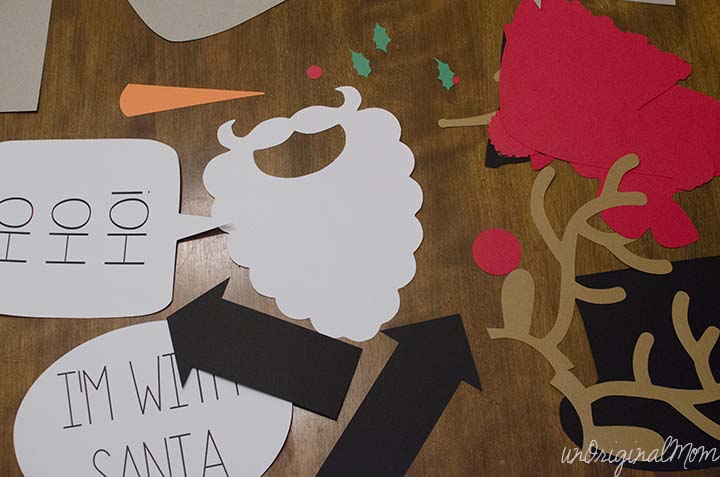 For the "Naughty" and "Nice" arrows, I used Silhouette brand double-sided adhesive to cut out the lettering, then added glitter for a little glam!  (Click HERE for a tutorial on using double-sided adhesive and glitter.)  I wasn't paying attention when applying the text to the arrows, though, and accidentally made them both point the same direction.  Oops!  It's so much more fun for photos if they're opposite arrows, so make sure you don't screw that up like I did :-)
I also used the double-sided adhesive and glitter on the lips and Rudolph nose.  (A note about using the double-sided adhesive – if you use a dry paintbrush to brush the surface after you've added the glitter, it will remove ALL the excess glitter – after I did that, even when I rubbed my fingers along the adhered glitter, not even one speck of glitter came off onto my hand!)
The final step was painting some dowel rods black and attaching them to the props with hot glue.  Make sure you test out the placement and angle of the dowel rod on the prop so it is comfortable to hold and doesn't end up putting the dowel right in front of your face (i.e. glue mostly to the sides of the props, not right in the middle).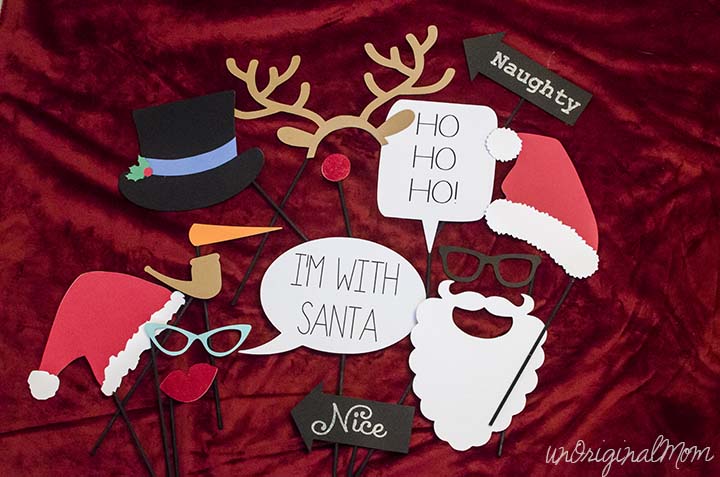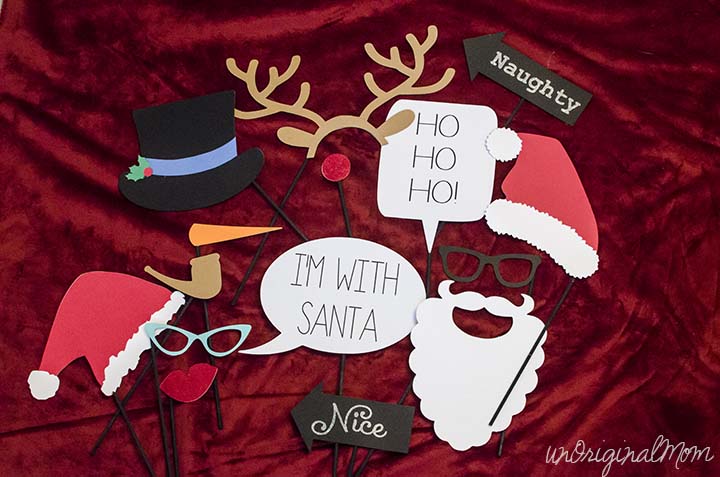 The most labor intensive part of this project was creating the cut files using various free clip art images from the web.  The cutting and assembly was relatively quick and straightforward!  It was super fun, too – I wanted to keep going and make some mistletoe, gift boxes, an elf hat, an ugly Christmas sweater…but I had to stop myself from going even farther overboard than I already did!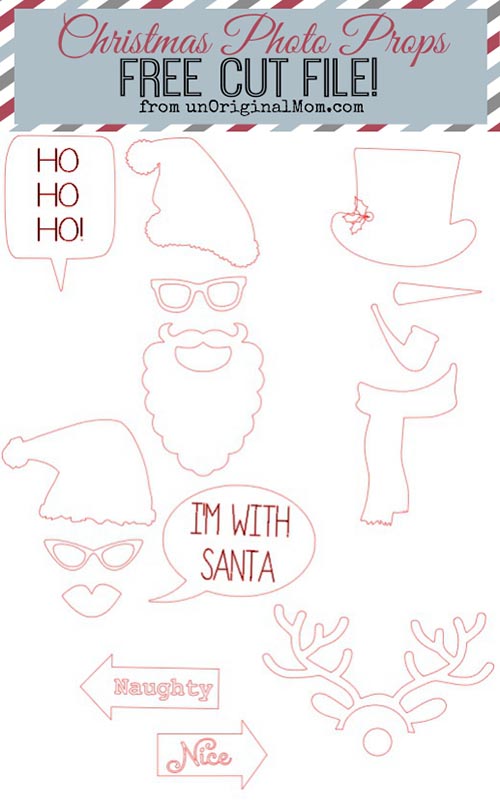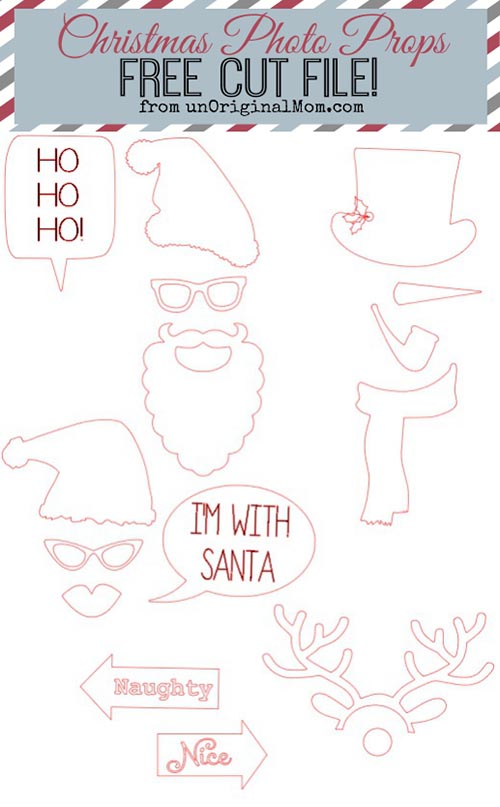 These cut files are available for FREE as part of my Silhouette Cut File Library. Sign up via the form below to get instant access to this file along with dozens of other personal-use Silhouette files.
Please note before you sign up: this file is for use WITH A SILHOUETTE PORTRAIT, CAMEO, OR CURIO ONLY! If you do not own one of these machines, this file will not work for you. Sorry, I do not have a PDF or JPEG version to share.  You can make your own photo props by hand by searching for free clip art, printing it onto card stock, and cutting it out with scissors – or, save a step by buying an affordable set on Amazon like this one!

But WAIT!  The fun doesn't stop here!  35 bloggy friends of mine are all sharing Silhouette projects today as part of the December Silhouette Challenge.  Be sure to take some time to browse through these links for some more great Silhouette and crafting inspiration!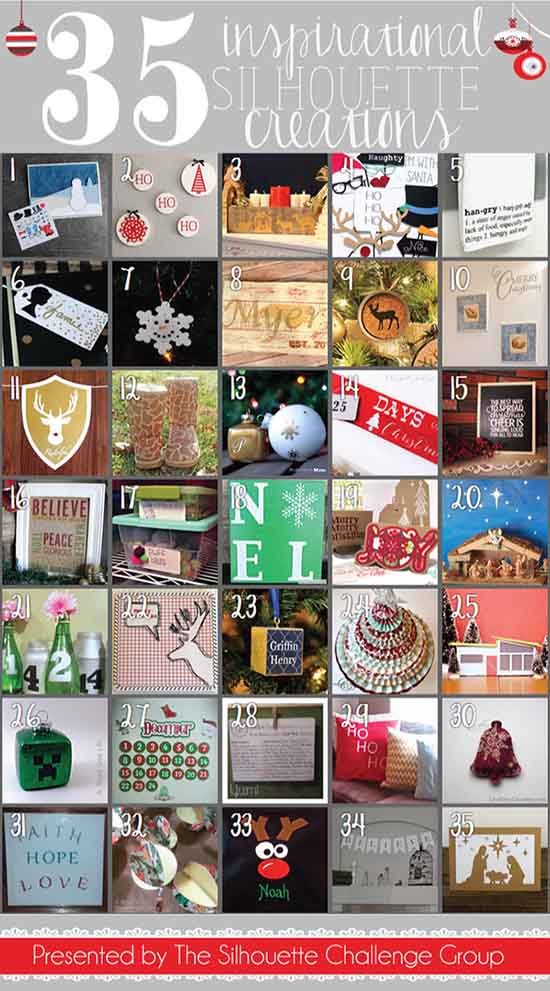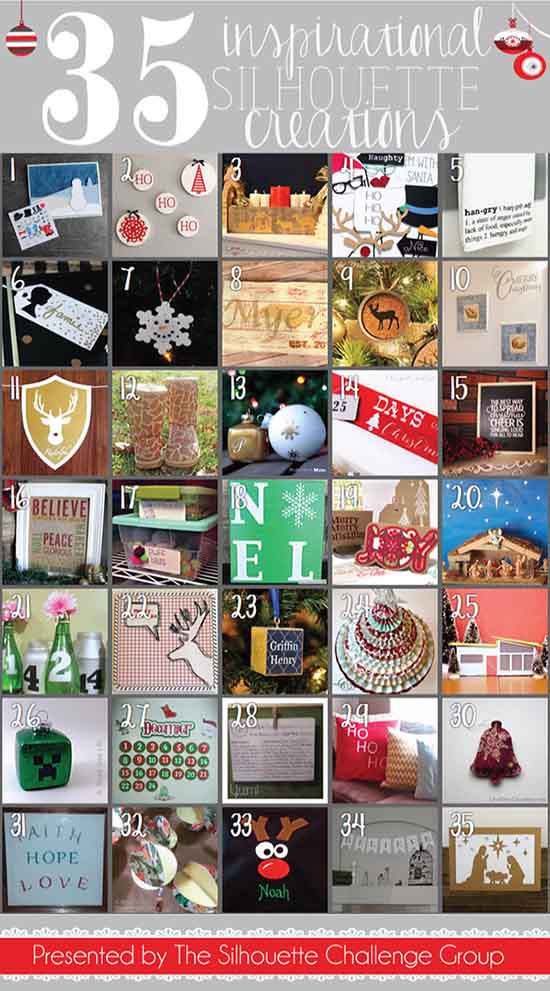 UPDATE – Thanks for the terrific response to this fun project!  Please note that I am unable to respond to requests to provide this file in an alternate format – it was created specifically for use by Silhouette users.  If you are not a Silhouette user, a great way to create your own photo props is to search for free clip art, print it out on card stock or bulk it up with an additional layer of cardboard, and cut by hand.
Merry Christmas to all!
Disclosure:  This post contains Affiliate links.




What if you MADE your Christmas gifts this year instead of buying them? Find out how to set yourself up for success in your Handmade Christmas journey - plus get a free printable gift list planner!