This post contains affiliate links – click here to read my full disclosure.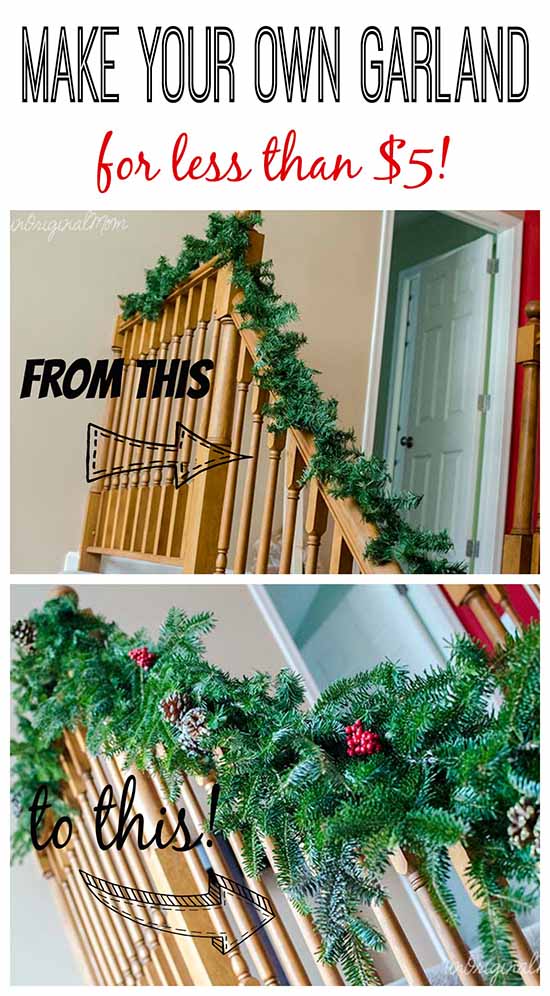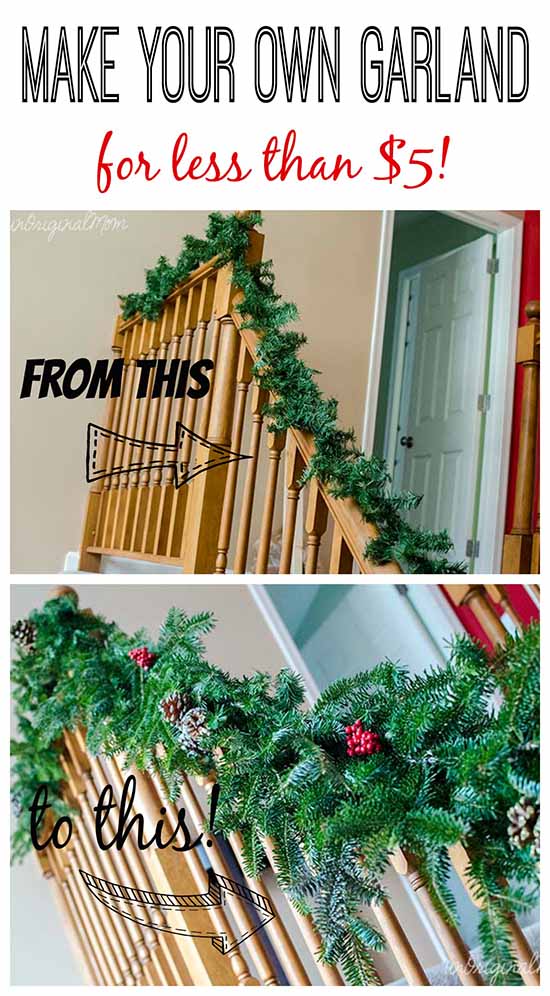 This "make your own garland" project was completely and 100% inspired by this post by Kelly at View Along the Way (LOVE her blog!) She shared her AWESOME idea of how to take cheap-o fake garland and beef it up with real tree clippings – she had access to some other types of greens besides just the Christmas Tree clippings and it is simply stunning!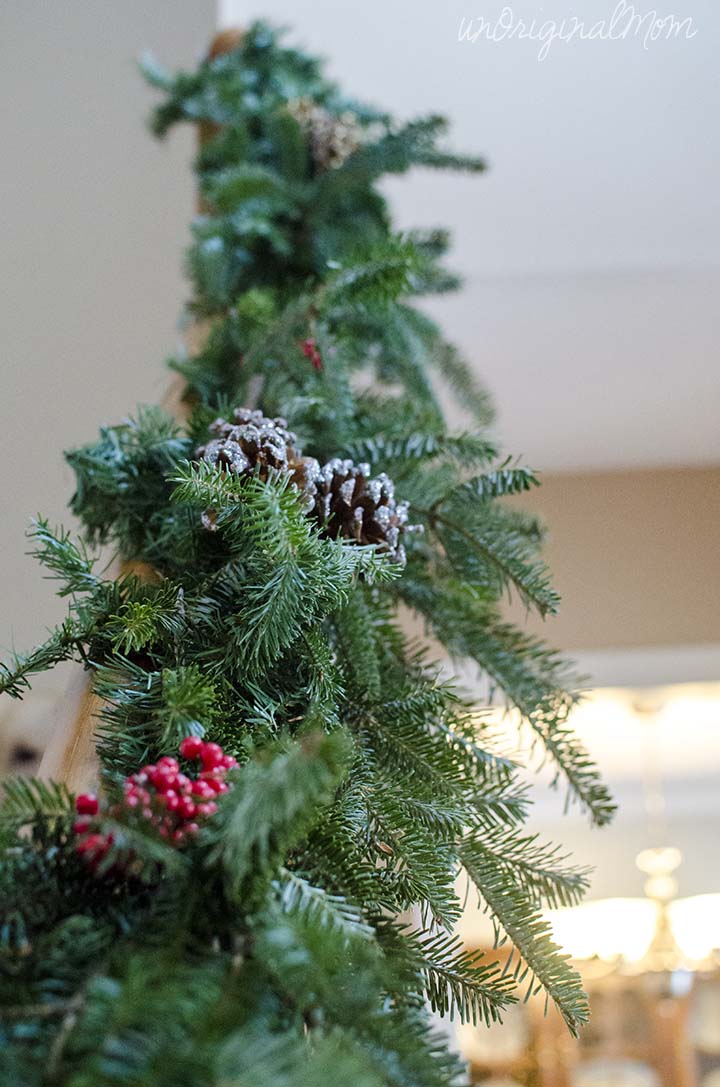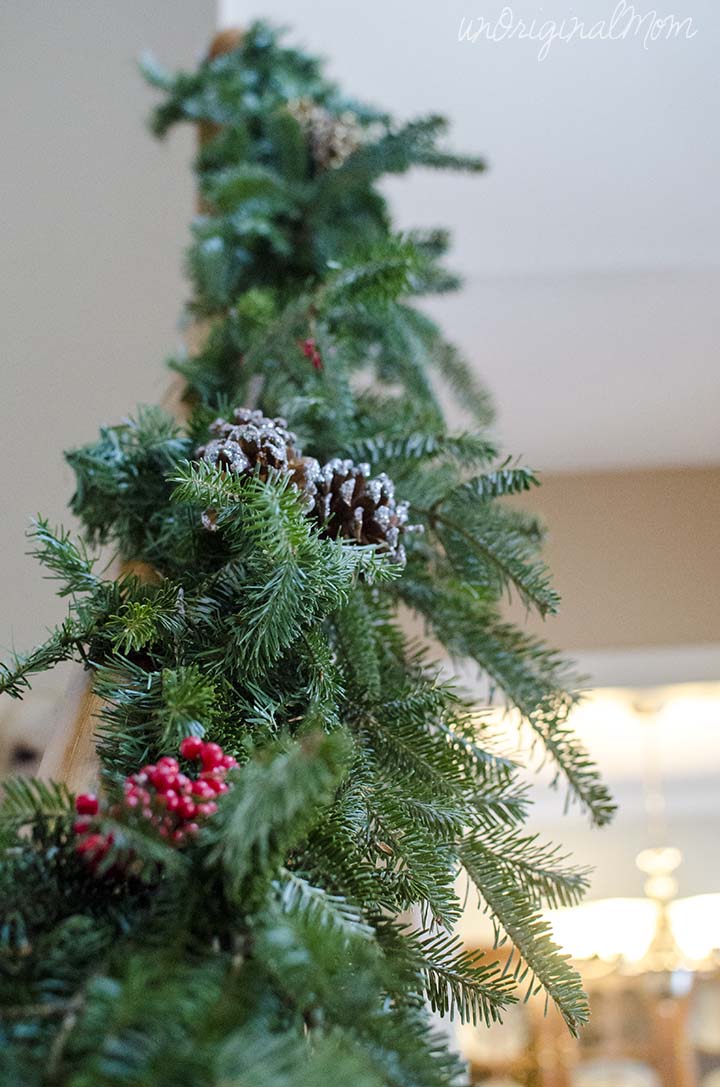 SUPPLIES:
cheap fake garland (I got mine at Walmart – find something similar on Amazon here)
evergreen branches (usually available from a tree farm for free)
optional – other embellishments like berries, pinecones, bows, etc.
This couldn't be much easier!  Essentially, you're just using the cheap-o ugly garland (mine was $2 at Walmart!) as a base for the real stuff.  So instead of starting completely from scratch with your tree clippings, you have something already there to wire them to…plus it really helps it all look much fuller.
The first step is to find some greenery.  At the tree farm where we cut our Christmas tree, they have a ginormous pile of branches that are cut off the bottom of the trees before being baled, and people are welcome to take as much as they want!  I've heard that places that sell pre-cut trees (Lowes, Home Depot, etc.) also have similar piles that are free-for-the-taking!
Then, use pruning shears to cut them into manageable pieces.  You really don't need huge branches – in fact, I found the smaller sizes a bit easier to work with and get to lay the way I wanted.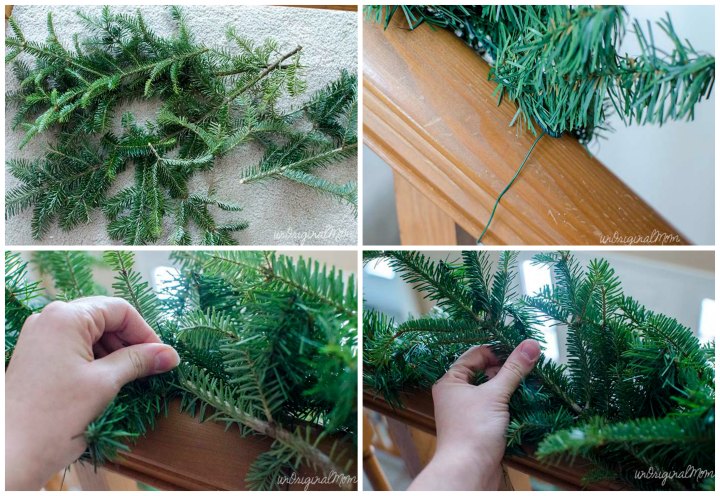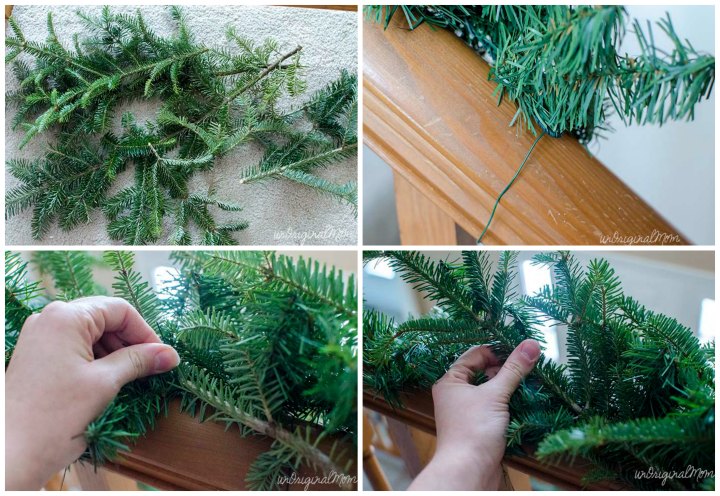 First, attach your fake garland to the banister (or wherever you're hanging your garland) with floral wire.  Then take your fresh greens and start attaching them!  I started at the top of the staircase and worked my way down (I don't think there is a right or wrong way to do it, just how I decided to start!) and attached a branch with floral wire.  Then I took a new branch, tucked the end of it underneath the first one, and wired that.  After that, just let your creativity guide you!  (Really, it's pretty hard to mess up – if I can do it, you can too!) Keep laying on those branches until you get the fullness you want.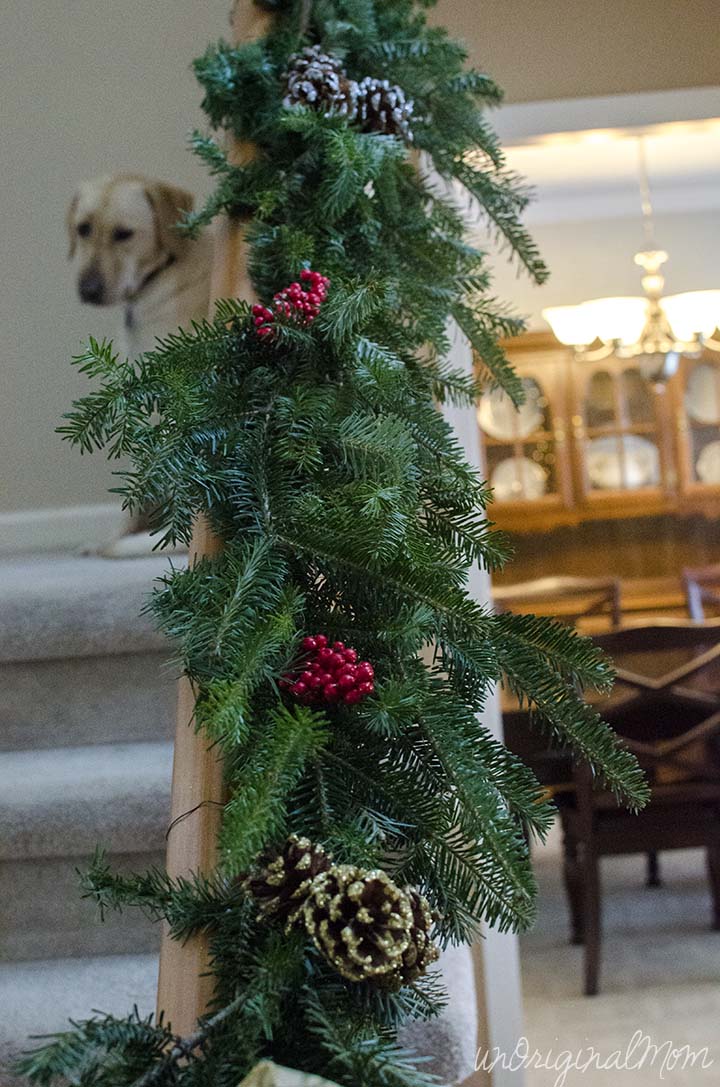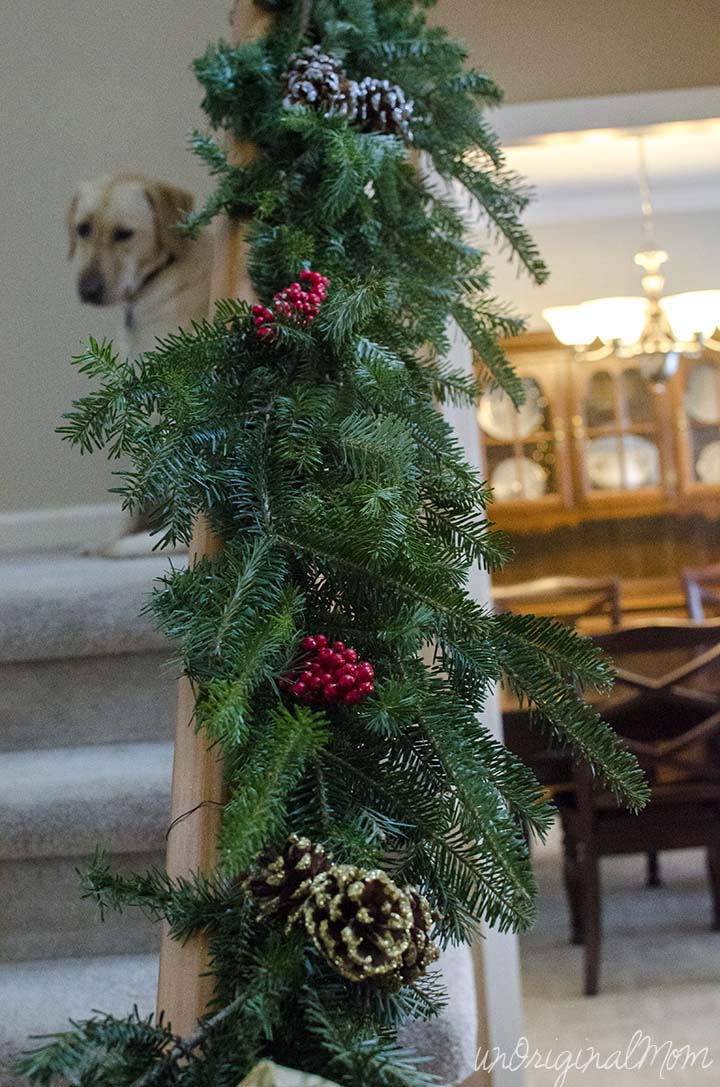 (Doggie photo bomb…hello Lucy!)
I had stocked up on some wreath embellishments at Michael's when they were 50+% off, so I added some of those – glitter pine cones and red-foam-berry-thingies.  I also had a big gold ribbon from last year's wreath that was the perfect finishing touch for the bottom of the banister.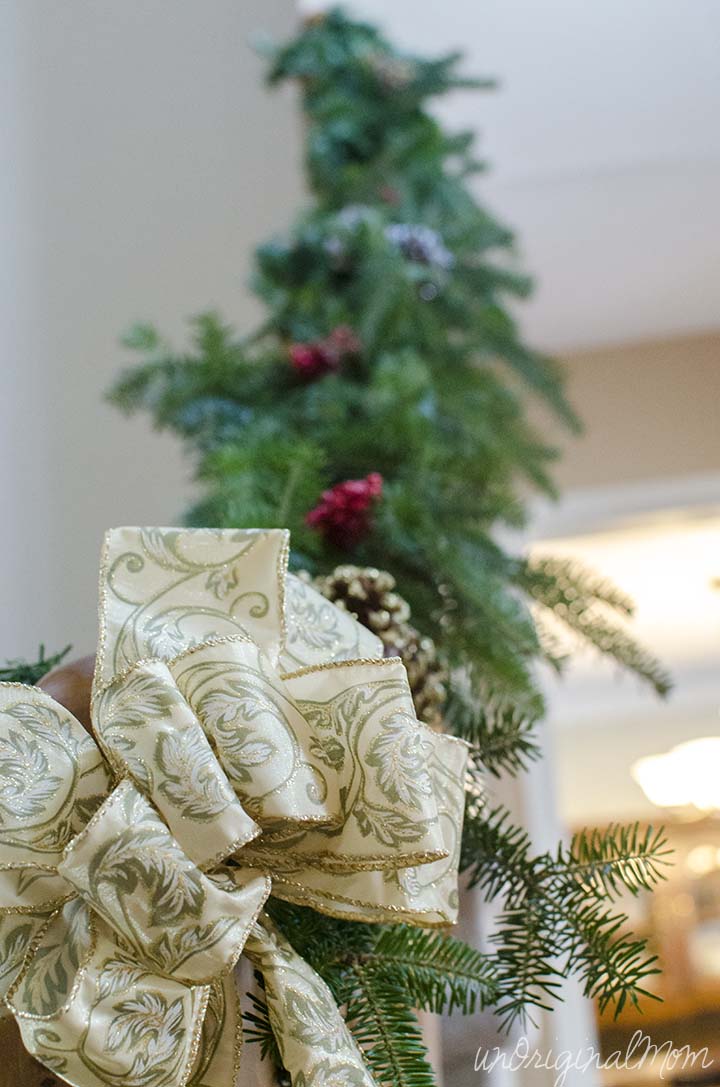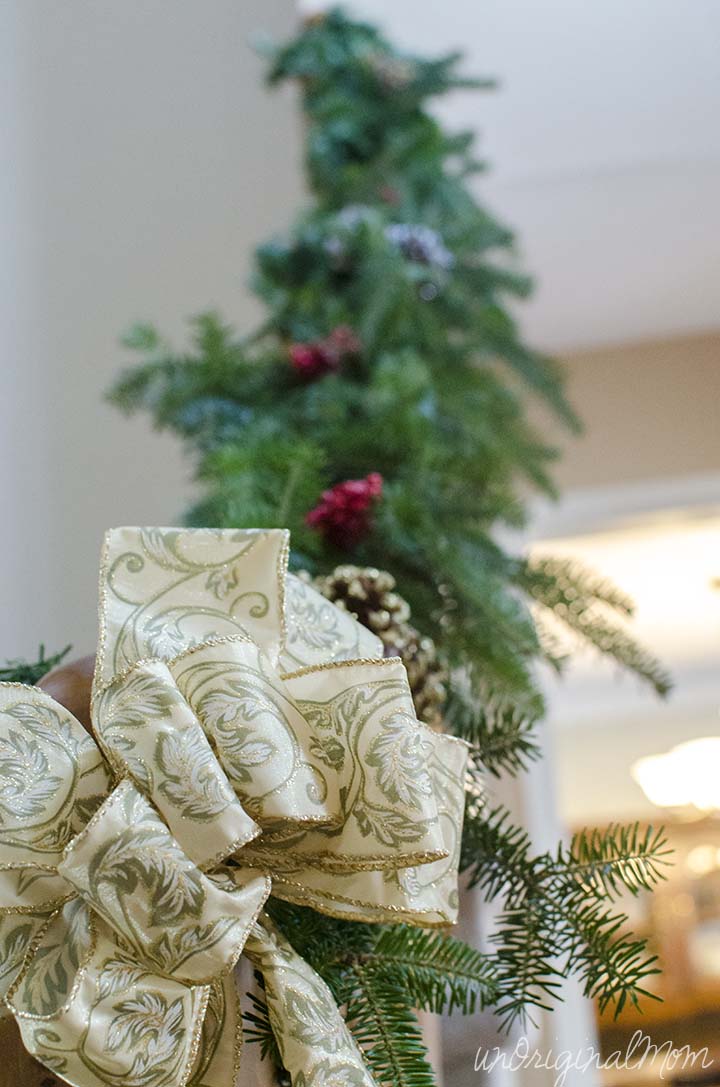 I wish I had a wider angle lens to show how the garland looks in the big 2-story foyer of our new house, but you'll just have to take my word for it when I say it is beautiful!  I could only fit half the staircase into a photo, but I actually used two strands of $2 garland – one for each section of banister.  So, $4 total for the garland!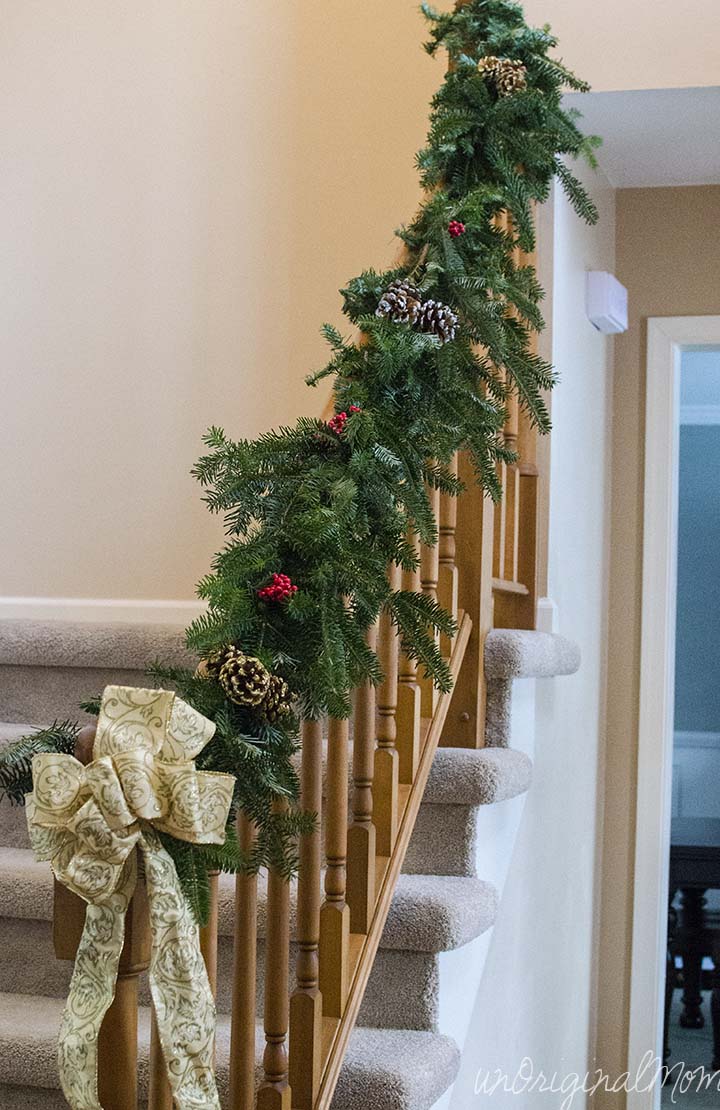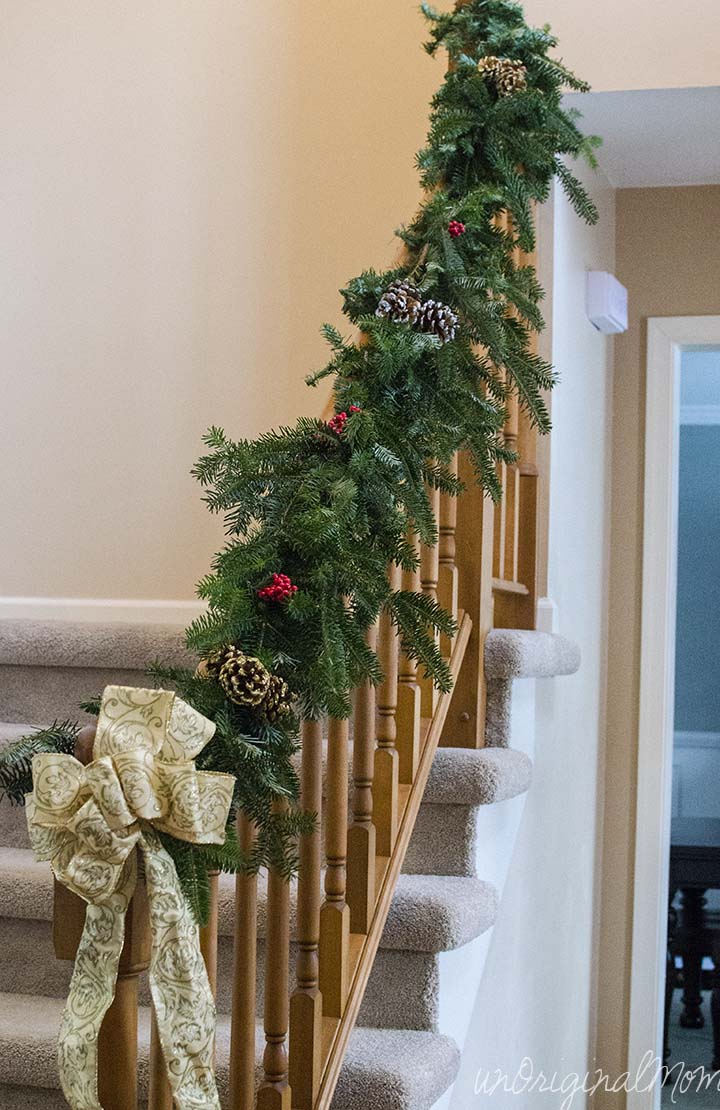 I have always wanted a big staircase for this very reason – to decorate with garland!
(Note: You could do this with more expensive garland or even the pre-lit stuff – but I am thinking it will be much easier to just throw the whole thing out at the end of the season rather than try to remove all of the brittle old evergreens, so I'd rather use the cheapest stuff.)
You might also like…
Christmas Photo Booth Props (with free cut file for Silhouette users!)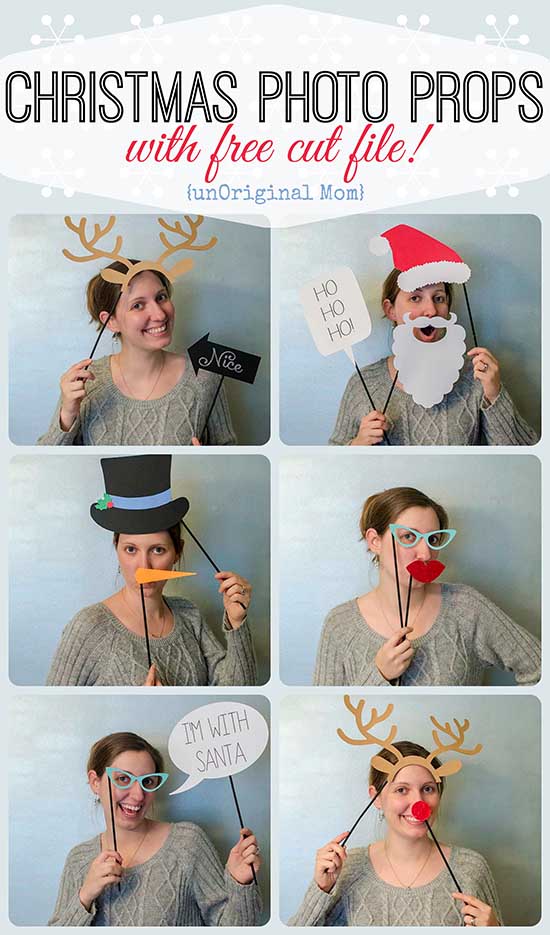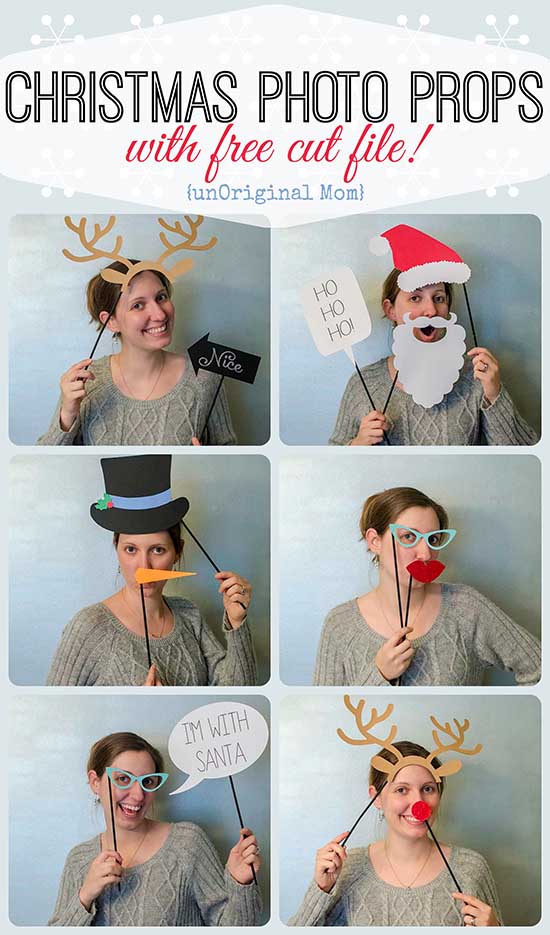 Christmas Card Ornaments – upcycle those beautiful Christmas cards from last year that are just sitting in a box.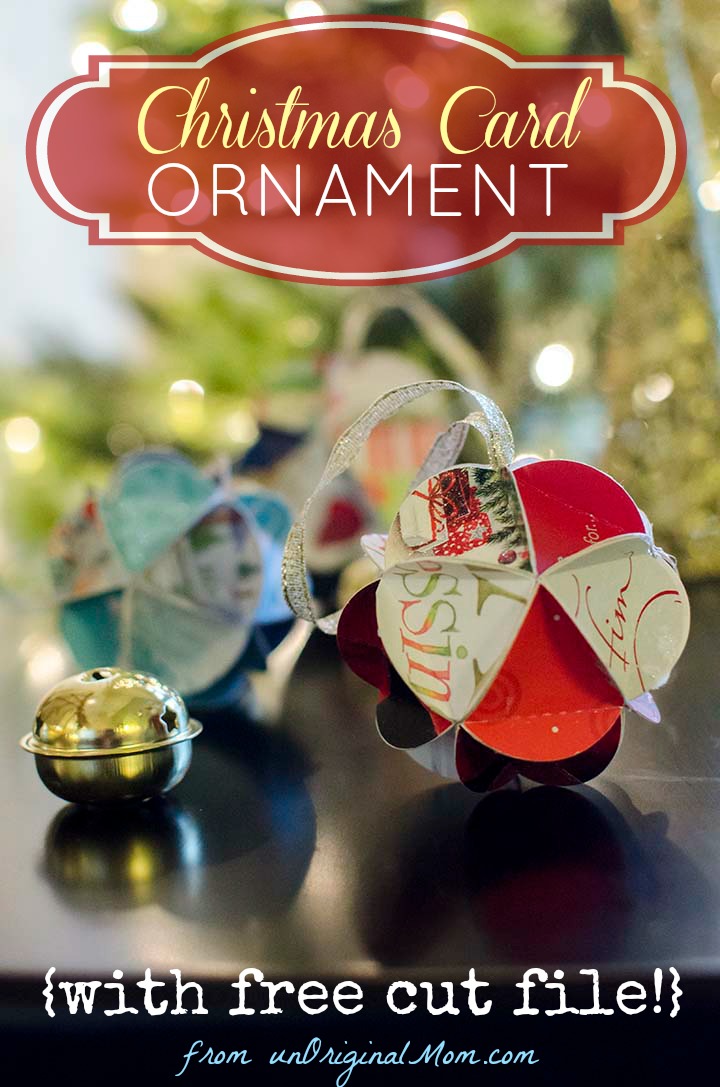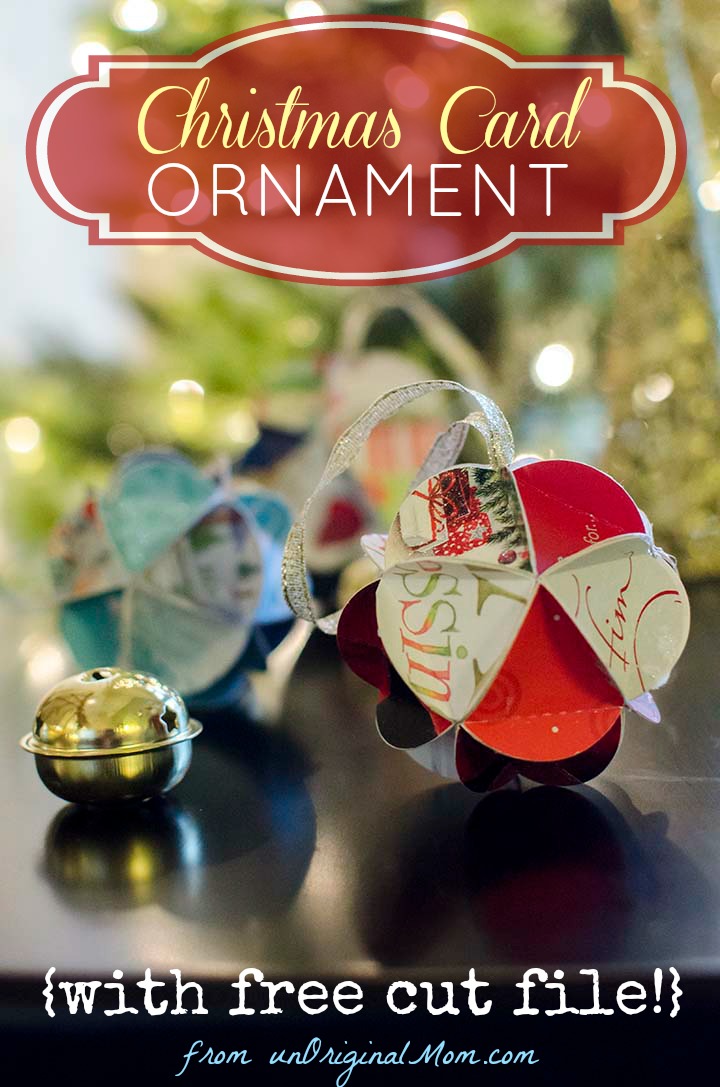 Do you decorate with fresh greens in your home?  How do you use them?
This post contains affiliate links – click here to read my full disclosure.




What if you MADE your Christmas gifts this year instead of buying them? Find out how to set yourself up for success in your Handmade Christmas journey - plus get a free printable gift list planner!