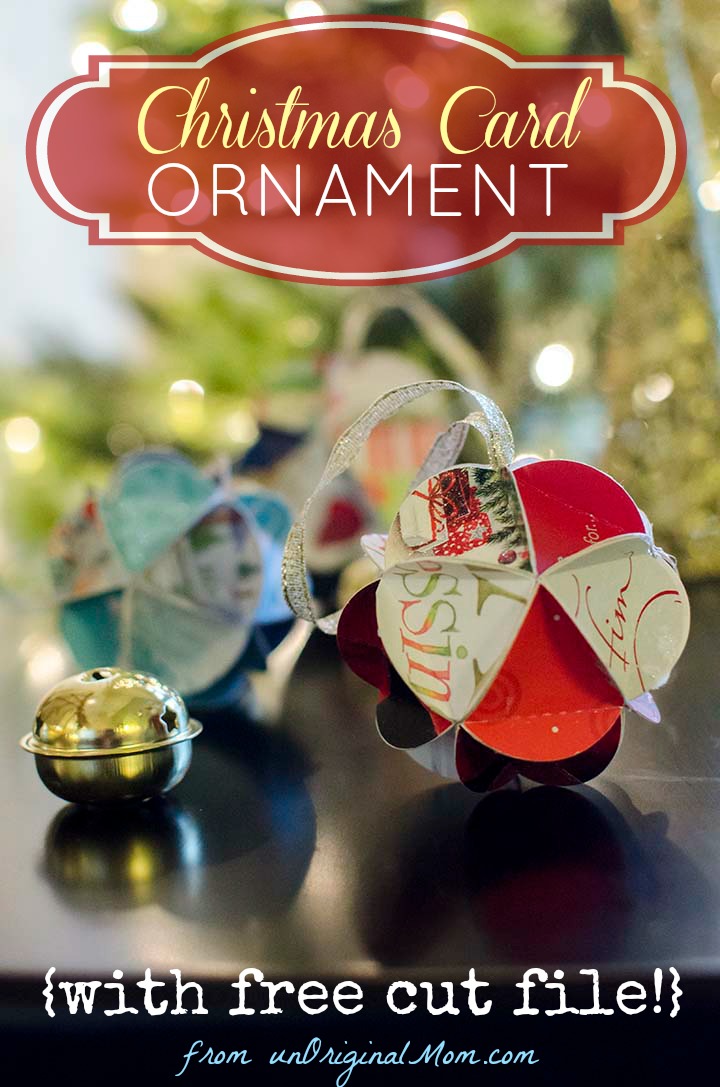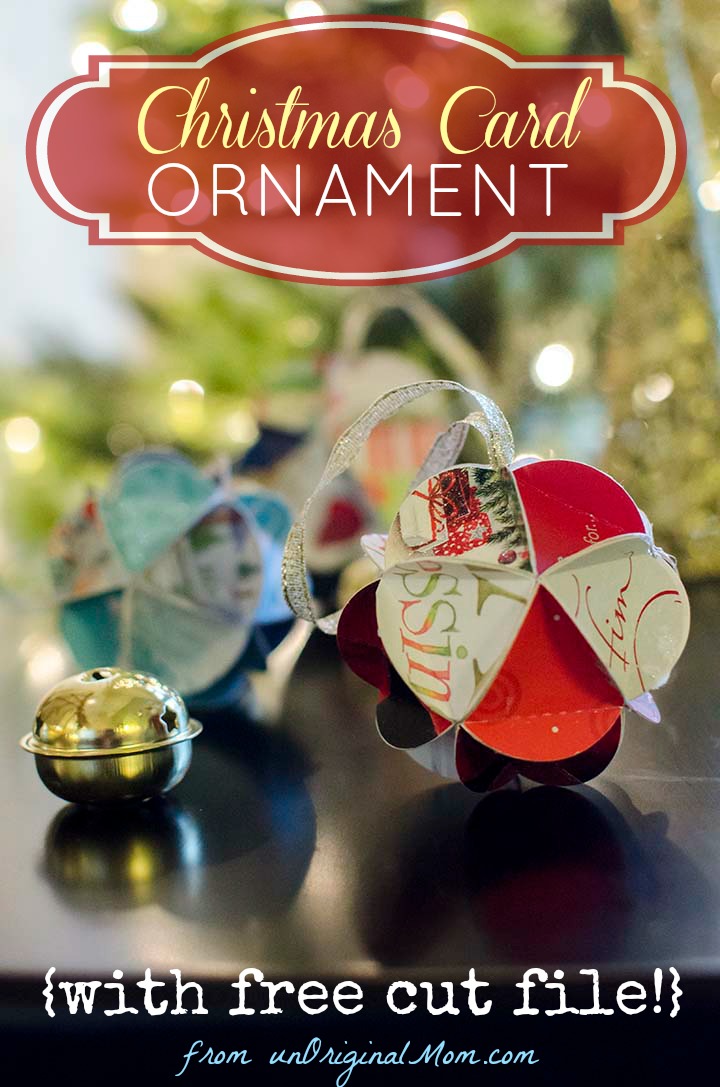 I LOVE getting Christmas cards, don't you?  First of all, there's just something so thrilling about getting letters in the mail that aren't junk.  But I also love displaying them for the season – they're like little works of art, each one unique and beautiful!  It's personal and meaningful holiday decoration, daily reminders of the people that love and care about you.  So when it comes time to put away the Christmas decorations, it's always hard for me to pack up the Christmas cards – let alone throw them away!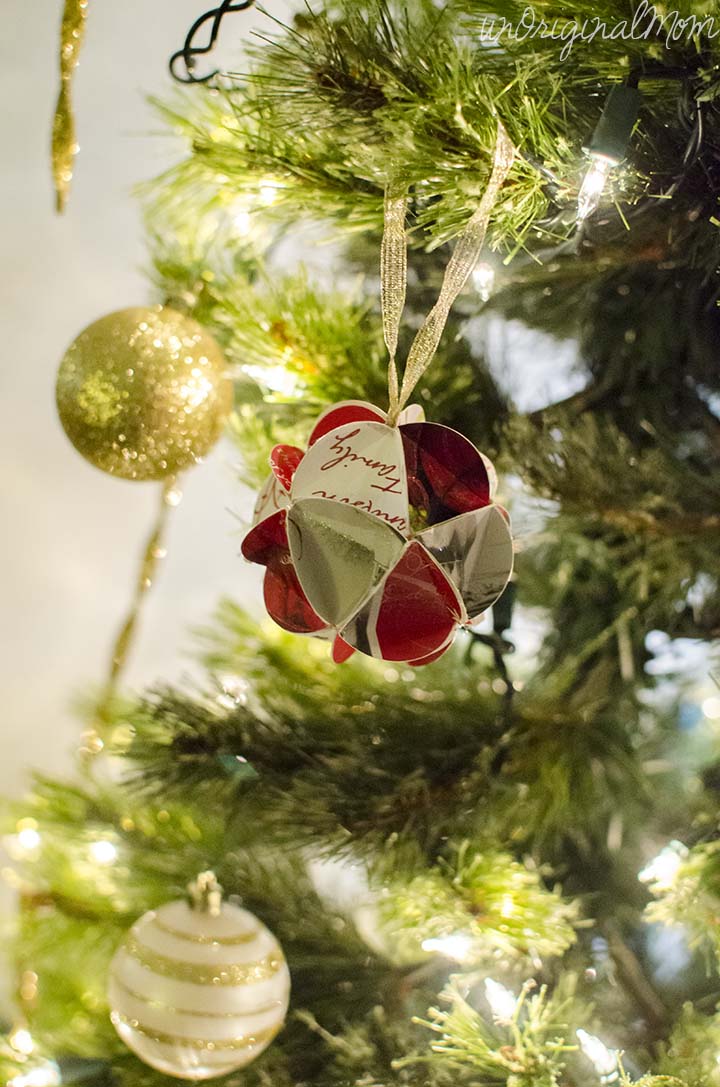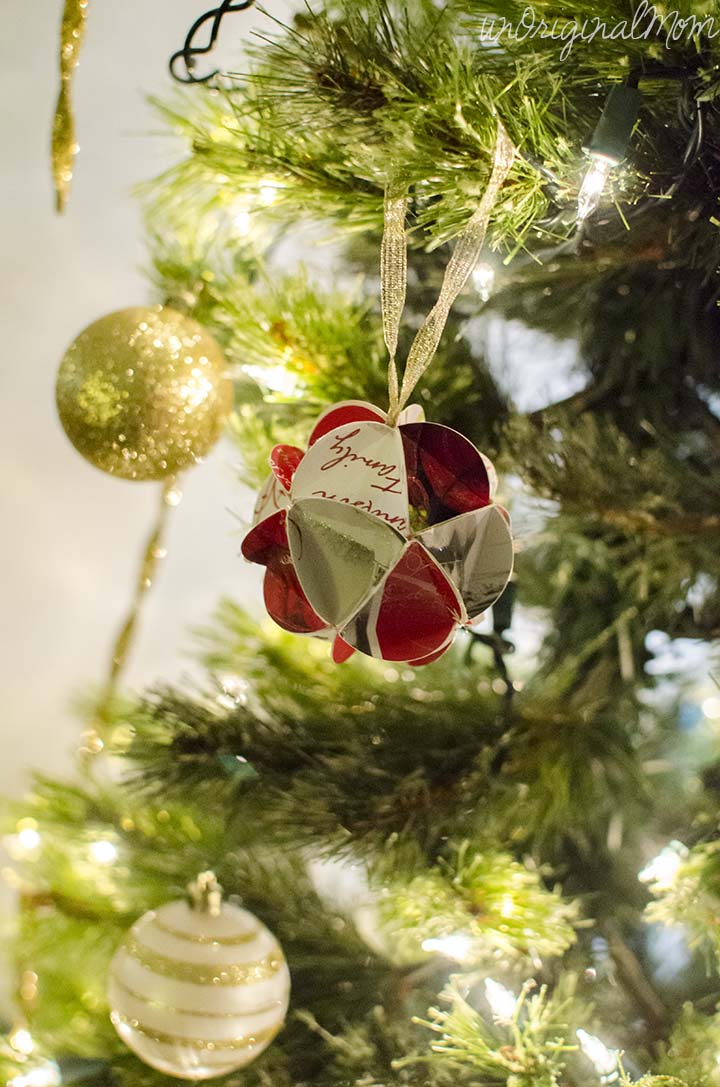 I've seen this DIY Christmas Card Ornament idea several places, but was excited when I found this great tutorial via Scoutie Girl on how to make your own using a craft punch and an exacto knife.  But cutting and scoring each circle by hand (you need 20 to make 1 ornament!) didn't appeal to my impatient side.  I knew there had to be an easier way…
A-ha!  My Silhouette!  Using the cut and score setting, I created my own cut file to create these ornaments a whole lot faster.
You'll find the FREE Silhouette Studio cut file for this project (along with dozens of others) in my Silhouette Library! Enter your email address below to get instant access.

The ornament pieces are really very simple – just a circle with an equilateral triangle inscribed in it.  The trick is under cut style: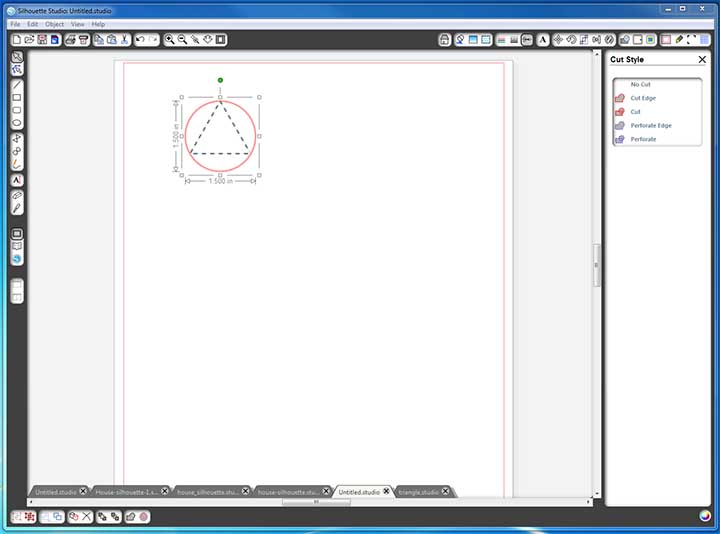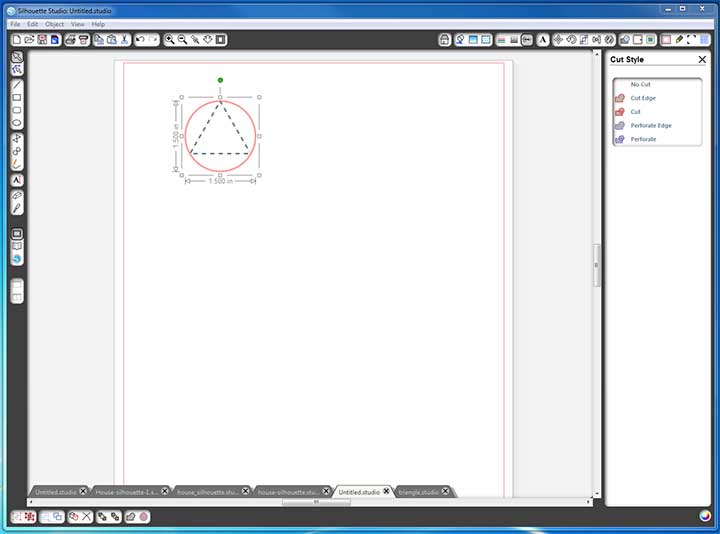 You want the outer circle to be set to CUT, and the triangle to be set to PERFORATE.  When you're in the cut style window, it will show up like a dotted line.  When you exit the window, it will go back to the regular red outline, but don't worry – it's still set to perforate.  (If you're using the free cut file, you don't need to worry about any of this – it's already done!)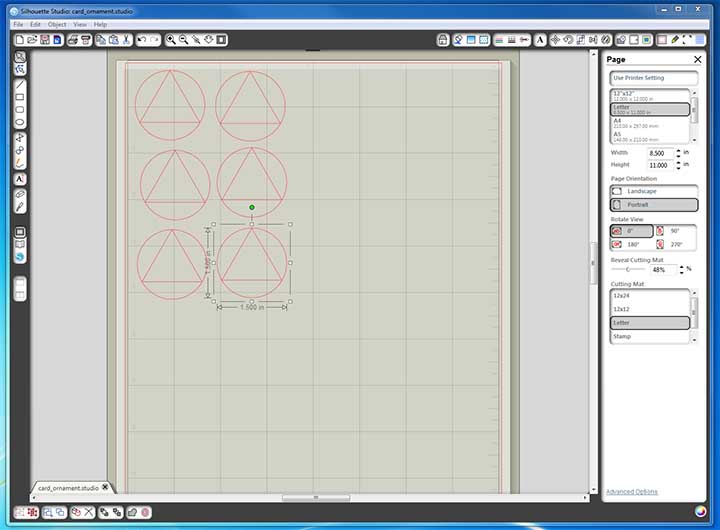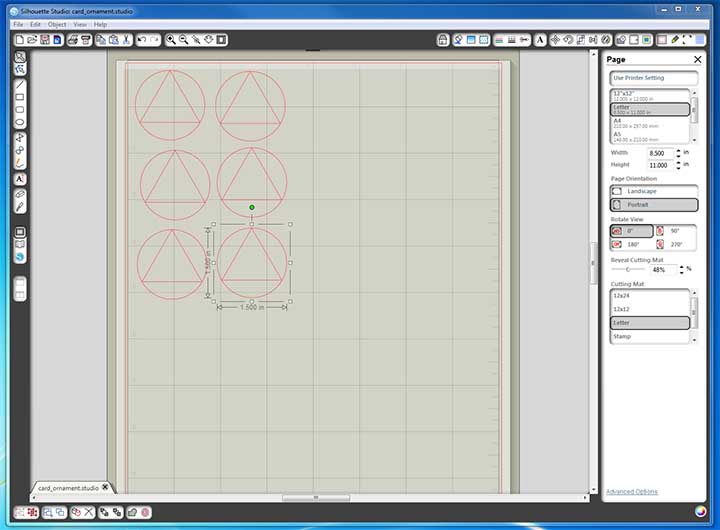 Then, depending on the size of the card you're cutting, you can duplicate the shape to cut several circles out of the same card.  It doesn't have to be uniform – if you really like the colors in the center of the card but not around the edges, move the circles to be clustered around the center instead.
And, of course, you can change the size of your circles to make smaller or larger ornaments – but remember, you need 20 of the same sized circles to make one ornament.
When you're satisfied with the layout of your circles, place your card on your mat and cut!  (I used the regular card stock cut settings for most of the cards, but if they were especially thick I increased the blade depth.)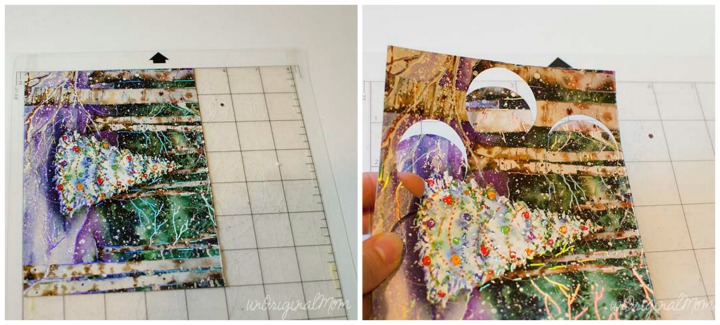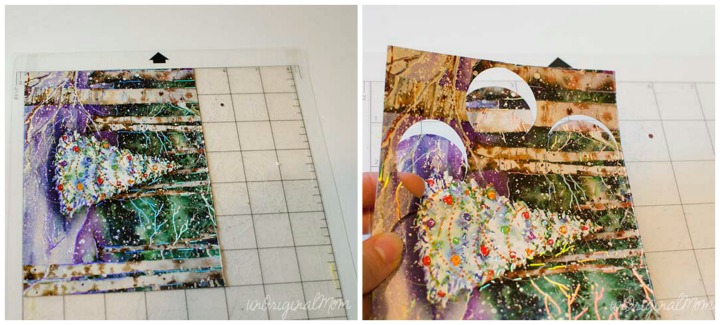 Head on over to Scoutie Girl for a great tutorial on how to put your circles together into an ornament.  Just a few tips and tricks from my experience: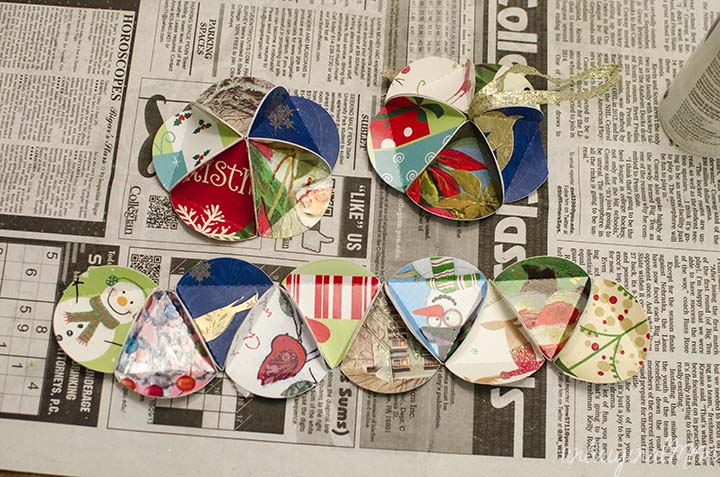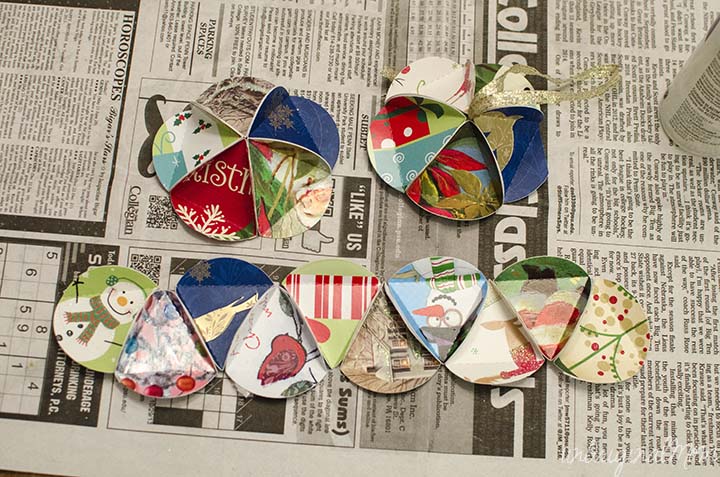 Lay out your circles and plan your ornament first – you'll want to try to make sure that you don't have any of the same card right next to each other.  You can even try alternating colors if you want, like my red and white ornament (pictured at the top of this post).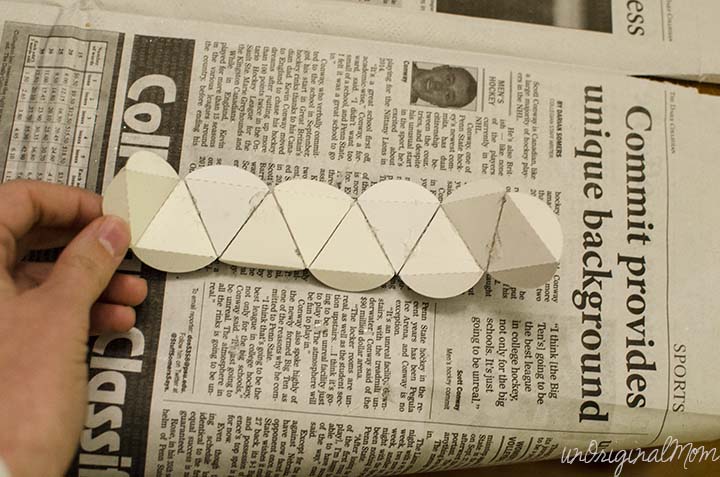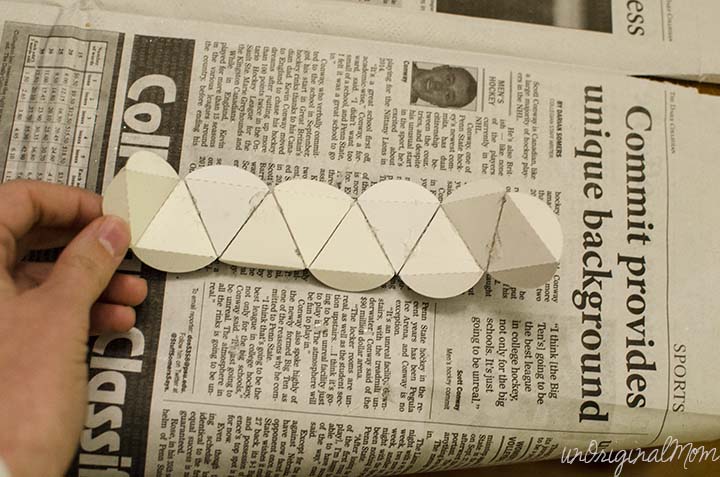 Use hot glue.  I tried using clear tacky glue for the first ornament, and I felt like I needed about 5 hands to hold it all together since the circles kept sliding.  It didn't turn out very well.  For the next ornament, I used a thin bead of hot glue to attach the circles. A little bit goes a long way, and it's not as forgiving so you've got to have them perfectly lined up – but I found it much easier to be precise and get all my corners to line up.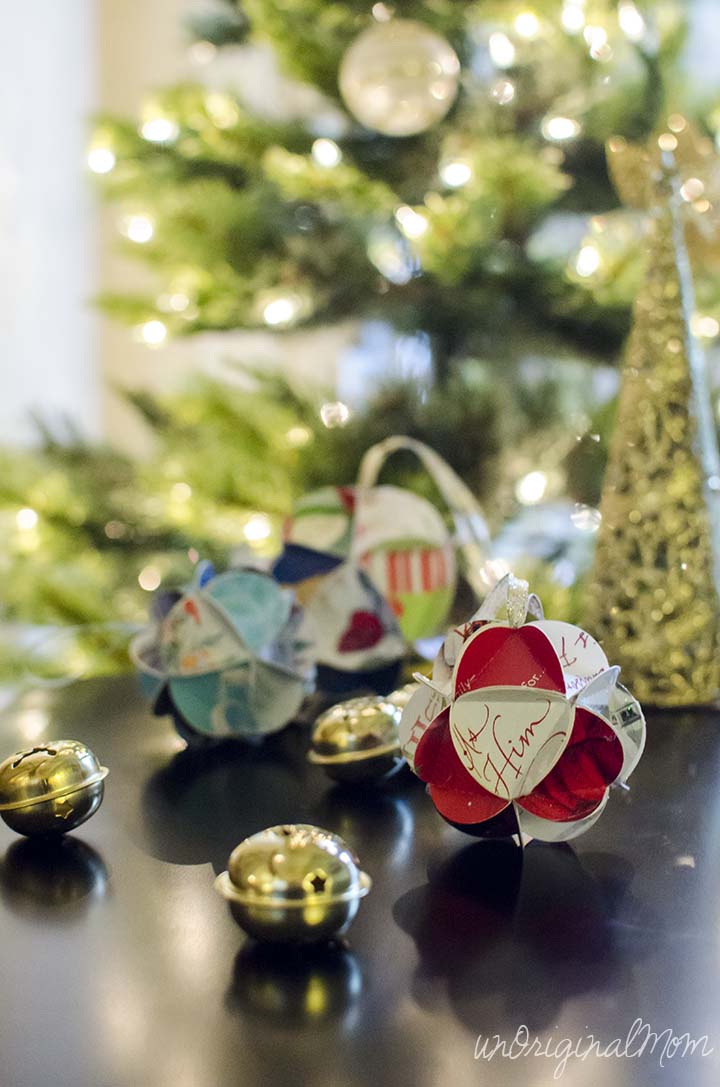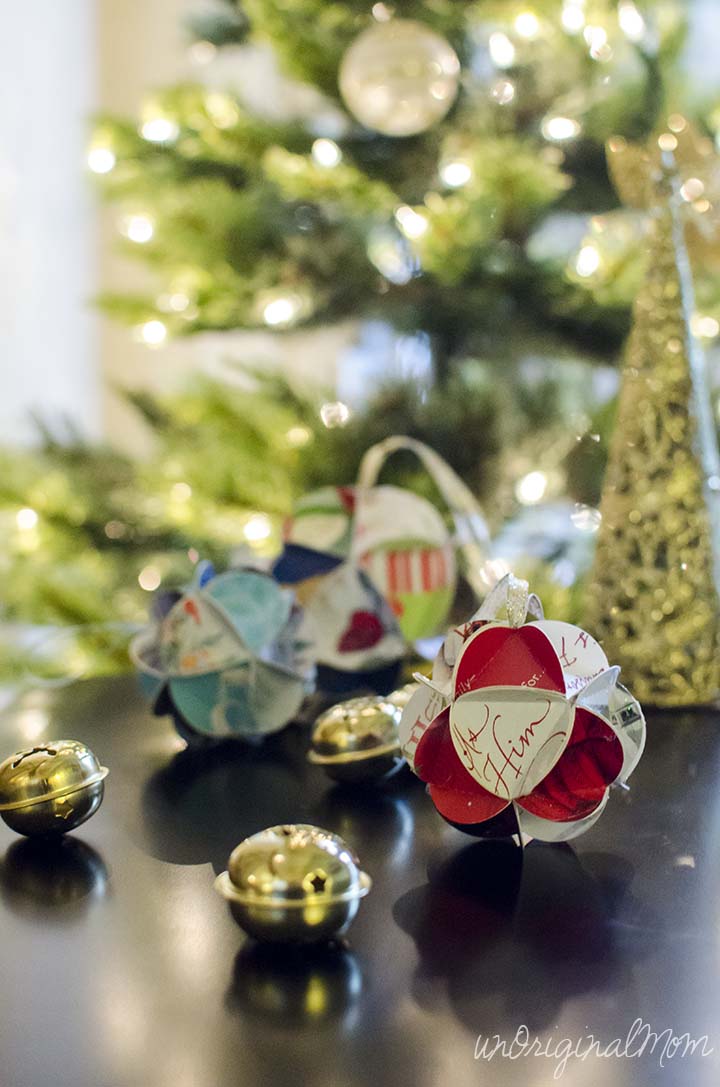 Be creative!  You can put like colors all together in one ornament, or make it completely random.  It doesn't have to just be red and green, either – I think the blue one I made is my favorite!  Don't have any Christmas cards lying around from previous years?  Head to the dollar store and buy some!  Or use pretty decorative paper from the craft store.  Or have your kiddos scribble on some card stock with colored markers or crayons, then cut that up to make your circles.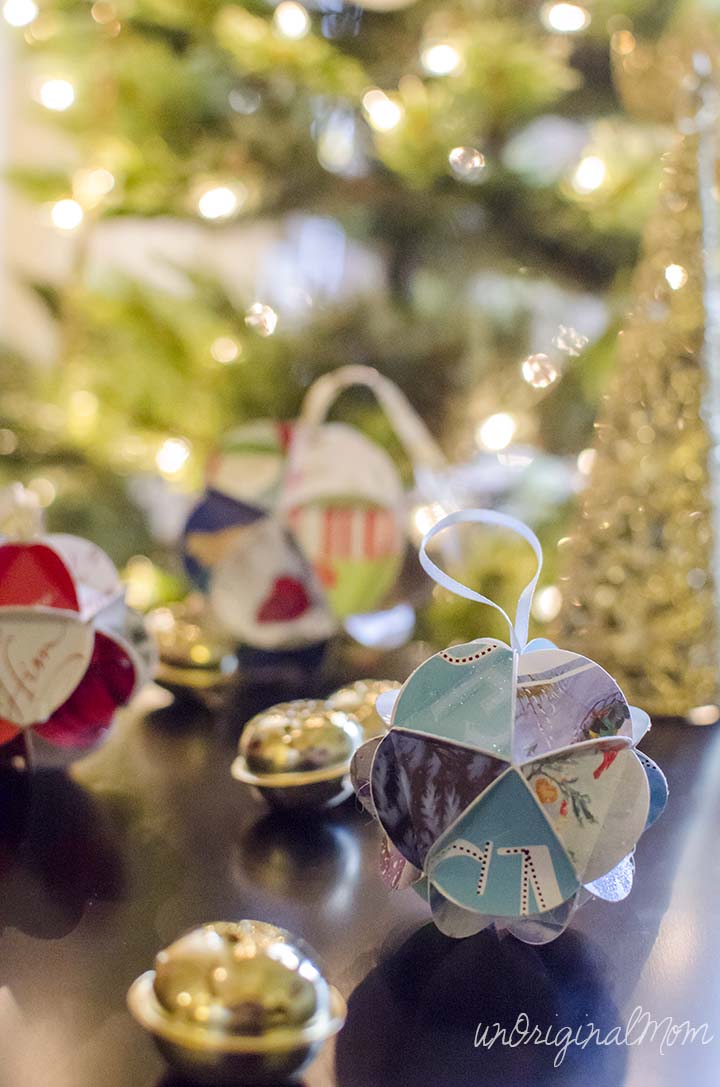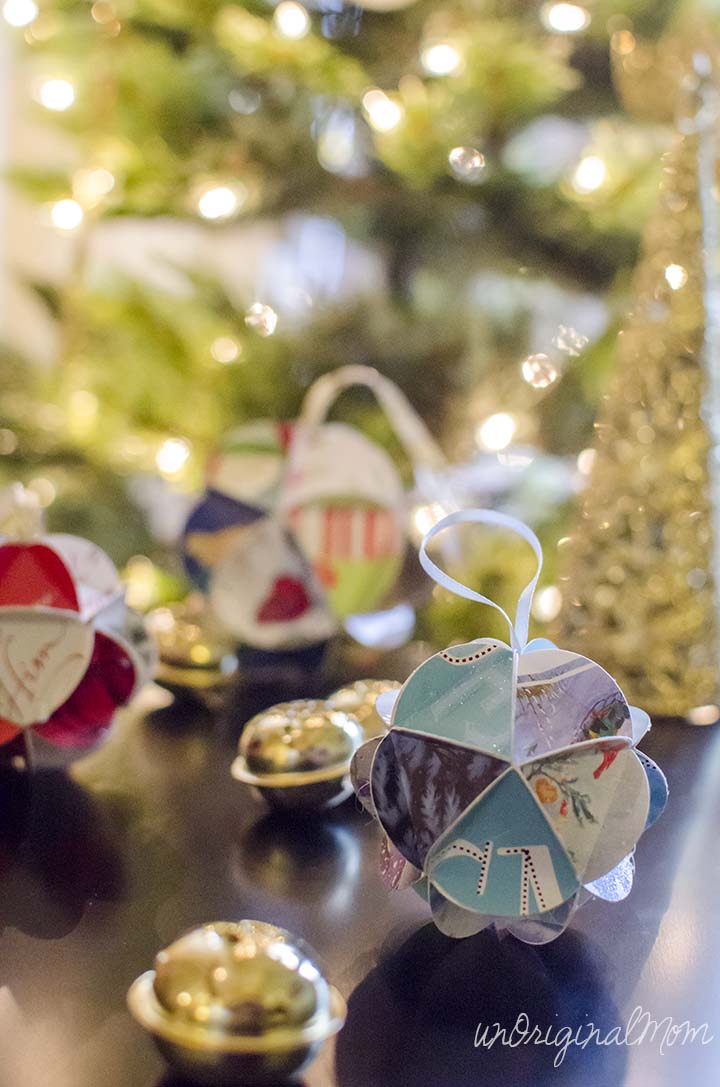 These would make great teacher or neighbor Christmas gifts, too!  You could even fill it up with seasonal potpourri or scented herbs before you close it up to make a lovely smelling ornament or shelf decoration.  There are so many great possibilities!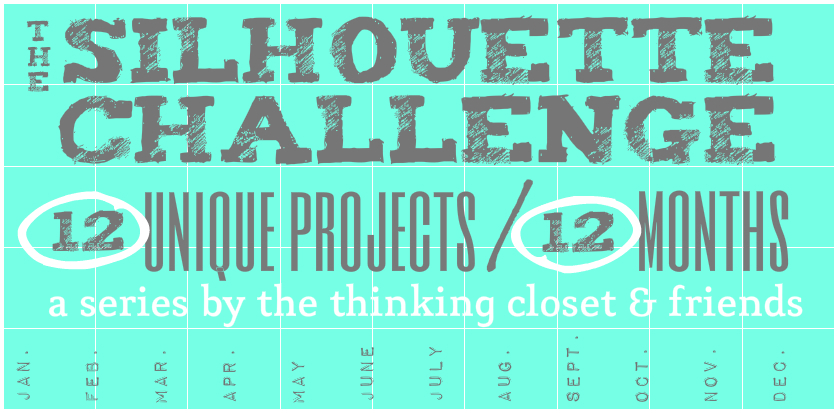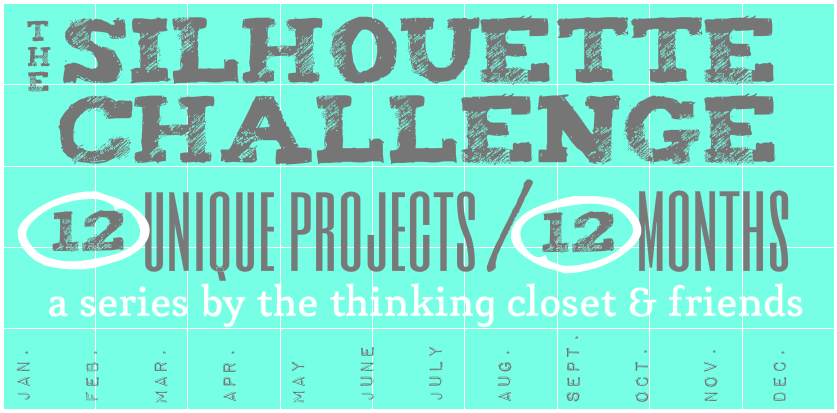 Looking for some more Silhouette inspiration?  This post is part of the November Silhouette Challenge, organized by Lauren at The Thinking Closet!  My Silhouette Challenge buddies are all sharing projects today on their blogs, so browse through the links below for a blog-hopping good time!
DIY Ironing Board Hanger by The Turquoise Home
Silhouette Challenge: Time Zone Bathroom Art by Nearly Handmade
Santa's Christmas Countdown by Tried & True
Nautical Anchor Pillow Tutorial by The Thinking Closet
Thanksgiving and Christmas Dual Sign by Architecture of a Mom
Itching to Etch by Get Silvered
Snowman Tag ~ Silhouette Challenge by Whats Next Ma
Thanksgiving Sign by Chicken Scratch NY
DIY Horse Silhouette Pillow by Rain on a Tin Roof
Sketching on Fabric by The Sensory Emporium
Paper Leaf Garland by Lil' Mrs. Tori
Christmas Pillow by Create & Babble
Glass Painting with Reverse Stencils by Givemeapaintbrush
Chalkboard Thankful Tree by Cutesy Crafts
Bottoms Up! MYO Wine Tag by From Wine to Whine
'Happy Holly-days' Tags for the Swap by An Elegant Touch…
Thank You for Dinner (Card) by Everyday Paper
Advent Star Christmas Countdown by My Favorite Finds
Geometric Fabric Bowls by Please Excuse My Craftermath…
Paper Carnival by Home At Eight
Silhouette Cameo Tutorial: Dual Sided Business Cards by Black and White Obsession
In Case of Emergency Baby Bag Tags by Tossed Salad Life
Christmas On My Mind by Creative Turn
Jingle all the Way! by My Paper Craze
Christmas Lights Garland by Making Home Base
We Are Thankful by 4 You With Love
Seattle Skyline Silhouette by Sowdering About in Seattle
DIY Stenciled Mugs by Coley's Corner
I hope you've been inspired by these fabulous ideas!  Happy Holiday-Crafting!