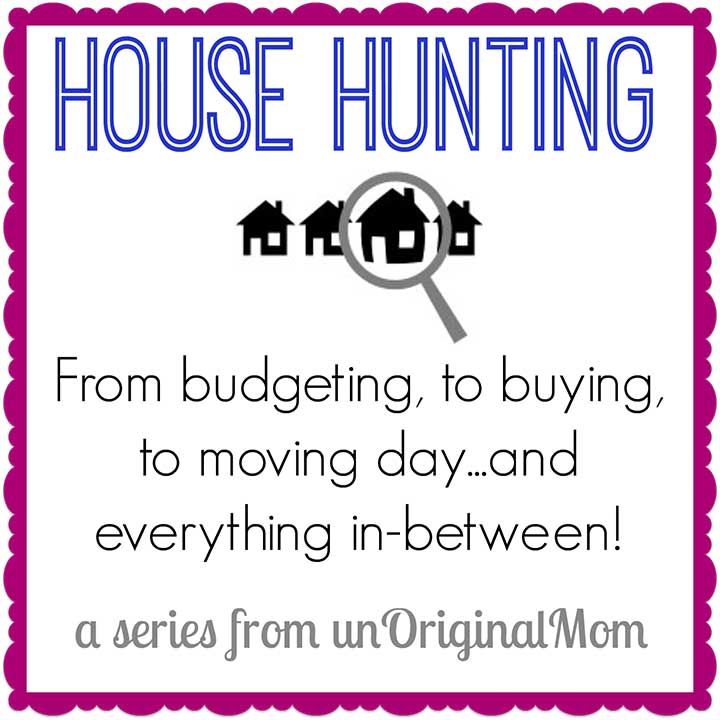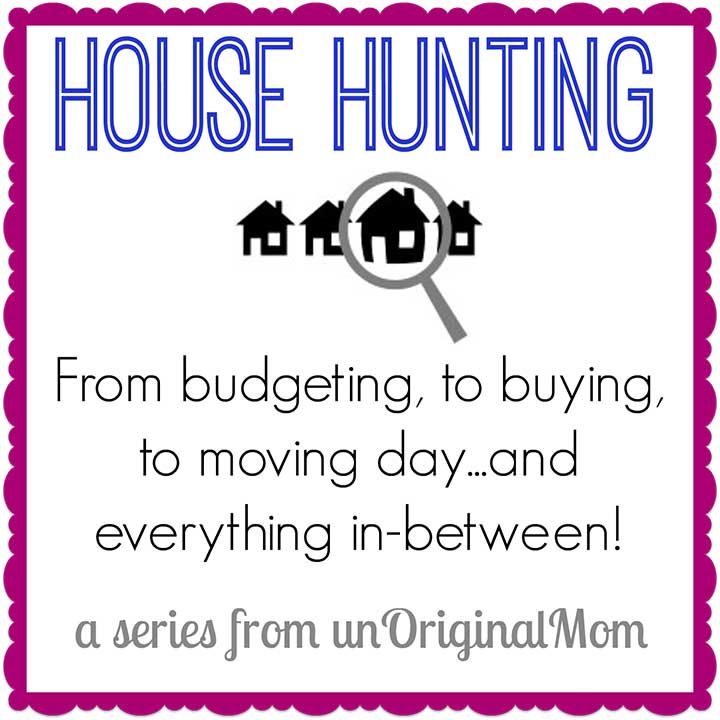 In case you haven't heard, we recently bought a house!  After spending 5 years in our beloved 2 bedroom townhouse, it was time for something a bit bigger that we could raise a family in. So, we started looking at houses in April…finally found "the one" in July…closed in October…and moved in November! It was quite a long process for us and I learned a TON about house hunting/home-buying along the way. (In fact, my husband may tell you that I was even a little bit obsessive about the whole thing!)
Now that we have really settled into the new place and made it through the holidays, I thought it was time to put down on paper the things that were very helpful to me and my husband throughout the course of our home buying journey.  As I started brainstorming and list-making, I realized there was SO much more than I could ever fit into one post – so, welcome to my House Hunting Series! Here's how I'll break it down:
8 Things to Think About BEFORE you start House Hunting – if you're thinking about purchasing a house in the next year or so, here are some things that you should starting thinking about or doing NOW to be prepared!
House Hunting Tips – from finding the perfect Realtor to making a must-haves list to making an offer on a house, things you should know about the house hunting process.
Staging to Sell – tips and tricks for staging your house and putting it on the market to help it sell as quickly as possible.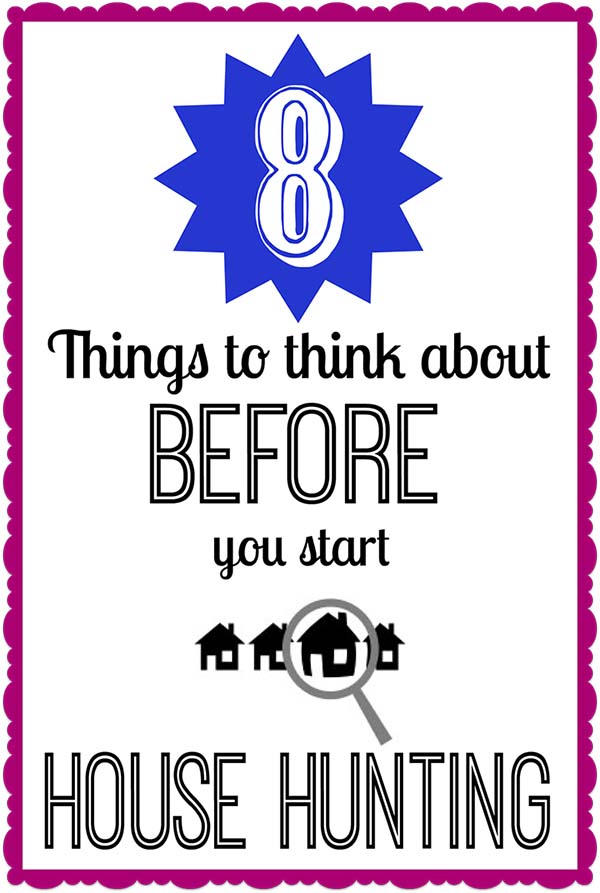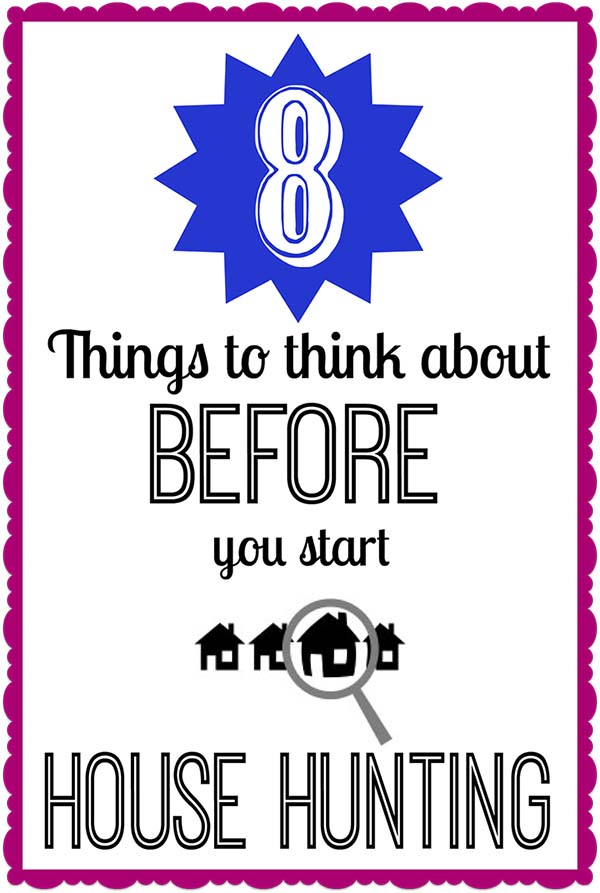 Today, we'll start with 8 things to think about BEFORE you start house hunting.  Yes, there are several things you should be thinking about before you even call a Realtor – though even if you've already started looking at houses, it's not too late to press pause and go back to some of these basics!


Work out a monthly cash flow plan (a la Dave Ramsey) and figure out how much money you have to devote to a monthly housing payment.  The last thing you want is to be "house poor" – meaning to be living in a beautiful house but barely have any money left over for other expenses after you've paid your mortgage. Remember to include placeholder numbers for home insurance, property taxes, utilities, and a homeowner's association fee (if applicable). A general rule of thumb is your monthly payment (including taxes & insurance) should not be higher than 25-30% of your household's monthly take-home pay, but that number is even a little high for my comfort level.


Once you have your projected monthly house payment number (mortgage + taxes & insurance), start "practicing" it. For example, if your current monthly payment is $1,000 but you're planning on moving to a home where your new payment would be $1,500, put an extra $500 in savings each month when you pay your mortgage.  This is a great way to get used to a new payment while also saving up more money towards a down payment and closing costs.


Decide on a down payment number.  In my opinion, you shouldn't be buying a house unless you have the cash to put 20% down. In most cases if you put less than 20% down you will end up paying mortgage insurance, which is money that doesn't go towards interest or principal on your mortgage – it is essentially throwing money away. You are much better off in the long run renting for an extra year or two while you save. Also, be sure to figure in that you'll need extra cash for closing costs – usually about 2-5% of the cost of the home. Here's some tough love, people – if you don't have enough cash saved up for the house you want, either lower your budget or wait until you do.  In the meantime, think of ways to really save as much as possible – avoid eating out frequently, get rid of cable, get rid of your smartphone (it is possible to live without one!), get an extra part-time job a few evenings a week, have a garage sale (you'll want to purge before you move anyway!), or, if you're really serious about saving, move in with family or friends for a while to save up for that down payment.


Sit down with a lender (I'd recommend finding a local bank, not a national chain or mortgage company) and get a preapproval letter as well as some preliminary numbers on various scenarios.  Take a few houses in a few different price ranges that are currently on the market and have them run numbers to get you a payment.  You can shop around for who has the best interest rate and package once you've made an offer and had it accepted, you just need to have a preapproval letter in order to make an offer. And remember – money lending is a business.  Just because you get approved up to a certain number doesn't mean that it's smart to spend all of it.


Consider getting a 15 year mortgage, if you can. (This will up the number you're budgeting for a monthly payment.) Especially if this is going to be a long-term home for you – think about what it would mean for your finances to pay off your mortgage in 15 years!  If you can't do that, think about budgeting a higher amount than your actual monthly payment to put towards your mortgage (even an extra $50-100 will help) and in the long run, you'll end up paying off your mortgage a bit sooner. Another way to accomplish this is to pay half your mortgage payment every two weeks instead of once a month – you'll end up making 13 whole payments  in a year instead of 12 that way.


Before you're even ready to start actually looking at houses with a Realtor, browse the online listings in and around your budget.  If you aren't moving far from where you currently live, go to open houses, get to know the neighborhoods, etc. This will help set your expectations ahead of time so you know what kind of house you can get for your money. Spend some time just driving around town and getting a feel for different neighborhoods and subdivisions.  For example, after doing a lot of "drive-bys" past new listings, I quickly realized how much of a difference sidewalks make in a neighborhood – the houses are set back a little farther from the street, there are often more trees in front yards, and of course there's a place to walk that's not on the street. You may be surprised what kind of things you discover about your tastes just from driving around neighborhoods and looking at online listings!


Especially if you're moving to an area that is unfamiliar to you or if you live in an urban area with lots of different suburbs to choose from, ask friends or family what they love and hate about where they currently live.  Depending on what's important to you, find out about schools, crime/safety,  local churches, how far it would be to a grocery store (or craft store!), commute/traffic, etc.


If you're renting, when can you get out of the lease? Will you have to pay a penalty? Be sure to account for that in your budget and timeline. If you currently own a home, will you be selling before or after making an offer on a new home?  This will factor into making a contingent or non-contingent offer on a new home.  Contingent means that your offer is dependent on you selling your current house – this is really unappealing to a seller, because they have no idea what kind of house you have and how quickly/easily you'll be able to sell it.  In multiple offer situations, the seller will almost always go with the non-contingent offer.  If you don't have the cash on hand to be approved for a non-contingent offer (usually the lender wants to see you have cash to cover 6 months of payments on both houses), then you may need to sell your current home before you can buy a new one. That would mean possibly needing to rent a storage unit for your stuff and find interim housing (a short term rental, long-stay hotel, your parent's basement, etc.).  Especially if you live in an area where there is not a lot of inventory in your price range, you may end up needing to wait for that "perfect" home to come on the market for you.
Now, an obvious disclaimer – I am NOT a real estate professional in any way! There is certainly no substitute for advice from a Realtor or Lender, so once you're ready to begin your house hunt you should certainly talk to a professional about all of these things as well. (I'll talk about finding the perfect Realtor in my next post!) But hopefully reading this list will help you start thinking about the things you'll need to know in order to begin the most expensive shopping trip of your life!
If you have any more tips about things to do before you start house hunting, please share them in the comments! And remember to stop back next week for my house hunting tips…I'll be talking about finding a Realtor you love, staying on top of new listings, and why you SHOULDN'T have a wish list :-)


Get your copy of my FREE meal planning binder!
Sign up to get a free copy of my meal planning system - an 11 page printable meal planning binder, complete with a pantry inventory, shopping list, and more to help get on top of your menu each week!