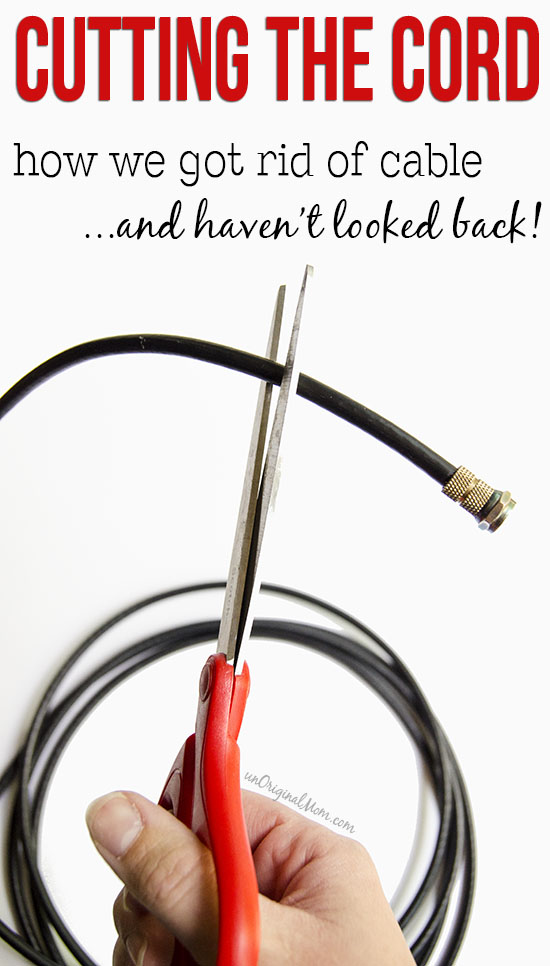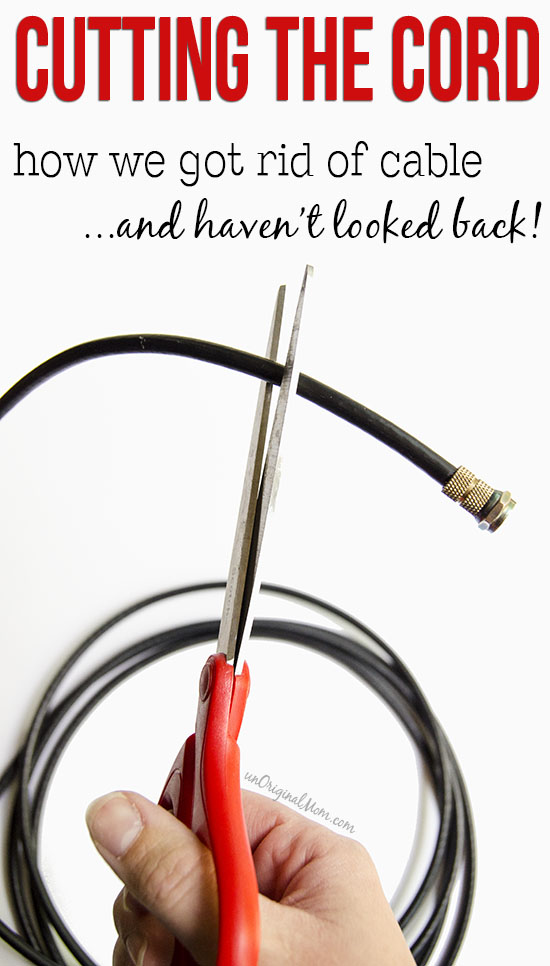 This post contains affiliate links – click here to read my full disclosure.
UPDATE: This post was actually written way back in 2014, before "cutting the cord" was as easy as it is today! While my info on streaming services is clearly pretty dated, a lot of my tips for how to go cable-free still apply. Feel free to add your own tips in the comments!
It was about a year and a half ago – Christmastime – that my husband and I began to talk seriously about getting rid of cable.  We'd chatted about it before, but as a stay at home mom of a baby girl, I didn't think I could survive my days at home without television.  I'd start the day with a morning news show, switch over to some Rachael Ray, The Price is Right, and then HGTV or Food Network for the rest of the afternoon.  I rarely sat down and watched those TV shows – it just provided what I thought was much-needed background noise and the illusion of some adult conversation and stimulation (however one-sided it was).  But it was just after Thanksgiving that I decided to turn on some Christmas music (via our Blu-Ray player's Pandora App) instead of my usual menu of daytime television.  I was simply amazed at the change in my day.  I was so much more motivated – even cheerful – as I went about chores around the house.  That was the day I realized that not only did I not NEED cable – I was better off without it!
And so, frustrated to a breaking point with the terrible service and rising rates of our cable company (Comcast Xfinity) and armed with the newfound knowledge that I actually could survive without television through the day, we cut the cord.  And I can honestly say that we haven't looked back.
Are you thinking of dropping your cable subscription and "cutting the cord?"  Here are some things you may want to know.
This post contains affiliate links – click here to read my full disclosure.
You can still get live TV for FREE.
Just because we don't have cable doesn't mean we had to do away with live television completely.  We get PBS, ABC, NBC, CBS, and FOX for absolutely free AND they're in HD – with an antenna.  It's great to turn on PBS Kids for my daughter in the mornings or watch the evening news.  We have this antenna – my husband mounted it in the attic and ran the cable down through the walls to the wiring panel in the basement, where he connected it to the splitter that feeds all of the cable TV outlets in the house.  So that means we can put a TV in any room, plug it into the cable outlet, and get the signal from the antenna.  Unfortunately, depending on your location, there's no real guarantee that you'll be able to get a good signal from every network – the website TVFool.com is really helpful in knowing where your closest transmitters are, what kind of signal to expect at your house, where to aim your antenna, etc.
Streaming Subscriptions.
We have a Netflix subscription, as well as access to Amazon Instant Streaming through our Amazon Prime subscription.  Of course, you've got to have a decently fast internet connection to be able to stream video, but as long as you have that, you can watch television until the end of time with the amount of programming available on these two.  Hulu Plus is another option, but we tried that for a few months and barely used it, so we dropped it.
Obviously, there are LOTS more options here these days than there are when we first cut cable back in 2013…the trick is to pay LESS for all your subscriptions than you did for cable. One of the best ways you can do this is to alternate your subscriptions. Many of these streaming services have options to "pause" your subscription, so you can make yourself a schedule where you get Netflix for one month, Hulu for another month, Disney+ for the next month, and then back to Netflix, etc. That can save you several hundred dollars over the course of a year!
Play Streaming Shows to your TV.
There are a several different options to play your streaming shows via Netflix, Hulu, etc. on your television.  The first is a smart TV.  We have a Samsung smart TV, and I would NOT recommend it, for this reason – TV manufacturers are in the hardware business and aren't very good at software, so the apps on the TV are very glitchy.  In fact, the Netflix app on our TV works less than half the time.  Also, if you think about it, once a TV manufacturer has come out with a version of a smart TV with specific software, they have little to no motivation to continue to develop that software and come out with updates, bug fixes, etc – they'd rather just have you buy a new TV.  So, I would recommend a regular TV with a separate "smart" device like a Roku, Apple TV, Fire stick, etc. since it is much less expensive to replace the smart device when you want an upgrade rather than the entire TV.
UPDATE: We've since purchased a Roku for our living room television and we love it – it's a lot faster than the Fire TV Stick and the apps are less glitchy. I'd recommend it!
Fill the void.
If you were like me and thought you just needed the background noise of the television, switching to music can be a very positive change.  I've got a few different Pandora stations that I'll turn on during the day depending on my mood and what I need to get done.  Growing up, my mom would always put on Billy Joel or Chicago on Saturday mornings when we cleaned the house, so there's nothing like some "We Didn't Start The Fire" or "Saturday in the Park" to get me in the mood to clean!  There are so many different options – online streaming radio, satellite radio, an mp3 player, or even some old fashioned radio – it doesn't matter how you do it, but try putting on some music more often!  (Speaking of which, I absolutely LOVE our Amazon Echo and how easy it is to turn on music!)  Or if you're looking for a quiet couple of minutes on the couch to just zone out, get out a magazine or a book!
Do the math.
Cutting cable will save you a LOT of money.  Unfortunately, we still have to give Comcast some money each month for internet, as they are the only high speed internet provider in our area…DSL isn't fast enough for streaming video, and rural central PA doesn't have Fios.  But we were able to call and get on a promotional rate for a year, so we are currently paying $30/month for high-speed internet.  (It's easy to get on a promo rate with Comcast, if you can handle being on hold for a long time – just call and tell them you're thinking of dropping your service and they'll transfer you to "customer retention" where they will offer you their current promotion.)  Before the switch, we were paying $130+ for our cable and internet.  That's a savings of over $1,000 a year!!!
I can honestly say that since we "cut the cord" a year ago, we haven't looked back.  I never thought I'd be able to get rid of cable, but it was surprisingly easy!  And the best part is, I think our family is better off because of it – and our wallet certainly is, too!
So – where are you on the cable TV spectrum?  Committed to cable?  On the fence?  Or proud cord-cutter?


Get your copy of my FREE meal planning binder!
Sign up to get a free copy of my meal planning system - an 11 page printable meal planning binder, complete with a pantry inventory, shopping list, and more to help get on top of your menu each week!