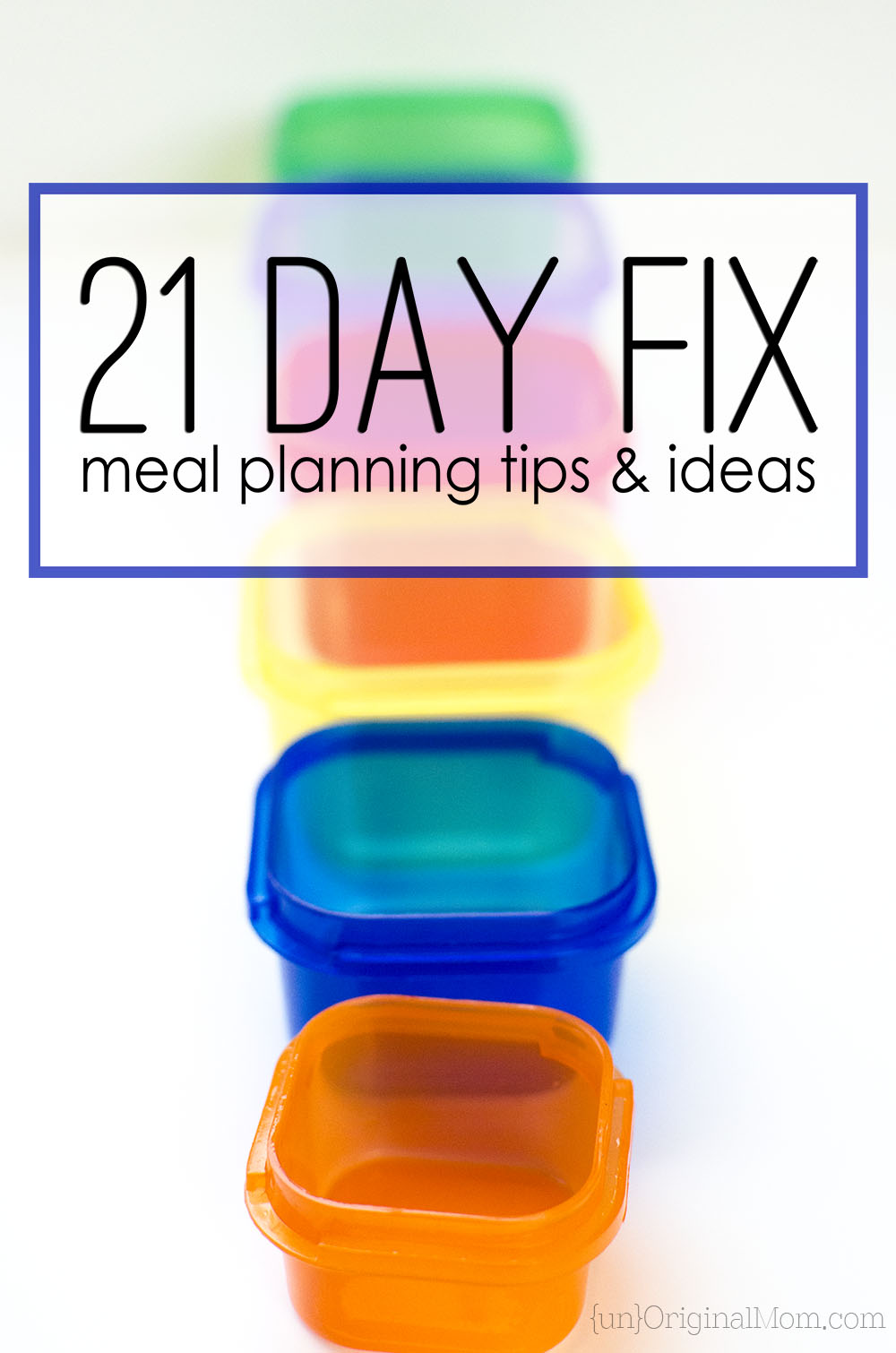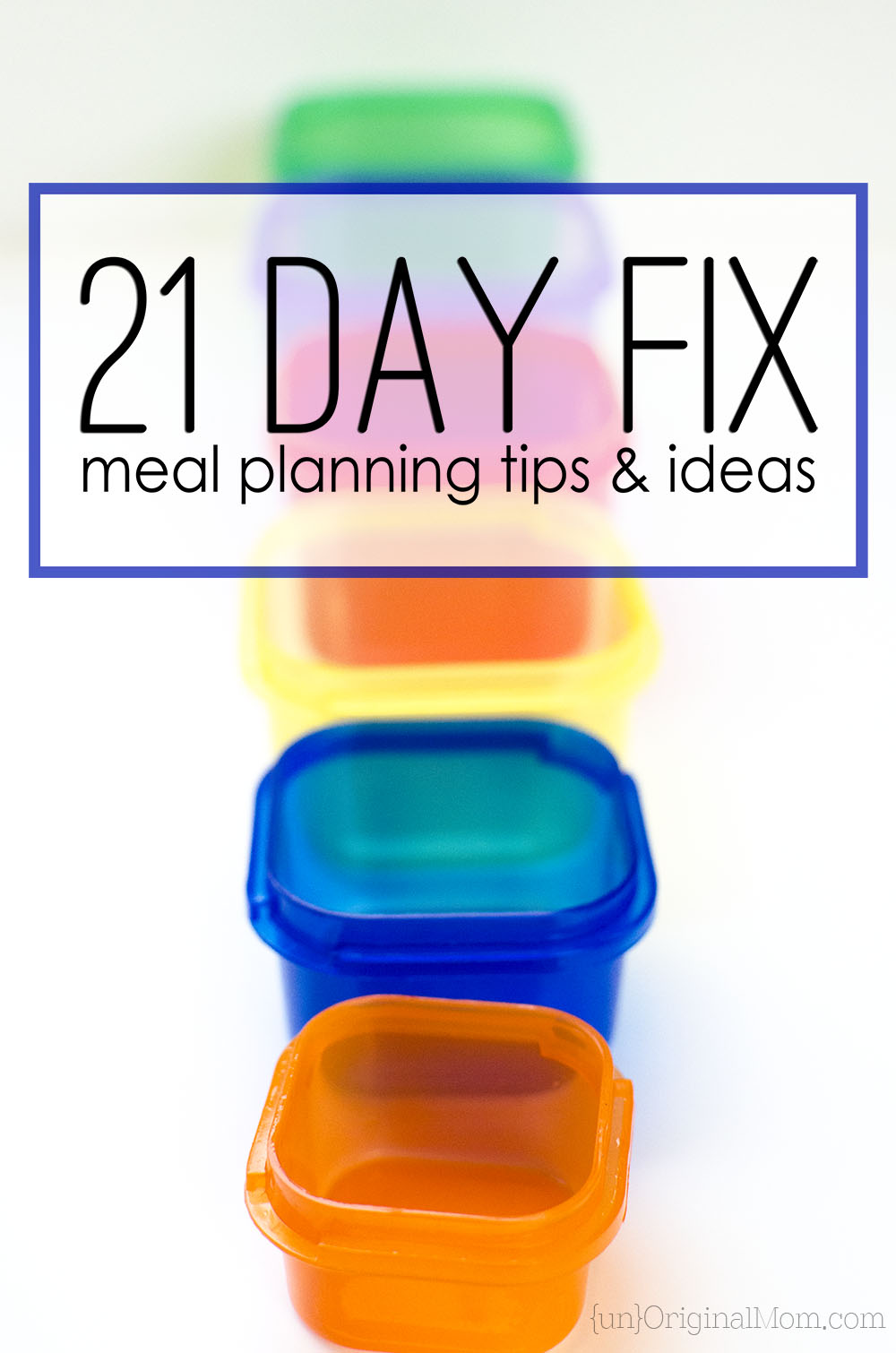 Last week, I shared with you some thoughts, reflections, and results from my 21 Day Fix Journey.  I thought it was important for folks out there to be able to read an unbiased review of the program from a NON Beachbody coach perspective!  While I really appreciated the entire program (and it helped to kickstart my weight loss), the ideas and habits I gained from following the meal plan have really transformed not only the way I eat, but the way I cook for my family.
The hardest part of the 21 Day Fix program (for me, anyway) is the meal planning – especially if it's something completely different than what you're used to doing.  So as I was planning for my first "fix," I scoured Pinterest for 21 Day Fix meal planning ideas, sample meal plans, recipes, and other helpful tips.  I found quite a bit, but to be honest, I was surprised by the lack of varied information out there!  And, again, most of the blogs I came across were written either by Beachbody coaches who were trying to sell me something, or from bloggers who specialize in whole foods or clean eating, so cooking/eating like this is old hat to them.  So I figured somebody – somewhere – might find it helpful to read some advice about meal planning from a regular meat-and-potatoes-kind-of-girl like me!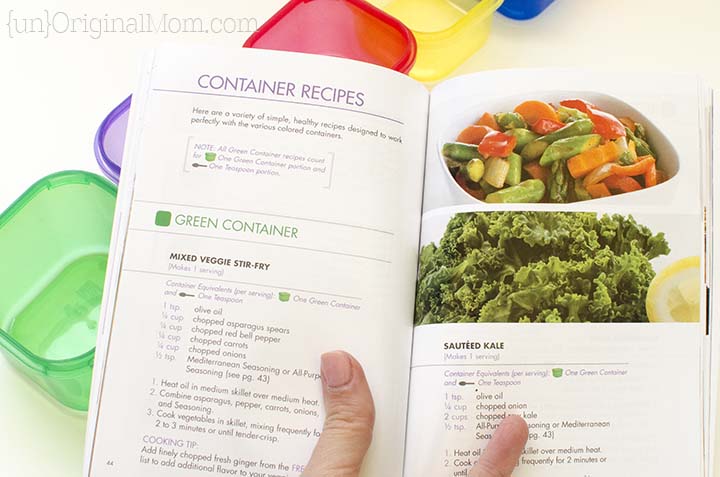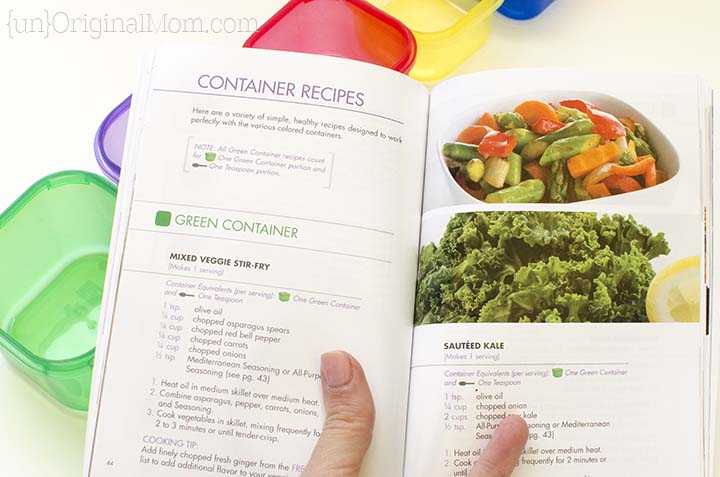 YOU MUST PLAN.  Seriously.  Don't think you can stock your freezer with some Lean Cuisines, buy some hummus and whole wheat bread, and be able to jump right in.  The meal plan allows you to eat a wide variety of foods, but it is also very specific in what you're allowed to eat and how much of it you can have in a day.  Essentially, you have to cut out all pre-processed foods from your diets – that means nothing out of a box, almost nothing out of a can, and certainly nothing out of a frozen dinner.  That was all very foreign to me!  So find a free printable meal planner (there are a few linked below) or come up with your own method of writing it down, sit down with a pen and paper (and maybe a good Pinterest board or two), and write out your meal plan for the week.  As you get more comfortable with it, you can probably "wing it" for your breakfasts, lunches, and snacks, but I'd still recommend planning out your dinners for the week in advance. UPDATE: I developed a self-calculating google spreadsheet that has made my meal planning SO much easier! You can get it for FREE right here.
Make a grocery list and stick to it.  This method of eating has the potential to skyrocket your grocery bill if you don't plan.  But if you DO plan, it can actually bring your bill down (depending on how well you were or weren't planning/budgeting your grocery trips before).  Since you're dealing with lots of fresh fruits and veggies, it's important that you plan your meals to use up your produce before it goes bad.  Also, look up what produce is in season and try to plan your meals using seasonal produce – it will taste better, and be less expensive.
Use your leftovers.  Another good thing to keep in mind is make sure you're planning some meals to use up your leftovers – that will also help keep your costs down. Leftover grilled chicken is terrific to eat the next day for lunch over a salad, and leftover veggies can make great omelettes.
Grill baby, grill.  I know that summer is coming to a close, but hopefully you still have a month or so of grilling season left (and if not, a grill pan on the stove top works well too!).  Grilling is a SUPER easy way of preparing delicious, lean meats like chicken breasts, fish, turkey burgers, etc.  I don't technically know how you're supposed to count marinades in your containers (perhaps an orange?) but since most of it cooks off and is just there for flavor, I think it's okay to go a little crazy with your marinades.  If you're a big rule-follower, though, remember that vinegar is a free food and you can use your teaspoons for olive oil, so a bit of olive oil, vinegar, lemon juice, and spices can make a delicious marinade that is 100% fix-approved.
Don't be afraid to repeat.  My old meal planning/cooking habits were to not repeat any meals for about a month…but once I found a few family-friendly-fix meals that we all enjoyed, I made those multiple times.  Same with side dishes – we ate a lot of wild rice blend and roasted veggies.
Here are a few free printable meal planners out there you may find helpful:
Free Self-Calculating 21 Day Fix Meal Planning Spreadsheet – by me!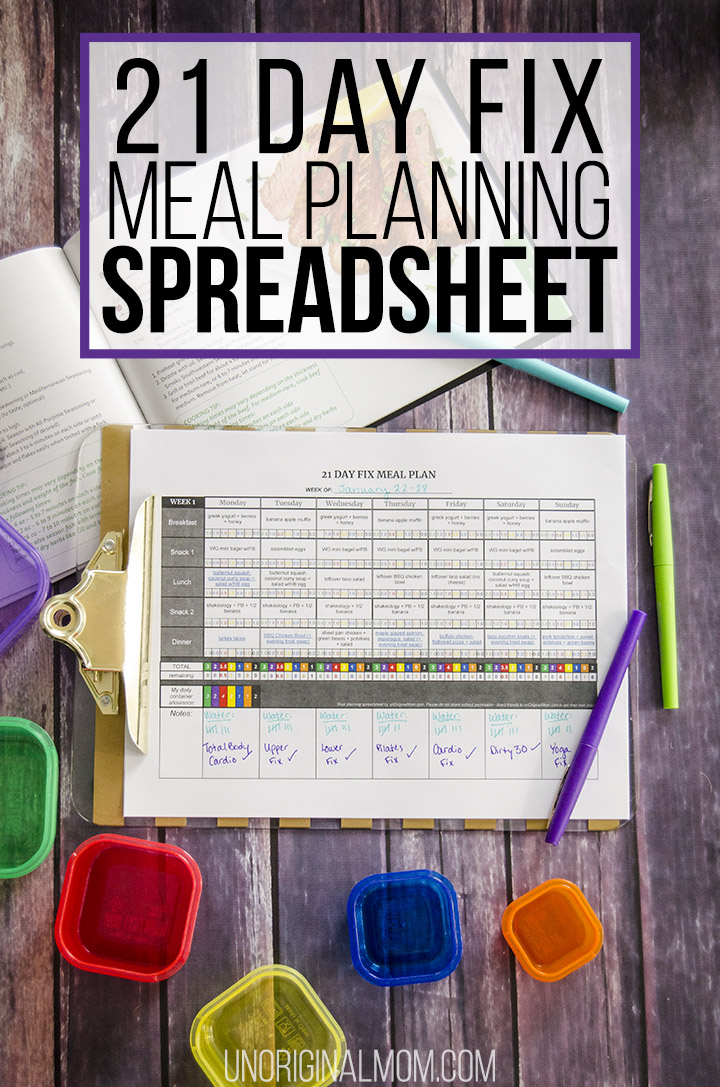 21 Day Fix Printable Tools by Get Fit with Nikki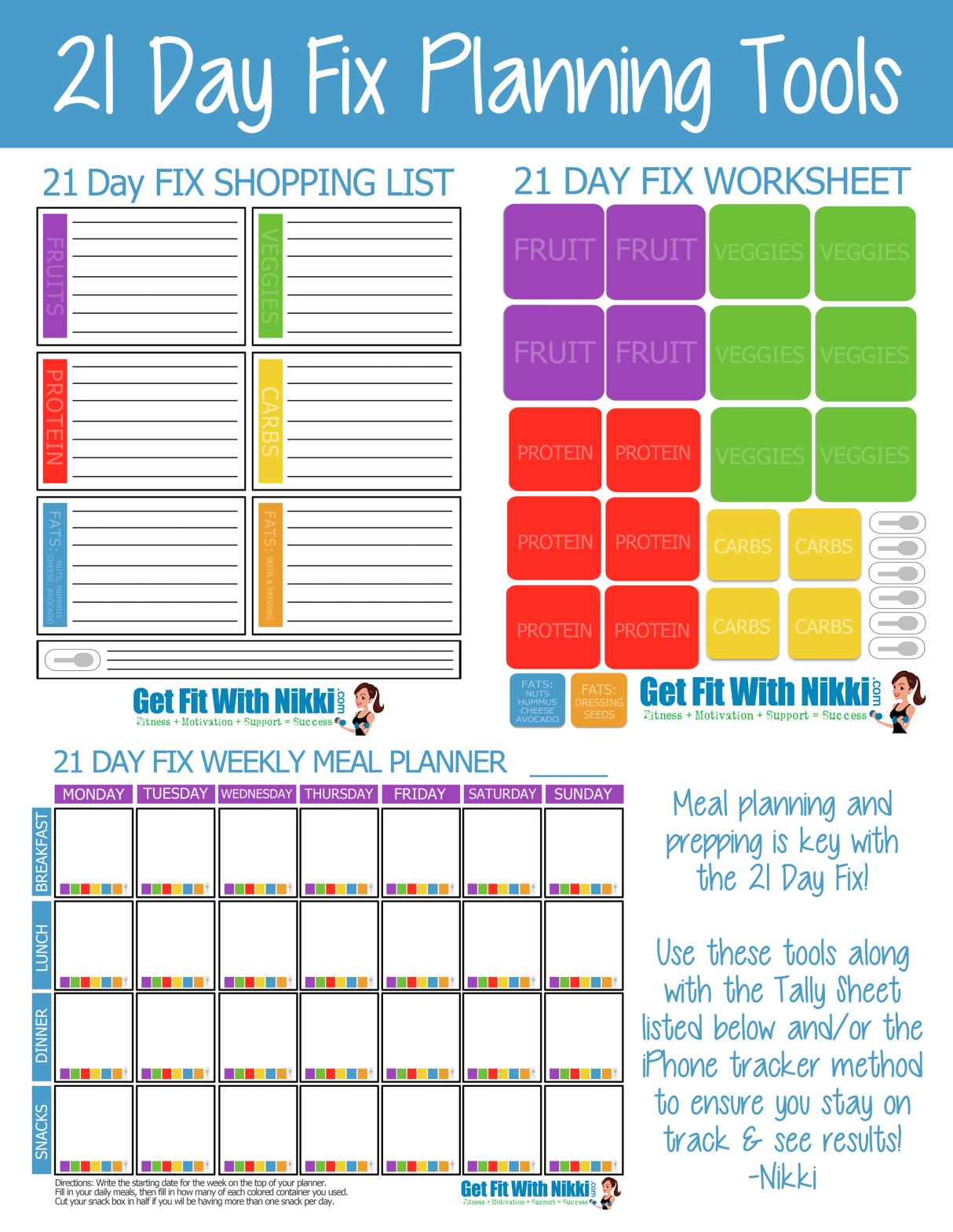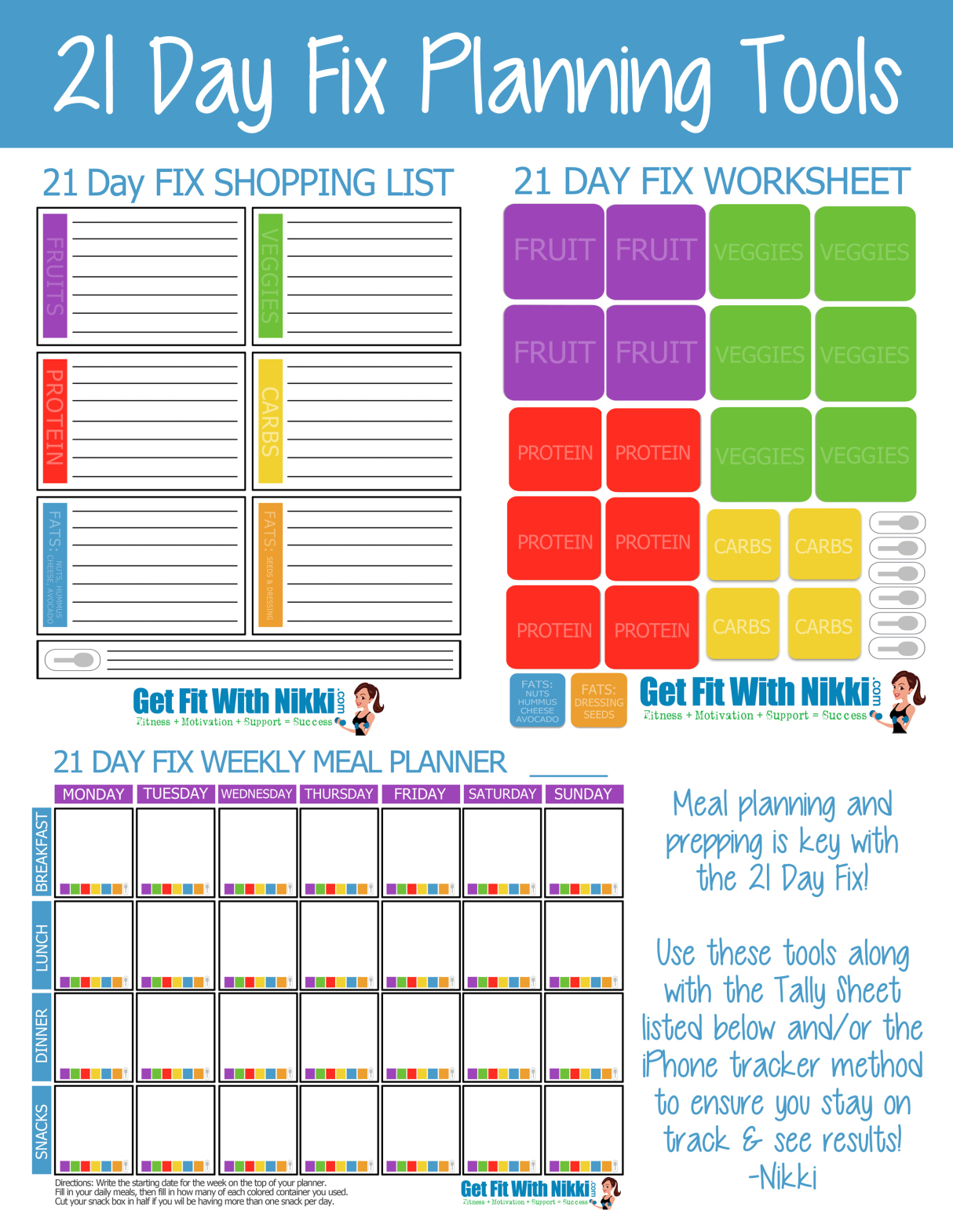 21 Day Fix Weekly Meal Planner by Sublime Reflection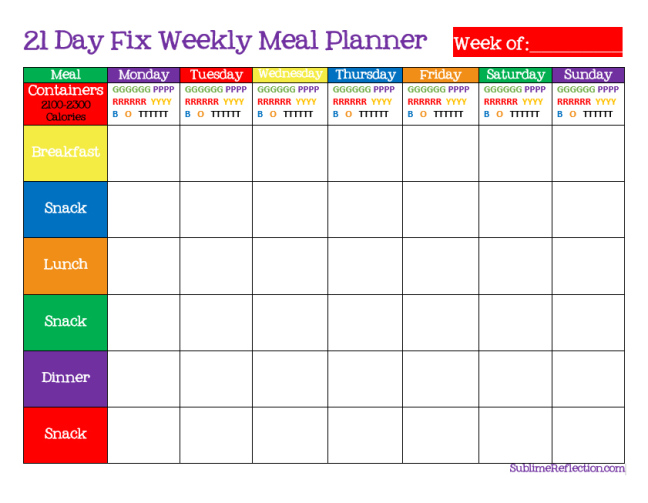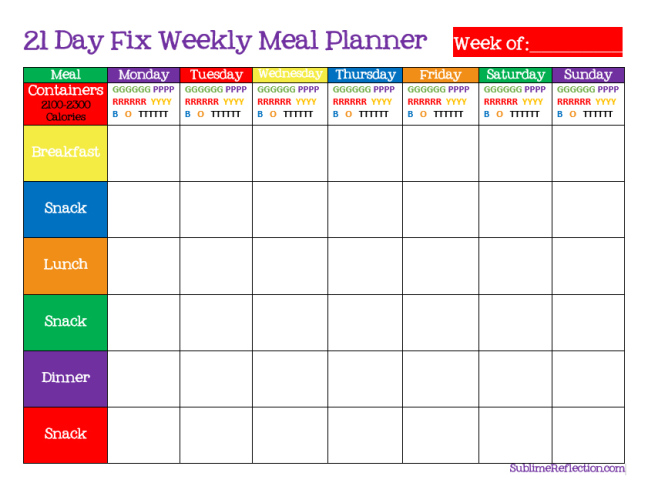 And finally, here are some of my favorite Fix-Approved meals and snacks!
Breakfast:
 1 slice of whole grain toast topped with a handful of spinach leaves and two fried eggs.  I didn't even miss the butter. (1 yellow, 1 green, 1 red)
breakfast "burrito" – one small whole grain wrap filled with scrambled eggs mixed with whatever I had laying around – leftover veggies (broccoli, peppers, tomatoes, etc) and a little bit of cheese, plus a few shakes of hot sauce (1 yellow, 1 red, 1 green, 1/2 blue)
plain greek yogurt, a drizzle of honey, berries (strawberries or blueberries or both!), and a small spoonful of granola. (1 red, 1 purple, 1/2 yellow)
Lunch:
salad with leftover grilled chicken and a splash of fix-approved dressing (1-2 greens, 1 red, 1 orange)
spinach salad with sliced strawberries and 1 sliced hard boiled egg, drizzled with 1 t. olive oil and balsamic vinegar (1 green, 1 purple, 1/2 red, 1 t)
taco salad (see below)
Whole grain wraps or pitas with turkey/chicken lunch meat (1 yellow, 1 red)
This Coconut Curry Butternut Squash Soup is one of my favorites! It's essentially 1 green (plus fractions of a blue depending on how much coconut milk you use) – I make a big batch and eat it for lunch all week! Pair it with a small side salad and you'll really get those greens in!
Dinner:
Grilled chicken or fish with a veggie and wild rice (1 red, 1 green, 1 yellow)
Rotisserie chicken (stick with the white meat) plus a veggie and a baked sweet potato (1 red, 1 green, 1 yellow)
Chicken kebabs!! (1 red, 1-2 green)
Tacos/taco salad – ground turkey with homemade taco seasoning.  Then make a salad with Romaine lettuce, the taco meat, tomatoes and any other veggies you'd like, a sprinkle of cheese, a few crushed corn tortilla chips, and then make a dressing with a spoonful of salsa, a spoonful of greek yogurt, and a teaspoon of taco seasoning.  SO yummy!  (1-2 green, 1 red, 1/2 blue, 1/2 yellow, then I counted the dressing as red since it was mostly greek yogurt.) I'll make turkey tacos for dinner one night and then eat taco salad leftovers for lunch for the next few days.
Snacks:
Shakeology – my favorite is chocolate shakeology blended with water, ice, peanut butter, and half a banana (1 red, 1 purple, 1 t)
1 whole grain freezer waffle spread with peanut butter and sliced banana (1 yellow, 1 purple, 1 t)
sliced peppers with hummus (1 green, 1 blue)
baked apple with cinnamon (1 purple)
apple with peanut butter (1 purple, 1 t) – turn this into a treat by making apple "nachos!" I slice the apple really thin, microwave some peanut butter, then drizzle it over the apple slices. Add another drizzle of honey and a few chocolate chips to make it like a dessert!
(I listed this under breakfast but also frequently have it in the evenings as a substitute for my evening ice cream cravings!) plain greek yogurt, a drizzle of honey, berries (strawberries or blueberries or both!), and maybe a small spoonful of granola if you want some crunch. (1 red, 1 purple, 1/2 yellow)
This buffalo chicken dip – this felt like a major cheat!!  I also used the same recipe (without heating it up) to make sandwiches on whole grain pitas or wraps.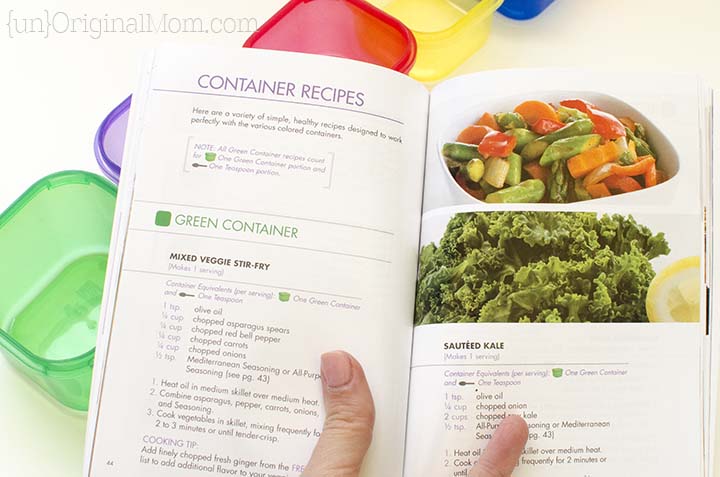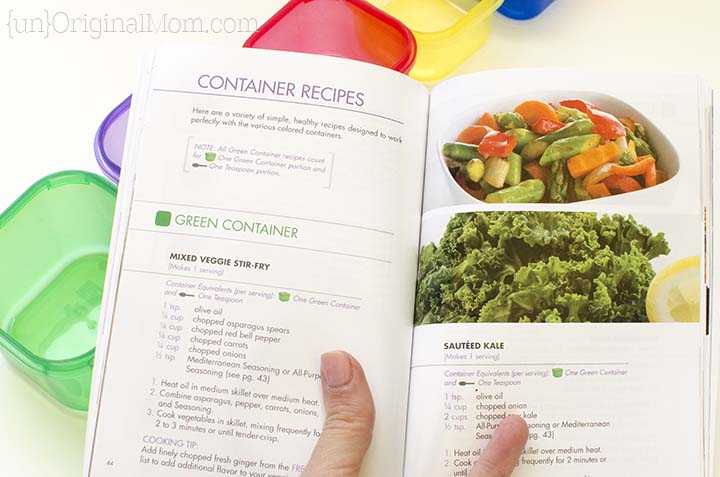 While we're on the subject of meal planning, you may want to check out my Flexible Meal Planning Guide – an exclusive 11 page meal planning binder freebie for email subscribers!
Be sure to stop by the other posts in this 21 Day Fix series –


Get your copy of my FREE meal planning binder!
Sign up to get a free copy of my meal planning system - an 11 page printable meal planning binder, complete with a pantry inventory, shopping list, and more to help get on top of your menu each week!