This shop is part of a social shopper marketing insight campaign with Pollinate Media Group® and Nestle, but all opinions are my own. #PMedia #BreakfastEssentials http://my-disclosur.es/OBsstV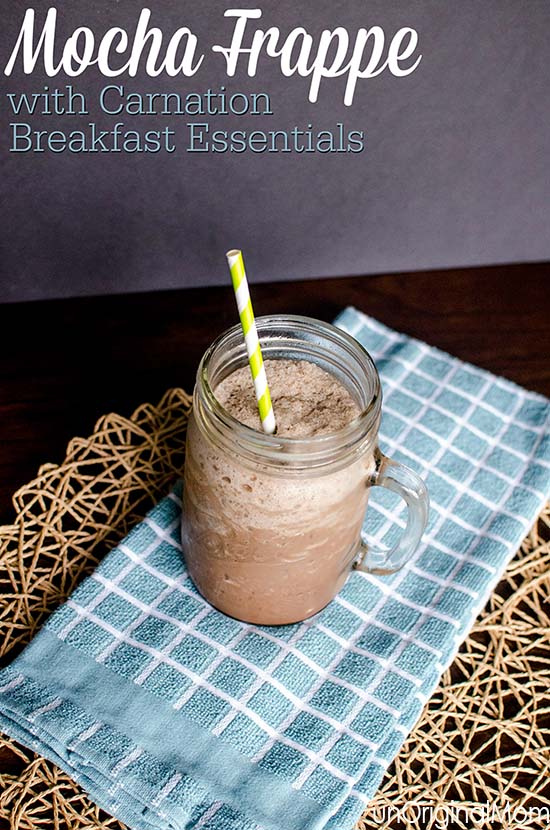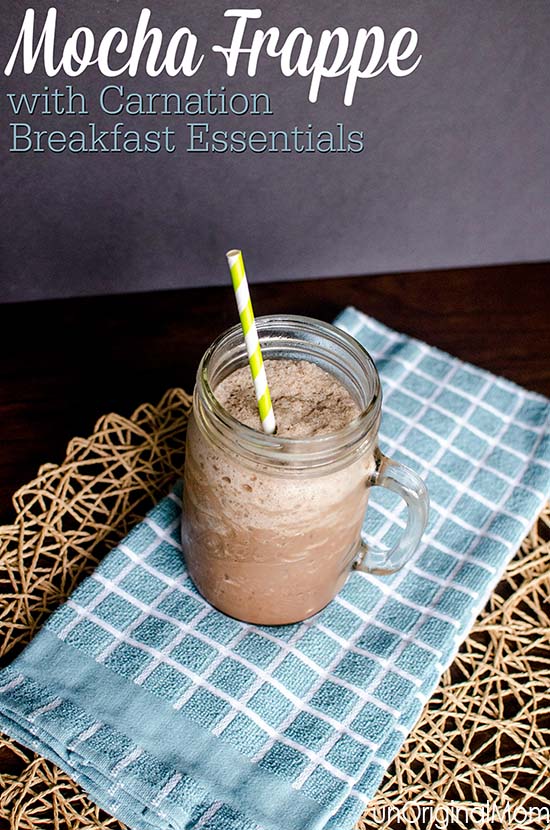 I've never been a big "eat-breakfast-right-when-you-get-up" kind of person.  In a perfect world, I'd sit quietly with my laptop and a cup of coffee with some morning news on in the background, then grab a shower and get ready for the day, and then make myself some eggs and toast.  But as the mother of a toddler, a morning like that is just a distant memory.  I have to grab a bagel or bowl of cereal while my little girl is distracted with her own breakfast.  Lately, though, I just haven't been hungry for anything that early…and I get to about 11:00 and think "whoops, the only thing I've had all day is a cup of coffee, no wonder my stomach is growling at me!"
Enter the new-found solution to my breakfast woes – Carnation Breakfast Essentials Powder!  I picked some up at Walmart the other day…and couldn't decide between Vanilla and Chocolate, so I got a box of each :-)  There are more flavors available, too!  I was pretty impressed with the amount of nutrition crammed into one packet – 21 Vitamins and Minerals, 13 g of Protein, and as much calcium as a 6 oz cup of yogurt…I'd say that's much better than a cup of coffee for breakfast!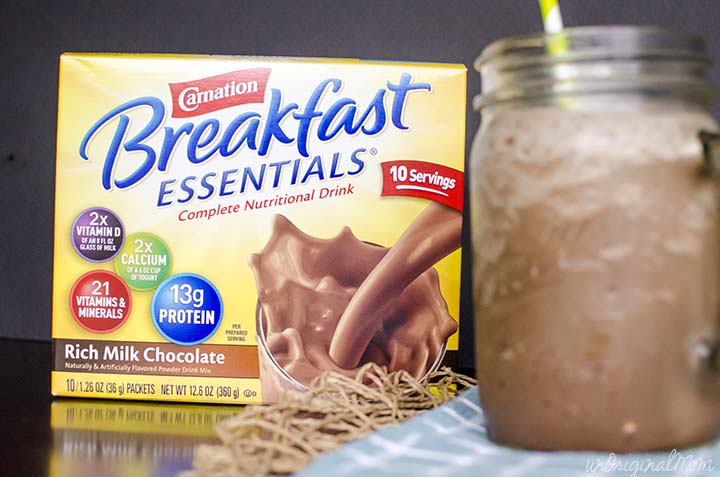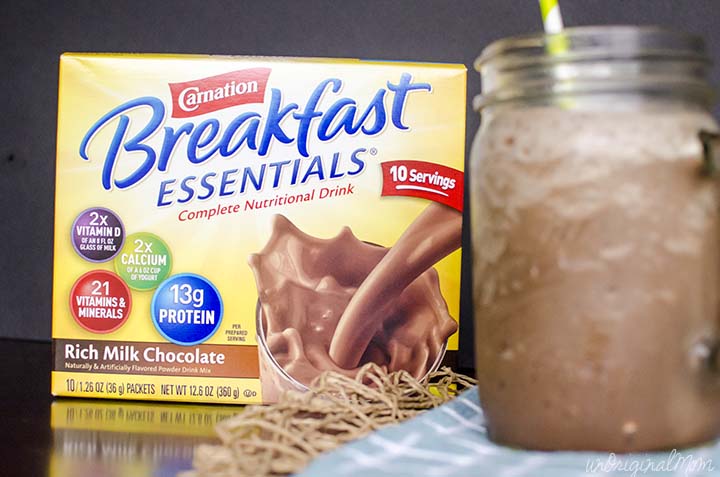 Of course, I could have just mixed it with milk, but that's not nearly as interesting as making it into something even yummier.  So I decided to whip up a simple, quick, and delicious 3 ingredient mocha frappe!  Coffee, milk, and a packet of Rich Milk Chocolate Carnation Breakfast Essentials.  Blend it all together with some ice, and you've got a delicious AND nutritious morning treat!


It was REALLY easy because I have a Frappe maker…it was one of those things we put on our wedding registry just for fun, and ended up getting!  Basically it brews the coffee directly into the blender.  But you could easily brew your own coffee or even use some instant coffee in your blender to throw in there with it!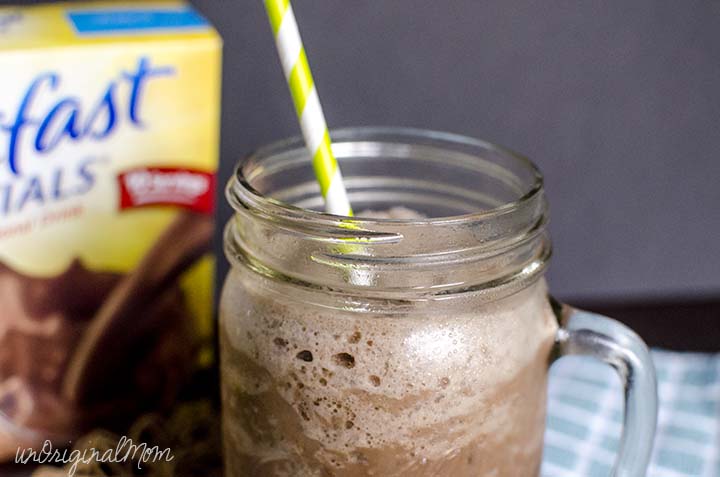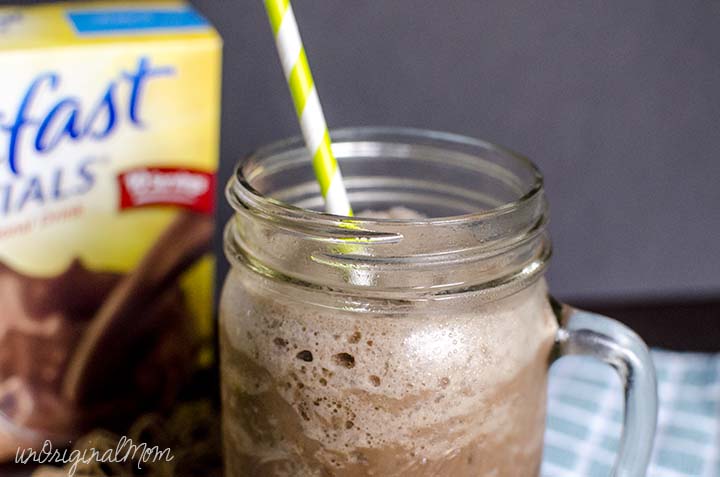 Here's the recipe:
1/2 c. brewed coffee (or the equivalent water+instant coffee granules)
1/4 c. milk
1 packet Rich Milk Chocolate Carnation Breakfast Essentials
~15 cubes of ice
Blend, and enjoy!
I'm excited to try out more smoothie recipes, too.  There are some really delicious looking ones on the Carnation website!  Fruit smoothies, more coffee variations, shakes…oh so many possibilities.  There are even more ideas on the Carnation Breakfast Essentials Facebook page, too!
Want to try it yourself? Be sure to snag this coupon before you go pick it up at Walmart!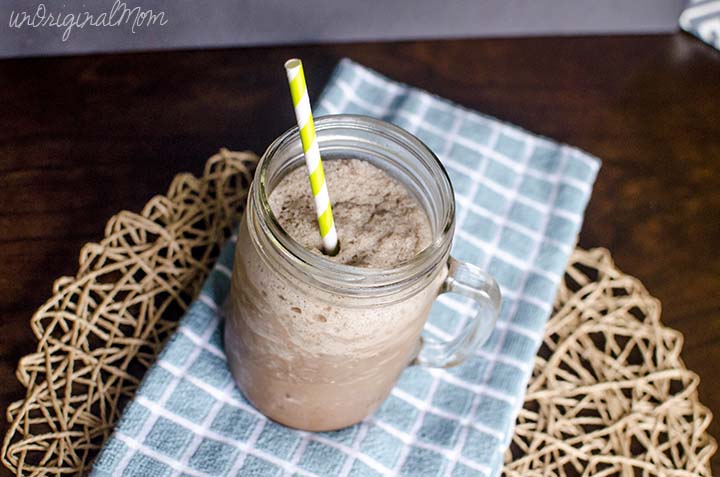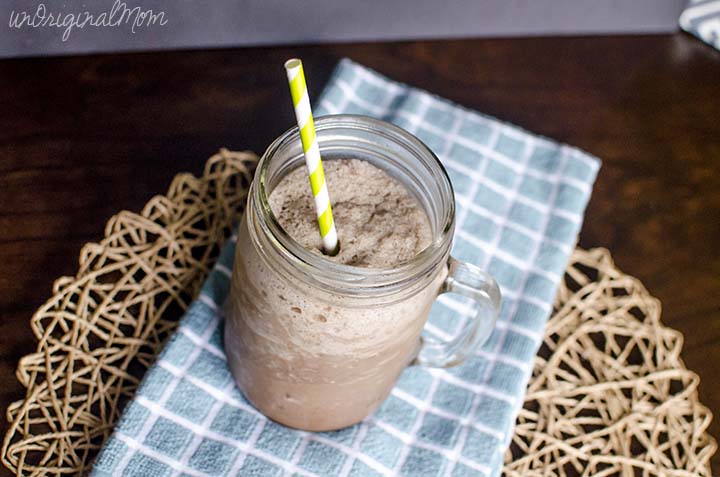 So, what's your breakfast story?  Are you a grab-and-go breakfast person by nature, or by forced circumstances?




Get your copy of my FREE meal planning binder!
Sign up to get a free copy of my meal planning system - an 11 page printable meal planning binder, complete with a pantry inventory, shopping list, and more to help get on top of your menu each week!