This post is part of a social shopper marketing insight campaign with Pollinate Media Group® and Prismacolor, but all my opinions are my own. #pmedia #relaxandcolor http://my-disclosur.es/OBsstV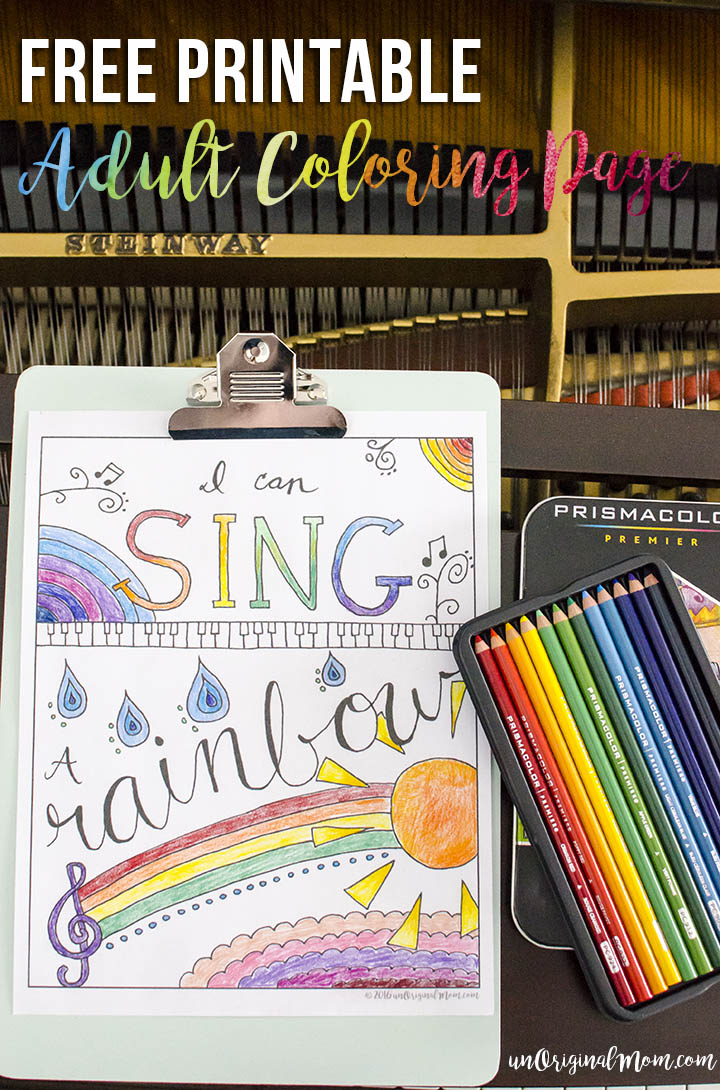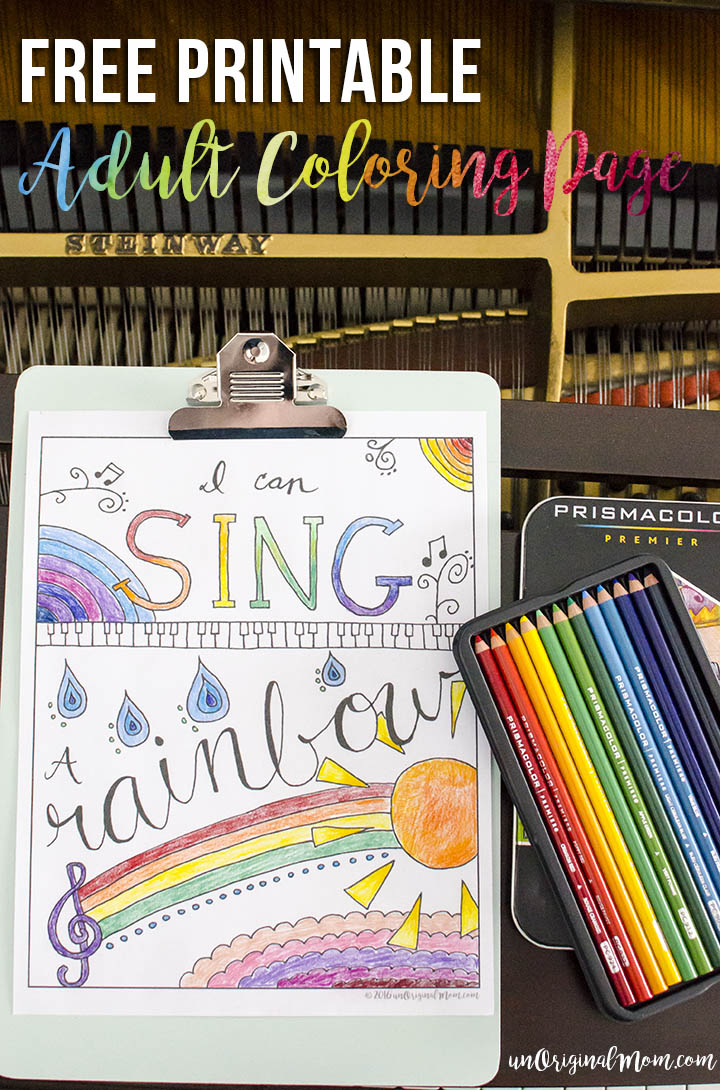 Have you jumped on board the adult coloring trend? I have precious little free time, and I'll admit that when I do have a moment or two to myself it's rare that I will spend it on something that feels so "non-productive" without feeling some guilt (#momlife, am I right?). But lately, I've let go of the guilt and really enjoyed spending some occasional "me time" practicing my hand lettering or doodling just for fun. It's also become a great activity to do alongside my 3.5 year old daughter…I'll put my 1 year old down for his morning nap and then she and I will get our our coloring supplies and color together! For quite a long time I was just using her hodgepodge of cheap-o colored pencils, but I finally decided it was time for an upgrade. So I headed to Michael's (where the manager knows me by name and all the associates have my email address memorized…yeah I go there a lot) to look for some good, quality colored pencils. I walked out with this beautiful set of Prismacolor Premier colored pencils – oh my goodness, you guys, I am in love!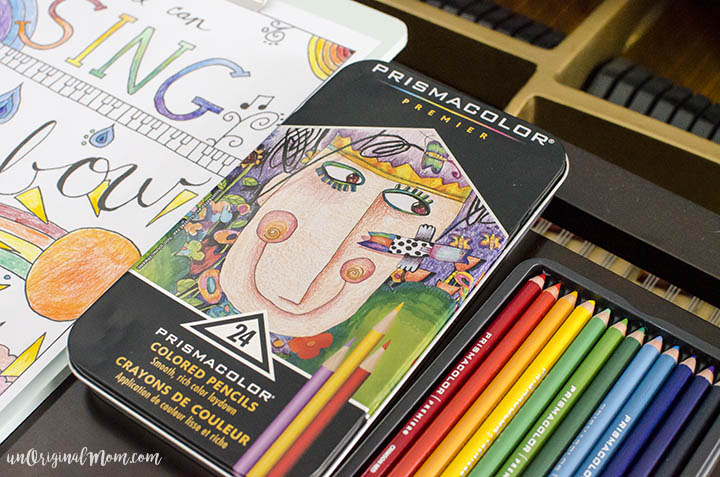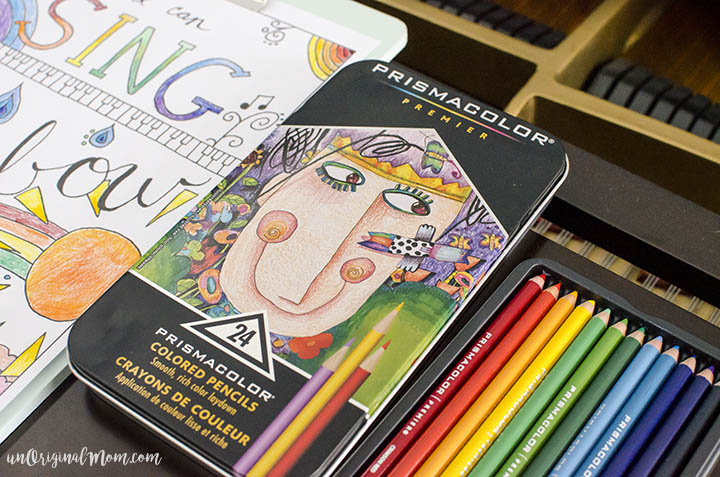 These are the nicest colored pencils I've ever used…they glide on so smoothly! Plus they have such a rich depth of color.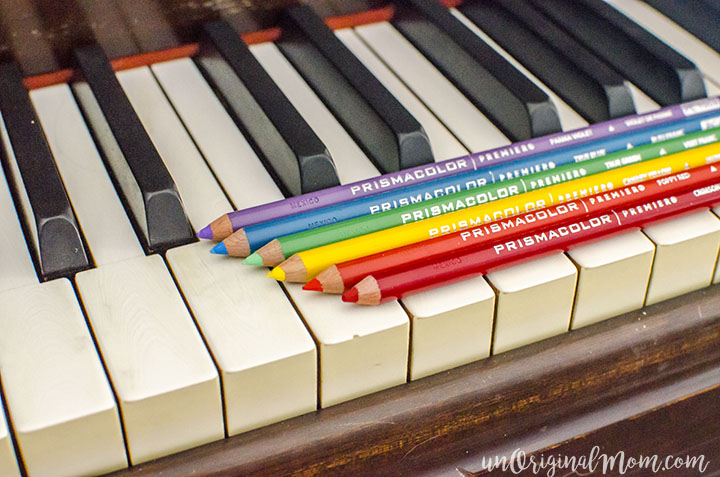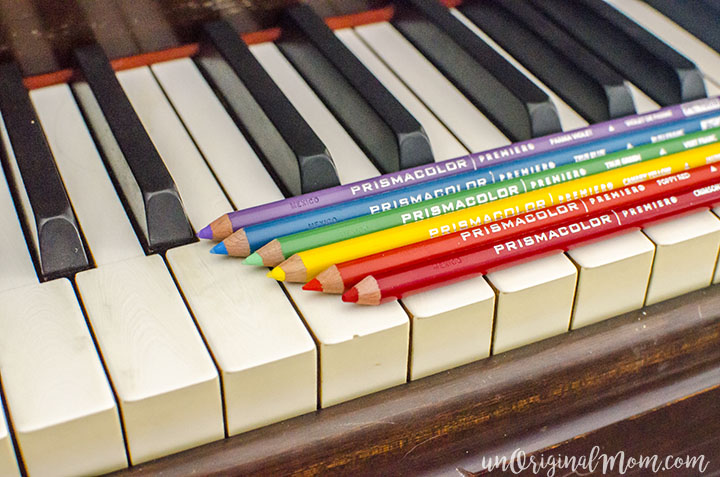 I was so inspired that I decided to put my new hand lettering skills to the test and create an "unOriginal Mom Original" coloring page! There's a bit of a story behind this quote…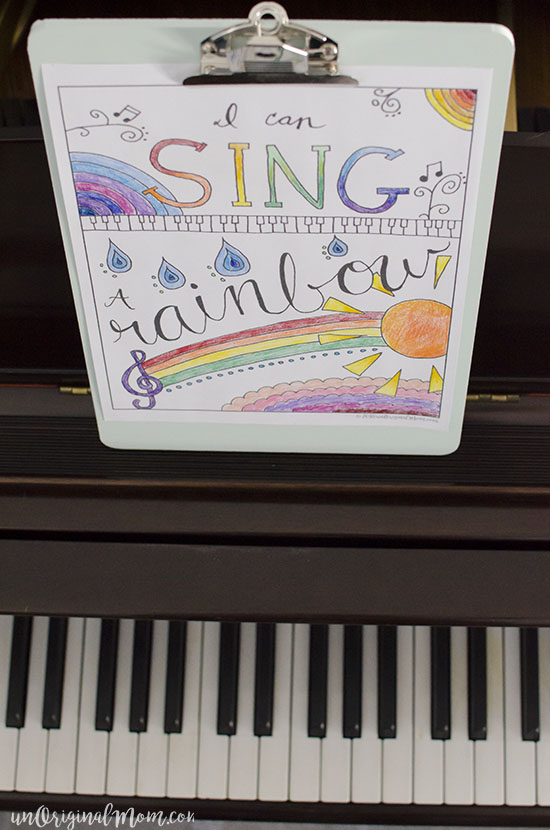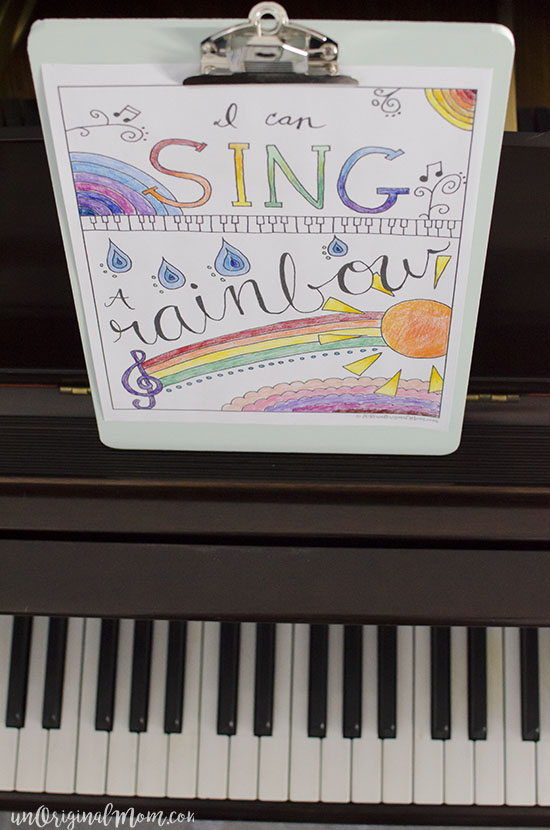 The first thing you need to know is in my pre-blogging, pre-children years I was a music teacher. I was heavily involved in music all through school (met my hubby in high school marching band…yup we were dorks), majored in choral music education, and got a job teaching middle school (and then high school) general music and choir. So, music is a big part of my life. I resigned my teaching job four years ago to be home with my kids, but I continue to lead worship at our church and assist with a local children's choir on Saturday mornings each week. One of the songs we sing with the littlest kiddos is an oldy called "I Can Sing a Rainbow." (Hear the incomparable Julie Andrews sing it here.) I had an "a-ha" moment while we were singing it a few weeks ago and decided it would be a perfect quote to put on a coloring page!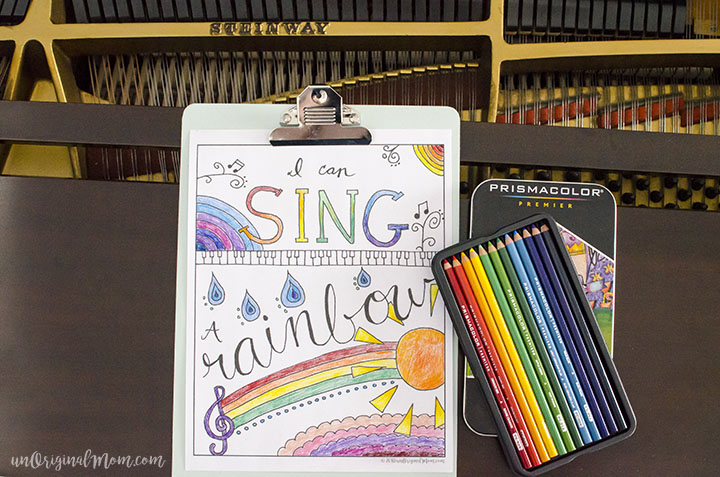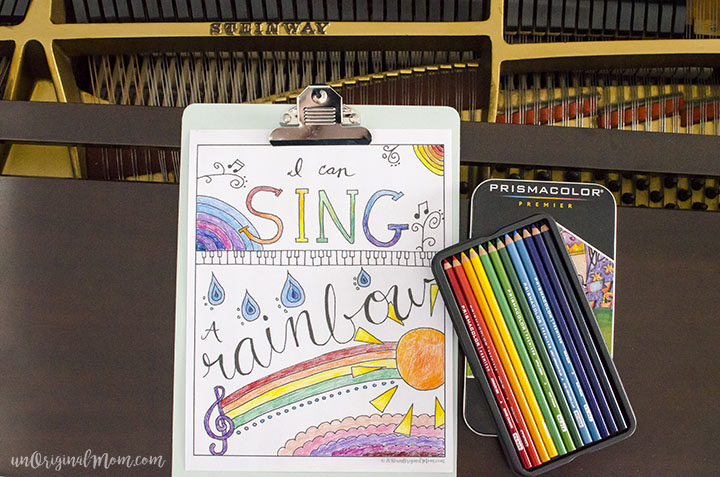 I loved being able to print a copy for me and a copy for my daughter to color together. But she's not allowed to use Mommy's colored pencils ;-)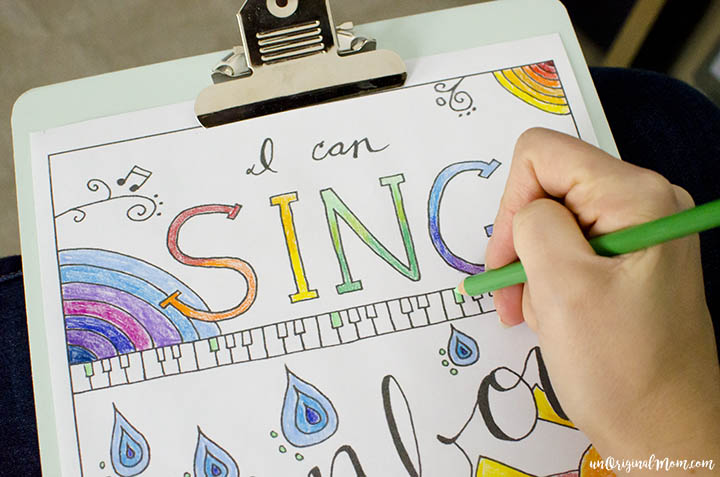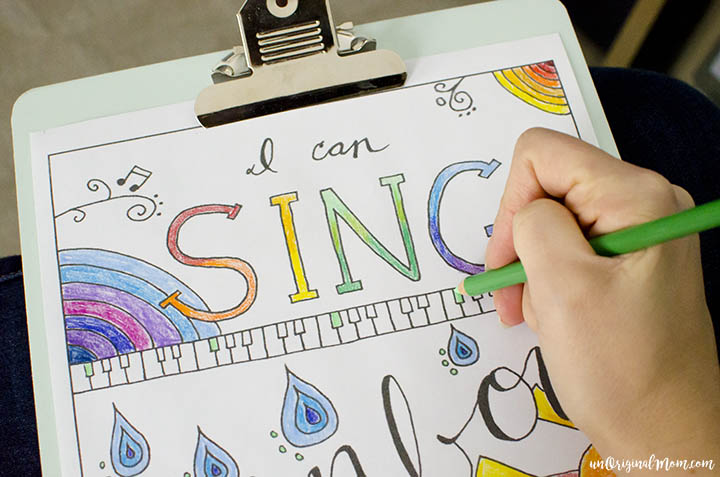 Click here to download your own copy of my "I Can Sing a Rainbow" coloring page to print and color as many times as you'd like!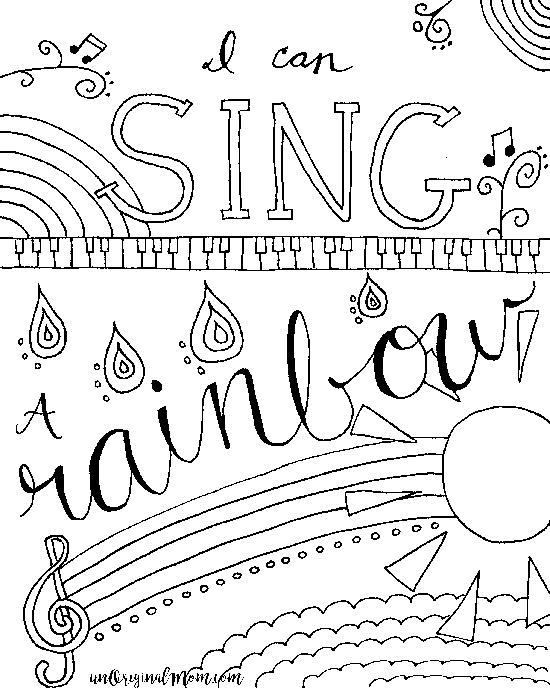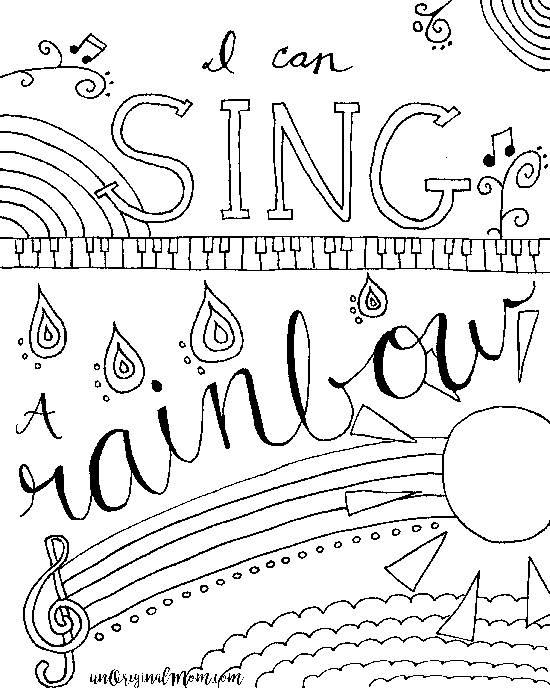 You can also click here and select "free pages" to download your own free Prismacolor coloring pages. Time to relax and color! And if you're looking to upgrade your colored pencils, I'd highly recommend you give these Prismacolor pencils a try. (They make markers too!) Make sure to check out Michaels coupons for additional savings, in newspapers and online!


Get your copy of my FREE meal planning binder!
Sign up to get a free copy of my meal planning system - an 11 page printable meal planning binder, complete with a pantry inventory, shopping list, and more to help get on top of your menu each week!