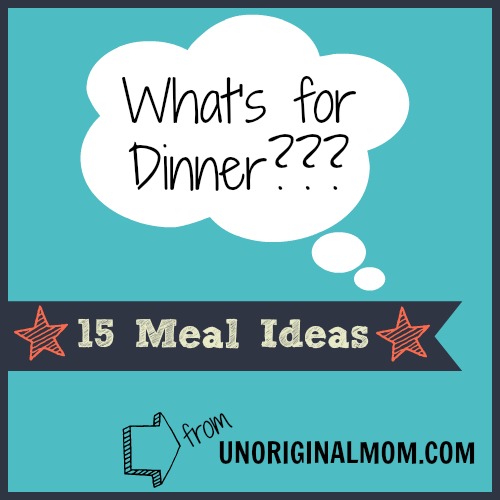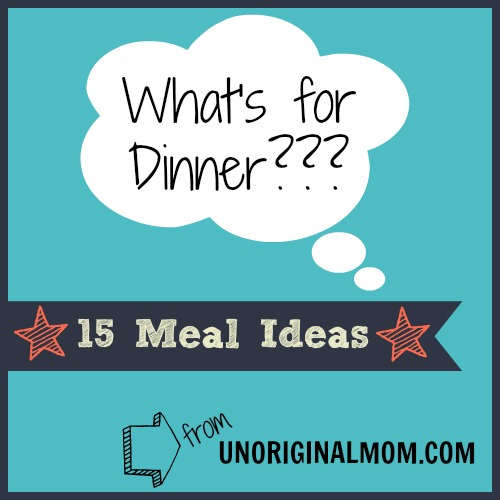 I live in a college town, which means it is the calm before the storm around here.  Students have started coming back in a trickle, but next week is move-in week on campus (and for most apartments).  This isn't just a moderately sized college…we're talking 40,000 students descending on our grocery stores all at one time!  Now, I've lived here all my life, and know that Wal-Mart, Target, grocery stores, and even most restaurants are to be avoided at all costs during move-in week and the week after.  But inevitably in years past, I've forgotten to go grocery shopping the week before and have to brave the crowds to go out and get the essentials.
This year, I decided to be smart about it!  I actually planned out more than two weeks worth of meals, made a grocery list, and stocked up on everything we'll need to get us through move-in week without any major grocery trips.  (In theory!)
I am always searching for dinner inspiration, so I thought I'd share my list of dinner ideas with you in case you are, too!  Some of the meals are recipes I've found online, and some aren't, so I've included links where I can.  I don't like having specific meals assigned to specific days, so I just made the list of dinners and know that I have the ingredients on-hand to make them.  Most of them don't require fresh ingredients that will expire before I make them, but I will try to make a trip or two to the farmer's market to pick up some fresh veggies to have on the side or put in a salad.
Grilled Pizza, salad
Crock Pot Salsa Chicken made into Quesadillas, mexican rice
BBQ Chicken Salad, garlic bread
Spaghetti and meatballs, texas toast, salad
Crock Pot Pork Chops, mashed potatoes, veggie
Spicy Sausage Chicken Pasta, salad
Chicken Rice-a-Roni Bake, veggie
Shepherd's Pie (I use a bag of frozen mixed veggies), crusty bread, salad
Fish sticks, mac n' cheese, veggie
Baked Chicken Teriyaki, baked sweet potatoes, salad
Grilled BBQ Chicken Thighs (grill chicken and baste with your favorite BBQ sauce at the end), twice baked potatoes, veggie
Swedish Meatballs (from a packet mix), mashed potatoes, veggie
Pasta with Tomato Basil Cream Sauce, garlic bread, salad
Baked Sweet & Sour Chicken, rice, salad
Crock Pot Chicken Chili, rice, cornbread
I hope this list can help you answer that all-important (and oh-so-frustrating) question:  What's for Dinner?




Get your copy of my FREE meal planning binder!
Sign up to get a free copy of my meal planning system - an 11 page printable meal planning binder, complete with a pantry inventory, shopping list, and more to help get on top of your menu each week!