This oven baked sweet and sour chicken recipe is definitely a winner!
I found this recipe via Pinterest a long time ago, and it has become a regular in my menu rotation.  It is originally from Mel's Kitchen Cafe.
Please click through to Mel's website for the oven baked sweet and sour chicken recipe, since it is hers!  But first, read on for my recommendations and modifications :-)
Here's my biggest tip – to get more tender chicken, "marinate" your chicken pieces in baking soda for about 10-15 minutes before you do anything else.  Then rinse them and pat dry, and proceed with the recipe.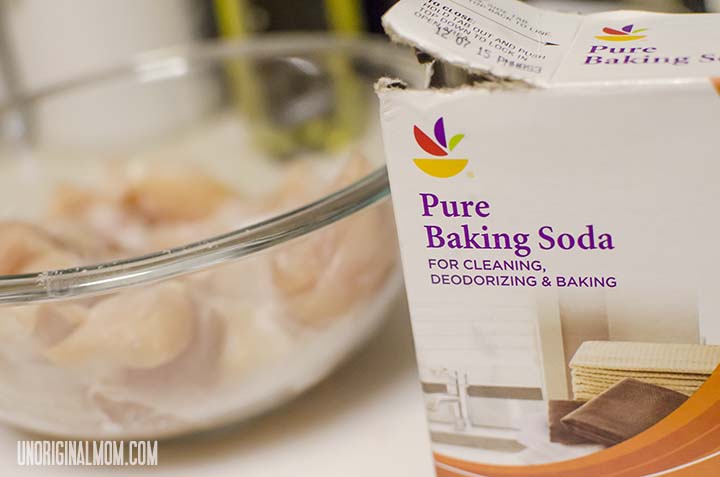 The first step (after you've seasoned the chicken with salt & pepper) is to coat the chicken pieces with cornstarch (use a large zip-loc bag for this, much less messy!) and then dip them in beaten eggs.  Then you fry them for about 2 minutes on each side.  You're not cooking the chicken all the way through here, just cooking the batter so it *mostly* sticks to the chicken.)
Put the chicken in a baking dish, and mix together the sauce.  I can't make this recipe without adding a can of pineapple!  I usually half-drain the pineapple so I still get some of the liquid, then add it to the sauce.  It makes the sauce a bit sweeter, so I only add 1/2 c. sugar instead of the 3/4 c. that the recipe calls for.  You could also add red peppers and onions if you want!  I also read a few reviews that said they substituted pork for chicken and it turned out great.
The recipe calls for baking the chicken for an hour at 325..I'm usually impatient (or don't have that much time), so I do about 40-45 mins at 350, and it's fine.  Be sure you stir the chicken a one or two times while it's baking so the yummy sauce completely coats the chicken.  It will not get crispy – it's not supposed to – so don't be worried about that.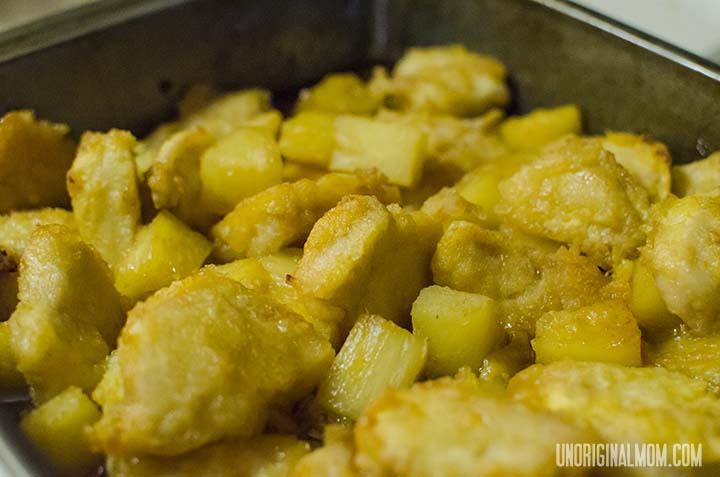 I usually serve this over white rice with a veggie on the side.  It is DELICIOUS and very filling, plus it's good leftover!  Even my 11th month old loves it – she eats it as fast as I can cut it up and put it on her tray!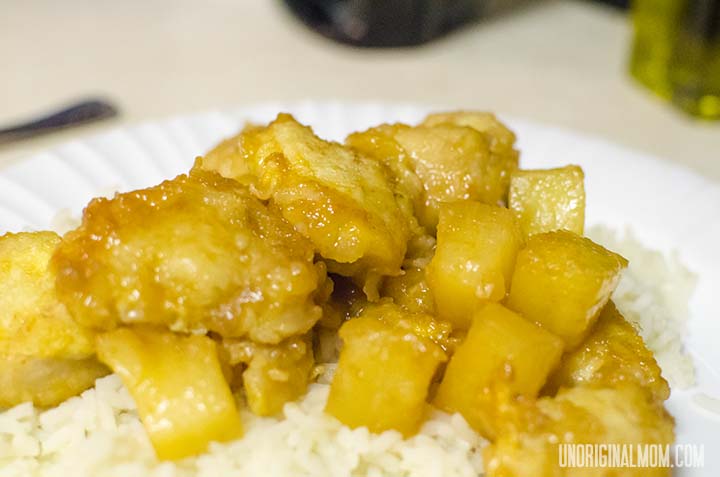 Find the entire recipe over at Mel's Kitchen Cafe.  Be sure to print it out – you will want to hold onto this one!
Be sure to check out other winning recipes over at the Winner's Circle!


Get your copy of my FREE meal planning binder!
Sign up to get a free copy of my meal planning system - an 11 page printable meal planning binder, complete with a pantry inventory, shopping list, and more to help get on top of your menu each week!