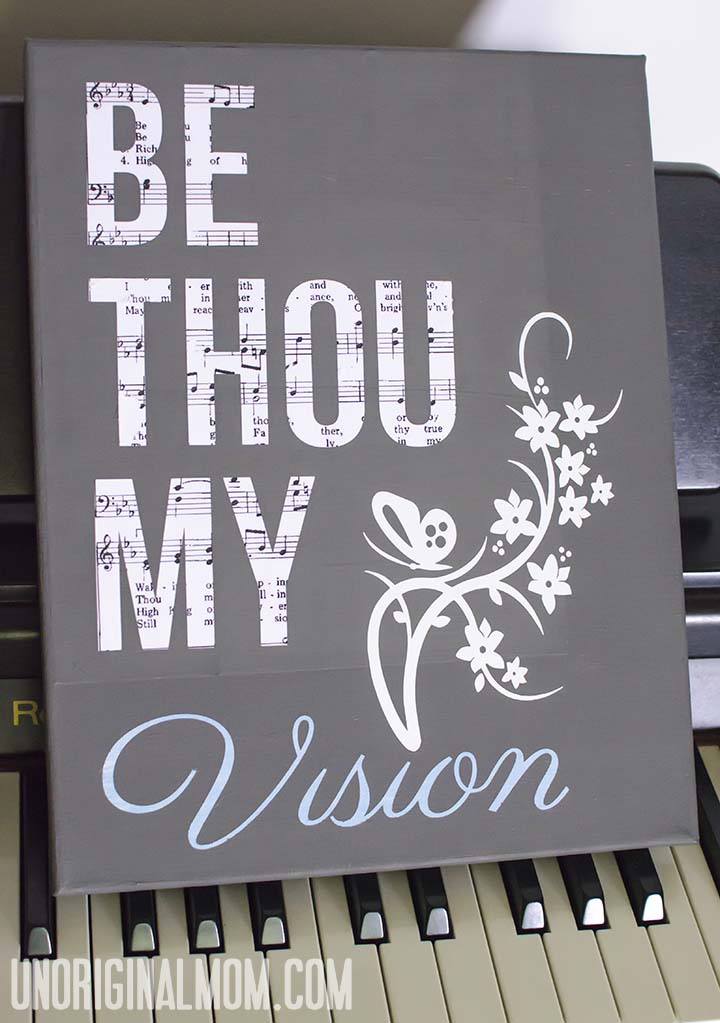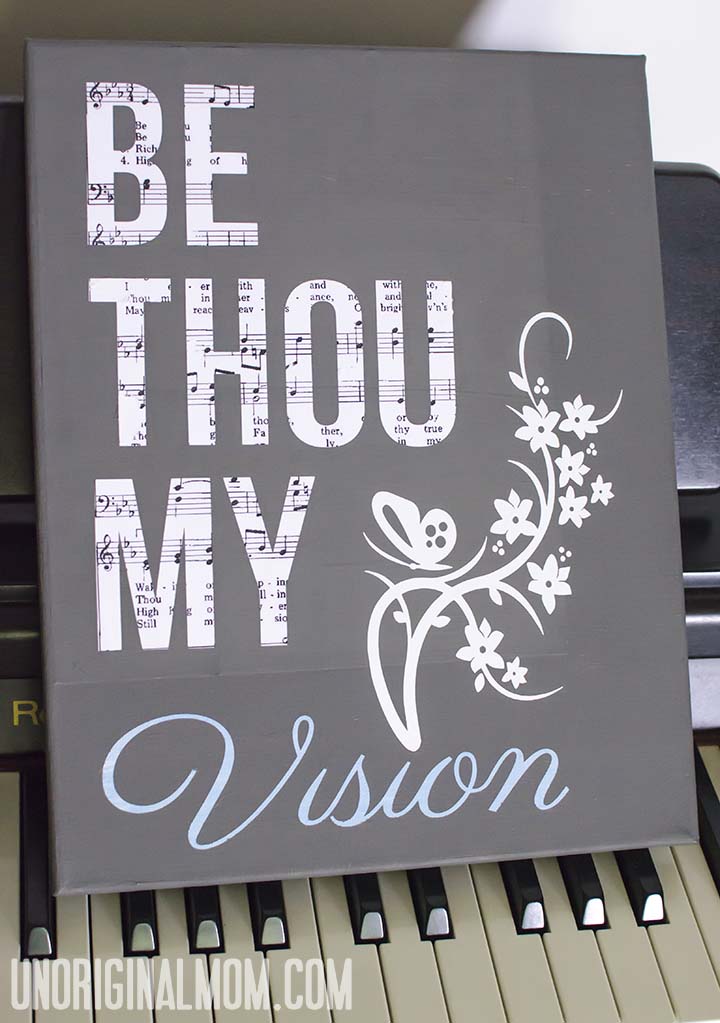 I've been eyeing up this pin for quite a while now…but never had a way to do it without a cutting machine.  Now that I have a Silhouette, though, this hymn art finally made its way onto my "to-craft" list!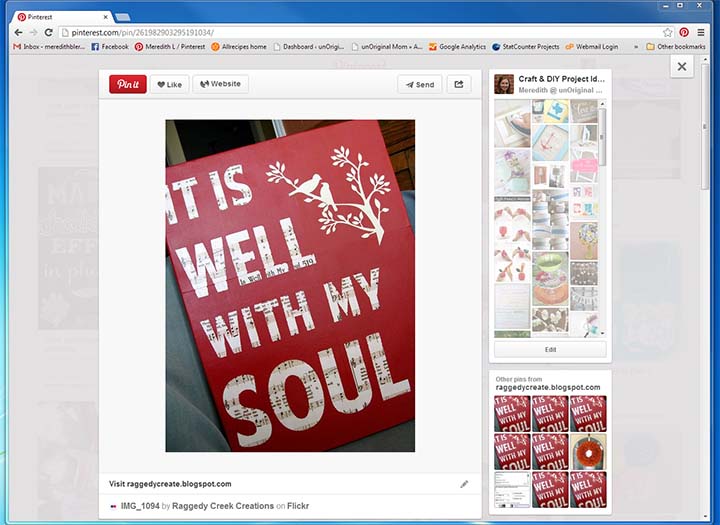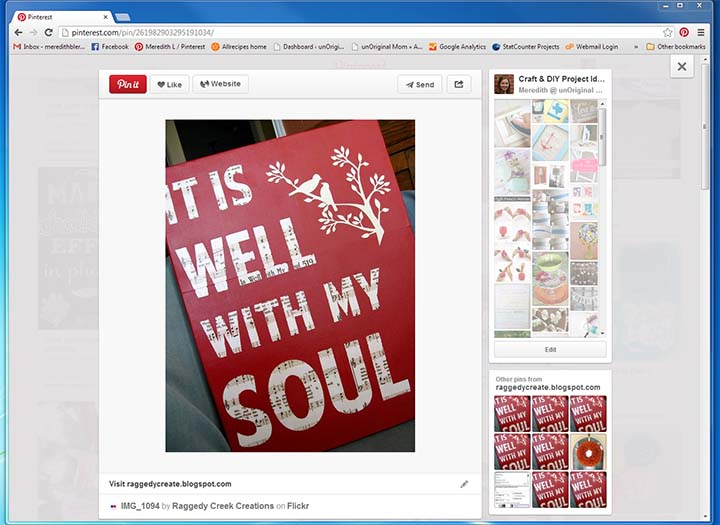 The idea is originally from Raggedy Creek Creations.  She has a great tutorial on how to do this using contact paper, and I love that she added the stencil of the bird and branch to give it something extra.
The first dilemma I ran into was what hymn to choose – there are so many great ones! I eventually decided on "Be Thou My Vision" – not only is it one of my favorite hymns, the title itself is a wonderful prayer and daily reminder.  This was the hymn that we chose to sing as part of our wedding ceremony, too, so it has special meaning to us.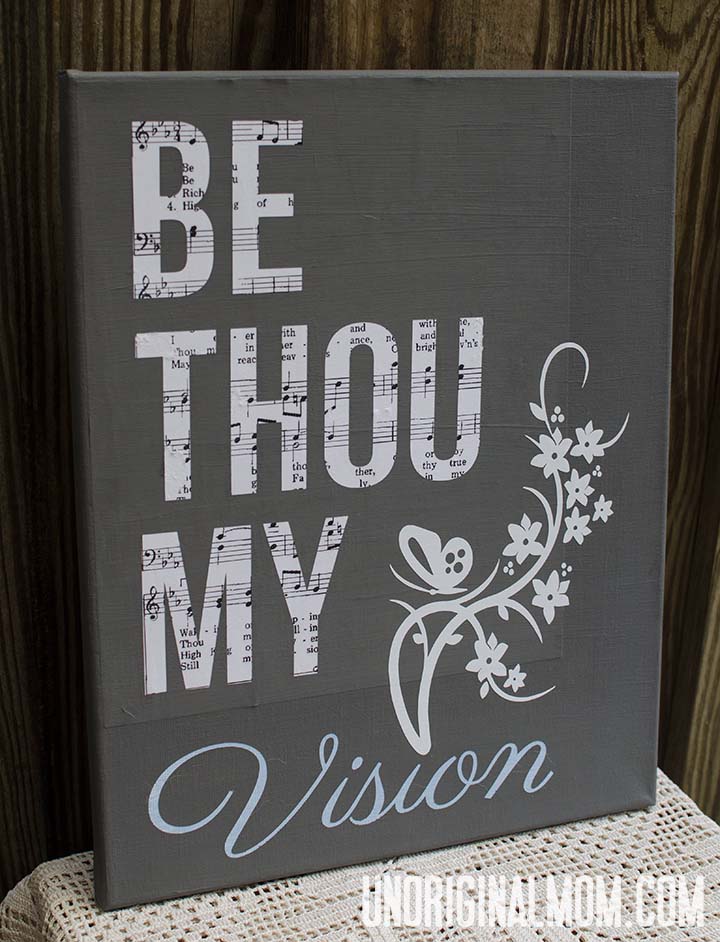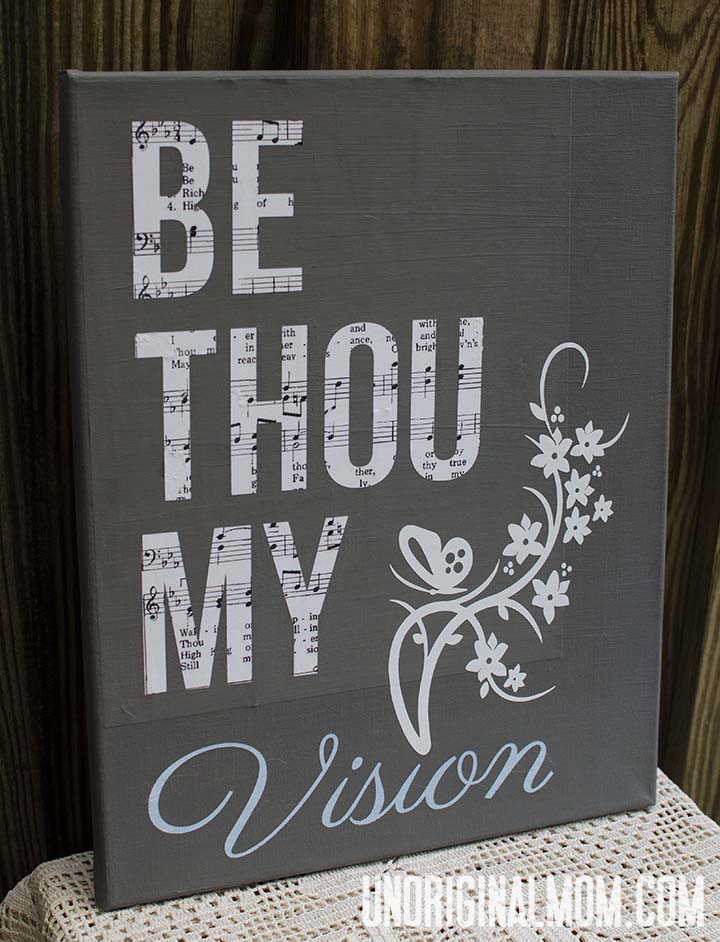 I found a free image of the sheet music and printed it on regular printer paper.  I used an 11×17 canvas and wanted the sheet music just to be behind the "Be Thou My" part, so I trimmed the paper down to 10.5″ and used Mod Podge to adhere it to the canvas, then did a full coat of Mod Podge over the top of the paper and the rest of the canvas, too.
This is where I got worried…it got all wrinkled and I didn't think it was going to work.  But, when it dried completely, it was perfectly flat again.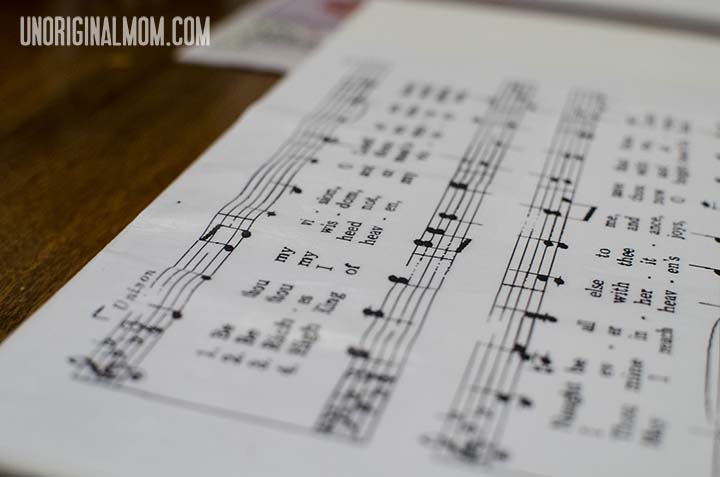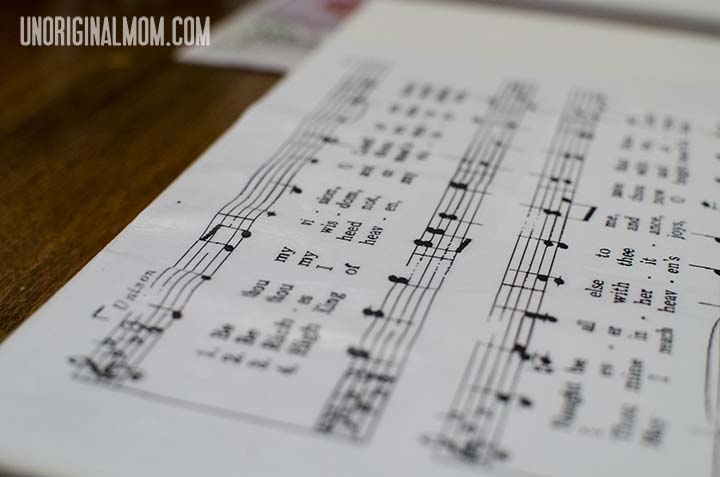 I wanted the word "vision" to stand out a little…so I decided to paint a light coat of blue on the part of the canvas that would be behind it.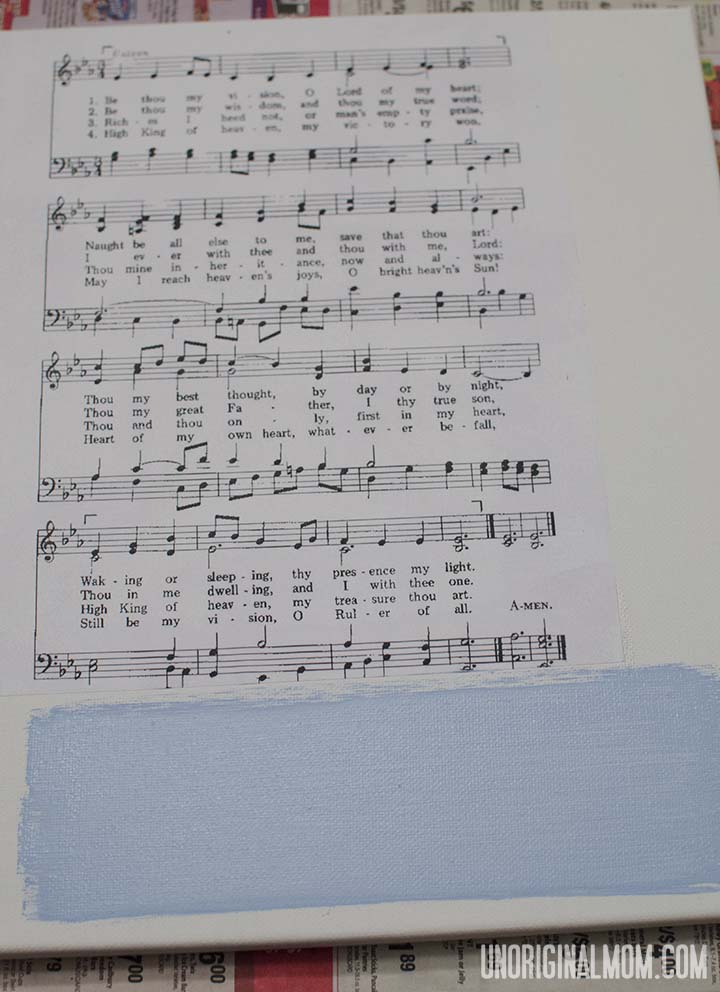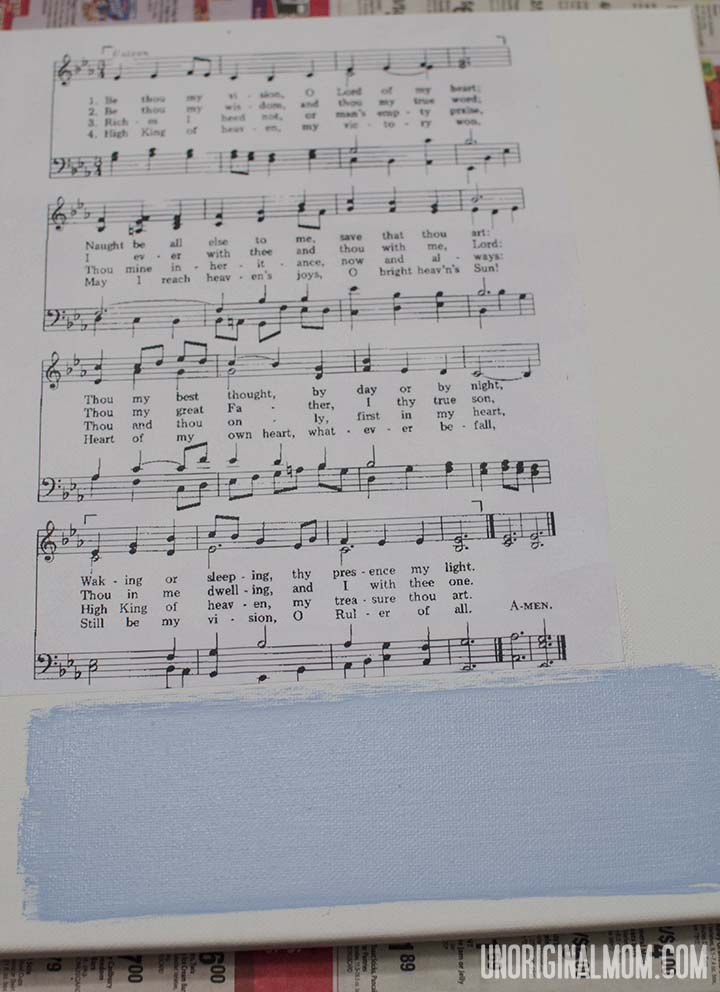 Using my Silhouette Portrait, I cut out the lettering on a color of vinyl I don't particularly care for since it was going to get painted over and peeled up anyway.  The block font is Bebas Neue and the script font is Parisienne.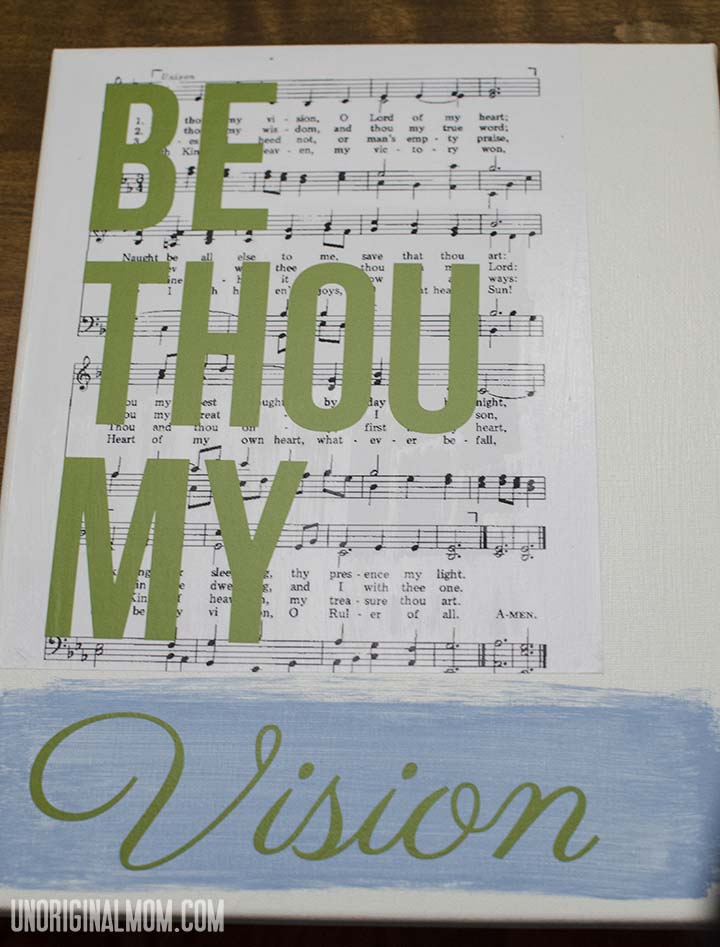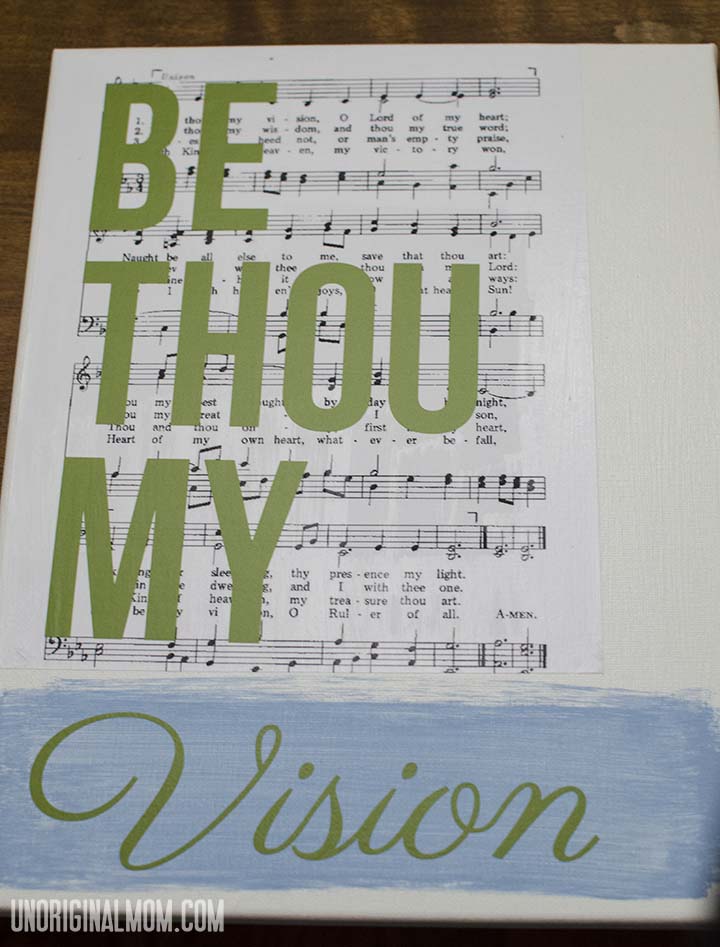 After being VERY sure that the vinyl was adhered well using my scraper tool (I flipped the canvas over and pressed from the back), I started painting!  I started by dabbing around the lettering to try to avoid any paint seeping under the vinyl, then painted the rest of the canvas.  It took four coats to really cover evenly – here's what it looked like after one coat: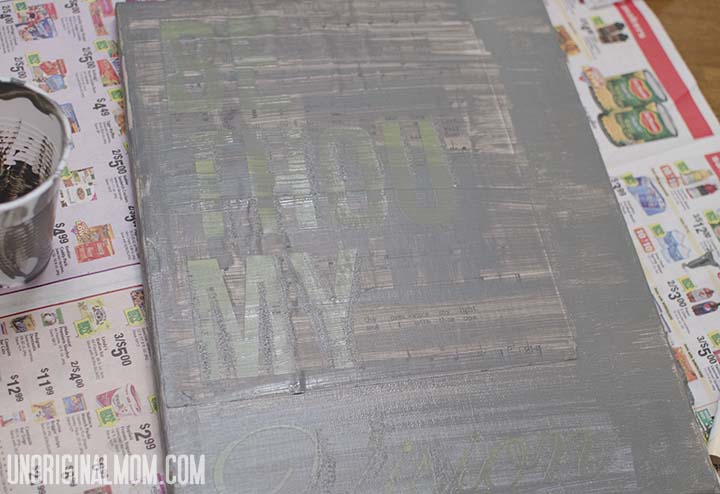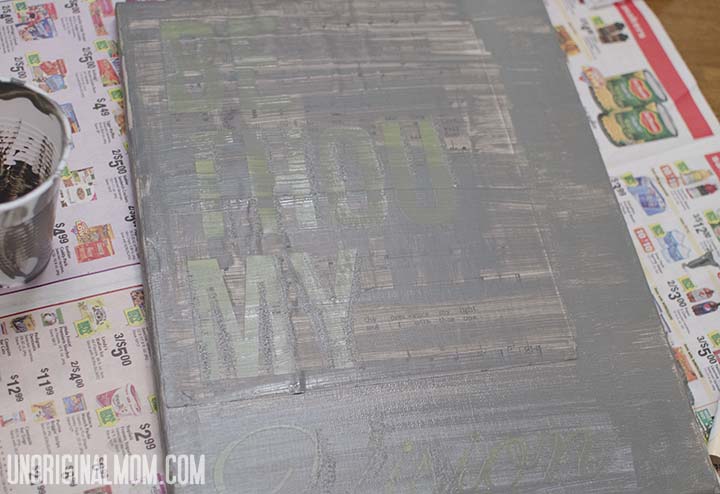 I let it dry overnight.  Then, using an exacto knife to get the edges started, I peeled up the vinyl…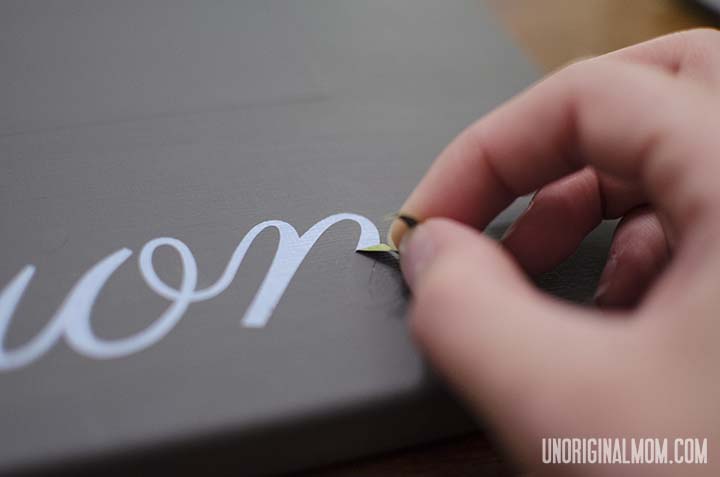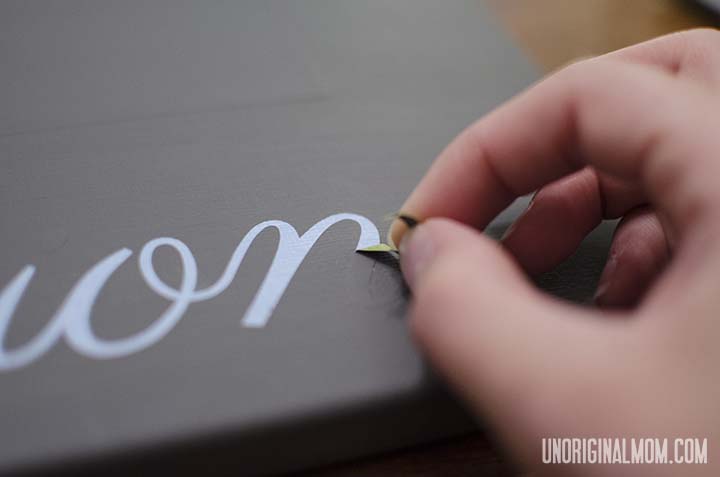 …to reveal the color or sheet music underneath!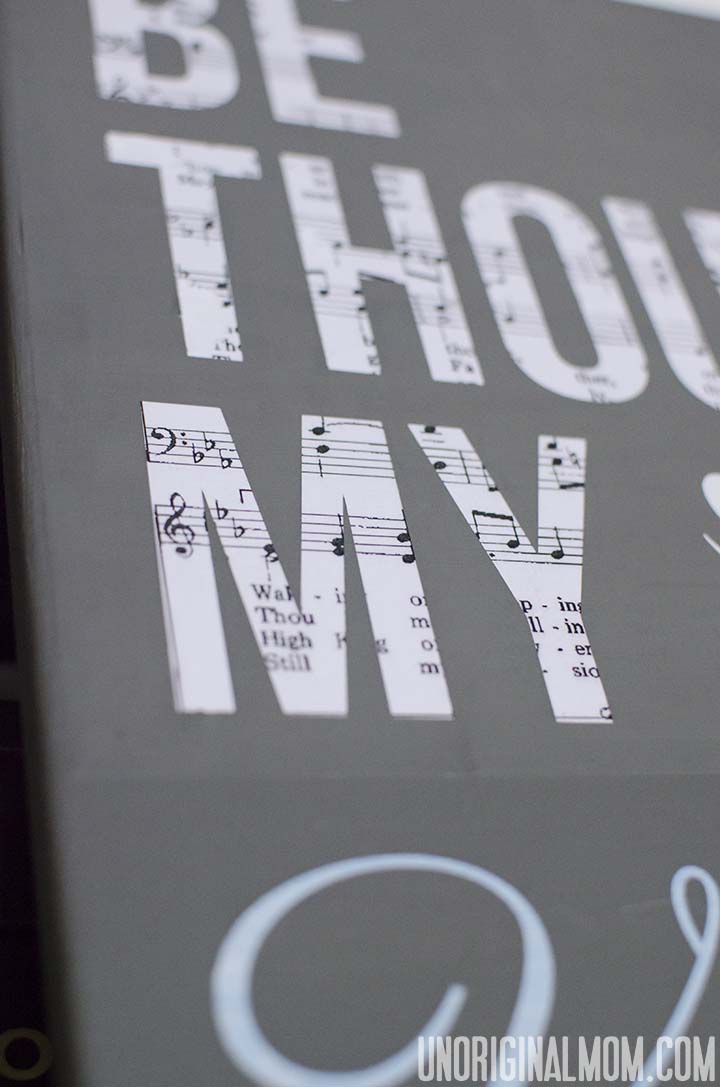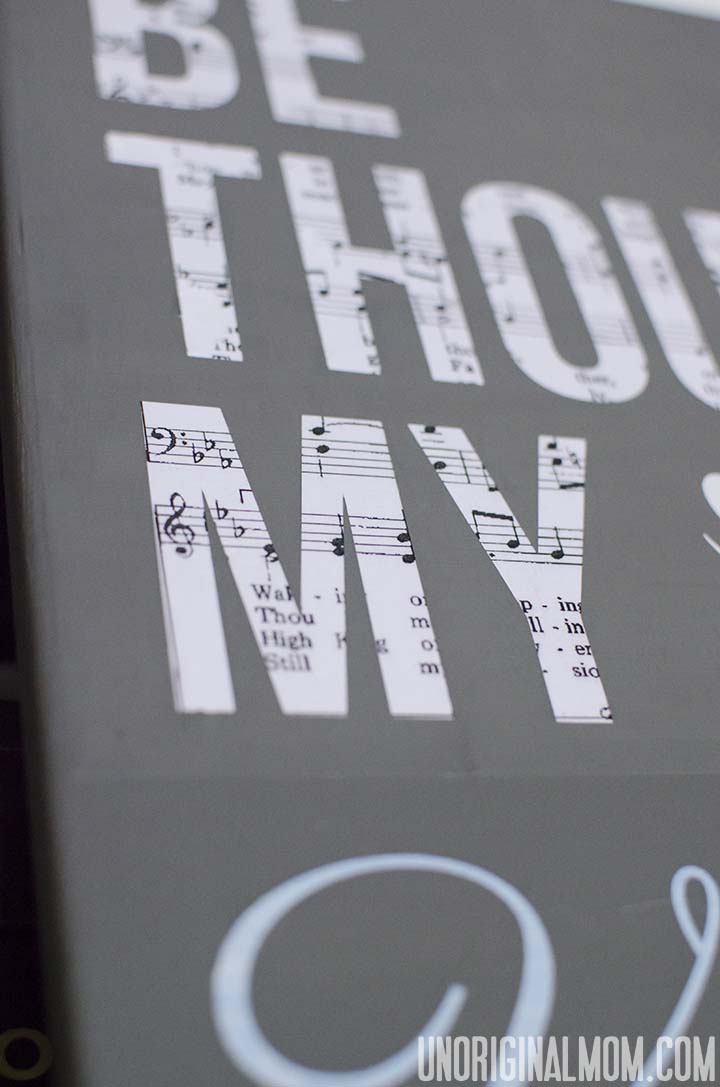 It was going really well until some of the vinyl decided to stick to the sheet music and rip when I was peeling it up :-(  It peeled up really well on most of it, there were just a few areas where it stuck…I think an extra layer of Mod Podge over the sheet music would have prevented that.  It's hard to tell where it ripped unless you're looking really closely, though, so luckily the project wasn't completely ruined.
Once I was done with the lettering, the right side of the canvas looked a little empty…so I experimented with a few different designs to add with another vinyl cut out.  After trying two different designs that just didn't look quite right (yay for vinyl that peels right off!), I finally found the perfect design – for free! – here.  If you aren't fluent in French, you'll find after some trial & error that the link at the bottom of the post will take you to a download site for the JPEG and SVG files :-)
I don't like that you can see where the edges of the sheet music paper are.  It is actually much more visible in these natural light photos outside than it is inside hanging on the wall looking and at it from a few feet away, so I can deal with it.  But, if I was doing it over again, I'd probably choose an 8×10 canvas instead of the 11×17 so the sheet music covered the entire canvas…or even get the sheet music printed on a larger piece of paper at a print shop.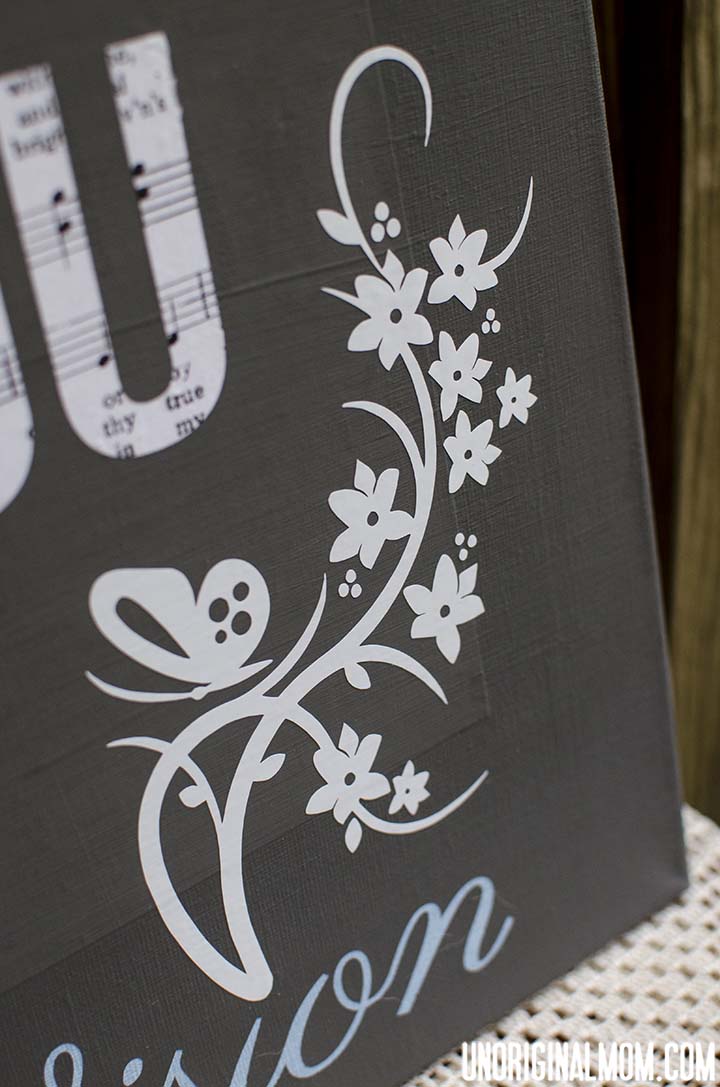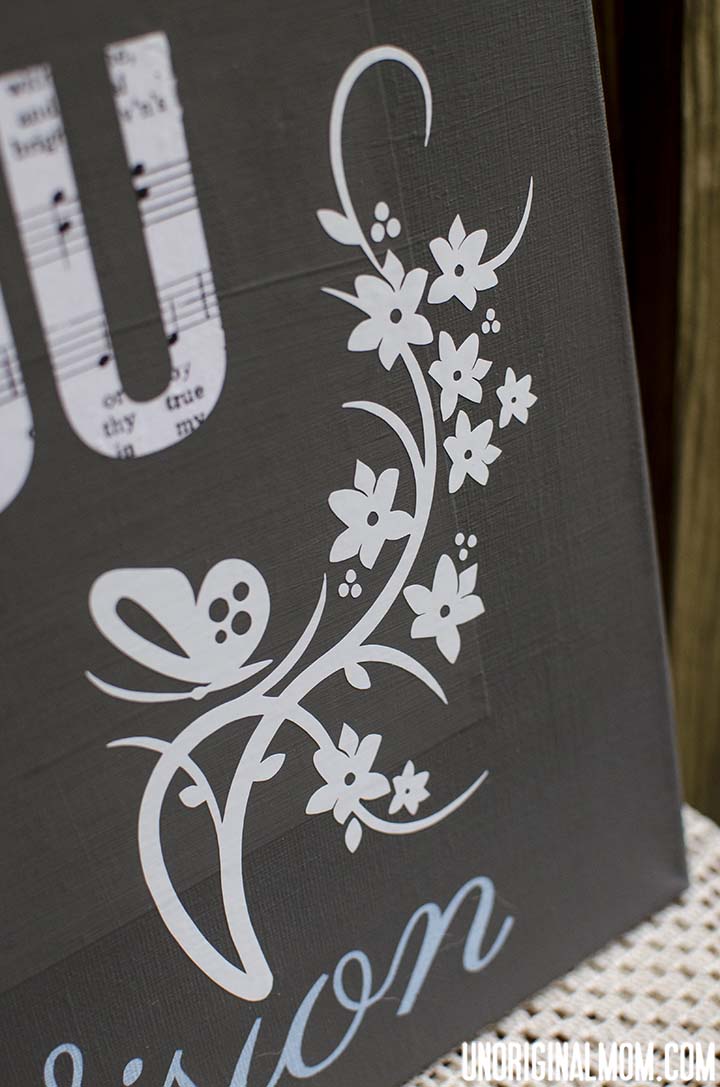 I really like this method of reverse-stenciling to reveal what's underneath the paint…I think the possibilities are really endless!  It would be neat to do with scrapbook paper, newsprint, or antique pages from a book.  I think I will be trying this again soon!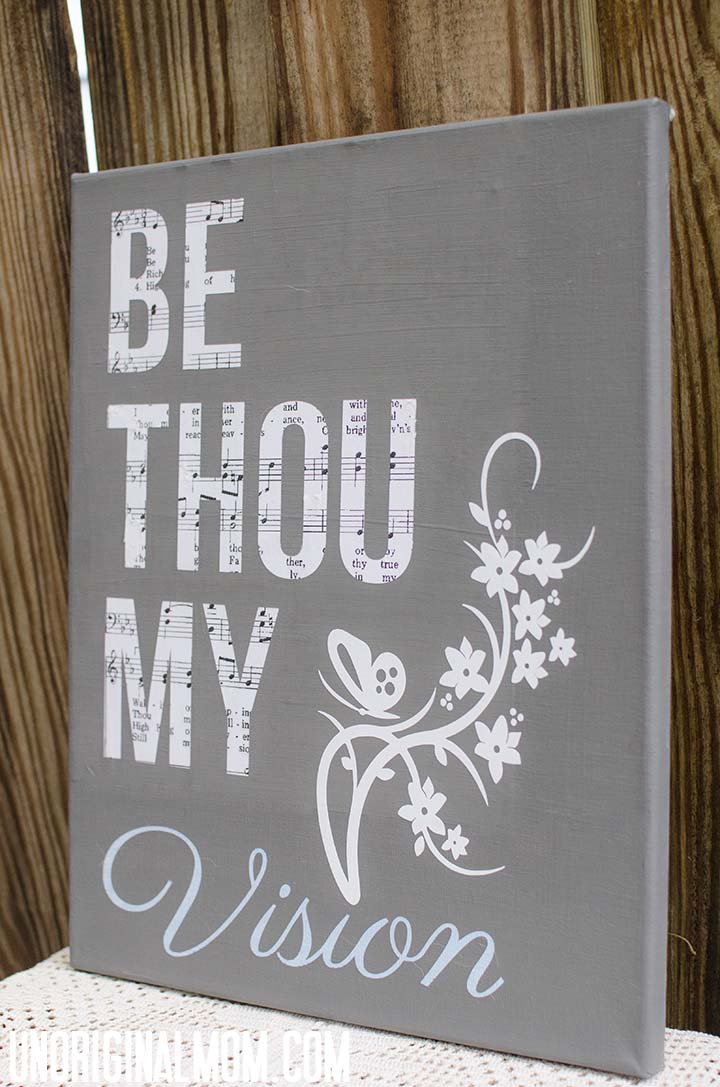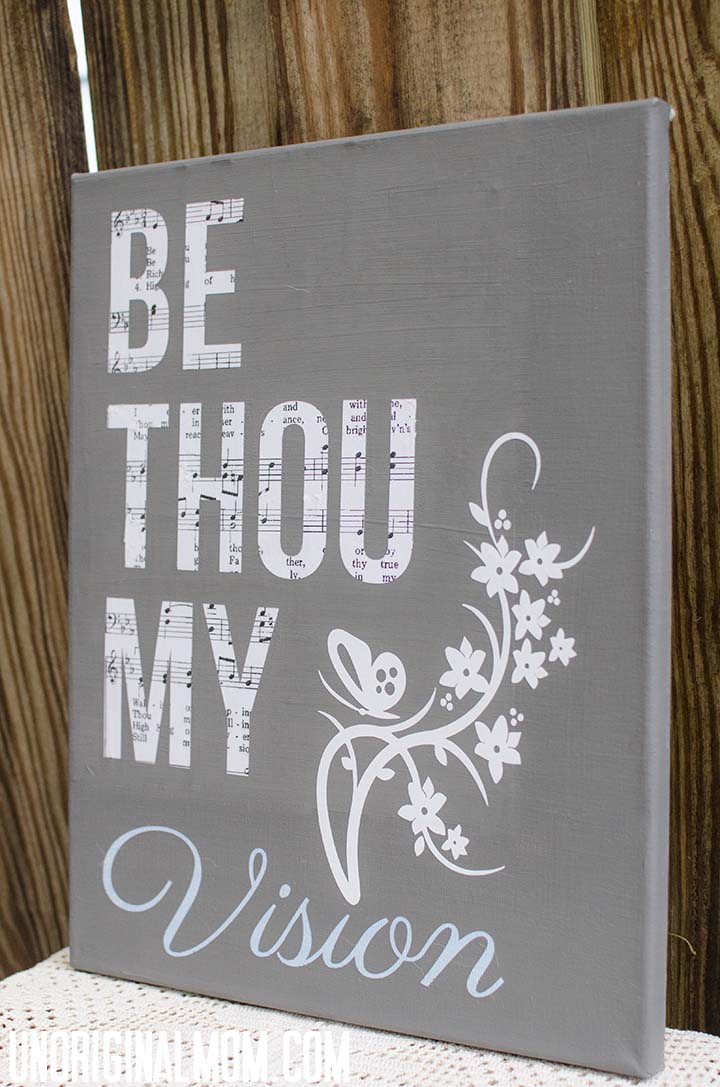 I am once again participating in the Silhouette Challenge this month, and am excited to be part of this awesome list of Silhouette projects!  Take a moment to browse these links for some more wonderful craft inspiration!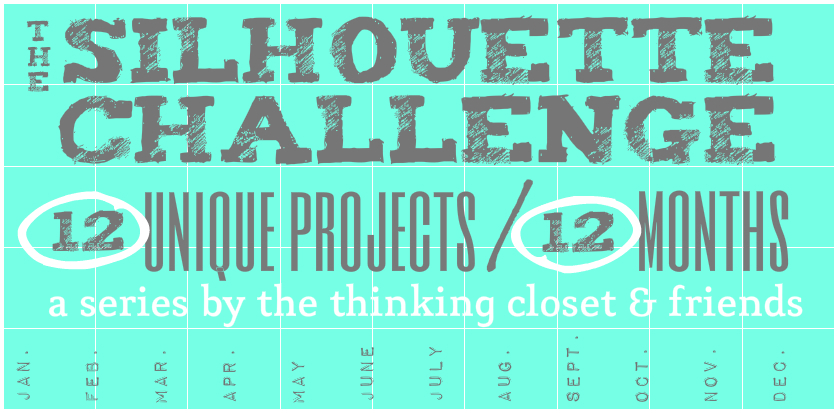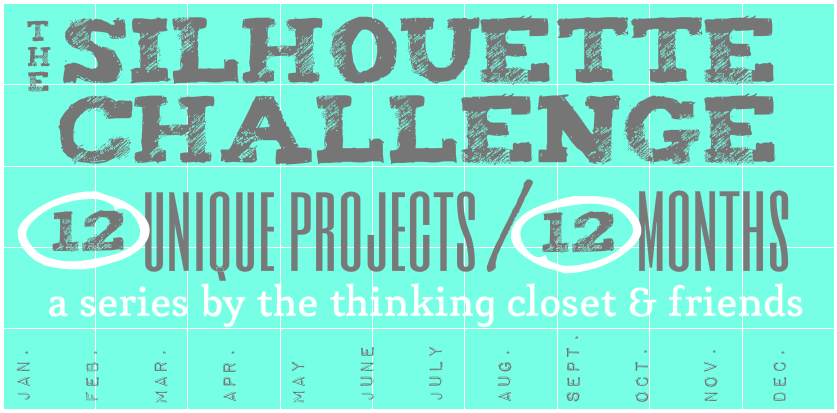 Using Silhouette Studio as a Graphics Programme by Get Silvered
D.I.Y. Wedding Invitations by Create & Babble
Pow! Superhero Party Decorations by Lil Mrs. Tori
Family Photo Tile & A Free Cut File by My Favorite Finds
They said yes! Bridesmaid Proposal Box by Everydaypaper
Home on the Range: An Accent Pillow by Suburble
"Keep Calm" Onesie by The Thinking Closet
August Silhouette Challenge Project by Give Me a Paintbrush
Fancy Powder Room Sign by Joy & Gladness of Heart
How to Organize Cards & Photos by Super Sweet Life
It's Time to Try a New Craft Medium by Tanya's Creative Space
Milk Jug Crayon Bucket by It Happens in a Blink
The Gold and Beautiful by The House on Hillbrook
My First Silhouette Project: A Vinyl Chicken Decal by Life After Laundry
A Stache Bash Part 1 by Home at Eight
One Shoe Can Change Your Life by An Elegant Touch
Washi Tape Wall Art by Tried & True
Washi Tape & Vinyl Sign by Tossed Salad Life





Subscribe to unOriginal Mom via email and get instant access to my library of FREE Silhouette Studio & SVG cut files - exclusively for email subscribers. Plus there's a new file added every month!