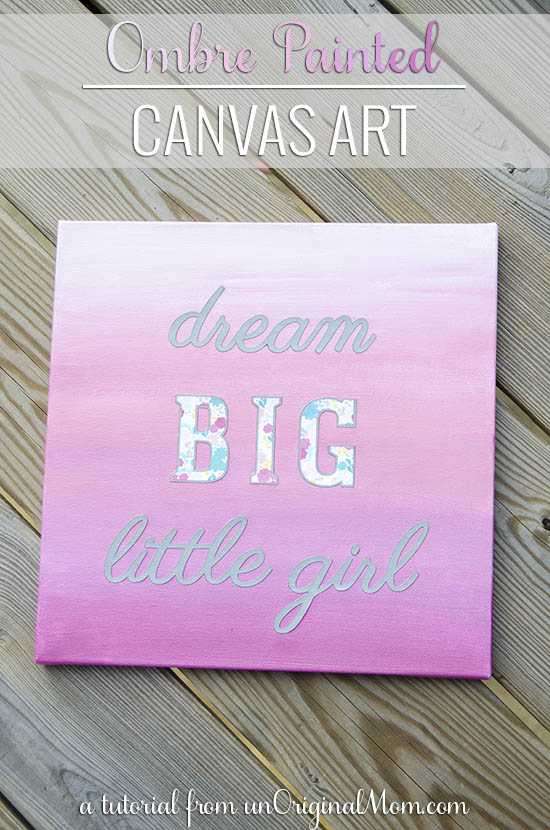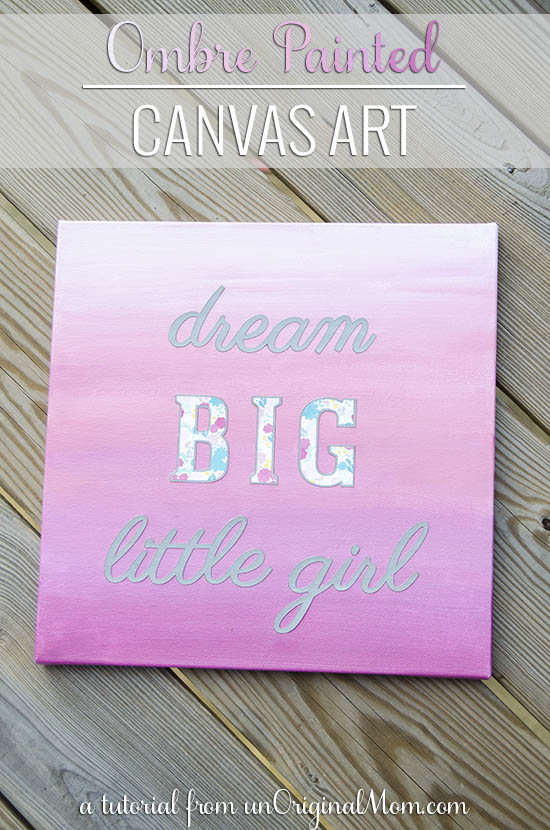 I've slowly been working on pulling together elements for my 2 year old's "big girl room" that she'll be moving into before the new baby arrives!  In fact, a few months ago I used my Silhouette and painted watercolor paper to create some Cherry Blossom Watercolor Wall Art for her new room, too!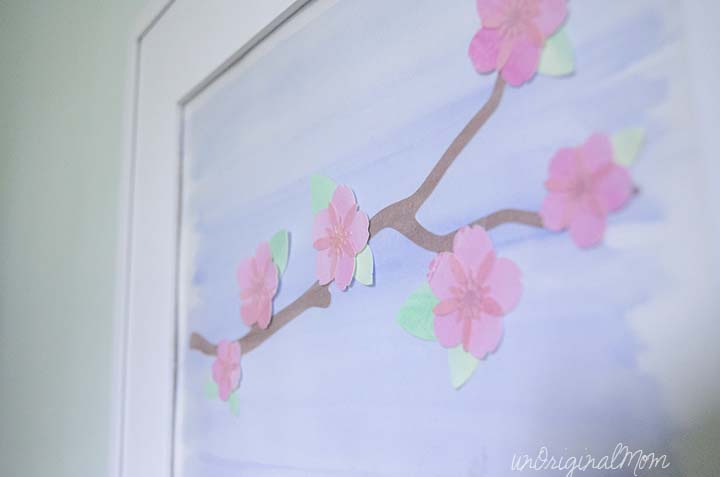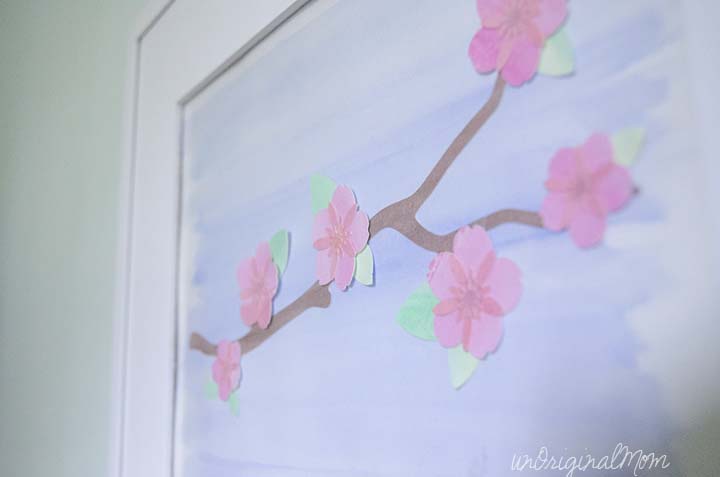 This ombre painted canvas art was also very simple – just paint a canvas and add some chipboard letters!  The painting technique is easy and requires NO artistic ability (trust me, if I can do it, anyone can!) – I just picked four gradient shades of pink and went to work creating a bit of an ombre effect by starting at the top with the lightest shade and mixing colors until I got to the darkest shade at the bottom.  The trick is to use a paper plate to put the four blobs of different colors and mix them together as you go – start with the lightest color by itself, then mix in a bit of the next darkest color, and a bit more, until you are painting with the second color by itself…and so on!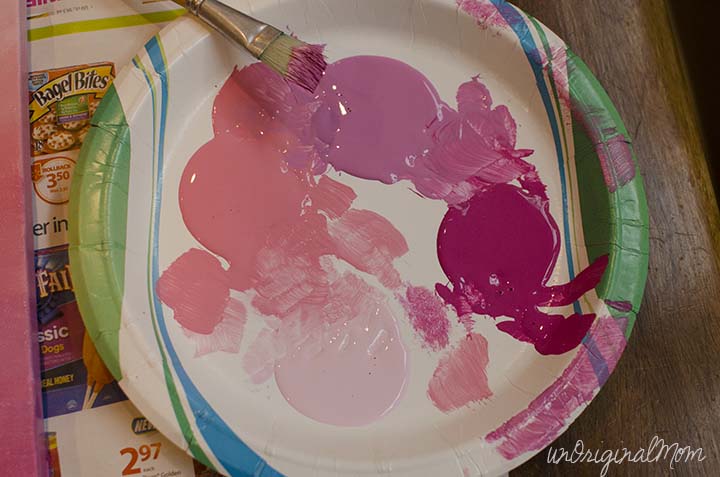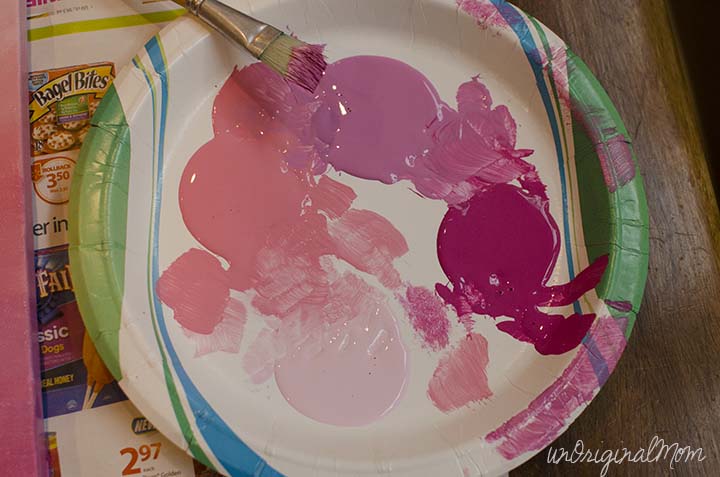 The end result was really neat!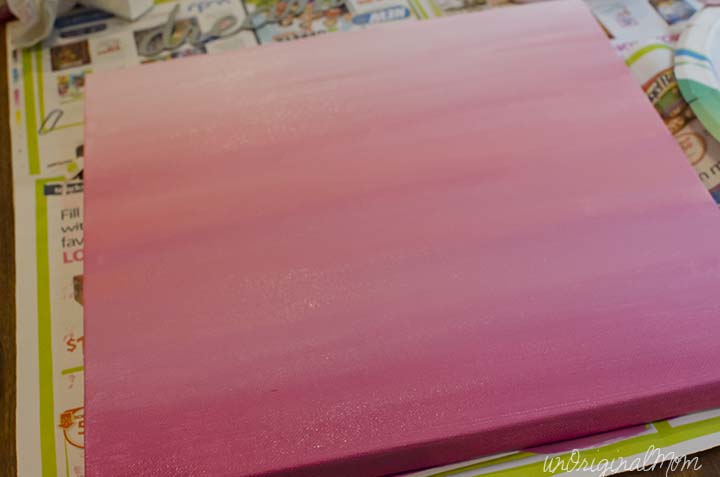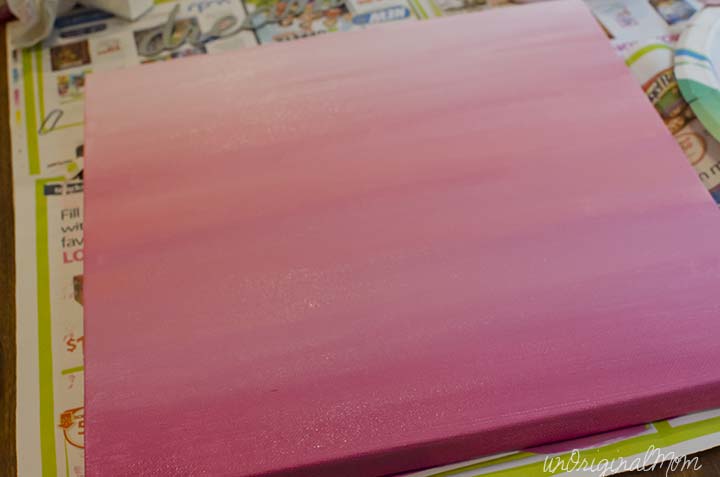 For the text, I created the lettering in Silhouette Studio and cut it out of chipboard.  If you've never worked with chipboard before, it's essentially the same as cereal-box-cardboard – great for when you want something with a little more substance than card stock!  It was just what I needed to make the lettering "pop" a bit.  If you don't have a Silhouette, you could buy stick-on scrapbook letters from the craft store!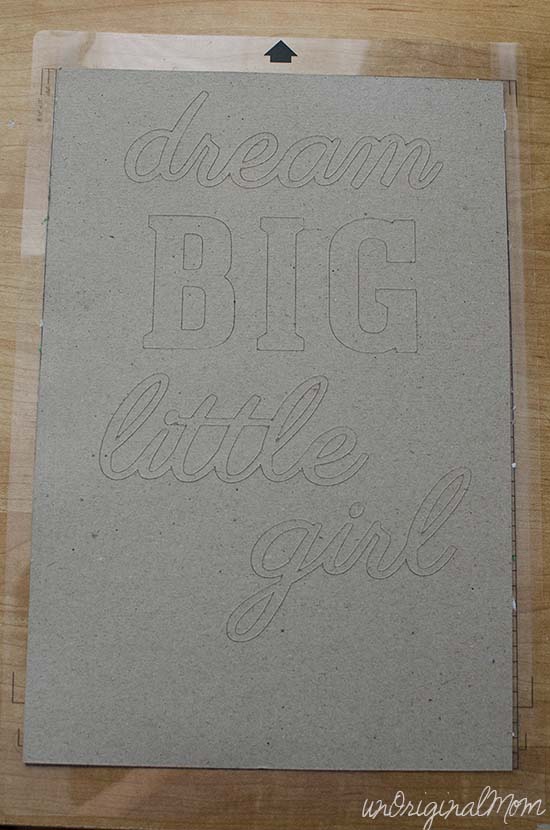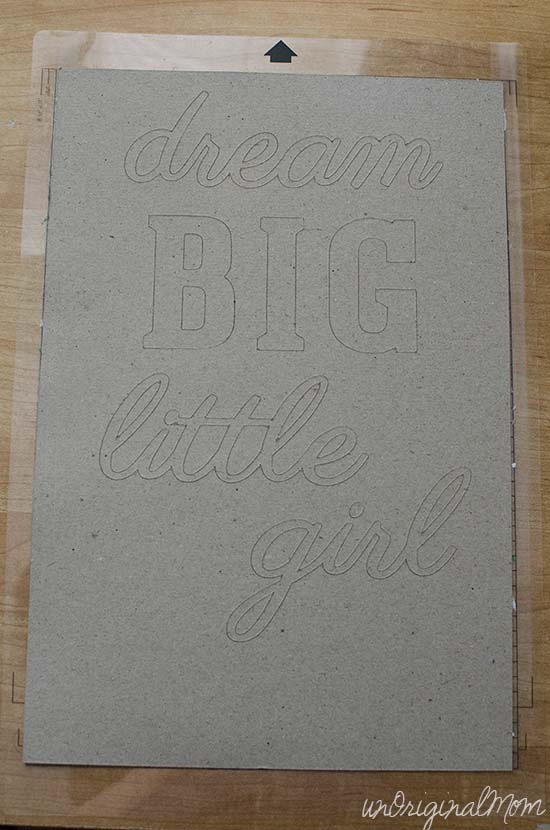 Since the colors for Addy's big girl room are mint walls with gray and pink accents, I decided to paint the chipboard letters gray.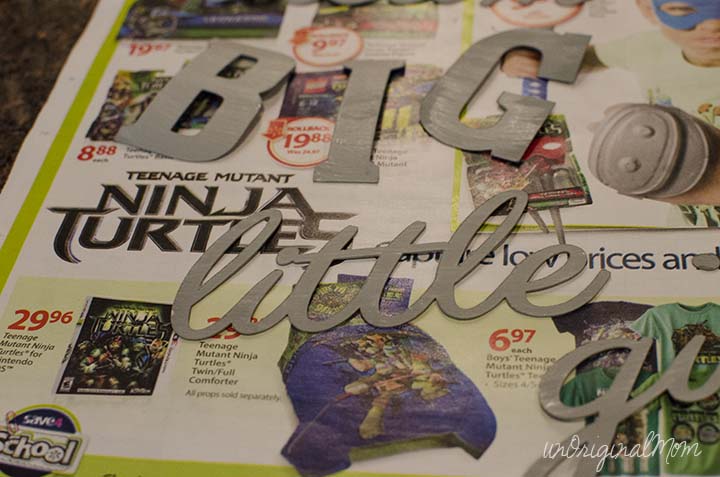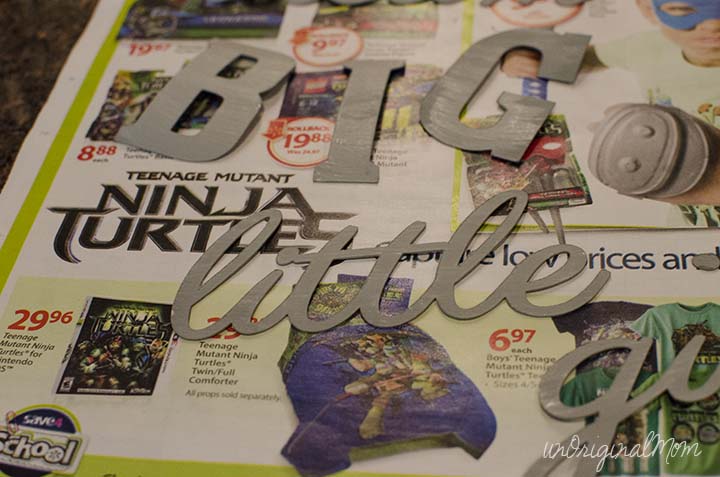 After they dried, I used Mod Podge to adhere it to my painted canvas.  (Be sure to do a thin coat of Mod Podge all over the entire canvas as it does add a little bit of a sheen – otherwise you'll have mis-matched textures on your canvas.)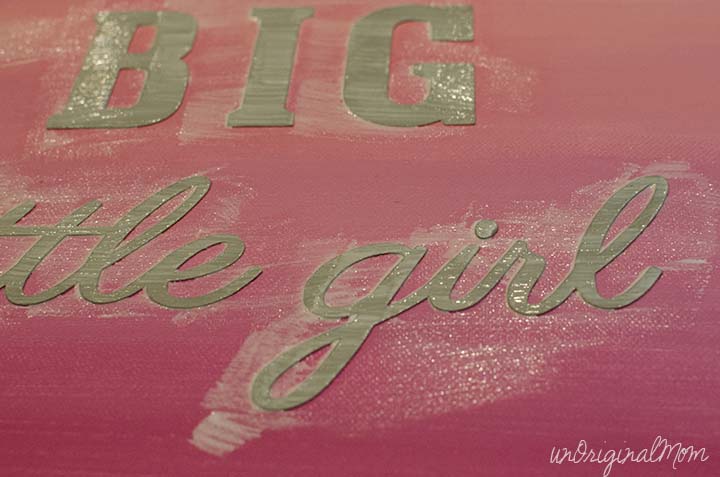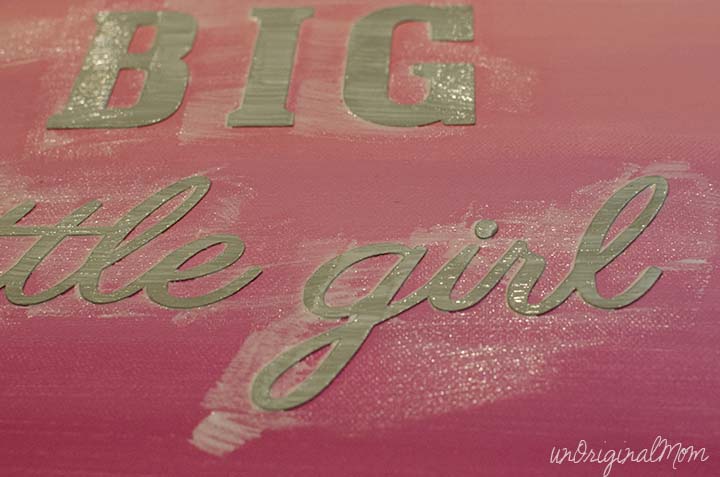 Here's how it turned out: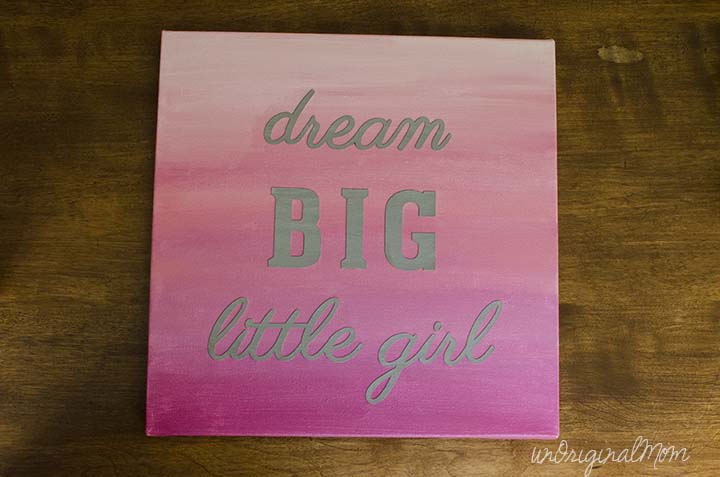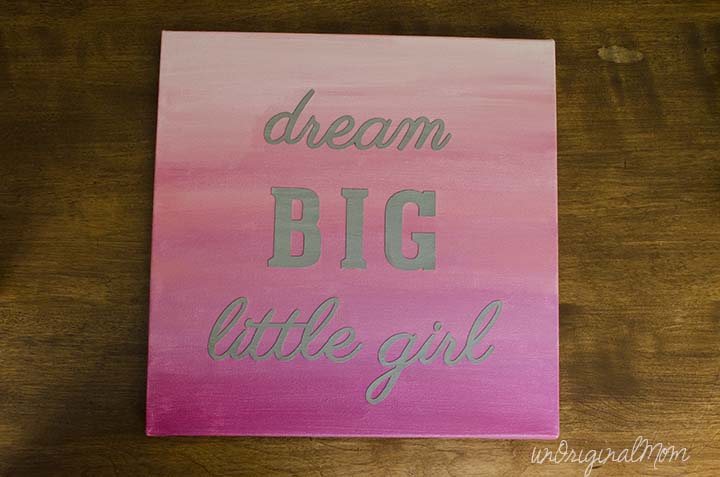 Nice, but a little blah.  "BIG" needed to pop out a little more, don't you think?  So I used the internal offset tool in Silhouette Studio to create letters a bit smaller, then cut them out of some pretty floral scrapbook paper.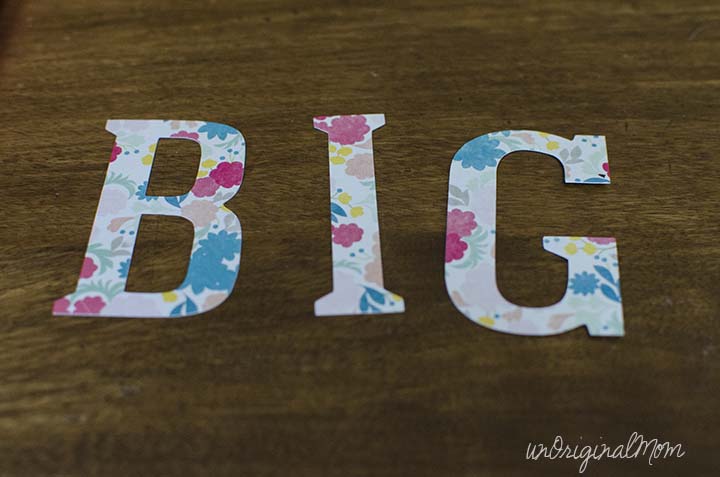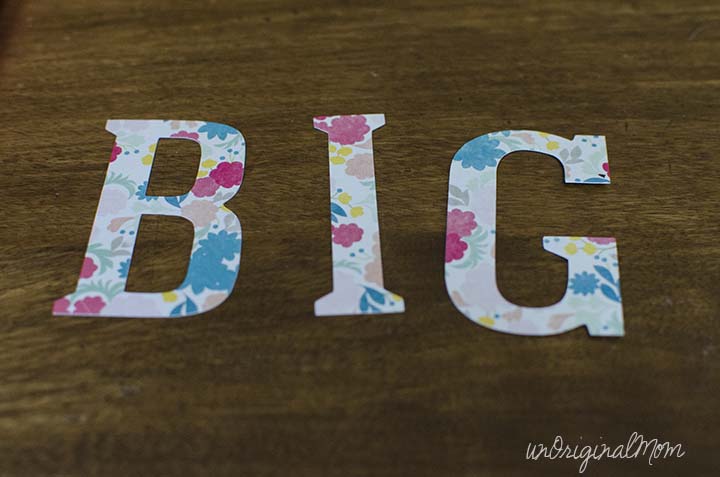 Those got Mod-Podged onto the gray letters, and were just the extra little something that it needed!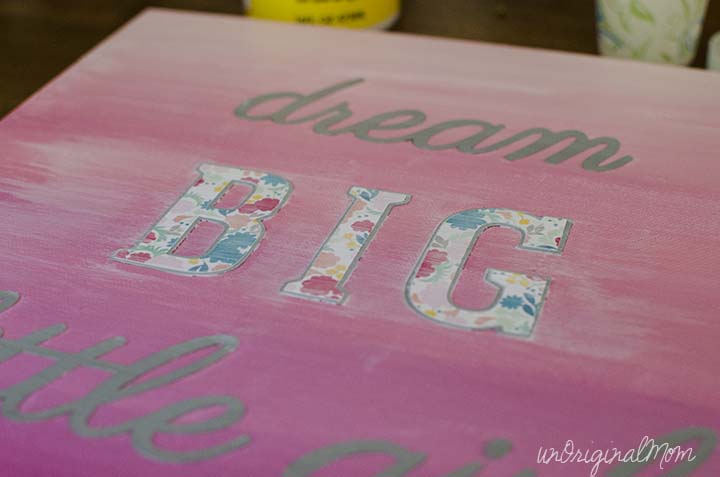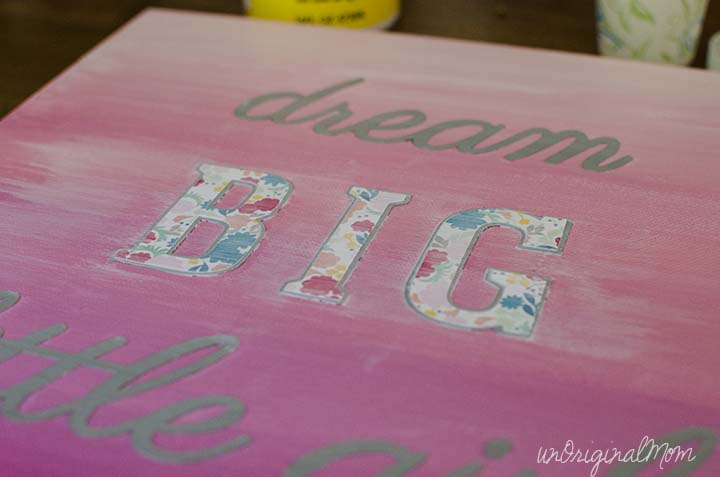 It's not ready for a permanent place on the wall yet, but I think it will end up as part of a small gallery wall in Addy's big girl room.  Here's an idea of how it will work against the wall color (next to a lamp that I'm not ready to commit to yet, as evidenced by the tag still on it!)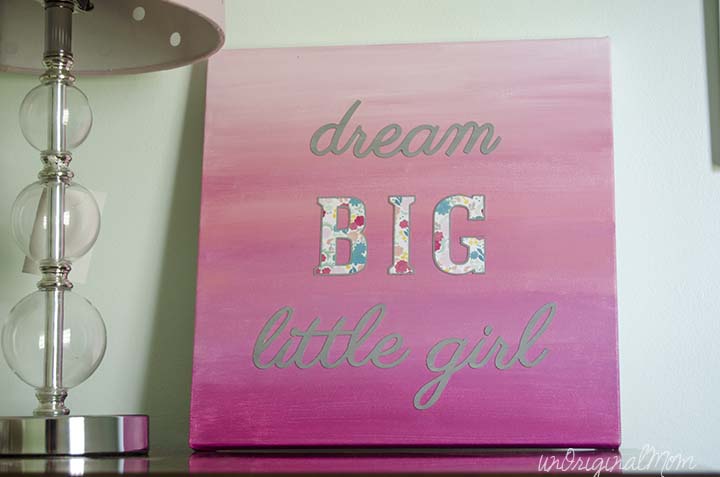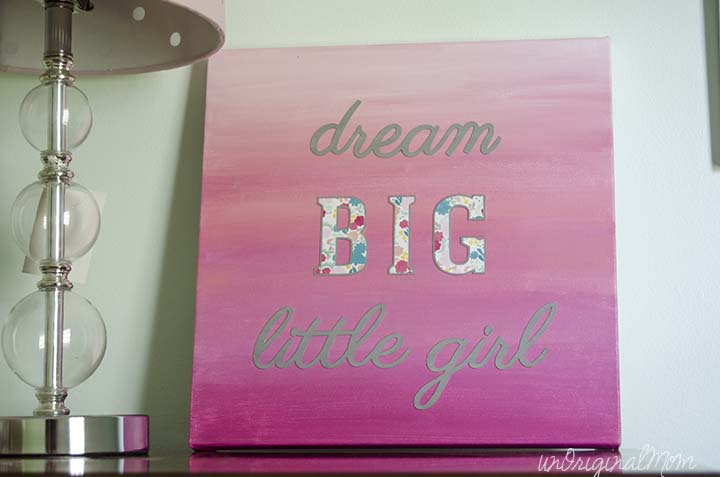 I'm not the most artistic person in the world, but I'm glad to be able to add some simple, personal touches to the art in her room!
Speaking of adding personal touches to your home…you absolutely MUST check out these other great project ideas for creating home decor items using your Silhouette.  Lots of wonderful inspiration awaits you at this month's Silhouette Challenge!  The collage is clickable, or you can scroll down to the text links below the image.
Want to Check Out More Silhouette Projects?
My Silhouette Challenge buddies and I are all sharing projects on our blogs today, so peruse the projects below for a wealth of Silhouette inspiration!
1. The Moberg Family // 2. Sandpaper and Glue // 3. American Honey // 4. Weekend Craft // 5. Grey Luster Girl // 6. From Wine to Whine // 7. Cutesy Crafts // 8. Practically Functional // 9. Home At Eight // 10. McCall Manor // 11. Dragonfly & Lily Pads // 12. Adventures in All Things Food // 13. Create it. Go! // 14. Please Excuse My Craftermath… // 15. The Outlandish Momma // 16. The Sensory Emporium // 17. My Paper Craze // 18. unOriginal Mom // 19. My Favorite Finds // 20. Architecture of a Mom // 21. Black and White Obsession //

And if you're thinking ahead to Christmas gifts (not saying that you should be, but it's never to early to start pinning!), home decor items always make unique, personal, and thoughtful gifts!
What's your favorite way to incorporate Silhouette projects into your home decor?





Subscribe to unOriginal Mom via email and get instant access to my library of FREE Silhouette Studio & SVG cut files - exclusively for email subscribers. Plus there's a new file added every month!