This post is sponsored by Wayfair.com – as always, all thoughts and opinions are completely my own!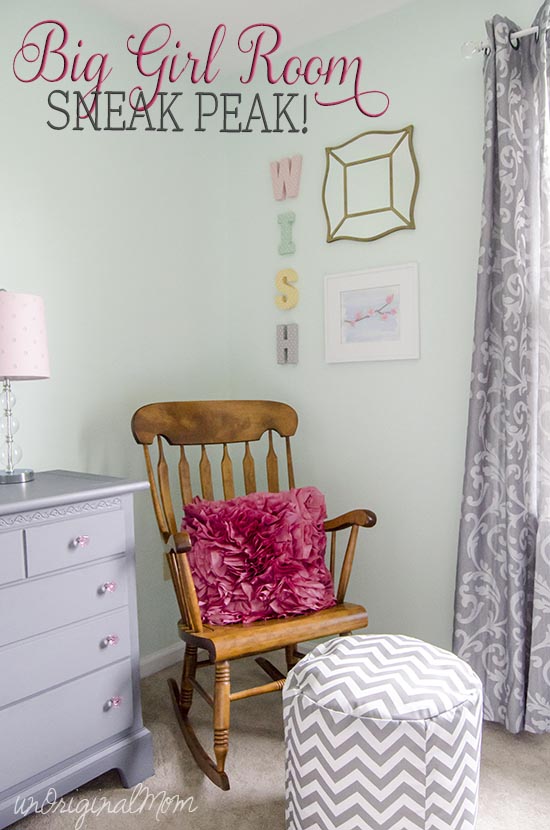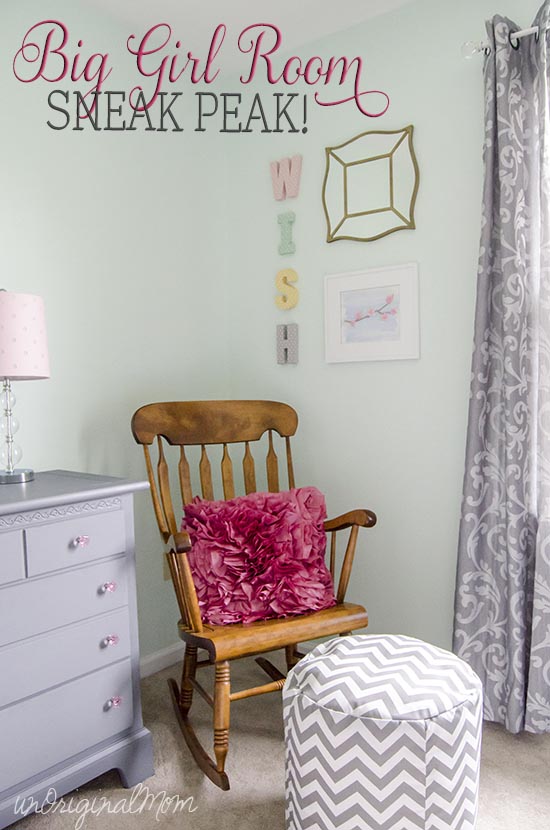 Eeek!  I am so excited to finally be able to share with you at least part of the highly-anticipated (well, at least by me!) "Big Girl Room!"  Pieces of this room have been coming together little by little for months now, but we are extra motivated to get it done sooner rather than later with the impetus of a new baby arriving in January.  Our 2 year old, Addy, is currently in the nursery…so she's getting promoted down the hall to her very own Big Girl Room to make way for her baby brother or sister.
There are still many pieces in progress…but highlights include a glitzy chandelier, chalk painted dresser with girly pink acrylic knobs, bookshelf with fabric backing, freshly painted headboard and foot board, and all kinds of wall art!  I promise you'll see it all soon.
But first, I want to showcase our "finished" corner of the room!  Of course, we need a place to sit and read bedtime stories, so a comfy place to sit and snuggle was a must.  We already owned the wooden rocking chair  – speaking of which, what do you think about the decision to leave it plain wood instead of painting it?  I am loving it!  But it was pretty plain on its own.  Then I found the perfect pillow and pouf from Wayfair to complete this little reading corner, and it really pulls together the colors and feel of room perfectly.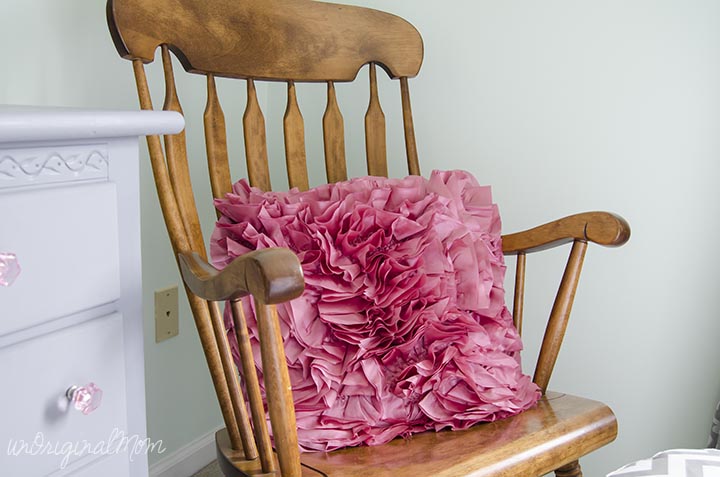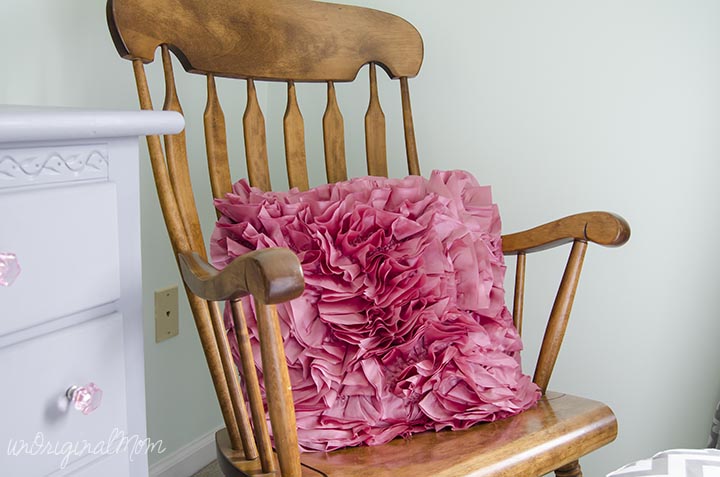 The pouf is so fun…it's the OC Fun Saks Chevron Bean Bag Ottoman from Wayfair.  It is perfect as an ottoman for the rocking chair, or can be pulled up to the side of the bed as a little stool.  The chevron pattern is great to offset all the girly textures that we have going on in the room, too.  I picked gray, but Wayfair has several different colors to choose from!
It's even featured on Wayfair.com as a "Blogger's Pick" by yours truly :-)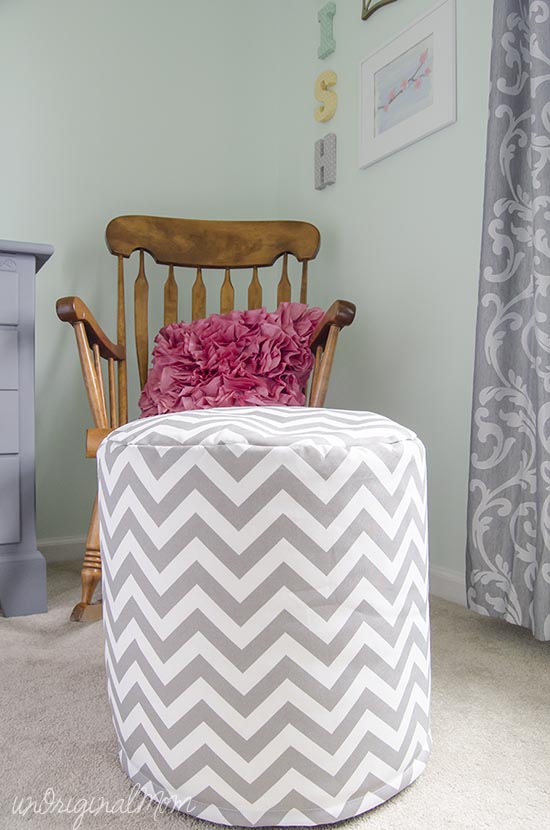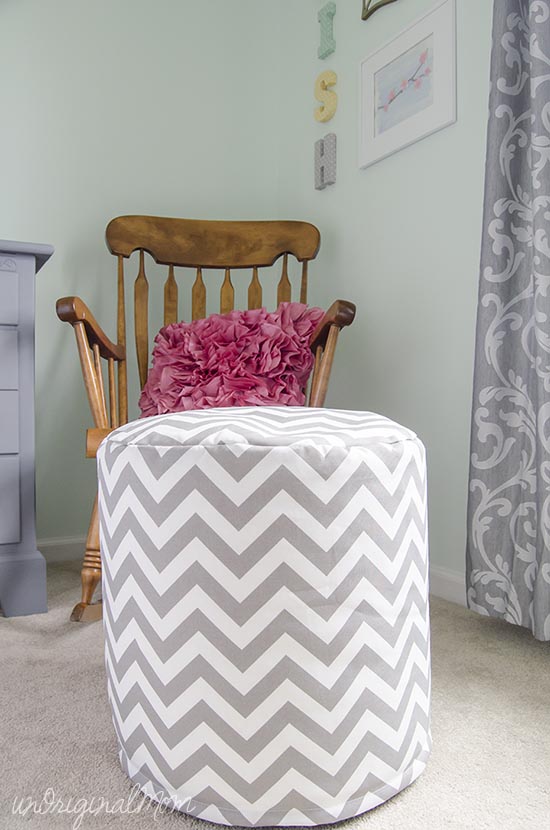 The pillow is probably my favorite part of the room so far.  When I picked it out online, I wasn't exactly sure how the ruffles would look…but as soon as I took it out of the box, I fell in love!  It's soft, satiny, and comfy, but pretty and oh-so-girly.  Unfortunately, it's no longer available on Wayfair – #sad face.  BUT they do have several great comparable options, like this felt flower pillow!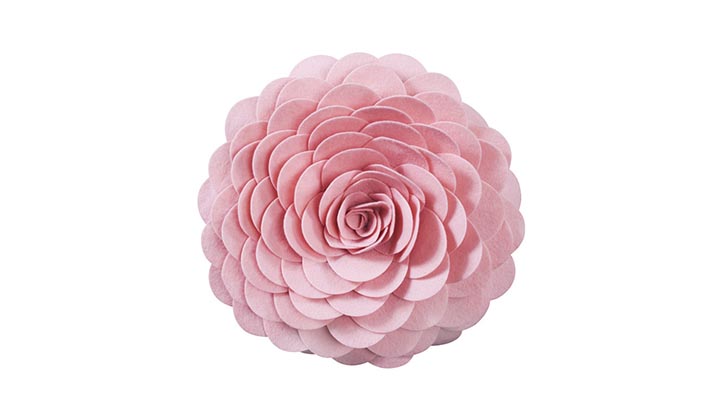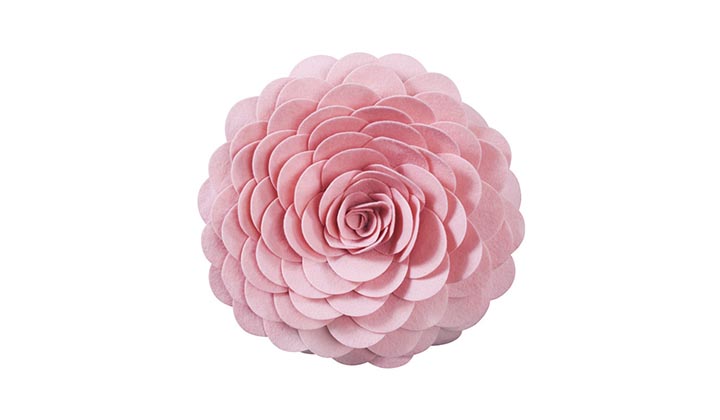 While browsing on Wayfair, I found several other pillows and throws that I added to my favorites list (and that might get added to this room, too!)…I love this unique gray throw blanket as another cozy addition to the rocking chair.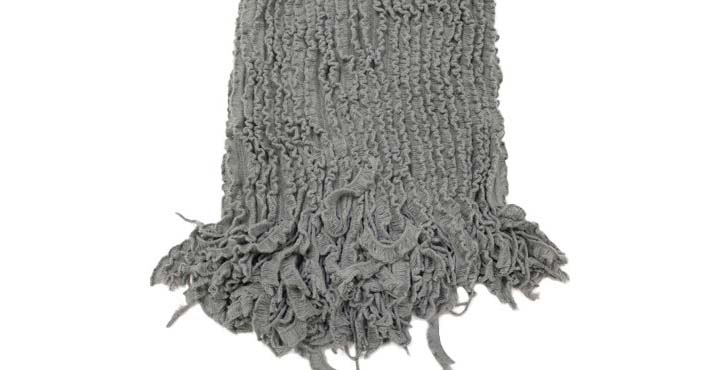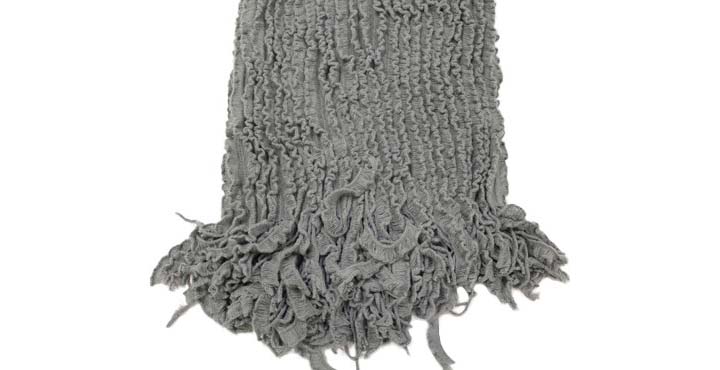 And I'm thinking that we're going to go with a pink comforter or quilt on the bed, so a mint paisley pillow on the bed like this one might help to pull in the wall color a little bit!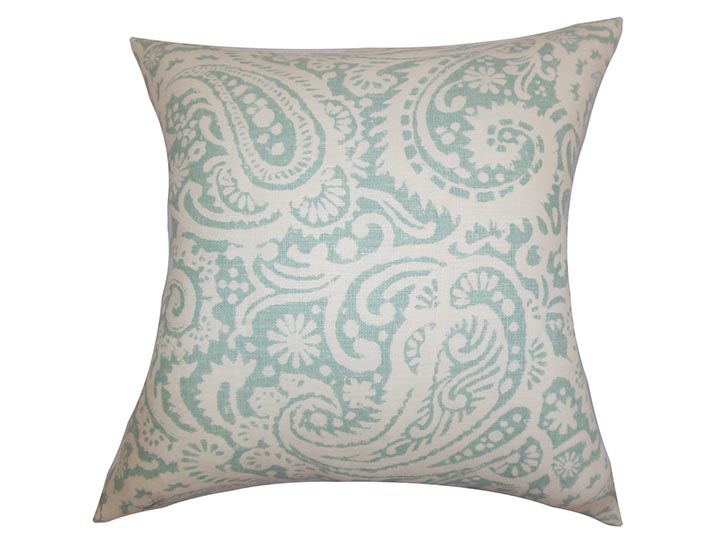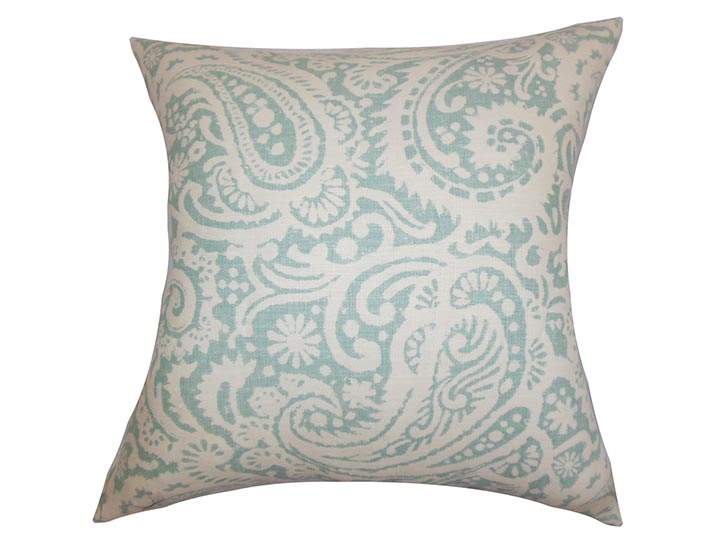 Do you have a corner of a room (or several!) that could use a refresh with some new pillows, poufs, and throws?  You're in luck – you can get 15% off any pillow, pouf, or throw on Wayfair.com from November 20-24th when you use the code WFPTP15.   So get on over there and start saving to your favorites list!
It's been a long and drawn out process to get this room ready for our little princess, but we are nearing the home stretch!  And it feels so good to have at least one corner finished.  Do you see anything familiar in our little gallery wall behind the rocking chair?  Or if you helped vote on the knobs for the dresser in my informal (and overwhelmingly one-sided!) Facebook poll, can you see what I decided on? ;-)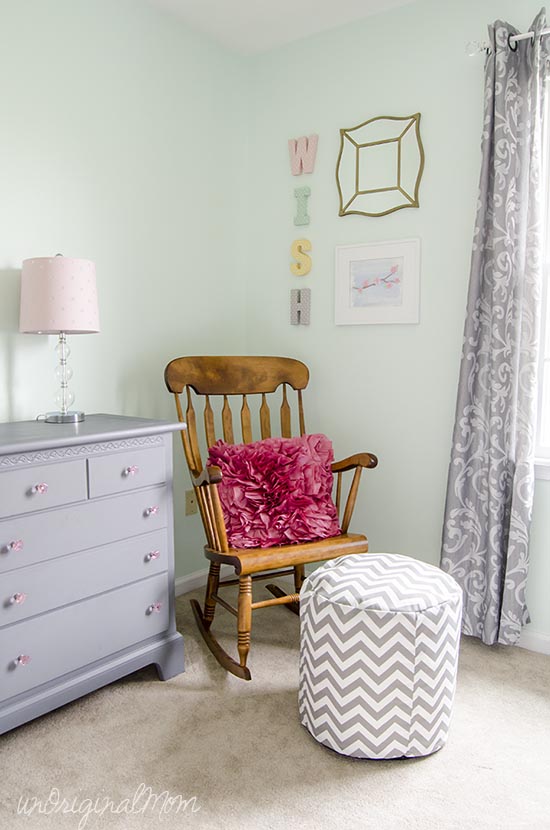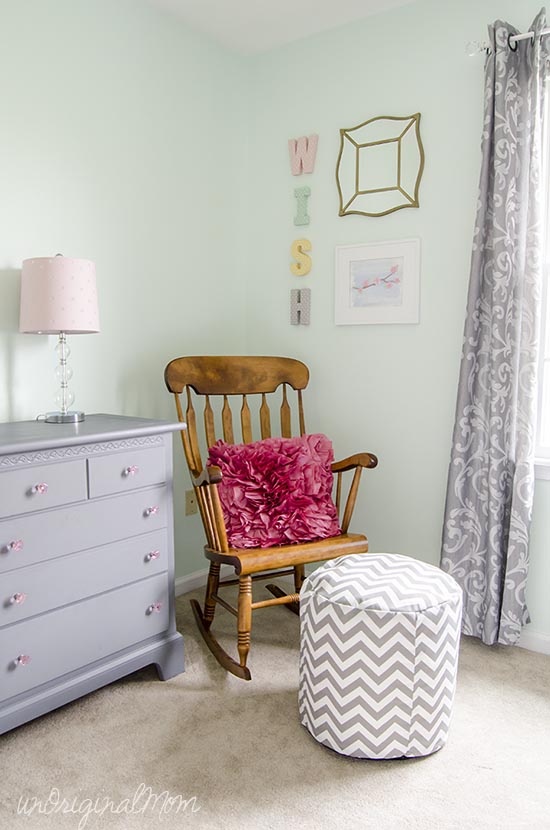 I hope you'll stay tuned for more "Big Girl Room" DIY details – including the grand reveal! – in the coming weeks!
Disclosure: I received free products from Wayfair.com in exchange for this post.  The opinions shared are entirely my own, and I would never recommend products to my readers that I have not personally used (and loved!) myself.


Get your copy of my FREE meal planning binder!
Sign up to get a free copy of my meal planning system - an 11 page printable meal planning binder, complete with a pantry inventory, shopping list, and more to help get on top of your menu each week!