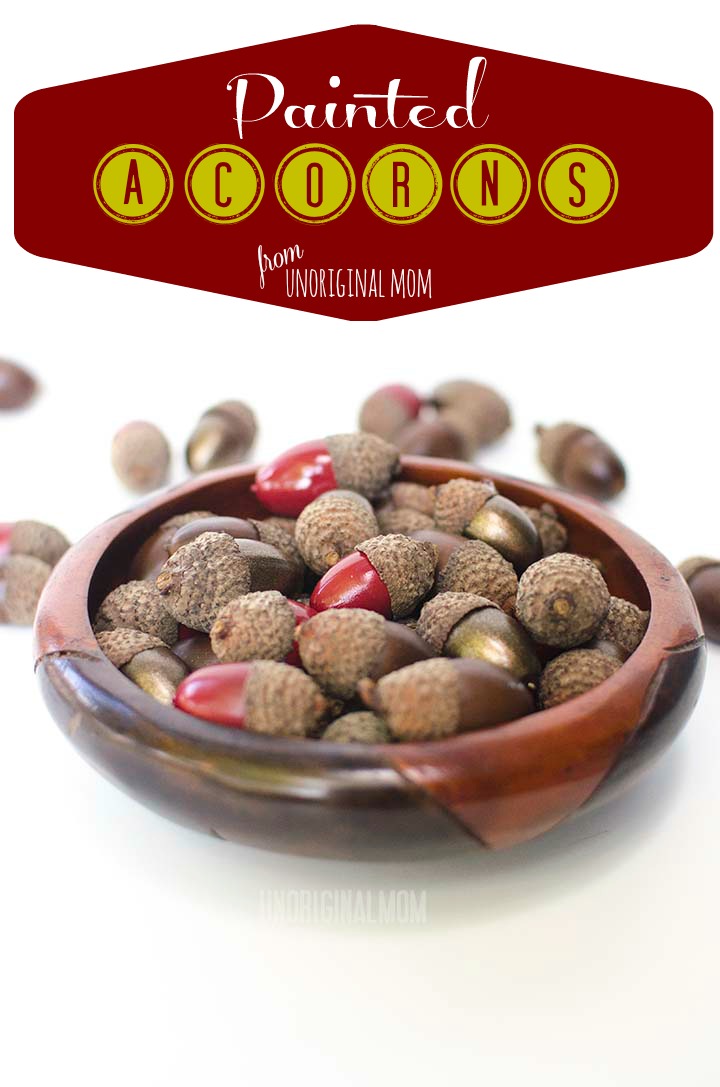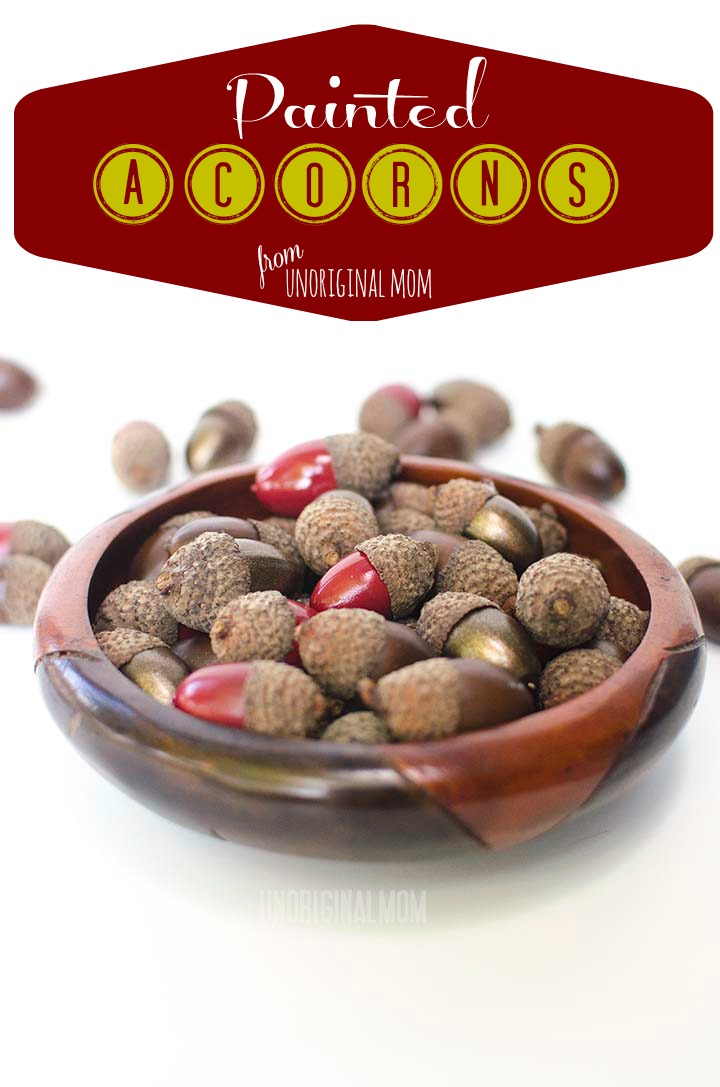 I saw a picture in the most recent Lowe's Creative Ideas magazine of painted acorns simply displayed in a bowl as fall decor.  It was simple and beautiful!  I knew I wanted to give it a try.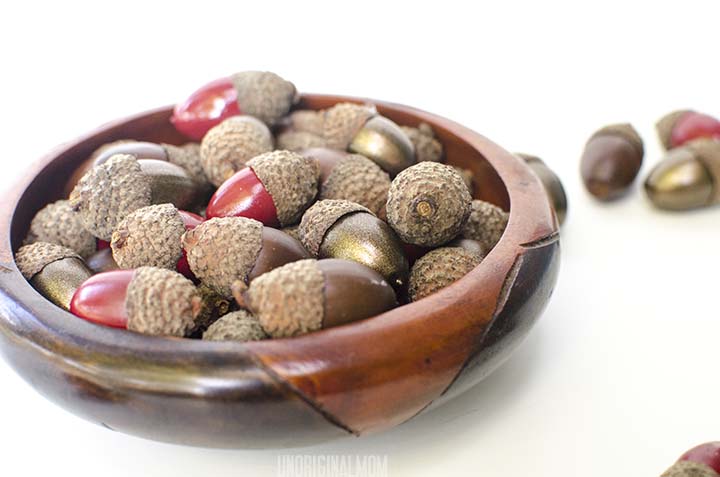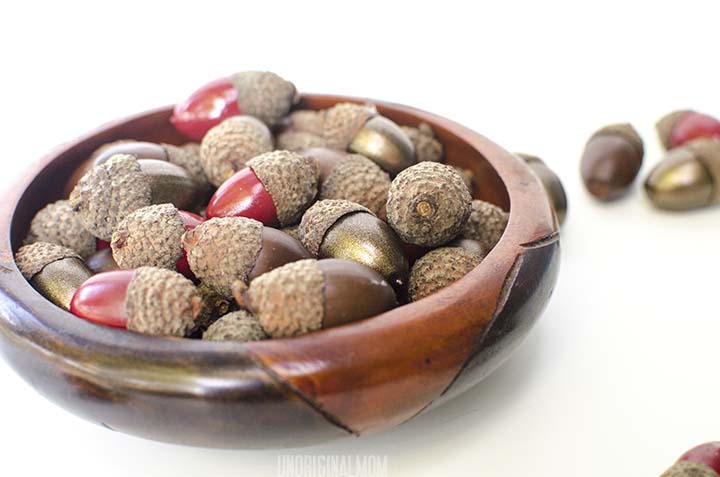 So I went to work harvesting some acorns from our yard.  It turns out that our oak tree must be having an off year, because its acorns are pretty puny…so next time we were on a walk, I started filling up the bottom of the stroller with good acorns I came across, and then emptied them into a bucket in the garage until I could get to them.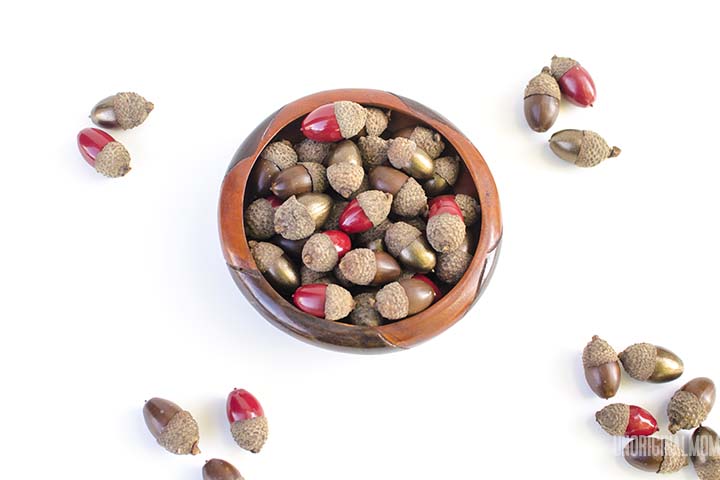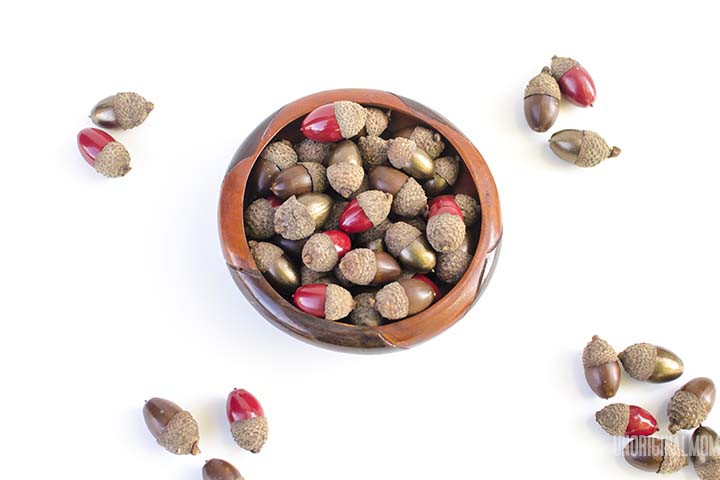 Lucky for you I didn't take a picture, but after a few days in the bucket there were lots of little worms crawling out of the acorns…eeeeewww!  After a bit of research I discovered that weevils like to get into acorns and lay eggs in them, so you actually need to preserve your acorns by heating or freezing them immediately after you collect them.
So I went back out for more acorns.  On one of our walks, we came across an oak tree with AWESOME acorns – beautifully brown and plump, with lots and lots on the ground to choose from – so I went back to that tree and collected about 100 acorns.  Almost all of the acorns had lost their caps, so I collected a bunch of caps, too.  (Make sure you collect more caps than acorns – having lots to choose from makes matching them up easier.)  I came home and immediately washed them and put them on a baking sheet.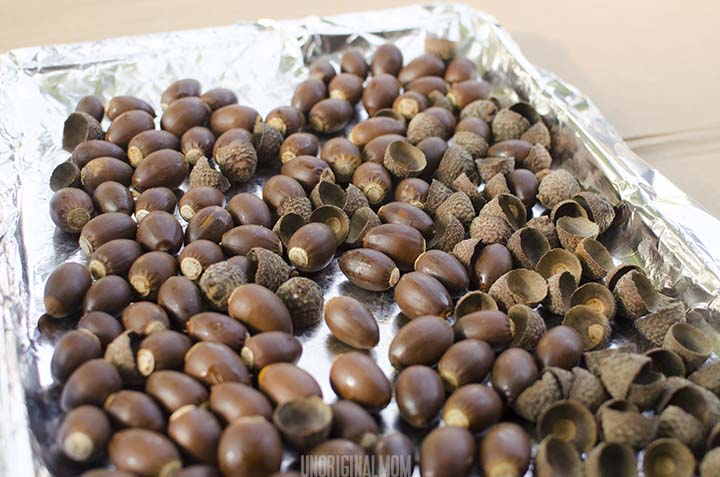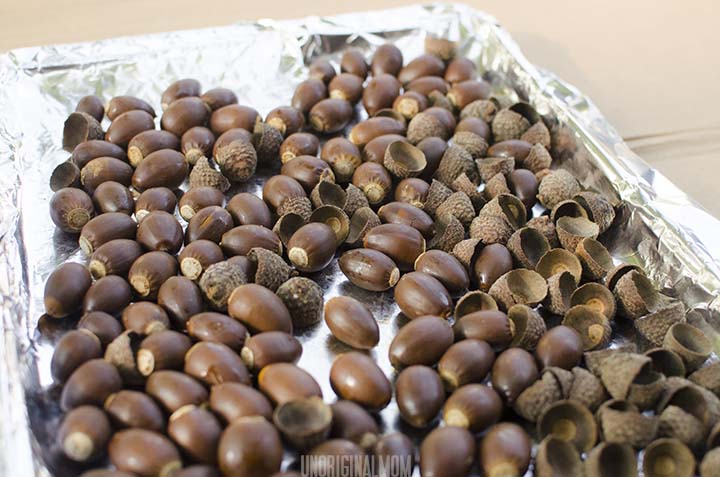 I found this great tutorial from Small Home Big Start on how to preserve acorns.  She recommends heating the acorns in a 200 degree oven for 2-3 hours, shaking them occasionally to prevent burning.  I only heated them for about 45 minutes at 250 degrees, and it seemed to do the trick.  (But be warned, heated acorns have a very particular odor…it wasn't horrendous, but it wasn't lovely, either.  Be prepared to open a window or two.)  Also, one or two of the acorns had a little crack in them (try to avoid acorns with any kind of crack or whole in them) and they oozed a little bit in the oven, so I had to wash the acorns again after heating them.
The next step was paint!  I decided to go with spray paint (hand painting them seemed way too tedious!) and picked bronze and dark red.  I also decided to leave some of the acorns au naturel and used a clear satin sealant spray paint on them.  I used little balls of masking tape to stick the acorns top-side-down while I was painting them – the tops were going to get covered by the caps, so I didn't need to paint them anyway.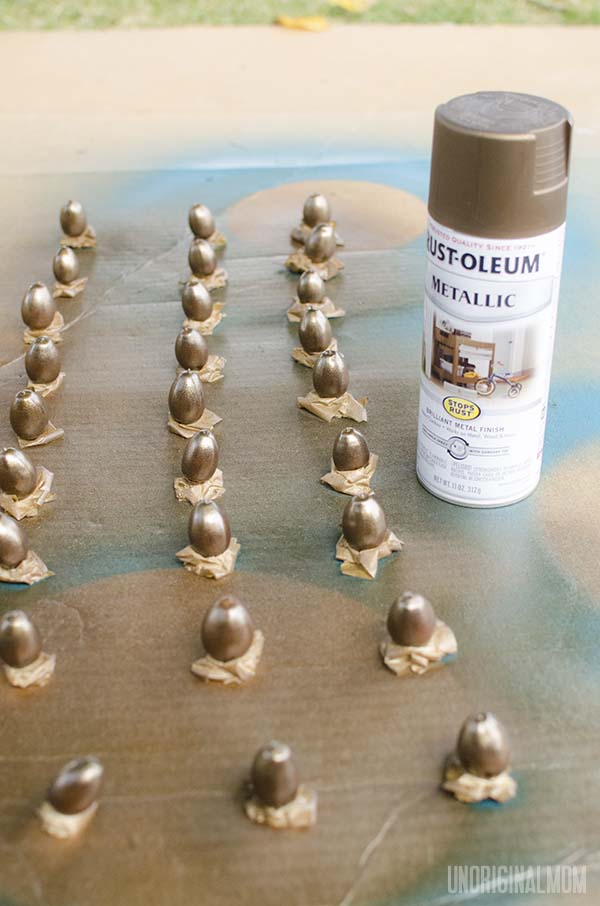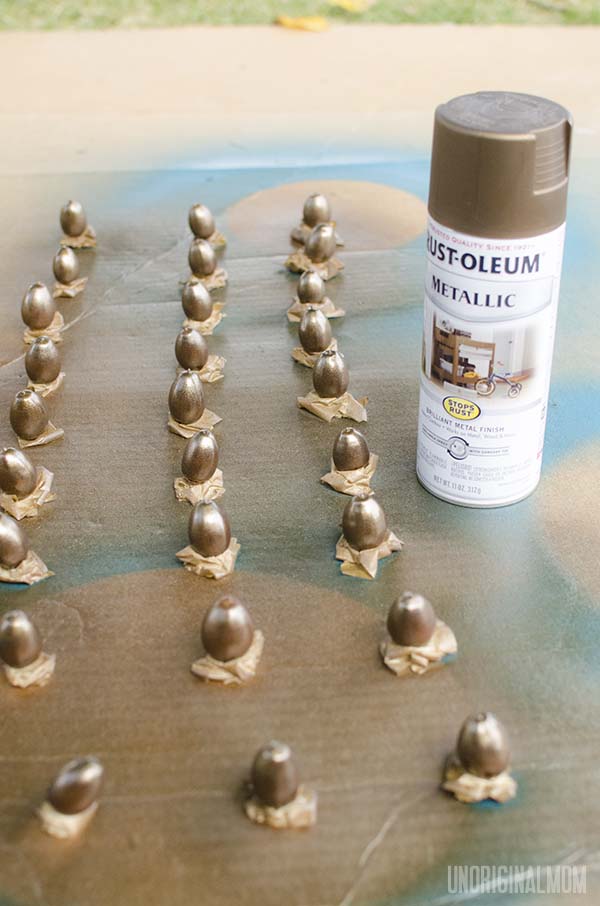 The last step was hot gluing on the acorn caps.  (I decided I didn't want to paint the acorn caps, but you certainly could if you wanted to!)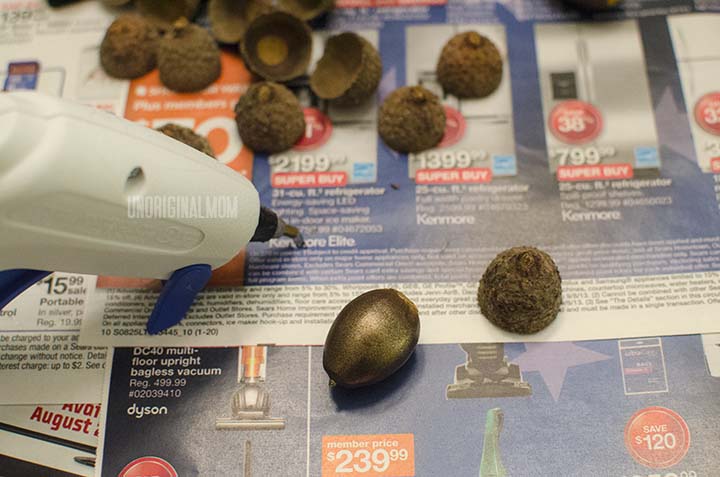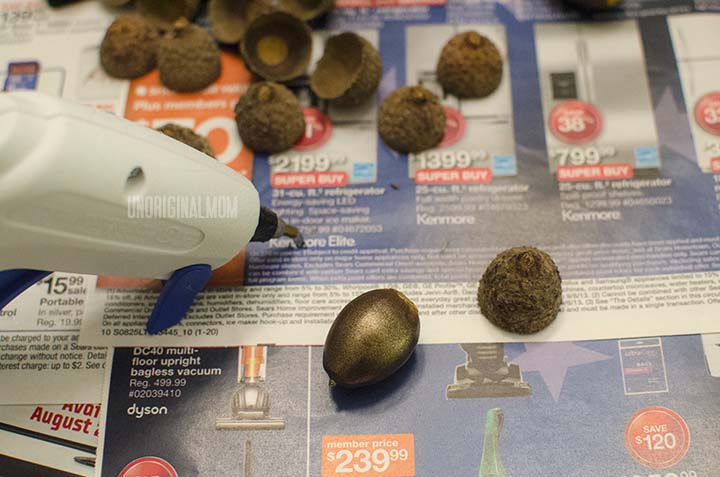 I LOVE how they turned out!  And there are so many decorating possibilities here…vases, bowls, centerpieces, napkin rings, wreaths…whatever you can dream up!  And since they've been preserved, they can be re-used again next year!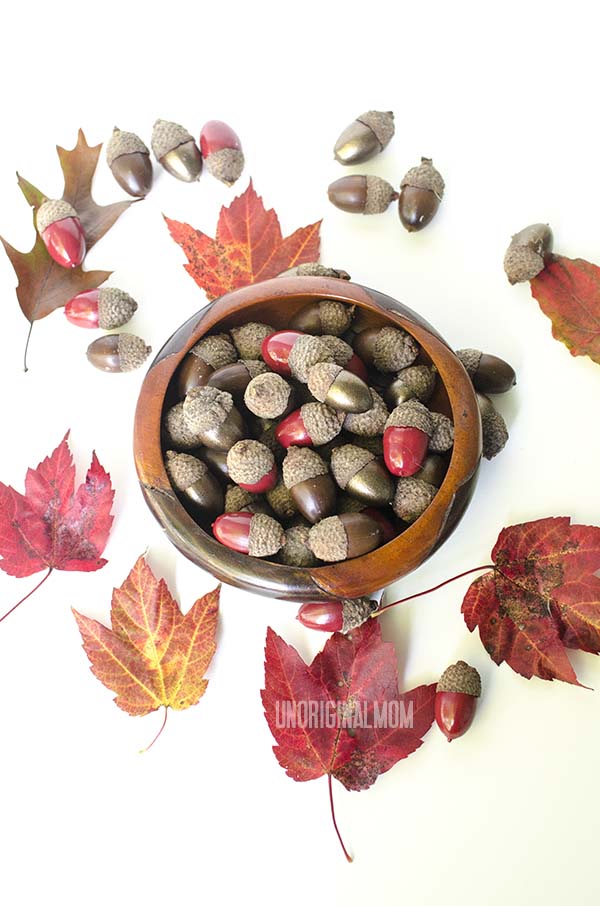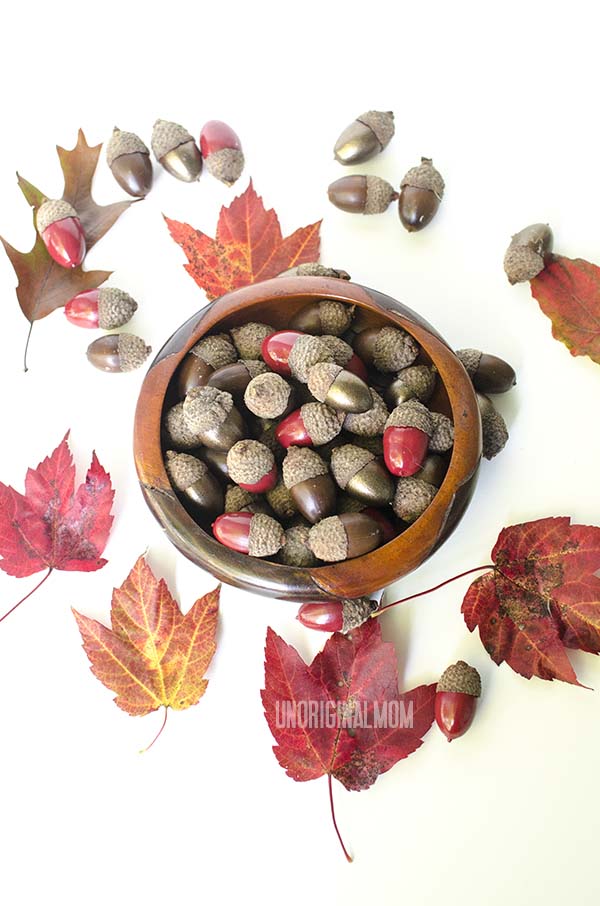 Here's a step-by-step photo info-graphic of the process for pinning!


What are your ideas for decorating with painted acorns?


Get your copy of my FREE meal planning binder!
Sign up to get a free copy of my meal planning system - an 11 page printable meal planning binder, complete with a pantry inventory, shopping list, and more to help get on top of your menu each week!