This post contains affiliate links – click here to read my full disclosure.


Happy Fall, Y'all! This post is jam-packed with goodness…a FREE Silhouette cut file, amazing Silhouette Challenge inspiration, plus an Amazon Gift Card Giveaway! So make sure you read alllllll the way to the end ;-)
I've been looking forward to the start of fall for a while now, but our family just got back from a week at the beach (gotta love the beach house price drop in September) so I'm still trying to get myself out of summer mode!  I actually started decorating for fall a little bit before we left, so our house is a combination of lovely fall decor elements mixed with sand toys and beach towels that still need to get put away. How's that for a new decor trend? Heh.
I still have a bit of work to do to finish my fall decorating (including our front porch, which is always my favorite part!), but I thought I'd share one of my favorite elements so far – this trendy natural cotton wreath with a "Happy Fall Y'all" cut-out.  I snagged the cotton wreath from Decor Steals a few weeks ago and knew I wanted to add some kind of extra touch to it…and when I came across this beautiful wreath on Pinterest I knew I wanted to try to make one myself! I've always loved to put a little "rustic glam" into my seasonal decorating, so I thought this juxtaposition of the gold fancy lettering with the rustic cotton wreath would be pretty and fun. I am really pleased with how it turned out!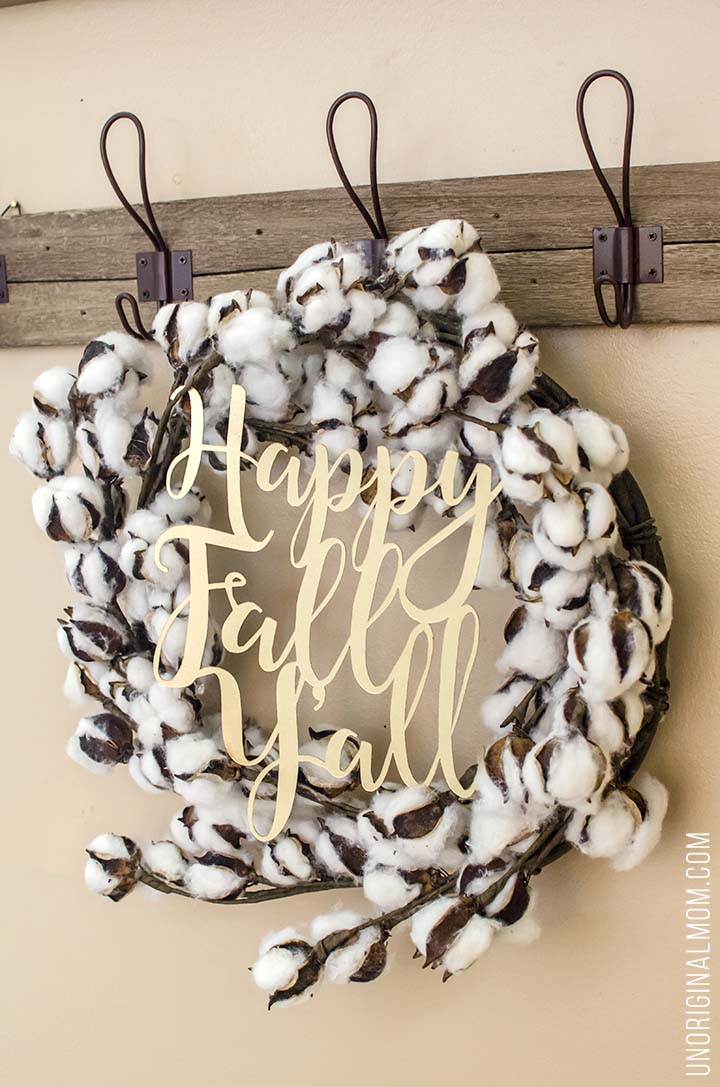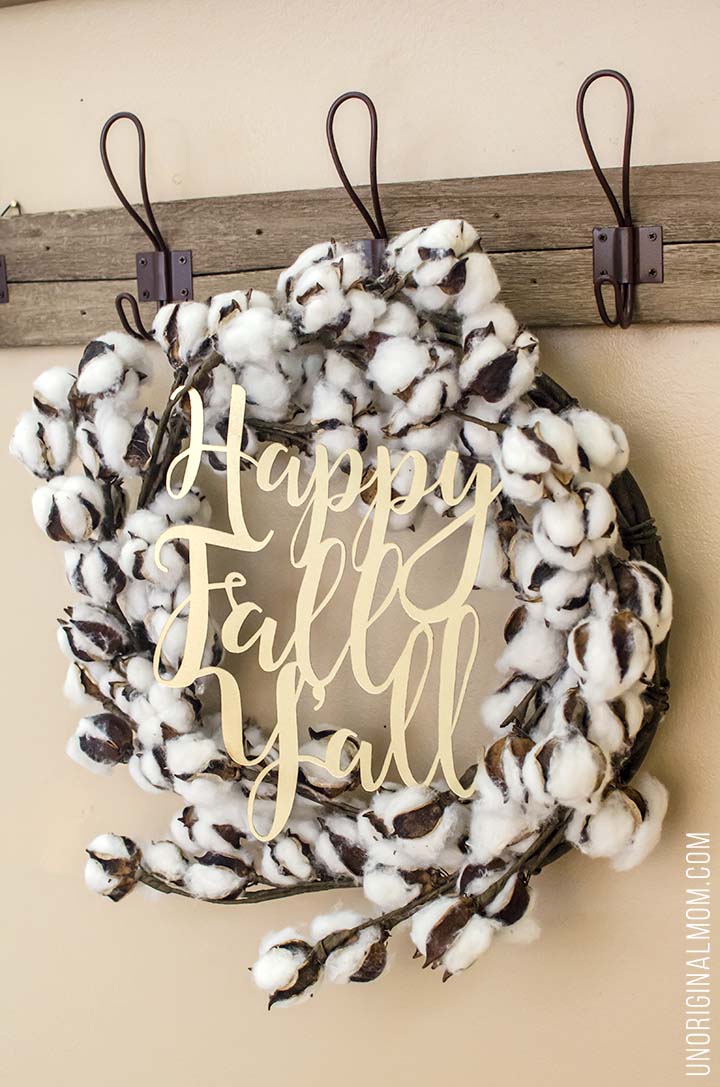 For those of you with a Silhouette machine, this is a super simple project (made even simpler with the free cut file that I'm sharing!). I'll give you the quick step-by-step of how I whipped this up in less than 30 minutes.
First, I designed my lettering in Silhouette Studio. I used the font Starlight (one of my faves!!) and roughly laid it out in a circle. I welded the letters within the words together, then I started tweaking and dragging points around, erasing the overlap, and just generally messing with things until I got it the way I wanted it. Then I cut it out of Silhouette brand chipboard.  (Actually, the first time I cut it out I decided I didn't quite like it, plus it was too flimsy on the right side – so I added another overlap with the "y" of "happy" and also used the offset tool to make my letters just a teeny bit thicker. Then I cut it again.)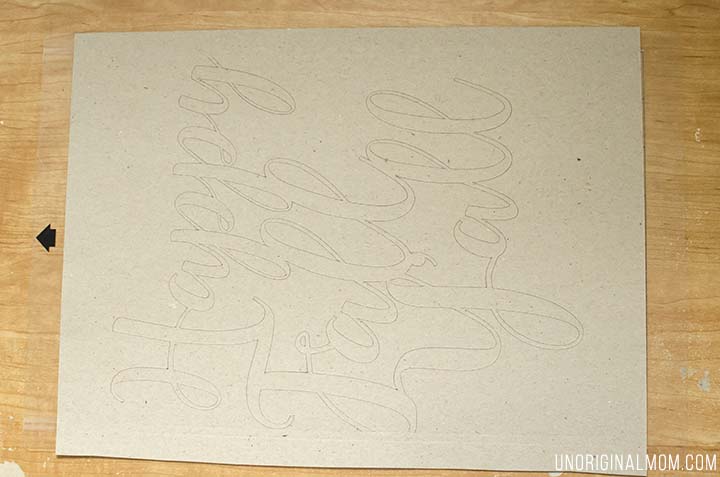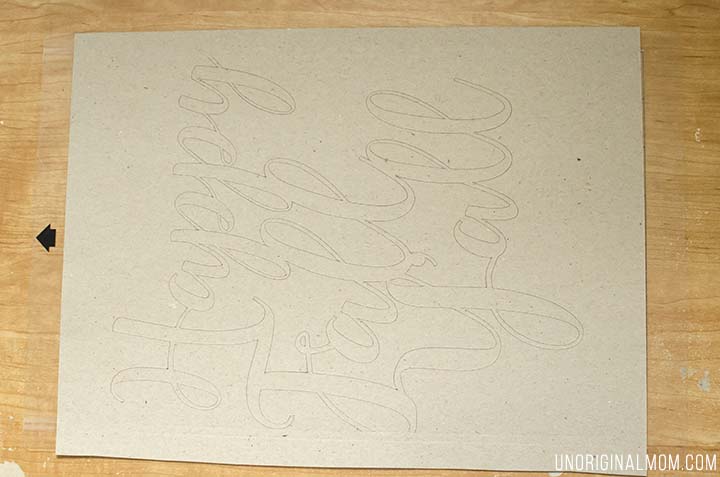 Here's the final design I ended up with: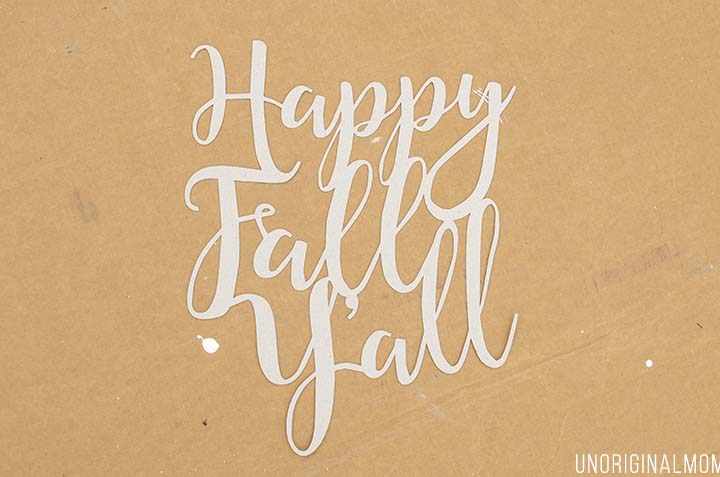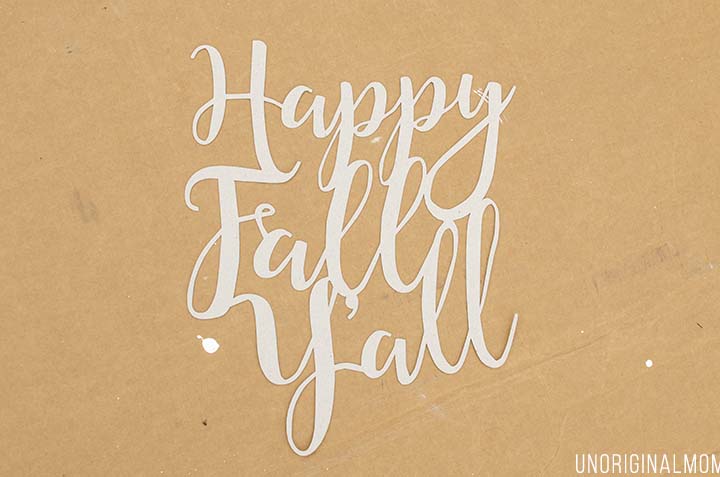 Then I used some Rust-oleum metallic bright gold spray paint I had leftover from another project to glam it up. You could skip this step by just cutting your design out of gold foil heavy duty card stock (or whatever color you'd like) but this is all stuff I already had on hand!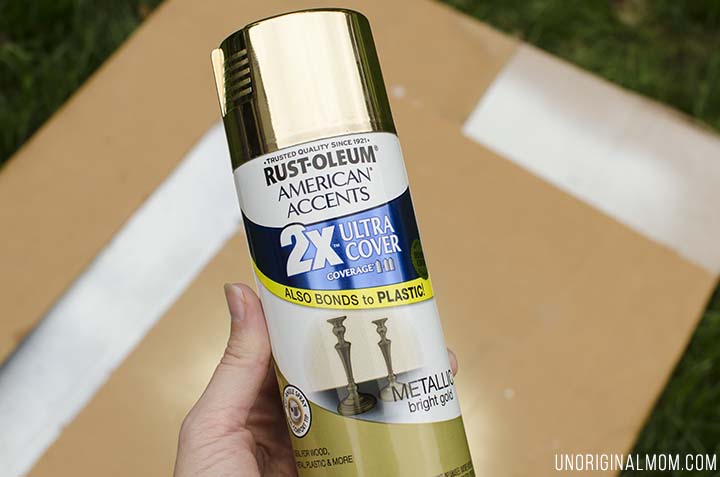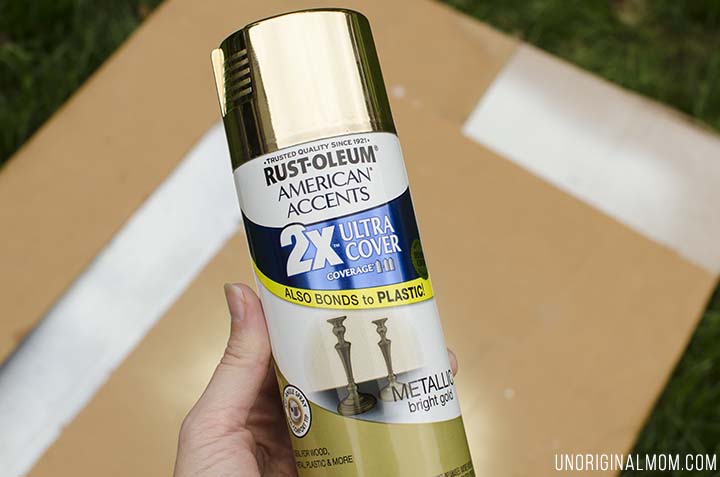 Just a few quick coats is all it took. And it was dry in no time!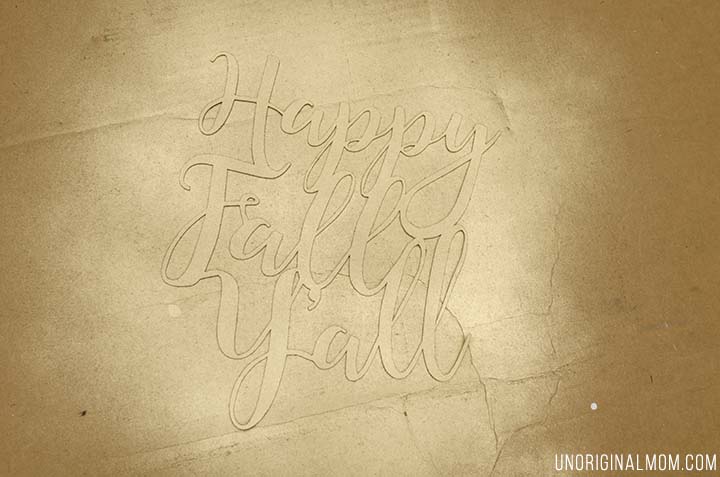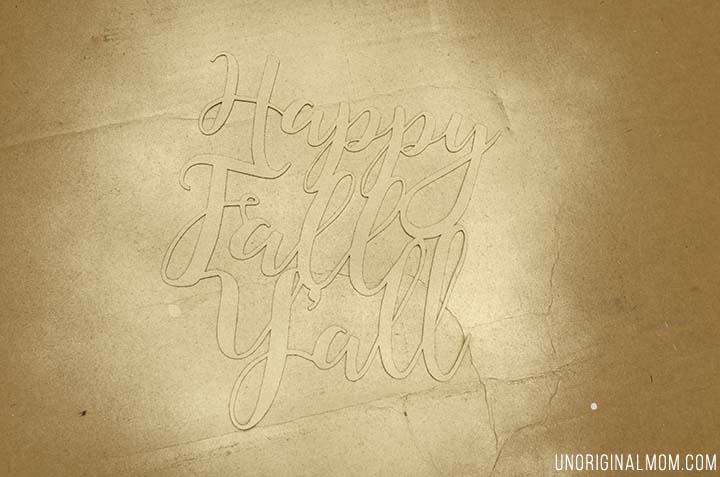 Then I just tucked the lettering inside of my cotton wreath. Voila! Instant rustic glam.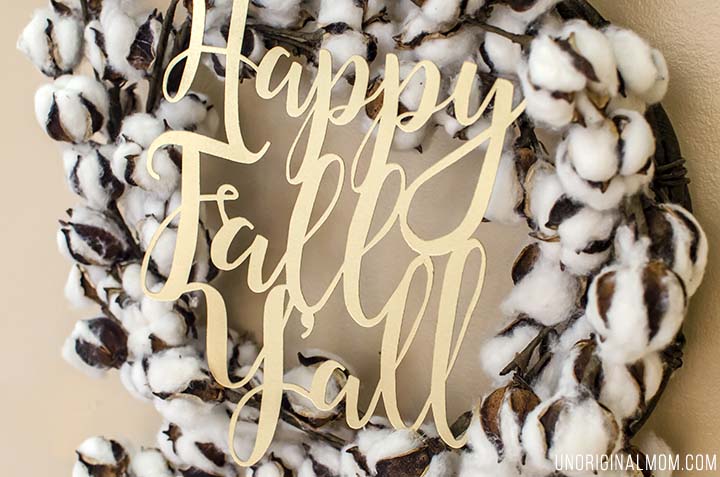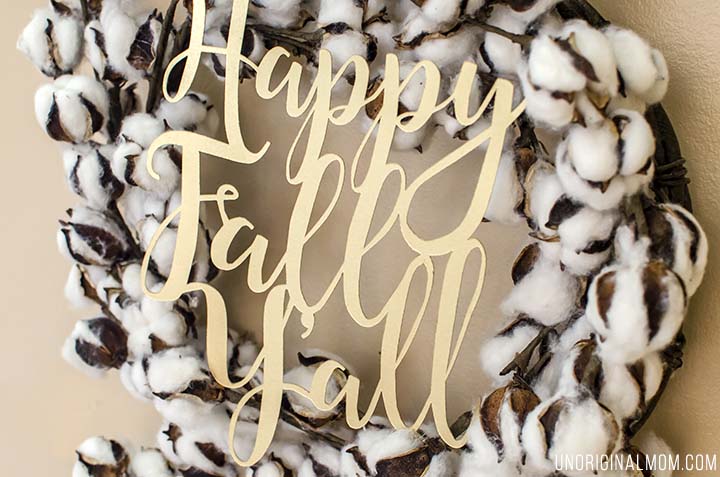 I swapped this cotton wreath out for my DIY magnolia wreath (which I moved to the mantel) in my new little foyer nook…which is now complete! I'm planning to write up a "reveal" post next week. I am thrilled with how the space turned out, and I can't wait to show it to you! (Make sure to subscribe to my email list so you don't miss it!)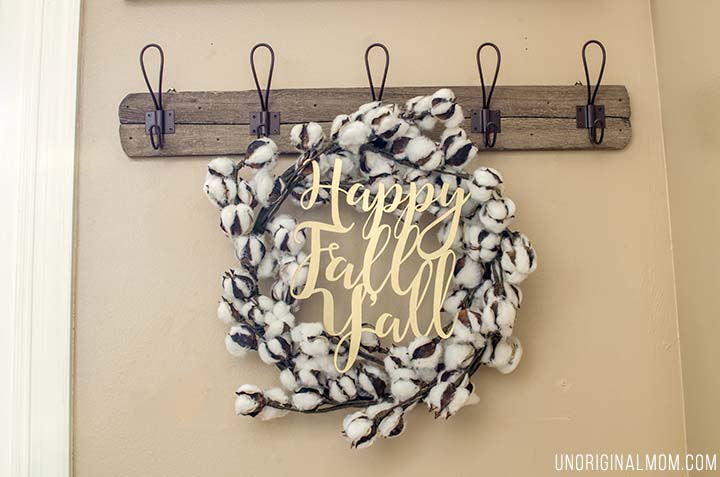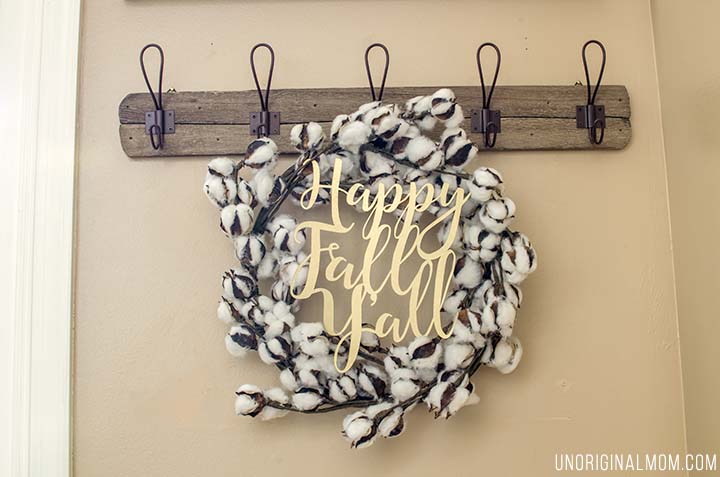 Hey Silhouette users – do you want this free cut file? Of course you do! You could make your own wreath lettering like I did, or just slap this "Happy Fall y'all" design on anything you like – a t-shirt, sign, or even a pumpkin! (How cool would it look in glitter on a faux pumpkin like I did with this one?) This cut file is part of my Silhouette cut file library – get instant access by subscribing below!

The inspiration doesn't stop there, friends…it's time for our quarterly Silhouette Challenge, with a theme of FALL! This time of year really gets my crafting gears moving again after a lazy summer, and I'm always looking for more ideas. You'll find a wealth of fall inspiration in the projects linked below – click directly on the image or the links underneath to browse around these fabulous fall projects!
1. Small Stuff Counts // 2. My Favorite Finds // 3. Two Purple Couches // 4. The Thinking Closet // 5. Practically Functional // 6. GiveMeAPaintbrush // 7. Creative Ramblings // 8. Ginger Snap Crafts // 9. Where The Smiles Have Been // 10. Sisters, What! // 11. Create & Babble // 12. HaberdasheryFun // 13. Curly Crafty Mom // 14. unOriginal Mom
This post contains affiliate links – click here to read my full disclosure.