It's REVEAL DAY!!! Can you believe I've never been able to say those words?? In almost 4 years of blogging, we've done plenty of little things around the house, but a full room makeover isn't one of them. Now, I know that this really isn't a full room makeover, either…but it is a little corner of our house that is now DONE (yay!) and I am so thrilled with how it turned out!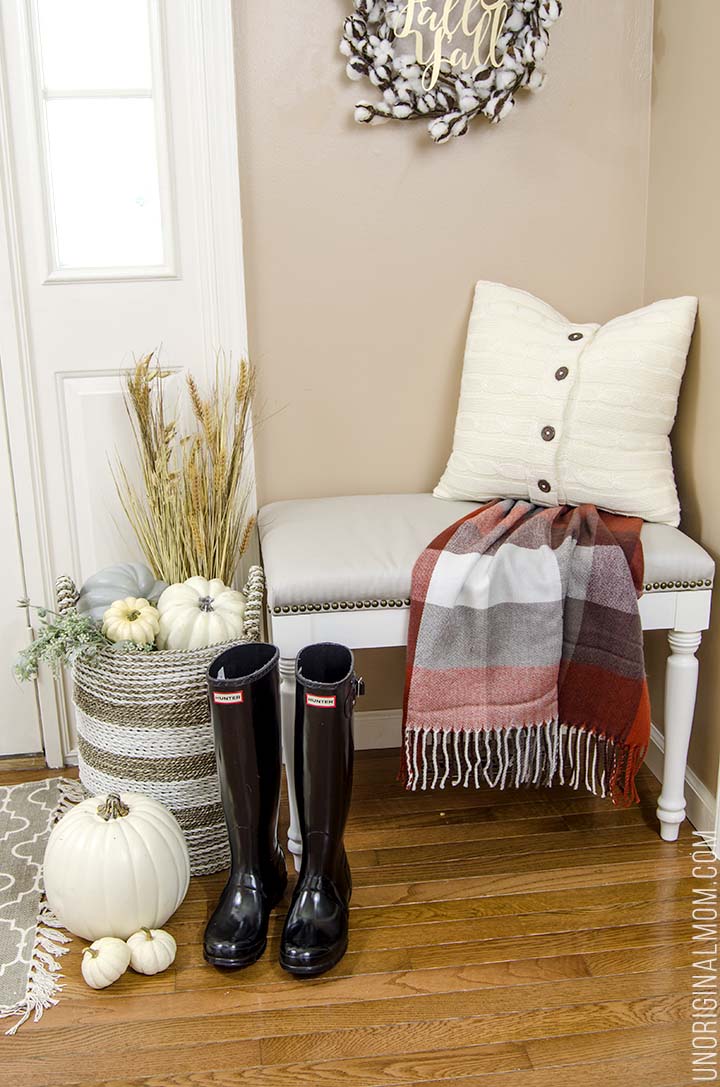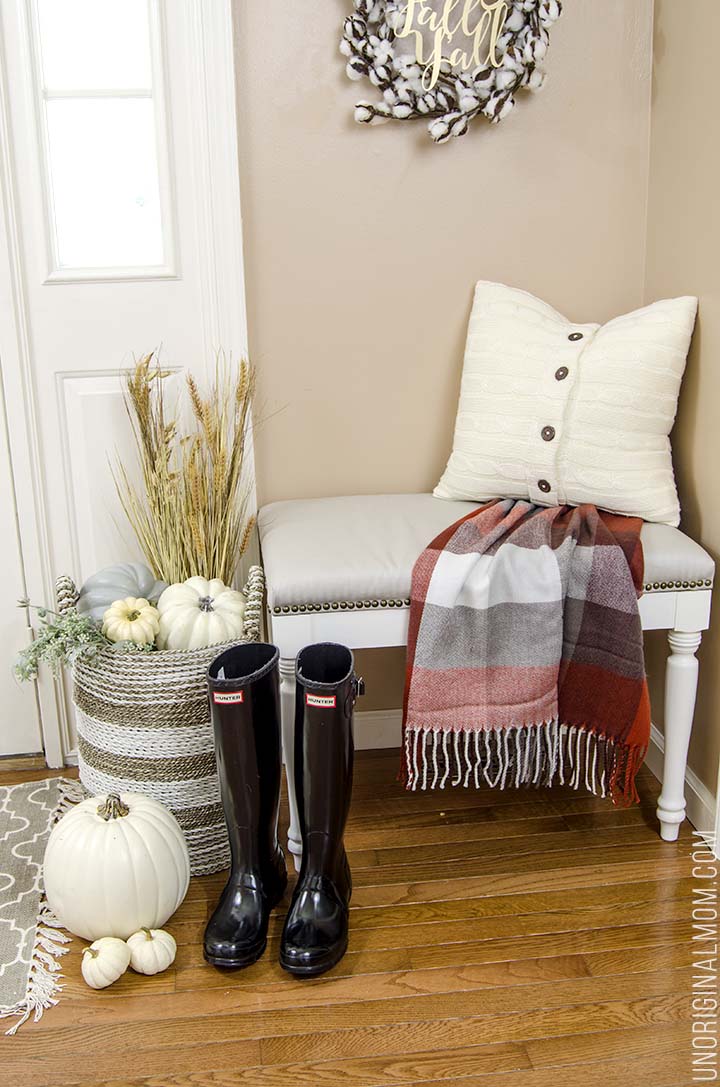 If you're a regular around here, you've been hearing about this little foyer nook for a while now. First, it was where I put my DIY Magnolia Wreath (which has since been moved to a place of honor on the mantel) – that's the post where I spilled my guts on all my home decor woes and shortcomings and made a resolution to get over them all.  Then I shared with you my DIY Painted Canvas Farmhouse Sign that I made for this space, plus a tutorial on how to make the frame. I've also been sharing all about our DIY bench project on IG stories, so if you follow me on Instagram, you've seen lots of sneak peeks. And now, finally, I get to share it all together for you!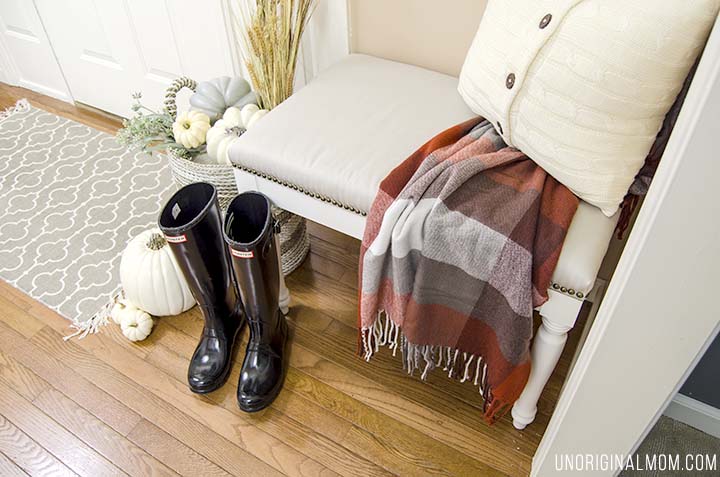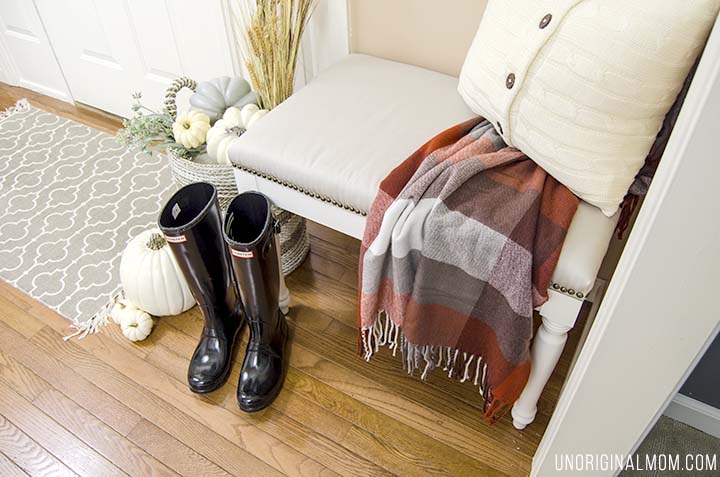 We don't have a mud room in our house, and the coat closet is in kind of an awkward place more off of the living room than the foyer. We don't use the front door much ourselves, but when we have guests there's always the awkward dance of "here let me take your coat and then push past you to take it to the closet while you're balancing on one foot and taking your shoes off." So yeah, we needed a bit of a solution to that. I knew that I wanted to put a bench on one side or the other of the front door, but wasn't sure exactly what style I wanted. At first I was thinking something more like a mini mud room with a tall back, built in hooks, and cubbies underneath for shoes like this one. But this space really isn't used *that* often and I really wanted something prettier than that.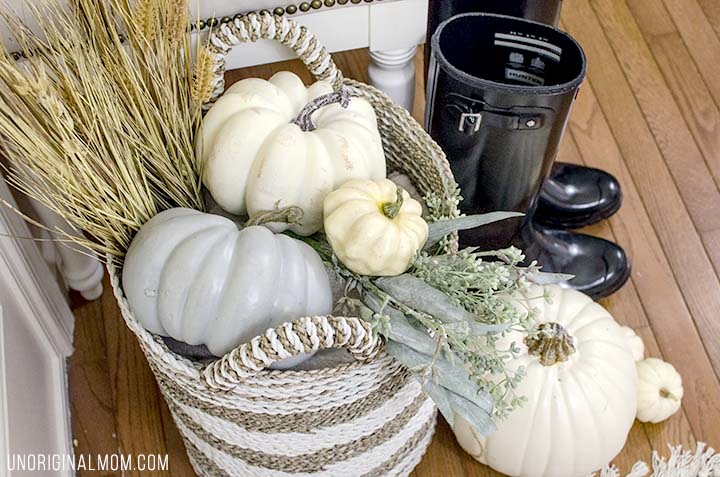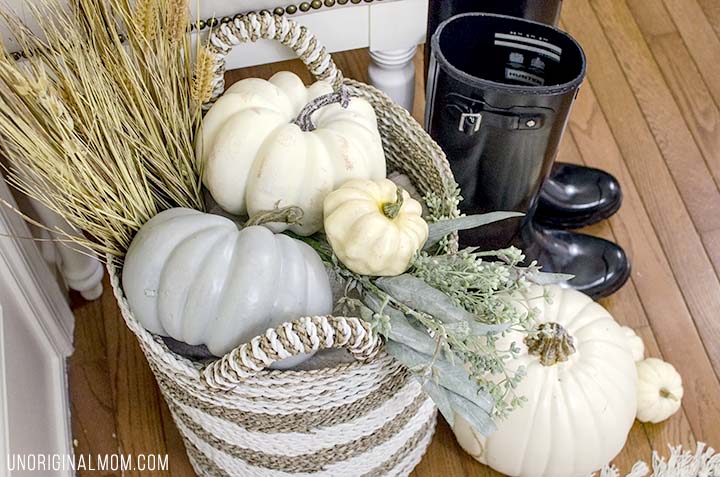 Then I came across this photo from The Grace House. It was like the heavens parted and a light shone down with angels singing – it's EXACTLY what I wanted!! I'm not *always* unoriginal, but I definitely was in this instance…why try to reinvent something that is already great? So I set about to totally and shamelessly copy it myself.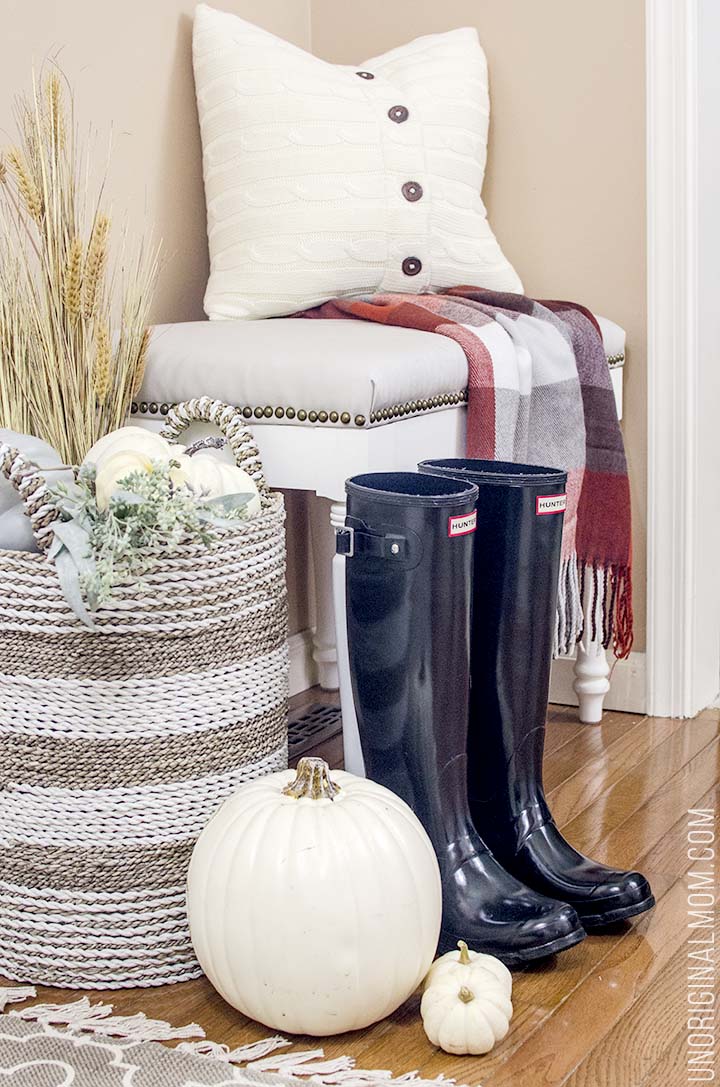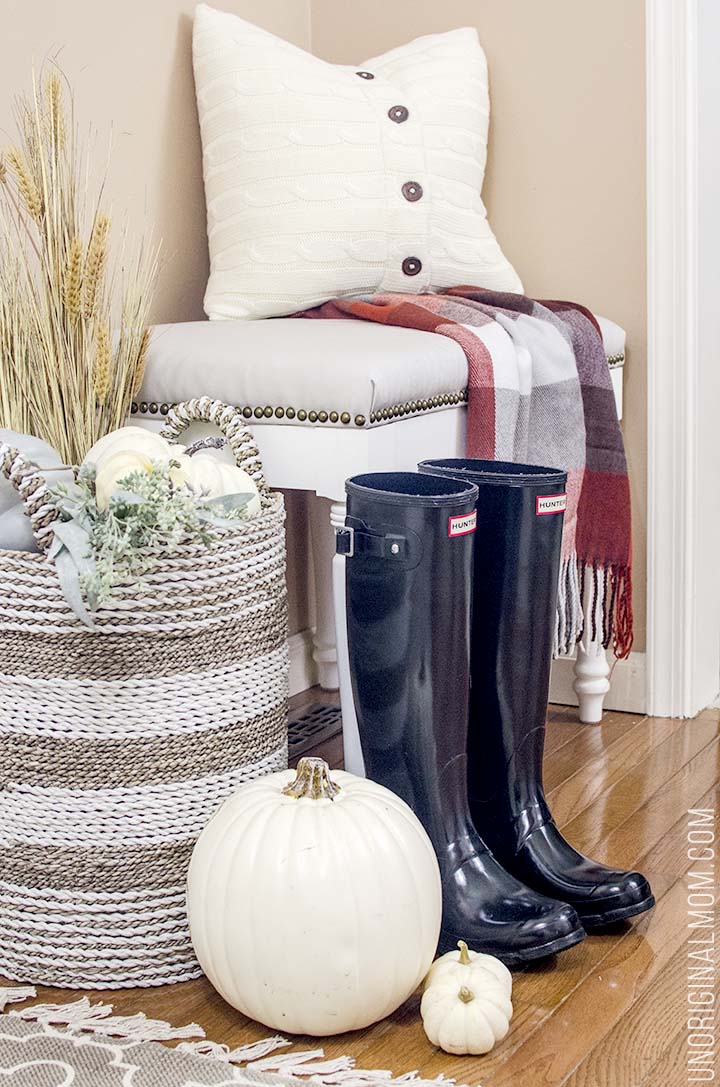 The biggest issue was that we only had this small little 29 inch wide space to work with, and I couldn't find ANY bench that would fit there. Believe me, I looked and looked. They were either too short and small (more like a little ottoman stool than a bench) or too wide to fit our space. Turns out, the only solution was to build one ourselves! Luckily, my husband "gave" me a DIY project we could do together for our anniversary, so I decided to cash in on this one.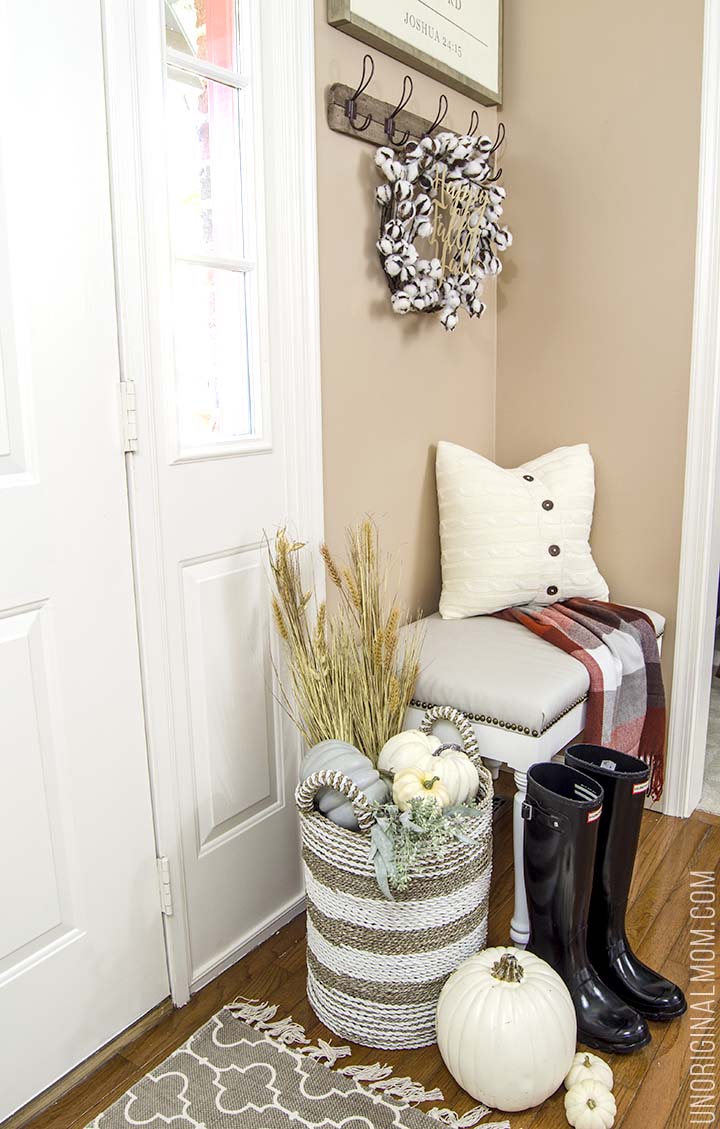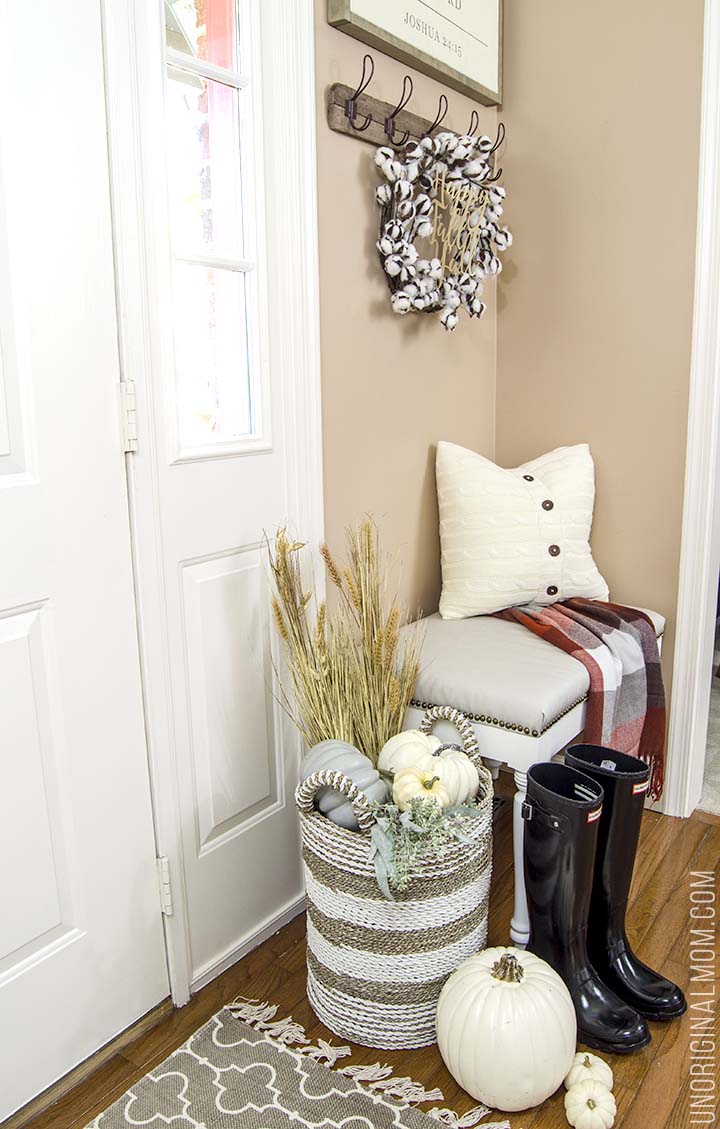 To recreate the Grace House Interiors look, I created my own version of the Magnolia Market sign (tutorial here) and then found some barn wood hooks (similar) that fit our space perfectly.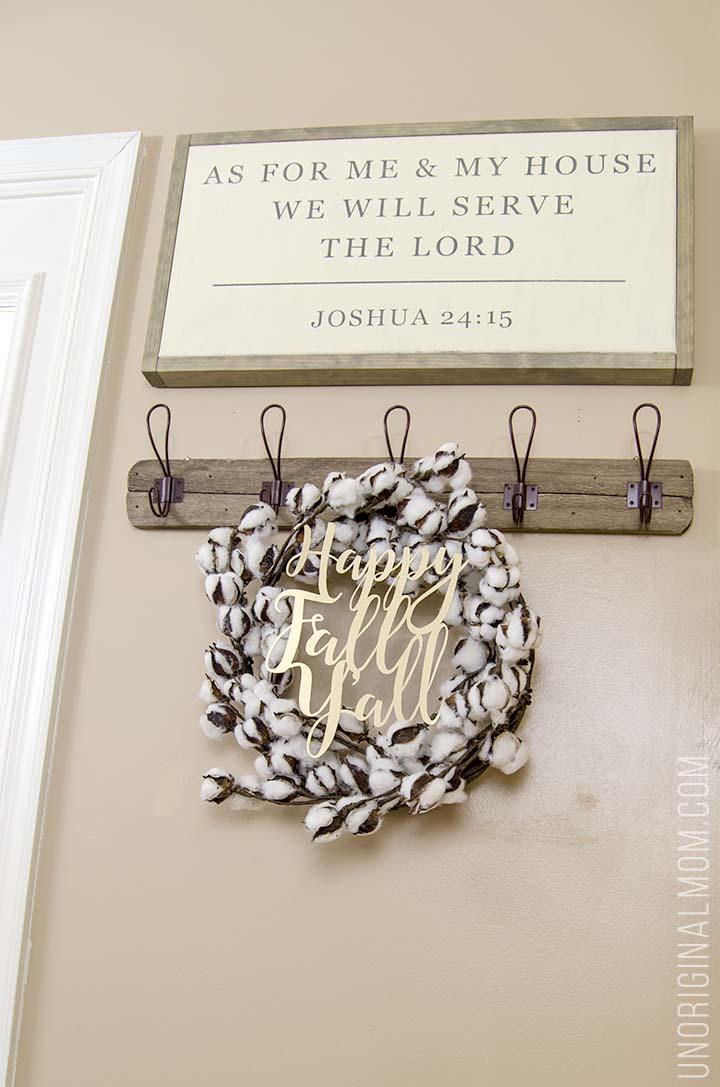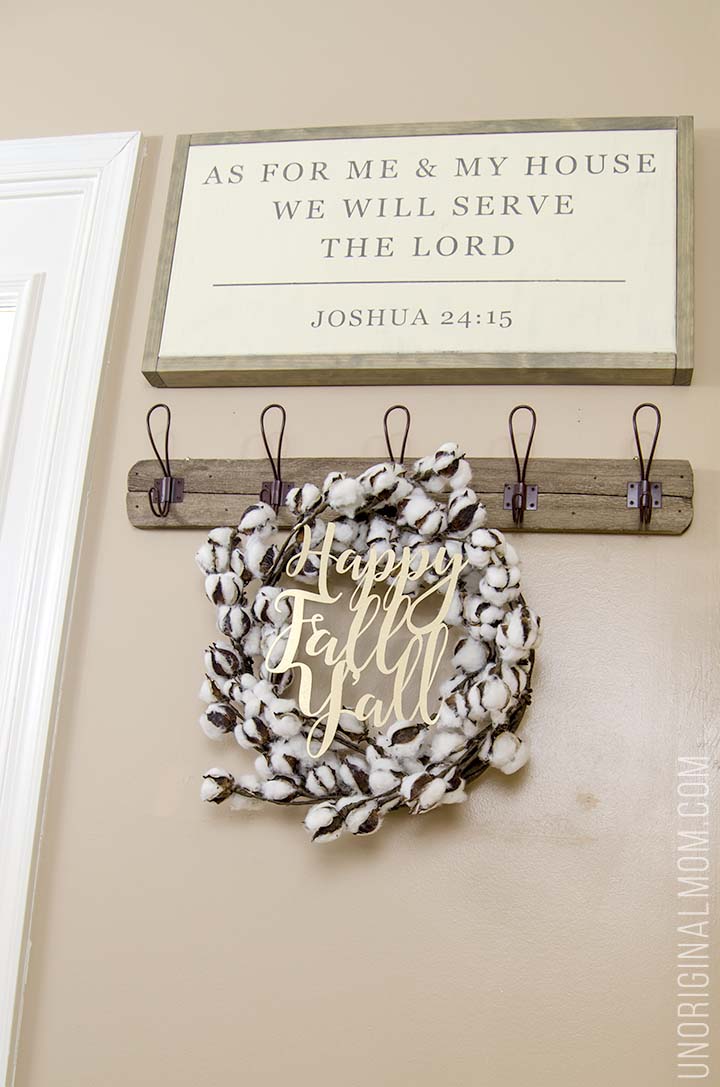 One of my very favorite things about this finished space is I now have a pretty little nook to decorate with each season! I loved getting to decorate and stage this space for fall. (You can read more about the Happy Fall Y'all cotton wreath here!) The plaid blanket is from JoAnn's, the tall basket is from HomeGoods, and I even borrowed some pretty Hunter boots from my fashion blogger neighbor to help stage the perfect photo ;-)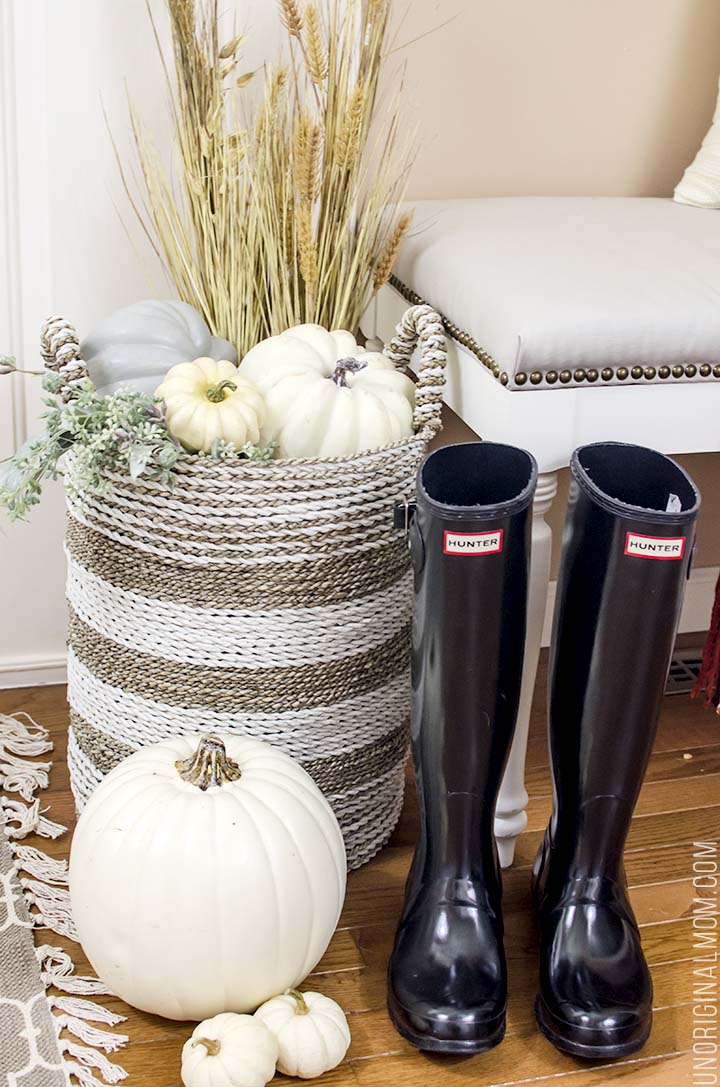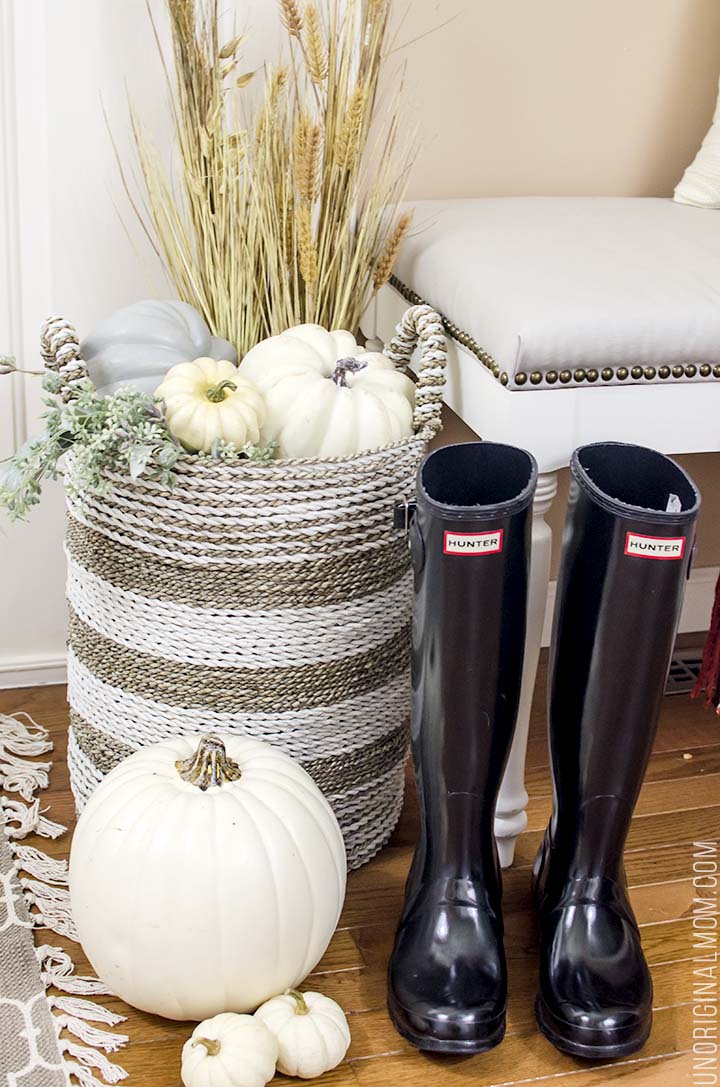 I can't help but smile every time I walk past this little space. I just love it! And I finally feel like I'm making some progress in decorating our home. I can't wait to decorate it for Christmas! ;-)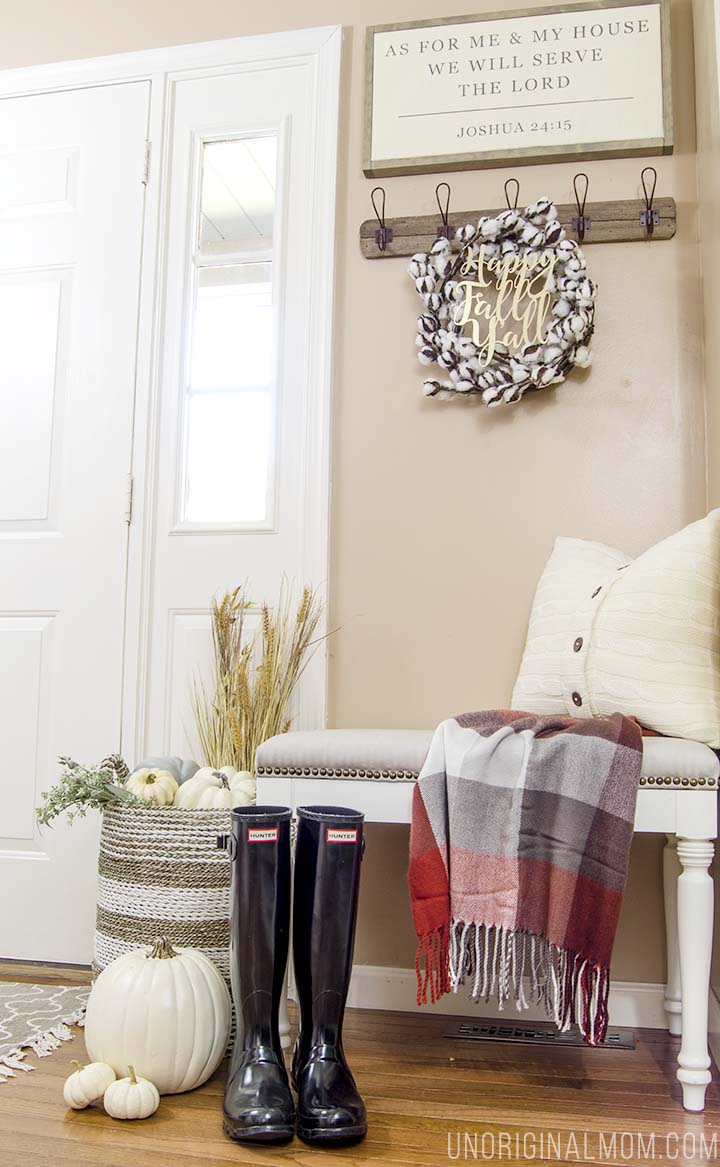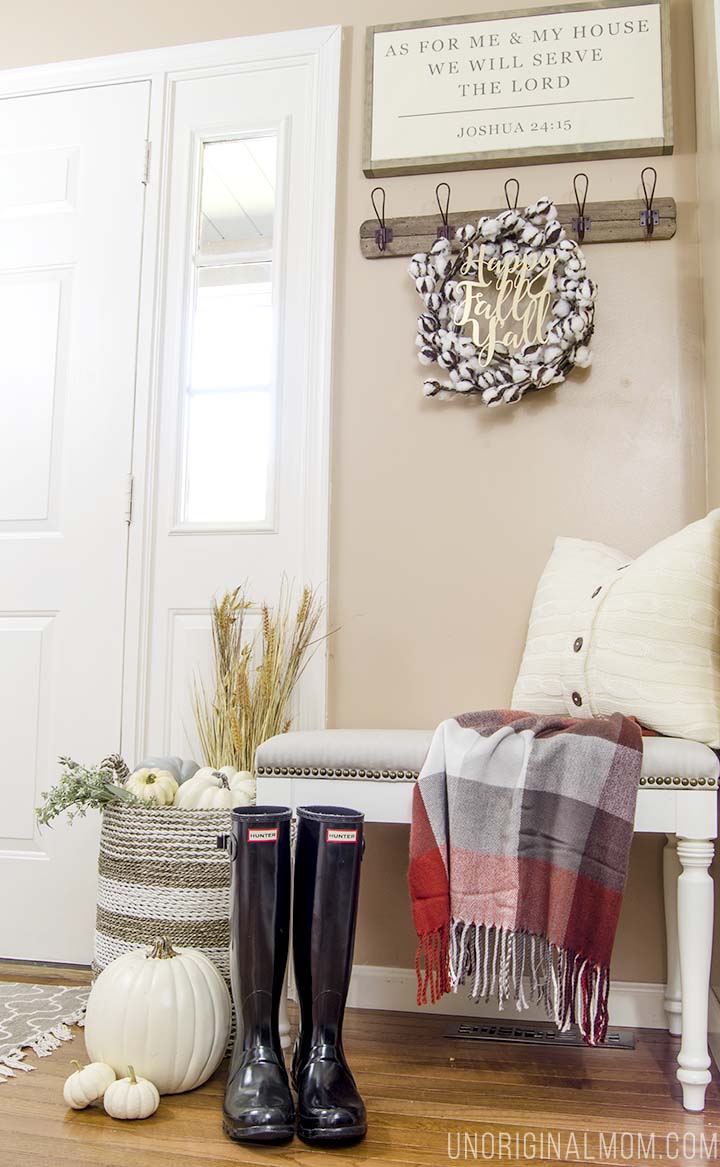 GET THIS LOOK: (affiliate links included)
Barnwood Hooks (similar)  | Cable Knit Pillow Cover (similar) | Joshua 24:15 Sign – DIY | Cotton Wreath – Decor Steals daily steal (similar) | Blanket – JoAnns | woven basket – HomeGoods | Bench – DIY


Get your copy of my FREE meal planning binder!
Sign up to get a free copy of my meal planning system - an 11 page printable meal planning binder, complete with a pantry inventory, shopping list, and more to help get on top of your menu each week!