Two weeks ago I opened up to you with some decorating struggles I've been facing. We've lived in this house for almost 3 years now, and in that time I have made precious few decorating decisions and implemented even fewer of them…because I've been paralyzed by perfectionism and the fear of "doing it wrong." NO MORE. I'm doing it. This little craft blogger is diving into the world of home decor. It's not going to be perfect, but it's going to be SOMETHING, and that's better than nothing at all, right? Right. And I'm starting with this little nook in our foyer beside the front door! It's starting to come together and I absolutely love it. I already shared the DIY Farmhouse Magnolia Wreath with you, and today I want to let you know how I made the farmhouse style sign that I hung above it.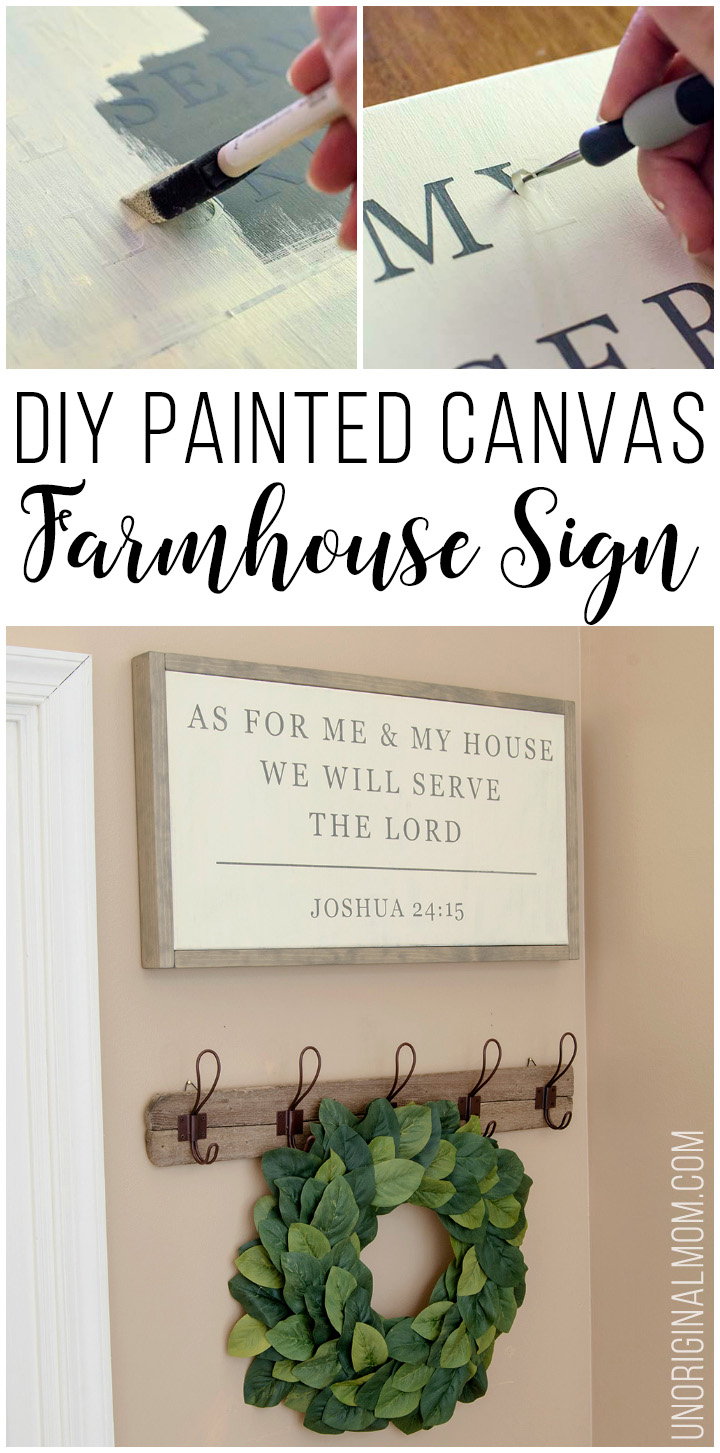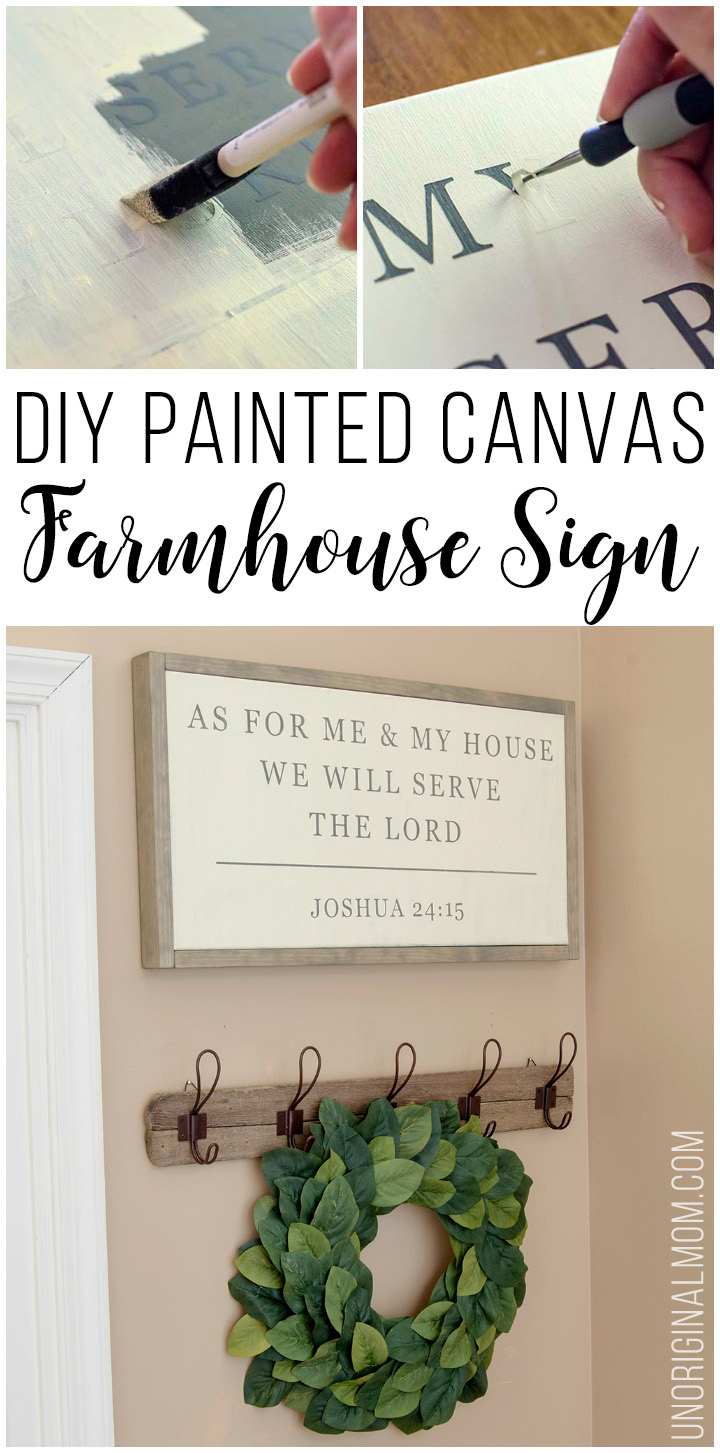 I just adore the "Me & My House" Magnolia Market sign that has been appearing everywhere…not just the style, but the scripture too. It's perfect for our foyer nook, but I can't afford to spend $125 on a sign! Not to mention it's too wide to fit in our narrow space anyway. So – surprise – I set off to make one myself!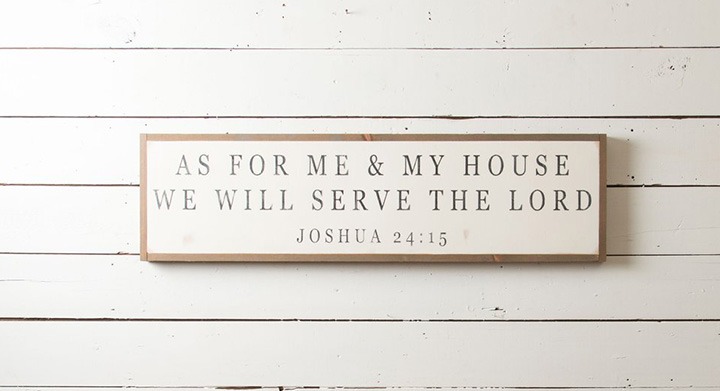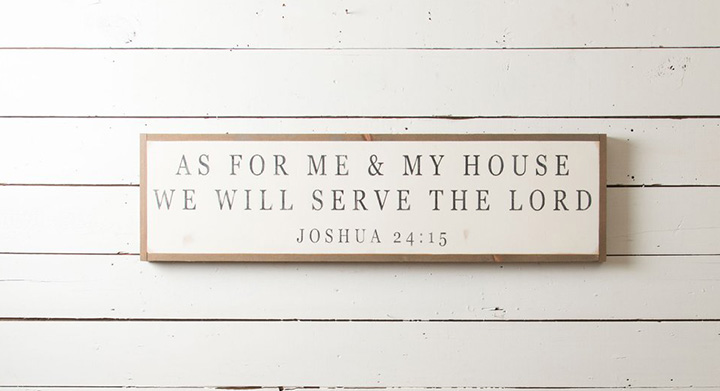 I realize that most of the farmhouse style signs like this are actually painted pieces of wood, but I wanted to try to make one with an inexpensive craft store canvas I already had on hand. I designed and cut my own vinyl stencil with my Silhouette Portrait, but I wanted to make sure to get nice crisp lines, so I used the "PVPP" stencil method – that stands for Paint, Vinyl, Paint, Paint. (I think it *technically* stands for Paint, Vinyl, Paint, Peel, but it makes more sense to me my way. I guess you could add one extra "P" on there for the "peel" at the end to be PVPPP, but that seems a bit excessive. Anyway, you'll see why in a minute.)
SUPPLIES:
10×20″ canvas (or your preferred size) – I got mine at Michael's
craft paint (I used gray and antique white)
Step 1: PAINT.  Before I applied my stencil to the canvas, I actually painted the whole canvas the color I wanted my letters to be – gray.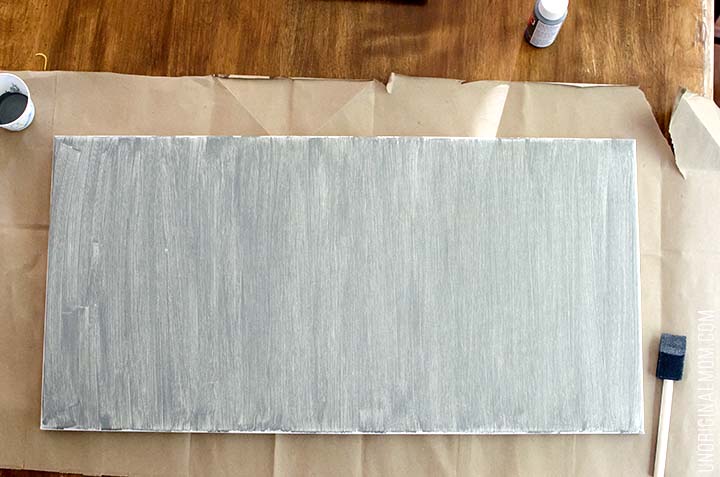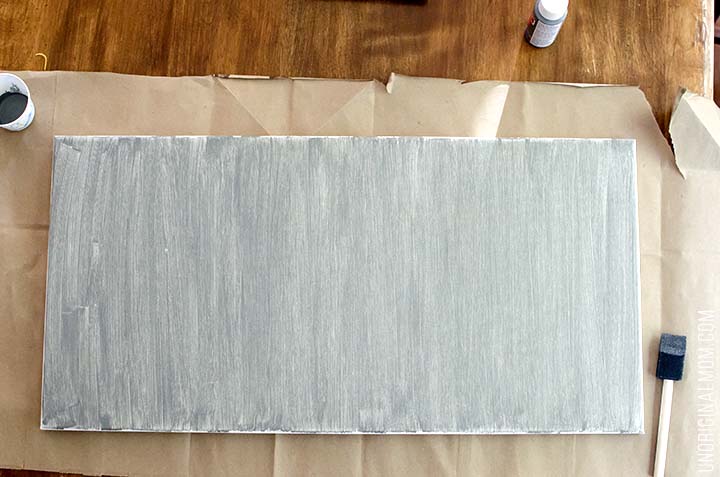 STEP 2: VINYL. I created a simple design of the scripture in Silhouette Studio, then used my Silhouette to cut it out of vinyl. I used transfer paper to stick my vinyl down on the canvas. (Note: vinyl does NOT stick well to canvas. I knew that ahead of time so I was prepared to spend a bit of time really burnishing it on the canvas well and then peeling off the transfer paper VERY slowly and carefully. Silhouette School has good tips on using vinyl on canvas here, I'd recommend reading up on them before attempting a vinyl stencil on canvas.) If you don't have a Silhouette, you could buy scrapbook sticker letters from the craft store to create the same stencil effect!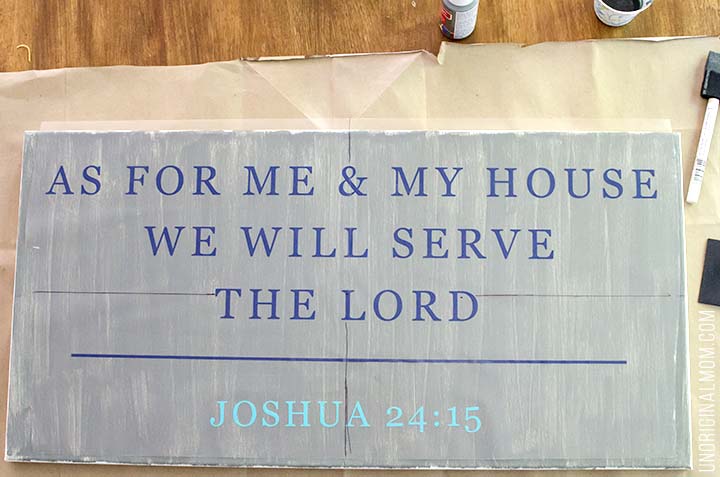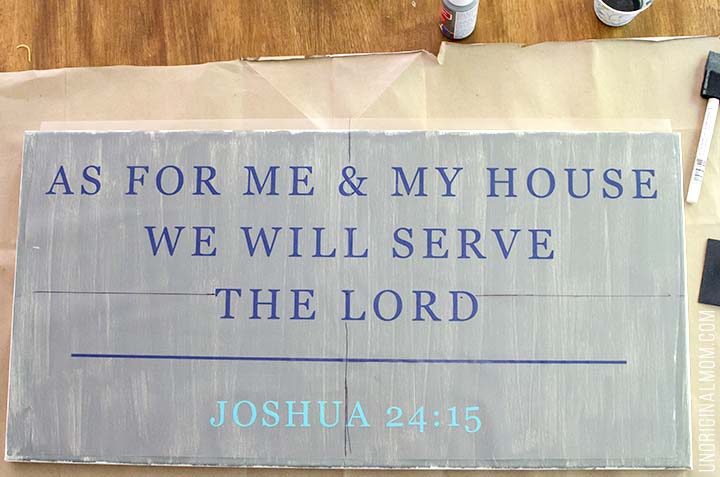 STEP 3: PAINT (again). Here's the crucial step to making sure your stencil doesn't bleed – paint over the stencil with the same color, and let it dry. This "seals" the edges of the vinyl, and any paint bleeds won't matter since it's the same color as your letters anyway.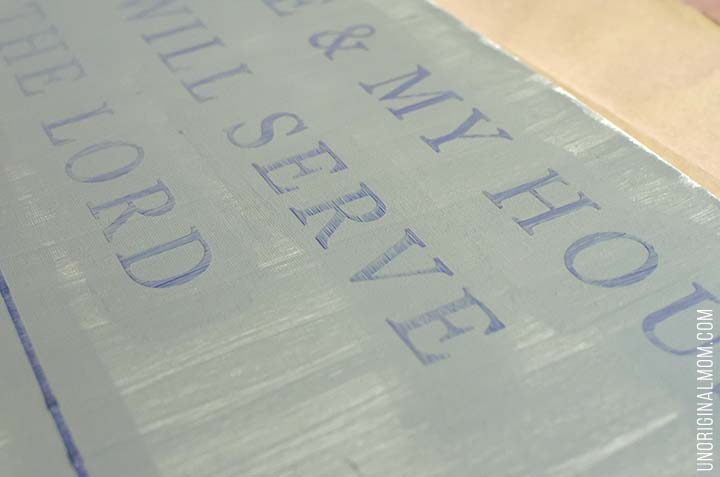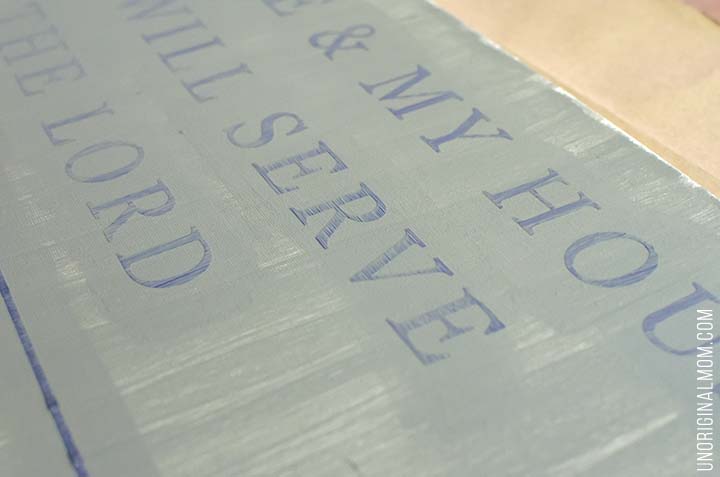 STEP 4: PAINT (again again). Now you paint your second color over top of the whole canvas. I used an antique white color, and it's just plain old acrylic craft paint. It took about 3-4 coats to cover the gray, but I actually wanted a bit of it to show through so it had more of that distressed farmhouse look. If you wanted a nice crisp white it might take closer to 4-5 coats.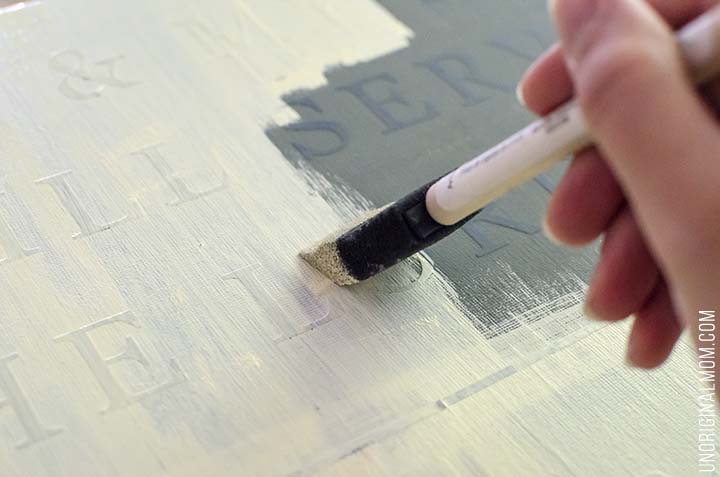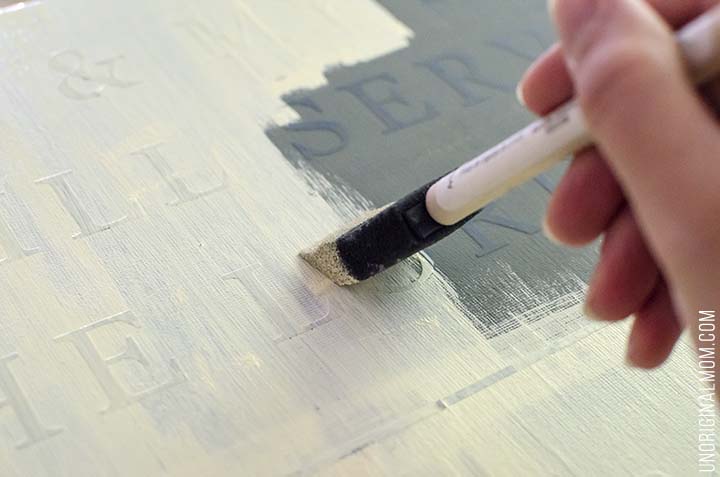 Once you're happy with the coverage and the paint is dry, peel up your vinyl stencil and admire your perfect lettering!!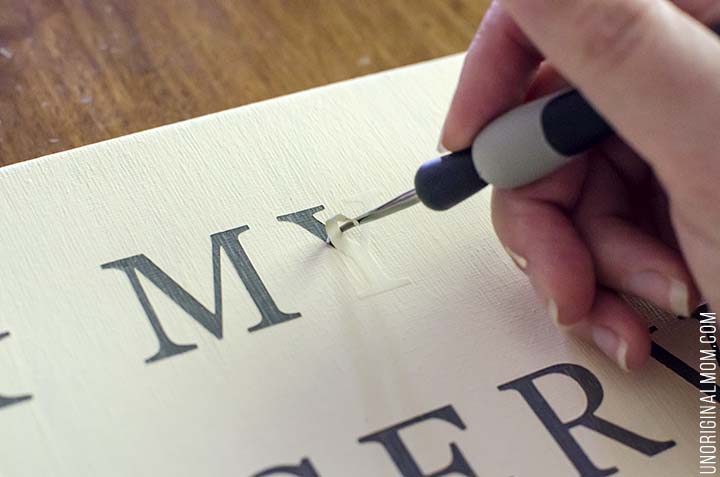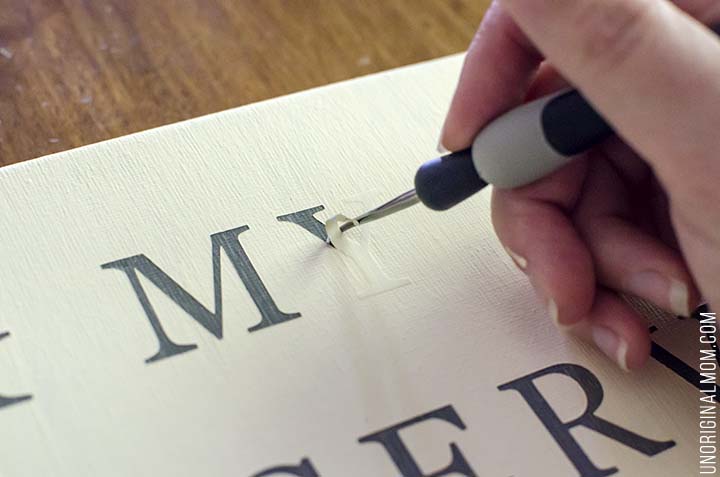 Look at those amazingly crisp lines!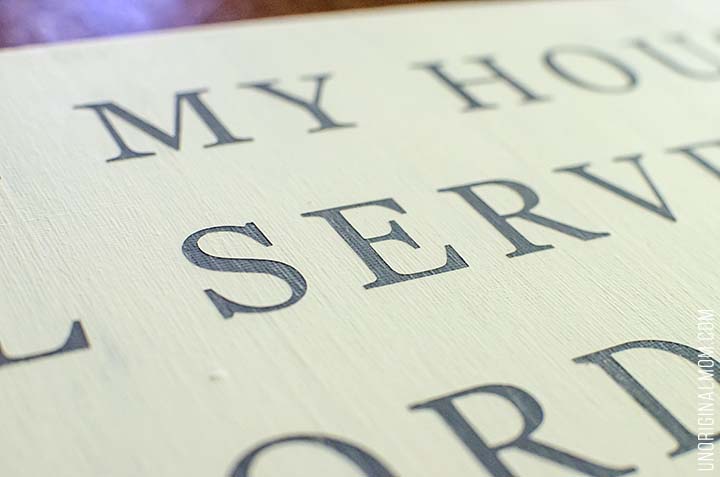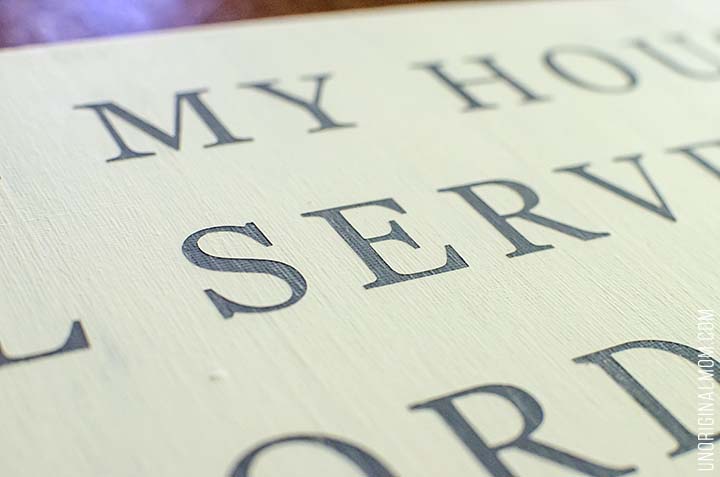 I took some fine sandpaper to the canvas in some spots to get the gray showing through a bit more here and there. The result was a beautiful vintage farmhouse style look – exactly what I was going for!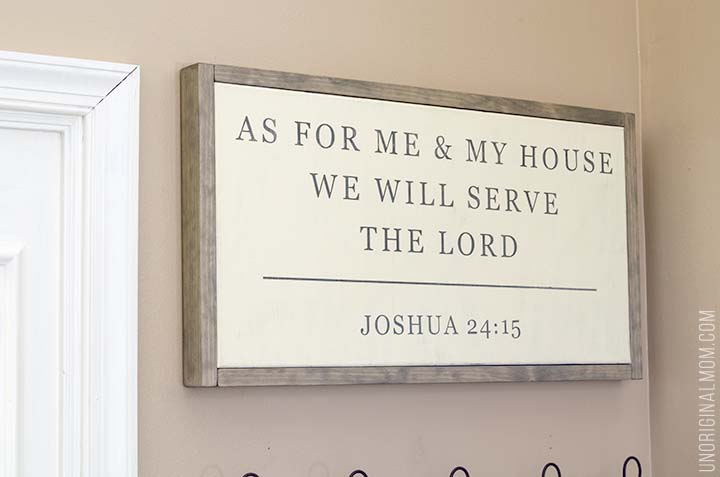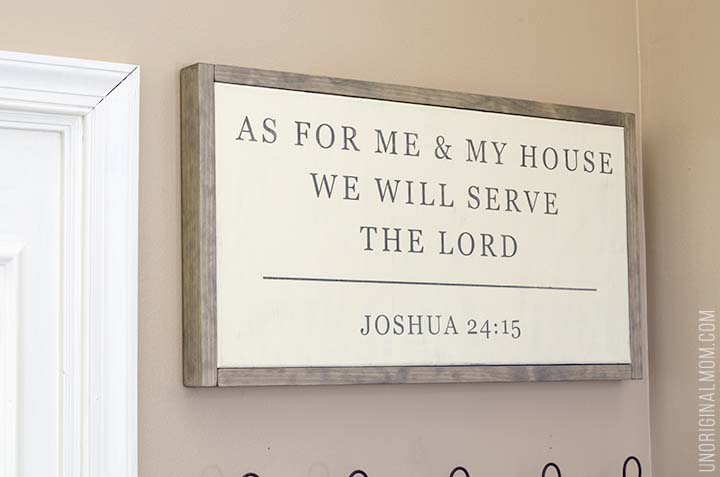 If you're a Silhouette user and you'd like to make your own version of this sign, you can find this Silhouette studio cut file in my Silhouette Cut File library! Sign up below to get instant access – for free!
The frame was really pretty simple to make, but I devoted an entire post to a detailed step-by-step tutorial. You can find my DIY Simple Wood Frame for a Canvas tutorial here!  It really adds the perfect farmhouse finishing touch, doesn't it?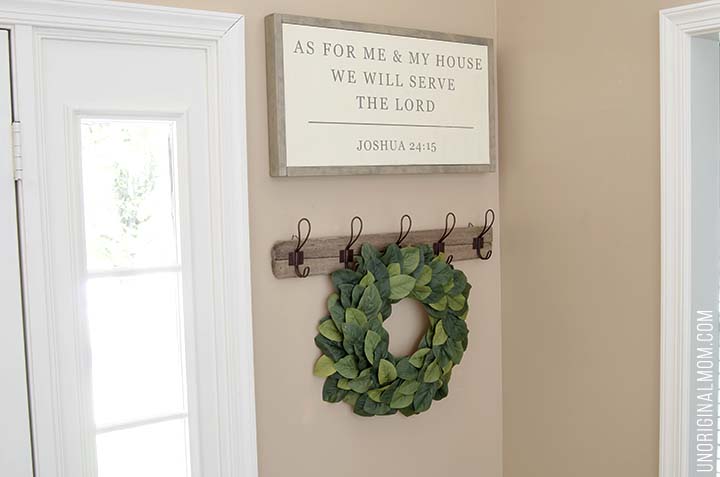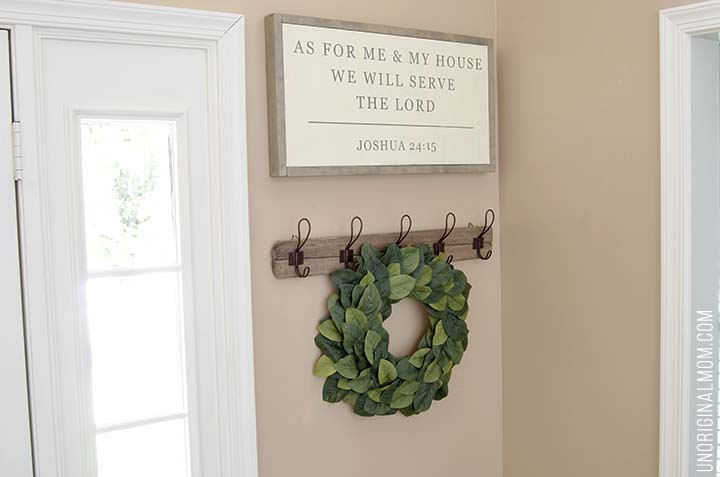 I am SO excited with how my little foyer nook is coming together! I'm working on an upholstered bench to sit underneath the hooks, and then this space will be finished! Yay!
Get this look: