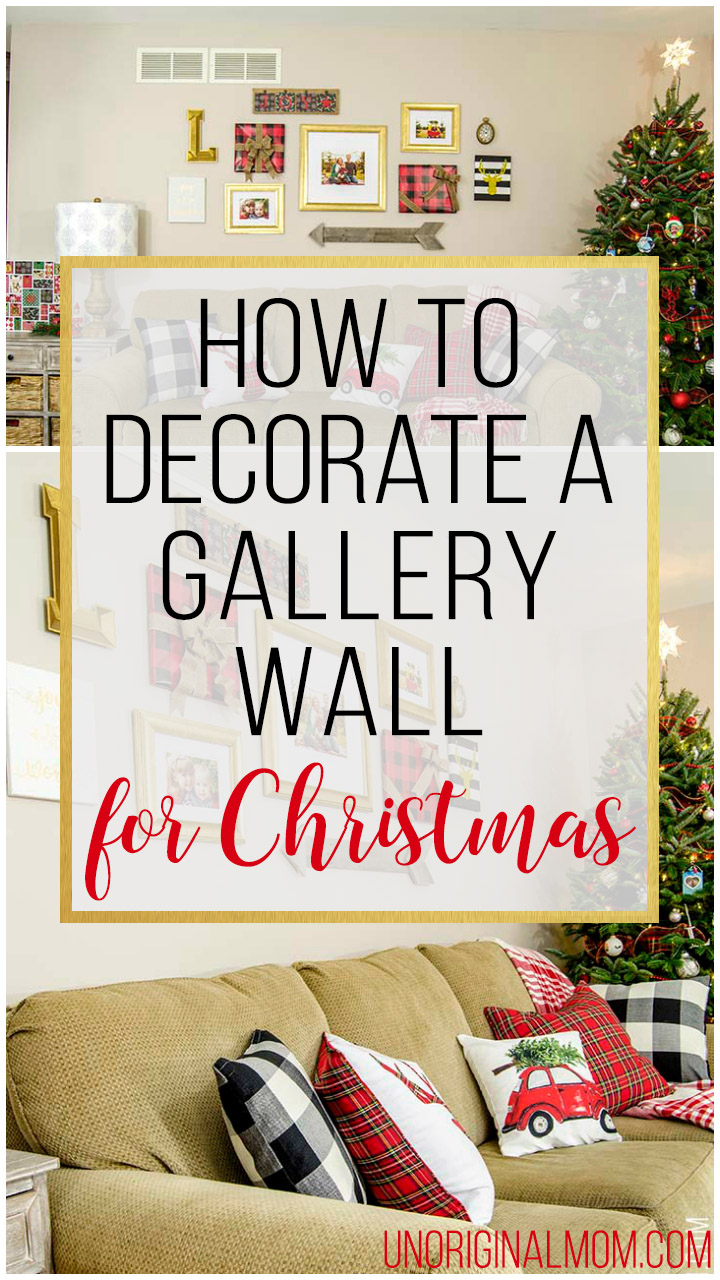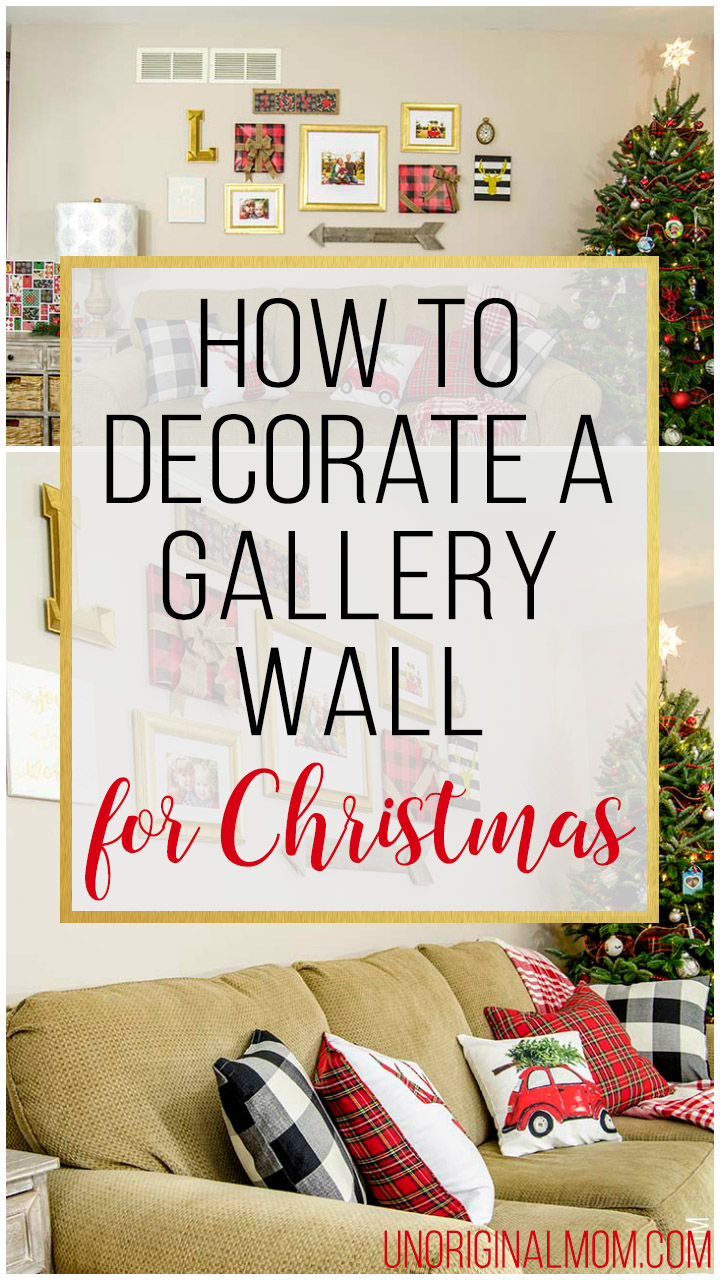 Believe it or not, I've never actually done any Christmas decorating on our walls. For the longest time, Christmas decorating at our house consisted of putting out all kinds of figurines and trinkets and other decor on all the flat spaces in our house, but not much else. Sure, I've made a few signs and things (like my "Merry & Bright" pallet sign), but always put them on the mantle, a shelf, or a table. Now, it may have something to do with the fact that I didn't have much of anything hung on the walls in this house until I finally finished our living room gallery wall this past spring. (We've been in this house for 3 years. Yikes.) But, now that I have things on the wall in the main room of our home, I decided to try to swap out a few things and make it extra Chrismasey this year. You guys, I can't even believe how big of a difference it makes in our space – and it was really easy, too! Here's the "before" – our regular gallery wall as I shared it this spring.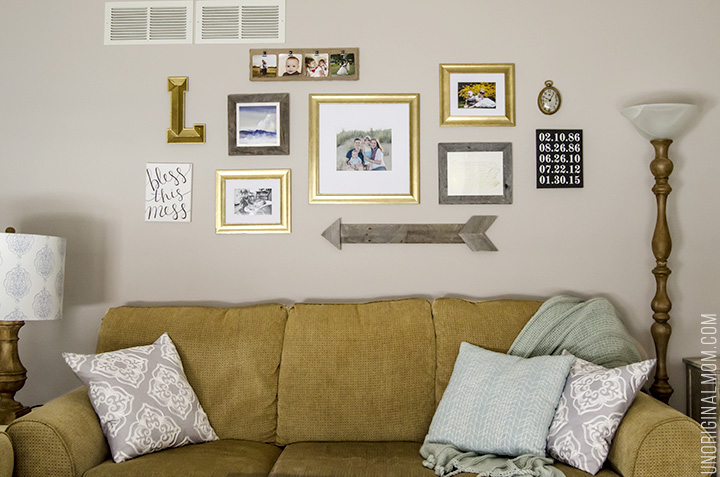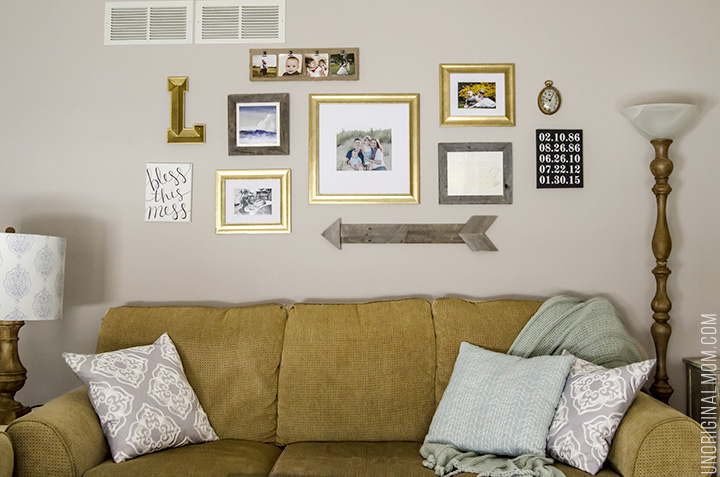 And here's how it looks after Christmas decorating!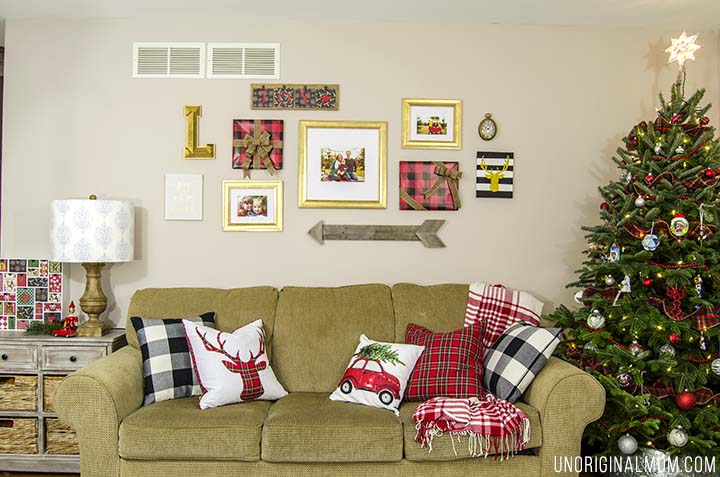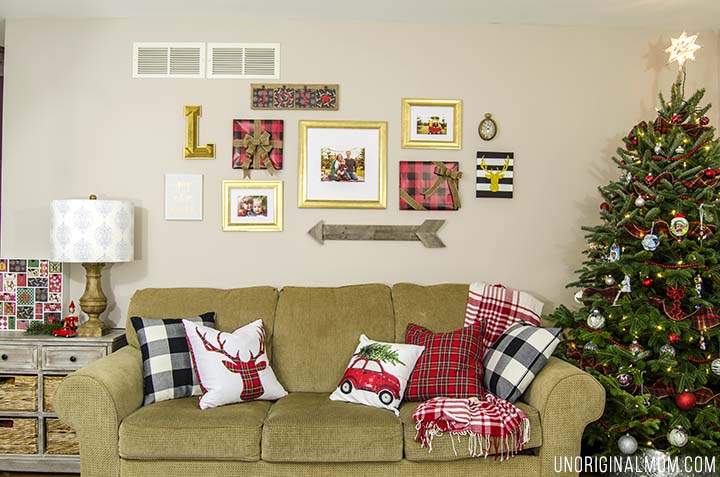 It was really very simple, but it makes SUCH a difference in the room! I'll share what I did with mine in the form of some general tips…hopefully they will help you decorate a gallery wall for Christmas with ease!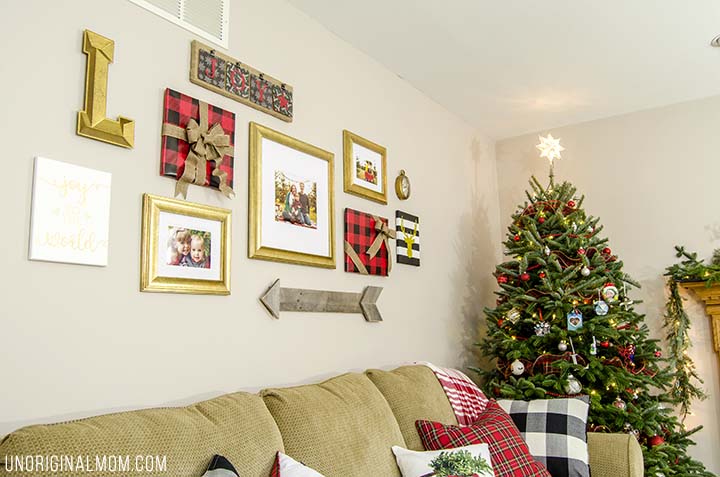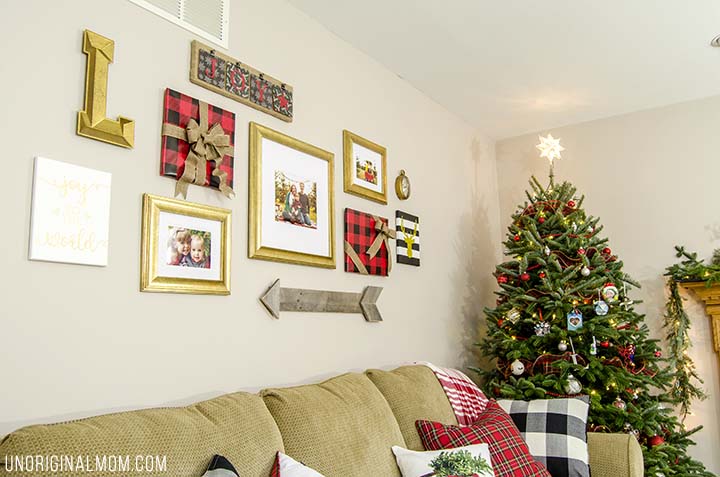 #1) Swap out framed family photos for Christmas photos.
This is so easy, especially if you have some seasonal family photos from past Christmases. They don't have to be professional, either! I'm sure you have lots pictures of your kids opening their gifts on Christmas morning in their Christmas PJs through the years. I printed a few of our tree farm family Christmas photos from 2 years ago, plus the picture I used on last year's Christmas card.
Bonus tip: leave the other photos in the frame behind the Christmas pictures so it's easy to put them back later! And then, leave your Christmas photos in the frame so next year you won't have to go digging for them.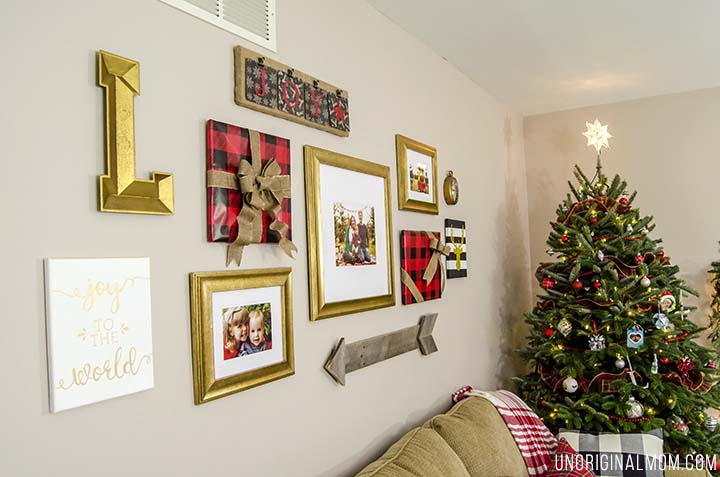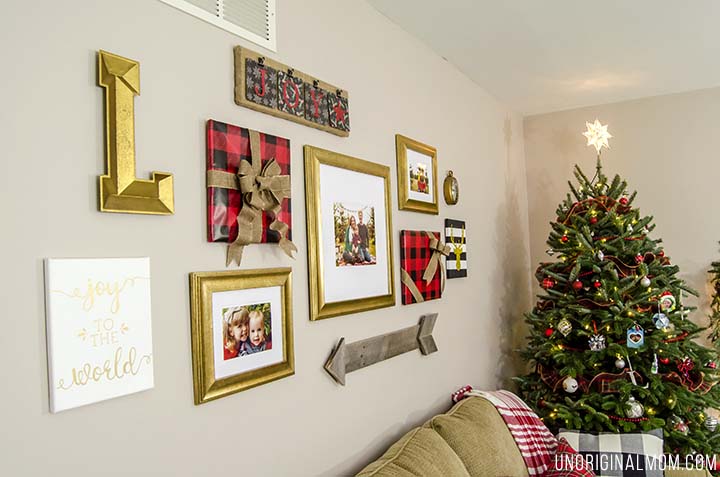 Tip #2: Create some simple DIY wall art in the same size as photos/canvases you already have hanging.
In had two 8×10 canvases in my gallery wall, so the simplest thing to do was swap them out with two other 8×10 canvases. Easy peasy! I used a gold paint pen to hand letter "Joy to the World" on one canvas.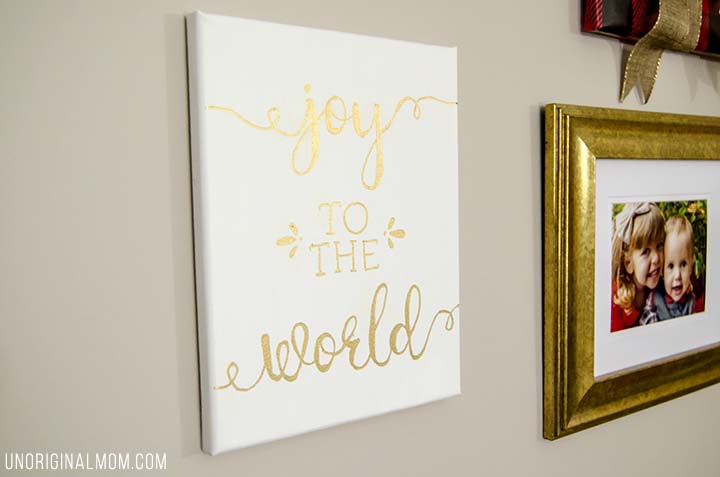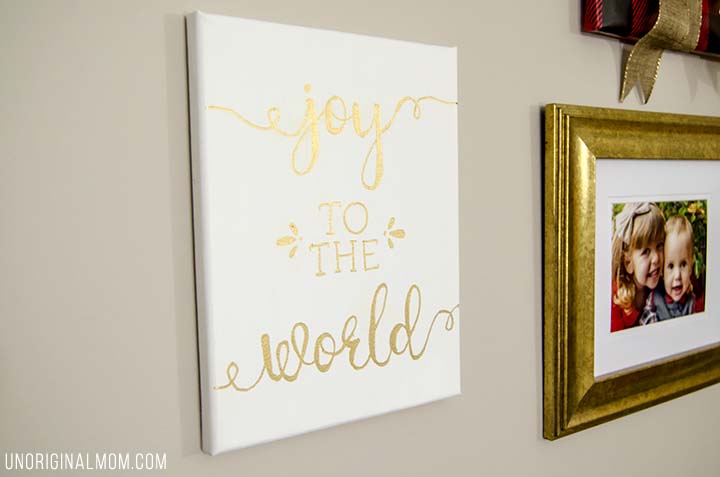 For the other canvas, I made a glitter deer head with black and white stripes – totally and 100% inspired by this fabulous idea from Hey Lauren Rene.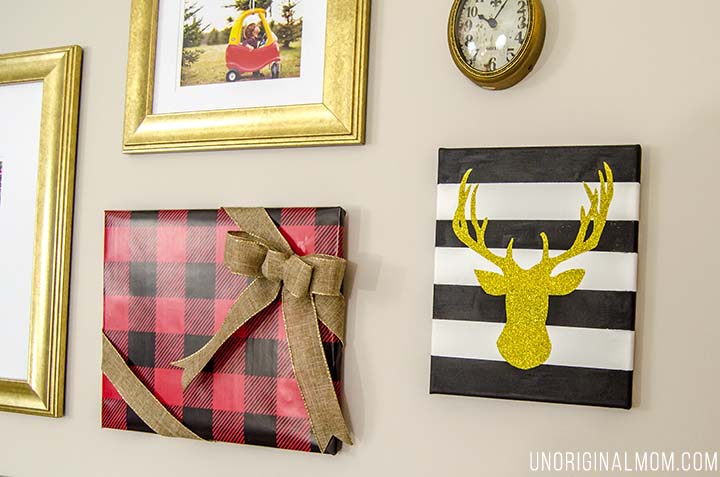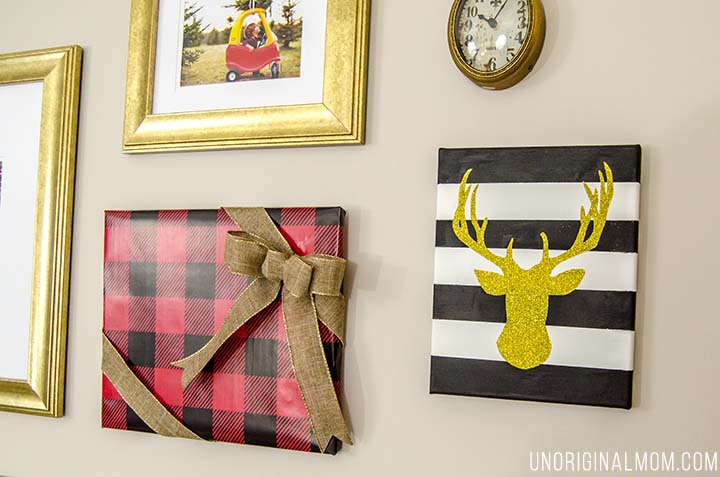 Tip #3: Add variety with things scrapbook paper, wrapping paper, free printables, and more!
One of the items in our gallery wall is a burlap-covered 2×4 that I use to display unframed photos and small printables. Rather than worrying about printing more photos, I just used some pretty Christmas scrapbook paper and glued on some glitter letters to spell "JOY." If you have additional frames to fill or a place to display unframed photos like I do, get creative and "shop your house" for some things to use – scraps of pretty wrapping paper, free printables from Pinterest, even a combination of red, green, or gold wallpaper samples would be neat! (I've also been known to use cloth napkins in my decor!)
Keep your eyes peeled at antique stores and thrift shops, too. I picked up an old 1950s Christmas songbook/magazine type thing at an antique store for $2, and it was FULL of beautiful full page vintage Christmas color illustrations. I used those to swap out with my botanical prints in our dining room.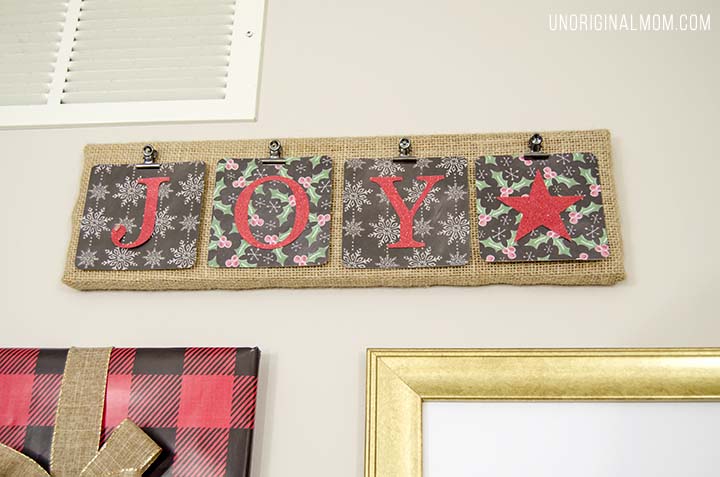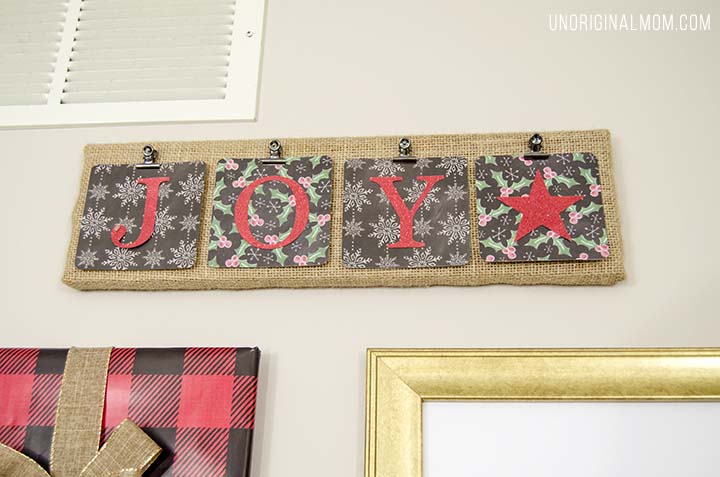 Tip #4: Wrap your wall art like presents!
This is my favorite :-) It's super easy, makes such a big impact, and is so fun! I have two pieces of art on our wall that are custom framed with paper sealed over the back, so I can't switch out the art inside the frame. Wrapping the frames to look like presents is a great solution! Leave the hanging hardware exposed on the back so you can hang your art back on the wall when you're done. Add a big bow, and you're done! (I love this tutorial from Stone Gable on how to make your own Christmas bows.)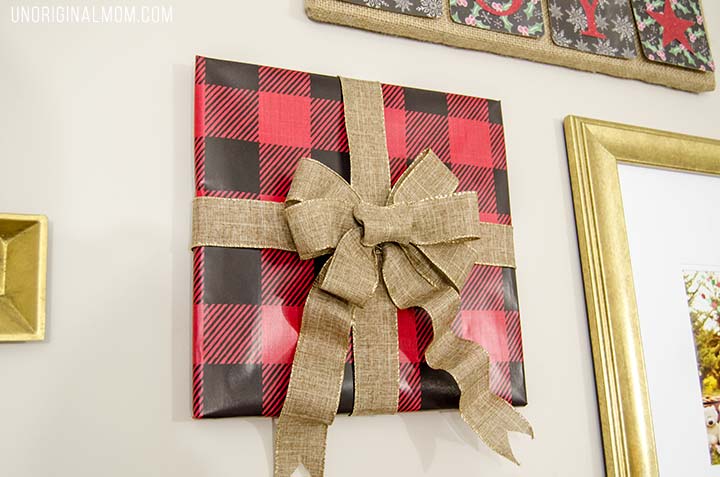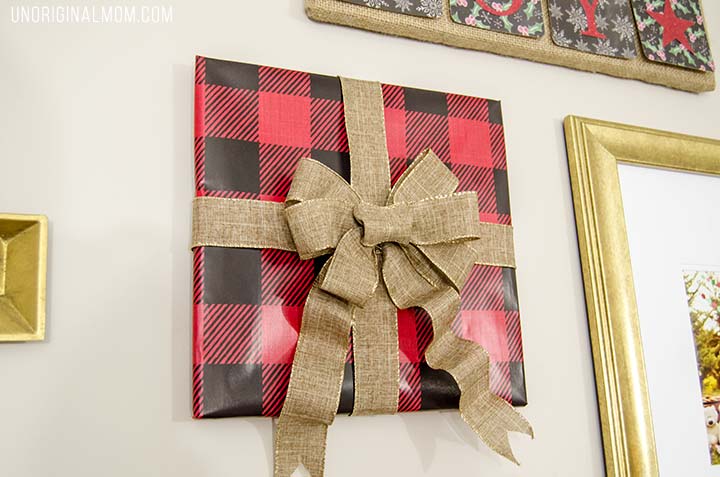 Don't feel like you have to dress up or swap out every single item in your gallery wall, either. Just switch out a few things to make it more festive and you'll be surprised how big of a difference it makes in your space!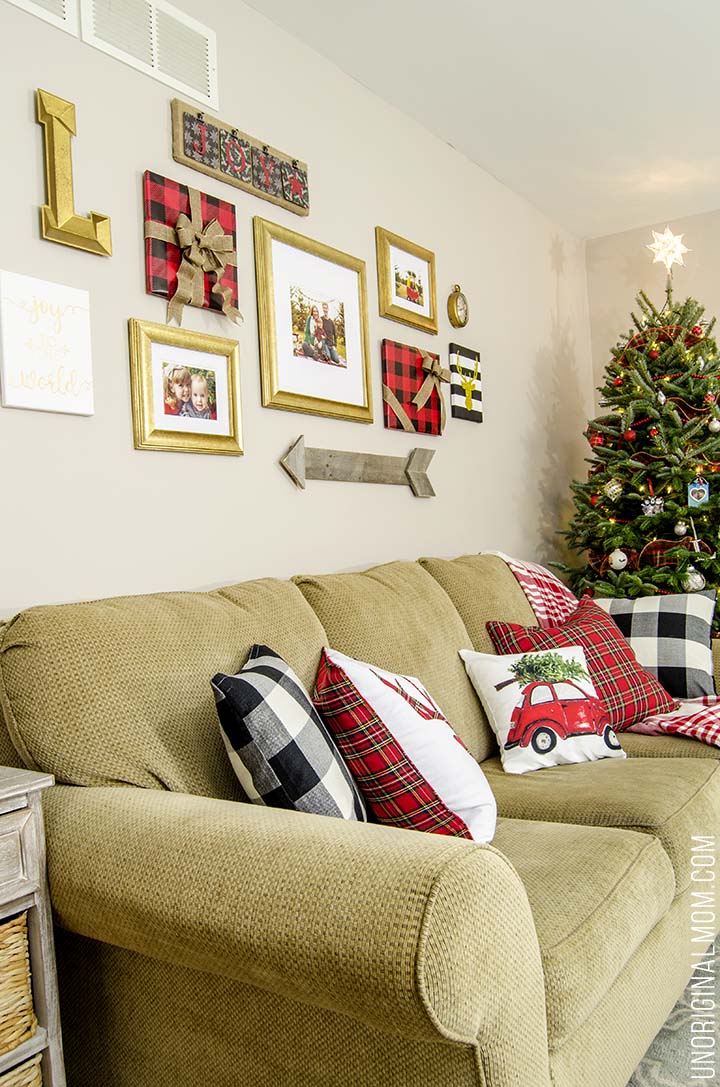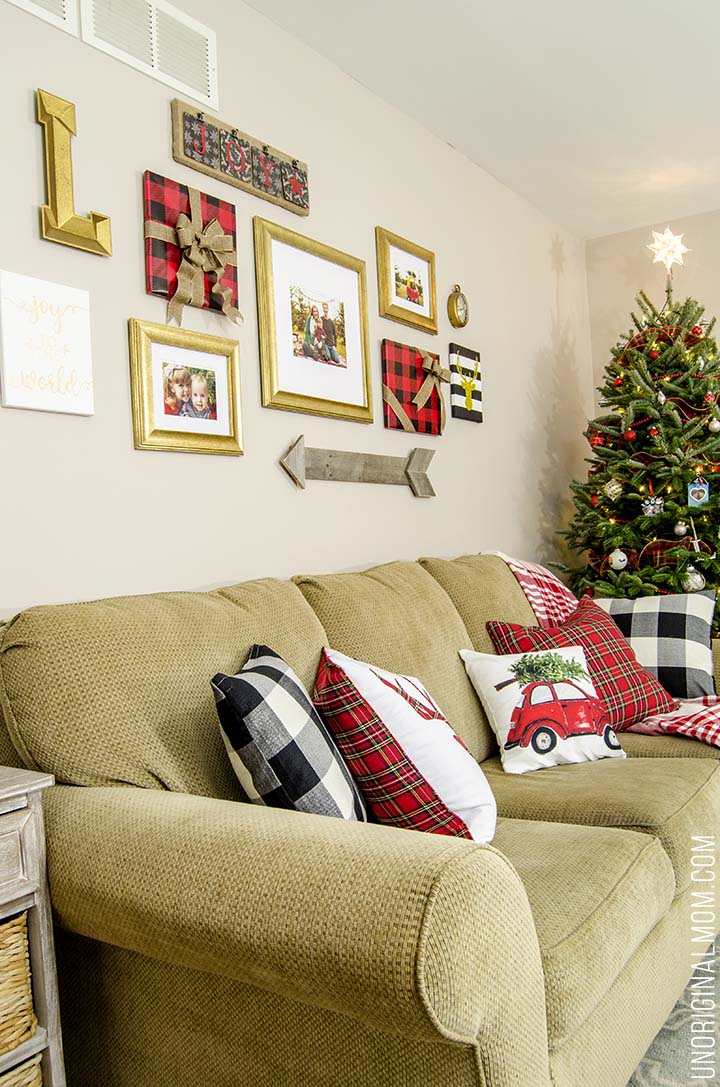 Happy decorating!


Get your copy of my FREE meal planning binder!
Sign up to get a free copy of my meal planning system - an 11 page printable meal planning binder, complete with a pantry inventory, shopping list, and more to help get on top of your menu each week!