This post contains affiliate links – click here to read my full disclosure.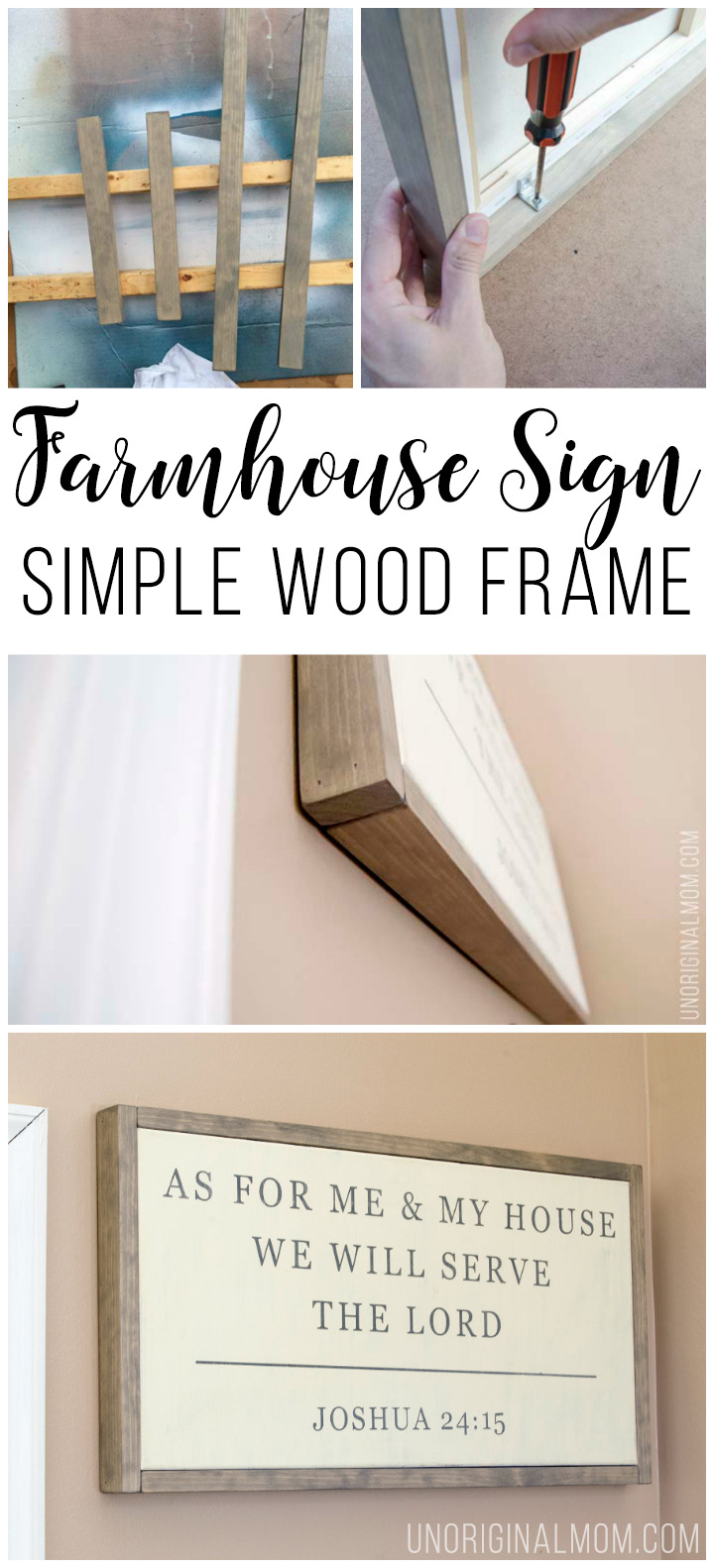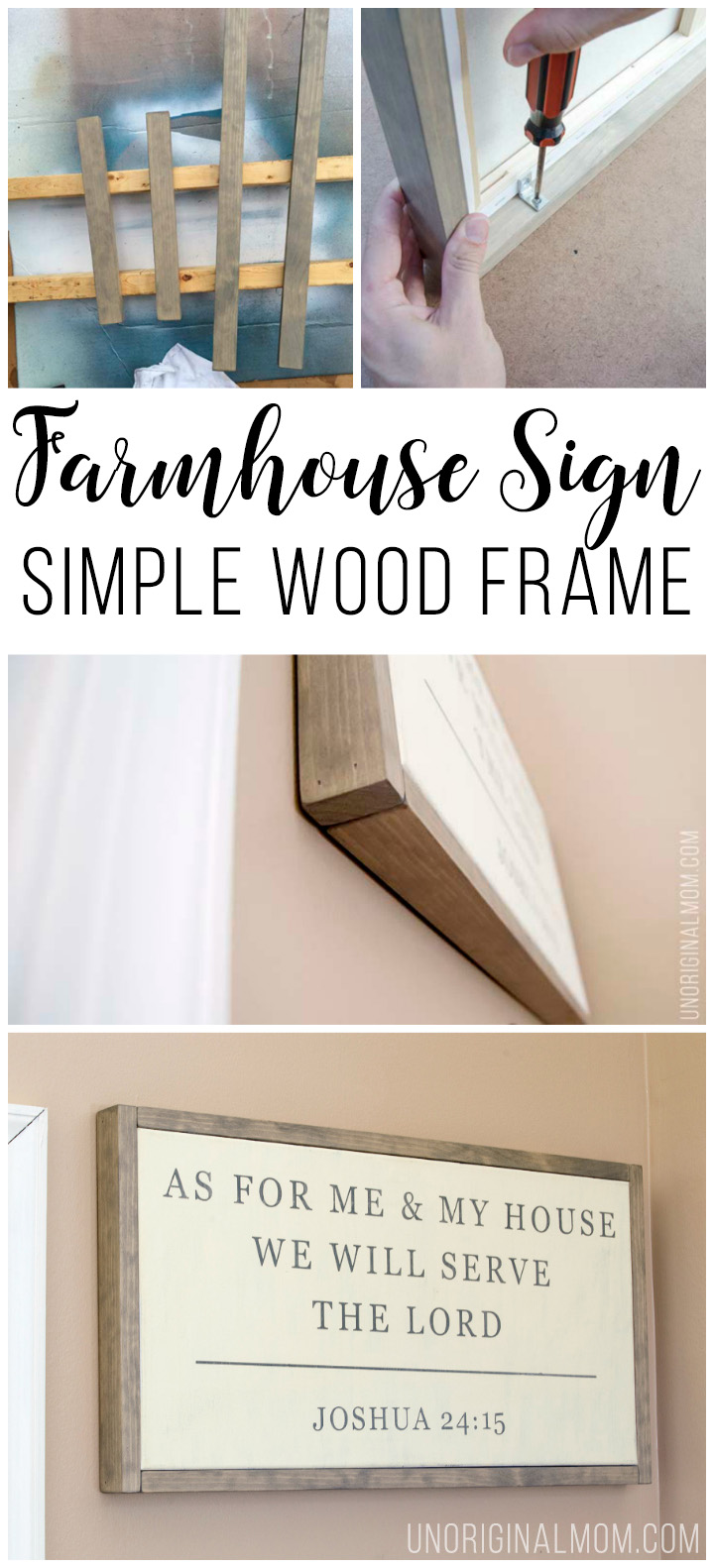 I've been loving the farmhouse style painted signs I've been seeing everywhere, so I set off to try to make my own. I realize that many of them are made out of wood, but I wanted to try to achieve the same look but with a canvas instead. I shared my painted canvas with you on Monday – see the full tutorial here! – and today I'm showing you how to make a simple wood frame for your canvas to really complete that farmhouse style sign look.
I used a long piece of 1×2 select pine from Lowe's for my frame. You can use whatever kind of wood you want, just make sure you get a nice straight piece. I wanted the look of a thinner frame and a thicker canvas, so I decided to create my frame with the narrower edges facing up. My canvas was 24″x12″ and I wanted the seams of the frame to be on the top and bottom of the canvas rather than the sides, so I cut my side pieces to be the length of the side of the canvas (12″) plus the thickness of the top and bottom frame pieces (.75″ each) which came out to 13.5″ total. The long top and bottom pieces I cut to be the same width as the canvas (24″). Of course, you'll need to measure your pieces to fit whatever size canvas you're working with. After cutting all the pieces, I sanded down the corners a bit with a sanding sponge.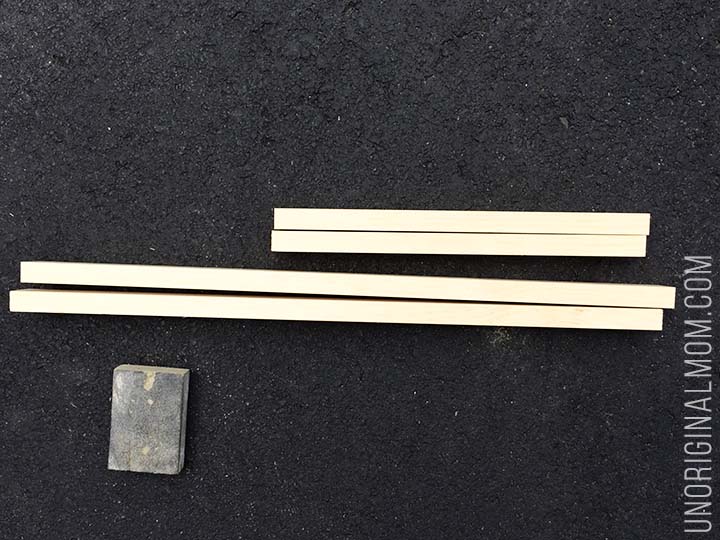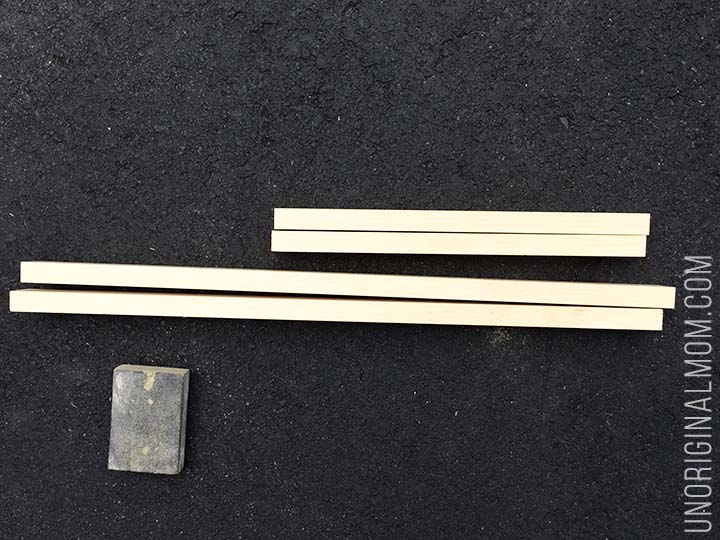 Here's a better visual to see how I laid out my frame. (Of course, that's just laying it out and not pulled in tight or flush – the edges DO actually fit perfectly together as you'll see later!)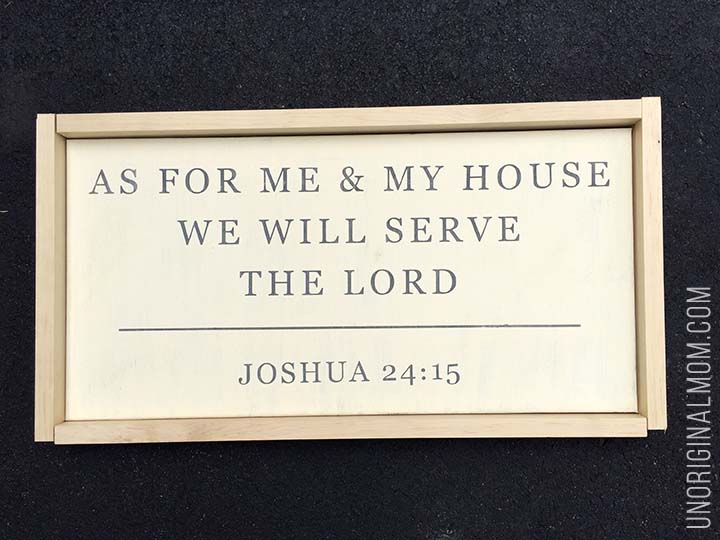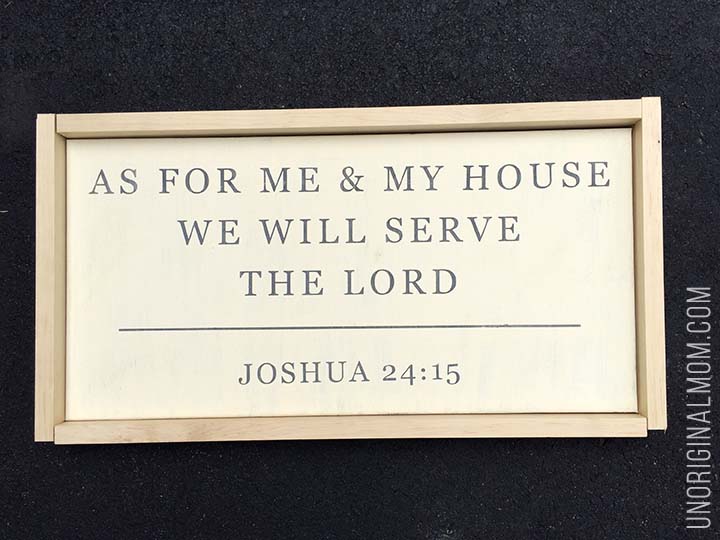 Before assembling the frame, I wanted to stain the wood. You could paint it, if you'd prefer, but I wanted that rustic farmhouse look. I tried out this Weathered Oak stain from Minwax – I love it! I was a bit concerned after the first coat that it was going to be too light and too gray, but after letting it dry and adding 2 more coats, it was exactly the finish I was looking for!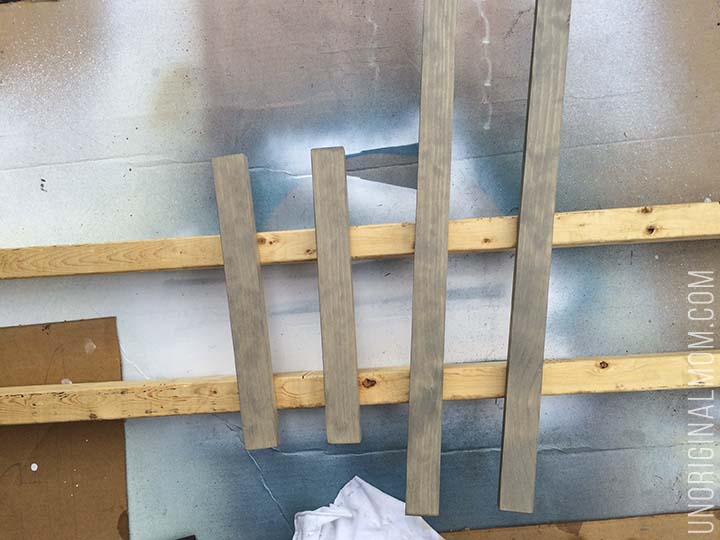 My handy hubby helped me with the frame assembly. First he used a scrap piece of wood to make sure the wood was flush.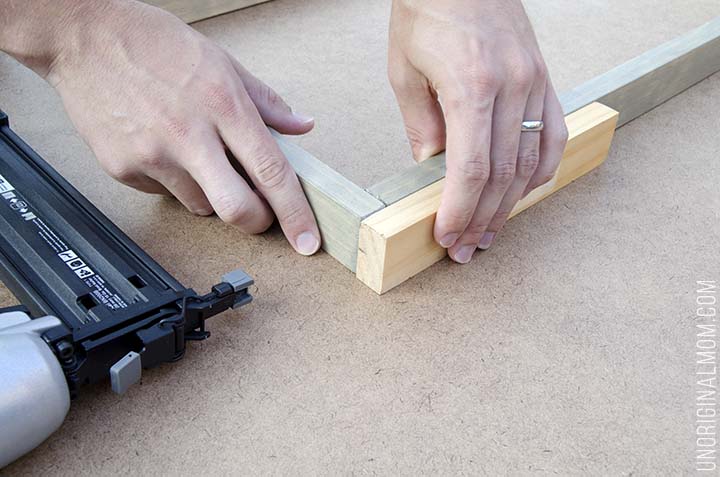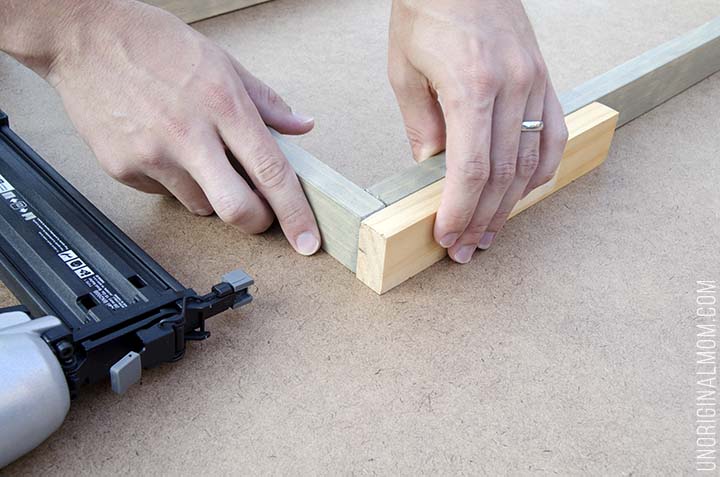 Then he used his brad nailer (we have this one) to put two nails in each corner.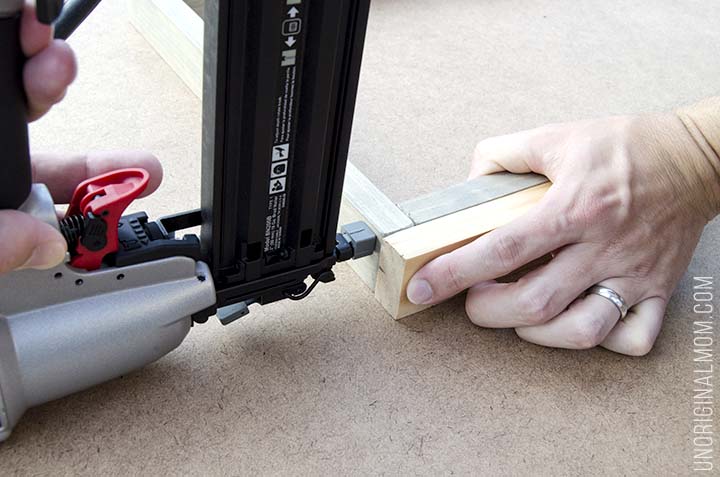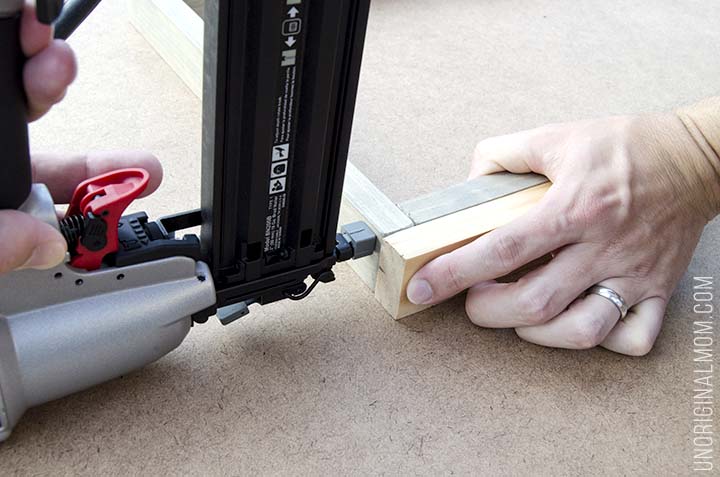 Now, I wanted the canvas to sit flush with the front of the frame to give the appearance of a deeper (more expensive) canvas. We decided to use small L brackets that we had on hand (I think they came from Lowe's) to attach the canvas to the frame. The brackets came with screws that were way too long, though, so we had to use much shorter screws that wouldn't go through the frame. I don't have any great photos of this step, but first we marked where the holes were going, then pre-drilled small holes into wood frame before we actually screwed the brackets on. (We did that step before the frame was assembled.) That was just to make sure the wood didn't split when we put the screws in. Just make sure your pre-drilled holes don't go deeper than the screw will go. We used a total of 4 L brackets, two on the bottom piece and two on the top close to the corners (none on the sides).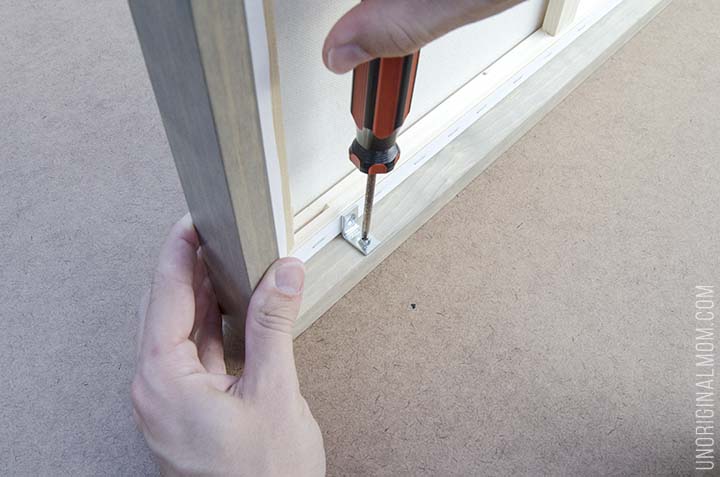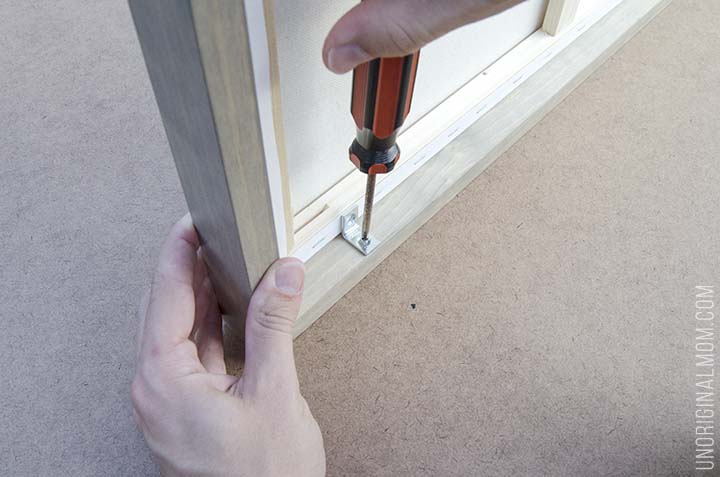 That's it! Look how pretty!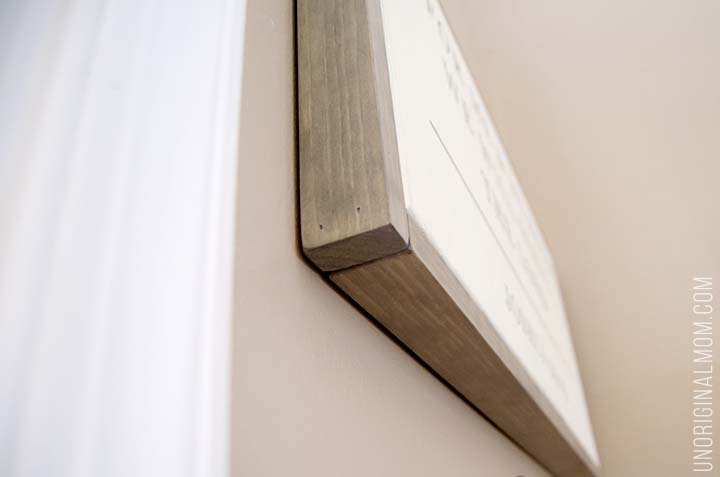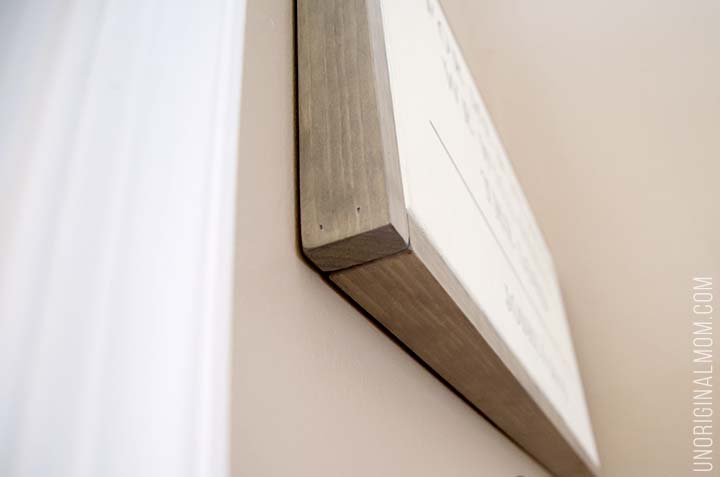 I love that we were able to copy that farmhouse sign look with not a huge amount of effort or expense.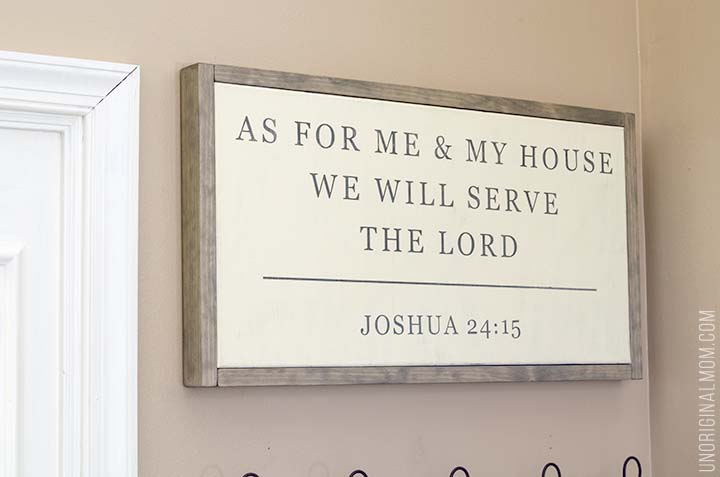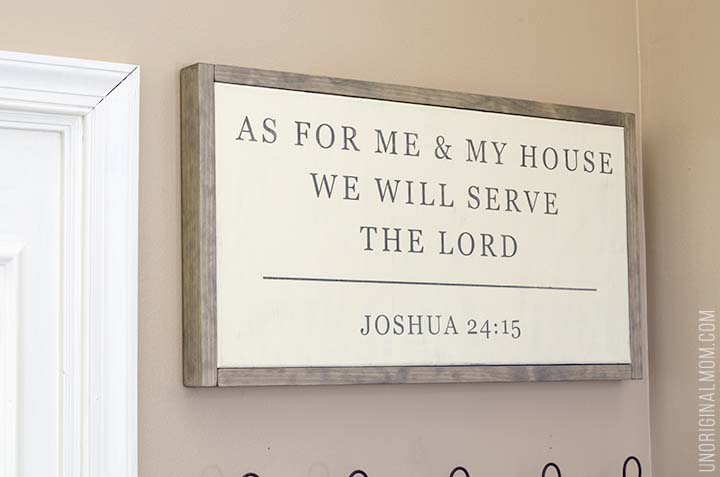 Remember that Magnolia Market sign that was my inspiration? $125 for that version (which wouldn't have fit in my nook anyway) versus less than $15 for my version ($6 for the wood + $5 for the canvas, and a little bit of paint, stain, and scrap vinyl). DIY for the win!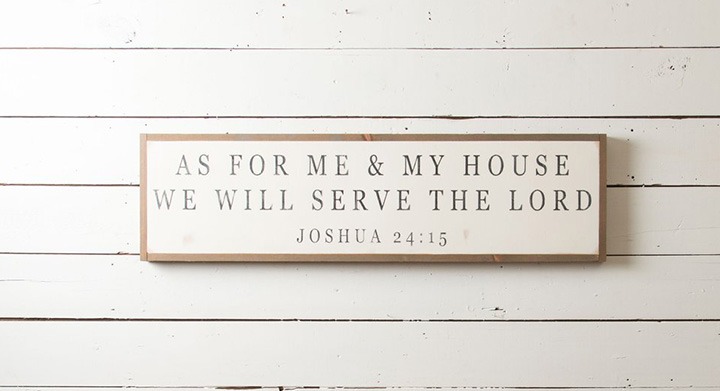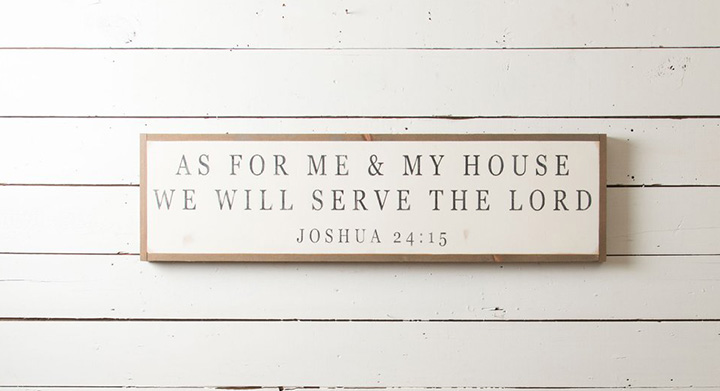 And it looks so great in our entryway! I can't wait to show you the "finished" foyer nook I've been working on. We're almost done!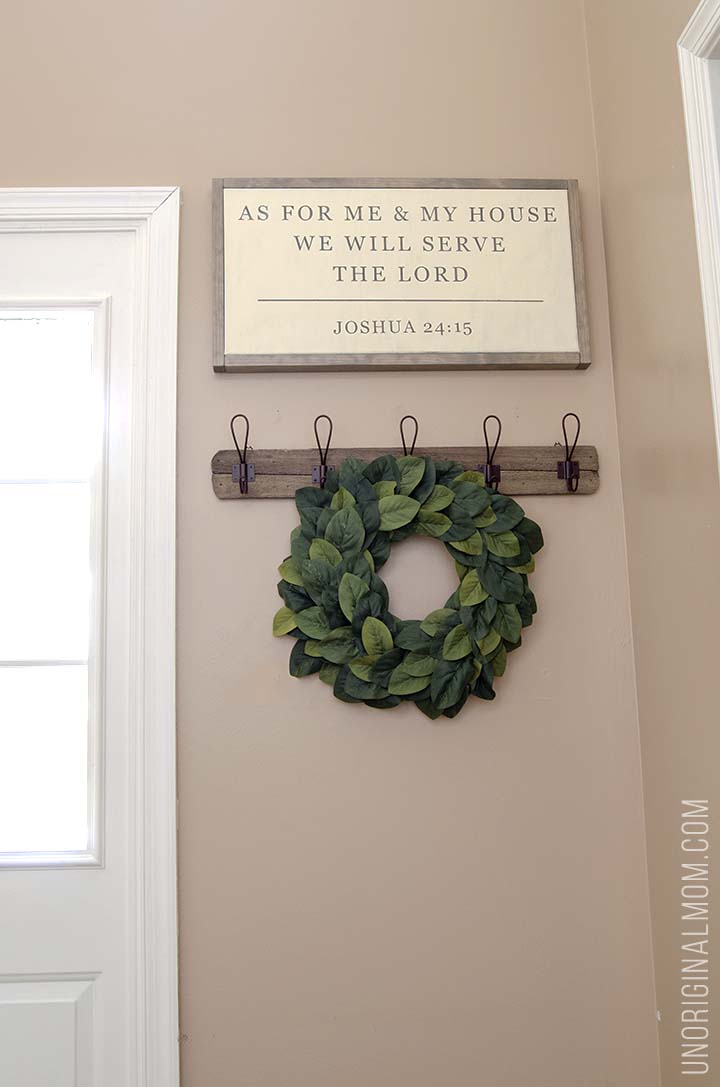 Now that I've made my own farmhouse style sign, I want to put them all over my house!! I'm thinking of one of those "GROCERY" or "MARKET" signs for the kitchen, and maybe another scripture sign for the master bedroom…what do you think?


This post contains affiliate links – click here to read my full disclosure.


Get your copy of my FREE meal planning binder!
Sign up to get a free copy of my meal planning system - an 11 page printable meal planning binder, complete with a pantry inventory, shopping list, and more to help get on top of your menu each week!