It's official. I am hopping on board the farmhouse decor trend. Excuse me while I get sucked down the rabbit hole…
No really, in all seriousness I have always really loved and admired the Joanna-Gaines-Fixer-Upper-Farmhouse style, but never actually tried to attempt it. I have some perfectionist tendencies, which – when combined with my indecisive nature – results in lots of dreaming and pinning and wishful thinking and not a lot of actual implementation. We have been in this house for almost 3 years now and the only decor that's really been accomplished is the kid's rooms plus some paint and a gallery wall in the living room. I have a list of what I want to do – the basement, dining room, the master bedroom, the master closet, the piano room, the upstairs hallway…but I haven't been able to get myself to just start DOING instead of dreaming.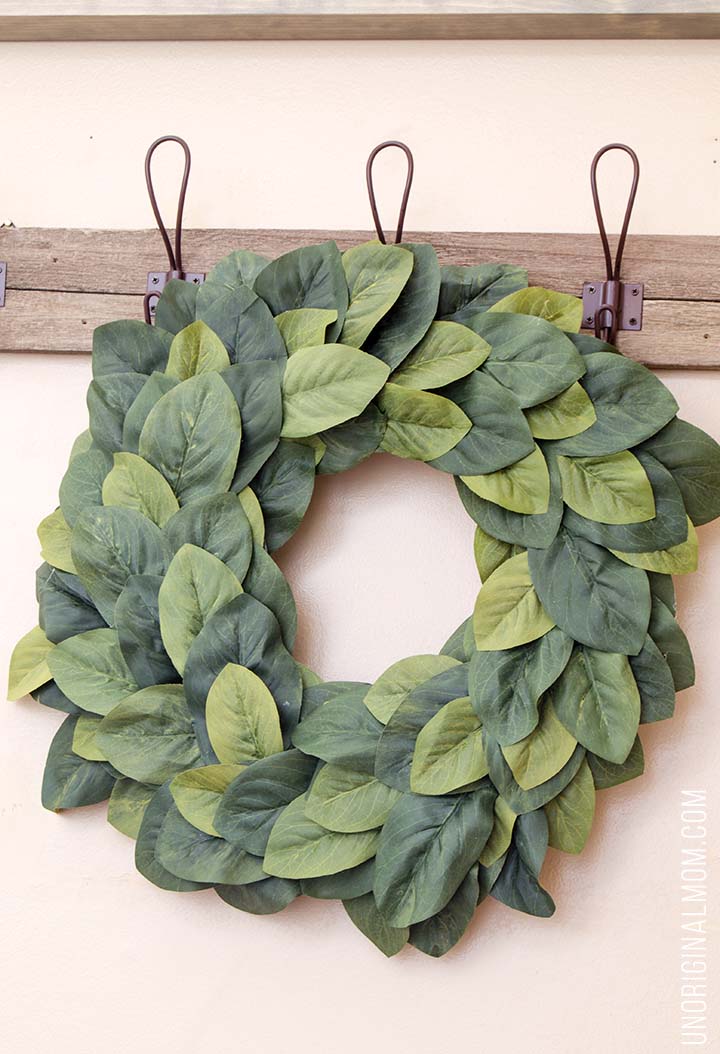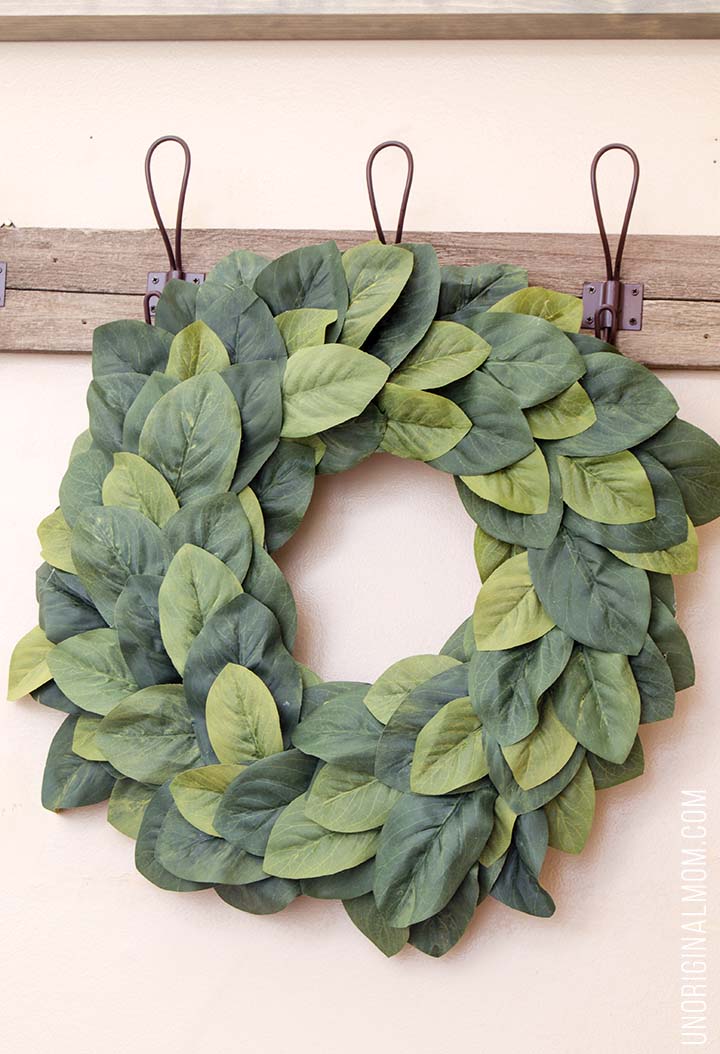 The problem that I'm running into is that I want each and every space to be "blog worthy," which is simply not going to happen. I mean, I'll definitely share my updates here with you, but I don't have the talent and the vision and the taste (or budget!) of a lot of home decor bloggers out there. I keep dreaming of our home someday looking like those beautiful home tours on Pinterest that look like a page out of a magazine, but the reality is I'm just never going to get there. AND THAT'S OKAY! Our house needs to be comfortable and functional for my family, and that's enough. Comparison is the thief of joy, right? I'm having a hard time coming to grips with that and just jumping into some projects and decision making, choosing what I want and not what I think would be pretty and impressive in a blog post or when guests come to visit. Can anyone out there relate??
All that to say, I'm trying hard to put all that comparison and perfectionist stuff behind me and FINALLY jump into decorating our home in earnest. It's high time we started to make our mark on this place! I'm inspired by all the amazing farmhouse stuff on Pinterest and I think I will go that route with much of our decor, but still with my own taste and spin to it. Beginning with this wreath!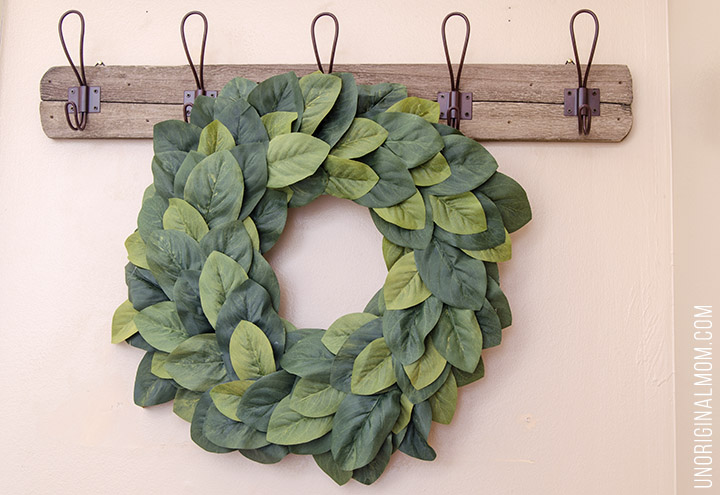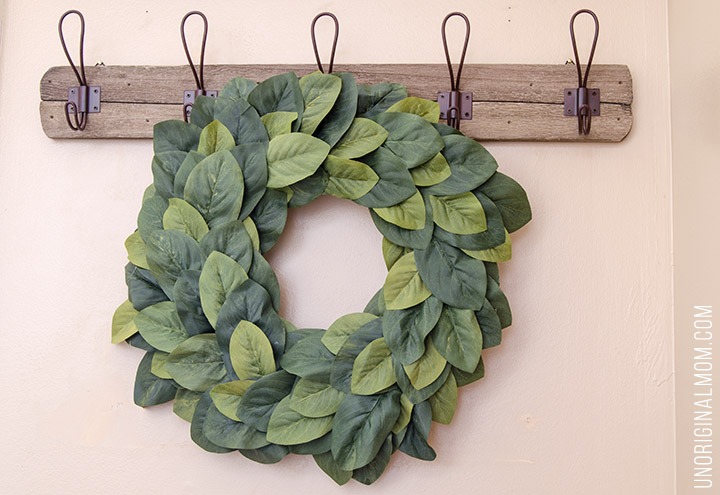 I absolutely love the Magnolia wreaths I see popping up everywhere on Pinterest, but gosh are they expensive! The Magnolia Market wreath is beautiful…but I certainly can't afford the $95 price tag! And, living in central PA, Magnolia trees are not very plentiful around here so making a wreath with real Magnolia leaves was out of the question.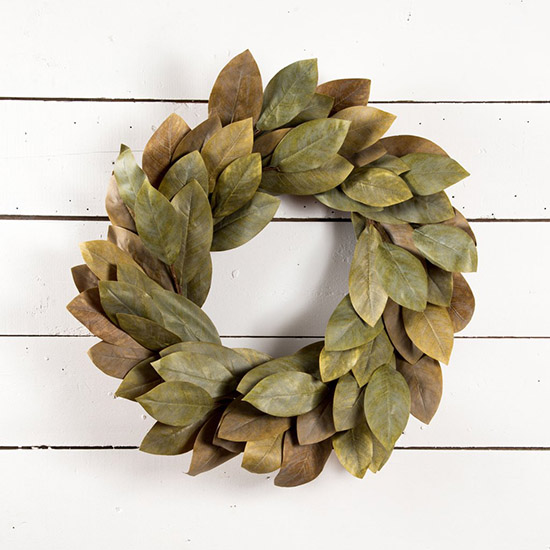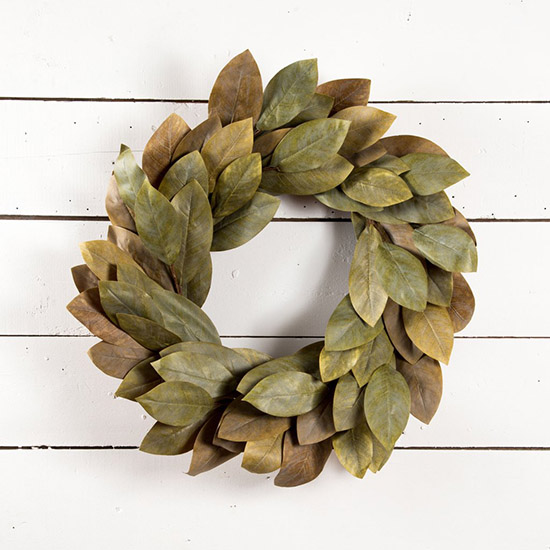 So, what's a girl to do? DIY it, of course! I discovered faux Magnolia leaves at Michael's and picked up two bunches (on 2 separate trips with 2 different 50% off coupons, of course!) for $6 each. The problem was, they just looked…fake. You know, bright green, shiny and plastic-y.  I realize that real Magnolia leaves are very shiny and waxy when they're fresh, but I was going for the look of that Magnolia Market wreath that is super trendy in farmhouse decor right now – and as you can see above the preserved leaves are shades of brown and olive green, plus they have more of a matte finish.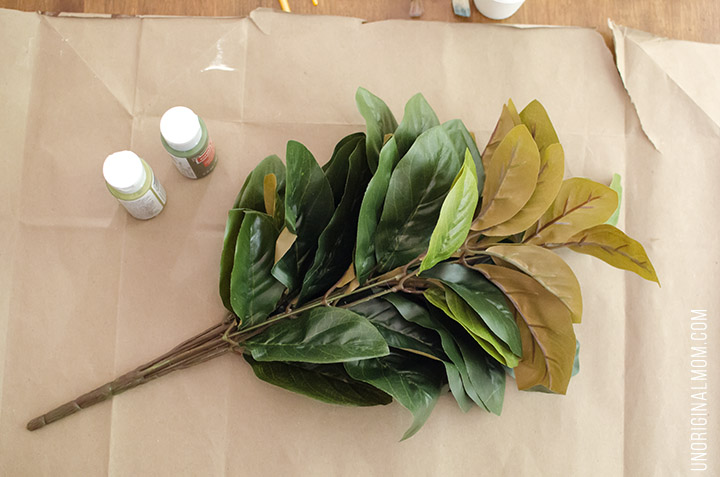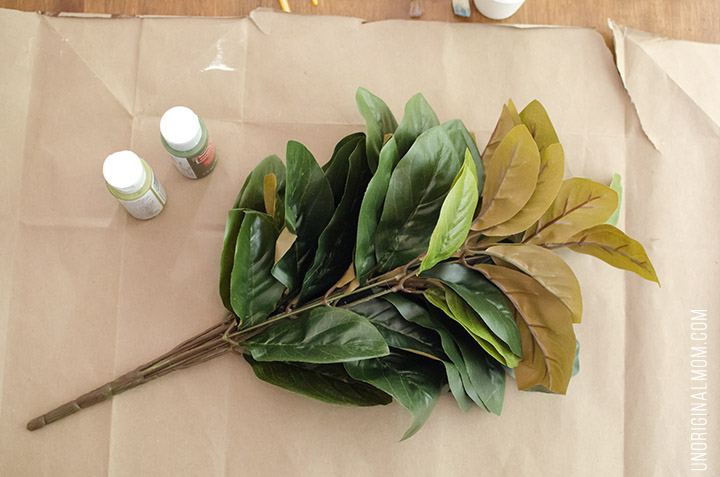 So to get more of a realistic matte finish to the leaves, and also bring them closer to the olive green color I wanted, I painted the leaves! I used two different shades of green to mix together and vary my colors a bit, then put a super light coat on each leaf. I even used a paper towel to rub off the excess paint.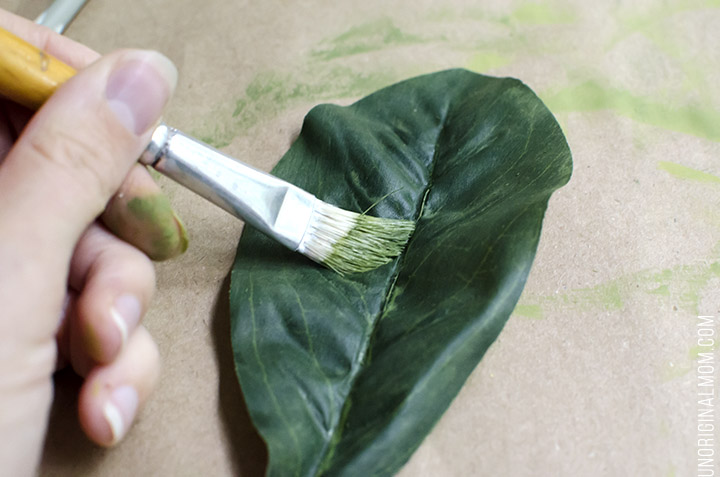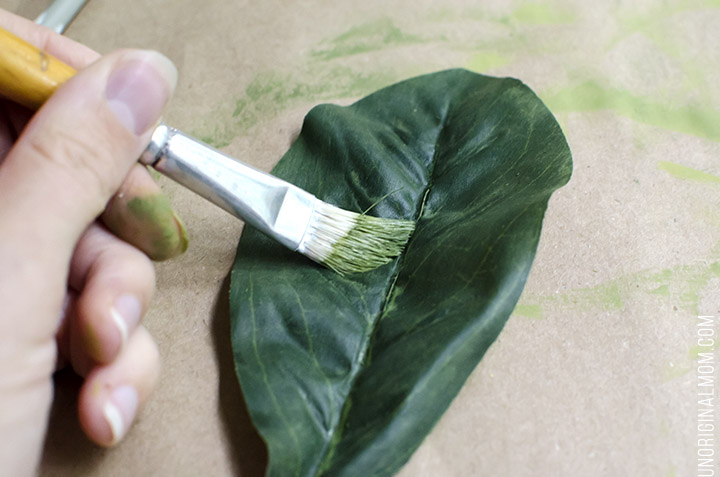 The change was subtle, but I think it made all the difference in the world on the finished product. Here's a side-by-side shot of a painted leaf next to an unpainted leaf. I mean, it's still a fake leaf but I think the painted version is so much better! It still has some sheen to it but the fake looking veining is gone and the overall look is more subtle and natural. (If you wanted more of a fresh magnolia wreath look, you could skip this step all together – or even paint them and then spray with clear spray paint to get more shine.)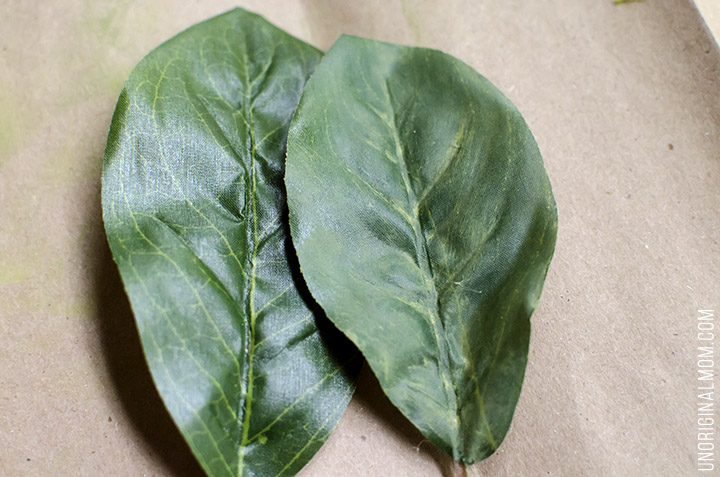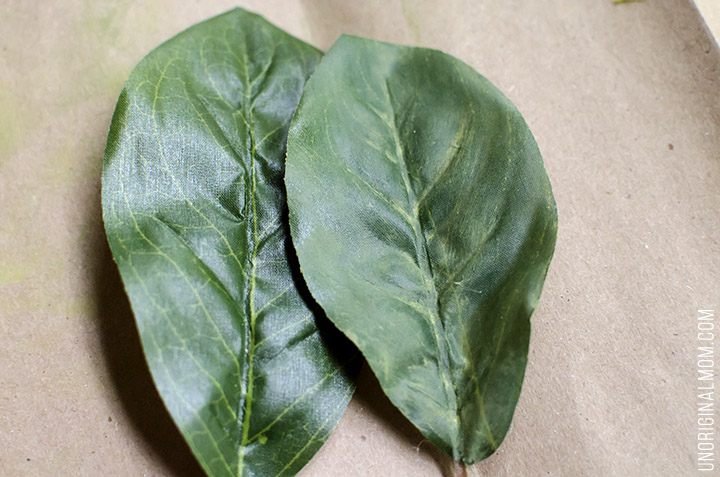 After I had painted all those leaves, I began attaching them to a 12″ wire wreath form (only $3!) with hot glue. I went around the whole edge first, tucking the leaves in and gluing them into place. (Do you see that pink silicone mat? It's part of my Glue Gun Helper kit* – definitely a crafter's best friend! I highly recommend it!)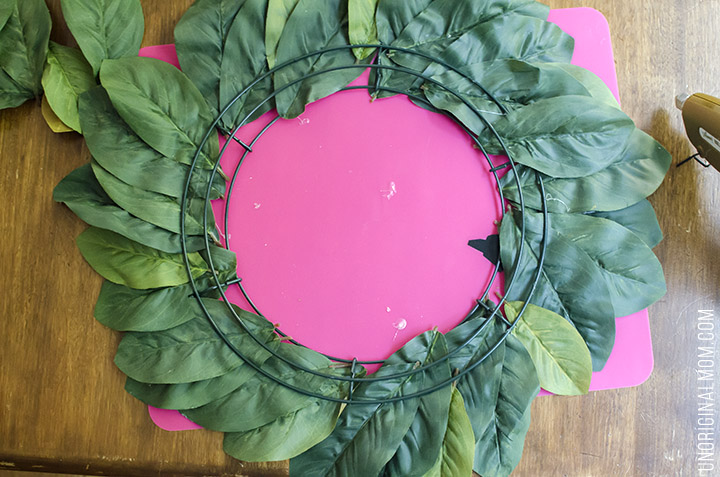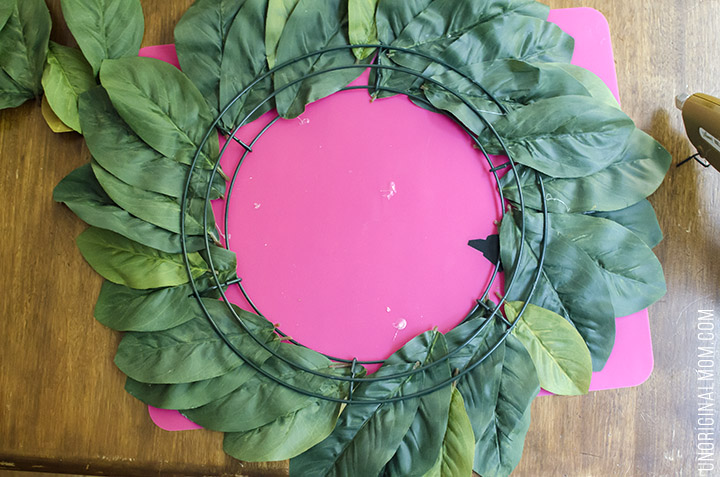 Then I just layered the leaves on top and kept tucking them in and under each other and gluing until it looked full enough. The result was a beautiful DIY Magnolia Wreath for $15!! So much better than that $95 price tag, don't you think?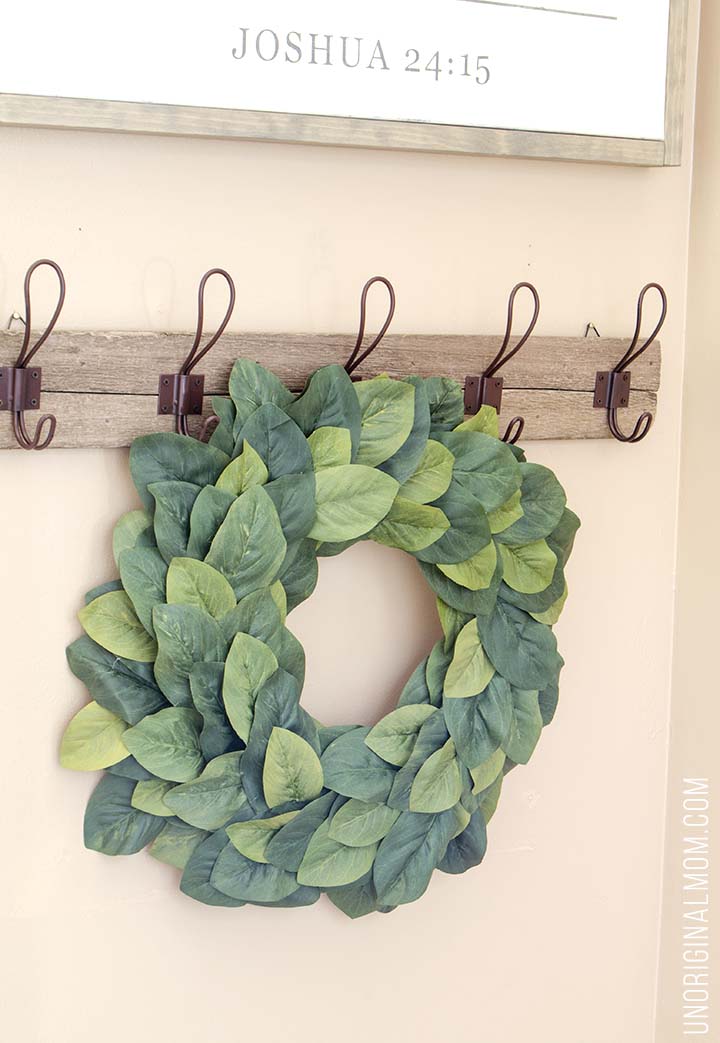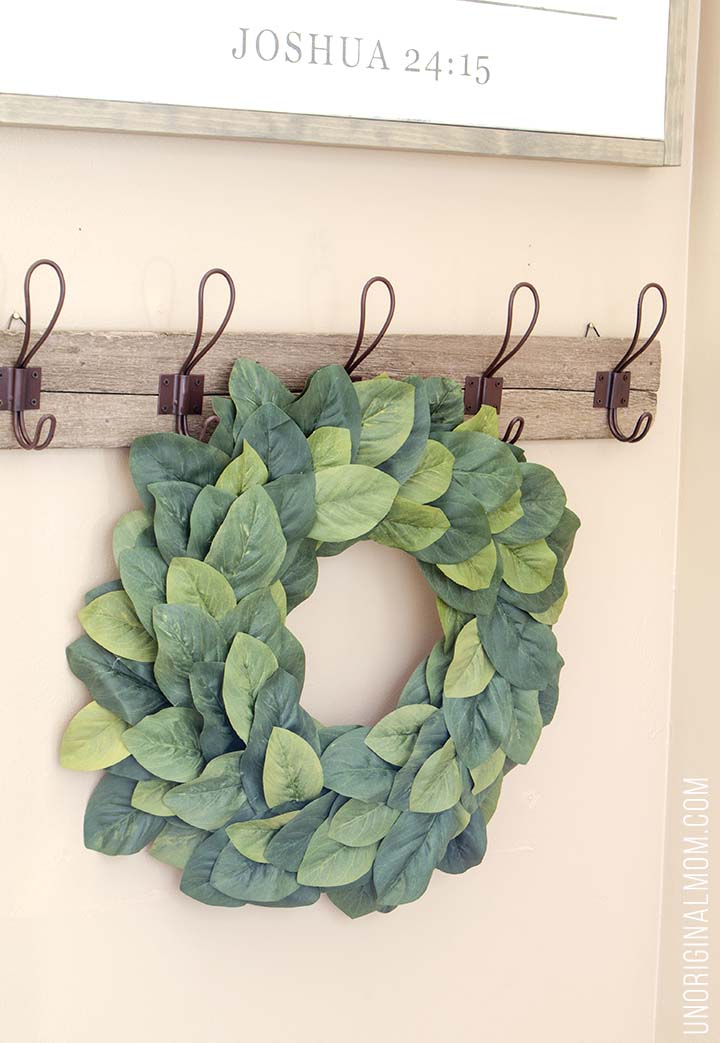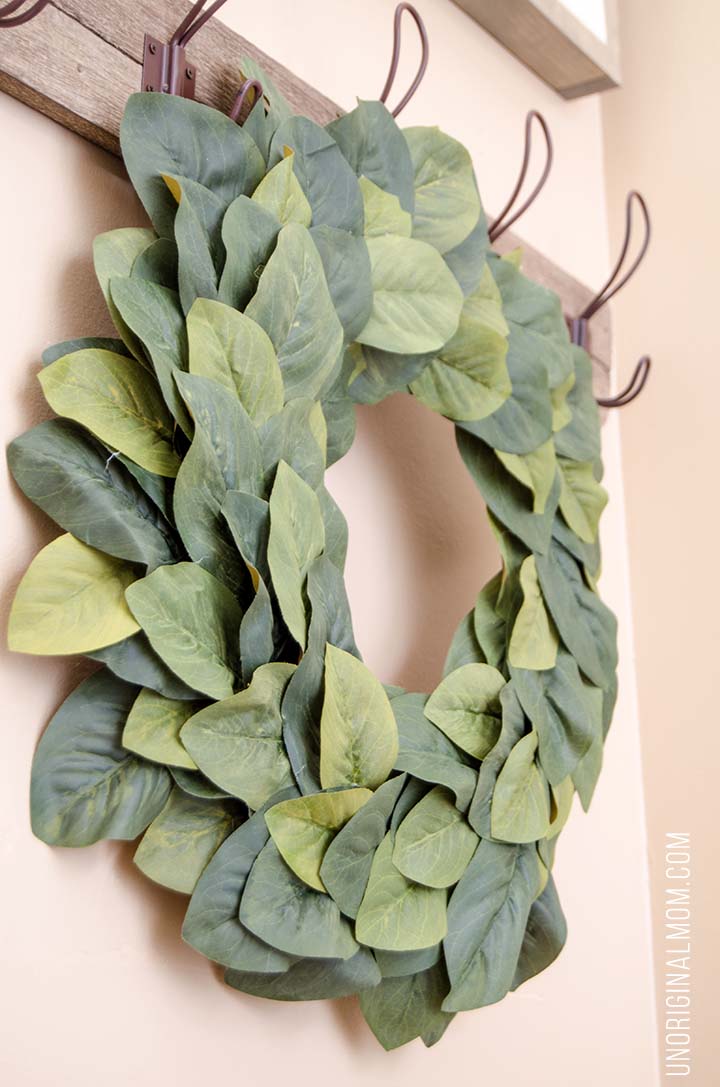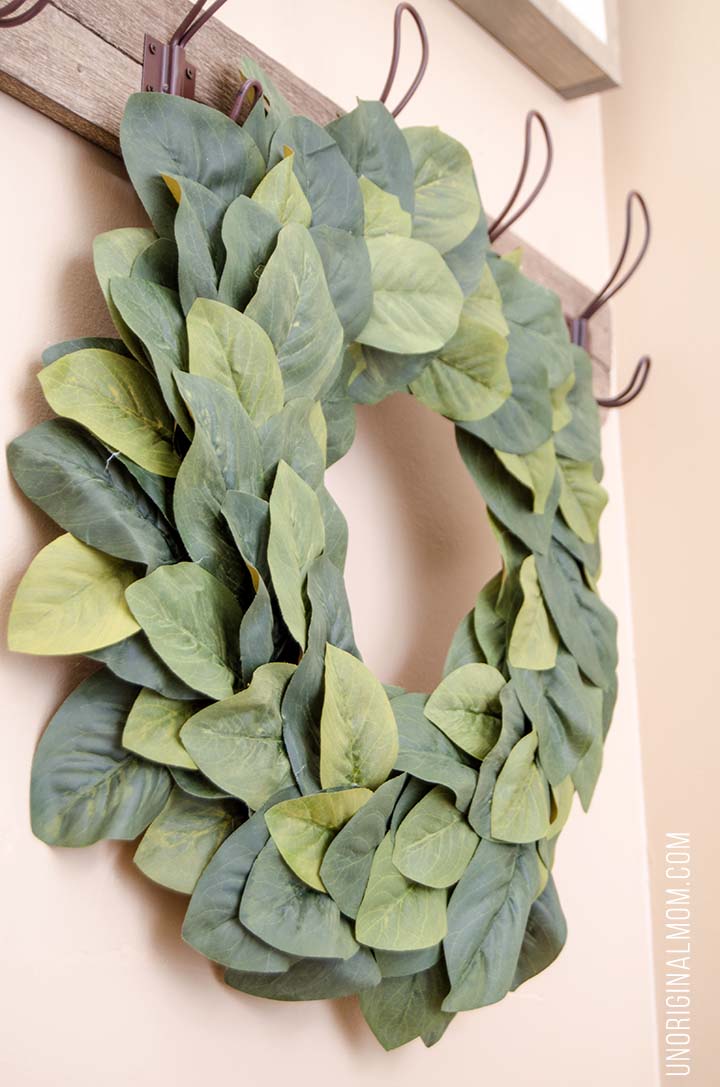 The "space" I am working on in our house right now is our foyer. (I've been sharing sneak peeks on IG stories!) We used to have a little foyer table in the nook next to our door with a plain mirror hanging over it, but I've since found another foyer table that I like better to sit on the other side of the front door. That means this space was empty and begging for something to go in it! I found this photo on Pinterest from the beautiful home of The Grace House Interiors and set about to shamelessly copy it. I love everything about it – the sign (also from Magnolia Market), the hooks, the bench, the styling…it's just so lovely!  The hooks are the perfect spot for my Magnolia wreath at the moment, though I'm guessing I'll switch it out for something more seasonal soon. I made my own version of the farmhouse sign that I will be sharing on the blog next week! And we're planning to DIY a bench for this little nook, too, hopefully it will be coming together in the next few weeks. So stay tuned for more updates :-)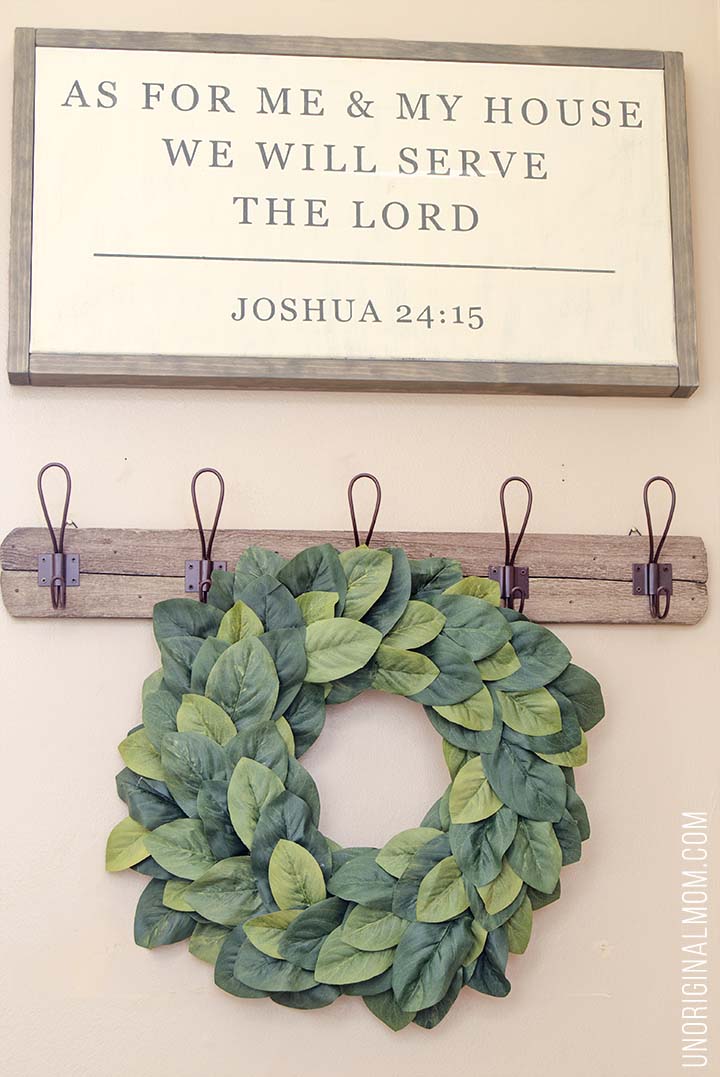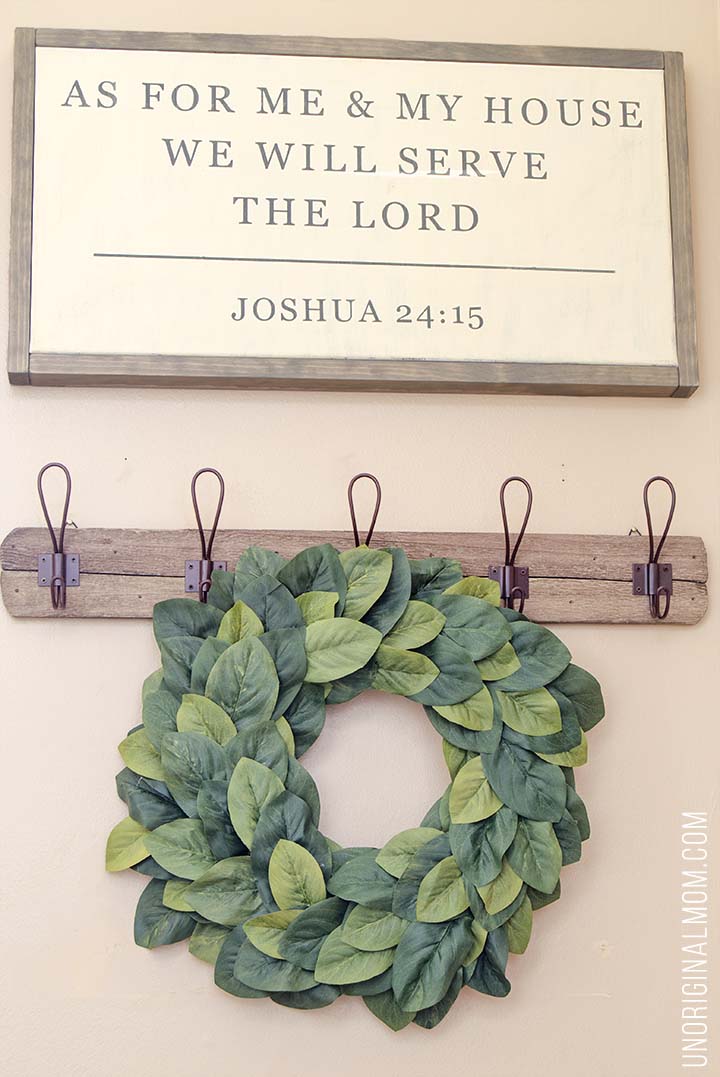 I have a feeling this DIY Farmhouse Magnolia Wreath will make appearances all over my house, I just love it so much! And I love the price tag even more ;-) I foresee many more farmhouse knock-off projects in my future!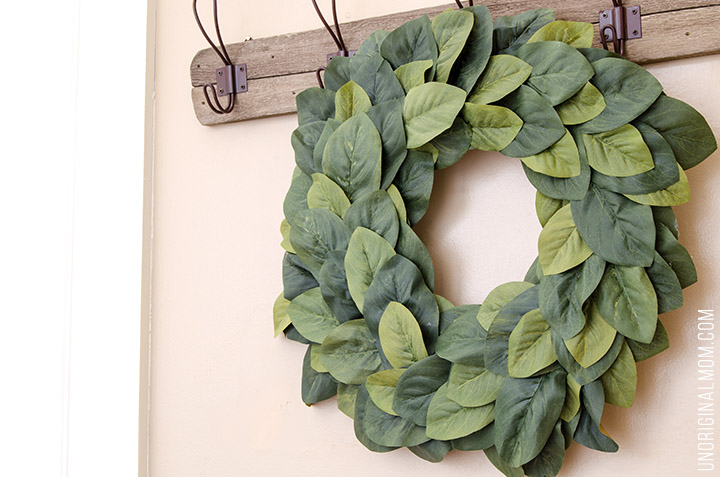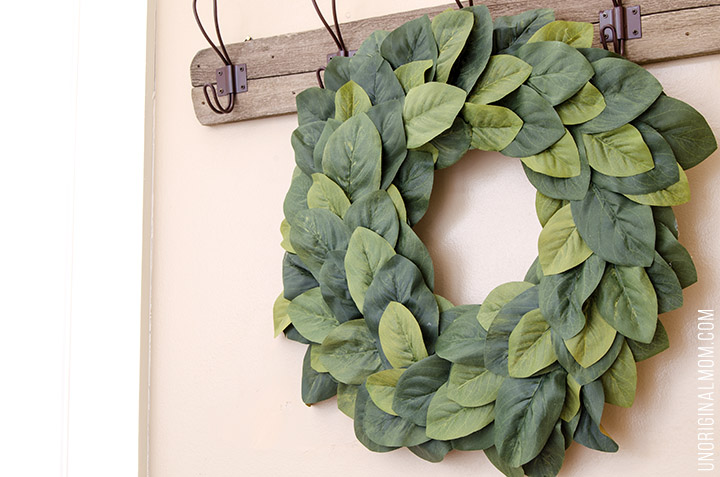 Get this look:
Barn wood hooks – source
DIY Painted Canvas Farmhouse Sign – Tutorial
Simple Wood Frame for a Canvas – Tutorial
*This post contains affiliate links.


Get your copy of my FREE meal planning binder!
Sign up to get a free copy of my meal planning system - an 11 page printable meal planning binder, complete with a pantry inventory, shopping list, and more to help get on top of your menu each week!