This post brought to you by Giant Food Stores. The content and opinions expressed below are that of unOriginal Mom.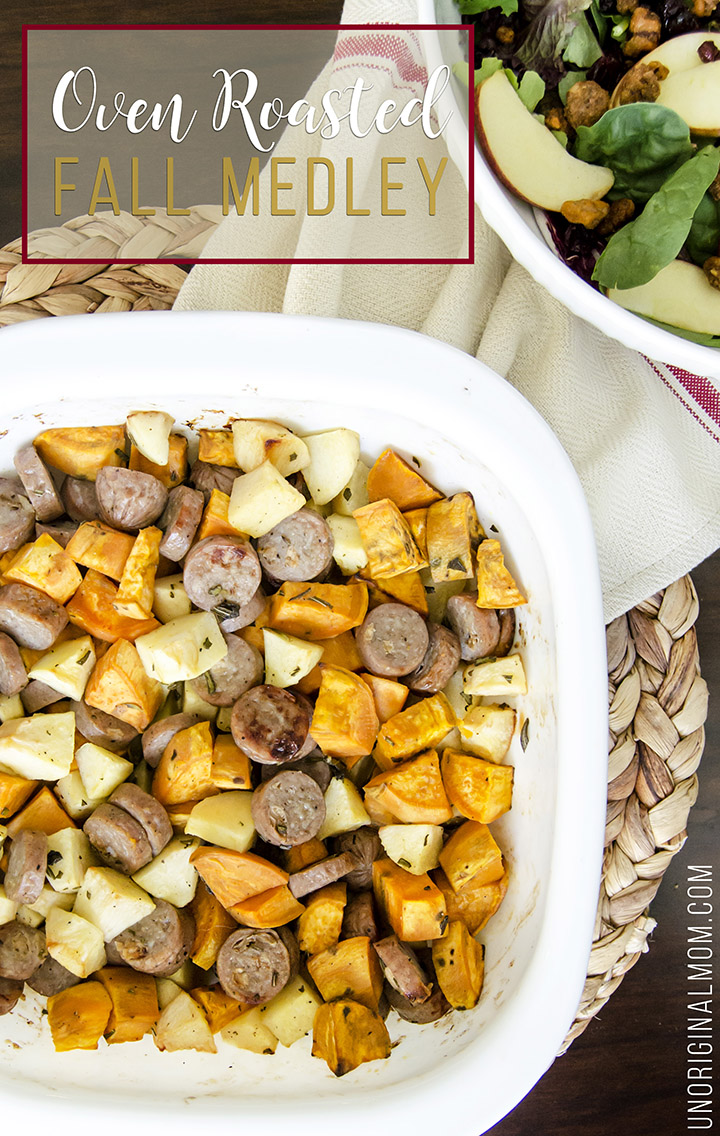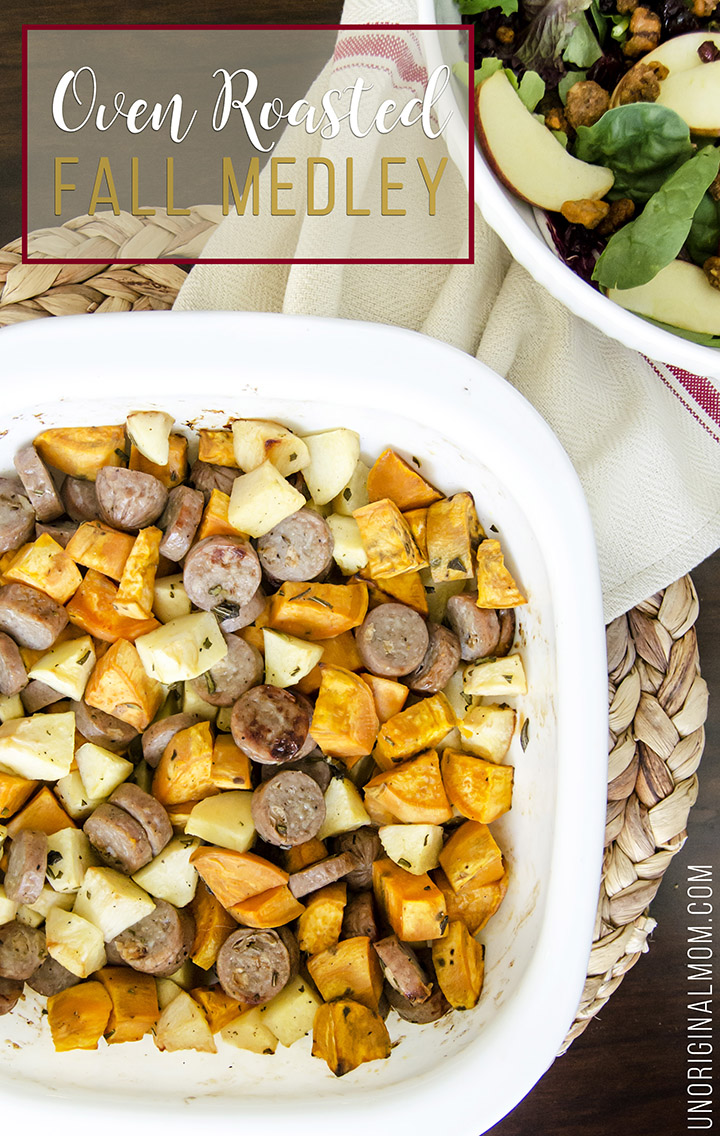 As much as I hate to let go of summer, I am so very excited for fall – it is one of my favorite times of the year! I especially love the flavors of fall. Pumpkin spice everything, apples, squash…yum! I have a super simple recipe to share with you today that is pretty much autumn on a plate…an oven roasted fall medley of chicken sausage, sweet potato, and apples. Delicious, healthy, kid friendly, and SO easy!
I love this recipe because not only is it incredible easy, it's a really healthy and nutritious meal that I feel good about serving to my family. Plus they always gobble it up – especially my 18 month old! I got turned onto this combination by some friends of ours that brought it to a potluck when they were asked to bring a "kid friendly dish." I love that they brought something healthy and delicious like this instead of the typical mac and cheese or chicken fingers. Don't get me wrong, we love us some good mac and cheese in our house…but it just goes to show you that "kid friendly" and "healthy and delicious" CAN in fact go together!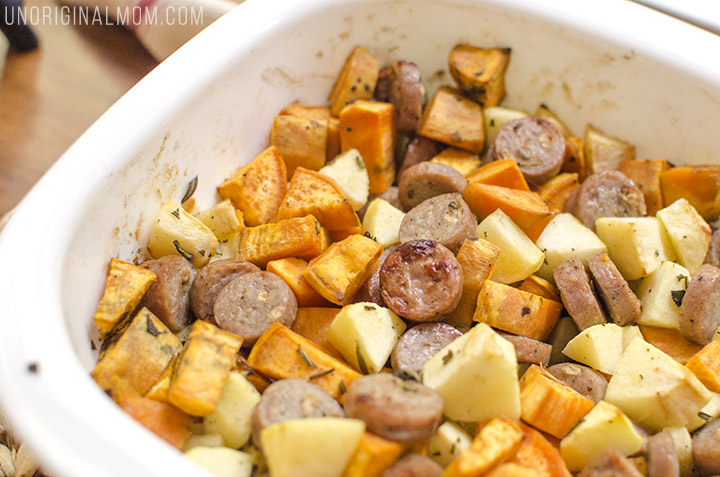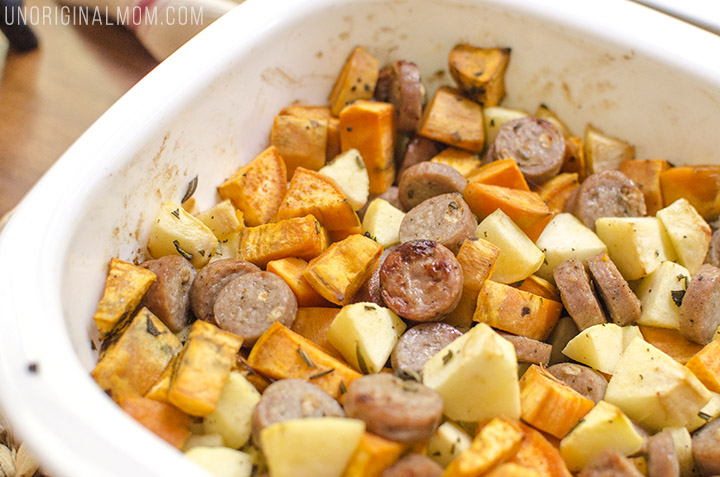 The stars of this dish are sweet potato, apple, and chicken sausage. It couldn't really be simpler – chop them up, toss them together, and bake!  I picked up my ingredients at my local Giant, which always has lots of affordable and quality organic food options through their Nature's Promise® line. I don't always buy organic, but I love that they have plenty of organic, free-from products at a budget-friendly price to choose from. Nature's Promise® Free from food products are just that—free from non essentials like artificial colors, artificial flavors, and artificial preservatives. I've been shopping at Giant my entire adult life and really appreciate that they always have a huge selection of affordable and healthy choices! Are you a Giant shopper? Load Offers for Nature's Promise Products To Your Giant Card Here! (Using mobile? Click here to load offers.)
I found some Nature's Promise® Sweet Apple Chicken Sausage that is PERFECT for this recipe. It was so yummy! And it was even more affordable than the "name brand" non-organic version too! I'll definitely be using this again. I've used Italian flavored chicken sausage in this recipe, also, and it works well.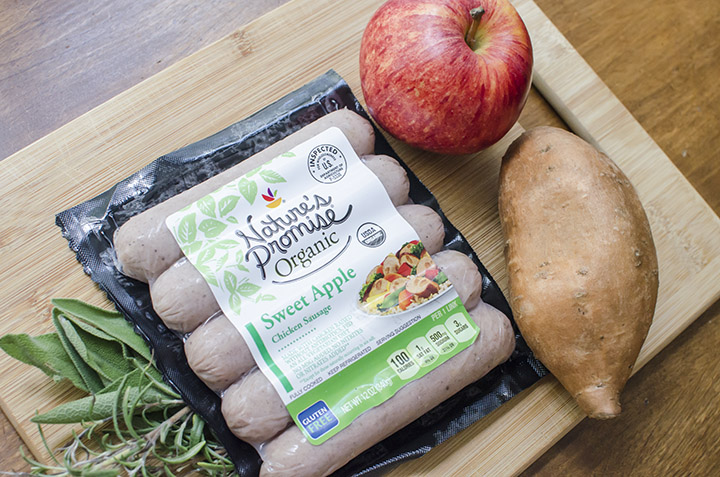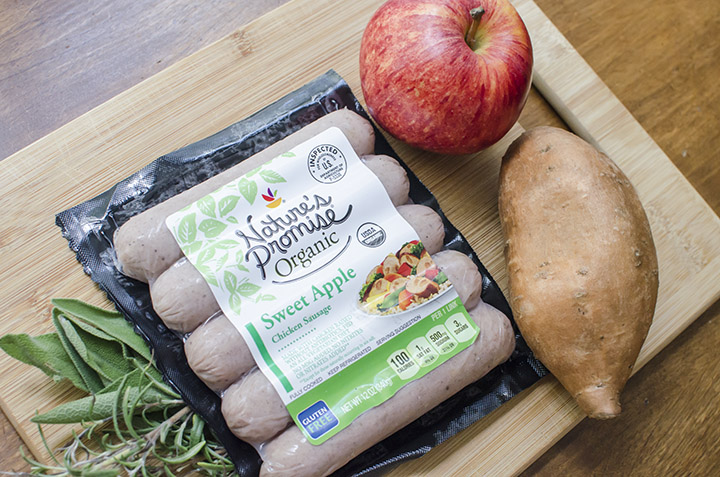 The flavors are so amazing by themselves, you really don't need add much of anything. I toss it with olive oil and some salt and pepper, and usually throw in some rosemary and sage…when I'm using Italian flavored sausage I'll sometimes throw in some basil or oregano instead. But you can really do anything you like. I've also had this dish made with a sprinkle of brown sugar and cinnamon, which makes it almost taste like dessert! You could use raw pork sausage instead of chicken sausage if you want, and I'm sure it would be delicious – you'd just need to bake it longer to make sure it gets cooked through. If you do that, I'd recommend waiting to add the apples until the last 20 minutes or so in the oven so they don't get too mushy.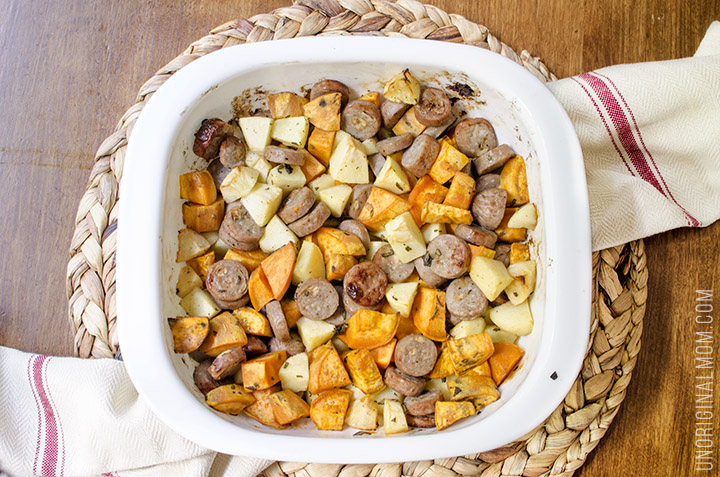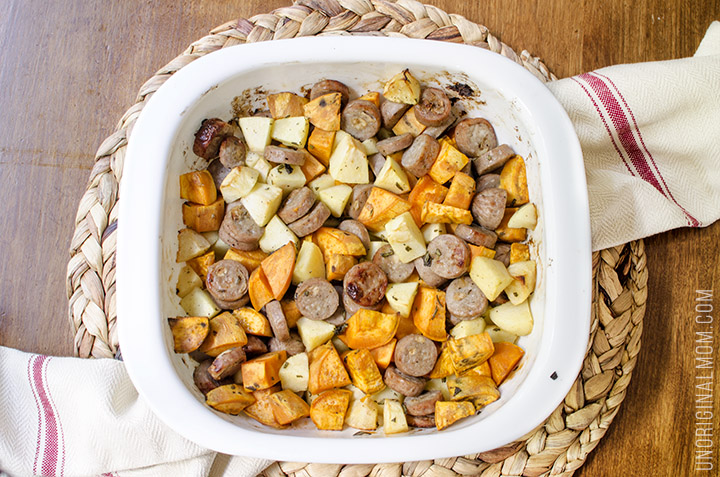 This is a hearty and filling dish, so I usually just serve it up alongside a green salad and call it finished. Maybe some crusty bread or wild rice if we're feeling extra hungry. I picked up some Nature's Promise® greens and added a sliced apple, craisins, and candied walnuts for a delicious salad.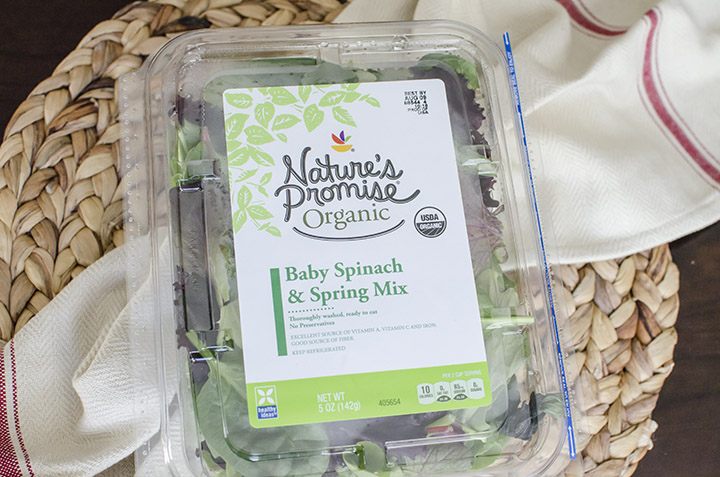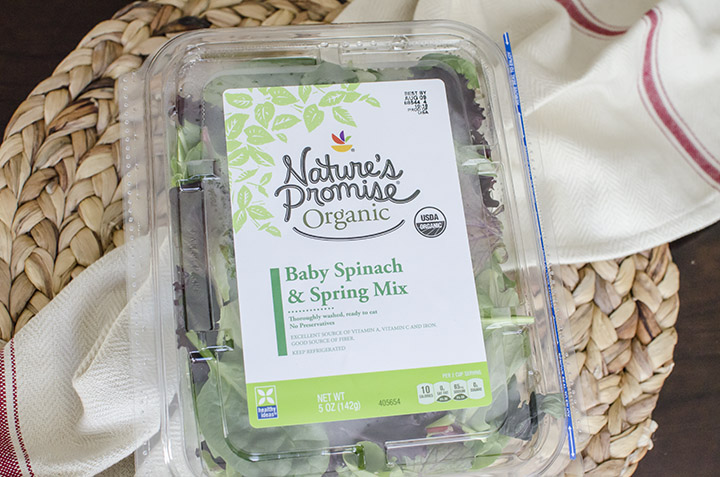 Isn't it pretty? Good food doesn't have to be complicated. Fresh and oh-so-yummy.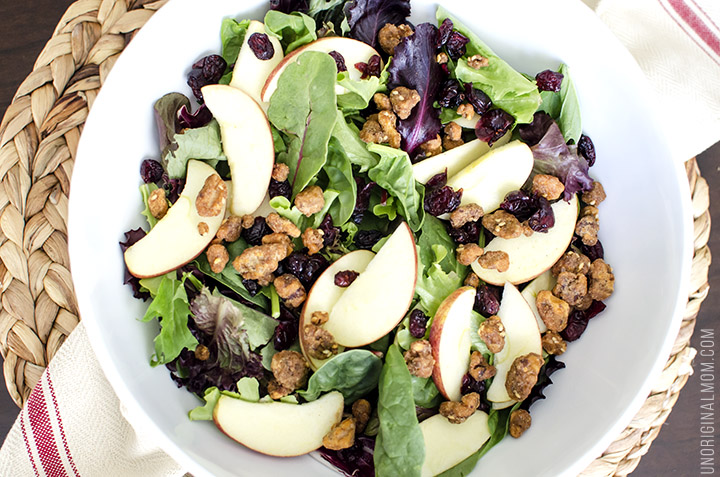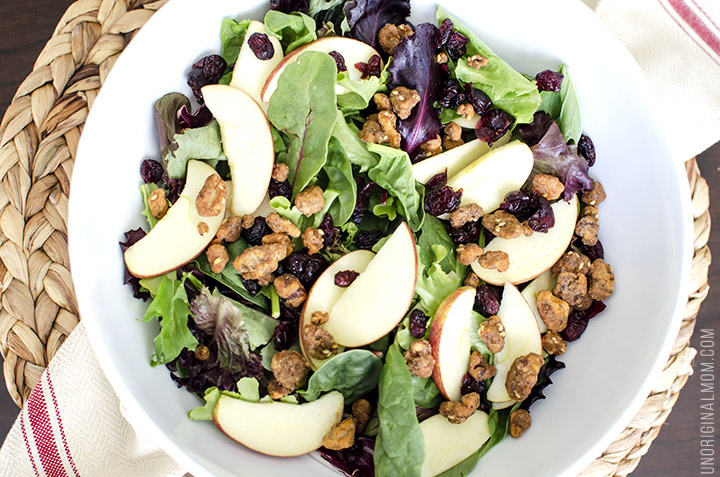 And just to prove to you how insanely easy this dish is to throw together, I put together a short little video for you visual learners. Just don't drool on your keyboard ;-)
And here's the Roasted Chicken Sausage, Sweet Potato, and Apples (aka Oven Roasted Fall Medley) recipe, in case you want to print it for reference:
Roasted Chicken Sausage, Sweet Potato, and Apple
Prep time:
Cook time:
Total time:
Ingredients
1 package chicken sausage, sliced
2 medium sweet potatoes, peeled and chopped
2 medium apples, peeled and chopped
1 t. sage
1 t. rosemary
olive oil to coat (2-3 T.)
salt and pepper to taste
Instructions
Preheat oven to 400.
Combine all ingredients in a bowl and stir to evenly coat the olive oil and spices.
Pour into a shallow casserole dish or 9x13 pan.
Bake for 30-35 minutes, stirring once halfway through.
What are your favorite fall flavors? Do you have any other favorite dishes to make this time of year?


Get your copy of my FREE meal planning binder!
Sign up to get a free copy of my meal planning system - an 11 page printable meal planning binder, complete with a pantry inventory, shopping list, and more to help get on top of your menu each week!