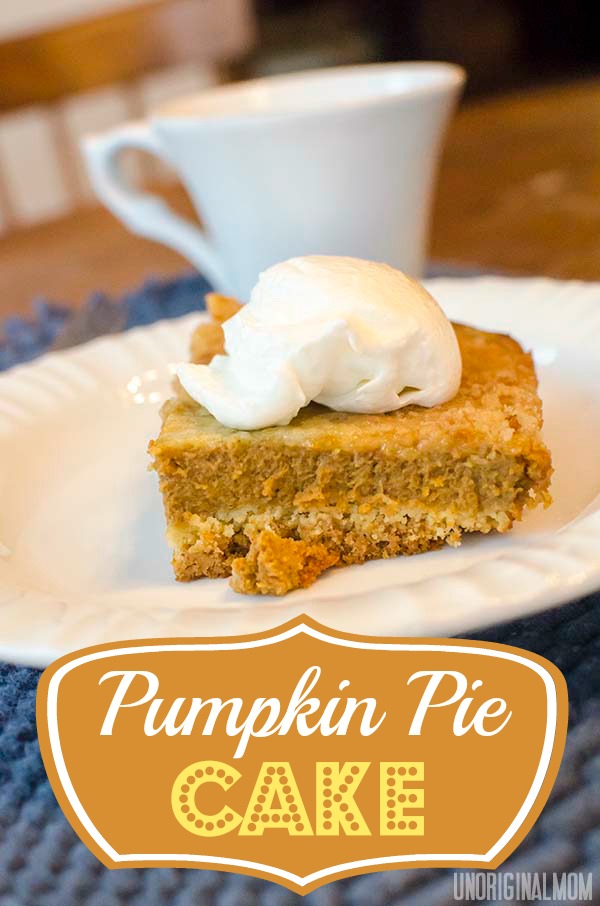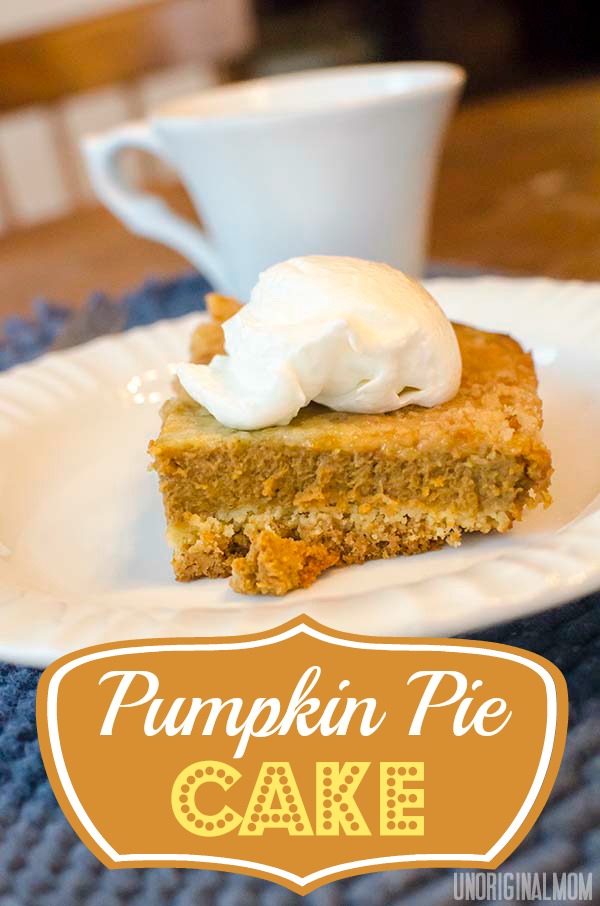 I had this delicious Pumpkin Pie Cake at a teacher's potluck several years ago and loved it so much I knew I had to get the recipe.  I've made it many times since then through the fall and holiday season.  It is a yummy alternative to pumpkin pie – and much easier!
The trick is a yellow cake mix – you use it in the crust layer as well as the topping.  The middle layer has a pumpkin-pie-like texture without being quite as heavy or thick.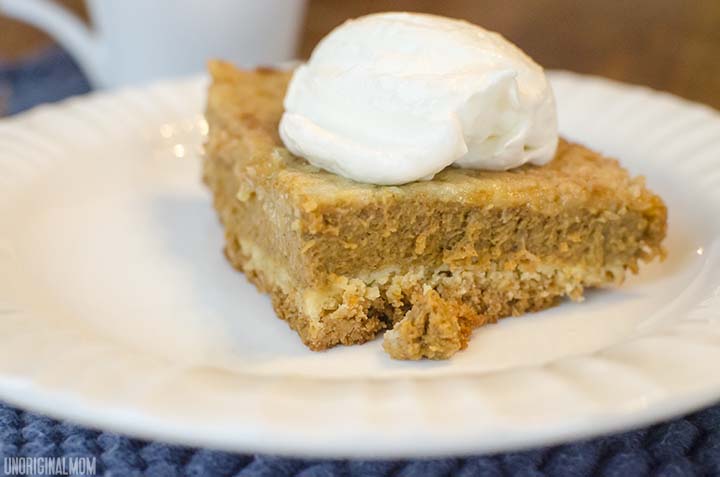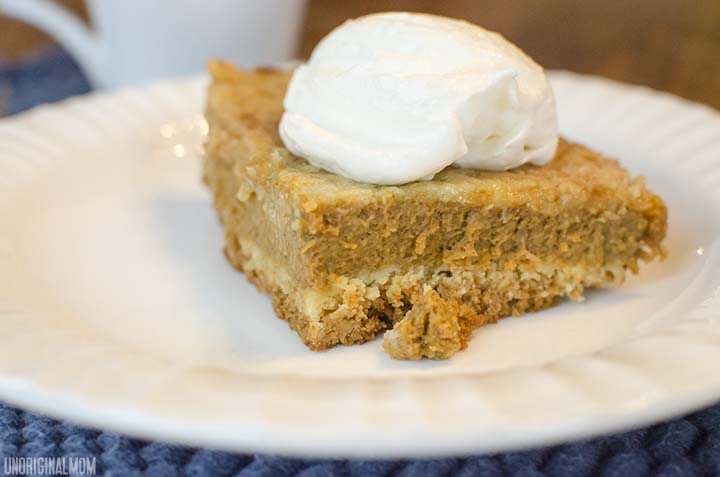 It's really very simple!  The crust layer is yellow cake mix (an entire box, minus one cup reserved for the topping), melted butter, and an egg.  Spread it on the bottom of a greased 9×13 pan using a rubber spatula, making it an even thickness throughout.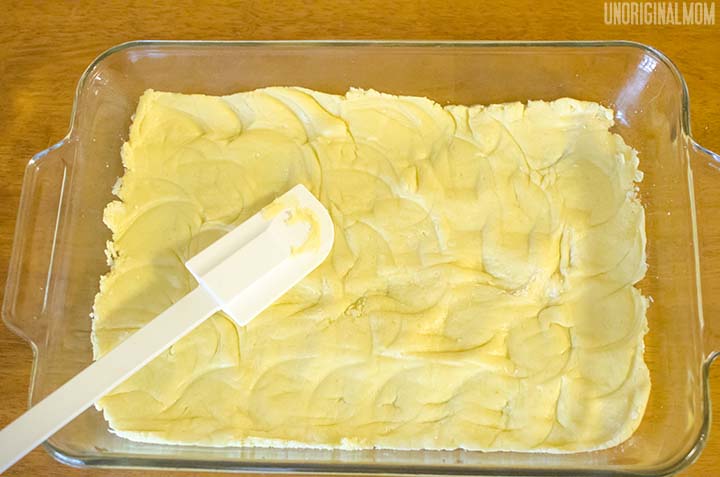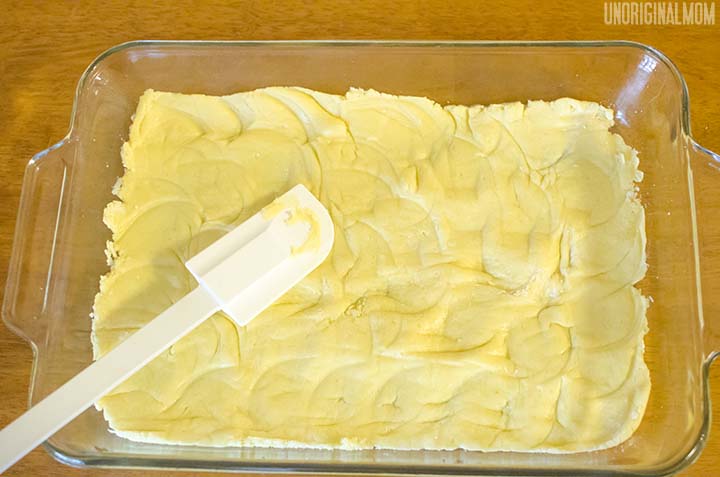 The "pie" layer in the middle is a can of pumpkin, eggs, brown sugar, milk, pumpkin pie spice, cinnamon, and vanilla.  It will be rather soupy when you mix it up.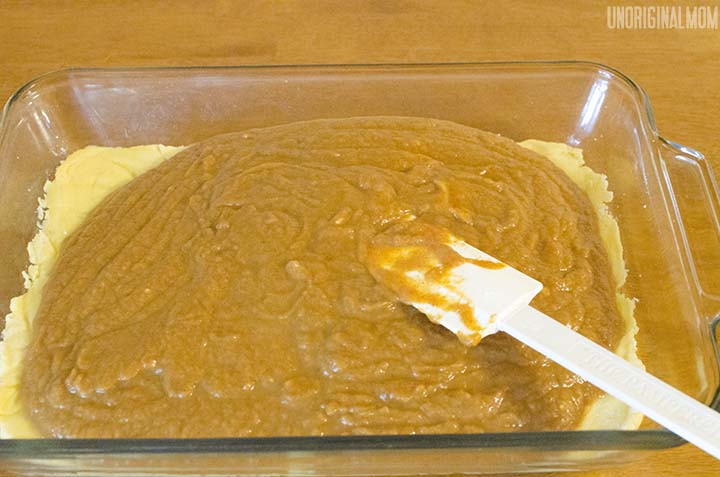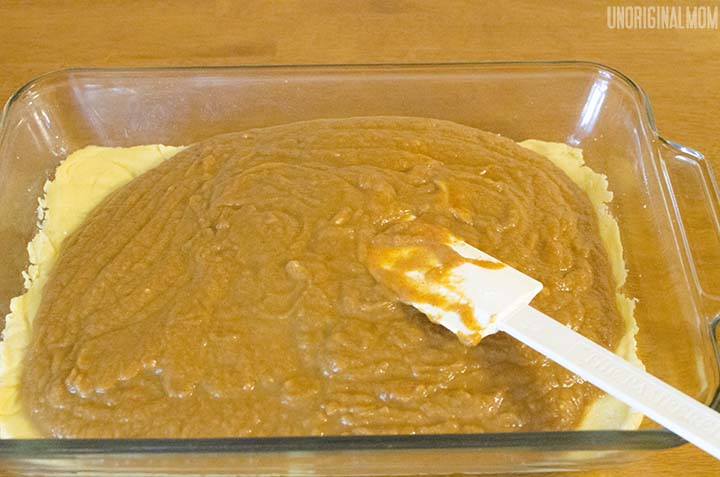 The top layer is chilled butter, sugar, and the rest of the cake mix.  I used a food processor to blend it all together – you could use a pastry blender or a fork if you'd rather.  If you're a nut person, you could add some walnuts on top.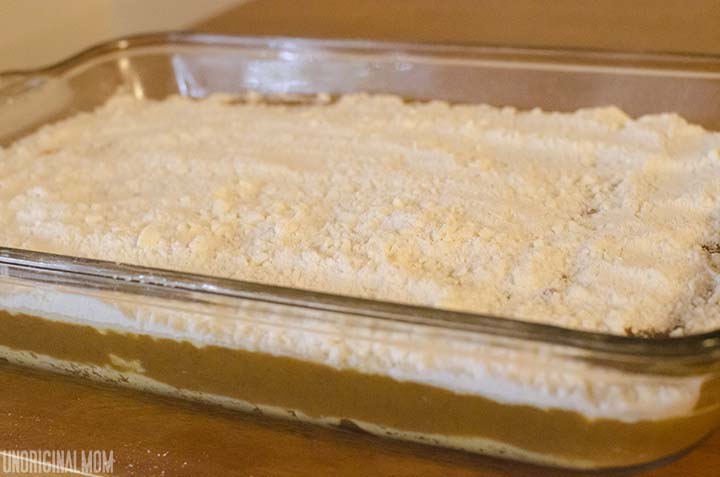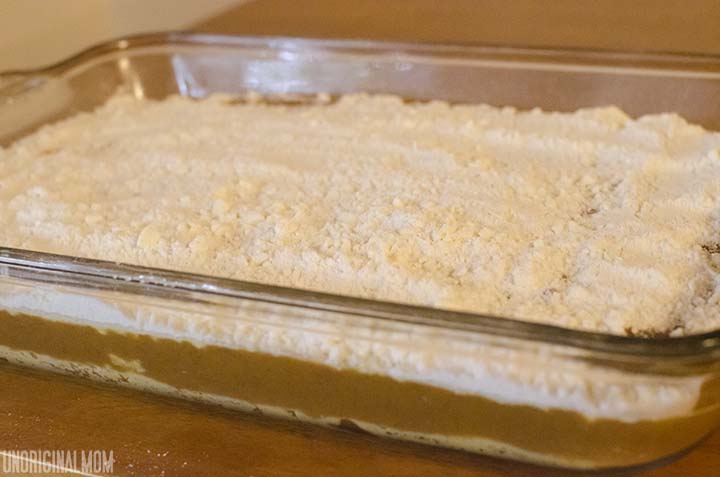 Bake it in the oven for about 50 minutes – as an added bonus, your house will smell like a pumpkin spice candle!  (I wish I had smell-o-vision on my blog…it seriously smelled incredible!)  The top will get a little bit brown in spots, but it's not supposed to get completely brown – if you leave it in too long, the bottom crust will get burned.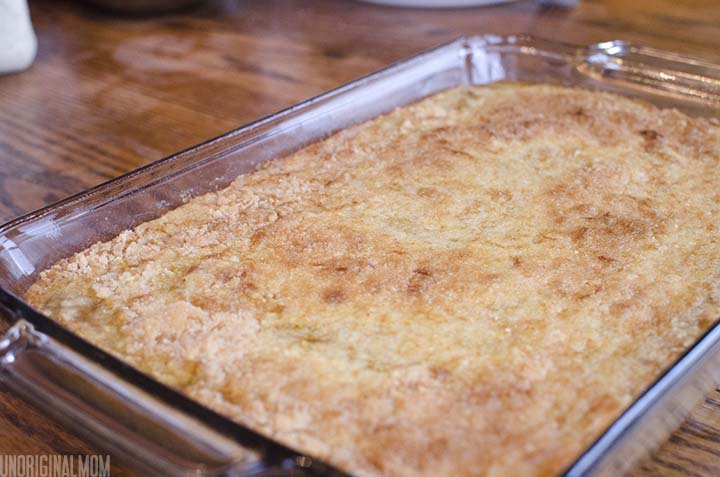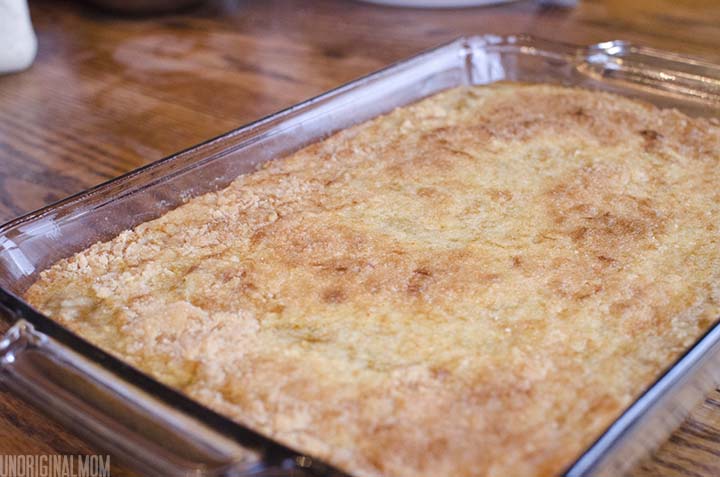 It's actually best if you don't serve it fresh from the oven…let it cool, or even put it in the fridge for a few hours before you're ready for it.
I like to serve it with some cool whip on top…yum!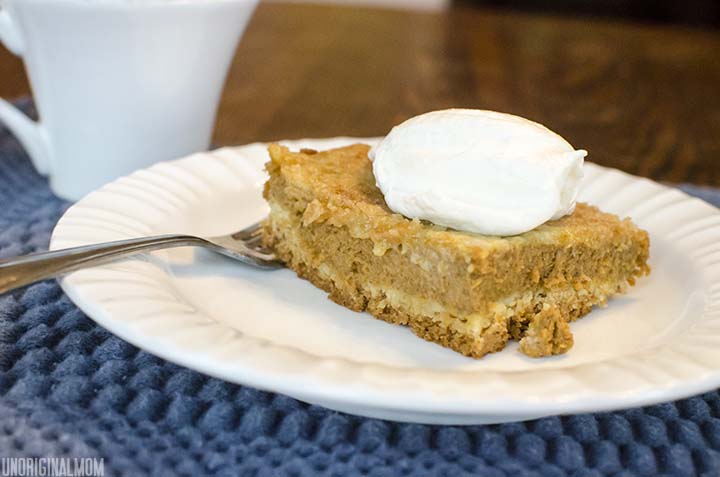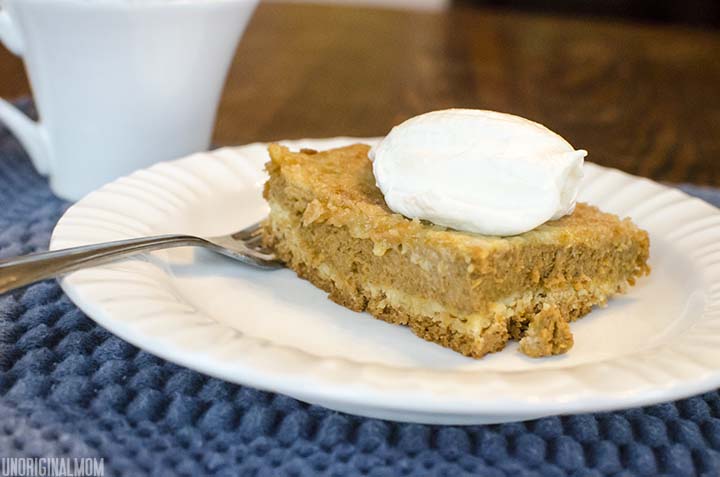 It keeps best when stored in the fridge.  Anything with pumpkin in it doesn't keep too long anyway, so eat it up within a few days.  (I don't think you'll have any problem with that!)
This is such a great potluck dish for around the holidays, too.  Very quick and simple to put together, and everybody loves it!  I've found that even people who aren't big fans of pumpkin pie actually really like this Pumpkin Pie Cake.
What are your favorite Holiday Potluck recipes?
Ingredients
CRUST:
1 package yellow cake mix (18.25 oz), minus 1 c. (reserve for topping)
1/4 c. butter, melted
1 egg
FILLING:
1 can pumpkin (29 oz)
1/2 c. brown sugar
2/3 c. milk
3 eggs
1 T. pumpkin pie spice
1 T. cinnamon
1 t. vanilla
TOPPING:
1 c. yellow cake mix
1/4 c. butter, chilled
1/2 c. white sugar
Instructions
Preheat oven to 350 degrees. Lightly grease a 9x13 baking dish.
Mix ingredients for crust. Press into the bottom of the baking dish.
Mix ingredients for filling. Pour over crust.
Using a food processor, pastry blender, or fork, mix together topping. Sprinkle over filling.
Bake for 45-50 mins. Top will be slightly golden.
https://www.unoriginalmom.com/pumpkin-pie-cake/




Get your copy of my FREE meal planning binder!
Sign up to get a free copy of my meal planning system - an 11 page printable meal planning binder, complete with a pantry inventory, shopping list, and more to help get on top of your menu each week!