I am a member of the Collective Bias®  Social Fabric® Community. This shop has been compensated as part of a social shopper amplification for Collective Bias and its advertiser.  As always, all thoughts and opinions are entirely my own.  #EatMoreBites #CollectiveBias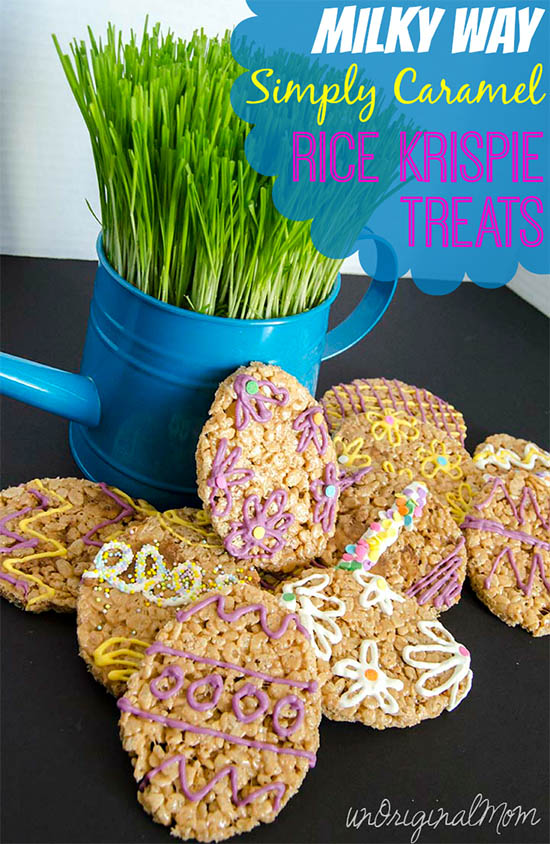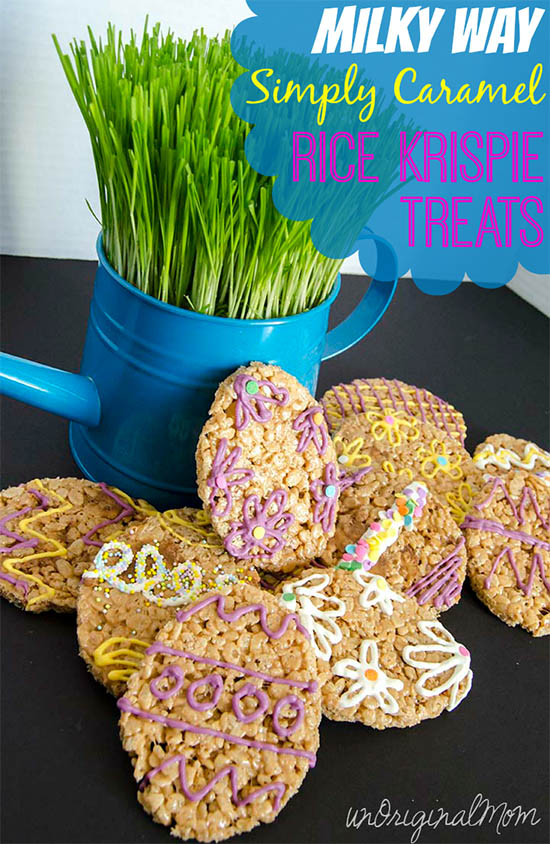 Alright, you guys, I think I may have a new favorite dessert.  Seriously, these are THAT good.  I have always been a fan of Rice Krispie Treats, but add in some Milky Way Simply Caramel BITES, and OH. MY. GOSH.  Deliciously crunchy with just a hint of chocolate and enough caramel to make it a little bit gooey.  In fact, I think I need to stop writing this post to go get another one to snack on.  Here, enjoy how yummy they look while I'm gone.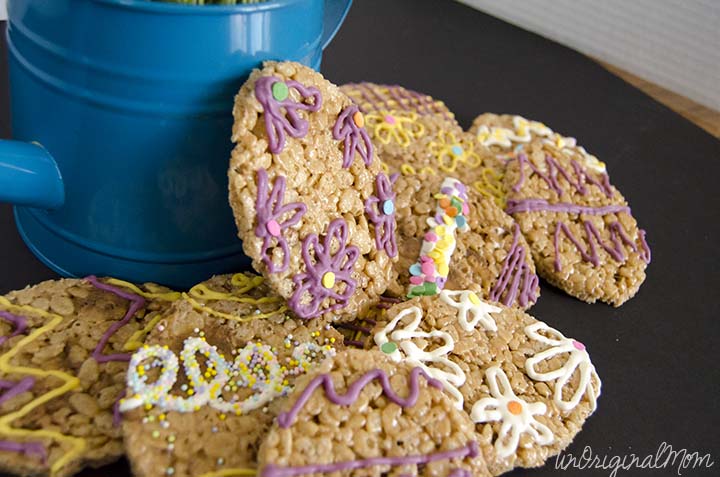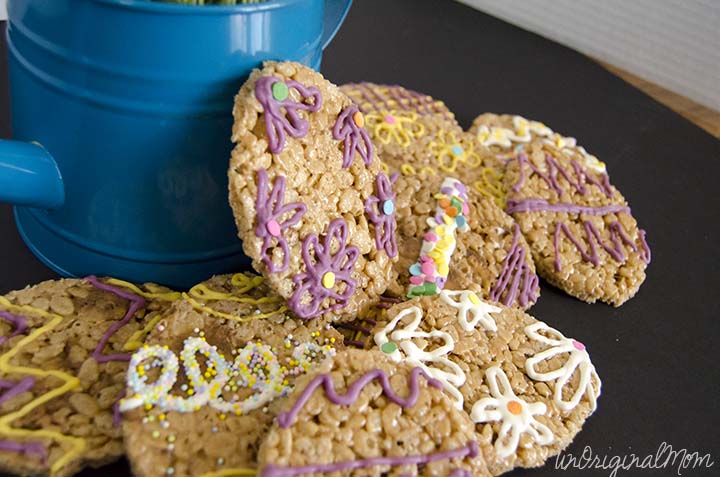 Mmmmm, so good.
For this recipe, I was inspired (again) by Mallow & Co.  She is the marshmallow treat QUEEN.  You can see her recipe for Milky Way Rice Krispy Treats HERE.  I decided to try it with the new Milky Way Simply Caramel BITES, and put a fun Easter spin on it, too.  They were easy to find at Walmart – my store had a big display in the middle of the candy aisle full of them, but there were even more on the shelves.  (And I had a helper along with me who was more than happy to hold the candy!)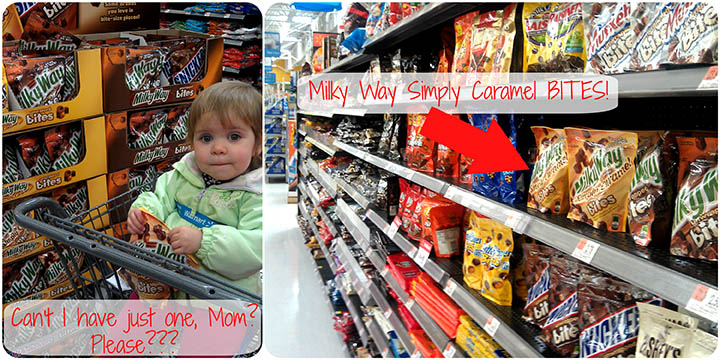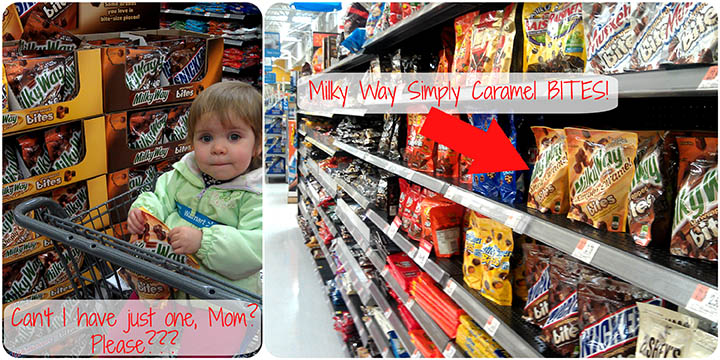 Honestly, these are addictively delicious.  (I think that I may give them a try with Three Musketeers BITES next time, 'cause I have a feeling they would also be pretty darn yummy.)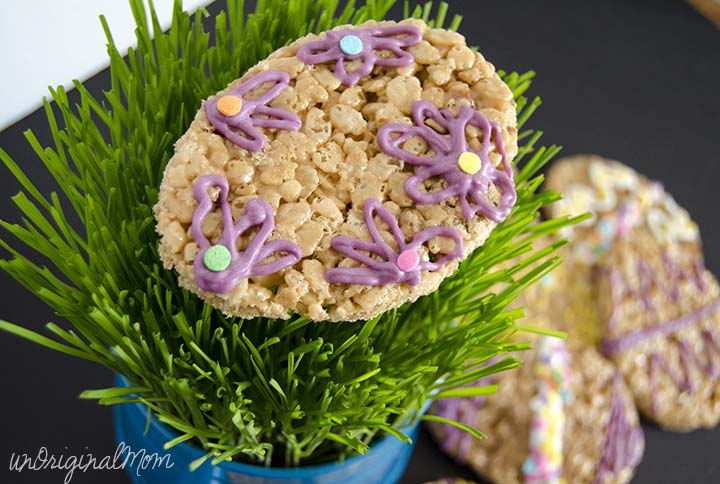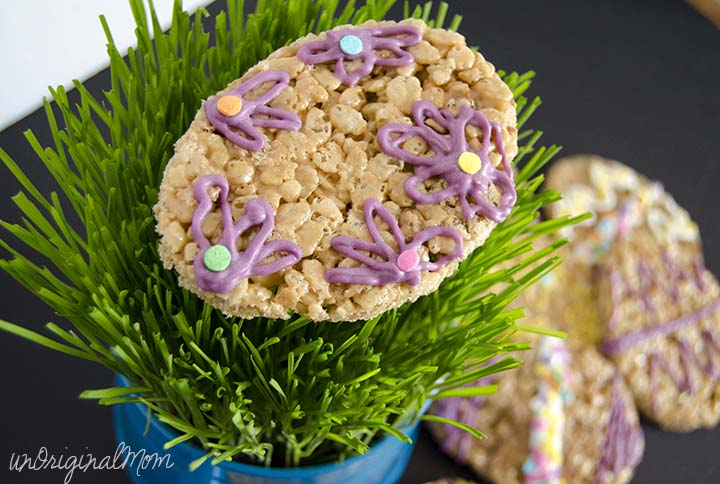 Plus, they are really easy to make!  You'll need a 6 oz. package of Milky Way Simply Caramel BITES, divided in half.


Take the other half of the BITES and melt them in a saucepan with 5 T. butter over low heat.
Once the BITES and butter have melted completely, add in 5 c. of mini marshmallows.  Cook low and slow until the marshmallows are almost completely melted, then add the final cup of mini marshmallows along with 1 teaspoon of vanilla and continue heating for about another minute.  (I like leaving that last cup of marshmallows until the end so you still end up with some chunks of marshmallows in the rice krispie treats.)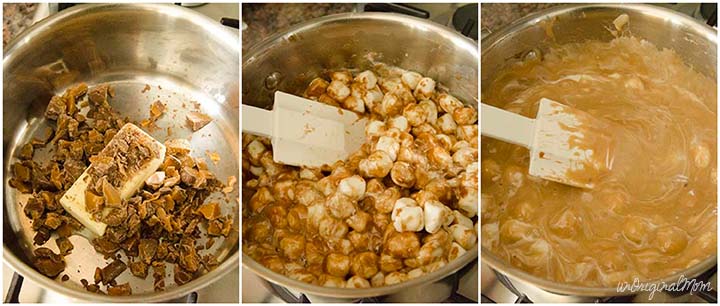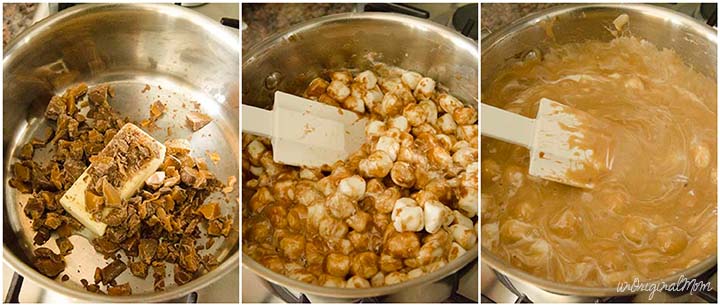 Pour the marshmallow mixture into the large bowl over the rice cereal.  Mix together, then dump the sticky blob onto some wax paper.  Let it sit for about 5 minutes to cool.


Here's where I went in an Easter direction…but you could just as easily put them into a pan, cut them into plain old squares, and eat them up.  They'll taste just as good, but won't be nearly as cute!  I rolled my rice krispie "dough" out to about 1/4″ thickness using a rolling pin, then cut out the Easter egg shapes with a cookie cutter.  You'll end up with scraps that you can either a) eat now, b) eat later, or c) re-roll out and cut some more eggs, and still eat them later.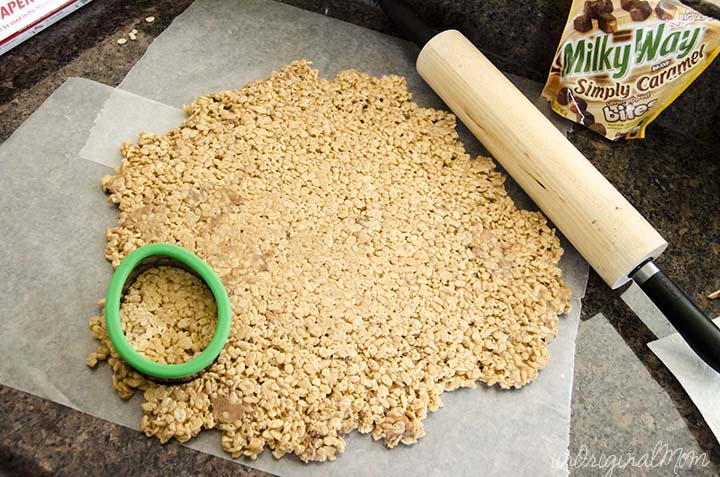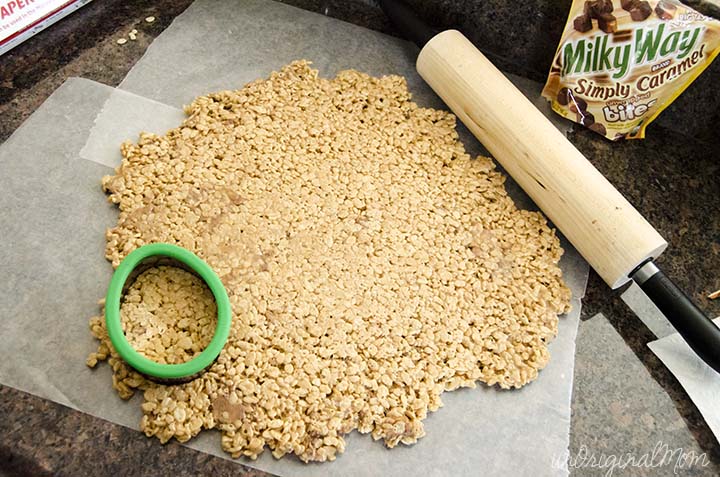 I decorated my rice krispie Easter eggs with colored candy melts that I piped on in a ziploc bag.  Just follow the instructions on the candy melts package to melt the candy in the microwave, then spoon it into a ziploc bag and cut a tiny piece of the corner off to make it into a piping bag.  I also added some pastel colored sprinkles to a few of my eggs.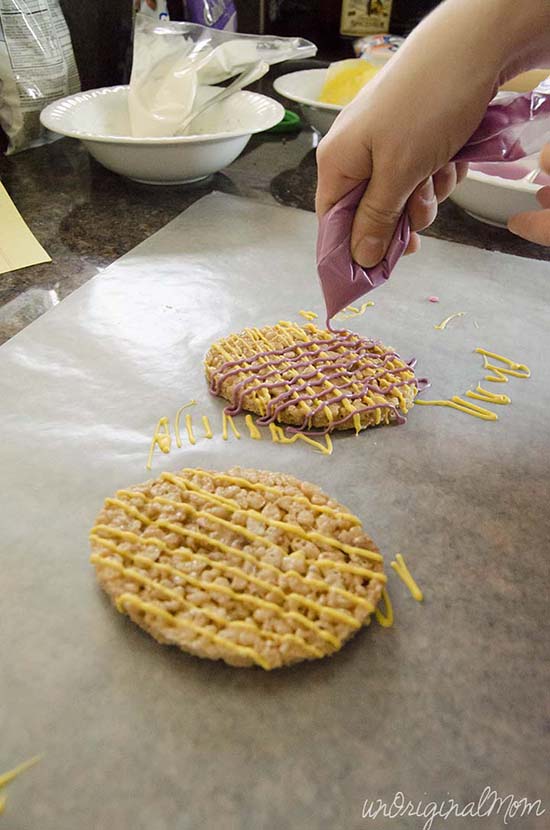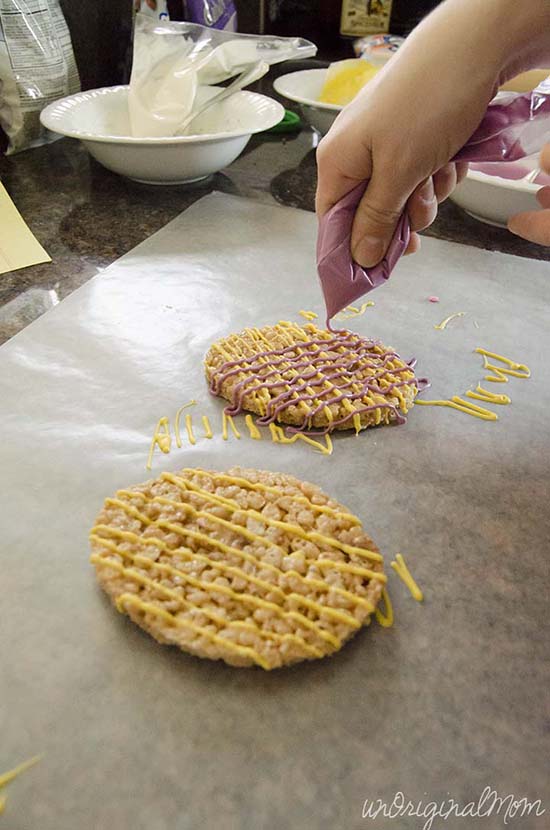 I'm no cake decorator so these definitely aren't works of art…but they are pretty cute!  This would be a really fun thing to do with your kids, too!  Or a neat activity for kids at an Easter get-together.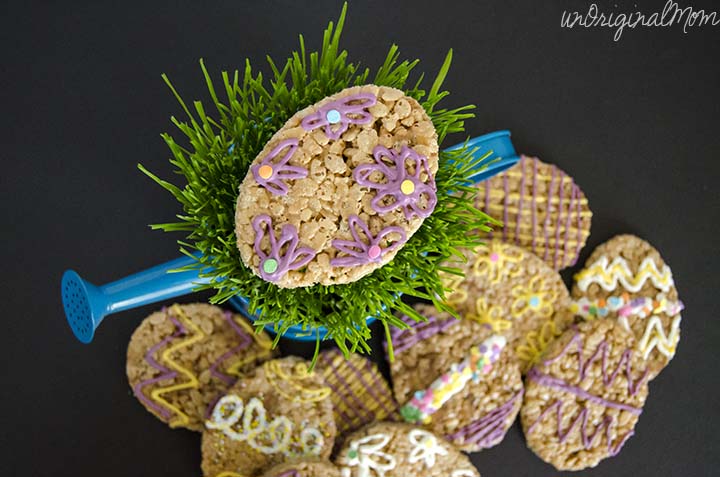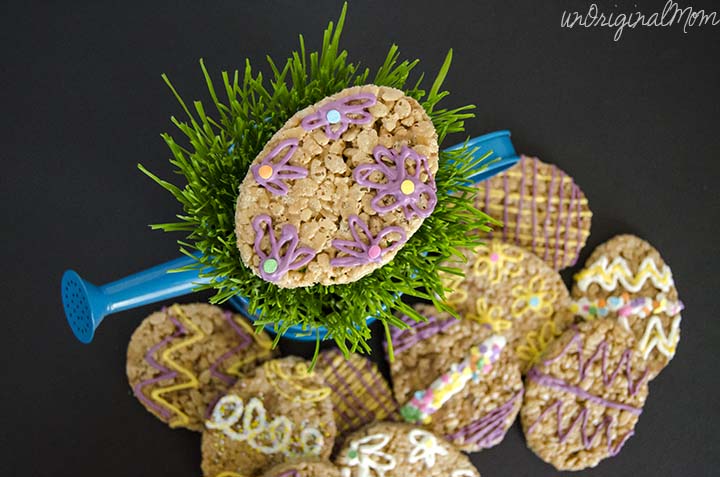 Whether you'd like to try making this recipe or you just want a great candy to snack on (or even include in Easter baskets!), hurry on over to Walmart to pick up your own package of Milky Way Simply Caramel or Three Musketeers BITES.  Don't forget to print your coupons first!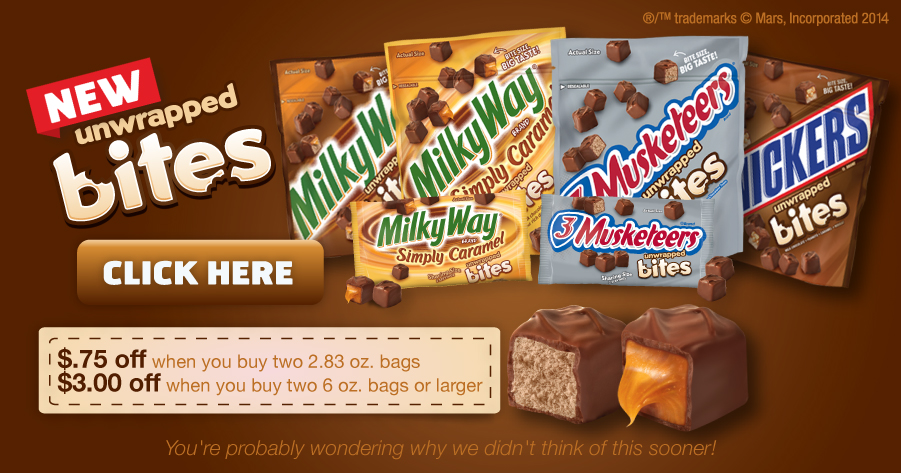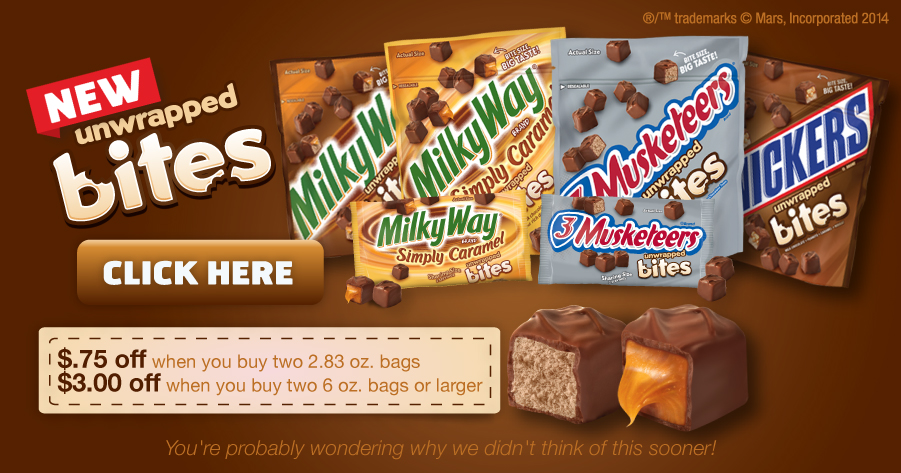 Milky Way Simply Caramel Easter Egg Rice Krispie Treats
Ingredients
6 oz. package Milky Way Simply Caramel BITES, divided
5 Tbsp butter
6 cups mini marshmallows
1 tsp vanilla extract
6 cups crisped rice cereal
Instructions
Roughly chop half of the BITES and add them to the rice cereal in a large mixing bowl. Set aside.
Take the other half of the BITES and melt them in a saucepan with 5 T. butter over low heat.
Add 5 c. of mini marshmallows and stir until melted. Add the last cup of marshmallows and vanilla, continue stirring until mostly melted. Remove from heat.
Pour marshmallow mixture over the bowl of rice cereal. Stir to combine.
Dump out onto wax paper. (Or, if desired, into a 9x13" greased pan.) Allow to sit for 5 minutes.
Roll out with a rolling pin to desired thickness and use a cookie cutter to cut out Easter shapes.
Decorate, and enjoy!
https://www.unoriginalmom.com/milky-way-simply-caramel-easter-egg-rice-krispie-treats/




Get your copy of my FREE meal planning binder!
Sign up to get a free copy of my meal planning system - an 11 page printable meal planning binder, complete with a pantry inventory, shopping list, and more to help get on top of your menu each week!