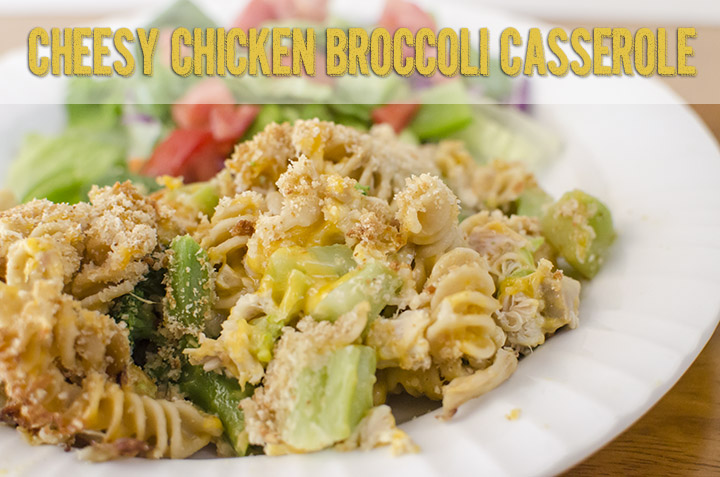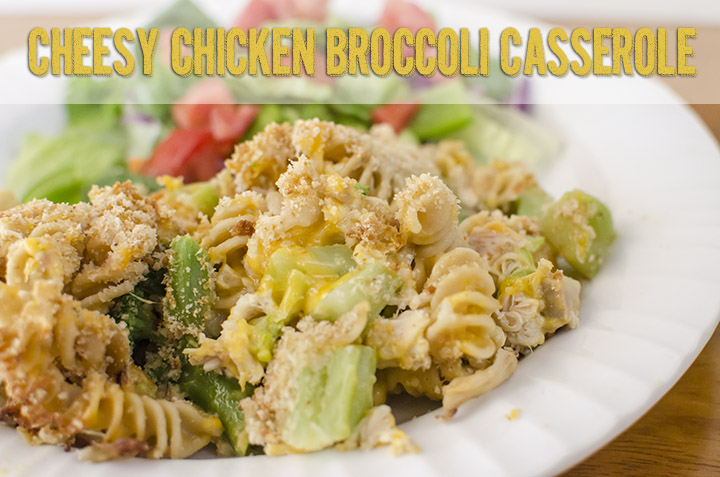 Well, it is officially back-to-school around here.  Classes at the university started last week, and all of the local schools are in session as of yesterday.  And even though I don't have a school-aged child yet, the slow, easy pace of summer is gone and we are beginning to get back in the regular swing of things.  It seems like every weeknight we either have somewhere to rush off to, or something on the agenda to get done around the house!  Bye-bye, summer.
The dilemma in our house is, with our 13 month old being the dramatic, high-maintenance little girl that she is (hopefully a phase???), I usually can't get dinner started until after my husband gets home and can keep an eye on her…and that means that we're either A) not eating until 6:30 or later, or B) eating quick and easy "convenience" meals like frozen skillet meals, frozen pizzas, etc.  But then I had an "a-ha!" moment and realized a type of meal I could prep during naptime in the afternoon and just throw in the oven later on – CASSEROLES!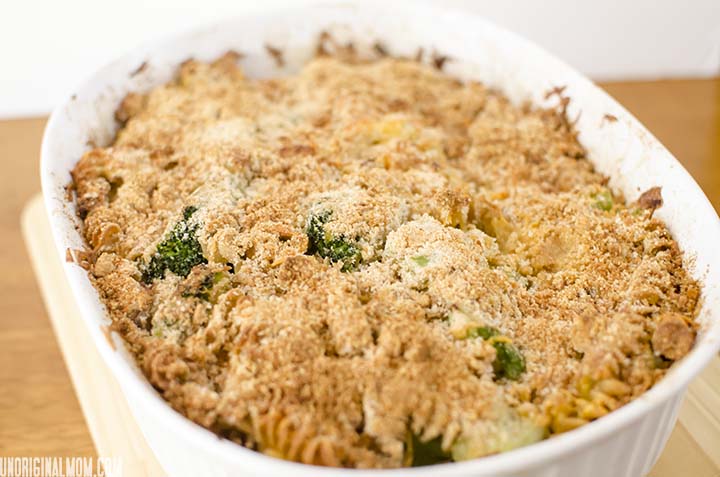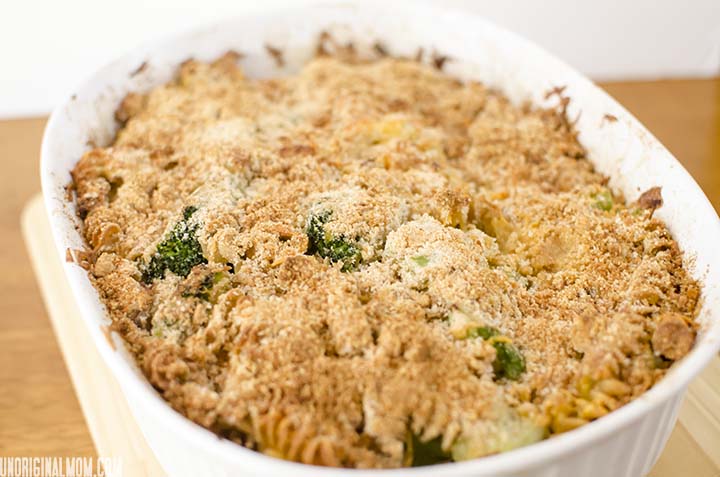 I don't know why casseroles get such a bad rap…granted, they're (usually) not the most exciting food in the world, but there's a reason why it's called comfort food!  Not to mention one-dish clean up, and the ability to prep ahead of time!  "Quick Fix" casseroles are also great for busy moms of busy kids (or should we call you chauffeurs?) getting back into the school year routine.  You can prep it before the kids get home, if you are able…or even if you can't prep it early, it's great to be able to throw it together, pop it in the oven, and have 30-45 minutes to get some other things accomplished while it bakes.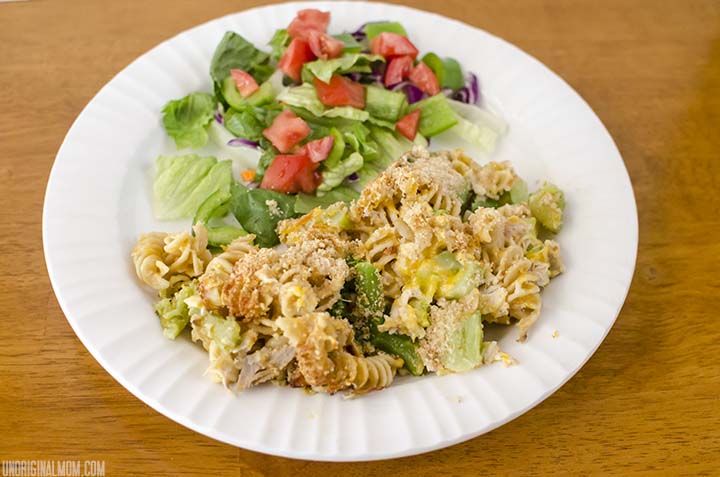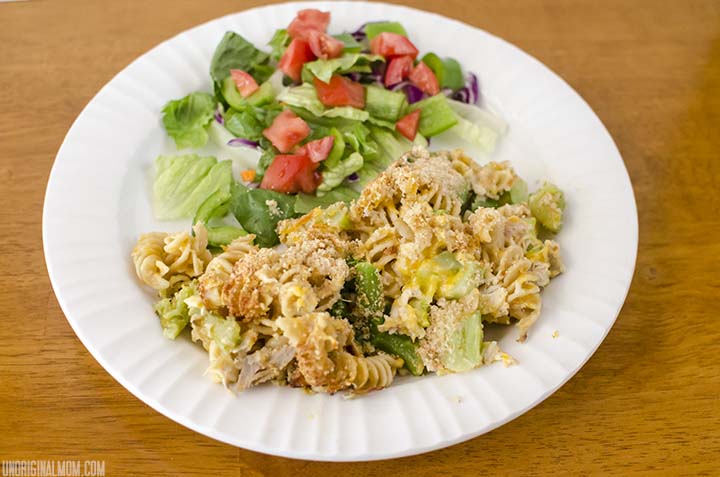 I tried a Cheesy Chicken Broccoli Casserole from the Country Crock website, and it was delicious!  A few modifications I made from the posted recipe:
I used whole grain rotini pasta

Instead of mixed veggies, I just used a bag of frozen broccoli since I had it on hand
I used Country Crock spread as it's called for
I used a rotisserie chicken (If you buy a cold one, it is SUPER easy to remove the skin, get all the meat off the bones, and chop it up – I did all that while the pasta was cooking!  And had a ton leftover for chicken salad the next day!)
Since I made it in the afternoon and popped it in the fridge for a few hours, I ended up baking it for about 45-50 minutes instead of the recommended 30.
In hindsight, I wish I'd added a bit more cheese…I did 2 cups, and 2.5 cups would probably have been better.  Also there was a little too much bread crumb mixture, I ended up not using all of it.
Pre-baking – all mixed up and ready for the fridge!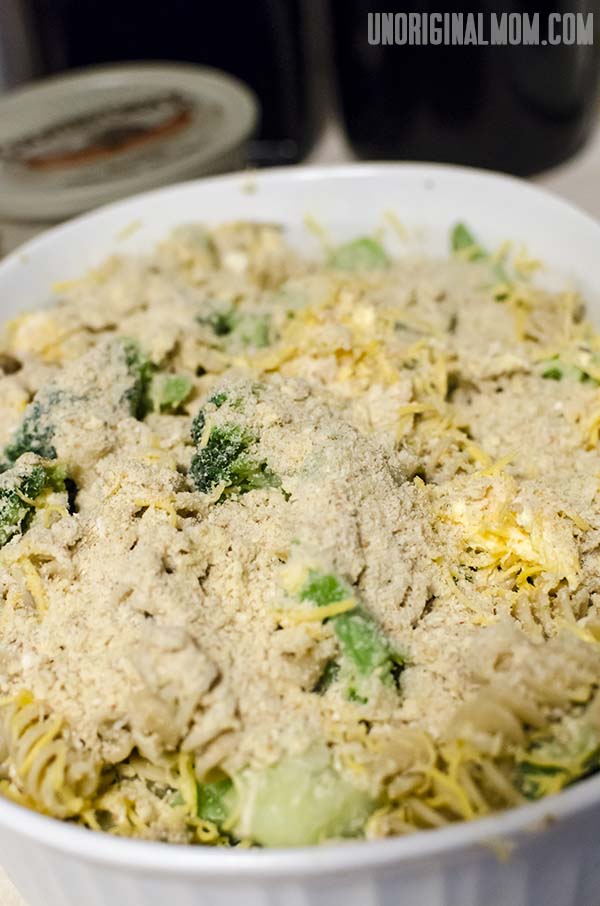 And, when you're cooking with Country Crock, you can feel good about feeding it to your family – 0g trans fat per serving, no cholesterol, no partially hydrogenated oils, plus 30% fewer calories AND 70% less fat than butter per serving!  Head on over to like them on Facebook and follow them on Pinterest for more great recipe ideas!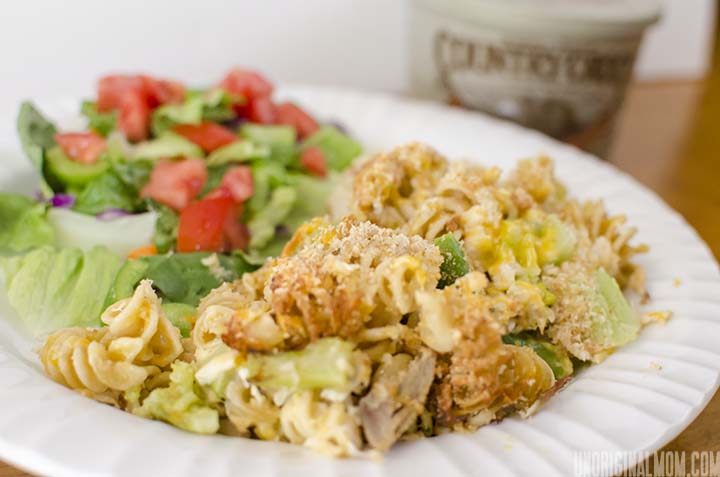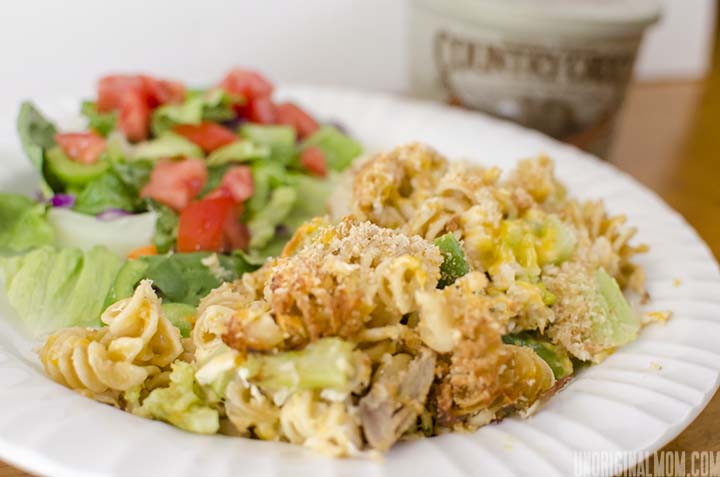 Get the recipe HERE!
What are some of your favorite casserole recipes?  I'd like to make "quick fix casserole night" a regular in our menu rotation and would love to hear some of your family's favorites!
 I was selected for this opportunity as a member of Clever Girls Collective and the content and opinions expressed here are all my own.




Get your copy of my FREE meal planning binder!
Sign up to get a free copy of my meal planning system - an 11 page printable meal planning binder, complete with a pantry inventory, shopping list, and more to help get on top of your menu each week!