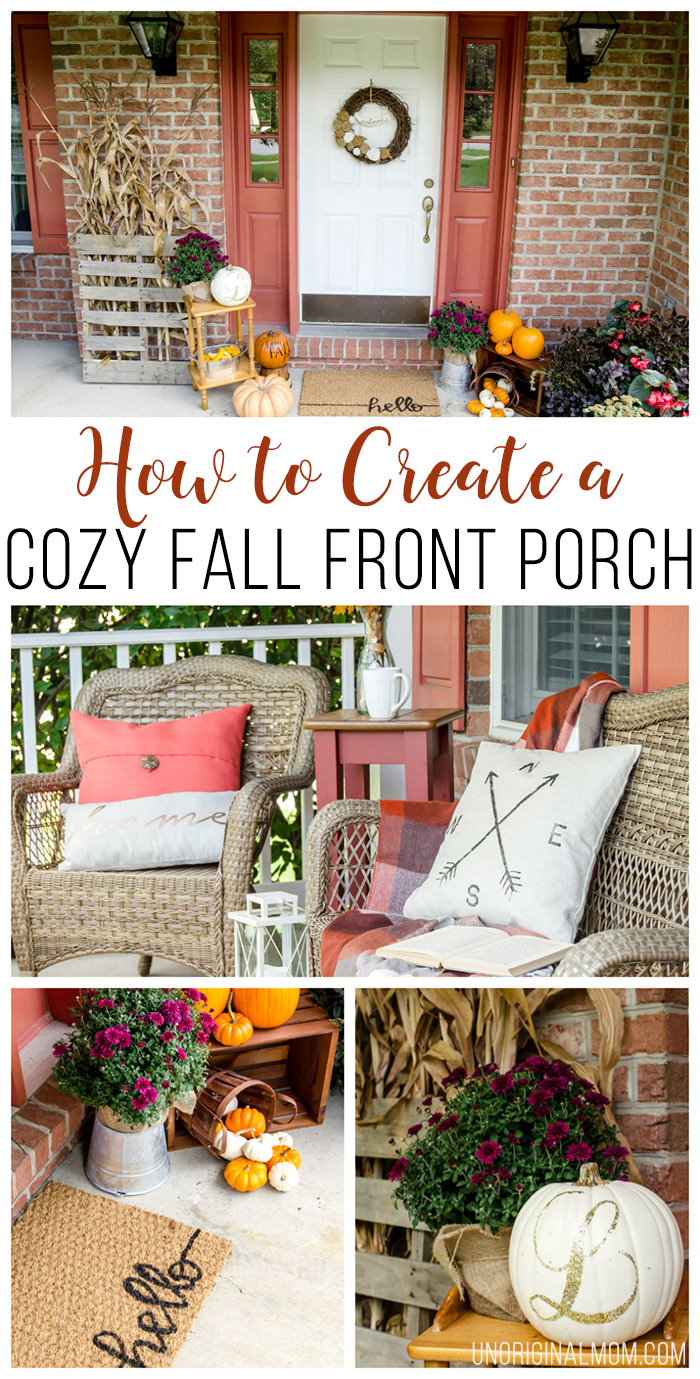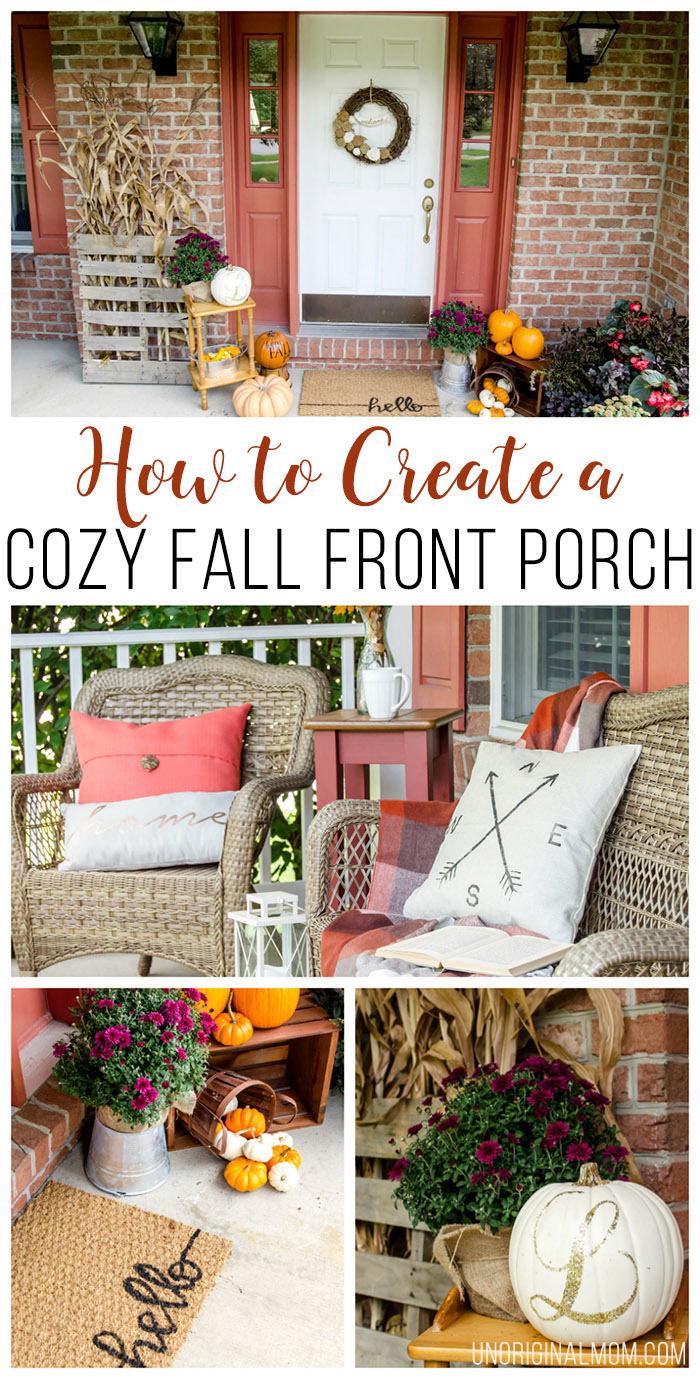 I'm excited to be welcoming you onto my front porch today! I always enjoy decorating my porch with the seasons, but 1) I've never actually shared it on the blog before, and 2) fall front porches are my FAVORITE! Yay!!  I started bringing out my fall decor little by little starting at the end of August into the beginning of September…I'm sure my neighbors thought I was a little bit crazy. It took me a while to get all the elements I wanted pulled together, but now that it's all "done" I just smile every time I see it.  I am no decorating expert, but in all of my obsessive Pinterest browsing of fall front porches I feel like I've learned a bit along the way, so as I give you the tour I'll share a few tips on how to create a cozy fall front porch of your own – take 'em or leave 'em ;-)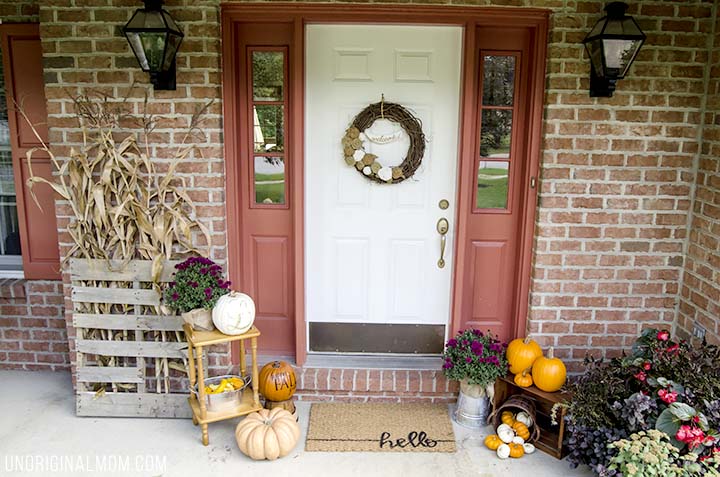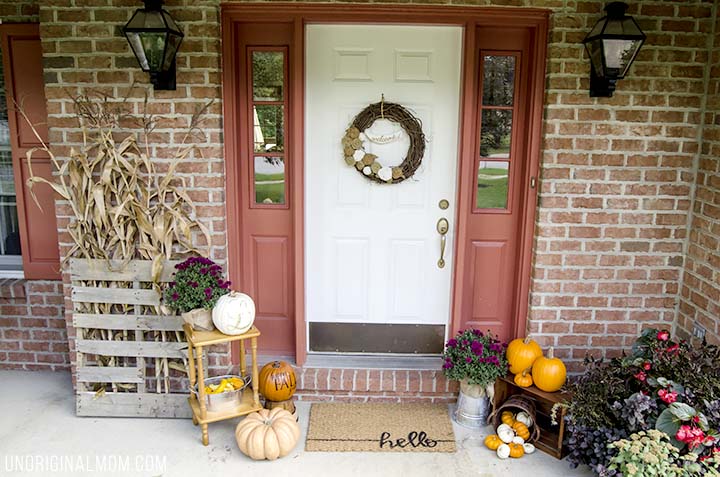 TIP #1: Start with pumpkins and mums. The most important elements to any fall front porch are pumpkins and mums! It doesn't get much more "fall" than that. And you can't go wrong! I like to mix and match all shapes and sizes of pumpkins.
Eventually we'll add our "family pumpkins" – the ones we'll pick out at the pumpkin patch and carve closer to Halloween – but for now I just picked out a couple of smaller orange pumpkins along with a bunch of mini orange and white pumpkins from Trader Joe's. I'm a sucker for deep purple mums so that's what I chose this year, but you can pick any colors you like! (Also, how do you like our welcome mat?? I made it myself out of a $5 mat from IKEA and I love how it turned out! There may be a quick tutorial coming in a future blog post!)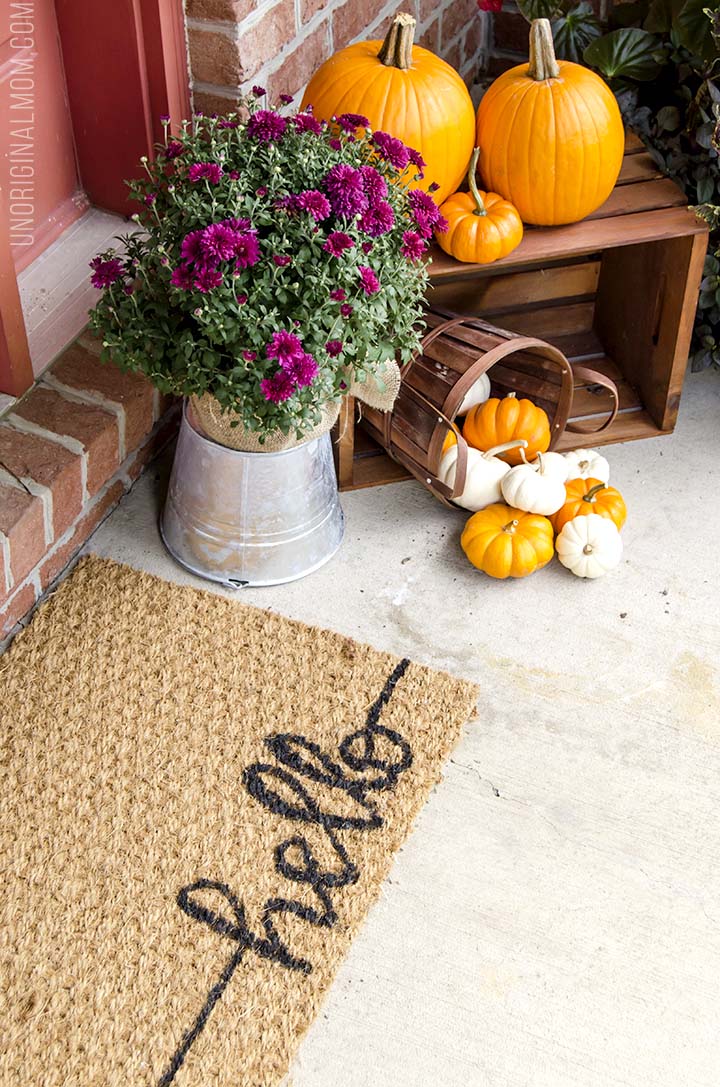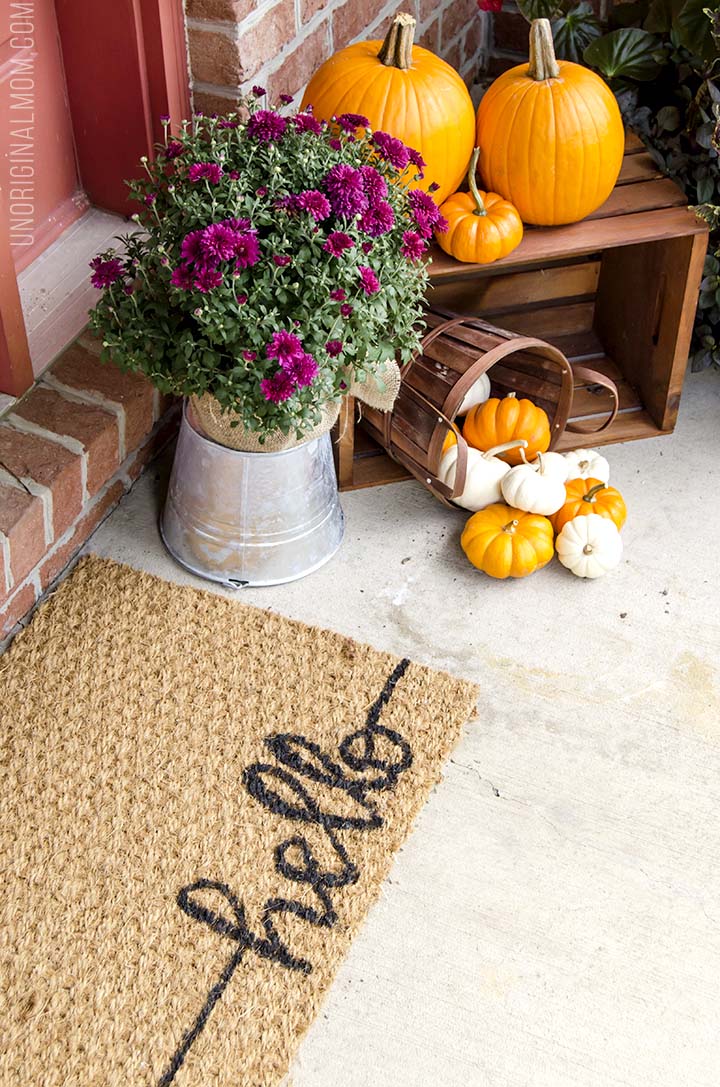 TIP #2: Vary your levels. Use planter stands, upside down buckets, baskets, crates, etc. to add some variation in height on your porch. Otherwise you'll just have a bunch of pumpkins on the floor! Use them to creatively display your pumpkins, mums, and other elements. If you have steps leading up to your door, use them.  No need to go out and buy lots of new things, though. Shop your garage to find what you need – you'll be surprised what you have already laying around.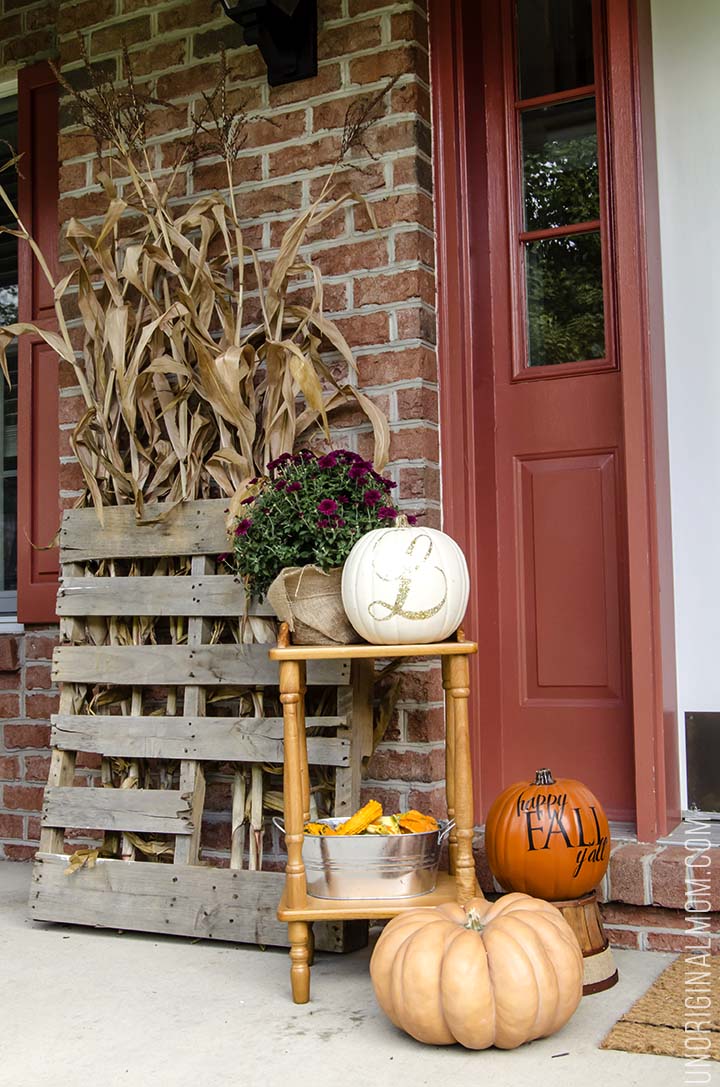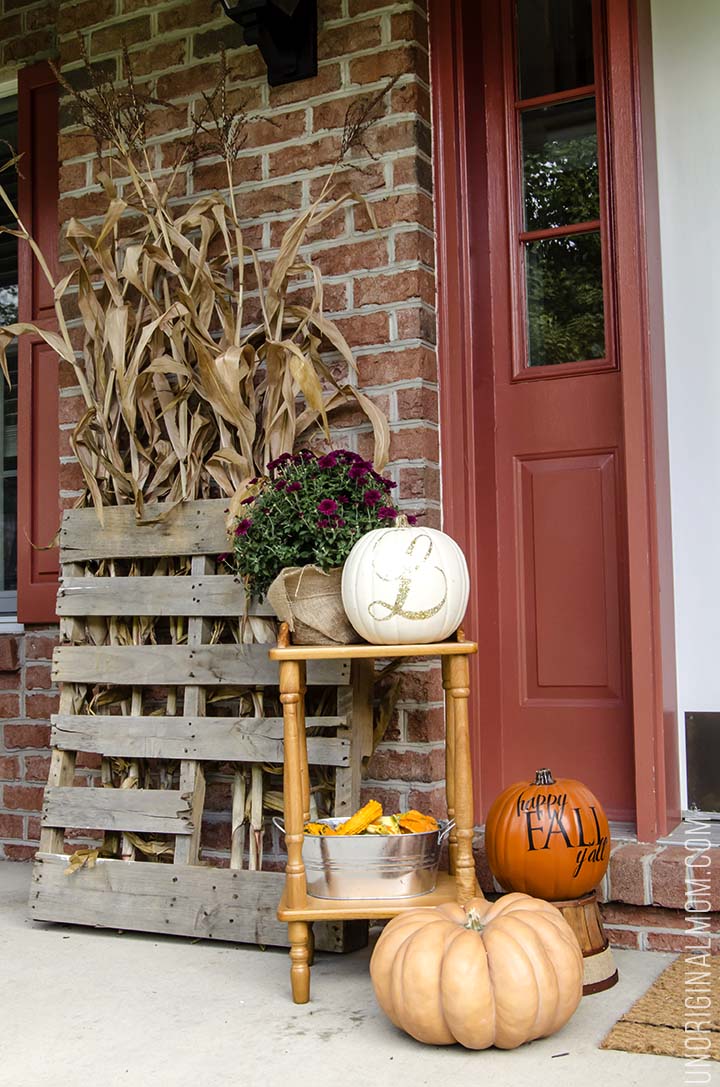 TIP #3: Add some other rustic elements and fall decor.  Use what you have and be creative! I've had this broken pallet sitting underneath the deck for a year now…it was in a pile of other pallets that have all been broken down for various project, and this was the reject that wasn't even good enough for that. But it looks great holding up some corn stalks on the porch! It's just the thing I needed to add some height and texture. And I didn't have to do a thing to it! I also added a galvanized tub (that I'd turned into a planter a few years ago) and filled it with gourds.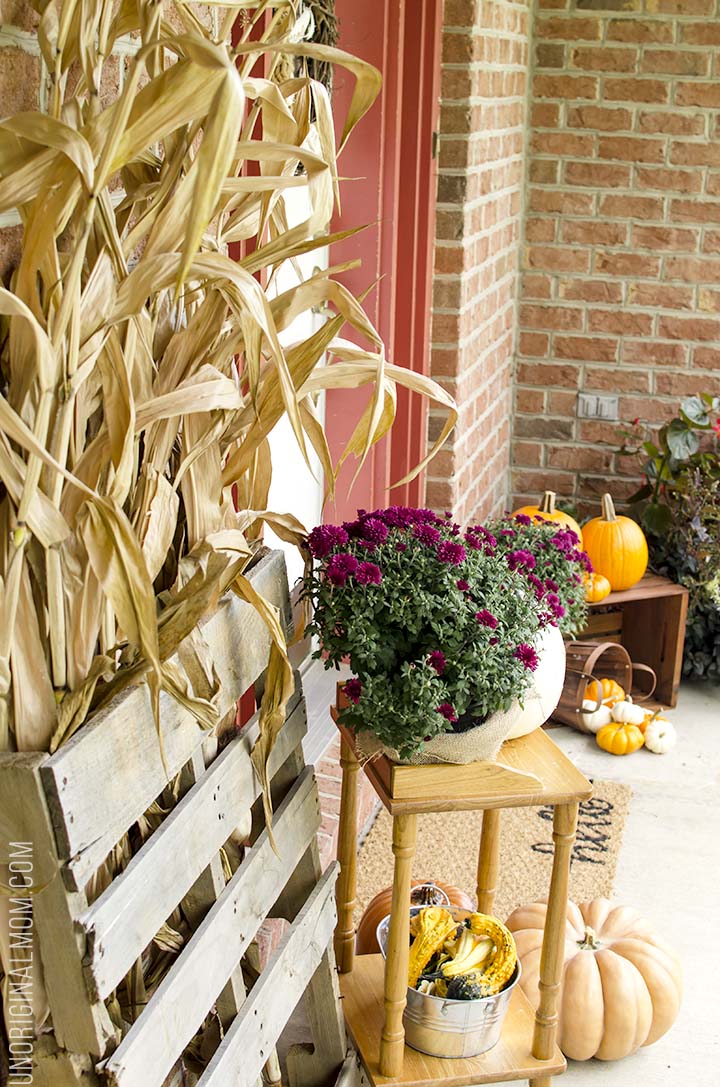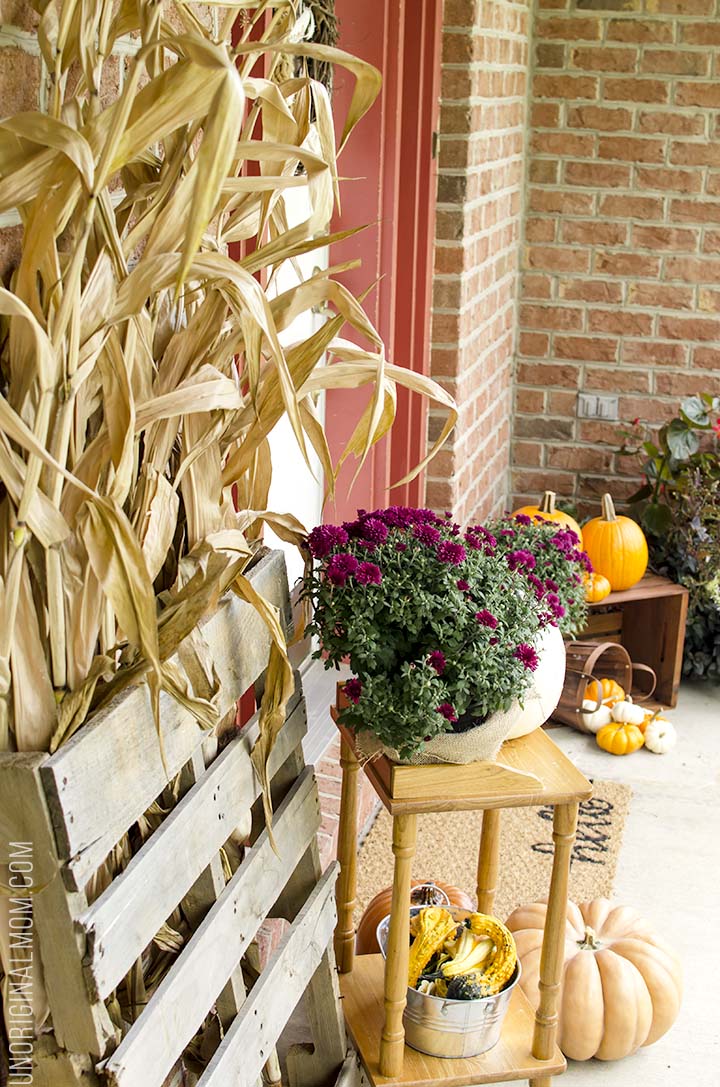 I had to come up with another creative solution to cover the black plastic buckets of my grocery store mums. I could have bought a few nicer planter buckets, but I didn't want to spend the money.  Burlap to the rescue! I just grabbed some scraps from my stash, cut out squares big enough to wrap around the bucket, and tied it up with some jute twine. Easy peasy – and it didn't cost me an extra cent! And of course I had to give my glitter monogrammed pumpkin a prominent spot on the porch – it's one of my favorite fall elements, and one of my most popular tutorials ever!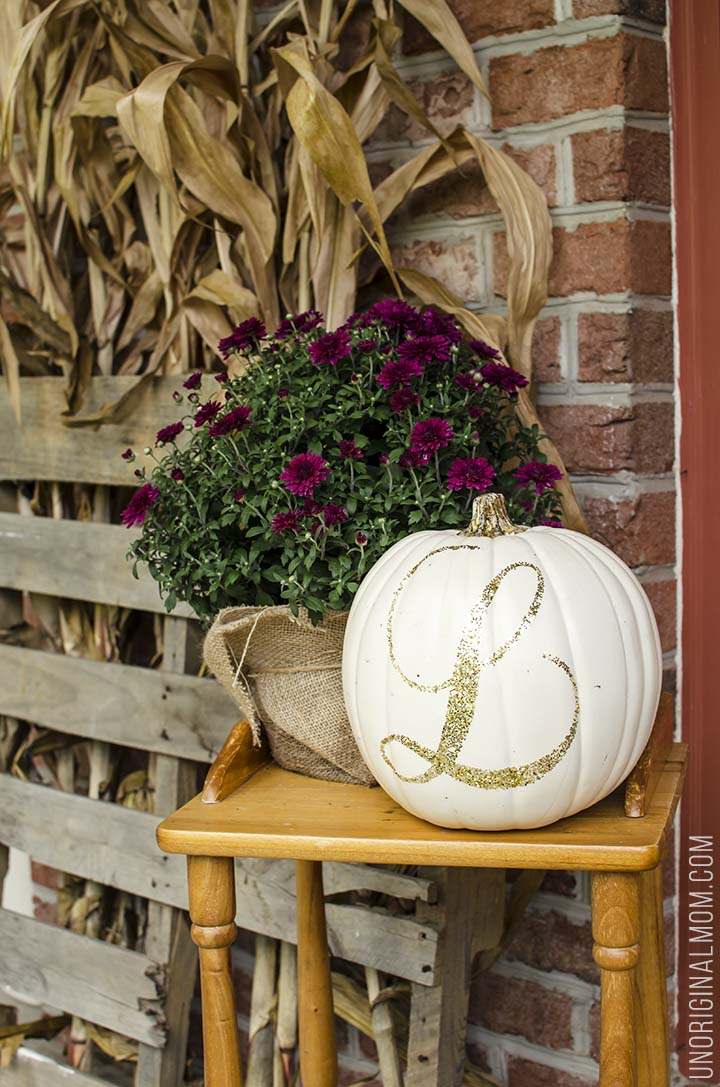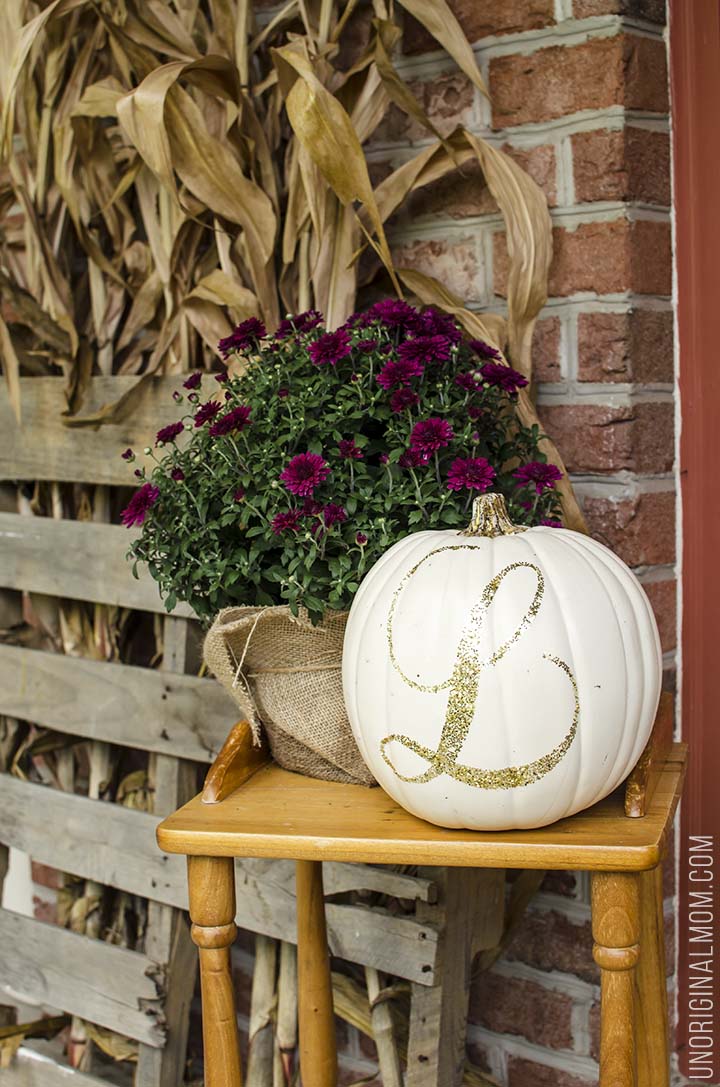 Tip #4: Create a cozy and comfortable seating area. Here's the second part of our cozy fall front porch – if you turn left from our front door, this is what you'll see!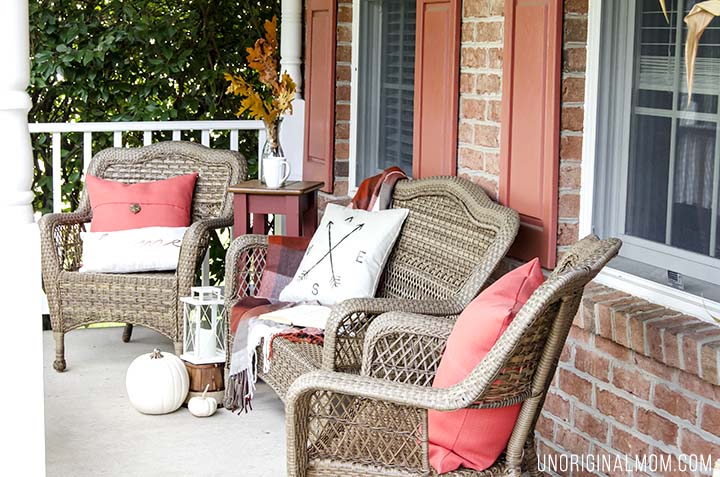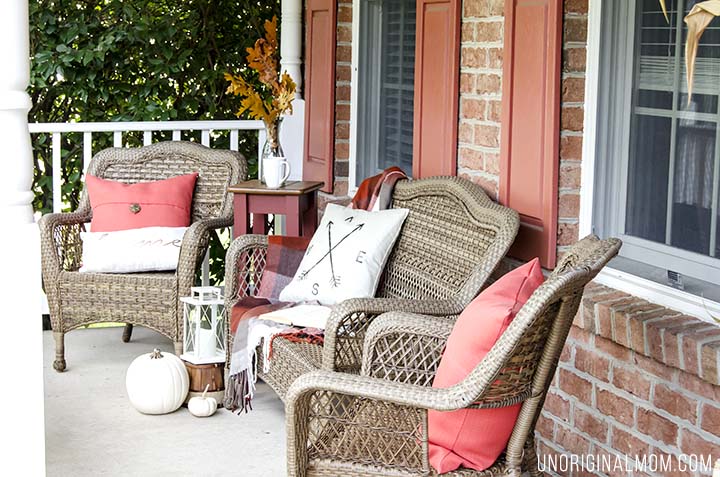 Now, I realize your porch might not be as big as mine is, but even just a small chair next to your front door can create the same effect. Add some throw pillows, a blanket, and maybe a lantern and a few more pumpkins and you'll have the perfect spot for curling up with a book on a beautiful fall afternoon! Psst – that square pillow cover was less than $5!!! Snag it here (affiliate link)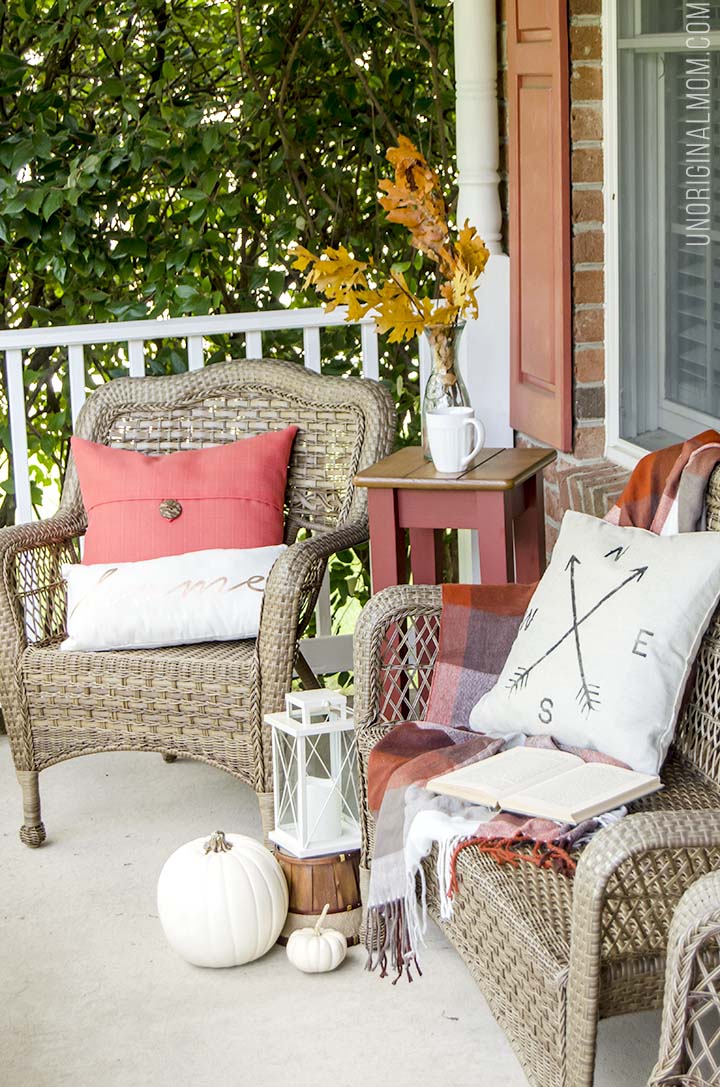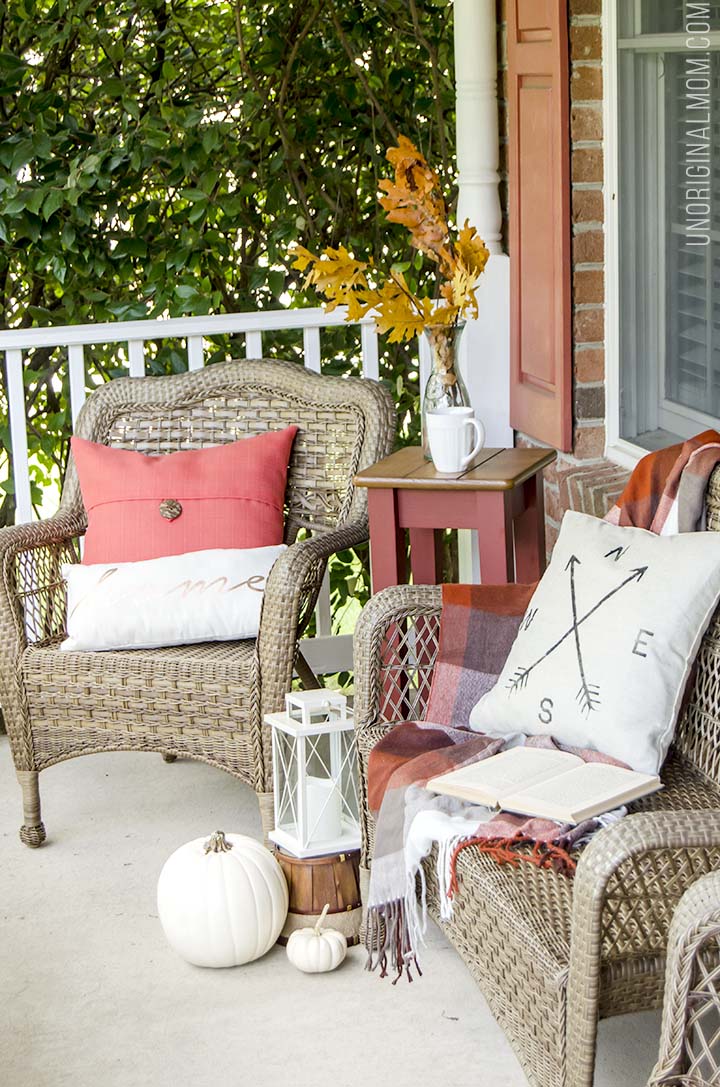 Tip #5: Make it something you love. The most important tip I can give you for creating your own cozy fall front porch is to make it into something YOU love. Don't compare it to mine, or to your next door neighbor's, or to the magazine-perfect pictures on Pinterest. Make it a space that draws you outside on warm fall afternoons to just sit and admire the autumn colors or watch the kids play. If it feels warm, comfortable, and welcoming to you, that's all that really matters!
And don't forget a mug of cider ;-)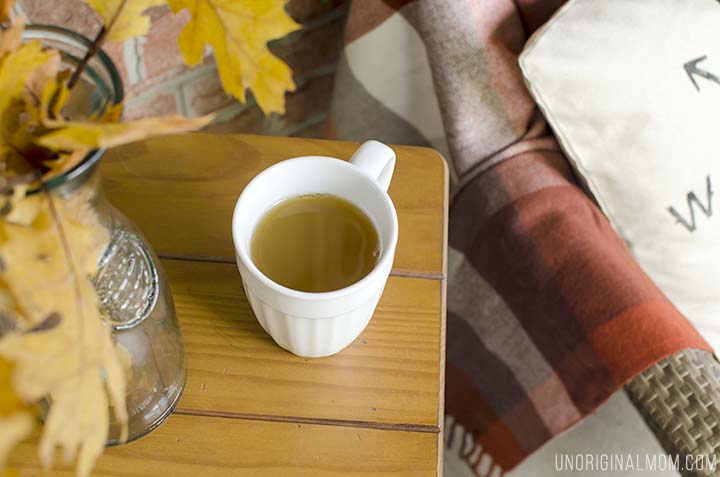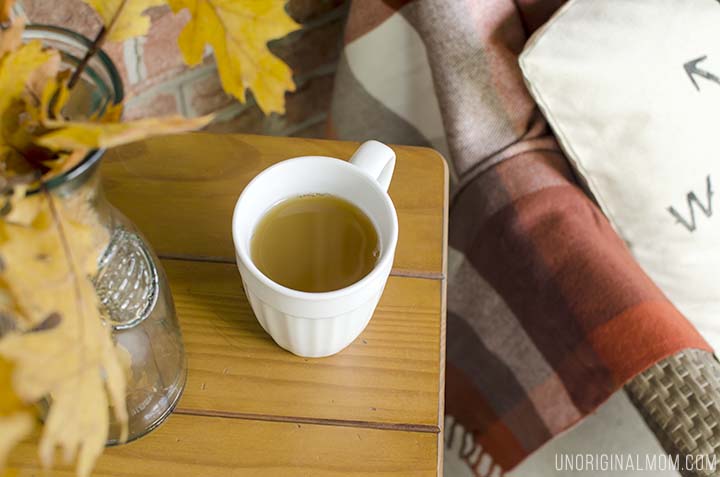 Do you decorate your front porch for fall? What are your favorite elements to include?


Get your copy of my FREE meal planning binder!
Sign up to get a free copy of my meal planning system - an 11 page printable meal planning binder, complete with a pantry inventory, shopping list, and more to help get on top of your menu each week!
Other Posts You Might Like: