This collection of Free Kitchen Sign SVGs – including my "Grandma's Kitchen" design – is a great assortment of options to make your own decorative sign for a kitchen with your Silhouette or Cricut!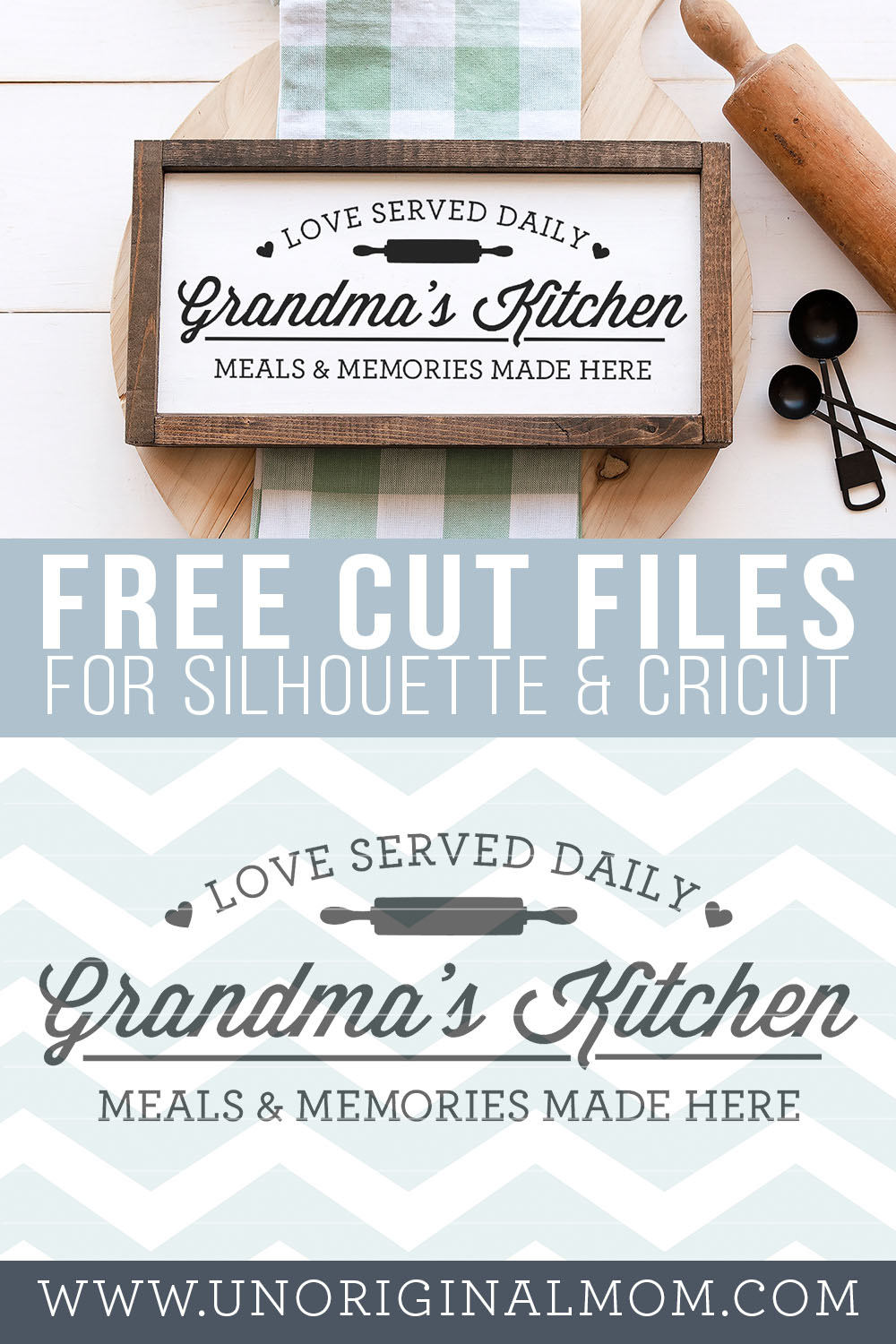 MAKING SIGNS WITH YOUR SILHOUETTE
One of my very favorite thing to do with my Silhouette is to make signs. I've made SO many over the years – a laundry room sign, a reversible Thanksgiving/Christmas sign, a painted canvas farmhouse sign, and a wedding gift sign, to name just a few! Some have been gifts, and some have been designed for specific spots in my home. I love the ability to create something totally custom that also looks very neat and professional.
If you're new to sign making with your Silhouette or Cricut, there are tons of different methods. For the easiest (and virtually fail-proof results), I love using the reverse canvas technique. All you need is a cheap canvas from the craft store, and since you use heat transfer vinyl on the canvas, there's no worry about paint bleeding through your stencils, or anything like that.  I have a full step by step reverse canvas tutorial here!
Another technique is to use a reverse stencil using the "PVPP" method. I find this to be the absolute best way to get crisp, clean stenciled lines on a painted wood sign. I hosted a farmhouse sign painting party using that method, and everyone went home with beautiful handmade signs.
Of course, you can also adhere your vinyl directly onto a wooden sign – but in order to do that, your wood surface must be very smooth. I recommend using polycrylic after staining or painting your sign to get the smoothest finish. (I used this method when I made these table sign numbers for my sister's wedding.)  I've also seen many people use heat transfer vinyl on wood with good success, but I've never tried it myself…so if you have tips for that, let me know!
FREE KITCHEN SIGN SVG – GRANDMA'S KITCHEN
Custom kitchen signs are a great way to add some personality and fun to the heart of your home. One of the first painted wood signs I ever made with my Silhouette was a "Grandma's Kitchen" sign for my mom! I didn't even blog about it, and the design was pretty simple, so I decided to revamp that idea into a brand new design to share with you all. I love how it turned out, don't you?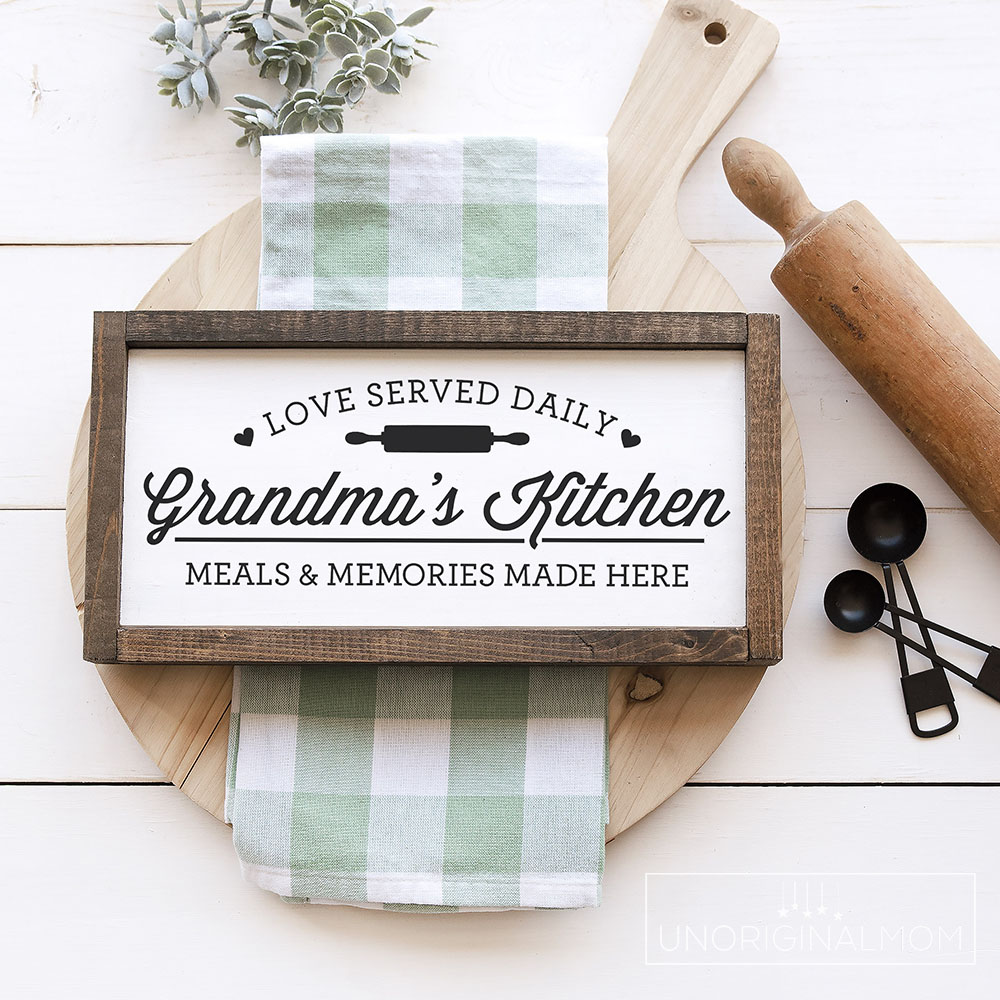 What grandma wouldn't love to have this sign hanging in her kitchen? It would make a perfect gift. Or, if you're a grandma, make one for yourself!
GRANDMA'S KITCHEN SVG – DOWNLOAD
I've added the .studio and SVG versions of this Grandma's Kitchen cut file to my FREE Silhouette Library! Just sign up in the box below for instant access, and the link and password will be emailed to you. Unsubscribe at any time!
FREE KITCHEN SIGN SVGS
Look at all these great Free Kitchen Sign SVGs from some of my favorite bloggers! I love the variety that my blogging friends came up with for this month's SVG blog hop. There are so many styles and designs to choose from to make your own DIY Kitchen Signs! Browse around the links below to download your favorite Free Kitchen Sign SVGs from each blog.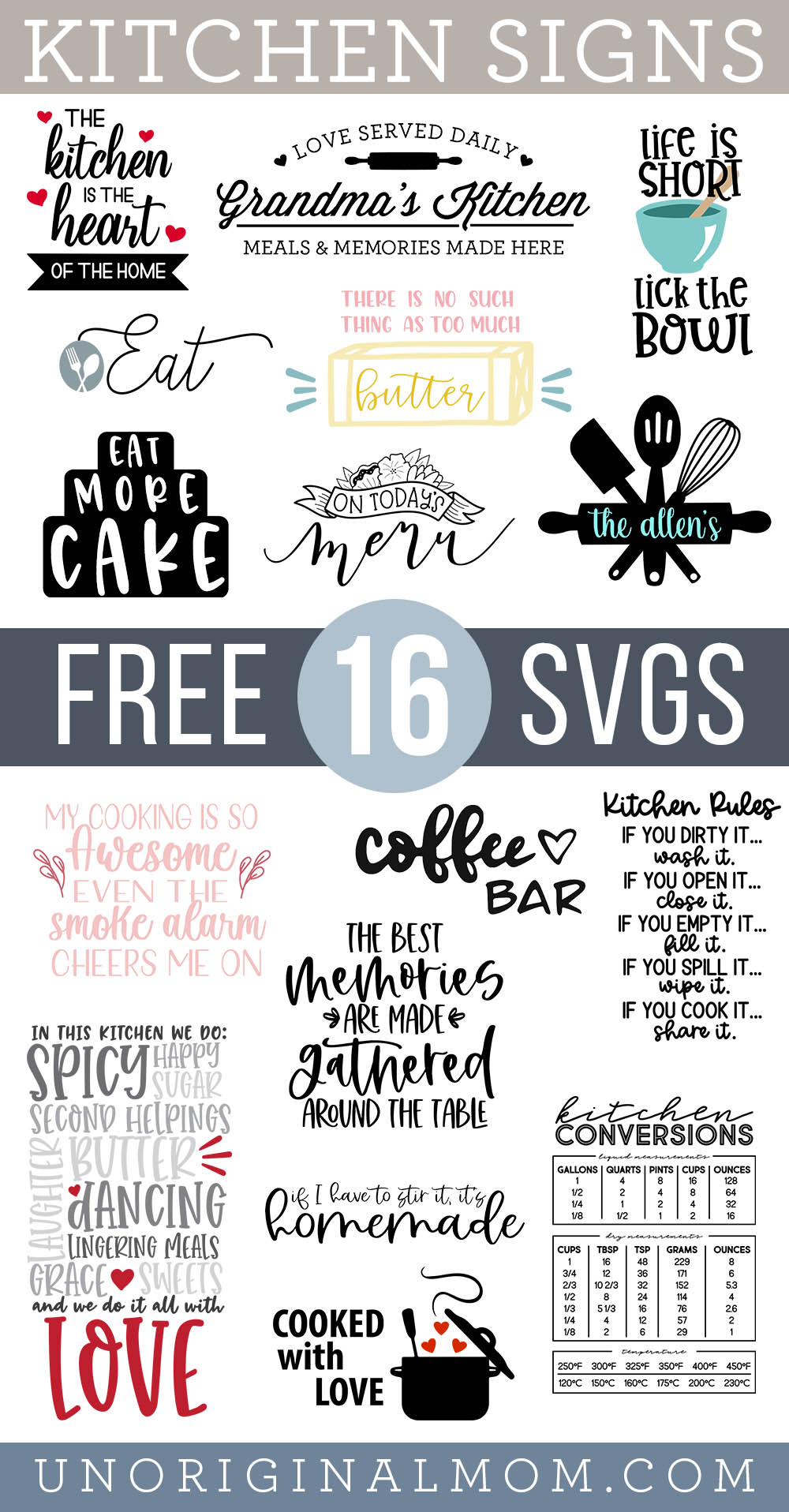 Cooked with Love – Try it – Like it – Create it
Custom Name Kitchen Sign – Hello Creative Family
Best Memories are Made Gathered Around the Table – Happy Go Lucky
It's Homemade Sign – Everyday Party Magazine
Kitchen Conversions – Artsy-Fartsy Mama
Eat More Cake – The girl Creative
My cooking is so awesome even the smoke alarm cheers me on – Life Sew Savory
The Kitchen Is The Heart Of The Home – Cutting Machine Crafting
No such thing as too much butter – seeLINDSAY
In this Kitchen We Do – My Designs in the Chaos
Kitchen Rules – That's What Che Said
On Today's Menu Sign – Printable Crush
Life is Short, Lick the Bowl – Kelly Leigh Creates



Subscribe to unOriginal Mom via email and get instant access to my library of FREE Silhouette Studio & SVG cut files - exclusively for email subscribers. Plus there's a new file added every month!