Create a fun sign for your craft room with this hand drawn Silhouette CAMEO icon SVG…or pick one of the other FREE Crafter Life SVGs from this great list! So many crafty quotes free SVGs to choose from.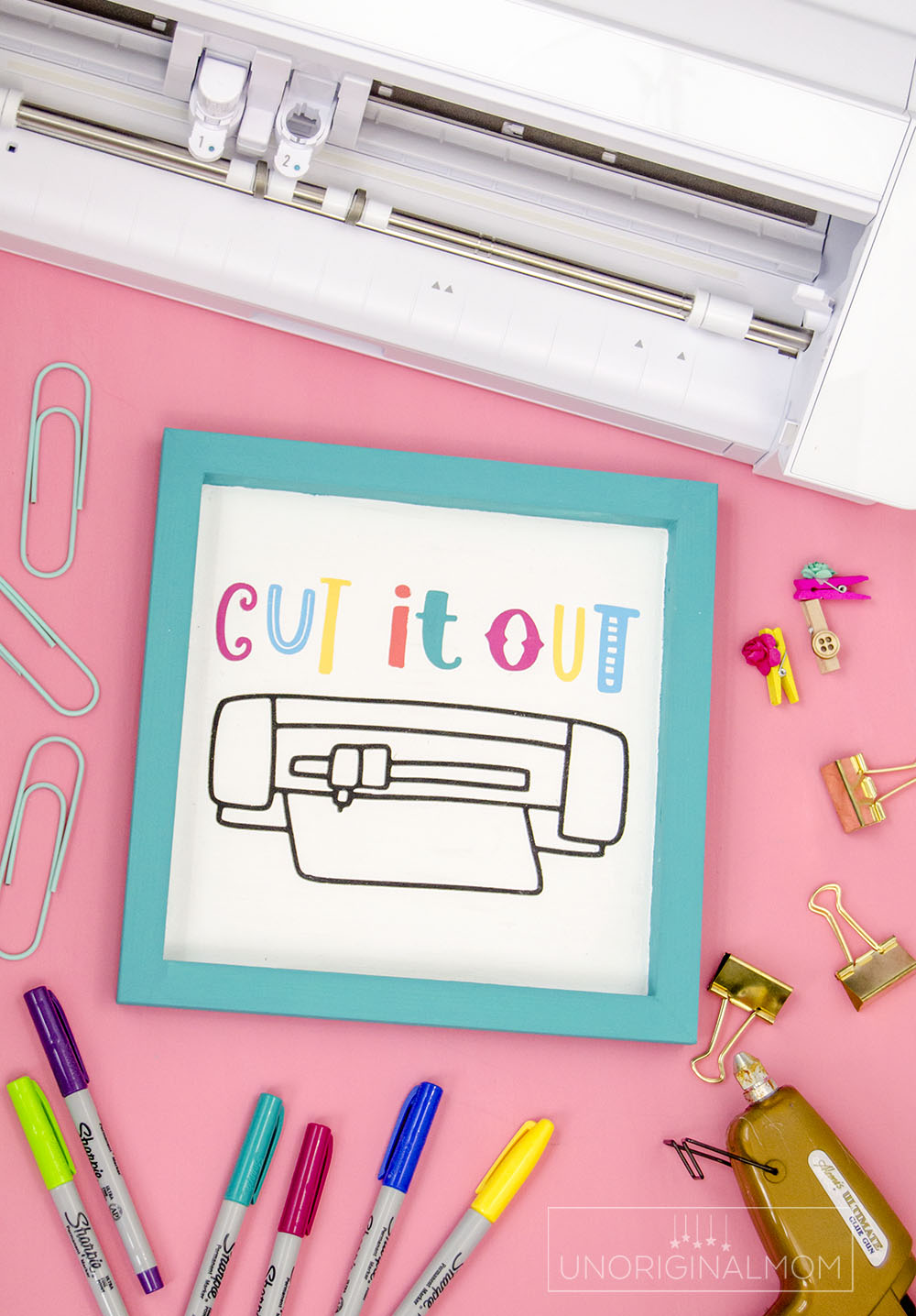 Who else is ready for some crafting??? (raises hand)
It's time, y'all.  Time to dig deep into your craft stash and make something for no other reason than JUST BECAUSE YOU WANT TO. So often, I feel like I need to have a purpose for crafting…making something for a specific event, for a person, as a gift, for a holiday, as decor…but rarely do I make time for myself to make something just for fun. With everything else going on in the world, I think that now is a better time than ever to create just for the sake of creating. I really should do it more often. It brings me joy. That's worth making time for, don't you think?
For me, crafting and my Silhouette CAMEO have always gone hand-in-hand. I hadn't even really entered the world of crafting (I never considered my self to be very artistic or crafty before I started blogging) until I bought my first Silhouette Portrait. So I decided to create a design to hang in my craft area to really showcase my Silhouette. I hand drew a simple line icon of my shiny new CAMEO 4 using my iPad and the Procreate app, then brought it into Silhouette Studio to add the text – "cut it out." Finally, I got to work stenciling a colorful sign!
SIGN STENCILING SUPPLIES:
This post contains affiliate links. Click here to read my full disclosure.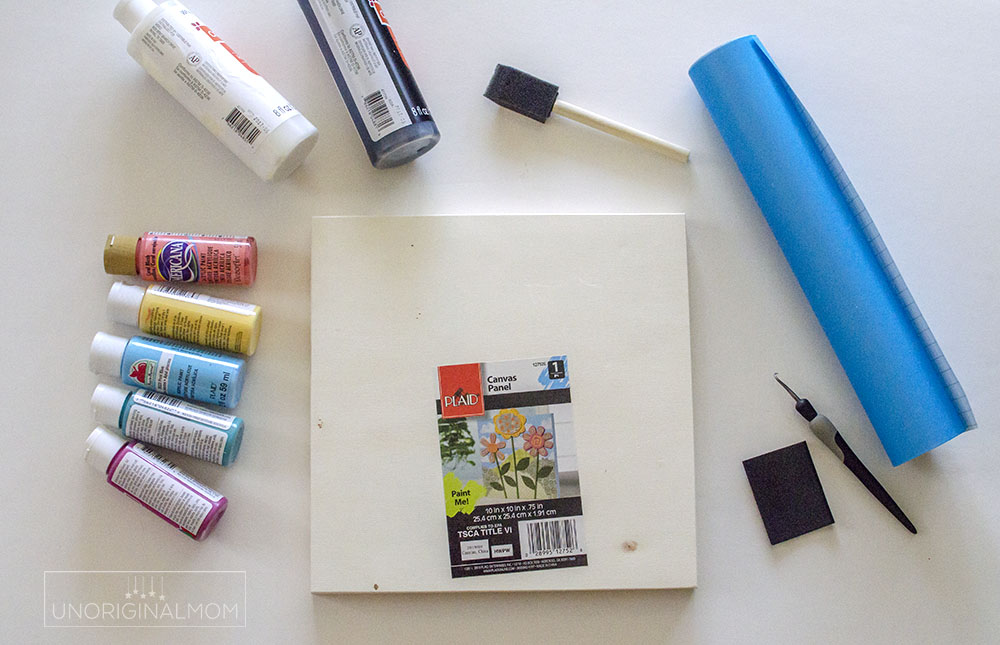 I picked up this wooden sign last time I wandered through the craft aisles at Walmart, and now I'm wishing I'd grabbed a few more! It's actually a wooden canvas and you're supposed to use the other side as the front, but the back is perfect for a farmhouse-style framed sign. First I painted the sign white, taped it off using painters tape, and then painted the frame a bright and fun aqua color. (Tip – use an embossing tool, heat gun, or even a hair dryer to quicken dry time between coats!)
Once it was dry, I applied my vinyl stencil that I had cut out with my Silhouette. Then I did an additional coat of white over top of the whole stencil and let it dry. That way any paint that bleeds under the stencil isn't visible, and the extra coat of white helps to seal down the vinyl stencil. After that coat was dry, I painted the cutting machine icon black and each letter a different color.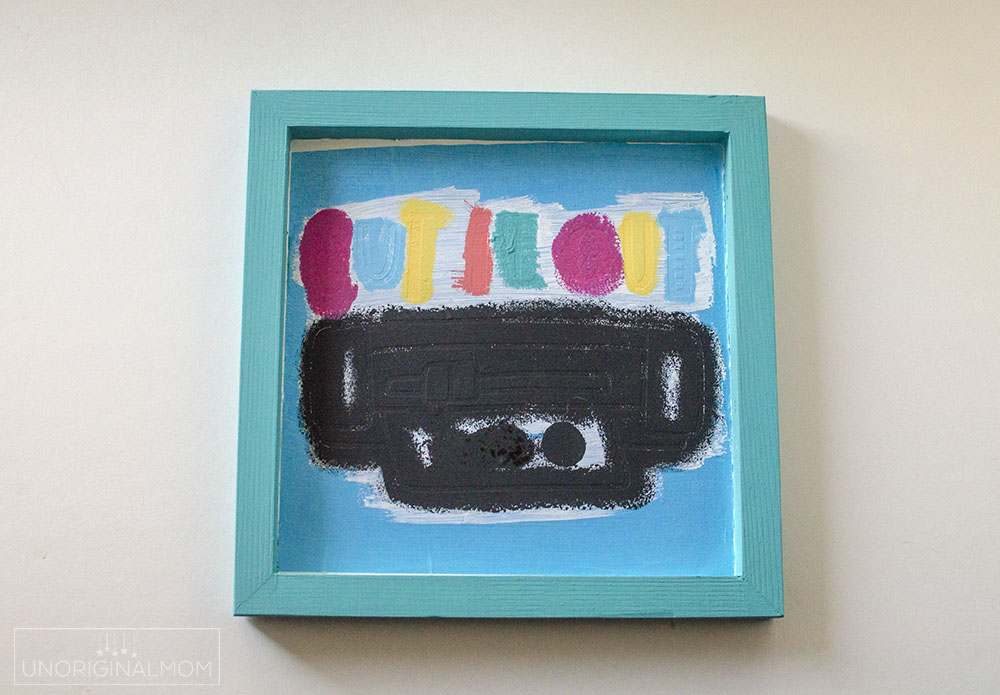 Once that had dried (I did two coats), I carefully peeled up the vinyl to reveal this fun and colorful sign!  Perfect for my craft space, don't you think?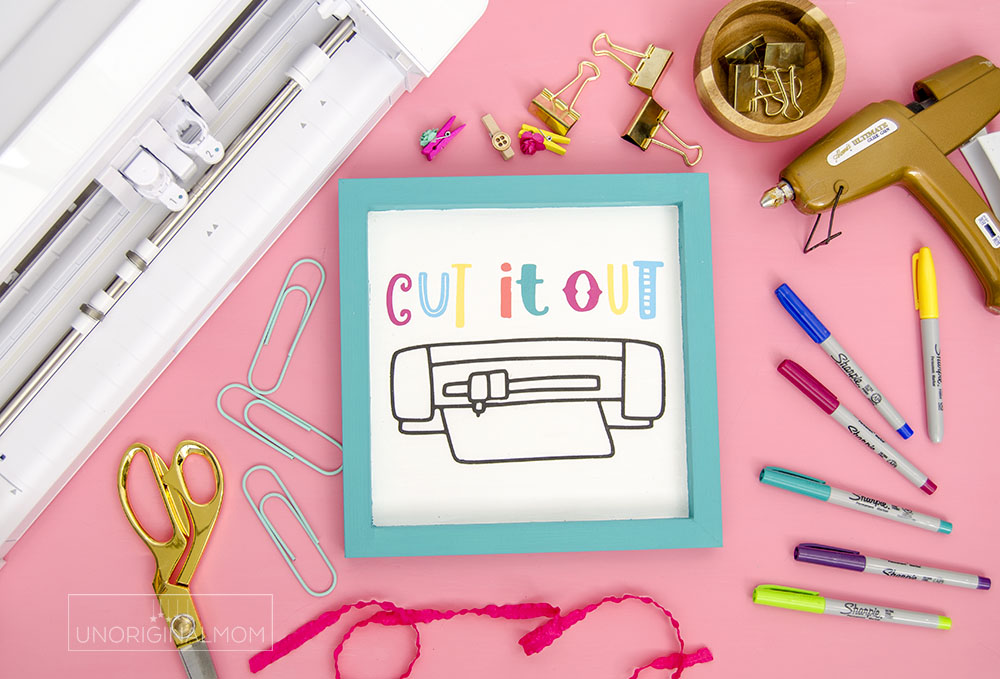 FREE HAND DRAWN CUTTING MACHINE ICON SVG
I drew the cutting machine icon to look (roughly) like the CAMEO 4…but I think it could pass as a Cricut too!  This is a perfect design for any craft room, but you could use it for lots of things.  I'm thinking about putting it on a tee as a subtle pocket-sized design. How cute would that be?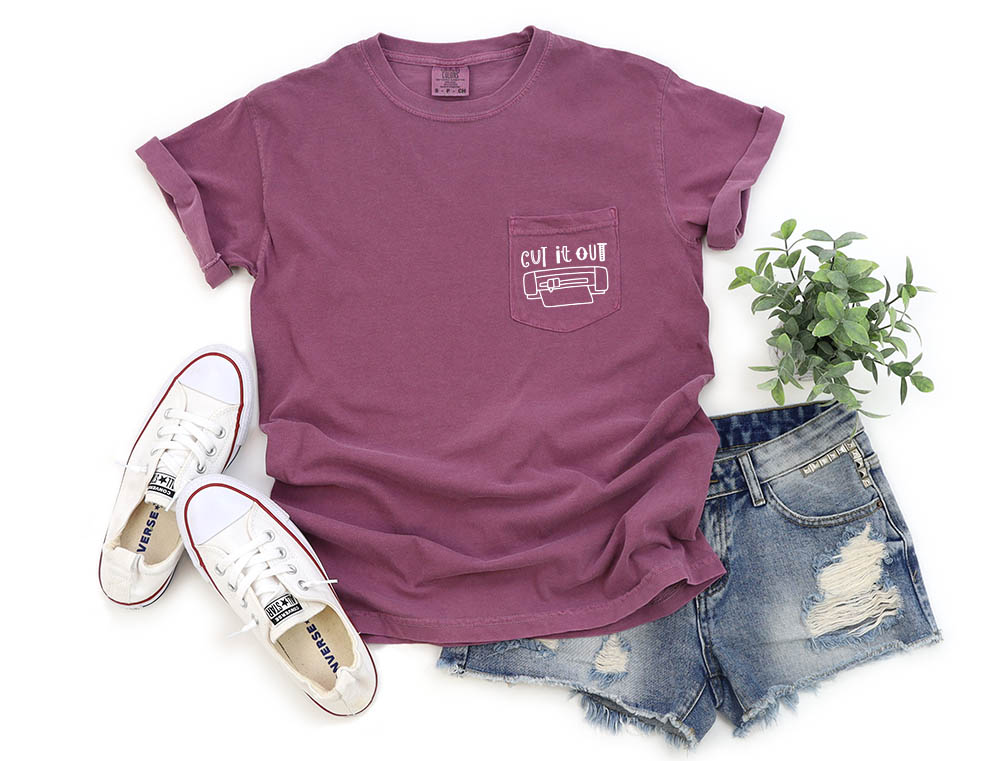 If you want to grab the FREE "Cut it Out" + cutting machine icon SVG, it's available inside my Silhouette Library. It is totally free with access to over 60 other designs – and you can unsubscribe anytime. Just enter your email in the box below and check your inbox for the link and password.
DOWNLOAD THE FREE SVG BY SUBSCRIBING IN THE BOX BELOW: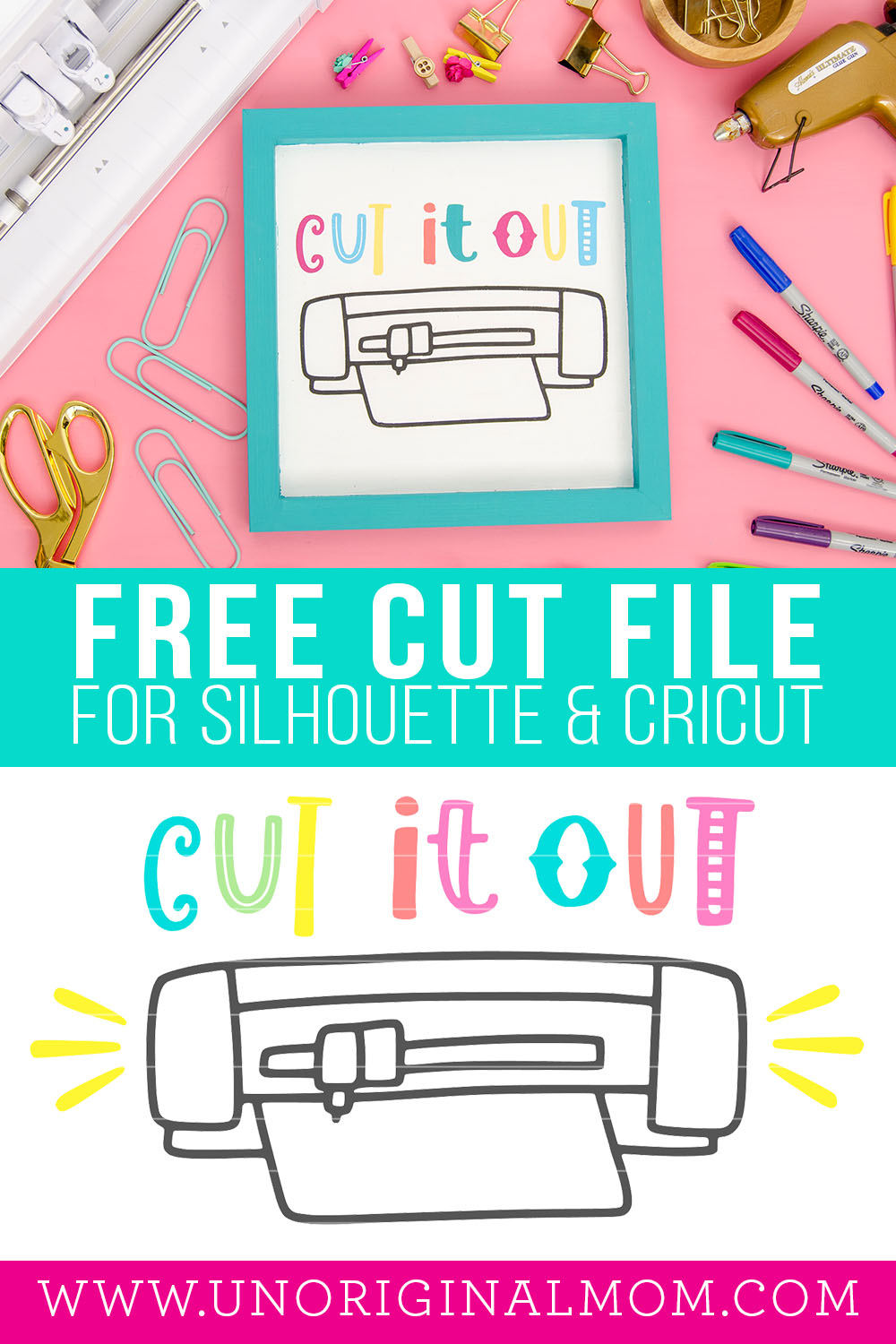 Pssst – I also made a version with the phrase "I could totally make that." (What crafter hasn't said that phrase a gazillion times?? Ha!) You can snag that design it in my Etsy Shop here.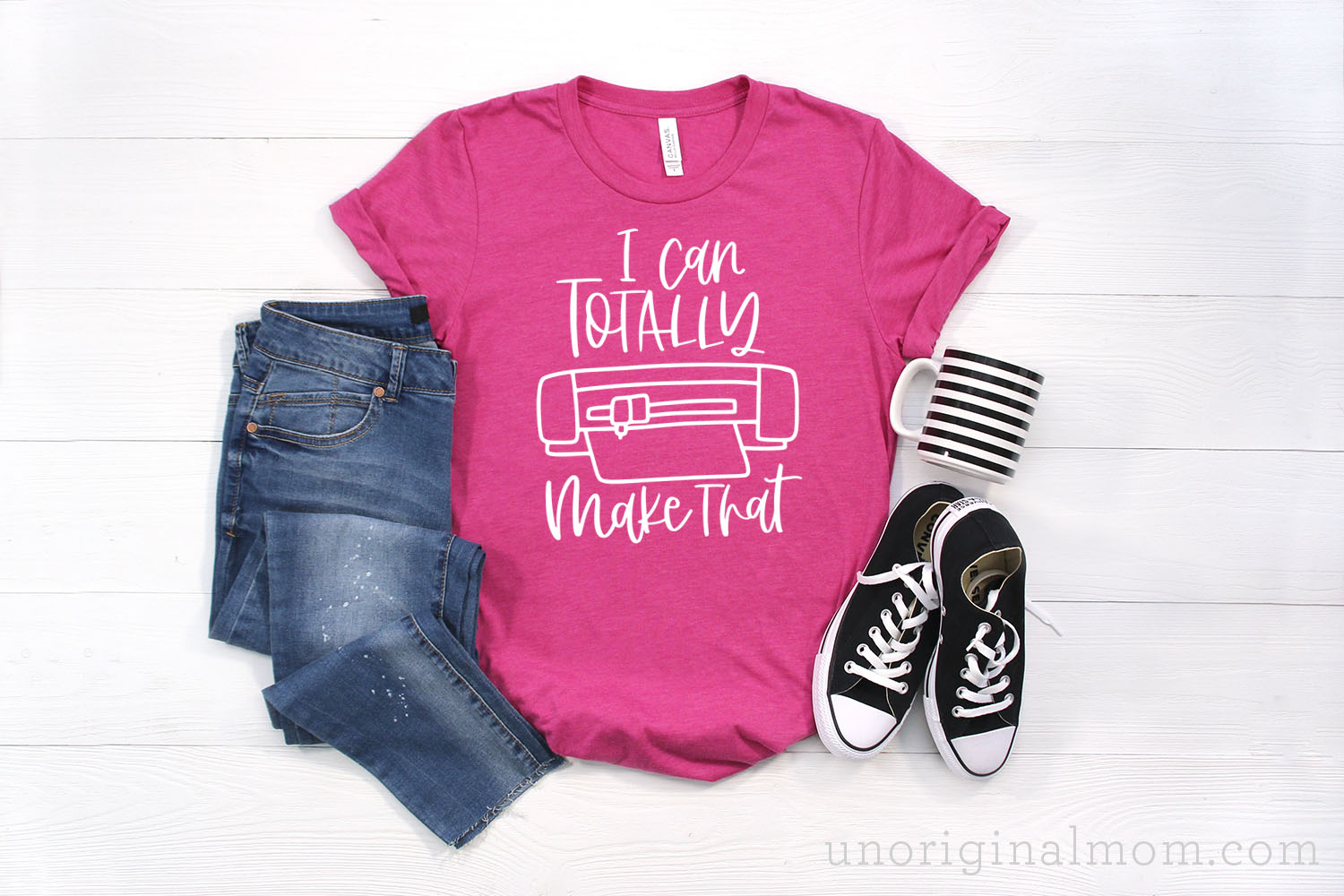 14 FREE CRAFTER LIFE SVGs
Did you know that March is National Craft Month? The timing is rather ironic. But nevertheless, some of my blogging friends decided weeks ago to put together a collection of FREE SVGS specifically for crafters. You can use these fun crafter life SVGs to make ANYTHING your little heart desires. Signs, tees, totes, mugs, cards, coasters, stickers…dream it, and then make it. Browse around the links below to download your favorite designs, and don't forget to say "thanks" by leaving a comment, subscribing, and/or following on your social media method-of-choice.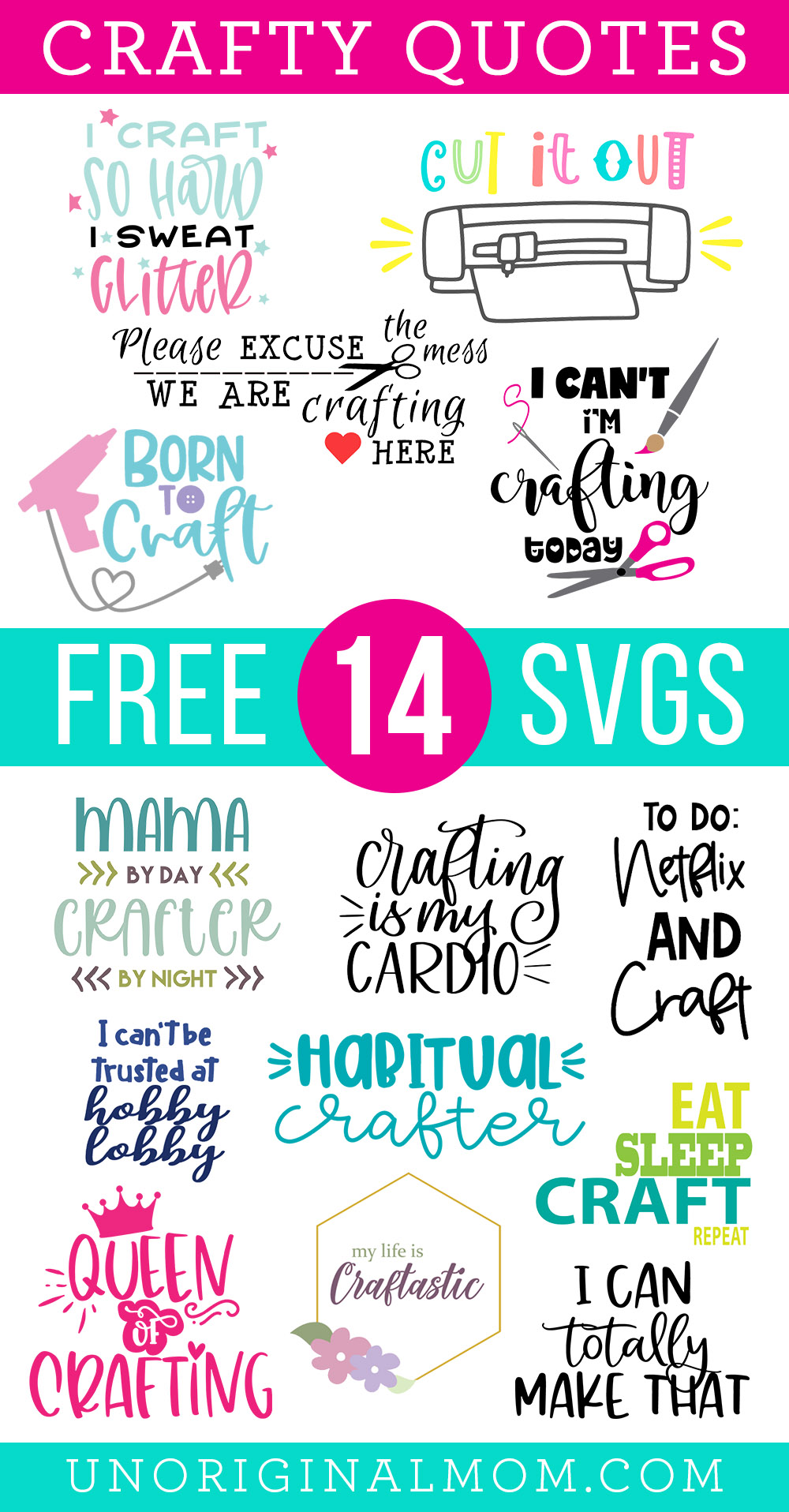 I can't, I'm crafting today – Leap of Faith Crafting
Netflix & Craft – Brooklyn Berry Designs
Born to Craft – That's What Che Said
Mama by Day, Crafter by Night – The Girl Creative
Crafting is My Cardio – Liz on Call
I can't be trusted… – Life Sew Savory
Eat Sleep Craft Repeat – Try It Like It
I Can Totally Make That – Everyday Party Magazine
Queen of Crafting – Happy Go Lucky
I Craft So Hard, I Sweat Glitter – Kelly Leigh Creates
Habitual Crafter – Artsy Fartsy Mama
Please Excuse the Mess – A Home to Grow Old In
My Life is Craftastic! – Mom of 5 Trying to Survive
Aren't these designs terrific?  Here's a collage to give you some project ideas, too.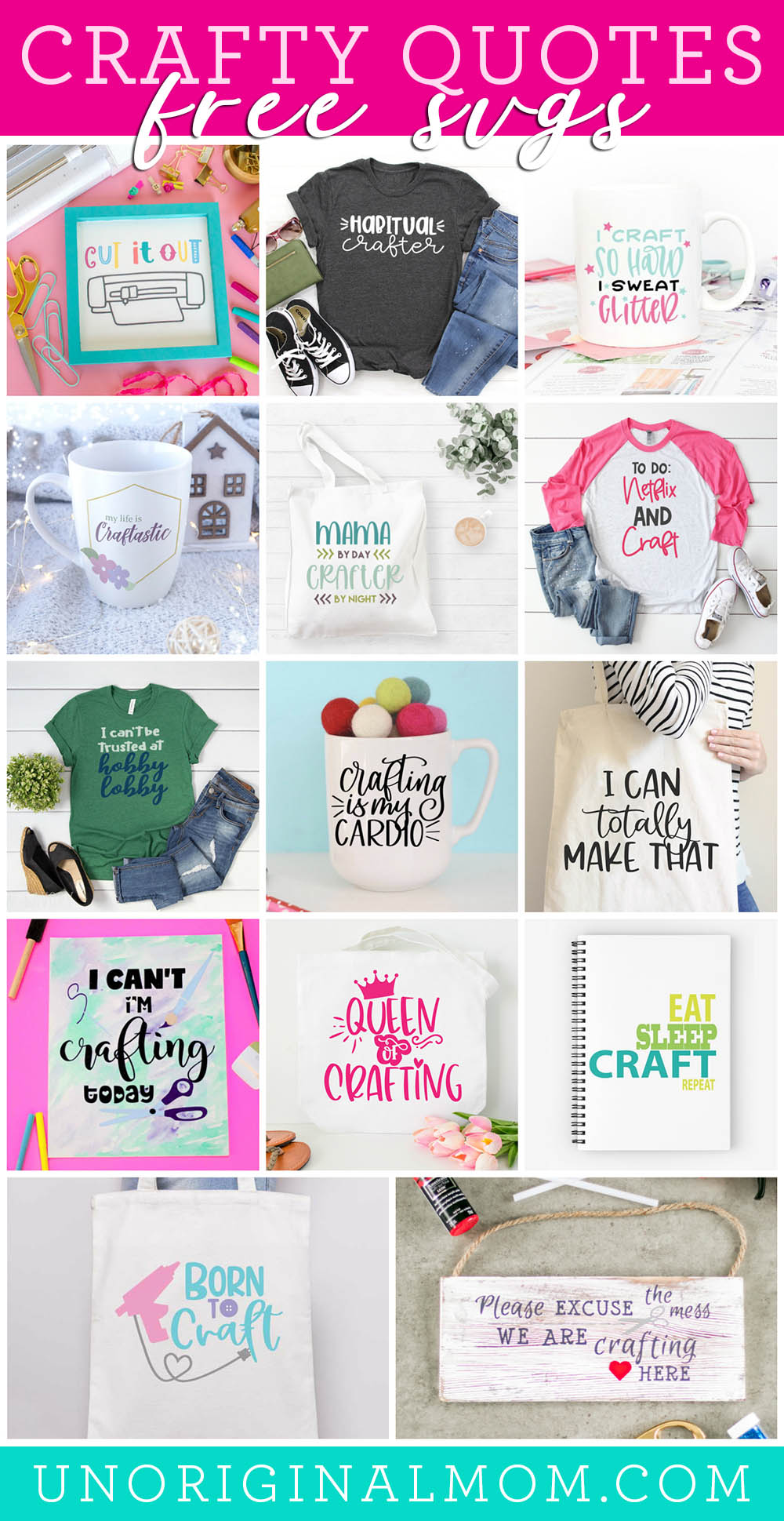 Happy crafting to all!!!



Subscribe to unOriginal Mom via email and get instant access to my library of FREE Silhouette Studio & SVG cut files - exclusively for email subscribers. Plus there's a new file added every month!