Looking for blogs with free SVGs? Here's a list of the best blogs for free cut files. These creative Silhouette and Cricut bloggers share great freebies with awesome tutorials!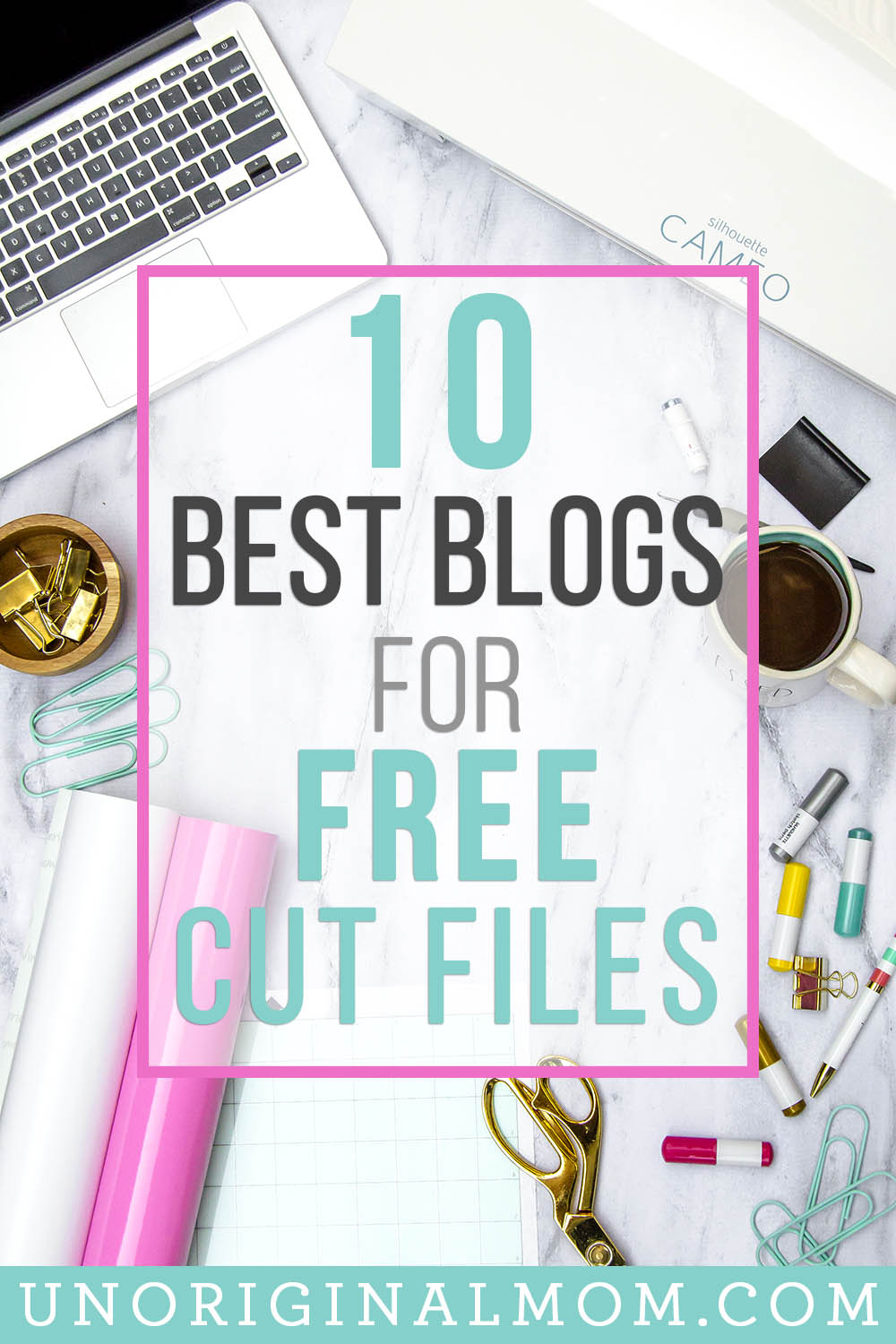 I love finding free cut files on craft blogs. I mean, duh, who doesn't love free stuff? But not it's not just that – it's because bloggers almost always have some project ideas and inspiration to go along with them, and often a tutorial as well! Sure, you can subscribe to all kinds of graphic design websites and shops to get weekly freebies and whatnot (I'm not saying you SHOULDN'T do that!), but more often than not, the freebies I download from those sites end up just sitting in my downloads folder forever. It's the free cut files + projects shared by bloggers I love that I can't wait to download and get cutting myself!
The biggest issue/question/concern/complaint I hear about from fellow Silhouette and Cricut users is that they've only used their machine a few times – or maybe even not at all. They say they're afraid to mess up, they don't have time to learn how to use it, they don't know what to make, etc, etc. I totally get it – a digital cutting machine can be pretty intimidating! My BIGGEST advice to those folks is to find some Silhouette & Cricut bloggers that inspire you, follow along, and copy them! Make things along with their tutorials! Then, as you get more comfortable with your machine and what it can do, branch out to creating things with your own spin on them. Before you know it, you'll be a pro.
I've compiled a list of my 10 favorite Silhouette and Cricut bloggers who offer lots of free cut files. These are NOT just bloggers who only dump out free designs on mock-up images with no tutorials (again, not that there's anything wrong with those!) – these are bloggers who write lots of thorough tutorials and share other crafty inspiration as well. Now, you could just go browse around and download a bunch of cut files from them all to fill up your library, but I'd recommend also following along with each of them – via your favorite social media platform and/or email – so you can regularly be inspired by the terrific projects they share.
SILHOUETTE VS. CRICUT TUTORIALS
Just in case you didn't know – Silhouette & Cricut machines are pretty much identical in their capabilities. There are a few specialty things that one machine can do and not the other – and vice versa – but for the most part, you can follow blog tutorials meant for the other machine! The biggest difference is the software, so look for machine-specific tutorials when you need software tutorials. Otherwise, look for crafty inspiration from both kinds of blog posts!  Read more about why I'm Team Silhouette here. (Another thing to note, if you're running the regular edition of Silhouette Studio the only way you can use SVG files is to trace them like you would any other image. Upgrade to Designer Edition to be able to use layered SVGs.)
TOP 10 BEST BLOGS FOR FREE CUT FILES
unOriginal Mom – Shameless plug alert ;-) This is my blog, and I offer a TON of cut files inside my free Silhouette Library! Almost all of them are available as .studio (compatible with all levels of Silhouette Studio) as well as SVGs (compatible with Cricut Design Space and other programs). Each cut file is linked to a blog post where you can see more project ideas and inspiration, and usually a tutorial as well. You can sign up for access here!
A Girl and a Glue Gun – Kim draws the most adorable little doodles and turns them into super fun cut files! She's constantly sharing cut files and printables for holidays, gift ideas, seasonal decor, and more.
Persia Lou – Alexis creates such fun and vibrant designs! She offers lots of great hand lettering pieces for free.
That's What Che Said – Cheryl has a ton of free SVGs, including lots of shirt ideas for all holidays and seasons!
Hey Let's Make Stuff – Cori is the Cricut Master! She often offers flash freebies that are available for free before she moves them to her shop, so I'd recommend subscribing to her email list so you don't miss those.
Sugarbee Crafts – Mandy makes the cutest stuff! She shares lots of tees and fun seasonal ideas, and often hosts virtual "craft clubs" on Facebook live where you can craft along with her.
Cutting for Business – This blog is a terrific resource for shop owners. If you use your cutting machine to create items for sale and you don't already follow Christine, you need to! She also offers a variety of free cut files that are free for commercial use.
Where the Smiles Have Been – If you like color, you'll love Christine's projects! She's got lots of blog posts about Silhouette projects and many free cut files as well.
The Girl Creative – You'll find all sorts of SVG cut files in Diana's shop that are free!
Fynes Designs – Virginia doesn't regularly blog about Silhouette projects, but she is a talented graphic designer and has some really amazing designs that she offers for free. My favorite are all her Christmas signs!!
A FEW MORE BLOGS TO CHECK OUT…
Kimber Dawn Co – If you love hand lettered designs, this is a great place to find them. This blog isn't currently active but there's still a ton of great stuff in the archives.
My Designs in the Chaos – There are SO many great free designs here! Most of them don't have full project tutorials, but it's still a great place to find free cut files and lots of ideas, especially if you're already experienced on your machine and don't need the tutorials.
CAN FREE CUT FILES FROM BLOGGERS BE USED TO SELL THINGS ON ETSY?
That totally depends on the license/policy of the blog where you're getting the freebie. Some of them are clearly stated for personal use only. Some require the purchase of a commercial license. Others allow commercial use for free. If you're ever in doubt, just send an email to the creator and ask! The worst that can happen is that they say no.
MORE FREE CUT FILES!
Looking for something specific? Check out all these round-ups of free cut files (many of them from the bloggers in this list) for various seasons and occasions!
WHERE CAN I BUY SUPPLIES FOR MY SILHOUETTE OR CRICUT?
This list contains affiliate links – click here to read my full disclosure.
While we're talking favorites…here are my favorite place to buy my Silhouette supplies!
Expressions Vinyl – My go-to for vinyl. Great selection, good prices, frequent sales, and fast shipping. (I always comparison shop between EV and Happy Crafters to see who is running the best sale before buying!)
Happy Crafters – another great place to buy vinyl and HTV with good prices and fast shipping. They have a larger selection of specialty HTV than Expressions Vinyl.
Silhouette America – Silhouette has a TON of amazing specialty media products that are so much fun to play with! Specialty sticker paper, tattoo paper, scratch-off sheets, window cling material, and more. Note: all these products work with ANY type of cutting machine, not just Silhouettes! Silhouette runs unadvertised monthly sales through their Silhouette Elite bloggers (that's me!), so be sure to subscribe to my email list to you can hear about those deals.
Amazon – When I need something fast, I can usually find what I need available with Prime shipping to get it here quickly.
Craft stores. (last resort) I have a Michael's and JoAnn's nearby, but their vinyl and HTV is considerably more expensive than getting it online and most of the time you can't use a coupon on it. But if I need a specific color RIGHT NOW, then I pay a few extra bucks to pick it up at a craft store. My Michael's has a decent selection of Siser Easyweed (the BEST HTV), so I can usually find what I need.
One last note – don't forget to say THANK YOU to these bloggers for their cut files! Blog post comments, comments on social media, send an email or direct message, etc. We work hard to create these designs, and it gives us all the warm fuzzies to hear how much you love them. (Bonus points for sending us pictures of the projects you make with the designs!) Happy crafting!



Subscribe to unOriginal Mom via email and get instant access to my library of FREE Silhouette Studio & SVG cut files - exclusively for email subscribers. Plus there's a new file added every month!