Looking for an easy, fun, and inexpensive craft idea? Make a reverse canvas with this HTV Reverse Canvas Tutorial. I made an ombre "Life is Better at the Beach" reverse canvas with heat transfer vinyl, but you can use this technique to make decor for any season or occasion!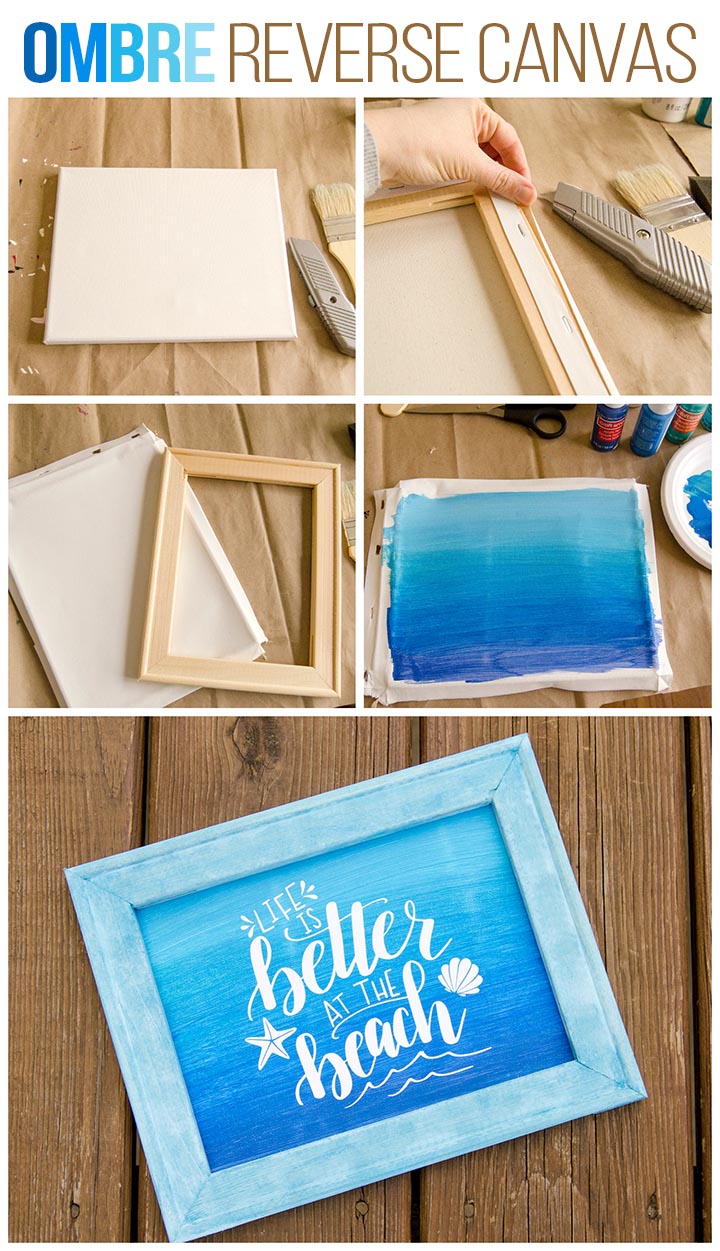 Who's ready for the beach??? Meeeeeeeee!!  We've got a beach vacation planned this month and I cannot wait! Unfortunately my margaritas will be virgin this year, but I'm still looking forward to sitting on the beach with a cool drink and a good book while the grandparents and aunts and uncles play with my kids ;-) I whipped up this "life is better at the beach" sign to donate to a beach themed basket for a silent auction at my daughter's school…but I'm thinking I need to make another one to keep at my house!
I am SUPER late to the party, but I finally tried out this whole reverse canvas thing….and I have to say, it is pretty darn nifty. Especially considering you can buy budget brand canvases at the craft store for a few dollars or less, this is a low-stakes-high-reward kind of project! Add in heat transfer vinyl, and you've got professional looking framed canvas art in under an hour, for less than $5. If you haven't tried making a reverse canvas yet, you need to! And I've got an easy HTV reverse canvas tutorial right here for you…I promise, it's not hard :-)
HTV REVERSE CANVAS TUTORIAL – SUPPLIES:
(This post contains affiliate links. Click here to read my full disclosure.)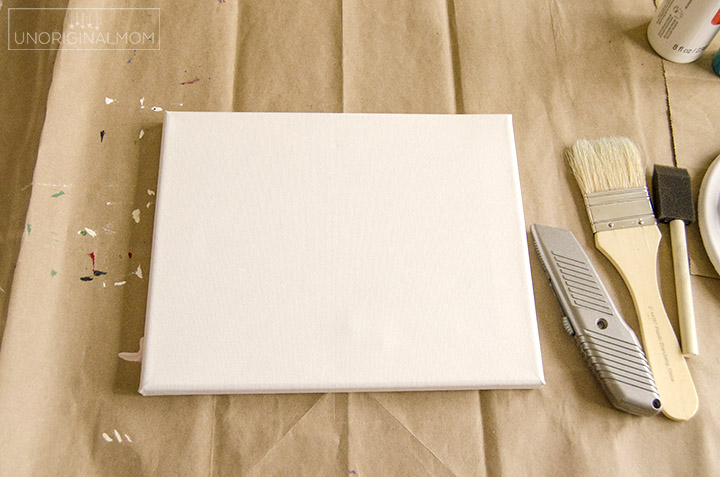 HTV REVERSE CANVAS TUTORIAL
STEP 1: Turn the canvas over, so you can see the framing on the inside. Using a box cutter or X-acto knife, carefully cut the canvas off of the frame.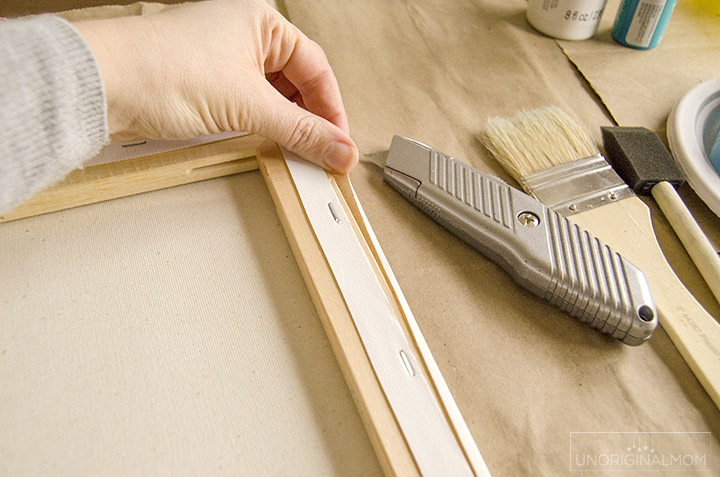 This is what it will look like when you're done. Did you know that perfect little wood frame was hiding underneath the canvas???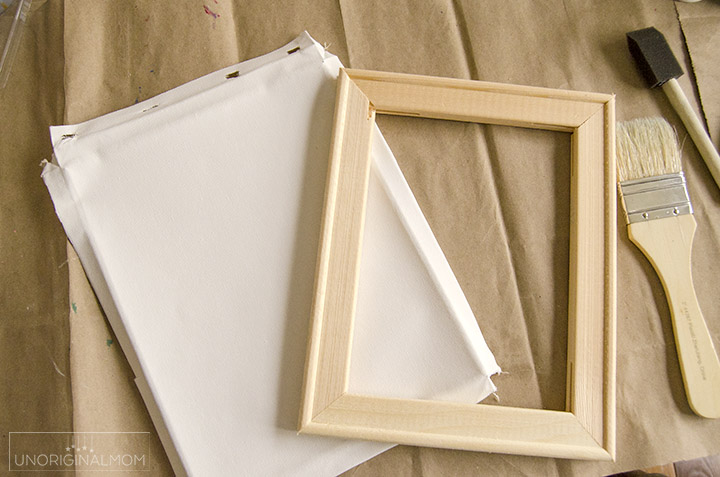 STEP 2: Paint your canvas, however you'd like! I wanted a beachy-blue ombre look, so I took 4 shades of blue craft paint and mixed them on a paper plate. Then I painted them on the canvas, starting with the darkest shade of blue and gradually working to the lightest.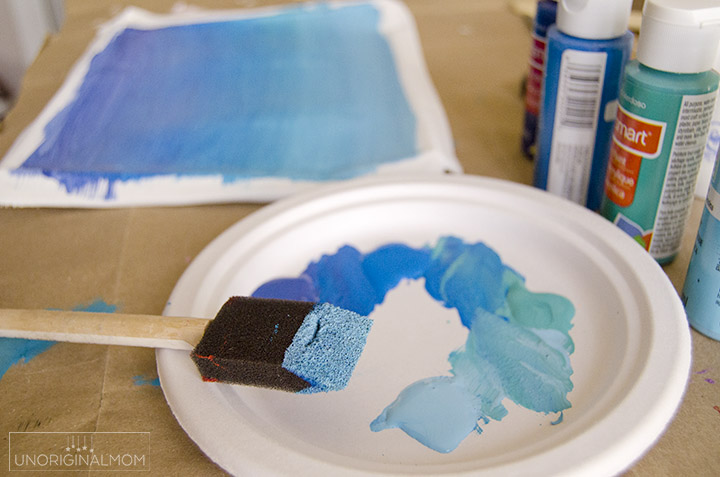 You don't need to paint all the way to the edges, just wide enough to stay inside the frame.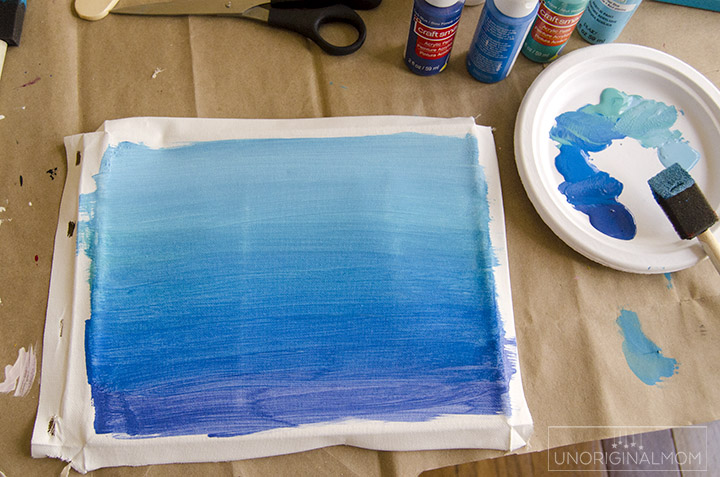 STEP 3: Paint or stain the wood frame. I went for a bit of a whitewash effect, so I painted the frame with a light blue color, let it dry, and then painted over it with watered down white paint.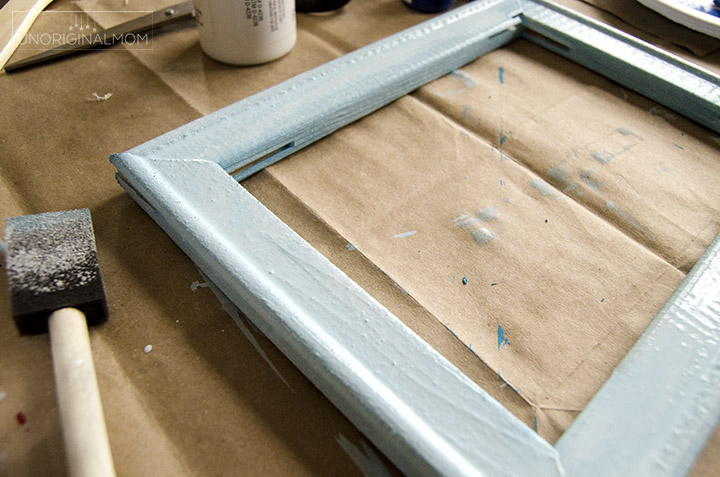 STEP 4: Using your Silhouette, cut your design out of heat transfer vinyl. (Don't forget to mirror your image before cutting!)  Then, using an iron or a heat press (I LOVE my EasyPress!), adhere the HTV onto the canvas.
If you don't own a craft cutting machine, you can paint or stencil whatever you'd like onto the canvas!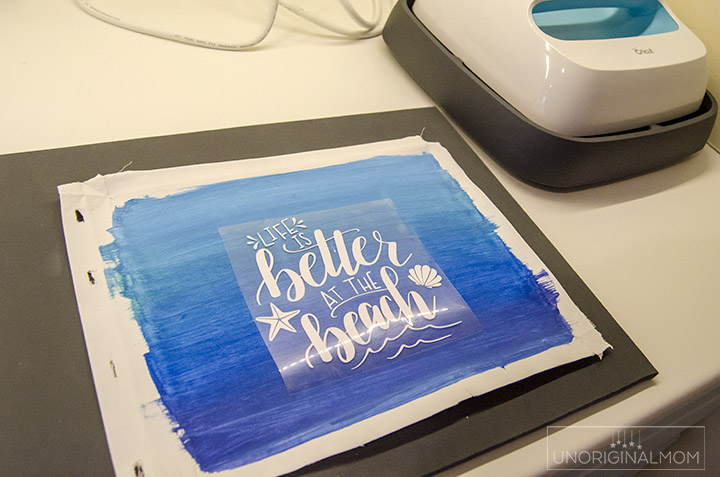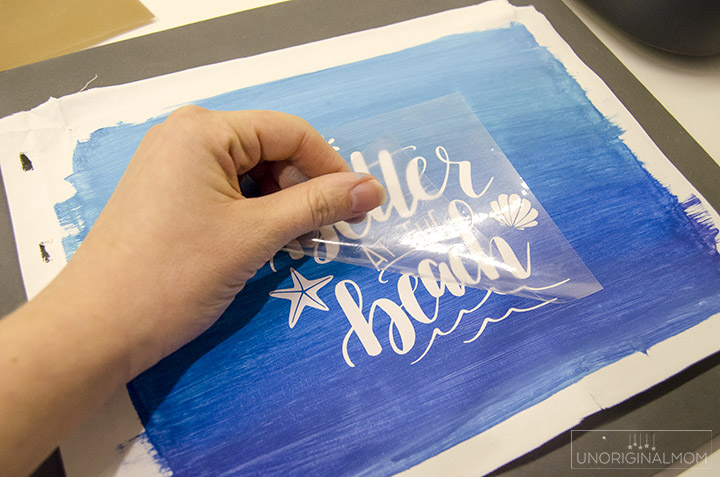 STEP 5: Center your design inside the frame, and use a pen or pencil to trace a line around the frame so you can trim down the canvas. Then, turn it over and carefully staple your canvas onto the frame. Make sure it's pulled pretty tightly – I like to add one staple, spin the whole thing 180 degrees, pull tight, and add another staple. Then rotate 90 degrees and repeat, until you've stapled all the way around.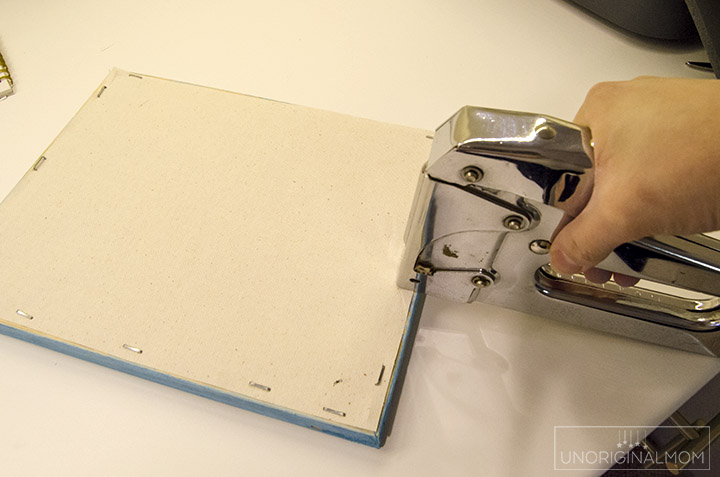 That's it! Wasn't that easy? Admire your completed HTV reverse canvas…and then start planning your next one ;-)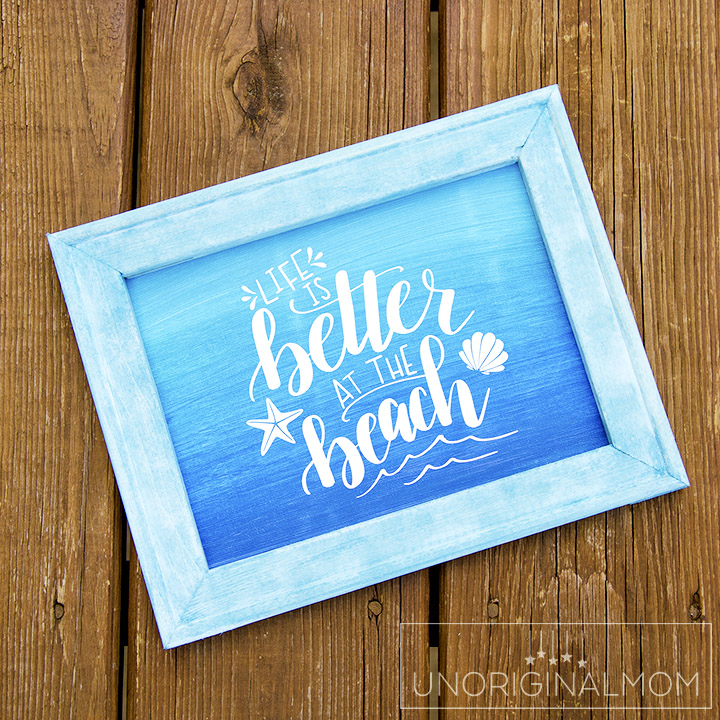 FLASH FREEBIE
This is a brand new thing around here…but as I create more and more cut files (thank you, iPad + Procreate!) I'm going to start adding them to my Etsy shop as SVGs. To thank you for being a loyal reader, though, before I move them to my Etsy shop I'll be making them available in my Free Cut File Library for a limited time (about a week). So, hurry on over and snag this hand lettered "Life is Better at the Beach" free cut file before it disappears! It would be perfect to put on a beach tote bag or t-shirt, too!
Sorry, you've missed this Flash Freebie! But don't worry, you can still snag it – this file is currently available for purchase in my Etsy shop here.
Don't miss future Flash Freebies! Sign up for my email list here. (You'll get access to dozens of free cut files, too!)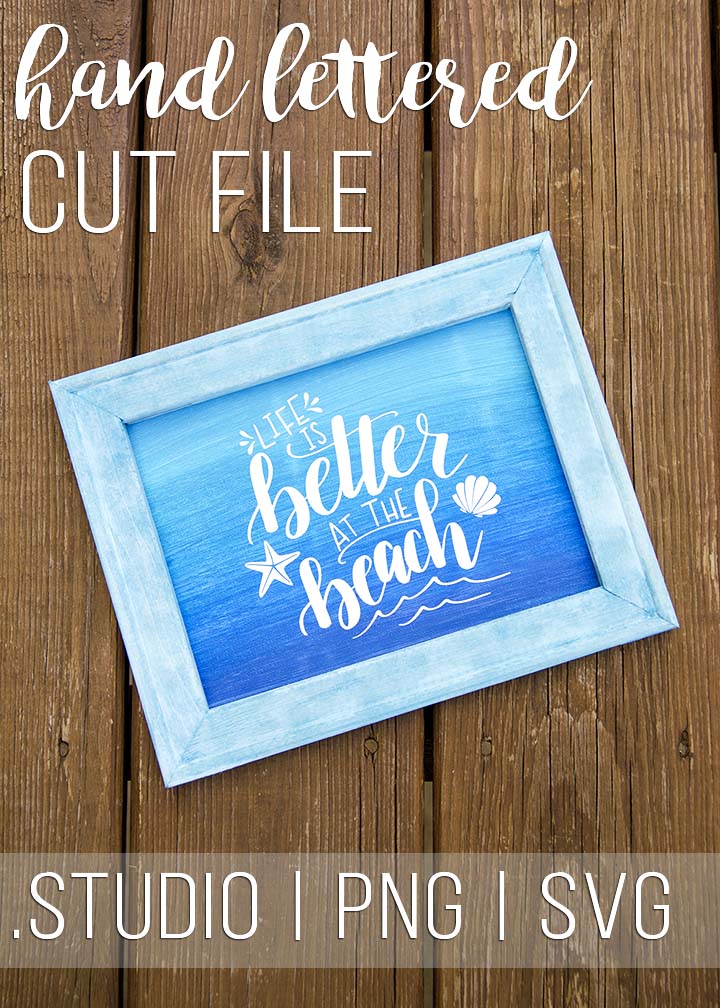 Happy crafting…and to my fellow beach-lovers, I hope you get lots of beach time this summer!



Subscribe to unOriginal Mom via email and get instant access to my library of FREE Silhouette Studio & SVG cut files - exclusively for email subscribers. Plus there's a new file added every month!